In a message dated 4/24/03 3:39 PM, SkyeCaper@aol.com writes:
To Sharon Anderson

AKC Agility Director
Sharon,
Thanks so much for our phone conversation earlier today. As the Agility Co-Chair of the Bearded Collie Club of America, I am writing to you on behalf of both the BCCA's National Governing Board and the BCCA's Agility Committee with regard to the use of cloth covered rubber bands in agility.
I am writing to you about Chapt 4, Sec 11: "Any dog whose hair over its eyes interferes with its vision, or whose hair on its ears interferes with the safe performance of the obstacles, may have the hair tied back with rubber bands."
I would like to propose that Chapt 4, Sec 11 be clarified so that "rubber bands" includes small cloth covered rubber bands as well as plain rubber bands. There would not need to be a change to the wording, just a clarification in directives to judges.
As I looked through Beardie pictures to send you by separate e-mail, I see that the cloth covered bands are being used universally and, until now, few have been challenged by judges. The advantage of a cloth covered band is that it slips out easily without damaging hair. Once the hair is broken, it can not be pulled back from the eyes. Instead, bangs start falling over the eyes which prevents side and forward vision and becomes a safety hazard. The majority of our Beardies who do agility are either currently competing in the breed ring or have done so. Lovely, unbroken hair is a desired feature in our breed and greatly cherished by Beardie owners. Indeed, our breed standard does not allow hair trimming of any sort. You mentioned this morning that the purpose of forbidding the wider bands is that they might be used to conceal wounds or injuries. As agility chair, I am in contact with the majority of those who do agility with Beardies and know that the welfare of their dogs is of higher concern than going into competition if the dog is other than perfectly healthy. Beardie people are extremely conscientious. Therefore, no one, to my knowledge, is using hair bands to conceal any health issues. Also, no one is using head bands, only 1/4" cloth bands in those places where the rubber bands would normally be placed.
Thanks so much for your consideration. I look forward to hearing from you on this topic.
Libby Myers-Buhite
Bearded Collie Club of America, Agility Co-Chair
---
In a message dated 6/9/03 11:30 AM, sxa@akc.org writes:
<< Dear Libby:
Please read the attached. It was sent out to all AKC Agility Judges.
Hopefully this will solve the rubber bands problem.
Sharon Anderson
AKC Agility Director >>
http://www.akc.org/dic/events/agility/Agility_Judges_Newsletter_060903.pdf
---

THE AMERICAN KENNEL CLUB
5580 CENTERVIEW DRIVE
RALEIGH, NORTH CAROLINA 27606
Sharon Anderson
Agility Director
5946 Bald Eagle Blvd. West

White Bear Lake, MN 55110

Home: (651) 429-5915

Fax: (651) 762-1218
June 6, 2003
Dear Agility Judge: .
A clarification regarding hair bands has been requested, as there appears to be a difference in what some judges are allowing versus others. The regulations state: "Hair Tie Back Policy" Any dog whose hair over its EYES interferes with it's vision, or whose hair on its EARS interferes with the safe performance of the obstacles, may have the hair tied back with rubber bands. The word rubber band is far reaching in this day and age. The fabric-coated type of bands are acceptable but the 'scrunchies' type of band would not be considered a rubber band. Attached are examples of acceptable types of rubber bands versus ones that are not acceptable. A judge may ask the exhibitor to untie hair if they wish to verify that the dog does not have medical attachments (i.e., stitches, bandages, etc.).
---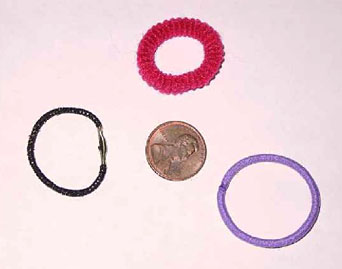 Acceptable "Rubber Bands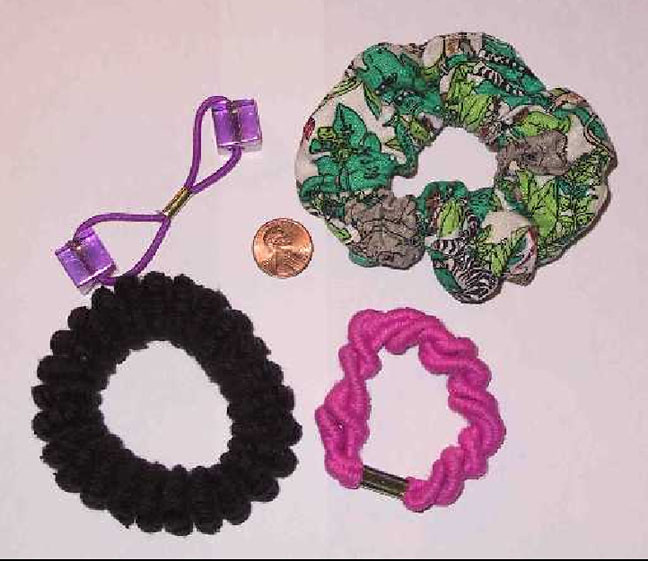 Unacceptable "Rubber Bands"