Breezy at the AKC Nationals
---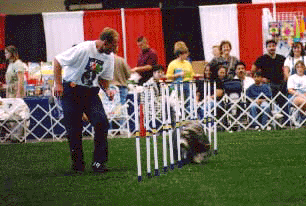 Photo by Dana Pike
Now that I'm experiencing the peace and quiet of my home in tranquil Vermont during the beauty of autumn foliage, I can reflect on my experience of last weekend in the hustle and bustle of Chicago and on the noise and the rules of McCormick Place, the huge building in which the AKC National Agility Championship trial was held. This was definitely a unique experience for Lu, Breezy and me.
Cars, busses, pot-holed multiple lane highways, one-way streets - we were running an agility course before we even got to the trial site. And no ringside parking at this trial. If you didn't opt for a 20 minute walk from the labyrinthian underground garage where just being able to find your car was worth a green ribbon, than you waited at a distant parking lot for a shuttle bus that sometimes didn't arrive. Once in the building you were told that your dog was not allowed to leave until the day's trial was done. What!!! Me tell Breezy she had to poop and pee in this place. You should have seen the look on her face when I did. You would have thought I was the doggie devil making her do a horrible, vile act. Breezy is a beardie that doesn't know what saw dust is. An alternative pee-soaked patch of sod in the 'exercise' area caused some funny, high-stepping beardie footwork before the need to eliminate prevailed. Many exhibitors were concerned that their dogs would confuse the sod in the rings with that other stuff, but not one of the 200 dogs eliminated (body functionwise) in the ring.
Lu and I were hoping that the phenomenal success we've had with Breezy in agility would follow us to Chicago. However, it must have gotten lost on a one way street. The strategy I planned for the trial was a conservative one - concentrate on running clean and not worry about time. Wrong!!! The five seconds normally added for the pause table was eliminated for this trial. This caused time faults that NQ'd many of the exhibitors inspite of an otherwise clean run. One positive aspect of this trial was that one's performance was being judged by the cumulative scores of the four rounds. An exhibitor had the opportunity to overcome mistakes and still place well in the overall score.
Breezy's four rounds had laughs, frustration and, finally, overwhelming joy.
ROUND ONE
I entered this trial expecting the judges to place every trick in the book in their course design. Surprise! The Round One course by judge Lisa Layton appeared easily doable. I could do a 2 obstacle leadout, and the weaves rewarded left sided handling. There were no handler restrictions and, most important, there was no tunnel-next-to-the-A frame trap that befuddled Breezy and me at our last trials.
Breezy cleared the first 2 jumps, nicely balanced the seesaw then cleanly exited to turn right over a jump and ran directly into the open tunnel which was next. As I approached the tunnel exit, I heard the crowd laughing. That meant only one thing. Sure enough, there she was standing at the tunnel entrance with that "Hi Dad" look on her face - a refusal, 18 points deducted and an NQ. Oh well! On to the next obstacle and eventually to the table with Breezy doing a nice quick down. Unable to hear the judge's count due to the crowd noise, I turned my head which to Breezy meant 'Let's go'. The count started again with the loss of several more seconds. Score - 34 and 16 seconds over standard course time. This was not the way to start!
ROUND TWO
It was another nice course - this time by judge Chris Miele. I used my original strategy and it worked. We had a clean run. I was soooo happy to be getting a qualifying ribbon. Wrong!!! Score 76 due to being 8 seconds overtime.
ROUND THREE
A Jumpers With Weaves course by Chris Miele that wasn't overly intimidating except for a series of 5 jumps awkwardly angled that required some fancy dance steps by the handler. Everything was fine until I started to dance to Easy Listening and Breezy was tuned to Heavy Metal - she got to the 4th and wrong jump before I could call her off. A wrong course, 18 points deducted and an NQ. Score 64 and 6 seconds overtime.
ROUND FOUR
We had to get our act together now or it would be a long trip back to Vermont without a qualifying ribbon. My fellow beardie exhibitors, Antionette Krafcheck and Charles Gibson, had already proven they could do it. If Breezy and I failed, would I be stripped of my BAD T shirt? Would Libby banish us from the BAD List? Since my original strategy was a failure, would I have to use the Strategy of Last Resort - close your eyes and run like hell??? To make matters worse, the AKC saved the 'best' for last. This course by Lisa Layton required several send outs and had a right sided handling advantage in the weaves - neither is a strong point with Breezy and me.
The 1st send out was to the open tunnel entrance located adjacent to the dog walk and 1/3 down its length with the tunnel exit 90 degrees away on the opposite side. Most handlers simply did a send out to the tunnel entrance while standing at the dogwalk ramp and walked a few steps to then send the dog over the next jump. I ran Breezy up to the tunnel entrance and then ran the long way around. Breezy was out of the tunnel exit before I reached the end of the dogwalk. I yelled "OVER" and pointed to the far distant jump. Breezy responded beautifully and we met each other at the entrance to the next obstacle - the chute. All I remember next of Round Four is running out of the ring with Breezy closely behind and hearing a loud cheer from the crowd. Score 88 and a Q. Four seconds overtime caused the 12 point deduction in this otherwise clean run. But, we get a green ribbon, I keep my BAD T and Libby will continue to send me email!
Now, I had to find our car.
Jerry (Lu and Breezy, too)
---

Off to a BAD Starrt

Bad Attitude