BAD Times at the BCCA National Specialty 1997

Jana Dozet with Shelby
---
BAD Members were totally smashing at the Specialty Agility Event in their new T-shirts and we have news from Charles Gibson and Jerry Bergen, invited to the AKC Nationals with Mikie and Breezy, that they wore their BAD T shirts there. So, Beardie presence will be felt! A huge thank you to Gretchen Blackburn who designed our totally fabulous T and won First Place with it in the Professional Art Contest at the Specialty! And a huge thank you to Karen Norteman who conceived the idea of a BAD Web Page. We met at the Specialty, and now you see the results!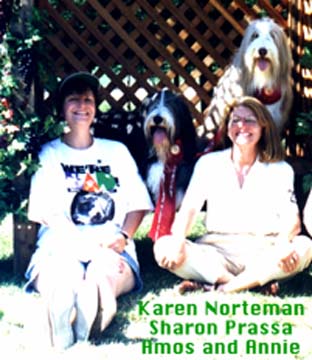 Karen Norteman with Sharon Prassa, Amos, and Annie
---
The following BAD members participated in the Agility Event at the Specialty:
Cindy Alspaugh -- Risky
Meredith Bar David -- Oliver
Iris Berry -- Spiff
Sherrie Bie -- Amie
Bobbie Bokelund -- Shawna and Ashley
Jack Buhite -- Skyedance and Caper
Jane Cooper -- Betel and Em
Eileen Dinneen -- DeLorean
Jana Dozet -- Shelby
Mary Edner -- Trouble
Linda Glaman -- Sagan
Pam Harris -- Amber
Mary Lott -- Patsch
Cindy Nellipowitz -- Risky (Yes, there were two Cindy/Risky teams!)
Pat Palozzola -- Daisy
Kathy Pavlich -- Fallon
Sharon Prassa -- Annie and Amos
Laura Tappero -- Esprit
Beth Tilson -- Miles
Beth White -- Mirage
Carl Widell -- Cosette
Joanne Williamson -- Corey, Rob, and Sean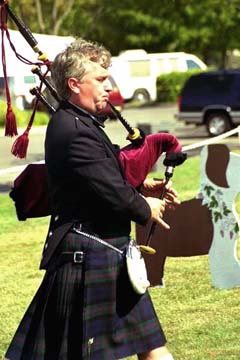 Jack Buhite Piping for the Parade of Title Holders
Photo by Sue Cassidy
---
We also had a great time getting to know many BAD members who cheered us on and helped out with the event! It was great fun meeting all of you!
Gretchen and Darron Blackburn
Pat Columbo
Jim Cooper
Karen Drummond
Mark Glaman
Lisa Katz
Susan Lybrand
Cynthia Mahigian Moorhead
Karen Norteman
Ann Rambaud
Carol Anne Rayson
Debby Ritchie
Wendy Smith
Kay Widell
John and Bert Wilkins
Did more of you come, whom we didn't meet?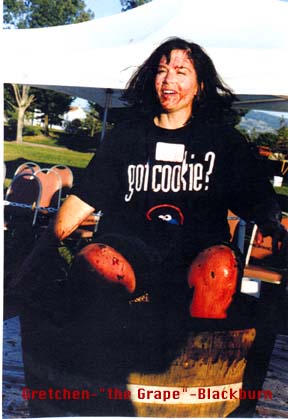 Gretchen "the Grape" Blackburn
In case any of you want to know who the person really "getting down" in the Grape Stomp was, it was Gretchen Blackburn! She was going at it feet, knees, elbows and all and was covered from head to toe in grape juice! The photos will reveal all! What a pleasure it was to meet you, Gretchen. What a spirit you have! You will not be forgotten in California!
---