Silene Donegal Blue

---
Charlie - Bitch - August 1998
Owner/Handler: Jim Webster of Aberdeen, Scotland
---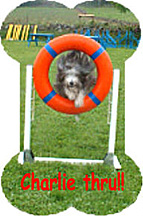 In a message dated 7/1/02 11:10:47 AM, jiltyjade@tiscali.co.uk writes:
<< Hi
We live in Aberdeen Scotland. We belong to the Granite City Dog Agility Club.
My name is Jim Webster. My dog is called Charlie. She is a girl and will be 4 years old in August.
KC name is Silene Donegal Blue. We have been doing agility for 2/3 years.
In May this year she suffered from Polyathritis and we are now doing agility again but just doing 15 to 20 inch jumps.
We hope to compete at the Bearded Collie Club ( Scottish Branch) agility show on the 21st July.
Jim Webster >>
---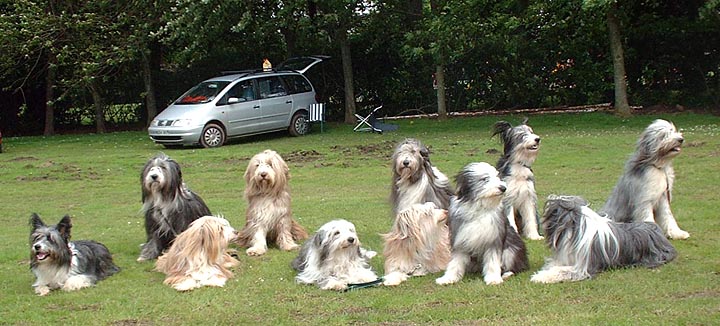 Photo taken at the Granite City Dog Agility Show in Scotland at the end of July
Back row- Bee (Joan Hart's dog with pointed ears), Bushfen, Blaven (not sure about the spelling), my Charlie , Heather Smith's dog Skye (a litter mate to Joan's dog) , Bonnie
Front Row- June's Mckinnon, Misty, Suzy, Honey, Lucy.

Jim Webster
---

Handlers and Beardies who took part in the Bearded Collie show at Aberdeen.
Picture taken in July 21st 2003
8/23/03
Hi Libby
We all had a wonderful time at the show brilliant weather in Aberdeen the best summer we have had. There are 3 members of BAD that I know of in the pics except me as I took it.
If you go to www.agilitynet.com then click on pick of the litter you will see me huffing and puffing on the agility circuit, next door Charlie has a pic too and the Beardies with the judge is there as well.
Regards
Jim and Charlie

Off to a BAD Start
[BAD Handlers] | [BAD Dogs] | [BAD Events] | [BAD Links]
[BAD Greetings] | [BAD News] | BAD Beginnings]
[BAD Advice] | [BAD Attitudes] | [BAD Goods]
Email Libby with an update