Swedish/Danish OTCH
Remmen's Noble Duchess

---
CHESS-Bitch-5/4/90
(SUCH NUCH Chriscaro Cagney x LP Woolpack's Honeymoon)
Breeders: Kjell and Gunilla Rydin, Falkping
Owner/Handler: Linda Jönsson of Sölvesborg, Sweden
---

1992 4th Obedience Beardie of the Year, 1st Beardie Obedience-bitch
1993 2nd Obedience Beardie of the Year, 1st Beardie Obedience-bitch
1994 3rd Obedience Beardie of the Year, 1st Beardie Obedience-bitch
1995 1st Obedience Beardie of the Year
1997 4th Agilitybeardie of the Year
1997 5th Veteran Show-Beardie of the Year
1998 4th Agilitybeardie of the Year
1999 3rd Agilitybeardie of the Year
1993 1st Swedish Youth Championship Tracking "Appell"class
1994 5th Swedish Youth Championship Obedience ELIT-class
1995 6th Swedish Youth Championship Obedience ELIT-class
1996 3rd Swedish Youth Championship Agility team
1996 10th Swedish Youth Championship Agility individually
1997 26th Swedish Championship Agility individually
1998 6th Swedish Youth Championship Agility team
1998 7th Swedish Youth Championship Agility individually
1999 6th Swedish Youth Championship Agility team
2000 11th Swedish Youth Championship Agility individually
Three years old, Chess got her Obedience Champion title at her first three entries, of those - two wins, in the elite class!
In 1995 Chess wrote history by being the first Bearded Collie through all times to become Swedish and Danish Obedience Champion, the second dog, all breeds, in Sweden to do this. She was also the second Beardie ever to become a Danish ObedienceChampion. It was because she is so easy to teach and due to her will to please, and lots of training, that made this historic event happen.
This was a short update.
By for now,
Linda
---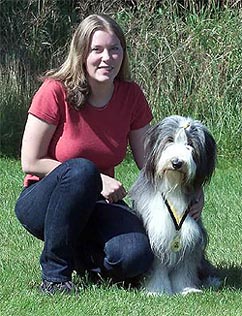 Linda Jönsson and Millie
LP1 LP2 LPELITE SweOTCH DanCH NorCH Highflying Just Like That
9/6/00
Now I have two beardies. The other beardie is Millie (LPI Highflying Just Like That). She is now 17 months old. She hasn't competed in agility yet but I am training her. But we have competed in obedience trail class 1. Three weeks ago she won the gold medal in Swedish Youth Championship in obedience class 1. I guess that she can't became a BAD dog until she has competed in agility.
7/24/99
I have one new beardie "Millie" (Highflying Just Like That), she is now four months old. Last Sunday she was at her first dog show. It went pretty well, she became BIS-6 Puppy! Chess, now 9 years old, is doing a good season. At the "ranking list" for all dogs in Sweden she is at 48th place. Flamman, SAgCH Tretex Eternal Black Flame (Swedish Agility Champion - SAgCH), is in the top ten. Last year Flamman joined the national team but I don't know if she has qualified for that this year.
12/19/00
In Sweden we have four classes in obedience. The first class is class 1, the second is class 2, the third is class 3 and finally the fourth class is the elite class. The total score in class 1 and 2 are 200 points, qualifying score are from 160 points up to the maximum of 200 points. In these classes there are nine exercises and an overall impression score at a scale of 5, 5.5, 6, ... to 10. This score are multiplied by a coefficient for the exercise, which varies (from 1 to 4) with the difficulty of the exercise.
Class 3 also has nine exercises and the overall impression score, but in the elite class there are ten exercises and no overall impression score. 320 points are the total score in these classes. Qualifyings score in class 3 are 255 points and for the Elite class 256 points.
If you have three qualifying scores in class 1 you have achived the title LPI (almost comparable to the CD). In class 2 the title is LPII (CDX), in class 3 it's LPIII (UD) and in the Elite class it is LPELIT (UDX). Becoming an obedience trial champion (SLCH) requires three qualifying scores in the Elite class and a 2nd quality grading in conformation.
Millie's resultat of the year 2000
SBK Olofström, class 1, 184 points, 2nd place
SBK Söderåsen passed Swedish Working Dog Association's temperament test
SHU Karlshamn, class 1, 165 points, 3rd place
SBK Kristianstad, class 1, 187 points, 1st place, LPI
SBK Göinge-Broby, class 1, 192 points, 1st place
SBK Söderåsen, class 1, 184 points, 1st place
SBC Bjursås, the Obedience Championships of Bearded Collie, class 1 169,5 points, 2nd place in the class, 3rd of all beardies (any class by score %)
SHU Hässleholm, the Swedish Championships for Youth, qualifying round to the finale (must be one of the five best in the class to reach the finale), class 1, 193,5 points, 1st place
SHU Hässleholm, the Swedish Championships for Youth, finale, class 1, 191,64 points, 1st place - Millie won the gold medal! (three judges in the finale)
SBC Åhus, class 1, 183 points, 1st place, won "Rosie's trophy"
SBK = The Swedish Working Dog Club
SHU = The Swedish Dog Club for Youngsters
SBC = The Bearded Collie Club of Sweden >>
---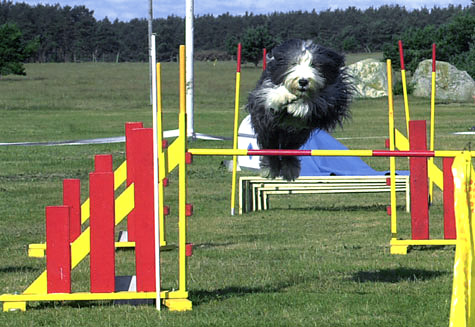 Millie's Agility Debut
8/17/03
Today my Millie (LPI LPII Highflying Just Like That) made her debut in the agility course here in Sweden. In Sweden we have agility class and something called "jumping class". In the jumping class there are no obstacles with contacts. The easiest class is called agility/jumping class 1, and the class there you can take CCs and become a agility/jumping champions is class 3. Three legs are needed to qualifying to the next class. To get a leg you have to have no points (right word?) and became among the five first.
This spring Millie had four (in my opinion) lovely puppies, they are now about 3 months old. Since Millie was young we have trained obedience, and she misses now one "first prize" to get her champion title there. I hope we will have time to finish that this fall/winter, keep your fingers crossed! Anyway, after she had her puppies we started to train agility, and she really loved it! I started to look in the papers after a nice agility trial and I found one in the southern part of Sweden, where we live. When I saw the date I thought it was to soon considering she had almost no experience in the agility course, a friend convinced me that we should start there. It was a hot day, but Millie did not bother over that. The first class was the jumping class, Millie was very happy that something really fun happened& We got 15 points and no leg. At the time the agility class 1 started Millie had calm down a little, and we got no points! Then the results came up I saw that Millie come on 3rd place and got her first leg! I was very happy! Now I have some time to train her more to next trail, and I am looking
forward to compete more in agility with her.
In July we had something called "Scania week" (Skåneveckan in Swedish, web address is http://www.skaneveckan.nu/. It was Sweden's biggest agility trials for the year. There Millie's brother Isac participated, if I remember it correct it was five-six Beardies at this event. In class 1 it was about 130 starts! Isac got very good results there. The last day he came in second and got his last third leg in jumping class 1 to be qualified to jumping class 2.
This was a short update from us in Sweden!
Many Greetings,
Linda, Millie and Chess (OTCH Remmen's Noble Duchess, now 13 years old)
---

10/27/03

<< Hello,

I have some news from Sweden. This time the subject is obedience. The 5th of October Millie became Swedish Obedience Champion! She got the score 300 point of the maximum 320 points. I was, of course, very happy!

Her pedigree name with titles are now: LPI LPII LPELIT SweObCh Highflying Just Like That.

----------

Later post:

Thanks everyone for all nice words!

It is ten different exercises in the elite class. I have been looking for any site about this class in English, but I didn't find any. Please give me some time to translate the exercises. Are there some page about obedience classes in USA? It would be intresting to read.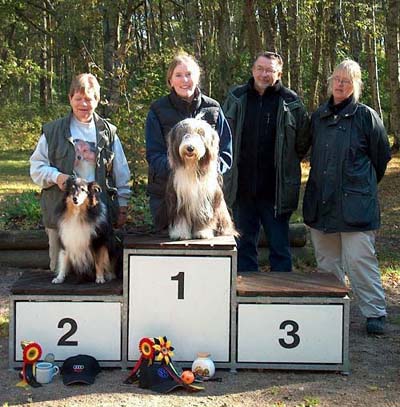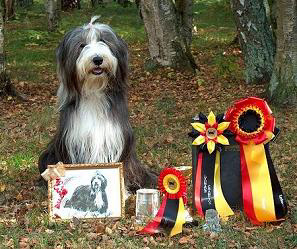 Millie - New Swedish Obedience Champion
5 October 2003
---
11/20/03
The last couple of weeks I had some lack of time. But here comes an attempt to translate how the Swedish Elite Class in Obedience is. Please excuse my English!
Feel free to ask some questitions if there are anything you wonder.
Linda
Obedience in Sweden
To start in the easiest obedience class, class 1, your dog has to be at least ten months old. There is a minimum age of 15 months for the dogs to entire the elite class. We have four different classes; from class 1, 2, 3 to the elite class. The judge scores each exercises with this scale; 0, 5, 5.5, 6, 6.5, 7 up to 10. If you get a 0, you and your dog have not passed this exercise. A 10 means that you both have done it perfectly! The difficulty between the exercises varies. Because of that every exercise has a coefficient, which you times the score for that exercise. The product of every exercise adds together, and you got your result. To get a first prize you need to have an average of the scores to be (at least) 8. I will not go further into the scoring; my aim is to explain all the ten exercises in the elite class.
There are ten different exercises in the elite class.
The first excise is 2 minute long sit.
The second excise is 4 minute long down. During this time the steward is walking around the dog as a distraction for about 30 sec in the middle of the exercise.
The third exercise is "heel free". In this exercise you walk with your dog in all directions. The steward is telling you where you should go or stop. You also run with your dog and walked slowly in all directions with stops. You have also "turns on the spot" and "movement by steps".
In the fourth exercise you walk in a square of 11 x 11 feet. You start on one side of the square and walking counter-clockwise. Your dog is on heel, after your first (left) turn it has to stand on your command. Then you have told the dog to stand, you continue walking around the square until you "came up" to the dog again and take it on heel again. On the next side the dog should sit, and on the third side lay down. The exercise ends when you and your dog have came to the same side as you started in. It is a long walk for the handler
Stand and Drop on recall is the next exercise. You leave your dog at least 27 feet. After one third you should tell your dog to stand, after two thirds it should lay down.
In the sixth exercise you have five cones. Four of them are built as a square of 4x4 feet about 27 feet away (diagonally) from you. 11 feet ahead from you are the fifth cone, and it is 90 degrees turn to the square. First you tell your dog to run to the single cone, and after "permission" from the steward you command your dog to run to the square. In the square the dog should lay down, on your commands. Then you start to walk in a triangle. First towards your dog, then you come to the closest cone in the square from your view; you turn away from the square and single cone. After about 4-5 feet you turn and walk to that point there the exercise started. After the second turn you walk about 11 feet and then you recall your dog during you walks. At the starting point your dog should have come to your side on heel, otherwise you did not pass this exercise.
The next exercise you have another single cone about 11 feet ahead of you. 11 feet ahead from this cone there is a 16.5 feet invisible long line. You have three dumbbells of wood on in this line, two of them in the ends and the third in the middle of this line. Before this exercise starts you draws lots of your dog should retrieve the dumbbell to the right or left. The dumbbell in the middle is just a "decoration". Your dog should first run to the single cone and then retrieve the right or left dumbbell, depending of what draw you made.
The next exercise is "retrieve over high jump". The height of the jump is approx. your dog's height of the back, and the dumbbell is made of metal.
The ninth exercise is something like what AKC calls "scent discrimination". Before exercise #3 starts you get from the steward a wood stick (approx. 1x1x4 inches), which you sign with your start number. At this excise the dog has to find your stick among five other, who the steward has touched.
And the final exercise is directing the dog from a distance. You command your dog to lie down and the handler walks away 16.5 feet from the dog. On the stewards command you tell your dog to either sit or stand. For example it could be like this; sit-stand-down-stand-sit-down. The dog is not supposed to move forward to the handler nor in another direction either.
---

12/14/03

Hello,

For some days ago I received the Swedish Kennel Club's magazine "Hundsport". In an article about agility, they showed a picture of my Chess in the weaving pools! It's the same photo as in the BAD web site.

Merry Christmas!
Linda, Chess and Millie
---
7/13/04
Some "show news"; in June Millie became Danish and Norwegian Champion in conformation. Her pedigree name with titles are now; LP1 LP2 LPELITE SweOTCH DanCH NorCH Highflying Just Like That. This autumn I hope to have enough time to compete in agility. Some of you might have seen her in "The Shaggy Rag" where she retrieves a dumbbell.
Linda
---
10/15/04
Today Millie (OTCH DanCH NorwCh Highflying Just Like That) passed a pretest in blood tracking! In Sweden we have to classes, something like a pretest and an open class. The open class is the highest class. The judge wrotethat she tracks excellence with a big intrest! Guess if I was very proud of her!
For some weeks Millies daughter Penny (Highflying That's Just Me) also passed the pretest in blood tracking. Another puppy from Millie's litter made his debut in the obedience trial. It went very well. He won his class with high points and became also "club champion" at their local dog training club.
Greetings from a Sweden
Linda & dogs
PS. Yesterday I updated my dogs pages at
http://home.swipnet.se/~w-40409/beard with many new pictures!
Linda Jönsson
l_j@swipnet.se
http://linda.allday.at
http://home.swipnet.se/~w-40409/beard
http://home.swipnet.se/~w-40409/lydnad
---
2/23/05
Millie and I went to an agility trail this Sunday. Here in Sweden we have three classes, class 1 is the first and easiest class and class 3 is the "highest" class. You need a clear round and to be in the top five to get a leg in class 1, if you got three leg you can compete in class 2. In class 2 you have also need a clear round but to be in the top three. Then you got three legs you are qualified for class 3. We also have an agility class and a jumping class. The jumping class doesn't contain any obstacles with contact fields. The first class was the agility class. We didn't have a clear round but she ran very fast! If we had a clear round Millie would be 2nd in this class. In the jumping class we got after some struggles a clear round, but the time was not as good as the race before. But Millie got her first leg in the jumping class 1! Millie celebrated her first leg with a hamburger!
Greetings from Linda & Millie
---
Linda Jönsson
l_j@swipnet.se

http://home.swipnet.se/~w-40409/beard/millie.html unfortunaly in Swedish.
If you want to know more about Millie visit in my homepage;
http://home.swipnet.se/~w-40409/beard/ and choose "Who am I", then you find Millie's page.
Since some years ago I have been taking pictures of beardies for fun. Now I have created a web site with some of them. If you want to watch look here - http://linda.allday.at
---

Off to a BAD Start
[BAD Handlers] | [BAD Dogs] | [BAD Events] | [BAD Links]
[BAD Greetings] | [BAD News] | BAD Beginnings]
[BAD Advice] | [BAD Attitudes] | [BAD Goods]

Email Libby with an update