Chloe
---
In a message dated 8/17/01 2:29:49 PM, irma@harcourtsinv.co.nz writes:
Hi Libby
Hope all is well at your end of the world?
Saturday morning and raining over here, but summer is just around the corner!!
Attached is a photo of Chloe - She just loves having her photo taken - sits like a little model.
Had our first day back at agility on Sunday in her new (Starters) class.
Had a nice time.
Take care - Irma & Chloe
---
In a message dated 9/9/01 12:59:42 PM, irma@harcourtsinv.co.nz writes:
Hi Libby
You requested info on Chloe
Birth: 19.8.97
Breeder: Ms Barraclough - Winton - New Zealand
(since moved to Invercargill)
Mother: Black Poodle
Father: Beardie (lived next door to mother, but I never got to see him)
Chloe passed her 8 week Beginners Agility Course 4th with a time of 0/47/31
First Agility Ribbon Day - Placed Second with a time of 62.82
Second Agility Ribbon Day - Placed First with a time of 35.92 (five faults)
We have now gone up a class from Beginners to Starters
Chloe is a peoples dog, loves being cuddled and loves to play. She is a happy wee girl and her tail never stops wagging!!! Sleeps on the bed with Lacey (my other little girl - Poodle X Maltese). Loves chasing and playing with the cat.
If you need any other info, please let me know.
Have a nice week
Regards Irma and Chloe
---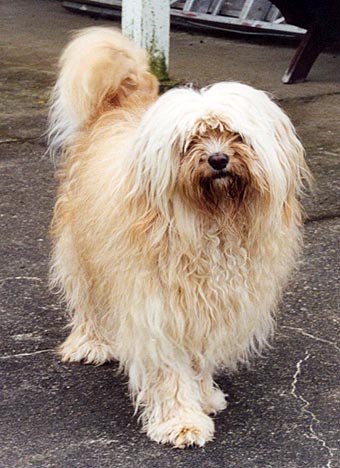 ---
In a message dated 8/20/02 1:07:15 PM, irma@harcourtsinv.co.nz writes:
<< Hi Libby
Been a whole since we last spoke.
Have a lovely update of Chloe
Hope you can add to her file.
We also got a clear round and a 4th but will update you soon on time etc.
Take care - irma
---
In a message dated 10/11/02 2:27:01 AM, irma.b@xtra.co.nz writes:
Chloe placed 4th - Southland Dog Training Club - Triple Championship Agility - Starters - 25.11.01 Time: 57.03
Also received a Clear Round certificate - Championship Agility - Time 57.03 (SCT 58)
Due to unforeseen circumstances - Couldn't complete for some time.
First Club Day back - 29.09.02 - Club Ribbon Day - 3rd in her class (Starters) Time 0/40.96.
I feel Chloe does really well, but we really need to practise more, plus speed up (maybe I just need to speed up!
Take care

Irma and Chloe

---

Off to a BAD Start
[BAD Handlers] | [BAD Dogs] | [BAD Events] | [BAD Links]
[BAD Greetings] | [BAD News] | BAD Beginnings]
[BAD Advice] | [BAD Attitudes] | [BAD Goods]

Email Libby with an update