Arranbourne Patina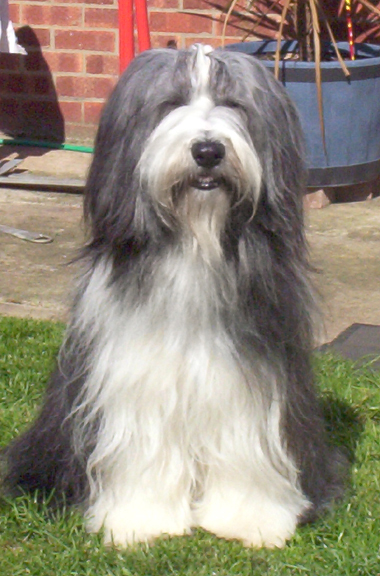 Annie
---
Annie
19/05/99

Diotima In Your Dreams x Ch Arranbourne Latent Embers


---



1/22/05
Hello Libby,
Thought it was about time I told you a bit more about my Beardie girls as I now have 2!
Annie - Arranbourne Patina is now nearly 6 years old.
She had a sucessful year last year in agility:
11th, Starters Jumping at Supadogs, June, 8th,
Novice Other Breed Jumping at St Edwards DTC, July 24th,
Starters Jumping at Norfolk Agility Festival, July 8th,
Starters Jumping at Trent Park, Sept11th,
Starters Jumping at Suffolk Five Rivers, Sept23rd,
Open Helter Skelter at Bridge House Agility Club, Oct
and in the show ring -
3rd limit bitch at the Bearded Collie Club Championship Show
thereby gaining her stud book number!
We hope for a sucessful 2005.
---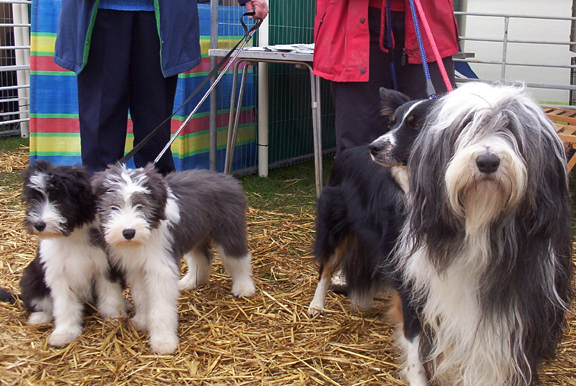 (l to r) Pippin & Mischief (4 months old), Holly (a wannabe beardie!), and Annie
---
At the beginning of 2004 Annie - Arranbourne Patina had a litter of seven puppies - 2 boys and 5 girls.
I kept a blue girl called Mischief - Sulynbourne Mischief Maker. Dob 28/01/04.
Her sire is Scapafield Dickens Above.
Mischief is doing well in obedience classes. She and her little sister Pippin (Sulynbourne Pippin) start agility training in Febuary. Pippin is owned by my Mum and will be worked by my husband David.
I will try to get some agility pictures this year.
Happy Jumping
Suzanne, Annie and Mischief
---

Off to a BAD Start
[BAD Handlers] | [BAD Dogs] | [BAD Events] | [BAD Links]
[BAD Greetings] | [BAD News] | BAD Beginnings]
[BAD Advice] | [BAD Attitudes] | [BAD Goods]

Email Libby with an update