Yogi Bee Barkin'

---
Yogi-Dog-10/03/92
Breeder: Betty Foster (Bredon)
Owner/Handler: Jo Sermon of Hersham in Surrey, UK
---
Jo's Jester

Jester was the ABC Champion for 2001,
making himthe top "other breed" in the country at that time
& he's also *so* handsome, is he not???
---
Jester-Dog-1996
Breeder: Betty Foster (Bredon)
Owner/Handler: Jo Sermon of Hersham in Surrey, UK
---
I live in Hersham in Surrey, it's a village..... but we are on the outskirts of London which is approx.. 30mins away by train. So I suppose I live near to a city!
Yogi is registered as " Yogi Bee Barkin' ". He is a dog and was born 10/03/92. His breeder is Mrs. Betty Foster of the Bredon affix and I (Mrs. Jo Sermon) am his owner.
Here in the U.K. to progress through the classes you have to win, i.e. the fastest clear round. Yogi won his Starters Agility class at his second show with an entry of 371! We were then eligible for Intermediate classes. He won both his Novice rounds in Agility as he is not fast enough to win at jumping, but has good fast accurate contacts making him an excellent Agility dog. The entry in both cases was in excess of 250 - you rarely get classes smaller than that these days. The two Novice wins made him a Senior dog and he regularly gets placed at Senior level, but only rarely in Jumping rounds. The Senior dogs make up the top 10% of dogs in the country and the places go to 10% - if you are lucky! Yogi is half way to his Advanced qualification having won two Intermediate rounds. This is very difficult to do as you must win four times in Senior, Intermediate or Open to qualify and of course the existing advanced dogs are all eligible to enter these classes. So you must beat the best of the best and the best are very good indeed! I also have a young dog from Betty Foster bred from Yogi's litter sister by another Bredon dog. He is registered as "Jo's Jester" and is now two. He has just completed his first season of Agility shows and has done very well indeed. He won his first trophy by coming second in a Novice Jumping round and I was very proud of him. He lacks maturity, but will make a tremendous agility dog in a year or so.
I'm glad that you enjoyed training with Jeff and Chris, they have competed at the top of the sport for many years and are obviously well known here. It must be quite different though, if you are not pushing for speed all the time? We spend most of our lives looking for the shortest route through any course, because that will also be the fastest. The dogs have to learn to curl themselves around the wing of a jump so that they do not cover any extra ground, contacts must be as fast as possible and there is no time for pilot error!
I would be very interested to hear about the sport in America and also about the breed. Do you have the "working" Beardies over there or do they all come from show stock? How far back do your pedigree's go? Yogi's Grandsire, Turnbull's "Blue" is a dual registered dog. He is registered with the ISDS on merit as a beardie and was therefore registered with the Kennel Club although he comes from unregistered stock. Here in the UK there are still Beardies working and these fall into two distinct types, the big rangy dogs used for hill work and the smaller dogs used for the more densely covered area's. Yogi stands 23ins to the shoulder and weighs 56lbs so he is a big dog. Jester slightly taller, but not nearly so long in the back, so cornering is very much easier for him! Their coats are definately "shaggy" as opposed to long and they are very intelligent dogs. I have attached Jester's pedigree for you to see, do your pedigree's have any Wishhanger or Bothkennar at the back of them?
I hope that I haven't rambled on too much, if you get sick of hearing from me at any point, just let me know!
Best regards,
Jo Sermon.
P.S. I run, with two friends, Benbow Agility club and I write quite a lot of training articles. Would you be interested?
---
In a message dated 6/8/02 10:39:45 AM, jo@gcs-partnership.co.uk writes:
<< Hello All,
To give a little background, I've recently added another Beardie to the household, which has been a bit of a shock to say the least!! Jester will be 6 this year and I'd *so* forgotten about puppies!!!! Anyway, as Betty Foster of Bredon Beardies is no longer breeding very much (she bred both Yogi & Jester) I was a long time looking, until I found a gentleman called Peter Wood in Wales. He mated Jester's full litter brother to a tiny bitch of his called Bonnie. It's the first time in quite a few years that there has been a pup available from Jester's lines and so I went to have a look. And came home with a pup, obviously :)) The funny bit is that there were 11 pups in the litter, 9 bitches and 2 dogs. Peter told me that I could have the small dog - he wanted the big one to get a little more size into his lines. FINE by me!!! I really wanted a smaller dog this time! In the classes that Jester competes in, he's up against tiny BC's that stand no more than 17ins to the shoulder. With jumps 4 paces apart, he's beaten before he steps in the ring really as he's a big lad, 25 ins to the shoulder and where the BC's are putting in strides, Jester's jumping off his haunches all the way.....................
Anyway, a small pup sounded just fine! So home he came. A little while later Peter rang to chat and he asked how big Boogie
was.........well, suffice it to say that Boogie is 21 ins to the shoulder and the pup that Peter kept is around 17..........and stocky
too :)) whereas Boogie is all leg........Peter wasn't very polite!!!
He's a fascinating person to talk to BTW - I've learnt a lot from him. People who earn their living by working their dogs are always interesting to talk to!
Regards,
Jo >>

---
In a message dated 6/11/02 3:48:45 PM, jo@gcs-partnership.co.uk writes:
Boogie's a boy.......oh boy - WHAT a boy!!! I'll send when I have the KC reg - I'm still waiting at the mo. Many thanks!!
Jo's Jester, is a 5 year old Bearded Collie who competes at Senior level here in the UK. He qualified for the 1999 Burgess Supa Dog Novice Finals and then the 2000 Senior Finals. He also qualified for the 2000 Pedigree Semi Finals and the Finals of the Longleat Derby. in 2001 he qualified for and won the ABC finals, making him the 2001 ABC champion, he has also ventured into the Obedience ring, where he has won four classes in five shows.
Regards,
Jo >>
---

Seminar with Jo Sermon in Texas
David Williamson with Darby and Harley, Wade Pelton with Dallas
Jo Sermon
Karen Barratt with Jet and Bud, Ann Chandoha with Arbi
---
"josermon" <jo@gcs-partnership.co.uk>
Date: Tue Jun 18, 2002 1:42 am
Subject: Re: Elaine Robinson: Starting a Beardie in Agility
6/12/02 6:43:52 PM, gd4newfn@c... writes:
As far as agility; she's still on leash, as the environment is sometimes more appealing than being with mom. Playing tug (which she loves) is her reward for performing the obstacles; I set the parameters for tugging and she is biddable. She's in a very high state of arousal when watching other dogs do agility (similar to watching other dogs herd), so we are desensitizing with distance and clicker training. She does excellent in obedience in a class situation.>>
Hi Elaine!
You say that she does excellent obedience in a class situation, so I think that's where I'd begin. What sort of obedience? Is her recall solid there? Can she hold her attention on you for a period of time??
If so then I'd take this out and about to gradually more stimulating environments. She's still very young and for most Beardies, concentration is the most difficult thing to teach. It's also essential for Agility.
I don't think I'd want a dog of mine learning Agility on a leash. My Boogie is now 9mths old and has not yet started any Agility because I don't (YET!!) have the control that I look for. If I were to begin on leash, there's a strong possibility that the association would be made that Agility = BORING. I want my dogs to learn that Agility = FUN and that it's something that they can put their heart & souls into - a little hard to do on a leash!
Before I begin Agility I want a solid "wait" no matter what is going on around him, a reliable response to name ie when I say his name he looks at me, a solid recall & a decent length sendaway.
Regards, Jo Sermon & Beardies from Surrey in the UK
---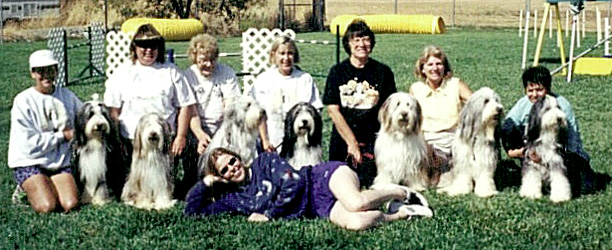 Photo from Elaine Robinson
Seminar with Jo Sermon in Sacramento, CA
October 16 and 17, 2002
Left to right: Tammy Domico with Sparkee, Jana Dozet with Star, Mary Edner with Trouble, Pam Harris with Jodie
Pat Coreris with Chipper, Sharon Prassa with Zoot, Elaine Robinson with Rachel
Reclining: Jo Sermon
---
Sharon Prassa - 10/17/02 6:08:39 PM, jospras@earthlink.net writes:
I just got home from 2 days with Jo Sermon. Man, she is not only motivating, but delivers quite a sound message...YOU HAVE NO BUSINESS IN THE RING UNLESS EVERY, SINGLE obstacle is rock solid. Oh, yeah, then there's the prep work before dogs even SEE any agility equipment. Rock solid down, recall, name recognition at any time, always!
That's how she does it, anyway. Makes sense, because, under stress, a dog who doesn't fully understand something will fall apart even more. Then, of course, we tend to yell more!! That drives the nail in the coffin.
You guys in So. Calif. will have a chance to hear it in person. She's such a great speaker and give such wonderful advice.
And, much like Greg Derrett, in total British style, really points out how to take the shortest path from obstacle to obstacle...how to make the tightest turns...and how to train for all of this. It doesn't happen magically (funny, I assumed some of it did)!
Texas, you've heard it already, though. We had 5 beardies working (Star, Jodi, Trouble, Sparkee and Zoot) and one auditor (Elaine and Rachel).
Libby, we got a BAD photo with Jo for the webpage. When the film is developed I'll send you a copy. Jo is looking forward to attending her first American agility trial this weekend ... a USDAA trial in Madera, CA on her way down south.
-----------------------------
Patti Bott -10/17/02 7:57:03 PM, prbott@sdcoe.k12.ca.us writes:
Sharon is always so good about posting so promptly about seminars. How about the rest of you giving us a run down too. It would be nice to hear from Elaine as an auditor with an up and coming Beardie Baby. I know most of you are still on your way home. I audited the Wendy Pape seminar and got so much out of it since I wasn't under any pressure to perform. I guess I'll go out and practice, practice, practice some stuff thisweekend before my turn next Wednesday and Thursday. Sharon and Brio will be there on Monday and Tuesday.
-----------------------------
Mary Edner and the Lonetree Bunch - 10/18/02 9:13:13 AM, medner@ix.netcom.com writes:
I spent two glorious, exhausting, informative days at the Jo Sermon Seminar. The British have a way of putting things that cuts right to the chase. There is no question of what is meant. They also seem to have total self-discipline. That's the key! Jo presents her ideas clearly and precisely and the best part is that she loves and understands Beardies. I gathered that she is a compulsive Trainer because she shared a story of her younger daughter bringing home a Toad. Jo immediately started training it to do laps in the pond. It was a very worthwhile two days.
-----------------------------
Elaine Robinson - 10/19/02 11:29 am, gd4newfn@cpros.com writes:
Hi there Patti, Yes, all was expressed by Sharon; we all learned so much, and Jo Sermon is an excellent speaker and trainer. As the owner of a baby Beard, she was able to help me see what responsibilites I have ahead of me to get this "high drive" little gal, "ring ready". She gave me things to think about to set the behavior foundation i.e. can your dogd foucus on you anywhere? Can your dog sit or down stay instantly, anywhere, with any distraction? Can your dog do recalls anywhere with any distraction? Can you send your dog away, as far as needed for the task at hand? (Jo's dogs can and she works on her homework 24/7). When she asked how many dogs could focus on their owners, no matter what, or down or sit stay in an agility ring with other dogs flying by, going in and out of tunnels, not many hands went up. When she asked how many dogs knew their rights and lefts, their weaves, or could stick contacts, and she proofed such things to find out, we found out many dogs really didn't know what their owners thought they knew. You guys need to know, proofing to Jo, covers endless bondaries, and she will go out of her way to work all kinds of them into her proofing. So, anyway, I don't know if the committment Jo makes, i.e. 24/7 operant conditioning training (no quick fix techniques for this gal), meticulous record keeping of her dog's training progesss, always training as she competes (and that means not settling for any less than the speed and accuracy to win) is possible or even desirable for us, as handlers. But then on the opposite note; Jo asked, is it fair to put our dogs out there, dealing with the stress of competition, and the expectations we put upon them. I've always considered myself a fair trainer; but then I've always had working breeds, or dogs easily focused on me and eager to please, with less time invested in training. I've held back; partly due to time constraints, partly due to laziness, but also because of the fear of not knowing how to train Rachel, and wanting to "do it right", and not knowing exactly what to do. I've decided, even though I'm not Jo Sermon; it's time for me to "step up to the plate" and do my little girl justice, so we may have the chance of "getting there" some day. Thank you, also, to so many of you who have been supportive, and my Beardie agility examples. WE'VE GOT ALOT OF HOMEWORK!!!
11/19/02-Amendment - Just change everywhere I said "24/7", to "consistent". Jo replied that no way she could train "24/7"; but I was trying to get the idea across, of consistency!
-----------------------------
Pam Harris - 10/20/02 8:51:28 AM, landsail@charter.net writes:
Hi Everyone, Between Elaine's and Sharon's post, there is not much to add. I do know that I need to go back and do some "homework". Its the basics that take the time yet pay off in the end. If anyone gets a chance no matter what breed of dog, I highly recommend Jo's seminar. I've decided that I've got to be more disciplined in my training and that means keeping a record of what and when I train. (Weave poles twice a day). Out of curiosity, how many out there actually have a written training schedule. If you do, how about sharing it with us. I know that Clean Run magazine has a schedule for the year in an article by Kathy Keats.
-----------------------------
Cathi Cline - 10/21/02 6:01:48 AM, familyfriend@webtv.net writes:
I attended the first two days of Jo`s seminar in Northern CA.
Someone posted that Jo`s 24/7 training schedule might be too much for ordinary ( read "normal" <G> ) pet dog owners to aspire to. A point to ponder. Anyone living with a dog is already a 24/7 dog trainer. It`s just whether you do it in a planned deliberate fashion or unknowingly and haphazardly.
Many first time agility trainers come to the sport with little actual dog training experience. They may do very well using handling to navigate the course and need to put relatively little effort into teaching their dogs obstacle skills. It is only after problems develop, due to lack of independent obstacle performance on the weaves, contacts, table or broken start line stays, that specific training advice is sought.
How much better to do it like Jo. Get rock solid start line stays, independent obstacle performance ( including weaves <G> ) and unwavering dog attention before you enter that first trial.
Then all you`ll need to concentrate on are " will I remember the course?" and the butterflies in your stomach <G>
-----------------------------
Sharon Prassa - 10/21/02 8:14:03 AM, jospras@earthlink.net writes:
Cathi, you made many good points!
Boy, I'm speaking from experience...I wish I would have done it that way! And, plan to if I have the good fortune to start another dog in agility. I'm currently not going to compete with Zoot until I can KNOW he'll hit his weave pole entry. Once I made that decision, I felt very relieved and, since I'm competing at the excellent level with him, a mistake just cost me $20 for nothing.
-----------------------------
Elaine Robinson - 10/20/02 9:22 am, gd4newfn@cpros.com writes:
Hi again, Still in the Sermon mindset; days after the seminar; and was just thinking that she said, there are 1500 - 2000 dogs at an agility trial, with 10 -12 rings going, simultaneously! I guess one better have an "unflappable dog" in the ring! . . . . Hey, In that new found committment to train our Beards, 24/7; let's not forget what a friend of mine has reminded me of...why we all picked Beardies....yep...jocularity!!! Happy training!
-----------------------------
Patti Bott and a very tired Spice -10/28/02 4:09:38 PM, prbott@sdcoe.k12.ca.us writes:
I think I was in the last Jo Sermon seminar here in California. Spice and I worked Wednesday and Thursday. I really believe that everyone has given a wonderful account of their impressions of Jo and what she presents.
I've done many seminars and count this as one of the best. It was a learning experience, not a performance exercise. I went in knowing what I thought were my weak points in the training I've done to this date. Jo reaffirmed that she saw the same weakness, but gave me many ways to help train through these problems. I never felt defeated, but excited by the things I learned.
Spice is unsure of where she should be landing on her contacts...I now know how to work targets and how to add working targets with speed as the in-between step before applying all this to the contact equipment. I didn't realize Spice wasn't looking ahead and didn't have a "go on" command. This is something I'll really be working on. This major hole reared it's ugly head at the weekend trial I was entered in after the seminar. The rings were 120 X 120 and the Open Standard course had a 5 jump finish running the entire length of the ring. We got two refusals because Spice keep waiting for me to catch up, like that would ever happen. We had the best jumpers run we've every had as a team and got our first open leg in jww. We were able to do this because I had learned where her gathering points were for her jump take off's. What a rush!! I'm hoping Jo will be back next year and I'll be able to show her my cleaned up training.
Jo is a common sense trainer. Train your weakness, show to your strength!
-----------------------------
Response from Jo Sermon - 11/1/02 3:15:46 PM, jo@gcs-partnership.co.uk writes:
Hi All,
I'm finally back in the land of the living - 4 seminars across 8 days.........................a 10.5hr flight home and a time difference of 8 hours............................was it worth it?? YES!!! I had such fun, I do so enjoy teaching and American handlers in general are fun to work with, because very few will simply give excuses - most are willing and able to
take on board information and use it. Thanks to everyone for their kind words - it's always interesting to see what information someone has taken away - I've been told that less than 10% is retained of what is presented. From the amount of information across 2 days people did a good job!! Well done and I hope it was all of some use to you!! On a slightly different note, what is done in seminars is not my favourite method of teaching, in fact it is very poor. The ideal is to take one aspect, work on it and then move on, ideal for both dogs and handlers. The reality is as much info crammed into two days as is possible.............................I don't enjoy telling people that they've more work to do, but I do hope that everyone at least had some ideas on how they might achieve within any areas that needed work.
There was an exceptional combination that deserve a special mention as they brought tears to my eyes when I watched them. A lady called Mary and a little bitch called Trouble. A more inappropriately named dog I've yet to meet. Mary is a little older than most and not fast on her feet and this little bitch has adapted perfectly! They went through all the exercises so well........the little girl waiting her her handlers directions. Fabulous to watch, what a partnership!
With regard to 24/7 training...................I WISH!!! I have two children, aged 12 & 14 (read taxi driver/washer/shoulder to cry on & cook) a husband, a job (accountant 3 days a week) I am a partner in our business(read accounts/invoices/debt collection/customer svs) I also happen to run an Agility club...................in any spare time I train my own dogs!!!! 24/7.................oh my..............
What I *do* do is maximise my training time. I keep careful records and each and every time I train I achieve. I know exactly where I am, what I'm aiming for and the stages I've planned to get there. So when I have 5 mins between phone calls, I know what I need to do. 24/7......................it's a really nice idea!!!!
Regards to all and many thanks to the people who brought their Beardies to train with me, it made my trip!
---
Ruth.........Talisker, Jura & Glayva - 10/22/02 4:34:33 PM, k9fun@bellatlantic.net writes:
Jo Sermon will be returning to Skyline Agility Club in Haverstraw, NY in Feb. next year.
You can get full details at the following web site www.jstn.net/sky_sem
We usually have a few working spaces available to non club members. The best chance of getting a place is to return the reg. form immediately. The information has only just been posted so there is still a chance to get in. Hopefully we will see lots of beardies. --
---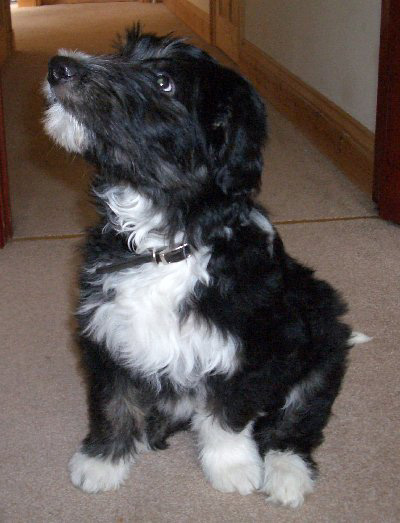 4/15/05
Thought you might like to see my latest addition BTW - Koda :))
---
Jo Sermon
---

Off to a BAD Start
[BAD Handlers] | [BAD Dogs] | [BAD Events] | [BAD Links]
[BAD Greetings] | [BAD News] | BAD Beginnings]
[BAD Advice] | [BAD Attitudes] | [BAD Goods]

Email Libby with an update