Beardies Attend the National Agility Championships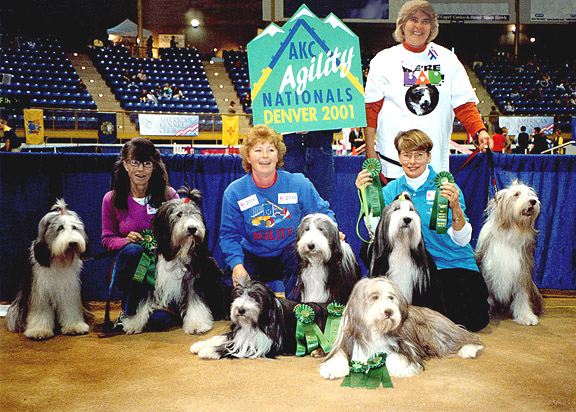 AKC Nationals - Photo from Sarah Halsey
Sarah Halsey with Impy and Wizard
Leslie Dawson-North with Kassi and Chase
Karen Barratt with Jet
Joanne Williamson with Sean and Corey
In the fall of 2001 ten of our Beardies competed in the three National Agility Championships held by the AKC, USDAA, and NADAC. Karen Barratt's Jet and Sarah Halsey's Wizard qualified for both the AKC Nationals and the USDAA Grand Prix. Wizzie attended both! I have included accounts of all three events, mostly in the words of the participants and the Beardie enthusiasts who came to support their friends. Congratulations to all!
2001 AKC Agility Championships
Denver Colorado - November 2 - 4
7 Beardies qualified for this year's AKC Agility Championships in the "unlimited" MX, MXJ category with four Excellent Level clean runs in both Standard and JWW:
In Category A, one Masters title, one Excellent title, and 4/4 clean runs, three qualified: Ann Chandoha's Arbi, Joanne Williamson's Rob, and Jack Buhite's Skyedance. All in the unlimited category were accepted into the Championship Competitions and those in Category A were allowed to compete in the State Team Tournament. Jet, Chase, Kassi, Wizard, and Sean traveled to Denver to compete in the Championships and Rob competed on the New Jersey Team.
Our Beardies ran in the 20" Class. 104 dogs were entered. 101 ran. 17 had four clean runs.
Joanne Williamson and Sean were in 33rd place
-three clean runs, one fault, total time of 174.57'
Leslie Dawson-North and Chase were in 48th place
-two clean runs, two faults, total time of 158.02'
Leslie Dawson-North and Kassi were in 53rd place
-two clean runs, two faults, total time of 167.06
Karen Barratt and Jet were in 64th place
-three clean runs, three faults, total time of 154.90'
Sarah Halsey and Wizard were in 69th place
-one clean run, four faults, total time of 144.16'
To determine placements, the four runs over the weekend were combined for scores. Then the four runs were combined for time. The highest score with lowest time won.
Joanne Williamson: "Attending a national agility competition is something everyone who is interested in agility should do if they can. It is very educational to see different handling styles and the best dogs of all breeds. This year the AKC Nationals had 390 dogs entered representing 69 breeds. 62% of the entry was made up by 8 breeds: 76 Shelties, 58 Border Collies, 29 Golden Retrievers, 24 Aussies, 16 each JRTs and PWCs, 11 Poodles and 10 Papillons. The oldest dog competing was a Border Collie named Freckles, a venerable 14, and the youngest, a Sheltie named Gabe, just 2 years old. The catalog contained a listing of all the dogs who had earned MACH titles as of Sept 14, 2001. This includes one MACH5 (an accomplishment staggering to contemplate if only for the cost of the entry fees!), four MACH3s, twenty MACH2s, and about 160 MACH1s. I was interested to see that Sean is the oldest open dog to have earned a MACH thus far. There are only about four dogs older than Sean who have gone MACH and they are all minis.
The State Team competition was run on Friday. This is held under
international rules and although all the AKC jump height classes are run, only the 26" and 16" (with dogs less than 15 3/4" at the shoulder) are given individual awards. The best four scores from each team earned in the JWW and Standard runs are used to determine which five teams make the final round. Each team must include at least one mini or open dog in the scoring, i.e. you can't count only open or only mini scores. This scheme favors the larger teams so it was no surprise that the CA, TX, MN, MI and IL made the finals. The final round pits the top 20 dogs against each other on a standard agility course and this year Michigan emerged the winner (CA was again first after the two preliminary rounds but has never won the finals). All of the Beardies competing jumped 20" except my Rob who jumped 26". I didn't enter Sean in the team competition because of his age and the 6' 3" A-frame height in the standard class. Every one of us incurred some faults (the lower the total score the better; a 99 = elimination):
Rob/Joanne Williamson
-Round 1: 99 (a handler induced off course!)
- Round 2: 99 (exceeded fault limit with missed contacts!)
Kassi/Leslie Dawson-North
- Round 1: 5 faults/32.23 - Round 2: 0 faults/40.80
Chase/Leslie Dawson-North
- Round 1: 99 - Round 2: 13 faults/48.37
Jet/Karen Barratt
- Round 1: 0 faults/29.84 - Round 2: 10 faults/38.27
Wizard/Sarah Halsey
- Round 1: 99 - Round 2: 5 faults/37.13
Two AKC World team members won the individual sweepstakes classes: Linda Kipp and her BC Jessie at 26" (0 faults/total time of 56.84) and Jean Lavalley and her Shetland Sheepdog Taz at 16" (0 faults/total time of 59.54). My friend and traveling companion, Elicia Calhoun, and her Aussie, Suni, were third in the 26" class giving us some excitement to make up for NJ's disappointing last place finish in the team competition. NJ was one of the few eastern states to send enough dogs to make a team but at only 9 members we were one of the smallest teams and had only two mini dogs.
Friday night was the Awards Banquet and this year in addition to giving the World Team Members their leather jackets, certificates were given to the top MACH point dogs in each breed for 2000. I was very proud to receive one for Sean, and my friend Kathy Rupprecht was there to receive one for Muffit, her Lhasa Apso whom I handled for part of 2000. The Nationals sites for the next three years were also announced: 2002 in Houston, TX; 2003 in Del Mar, CA; and 2004, in Ohio.
Saturday's and Sunday's rounds were the National championships. The scoring was somewhat different from a standard trial however. All faults except time faults (which were the normal 3 points/sec over SCT) were scored at 18 points/fault. There was no table in either standard round in order to speed up the runs, and neither JWW round had any tunnels. All of the courses were fun and fast with the Sunday courses being somewhat harder than Saturday's. 50% of the dogs qualified in standard on Saturday with an astounding 71%qualifying in JWW. Interestingly, a number of the dogs expected to be in contention for the 24" class bombed on the first standard course. Linda Mecklenberg and Awesome, Julie Daniels and Spring, and Steve Frick and Comet ended up in the wrong end of a tunnel ending their chances of being on the winners platform. The Beardies had a pretty good first round with Wizard, Jet, Sean, and Kassi qualifying. Wizard had the fastest round and was, I believe, ranked 19th at that point. In the second JWW round, Jet, Sean, and Chase all qualified. Jet finished the first day ranked in the top 25. JWW was held first on Sunday, and it proved to be Jet and Sean's only NQ's for the weekend; Sean's was due to a knocked bar when I crossed behind him at the double. Chase and Kassi both qualified in JWW. In the final Standard round, Jet and Sean both came through to make it 3 for 4. All of the Beardies, whether they qualified or not, ran extremely well. Only small handling errors made the critical difference. The 24" finals, filmed by Animal Planet, were extremely exciting. Nancy Gyes and Riot had a beautiful standard run. They were followed by Elicia Calhoun and Suni, who I believe would have beaten Nancy and Riot had Elicia not lost her balance and fell right at the end of the course. Linda Kipp and Jessie, who were standing in second place after three rounds, then NQ'd, and finally Jen Pindar with Static ran very conservatively and qualified but lost the overall to Nancy and Riot. Terry Smorch and his amazing BC Remy won the 20" championship going away with the fastest overall time of any team. I have never seen a dog and handler combination as fast as these two!
All in all it was a great experience and even flying the dogs worked out well so I will probably make the trek to Houston next year. Denver, however, marks Sean's retirement from agility competition; he is clearly slowing down and I wanted him to end his career on a high point. I was absolutely thrilled with his performances this weekend and couldn't have been more pleased."
Patti Bott: "Joanne has done such a great job of describing the Nationals this year that I really have little to add, except to let everyone know how proud I was to see the Beardies run so well and the handlers do their jobs in such an exceptional manner. When she talked about minor handling errors, that truly was the operative word--minor. I had the honor of meeting Sean and Rob many times over the weekend and they were always the most pleasant of gentleman. Sean walked around carrying his little brown toy in his mouth. I made sure I got to see many of his runs since he would be retiring after this show. What a team!! Leslie with Kassi and Chase, Karen with Jet and of course Sarah and Wizard brought many comments from the crowd. Kassi running at the age of 10 with such enthusiasm made people think that the announcer had meant 10 months. I didn't get to see all runs since the 20" class ran the same time as my 16" class, but I got to see enough that my hat is off to the time and training that Leslie, Joanne, Karen and Sarah have done. I know how hard Sarah has worked since she is in my area and I've seen Wizard since he was a baby. Spice and I have a long road ahead of us."
Kim Horsley : "What Patti forgot to mention was that she ran Lexus, her schnauzer. I had the pleasure of watching several well handled clean runs. I look forward to seeing Patti and her beardie, Spice at Stacy Peardot's camp next year."
Karen Barratt: "Libby, I'm back from Denver, somewhat rested from driving 2000 miles. First I have to say we missed you at the Nationals but Beardies were very well represented by Jet, Wizard (who is incredibly fast), Sean (who was very steady and not looking his age) and Rob, and Chase and Kassi (also very fast and not looking her age). I want to thank all of the Beardie folk in the Denver area who came out to support our runs. It meant a lot to know that they were there and rooting us on.
Jet and I had some very nice runs with only a few oops. He ran clean in the JWW 20" State team tournament and then got called on the upside and downside of the dog walk in the Standard run. I didn't know until we finished that he had faulted but I was still very happy with his performance. Then he ran clean in round one and round two of the championships for a double Q and moved into 22nd place in the 20" division. Sunday's round three was a JWW course, which offered more challenges than the previous day's courses. Jet executed everything beautifully, but I did a little early celebration and took my eye off of him at the next to last jump. With this mistake we incurred a refusal, a wrong course for a backjump in which he knocked a bar (three faults), and we lost any hope of getting into the finals. I was naturally disappointed in myself but couldn't help but like what Jet had given me. We went on to get another standard leg in round four and finished on a positive note. I think this gives Jet a total of 19 2Q's and leaves him short about 100 CHP's short of his MACH. We are hoping for a celebration in early 2002!!!!!!!!!!!!!!!!!!"
Sarah Halsey: "Our Wizard qualified to be at the AKC Agility Championships along with four other beardies. None of us made it to the finals, however, but what an exciting event to be able to attend and compete in. And what fun to meet those other top Beardies and their handlers. The encouragement and support there was unlike anywhere else, truly friendly and helpful, in spite of being in competition. The winners of that event are the top agility dogs in the US. Several were on the AKC World Team, which in 2001 actually WON the World Championship! This is a major accomplishment, as Europe is where agility began and where the best in the world have been. Up until NOW!!! Border Collies perform the best generally in agility, due to their smaller size and quickness. However, any other breed can have its day. As shown on the Animal Planet broadcast, all can be lost by a slip of the foot or a slip of the tongue, as it all happens SO fast. World Team member, Elicia Calhoun (whose amazing Australian Shepherd, Suni, is a rare exception to the Border Collie rule!) is shown falling and losing all chances to win, almost at the finish line. Terry Smorch, whose Border Collie, Remy, probably performed one of the most spectacular runs I have ever seen, also slipped, but he had the luck to be able to recover, and so Remy won the Championship. As a friend told me, agility dogs are dogs and not robots. THANK GOODNESS! Anyone has a chance, and eventually hopefully, after much training and more experience, the wins are more frequent and the losses less. And of course, there are the Beardies! Beardies add other elements: inventiveness and surprise! And FUN!!!"
Kim Horsley: "What a great weekend! All the Colorado agility people commented on what a wonderful job the beardies and their handlers did. Joanne, Sarah, Karen, Leslie and their dogs made us all very proud. It was wonderful to meet Sarah and Wizard. I must admit he is now one of my favorite beardies. That dog has enthusiasm. He is one of the nicest, fastest beardies I have ever met. It was a great pleasure talking to Sarah and her husband. I also met Impy, her up and coming agility beardie. She is a sweetie. Karen and Jet are always impressive. That dog is extremely fast and consistent. Everyone loved how Karen gives him a kiss before she runs. Always a treat to watch her. Leslie Dawson-North and her two beardies, Kassi and Chase were there. I just love her dogs and the pure beardiness they show, fast and happy. I finally got a chance to meet Joanne and Sean. That dog acts like he is about five. On another note, Becket (the Great Beard) got to be on the local news. She helped advertise for the Nationals. She did her weaves quite well in a cramped studio. The AKC rep, Nancy Matlock, managed to call her a border collie. She QUICKLY apologized on air and called her a beardie. Can you believe that!!!! Becket also managed to wander out in front of the anchor guy and get a 5 second spot of just her head. Such a silly girl!"
---
AKC National Agility Championships 2003
AKC National Agility Championships 2002
AKC National Agility Championships 2001
AKC National Agility Championships 2000
AKC National Agility Championships 1998
AKC National Agility Championships 1997
---

Off to a BAD Start
[BAD Handlers] | [BAD Dogs] | [BAD Events] | [BAD Links]
[BAD Greetings] | [BAD News] | BAD Beginnings]
[BAD Advice] | [BAD Attitudes] | [BAD Goods]

Email Libby with an update