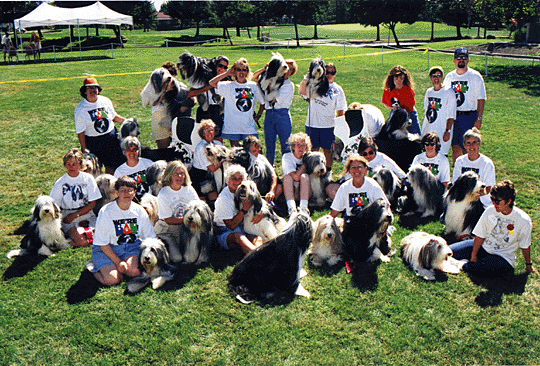 (Photo by Chet Jezierski)
---
Participants in the Agility Trial at the 1997 Bearded Collie Club of America Nat'l Specialty held at Rohnert Park, California
Back Row: Jane Cooper, Linda Glaman, Mary Lott, Kathy Pavlich, Beth White, Jana Dozet, Pat Palozzola, Eileen Dinneen, Gretchen Blackburn and Daryl Blackburn
Center Row: Bobbie Bokelund, Joanne Williamson, Libby Myers-Buhite, Jack Buhite, Christiana Taylor, Laura Tappero, Cindy Nellipowitz, and Beth Tilson
Front Row: Cindy Alspaugh, Meredith Bar David, Iris Berry, Sharon Prassa, and Pam Harris
---
ARE YOU
BAD
ENOUGH
TO JOIN
US?
BAD stands for Beardie Agility Diehards.
All you need to join us is a Bearded Collie
and a love for agility training (and having a computer helps!).
BAD members (about 100 strong) exchange ideas, advice, congratulations
and condolences on all forms of agility competition.
---
If yor're interested in joining us, click the Beardie for the instructions on Membership and the BeardieAgility E-mail List.

---
BAD at the National Specialty
was originally published, thanks to Joanne Williamson,
in Clean Run, January 1998
and has been reprinted with the permission of:
Clean Run Productions
35 Walnut Street Turners Falls, MA 01376-2317
Phone: 413-863-8303 24-Hour Fax: 413-863-8303
Email: CRMagazine@aol.com
http://www.cleanrun.com/
---

Off to a BAD Start
[BAD Handlers] | [BAD Dogs] | [BAD Events] | [BAD Links]
[BAD Greetings] | [BAD News] | BAD Beginnings]
[BAD Advice] | [BAD Attitudes] | [BAD Goods]

Email Libby with an update