You, too, can be BAD!
---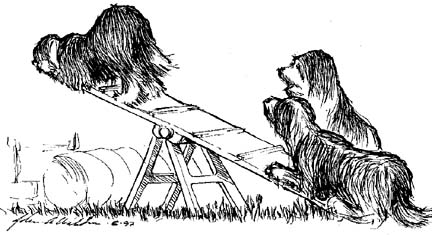 "I'll count to three and we'll jump off!"
Cartoon by John Wilkins of Maclean & Co.
---
11 August 2011
BAD Membership
If you are interested in joining us, contact me by e-mail and tell me a little about yourself and the beardie(s) you are training. Please include the following information.
Name
e-mail address
Registered and Call Names of Beardies, as well as all titles
Birthdays of Beardies
Breeders of Beardies
Kennel Name
Clubs (optional)
Which Beardies are doing Agility and in which organizations
Registration Numbers in all Agility organizations in which you are registered
Sire and Dam of Beardies
Once you have written to me, I will let you know how to become a BAD member. I will then add you to the membership list on the BAD Website. You can also join the E-mail list if you are interested in Beardie agility while deciding whether or not to become a member. If I don't know who you are, it is helpful to write to me first, so that I will approve your "subscription" to the E-mail list.
I look forward to hearing more about you!
Founder of BAD
Bearded Collie Club of America Agility Committee
Northern California Bearded Collie Fanciers, Agility Chair
---
BAD List Subscription
On 13 January 2000 I started an E-mail List for the Beardie Agility Diehards (both for dues paying members and affiliate members). This is hosted by Yahoo, which currently is the server for the Beardie Line, the Herding Line, and various other Beardie interest groups. I am the List Administrator for the Beardie Agility Diehard E-mail list.
I am asking all the Diehards to join this list for our Diehard discussions.

Click to subscribe to BeardieAgility
http://groups.yahoo.com/group/BeardieAgility/join
Follow the instructions for subscribing.
You can also subscribe by e-mail. Write to BeardieAgility-suscribe@yahoogroups.com
You don't need a subject line or message.
You will then receive an e-mail from Yahoo to confirm that you really want to subscribe.
You will then do an automatic reply to Yahoo and I will approve you. :)
Once approved, you will receive another e-mail from Yahoo letting you know that you are now an approved subscriber.
Then you can use the "subscribe function" at the above address to subscribe, unsubscribe, change from regular to digest or website only. The BeardieAgility E-mail List is available in regular or digest form.
----------------------
After your subscription is approved, use the following address to send email to the list:
BeardieAgility@yahoogroups.com
I have set the reply to "reply to individual" so that you can respond directly to the person who wrote to the list rather than to the list as a whole. You can of course respond to the entire list by writing to: BeardieAgility@onelist.comPlease note that non-subscribers may not send email to the list.
----------------------
There will now be archives available of the issues discussed on Beardie Agility. You will need your Onelist password, chosen at the time you subscribe, to access the archives and membership information.
Click to view archives of BeardieAgility
----------------------
I hope that this will make life simpler for all of us.
Libby
---

Off to a BAD Start
[BAD Handlers] | [BAD Dogs] | [BAD Events] | [BAD Links]
[BAD Greetings] | [BAD News] | BAD Beginnings]
[BAD Advice] | [BAD Attitudes] | [BAD Goods]