Rasdhoo Samba

Cleo
---

Teruca Contreras and Jose-Miguel Sáez with Cleo and Canton from Alicante, Spain
---
Cleo (Rasdhoo Samba) 22/03/1998-20/12/2002
Owners: Mª Teresa Contreras (Teruca) and Jose-Miguel Sáez
Criadores: Estela Armida and Jose-Antonio Hernández
---
In a message dated 2/27/01 2:01:38 PM, tcontreras@wanadoo.es writes:
<< Hello, I write you with delay, I want to tell you that we already pass of degree, we had run our first course in degree II and it has been a disaster, the truth it is that I was so nervous as when we debut in agility (and clear Cleo notices it). We had problems with the exit, Cleo is very obedient and in almost any situation remains in platzs until I give him the liberation order, "but that day......", I could not sit down her and less down her, so in the first exit we throw a bar, then 2 refuse and eliminated. My friends told me: that has gone to leave hastily and in second leg the judge eliminated me becasuse I touth Cleo after giving the judge the exit. All this was on Saturday, on Sunday that there was also course in agility we enter in time and we obtained excellent in spite of being
necessary an in the contact of the dog walk, but in the Jumping, we went well.....but I got lost to four obstacles of the end. As I have counted you a disaster. Now, we are training the stayon the exit, I hope not to have problems, but....I will already count you. we are also practicing the turns and I will control the contact to the exit of the dog walk since it is the third or fourth time that we are the same faults in different legs. I have modified the training and I have opted for the platzs in the contacts, before I sat down her.

Are the norms of the exit same in the different countries?. Here once the judge whistles one can no longer touch the dog (but the reality is that after the whistle the guide removes the leadt to the dog), I was confused with regard to this to proceed and he eliminated me for replace to Cleo once he (the judge) had already whistled,
;-(.....Another time will be.....I WAIT.
I wanted to ask to Libby like and where I must send some picture of Cleo for the BAD. THANKS.
---
In a message dated 2/28/01 2:28:36 PM, tcontreras@wanadoo.es writes:
<< Hello Libby, I send you this picture, Truth that is she pretty??. I don't get tired of looking at she, also,¡¡ She puts so much interest in everything!!.She is a Jewel ..........as so many Beardeds
;-) .
Until soon.
Teruca >>
---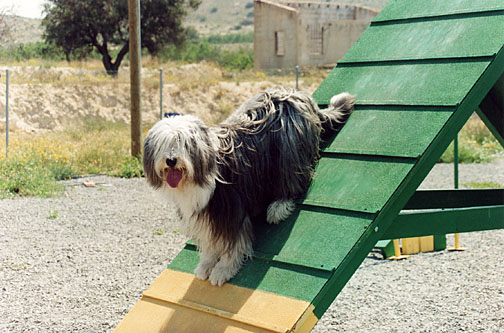 ---
In a message dated 4/3/01 10:24:28 AM, tcontreras@wanadoo.es writes:
<< Hello to all,
lately I don't have a lot of time and among the work, the dog's walks, brushings and the agility trainings, I have left little time to enjoy BDL (¡¡¡Ah and I have recaptured my English classes¡¡¡,). It gives me some "torera" shame (like one says here) to always write to ask, but....few advice can give you about our beardies. Writing in an agility forum (in Castilian), I made some reflections about that seemed that to my eyes are the dogwalk and the see-saw of front (supposing that to Cleo it would pass her the same thing) and justifying the one that each agility obstacle had a name (that would avoid confusions when winning in precision). Then they has made me doubt from this when telling me that to be different the vision of the dogs, they of front don't see the same thing that me. I look at Cleo and I look at myself ????, Idon't know which it is the form of the visual field of the dogs, but the Bearded has the eyes in a very similar position to ours. Do I request you advice, Like our bearded ones see?, is their visual field very different from ours?; if you bend over and do you look of front the see-ssaw and the dogwolk, can you distinguish them?, are they able to?, would not it happen that they could step an obstacle mobile thinking it was fixed ?, Like they see?. If I must recognize the course thinking in wow Cleo could seethe way, it is fundamental to respond to this question.


see you soon.

Teruca. >>
---
In a message dated 1/3/03 3:38:15 PM, tcontreras@wanadoo.es writes:
<< Hello Libby. Also from here we wish to you, your family and all the BAD of the world a happy 2003. Wishing you all the BEST in the New Year!
I write you and I want you know a bad news that it's possible you already know, and it is that on 20 of December of 2002 we lost Cleo forever. At the beginning of September she was diagnosed with chronic erlichiosis (a casual discovery) and although we all fought a lot (her the first one), we were not able to overcome the illness. On Friday 20 of December we decided that it was the moment to say goodbye forever. Cleo was and she will ALWAYS BE a special being. God willing that rainbow really exists where the bearded ones play and run because my dream is rediscovering her look some day. She was my shade and now she is not. I must confront this new situation with the positive force that she showed me. I hope that soon the good memories will outweigh in my thoughts the pain that our separation produces in me.
I will continue in with my agility club, now collaborating in the table, chronometer, etc...and I will continue reading the articles of the beardied agility list and visiting BAD.
I don't know if it is too soon, but I have begun to look for a bearded one (girl) that although she won't be the same, will be another history in my life with the bearded ones and also with agility. Well, looking for is not the same as finding and I have no hurry, but I would like the new beardie to be from the same line as Cleo.
We would be charmed if Cleo will have a space in the Rainbow Bridge page. The days without her are passing, and little by little we get used to her absence, or rather to another type of her presence. She is not the first dog that we have had to say goodbye to, yet this time has been very difficult and it is that the bearded ones are special and each one gives them only. Their cheerful and optimistic way of seeing things is her best legacy.
Cleo (Rasdhoo Samba) 22/03/1998-20/12/2002
Owners: Mª Teresa Contreras (Teruca) and Jose-Miguel Sáez
Criadores: Estela Armida and Jose-Antonio Hernández
She was jumping in Grade II and she was very obedient and attentive. The agility field, the Toys, the other dogs brought a shine in her eyes. She loved the world, the people, the playing, the travels, taking walks, learning, the sofa and sleep down of our bed ;-). We feel very fortunate that she has been part of our family. Thank you Cleo to have existed and to be like you were.
Thanks for the BAD website and I hope to write to you soon to tell you some good news.
My best wishes.
Teruca, Jose Miguel & Cantón. >>
---
In a message dated 8/25/03 12:35:55 PM, tcontreras@wanadoo.es writes:
<< Hello again agility friends:

The agility has been far away of my daily life already for too much time, but I write you to say that this will change. There is a new member at home, she is Tasha, a brown bearded collie that was born in April, now she is learning her first agility tricks. She is very intelligent and very agile. I know that I will not be at her level ;-), but I hope she doesn't find out and she enjoy with our play as if we were the best team in the world ; -) She is very talkative and she barks for everything (I already imagine she in the courses and alone I hope she hears me in spite of the sound that surrounds her). I have some doubts in general about her agility training. With Cleo the turn commands were left and right (but no whole turns), now I am tempted of to incorporate an order clockwise for complete turns and other for anti-clockwise. We are in it, the doubt is if I will be able to use it and if really this will contribute given information to the dog in the course. Another doubt is that I had Cleo very controlled in the agility courses but unfortunately we didn't have time to see if the speed was increased with the time. I don't want to brake Tasha, I want say that I want to learn her with speed from the beginning but certainly I don't want to lose control. Ah, forgot me that we are learning the training with Clicker, I will already request you aid when we needing help, since now it is small but in September I have hollidays and although the jumps and many obstacles are still prohibited by her health, I believe that something she will be able to train. I will already tell you. A hug to all and to tell you that I am recovered of the lose of Cleo, her passing was a hard stroke for me, I never imagined that any being doesn't humanize left me so much print.
Now a new agility time is beginning and I am wanting to live this new time.
A hug and until soon.

Teruca & Tasha >>
---

Off to a BAD Start
[BAD Handlers] | [BAD Dogs] | [BAD Events] | [BAD Links]
[BAD Greetings] | [BAD News] | BAD Beginnings]
[BAD Advice] | [BAD Attitudes] | [BAD Goods]

Email Libby with an update