Just this side of heaven is a place called Rainbow Bridge. When an animal dies that has been especially close to someone here, that pet goes to Rainbow Bridge. There are meadows and hills for all of our special friends so they can run and play together. There is plenty of food, water and sunshine, and our friends are warm and comfortable.
All the animals who had been ill and old are restored to health and vigor; those who were hurt or maimed are made whole and strong again, just as we remember them in our dreams of days and times gone by. The animals are happy and content, except for one small thing; they each miss someone very special to them, who had to be left behind.
They all run and play together, but the day comes when one suddenly stops and looks into the distance. His bright eyes are intent; His eager body begins quivers. Suddenly he begins to run from the group, flying over the green grass, his legs carrying him faster and faster.
You have been spotted, and when you and your special friend finally meet, you cling together in joyous reunion, never to be parted again. The happy kisses rain upon your face; your hands again caress the beloved head, and you look once more into the trusting eyes of your pet, so long gone from your life but never absent from your heart.
Then you cross Rainbow Bridge together....
"To call him a dog hardly seems to do him justice, though inasmuch as he had four legs, a tail, and barked, I admit he was, to all outward appearances. But to those of us who knew him well, he was a perfect gentleman." — Hermione Gingold
I'm sure everyone can guess my favorite pictures of my dogs are in the snow and I just love this one! It captures her beautifully!
December 16, 2017 at 3:48pm
Today I had to say good bye to a one of a kind girl. Zoe came into my life 14 years ago next weekend. Crazy to think she was the puppy I almost missed out on. I originally decided that it wasn't the right to add a puppy as I had just moved back to Michigan and lived in an apartment that only allowed one dog. But when her breeders called me again and offered her to me as they just couldn't part with her brother I couldn't pass her up. Little did I know how she would change me. I couldn't have asked for a better foundation bitch. I am so lucky to have her daughter and granddaughter with me. She will live on in her many kids, grand kids, and now great grand kids. She was my laid back girl who turned into a crazy girl when it came to agility. Those who only knew agility Zoe thought she was an over the top barking machine. I remember one time a friend who only knew her from agility was dog sitting for her called and said there is something wrong with Zoe just just laying around and sleeping no barking no jumping
:). That was normal Zoe. We had one last cuddle this morning before she was released from a body that was betraying her. Thanks to all my great friends who have helped me through this last couple of months of ups and downs. I couldn't haven't gotten through this without you. Thank you to Zoe for making me a better person and bringing me some pretty awesome friends and memories. So for now I will say Good Night Not Good Bye.
---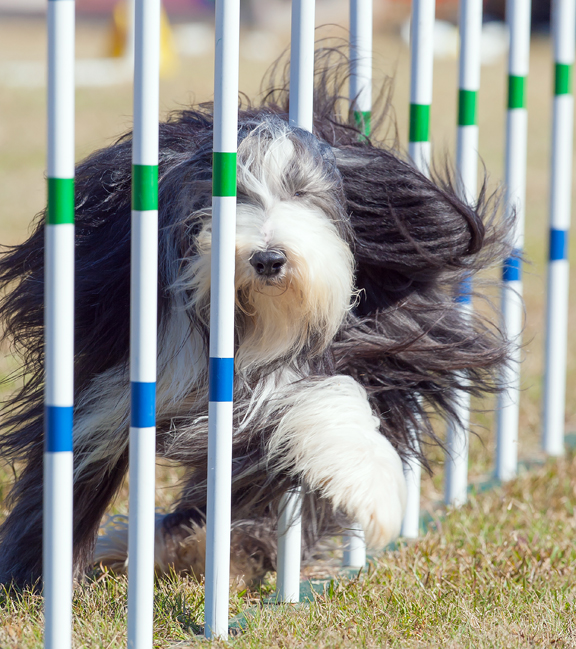 Beth Scorzelli's Brew
CH MACH ADCH
Colquhoun's Hurricane Brewin'
CDX RAE3 HSAs HSBs HIAs MXB MJC MJP MXF T2B JCH SCH CGC MV
Master Versatility
April 23, 2004 - December 13, 2017
"We said goodbye to Brew today. It was an incredible journey. My first Beardie, first confirmation dog, first herding dog, first MACH, first ADCH. He was always up for anything. He is among the few Beardies that earned the Master of Versatility Award at the age of 6. Because of Brew I made many great friends. He introduced me to the friendly world of Beardies and their owners. He loved every person he met and loved running agility, though I think his relationship with the teeter was love/hate. There is a big hole in my heart tonight, but I will be forever thankful for all the doors he opened for me and the wonderful friendships I have because of him and for introducing me to herding. Run free Brew." - Beth
---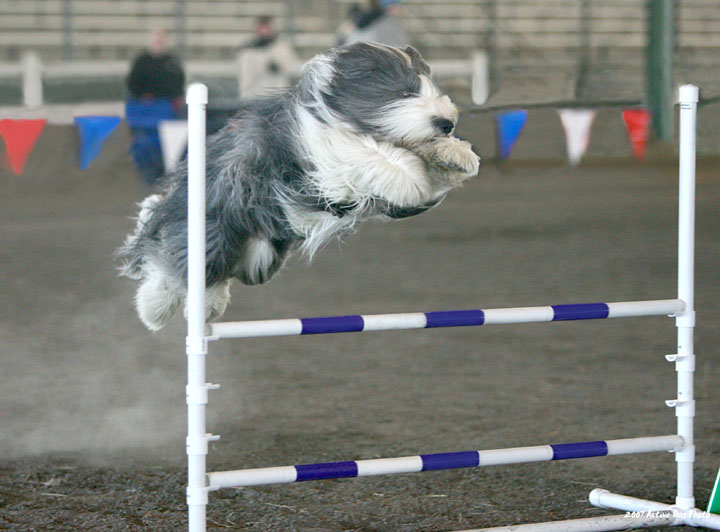 Andrea Hobe's Colby
June 16, 2005 - October 24 2017
MACH4 O'Duinnin Blacker N Coal
RA PT MXC MJS2 NF AD ASA SJ SG SS TN-N HIC TDI THDA DJ CGCA MV
Master Versatility
Andrea Hobe of Alpharetta, GA and Eileen Dinneen
Facebook Video

I'm so sorry to say that I had to let my best friend go today. As most of you know, Colby had a severe back injury on June 1st, leaving him completely paralyzed from mid-back down. He and I both gave everything we had towards his recovery, but over the last couple of months, it became clear that he was never going to recover. Over the last few weeks, his back (and all of his other joints) had been hurting him more and more. He was at the point where he cried out in pain any time he tried to change positions. I'm a big believer in "quality of life" and with his level of pain and his inability to get up or move around, I just felt like it wasn't fair to him anymore. I feel blessed to have been able to spend the last few months with him, trying to make him as happy as possible. So many people have helped us so much over the last few months and I will forever be in your debt. Colby was such a special boy. He was truly a once in a lifetime dog. Run free, sweet boy.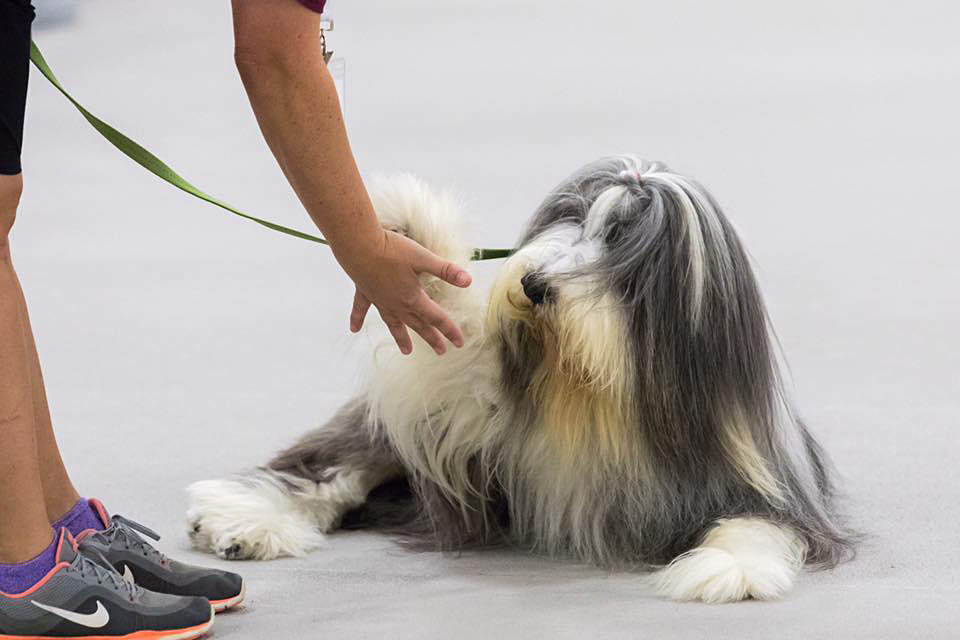 ---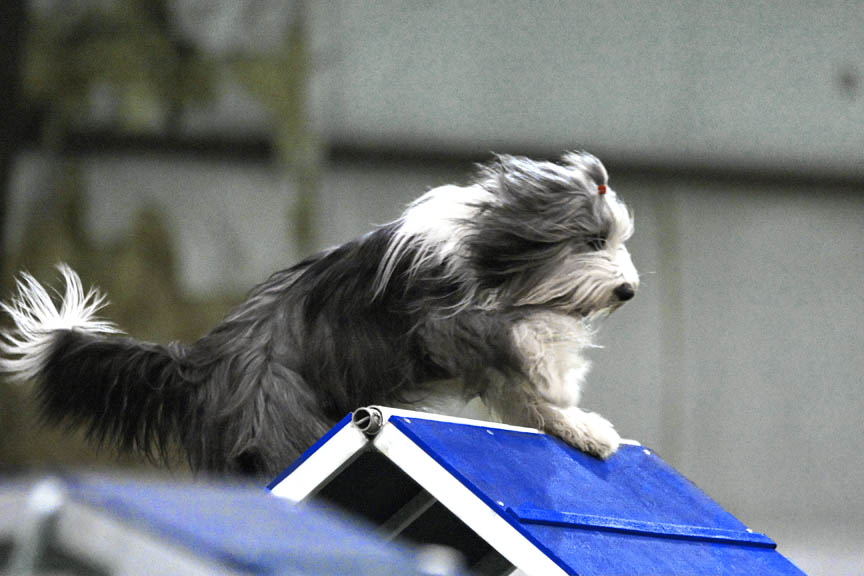 Kay and Mike Sakowski's - Michelob
CH O'Duinnin Michelob
RN PT AX AXJ HIC CGC VX
Versatility Excellent
September 11, 2004 - November 12, 2017
---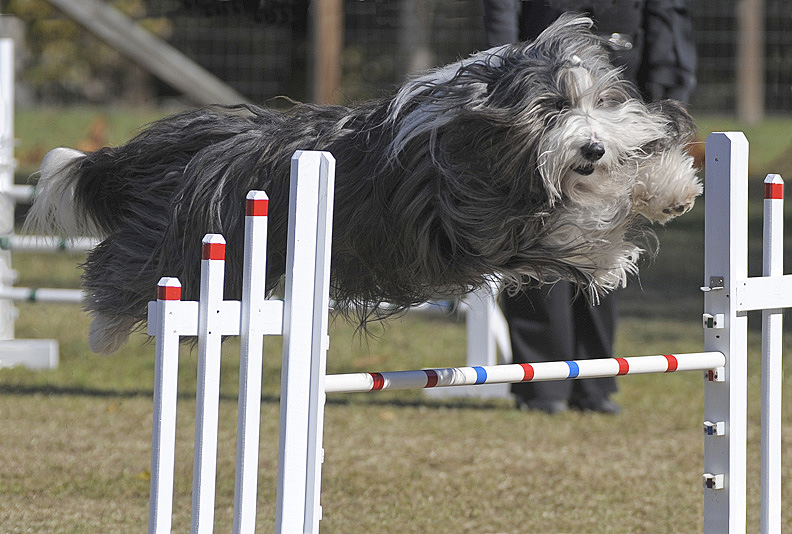 Elaine O'Carroll's Conor
AM/CAN CH MACH
Sheiling Awesome Angel
UDX5 OM6 RE PT MXS MJG AXP AJP NJC NGC CGC MV
BCCC CH CD RN HIC VA
Master Versatility
November 2, 2002 - September 22, 2017
"On September 22,2017, my husband and I helped our wonderful Conor cross over the Rainbow Bridge. For more than four years, Conor had been battling the affects of SLE (Lupus), and the disease finally won. He had a strong will to live and made it to almost 15 before his GI Tract was finally overwhelmed.
Conor was an amazing dog. He was beautiful, intelligent, and sweet - a great ambassador for the breed. He was an incredible teammate in Conformation, Agility, Herding, Rally, Obedience, and Tracking that I could take anywhere and he would always perform to the best of his ability. Unfortunately we weren't able to achieve the elusive OTCH - he got up to 80/100 points and 52 UDX legs when he was diagnosed with SLE and was unable to perform any longer. Before he became sick, he loved being a demo dog for the obedience classes that I taught. He achieved several BCCA Beardie Firsts and was one of the original Masters of Versatility. In addition to all the AKC, NADAC, BCCA, and BCCC titles that he won, we were awarded the Prince Memorial Award by Oriole Dog Training Club for outstanding dog/handler team in 2015. He represented Beardies well when we competed at the National Obedience Invitational twice. I was really proud of Conor and all that we achieved together - we had a very special fun, trusting relationship. We miss him terribly, but are so thankful for all the experiences, good and bad, that we shared together. He was truly an Awesome Angel " - Elaine O'Carroll
---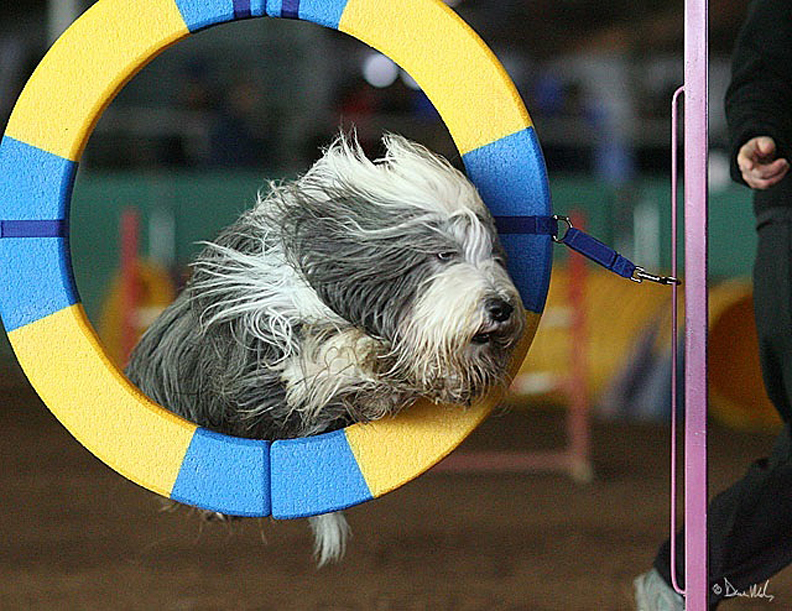 Sharon Prassa's Ry
GCH CH IntCH
Pentangle Rock'n Ryland P
RN TDX HSAs HIAs HXAs OA OAJ NJP OF THDN CGCA ROM ROMH VX
Versatility Excellent Beardie
Register of Merit for Conformation and Herding
October 8, 2003 - August 30, 2017
"We lost Ry, unexpectedly, to a mass on his spleen. He was owner handled in everything he did. I was so fortunate to have a beardie with a personality that matched mine enough to allow me to handle him in all the sports, and also fortunate to have kids and, now, grandkids to watch grow up. I miss him terribly." - Sharon
---

Sharon Domier's Bliss
CH Fivefields Miss Bliss
BN RE HT NAP NJP THD CGCA
March 4, 2004 - August 22, 2017
We didn't start agility until she was 8 and we didn't get very far because of time and circumstances, but we had a good time - especially in CPE where we took full advantage of low jump heights and generous times. This photo is one of those times and I would dearly love it to be her BAD page.
---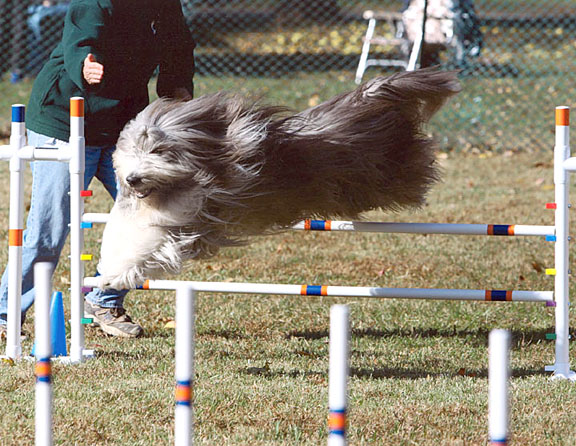 Photo by David Fruehwald
Sandy Weiss' Marty
CH Bendale Singing The Blues
UD GO RE HSAdsc HIAs HXAs STDs AX AXJ NF TG-N TN-N WV-N CGC VX
Versatility Exccellent
Register of Merit Agility Excellent
January 11, 2001 - August 21, 2017
I had to say good bye to Marty on August 21. He was 16 years and 7 months old, but it still was not long enough for me. There is such a huge hole in my life right now, as he was my constant companion and loyal, devoted friend for so many years.
Some broken hearts never mend,
Some memories never end,
Some tears will never dry,
My love for you will never die
---

Joanne Willilamson's Flash
CH MACH PACH2
Britannia Flashback
CD RAE HSAds HSBd HIAds HXAs HXAdM
MXS MJG MXP6 MXPS MJP8 MJPG PAX2 MXF MFP5 MFPS TQXP T2BP MV
Master Versatility
October 26, 2002 - August 7, 2017
Unexpectedly and sadly, Flash joined Jack at the Rainbow Bridge last Monday evening. I got home from PA with Dazzle and the kids and Flash greeted us at the door as usual. He reminded me it was his dinner time! After he finished eating, he joined us at the table to enjoy some of the our dinner when he suddenly collapsed and couldn't stand. We rushed him to Tufts and a quick assessment showed he had a large mass on his heart which had ruptured. His blood pressure was very low and he was having difficulty breathing. It was clear that it was time to let him go in peace. We would have celebrated his 15th birthday in October. Flash will be forever in our hearts. He was a wonderful companion and a truly great performance dog.
---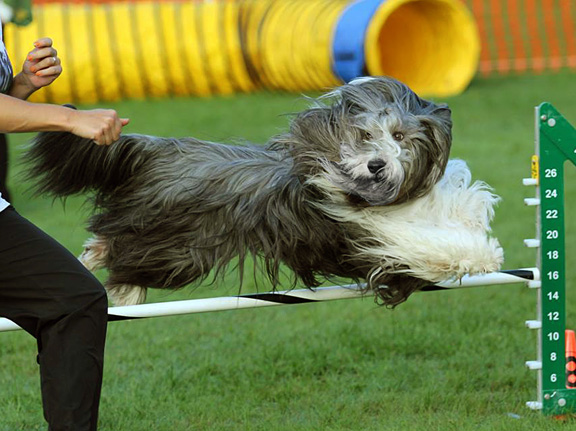 Trudy Wisner's Billy
CH MACH U-CH U-CDX ARCHEX
Merewoods NY State of Mind
CDX RE HSAs MXB MJB MJP NF CGCA TT ROMA VX
JHD AAD ASA AJ SG AS SR TN-N RL1X,2X,3X
Register of Merit Agility
Versatility Excellent Beardie
March 3, 2002 - June 20, 2017
This morning we crossed Billy over the rainbow bridge. He was such an amazing partner. He lived 15 years, 3 months and 18 days. He beat cancer twice. My Novice A dog. Together we did obedience, breed champion, rally champion, agility champion, herding, tv, commercials, movies and print ads. There wasn't anything he didn't love or at least try for me. I made so many mistakes yet he always forgave me with the smile and wagging tail. Because of him I've met so many people in the dog world. Some are my very best friends. Because of him we got to ring the closing bell at the NASDAQ. Do live tv with Micheal Strahan, Meet tv stars. Yet at the end of the day... all those titles, all the stars, none of it matters. What matters is the journey we took together. The people we've met, the lives we touched, the bonds we forged, the memories we've made. Billy's now gone but his kids live on continuing their journeys with us. Hug your dog, tell them how wonderful they are because they really are! Chances are none of us would even know each other if it wasn't for our love of dogs.
---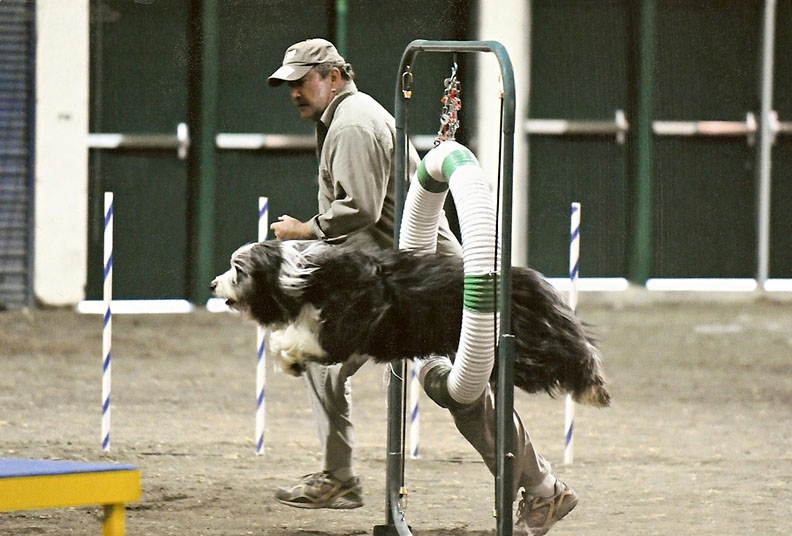 Dick and Cindy Nellipowitz's Nick
Chantilly's In The Nick Of Tyme
HSAs OA OAJ
October 30, 2003 - May 1, 2017
"Nick was Dick's best friend. They enjoyed herding and agility together. Never will forget at one NCBCC agility trial, Nick left the ring and did a walk about. Dick was embarrassed, but the rest of us knew he was just being a beardie! "
---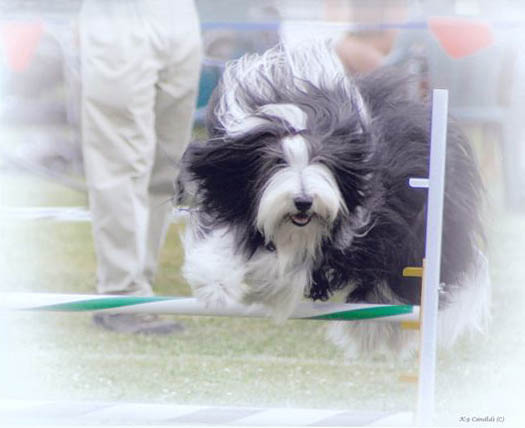 Maggie Riechman's Bridie
MarJac's Quietly Makin' Noise
RN NA NAJ AXP AJP NFP THD TDIA CGC HIC VA
April 28, 2001 - May 2017
"Bridie was Maggie's first beardie and first agility dog. My favorite memory of Bridie was at an outdoor trial in Minnesota. Bridie LOVED tunnels, so much so, it was hard to get her out of them. I can remember at this specific trial, she must have been in that tunnel for 5 minutes rolling all around. I am not sure Maggie thought it was all that funny, but the crowd sure did. Now Maggie and both her girls are pain free and together at Rainbow Bridge." -Sue Jamison
---

Maggie Riechman's Quinn
Wyndmist Gravity Storm
RN MX MXB MXJ MJB MXF
January 9, 2003 - April 19, 2017
Maggie lost her heart dog shortly before she lost her courageous battle with pancreatic cancer. Quinn was an awesome agility competitor. She was small but mighty and wow - she was fast. She and Maggie had many great years together playing agility. They were the team to watch. (submitted by Sue Jamison)
---
Richard Masley's Anna (aka "Mouse")
MACH2 Casanova's For American Beauty
MXC MJC MXP MJP2 NF
24 February 2005 - 13 April 2017
"I am without words. Anna left us for the Rainbow Bridge on April 13, 2017. In mid March we discovered a lump that was eventually diagnosed as inflammatory carcinoma. Surgery was an option but with grim prospects. Chemo would have only marginally extended her life. We opted to spoil her until she showed signs of distress. It was the hardest thing I've ever had to decide. She left peacefully and without pain.
Anna was the perfect teammate … rock steady and consistent with just the right amount of Beardie wit and whimsy. A particularly special agility career highlight was earning her MACH 2 at the BCCA sponsored agility trial in May of 2016. I'll always treasure that moment.
We all have our start line routines, mine was to whisper to her "Let's dance little girl". I could never have imagined that our "last dance" would come so soon.
With many tears, broken hearts and all our love always." Richard and Rosanna Masley
---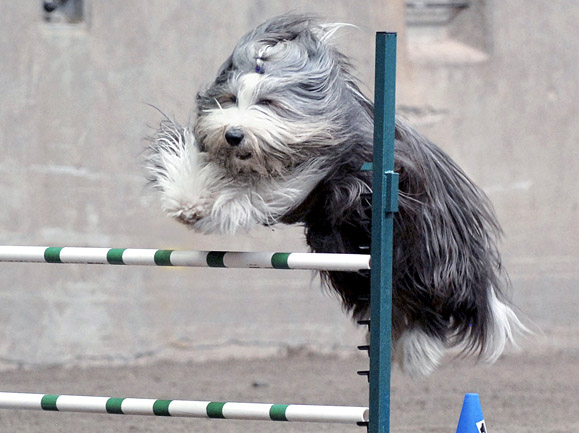 Dawn Kinney's Buffy

MACH2 Dunnachie's Buffy Slays Me

RN HT MXC MJB2 OAP AJP OF CL2-R HIC CGC VX

Versatility Excellent Beardie

March 7, 2002 - April 3, 2017
Her litter name was Buffy and I thought it was perfect. TV Buffy was athletic and funny, a good Beardie description. Soon after I arrived to meet her, Buffy and I were on the dining room floor doing sits. Years later, Jackye Dunn told me that she could see immediately that we were a good fit.
During one agility run, Buffy hit the table a little fast and 2 of her paws came off. She struggled with 2 paws on and 2 off while the judge and I watched her. She crawled back up without moving off the table and we qualified.
I badly fractured my ankle while walking the dogs and was non-weight bearing for 7 weeks. During that time Buffy was like a good waiter; she was invisible until I wanted something. When I reached for the crutches suddenly there she was and insisted on leading me. She would not allow me to move without being in front of me. One morning at the end of the 7 weeks I woke up feeling better. I was still on the crutches and was not aware of moving differently, but Buffy noticed something. For the first time in 7 weeks she barked at me; she had decided that things weren't so bad any more.
At one agility trial, I had to walk the Standard and JWW runs before we ran either. We were in the middle of one run and I was thinking, "Ok, up there I do the front cross and we go into the weave poles." Unfortunately, after the front cross there were no weave poles, I was thinking of the wrong course! I stopped and so did Buffy! She knew I was mixed up. We lost some time, but we qualified because she gave me a couple of seconds to get my bearings. One thing I heard often in agility class, "You're late. She saved you!" We were team mates, friends, and knew each other so well that we could anticipate the other. If Buffy could have done so, she would have told you that it was my job to read the course, but she was the real leader of the team. She knew me and she would see that we got it done.
---
Deb Thomas' Claire

BISS DC Pentangle's Forever Young

RA HXAds HSBd HRD III-s RLF I-s HTD II-s

NA NAJ VX ROM ROMH ROMI

Versatility Excellent

Register of Merit - Conformation, Herding, and Herding Instinct
July 9, 2001 - April 2017
When I was asked to take part in the Dream Beardie editorial for the Bulletin, there was no hesitation that Claire would be the dog I picked. She was just the sweetest, easiest dog one could ever want. She always gave her best to any task she was asked to do, from winning a National Specialty to numerous HIT herding wins, to placing first or second in 10 of her 11 Novice agility runs, to winning the Chip Versatility award in 2008. She was something special from the very beginning, that pupppy you had to look at - maybe because she insisted on walking on the back of the couch! I was blessed to have her in my life for almost 16 years. She has left behind a lovely legacy in children, grandchildren and great grand children, excelling in all venues from conformation, to herding, to agility, to nosework. She has left a hole here at Pentangle. I think of her every day, almost "Forever Young." The body fails but the spirit soars.
---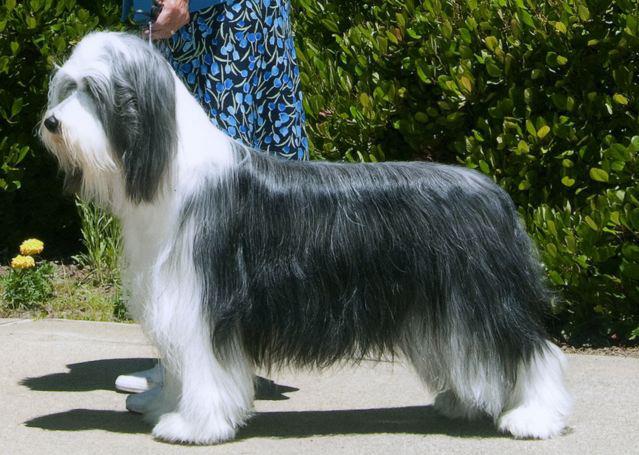 Pam and Mark Harris' Mary
CH Spindrift Something About Mary
CD BN RE PT MX MXB MXJ MJS XF T2B2 AAD ASA AJ AG AS AR NAC NJC CL3 HIC CGC ROM ROMAX VX
Register of Merit Conformation
Register of Merit Agility Excellent
Versatility Excellent Beardie
November 1, 2005 - March 27, 2017
Mary passed away today after a fairly short fight with cancer. My heart is broken as "There was Something about Mary "
Hug your Beardies as life is so short. She was my heart and soul and we had so many dreams!
---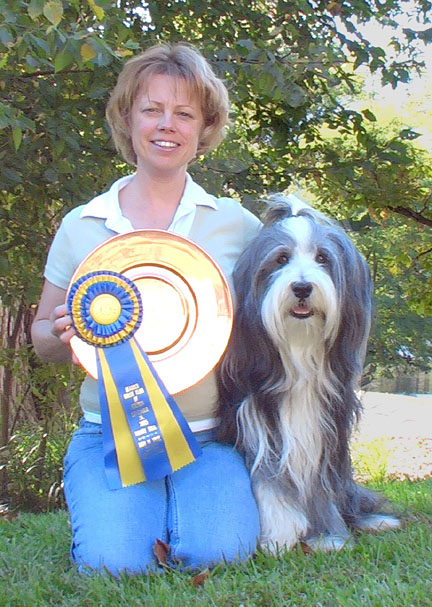 Lori Weinberg's Rocky
MACH PACH Chaniam Creag
MXS MJG MXP3 MXPB MJP7 MJPS PAX XF PG1 PJ1 PR1 HIC CGC
Inspiration for the Lightning Award
July 24, 2001 - March 8, 2017
"I close my tear filled eyes for a moment and I can hear Rocky barking his head off, playing shaking his frisbee to death, running and jumping in heaven. You were with us for 15 years and 8 months, not long enough for sure. From the first day that I held you in my arms you were a little ball of fire. Everything you did in life was full tilt. We traveled all over the country together playing the game we both loved, agility.
After you retired you were content to be at my side and follow me around the house, you had to be involved in everything. You loved head rubs and you gave me sweet kisses. Oh Rocky, my sweet boy, the last act of love we could do for you was let you go. So, I held you on my arms one more time. You may be gone from my sight … but you are never gone from my heart.
Thank you to those of you that often asked about Rocky." - Lori, Jerry, Blade & Bolt
---
Cheryl Poliak's Vince
GCH CH / Can CH
Nonesuch Arlin Green 'N Gold
RN ROM
Register of Merit Conformation
May 16, 2007 - February 16, 2017
I am heartbroken, shocked and devastated.
A couple weeks ago, Vince wasn't eating as well as normal. The girls were going in heat, so that was normal. But he had lost weight, so I took him to the vet. This summer after I lost Jordan, I took all the seniors for old dog bloodwork, etc, and he had Lyme disease. So we had treated that, and all was well. Now, his values were a little "off." He had a UTI, which was kind of strange for a male. As soon I as started the antibiotic, and some other vitamins and supplements, he started eating his normal amount and acted extra happy, active, and wanting the girls. So I realized that before, he must not have felt well. Beardies are so stoic. On Thursday, I came home, and he didn't come to the door to go out and play. I'm used to that with my geriatrics. For a couple years now, I have to always go see if deaf Whitney, MeMe and Abby are still breathing when they are in their deep sleeps and I get home. But I was scared and freaked out because Vince wasn't right there at the door. He was lying in the hallway, looking just like he was asleep. But he had died. There was no sign of trauma or anything. My vet was shocked, too. When he opened him up for the necropsy, he said Vince had the insides of a young dog. Then he found fluid all around his heart, and infection all over his heart muscle. He felt that the infection caused the fluid build up, which caused him to die instantly in his sleep. At least he didn't suffer, and didn't know I wasn't there. But I never got to say "Good bye." I lost Vince six months to the day I lost his father, Jordan. All of us here are lost without them. I am so thankful that he was my special boy and shared his life with me.
---
---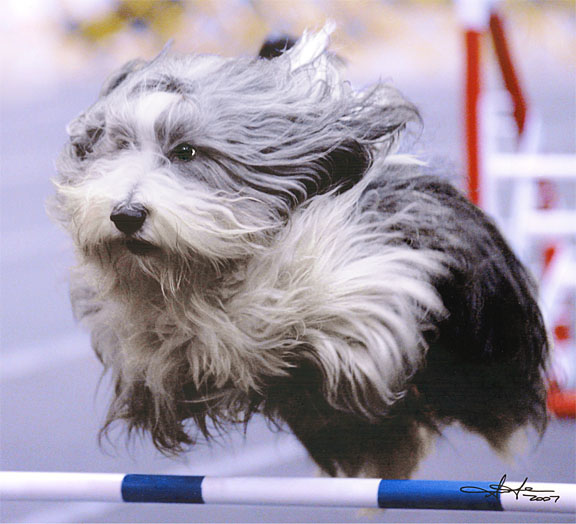 Richard Masley's Cale (aka "Bear")
CH Cameron's Celtic Charm
MX MXJ MJB

April 20, 2001 - February 2, 2017
"I'm sad to report that we had to help Cale along to the Rainbow Bridge last Thursday. He went peacefully with both of us by his side. He was our first agility dog and introduced us to the sport and for that, we can never thank him enough. One of the highlights of my agility career with him was running him at the BCCA Specialty in 2007. The house seems quiet without his beautiful baritone bark, something he had right to the end."
Much loved ... until we meet again ....
Richard and Rosanna Masley
---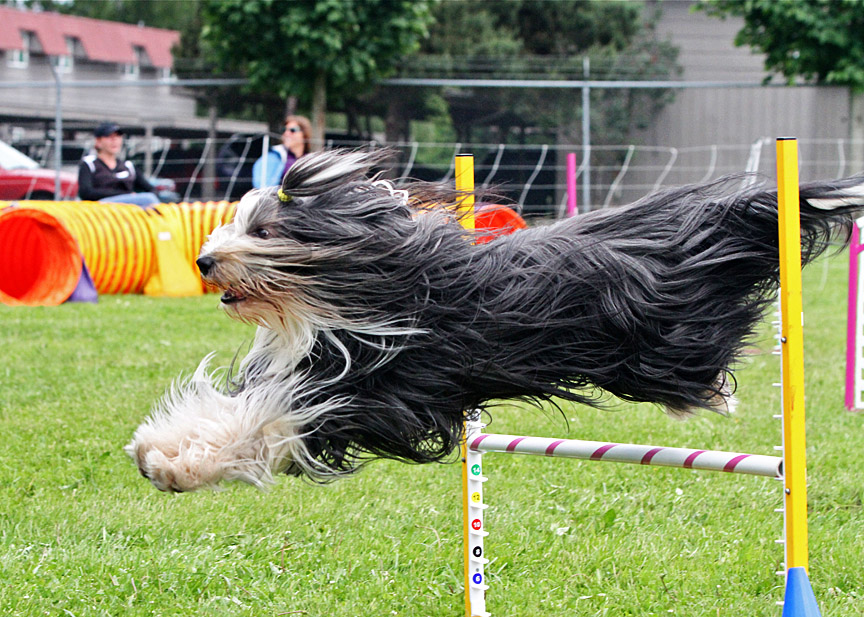 Elaine Robinson's Rachel
DC Pentangle's Celtic Flight
RN HIC HSAds HSBs HIAds HXAds ATDsd HRDII HTDIs AX AXJ OAP OJP VX
Versatility Excellent Beardie
July 9, 2001 - Feb 2, 2017
We literally "worshiped the ground she walked on" every day.
What a HUGE HUGE void in our lives right now.
Thank you to all that loved her.
Robinsons
---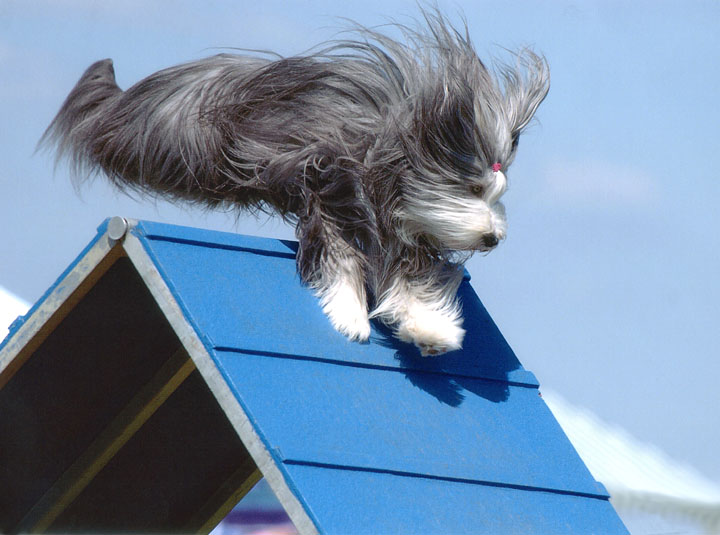 Sheila Franklin's Bracey Blue

ADCH-Bronze NATCH

Wynsum Embrace The Moment

RN HT AX AXJ OF GCH-Silver SCH-Silver JCH-Silver S-EJC S-WV-E O-TN-E O-TG-O O-OVA VX
Versatility Excellent Beardie
May 31, 2002 - January 9, 2017
"And then there were two....
My heart is broken but Bracey is now running pain free again. She was my first dog raised from a wee puppy and my first beardie and boy did she teach me a lot! She wanted to be in charge of nobody except me and, as many of my friends would say, she was often in charge of me. She ranked at the top of the independent scale of beardie bitches and was never an easy dog, but that was all part of the lessons she taught me.
She was a very pretty girl who, with the help of several instructors, turned into a fabulous and fast agility dog despite her inept handler (whose family considers it an oxymoron that she is involved in anything titled agility), who could turn on a dime and change directions on the bar multiple times. Somehow she learned to read my awkward cues and shined in spite of me. She had no trouble getting her Steeplechase and Super Q's in the 22" USDAA class and earned a NADAC NATCH as well as winning the 20" Pre-Elite Class at the NADAC Championships in 2005. IIRC, she was the first ADCH/NATCH Beardie and just started working on her MACH when she had to retire. But all the letters are really alphabet soup compared to all the love she gave us...the time spent just hanging out and letting her be a dog. Chasing frisbees was a favorite for her and she loved her toys. I will always smile at her pure delight in small children even in her later years, and I NEVER thought I would say I miss the barking but the house is EERILY quiet tonight. Her three favorite activities in life were agility, barking and retrieving, although lure coursing rated right up there as well!
She mellowed just a wee bit in the last couple of years, just enough to be sweet but still let me know every single day that she WAS Bracey Blue, including today! Run free girlie, run free. You have earned the right. I will miss you forever and ever. Give that loveboy Cheaney (who she kept track of for me in his later years) a big ole' hug and kiss for me when you see him. Give all of your dogs an extra hug tonight!"
---

Heather Gahres and Jeremy Haag's Elton John
Brampton's Pinball Wizard
BN RE PT OA OAJ XF SPG SPK SPR APJ VJD VKD NJC TG-N S-TN-O CL2 CGC VX
Versatility Excellent Beardie
December 10, 2002 – January 6, 2017
"Forever would have never been long enough.
We were so blessed for the past 14 years to share our lives with Elton. He was our first of everything; he was there when Jeremy proposed; he was at the wedding and honeymoon; he taught us to be better trainers and be really creative; but more than anything else he taught us to LIVE .. LOVE .. and LAUGH.
"I owned every second
That this world could give.
I swear I lived." – One Direction
We should all be so lucky to love life and live with every moment! He was the absolute best role model and we were so lucky to share our lives with him."
Memorial Video - https://youtu.be/YsQf_3eokEQ
---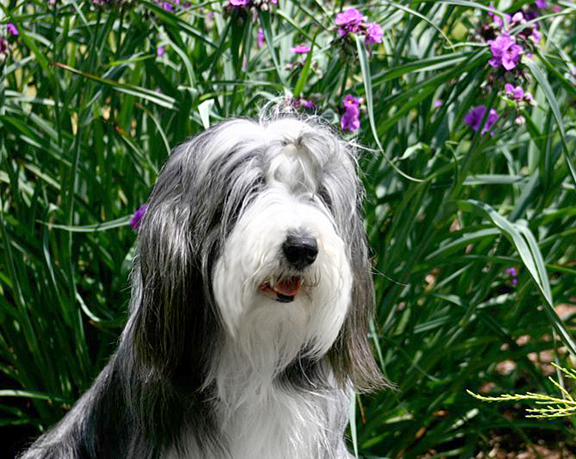 Dottie Hamblin's Layla
CH Ragtyme If Thats What It Takes
CD BN RE NA NAJ
March 4, 2004 -
---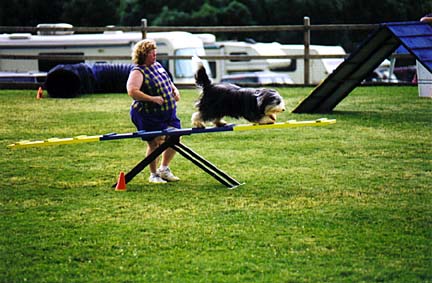 Dottie Hamblin's Nellie
Walkoway's Happy Talk
UD Can CD OA OAJ NJC
July 9, 1995 -
---
---
Rainbow Bridge Beardies 2016
---
---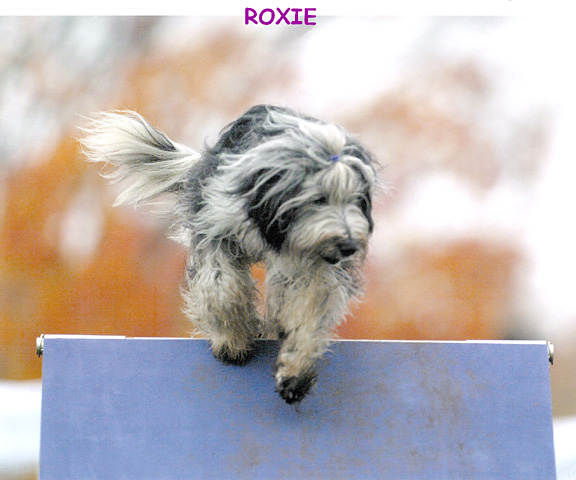 Claire Cifarelli's Roxie
MACH3 Roxie
MXC MJC OF AD SSA SJ SG SS SR TN-O TG-N
August 14, 2002 - December 31, 2016
"Heaven has another angel. Claire Cifarelli lost her Roxie on New Year's Eve. Claire found Roxie on Petfinder. She came from the Heart of Minnesota animal shelter and went on to have a wonderful life. She even earned MACH 3! Roxie taught Claire about teamwork, patience and reacting to any situation on course. She had a good life and her quirky ways will be missed." – Trudy Wisner
---

Maureen and Jean Larroux's Bella
GCH & Intl CH
Chaniam Amabella Bancharaid
HIT UAG1 HIC HCT CGC ROM
Register of Merit
May 31, 2004 – December 31, 2016
"It has taken me a week to post but with heartfelt sadness we lost Bella suddenly on New Year's Eve morning, in Jean's arms. Bella's name, Amabella Bancharaid means: beautiful, lovely friend. That she was and so much more. Bella changed our lives in so many ways. Through Bella we made a new circle of special friends and had many wonderful adventures. She leaves behind a lovely, accomplished litter of puppies and now, after a long wait, a beautiful litter of Grand pups. Rest in Peace beautiful Bella. We hope you are at Usher's side running free of pain."
---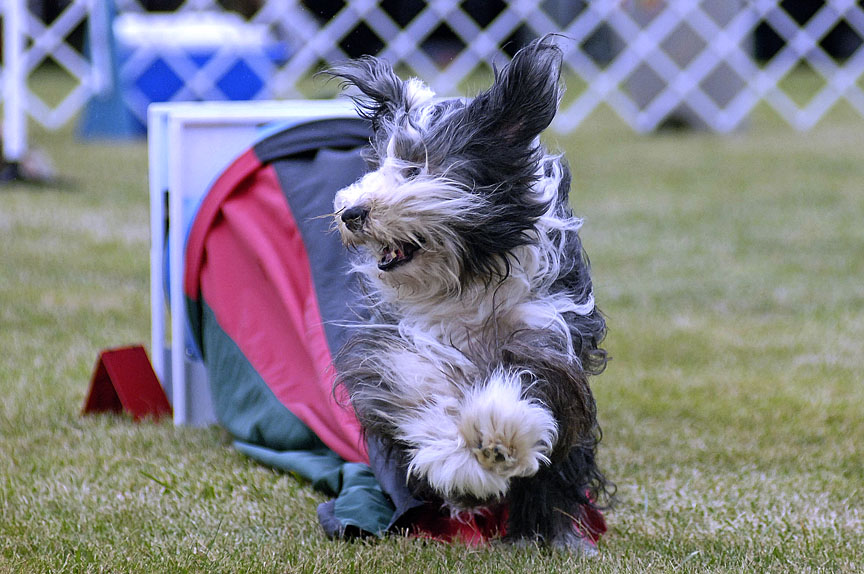 Terry Johnson and Linda Porter's Indy (AKA Indiana Jones)
Tweeddale's Dream Catcher BN RE MX MXJ MJS MJP OF PD SPS APG APJ APK APR U-AGI CGC VX
Versatility Excellent Beardie
December 18, 2000 – December 28, 2016
"Indy had stomach cancer and I had to say good bye. He was my novice A agility dog. We had such fun together. He had great joy. He was such a gentle soul. All his life he loved puppies and little dogs. He picked me as his person when he was just 4 weeks old and he's been the best buddy ever since. I am so grateful to have had him for so long but I feel as if my heart has been ripped from my chest. Best. Dog. Ever."
---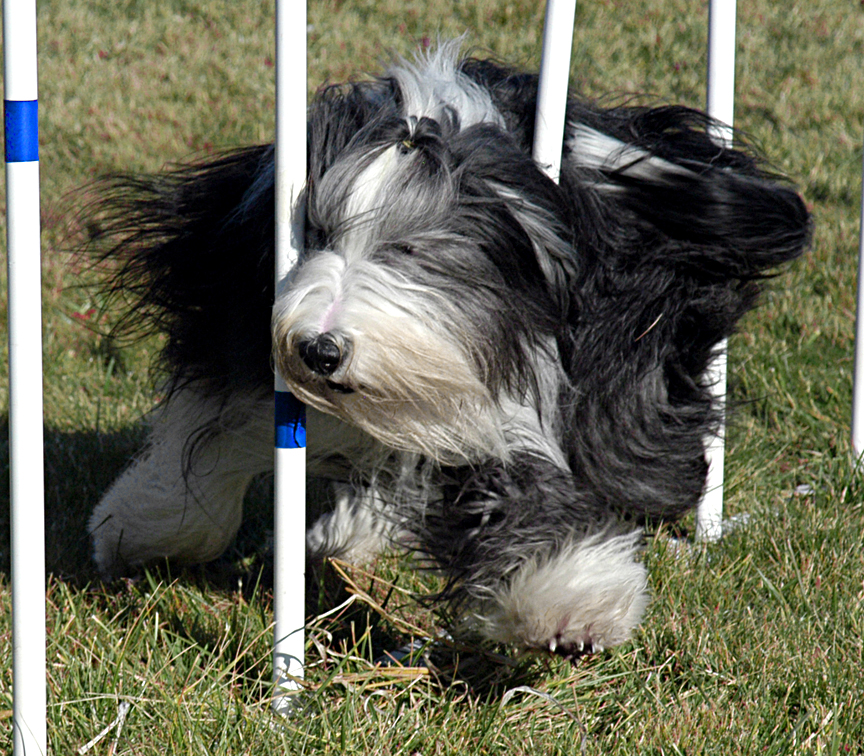 Joanne Williamson's Jack
DC Pentangle's Captain Jack
BN RAE HSAds HSBd HIAds HIBd HXAdM HXBdM MX MXJ MXF T2B MV ROMA
Master Versatility and Register of Merit for Agility
March 17, 2008 – December 9, 2016
"It is a sad holiday season for Greg and me. We lost Jack last Friday to hemangiosarcoma. The cancer was found less than a month ago when he had to have emergency surgery to remove his spleen. We decided to give chemotherapy a try, but neither we nor Jack realized it was already too late, as he was his happy, energetic self right to the end. We had hoped to have a few more months with him, but he collapsed last Friday morning from another bleed and we knew we had to let him go peacefully. Jack was always larger than life in everything he did. Perhaps at some level he knew his life was destined to be short and so he lived what was given to him intensely. We miss him more than words can express. It is so very hard to believe he is gone.
---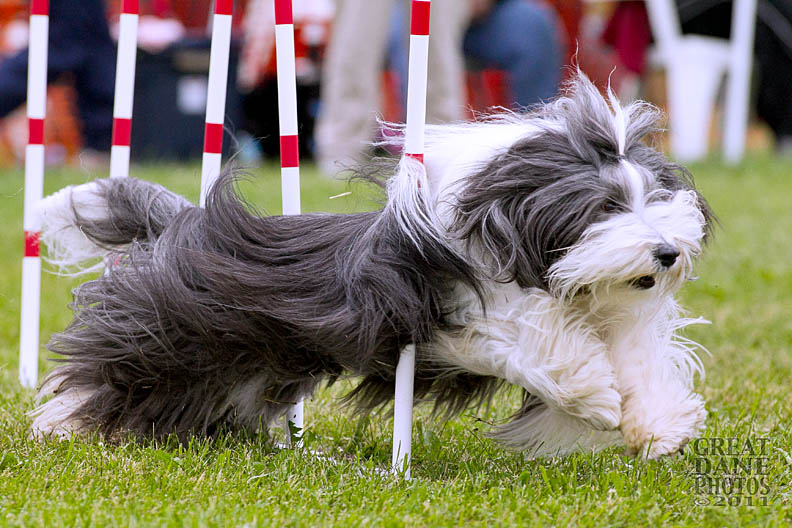 Logan at the CPE Nationals 2011
Dianna Anderson and Cheryl Poliak's Logan
Spindrift Nonesuch Made Ya Look CD RE OA NAJ NF AAD ASA SJ SG AS AR CL3 CGC VX
Versatility Excellent Beardie
February 17, 2003 - November 15, 2016
"I lost my best boy today. Nearly 14 years was not enough. I won't even try to put into words what Logan was to me. Maybe at some point I'll post more pictures and list his titles and accomplishments, but he didn't care about any of that. He just wanted to work, run fast and bark loud. Thank you to Cheryl for choosing him for me and flying with him from Nevada for me (I literally could never, ever repay you for that) and Pam for breeding Jodie to Morgan which gave me this perfect dog, who was 1/2 couch potato, 1/2 race car.  Thank you Loretta for seeing potential in a wild, loud dog with an inexperienced handler that had no clue how to harness all that enthusiasm. And thank you to my coworkers who helped get me through this day.  May you all get to have that one perfect dog in your life."
---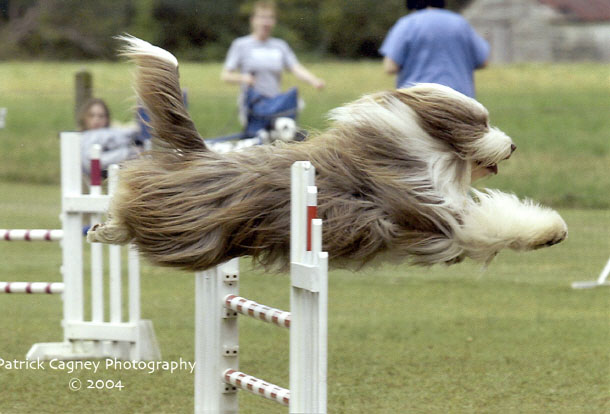 Photo by Pat Cagney
Beth Kortze's Sprite

MACH Moonstone Kindred Spirit
RN MXB MJB NF NAC NJC O-TN-N WV-N HCT CGC

April 27, 2001 - September 2016
"Sprite was my second Beardie and first agility dog. He was a very friendly boy and no person was a stranger in his mind. He wasn't a lightning fast dog but he was fast enough to make steady progress toward a MACH. It took a while until we could work consistently and I am pretty sure we got half his QQs after he turned 9. When he retired from agility, he enjoyed patrolling the yard, guarding his jolly ball and doing backyard agility. Even at 15 he would happily stroll through tunnels for a ball at the other end. Training and trialing with Sprite are some of my fondest memories as he taught me a great deal, made me grow as a person and a dog owner, and led me to rethink how to achieve our goals and have a great time, too! Sprite was one of a kind and will ALWAYS be in my heart."
---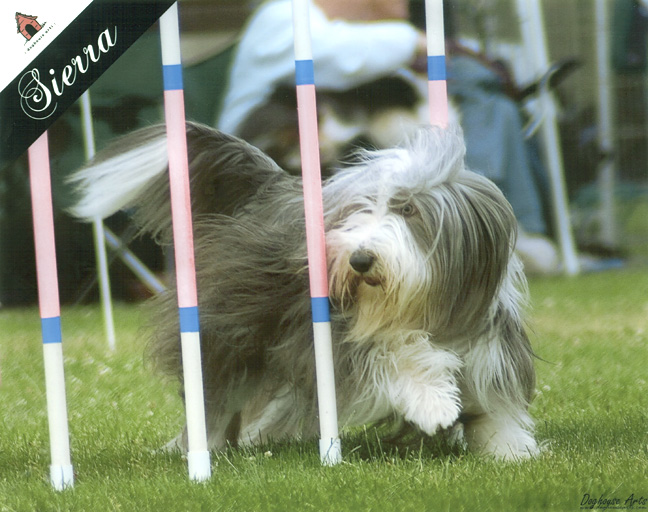 Karen Ryder's Sierra
CH Ryderwood High Sierra AX AXJ
June 22, 2001-August 5, 2016
"Our beloved 'CeCe' taught me everything I ever needed to know about agility. She would read the numbers and do the course correctly as I ran off in the wrong direction, but eventually, with her help, I learned how to run the courses well and she achieved her excellent titles in standard and JWW. Sierra was the best beardie mama ever! An animal communicator told me she loved having her litter of pups. She was a loving grandma to Sheena, producing milk after nursing her for a period of time. I'll never forget the excitement on her face when I walked into the house with that single brown pup. She was 12 years old then! Sierra was a natural in the show ring. I finished her championship in the bred by class before her third birthday, our first Ryderwood champion. It has been a wonderful journey with our sweet peaceful sanguine girl, who loved every human and canine that crossed her path. She will be missed and will always be in our hearts!"
---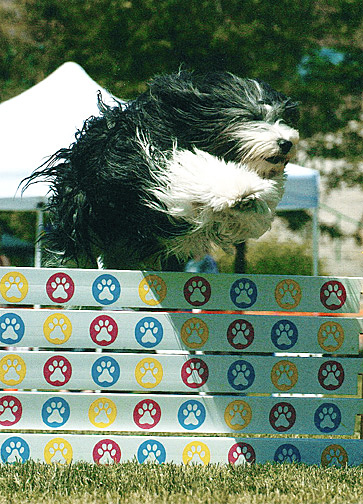 Photo by Ann Clayton
Pam and Mark Harris and Jana Dozet's Jodie
Ch Spindrift Charmed I'm Sure CD RE PT AX AXJ OF OAP AJP NFP CGC TDI VX ROMAX
AD SSA SS SR SG PS2 PD2 EAC OJC NGC TN-N CL3-RH
Versatility Excellent Beardie
Register of Merit Agility Excellent
September 3, 1999-July 15, 2016
"Jodie was named in honor of Jodie Foster and was my smart, mouthy, energetic, confident, loving black girl! Did I mention mouthy? She was very willing to tell me when I was wrong on the agility course. She didn't see any reason for start lines, tables or contacts as they just slowed her down! We had many "discussions" on course, and she constantly reminded me that I was late in telling her where to go. And of course she was right!!! Jodie was what I felt a Beardie should be: confident, versatile, loving, as well as athletic! Jodie was the one in control until the end, and I miss her every day!"
---
Cheryl Poliak's Jordan
BISS Am/Can CH Nonesuch H'Air Jordan RN ROMX ROMAX
Register of Merit
Register of Merit Agility Excellent
August 15, 2003 - July 14, 2016
I knew Jordan was the one for me by the time he was about 4 weeks. He was quite aloof to most people, but very loving to me. He was Top Dog here, and the rest, including me, are lost without him. Jordan finished his American championship at 13 months at the BCCA National Specialty, retiring the Bred by Exhibitor trophy. He won the Canadian National Specialty before he was two years old. He was multiple Group placing as a puppy in the US and Canada. He wCanadian National Specialty and many times at Regional Specialties. Jordan sired outstanding kids. A National Speiclaty winner, Regional Specialty winners, numerous AOM winners at both, numberous kids who finished their championships with specialty wins, and kids who have gone on to produce outstanding Beardies.
---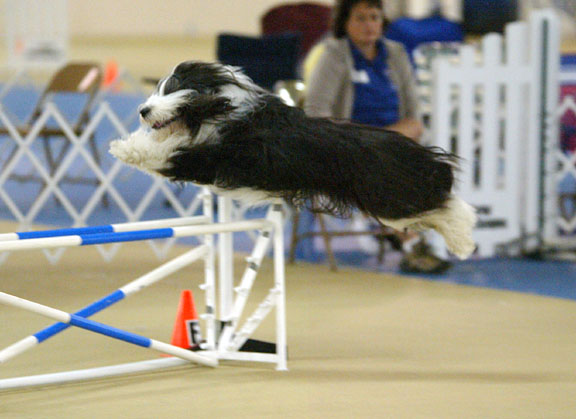 Eileen Dinneen's Carbon
CH O'Duinnin Carbon Copy CD RN OA AXJ ROMAX VX
Versatility Excellent Beardie
Register of Merit Excellent for Agility
April 11, 2002 - June 13, 2016
"It is with a heavy heart I write this note to tell you of Carbon's passing. Carbon Copy combined all the finest traits of each beardie we owned. We were lucky to have her. She was a versatile beardie with mulitiple titles in her short show career. For those who remember, she was a lovely black beardie girl who announced her completion of the weave poles with an excited bark and leap into the air. She was loved by all of our neighbors, even turning a couple of dog haters into dog lovers. They and their grandchildren will miss her most. Carbon's legacy will carry on through her progeny: Boing, Shadow, Colby, Chase, and Erabella." - Eileen
---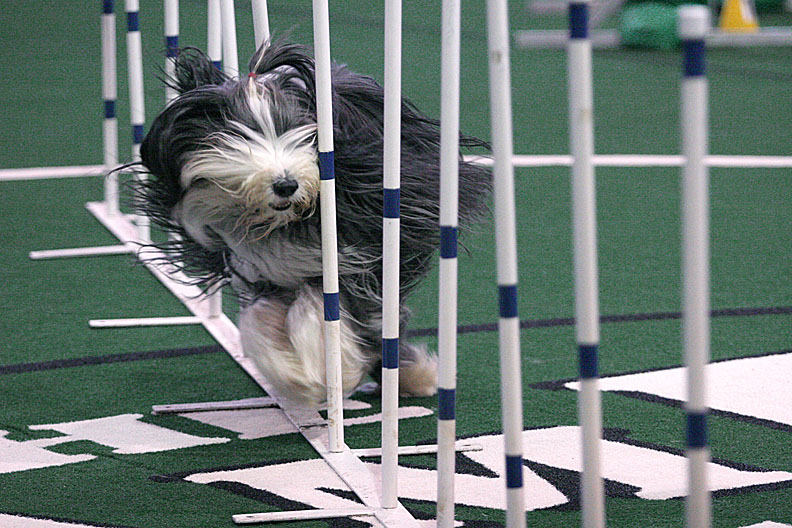 Tom and Cheri Omnus and Julie Patzius' McKay
CH MACH Lakewood Shining Star RN MXB MJC NF PD2 PS2 PK3 PJ2 PG1 NAC NJC WV-N HIC CGC VX
Versatility Excellent Beardie
April 17, 2002 - June 7, 2016
"McKay had such a big presence in our home! He was my first breed Champion and my first MACH Champion. McKay didn't start as an "easy" Beardie. As a puppy, he tested every boundary and rule even though his two brothers, Murray and Miller tried to show him the ropes. Over time we came together and accomplished so much, doing it our way: big and loud! What fun we had! He was a very special boy to us and we were truly blessed to have shared our life together for 14 years. It is never easy saying goodbye. We love you Bunny and miss you so very much! Until we meet again." - Cheri Omnus
---
Walt Ernst, Rosemary Schroeder and Mary Jo Steger's Mickey
CH MACH Oakengates Quite Contrary MXG MJG2
February 21, 1999-Spring 2016
"We lost Mickie last spring. She was 17. Walt had so much fun with her."
---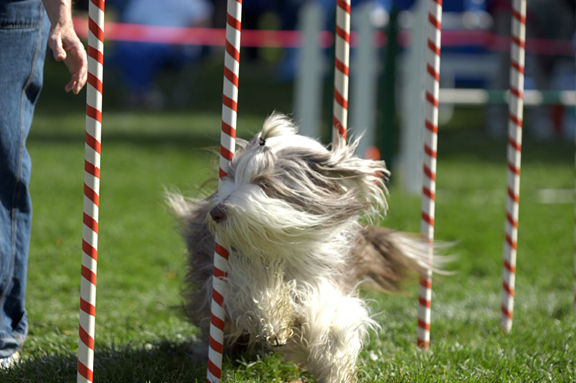 Carol Hegg's Joli
O'Duinnin Joli Goes Platinum CD RE PT JHD-sg MX MXS MXJ MJS OAP NJP OF
AAD ASA JCH RCH AS AG NAC NGC EJC TN-O WV-N CGC VX ROMAX
Versatility Excellent Beardie
Register of Merit Excellent for Agility
April 11, 2002 – January 20, 2016
"My petite little brown girl, Joli, went to the Rainbow Bridge in January. She was 13. Joli and I tried many venues and she worked diligently with me in all of them, learning quickly whatever we did. Herding was the most fun, but she worked hard every week so we could compete in agility, herding, obedience, rally, and a little bit of conformation. She really was a competitor and took High in Trial for Jumpers with Weaves at the 2004 National Specialty in Colorado. Thank you Eileen for trusting me with this little girl, who is Carbon's sister. I think about her and miss her every single day. Like all beardies she gave everything of herself in all that we did together. Love you, little JoJo." - Carol
---
Rainbow Bridge Beardies 2015
---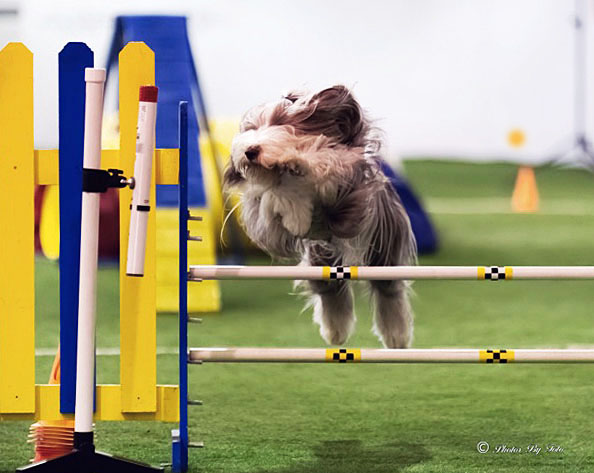 Lisa Humm's Daisy
Five Fields Magic Daisy NA NAJ
January 31, 2010 - 2015
"I lost Daisy, my five year old beardie, last year. Don't know if I'll ever have another as losing her was very difficult."
---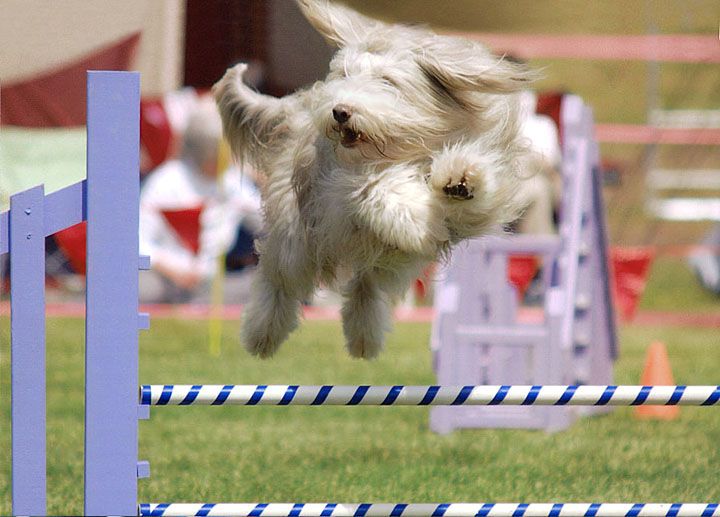 Maryann Grove's Camille
Barnhollow's Worth The Wait PT NA NAJ
13 April 2003 - 3 November 2015
It is with a broken heart that I have to report that my beautiful Camille has gone to the rainbow bridge. Three weeks ago she was running and playing with Lida on the beach, when she all of a sudden collapsed. Long story short, she had a mass in her heart, which I had removed, but it was hemangiosarcoma and had already spread. She was the love of my life, my soulmate, my companion and friend. I was so lucky to have her share her life with me. She was smart, silly, fun, would always make me smile with her antics, and loud! She loved to bark and even would make noise with her toys. She and I didn't make the greatest performance team since she was too much like me and we would both stress at competitions, but she loved working my sheep and had a nice way with them. We always kidded that she didn't think she was a dog. I called her my "Golden Being." She was pure love - so perhaps she is back with her fellow Golden Beings. "Fly free my love - I miss you more than I can say – I will love you forever."
---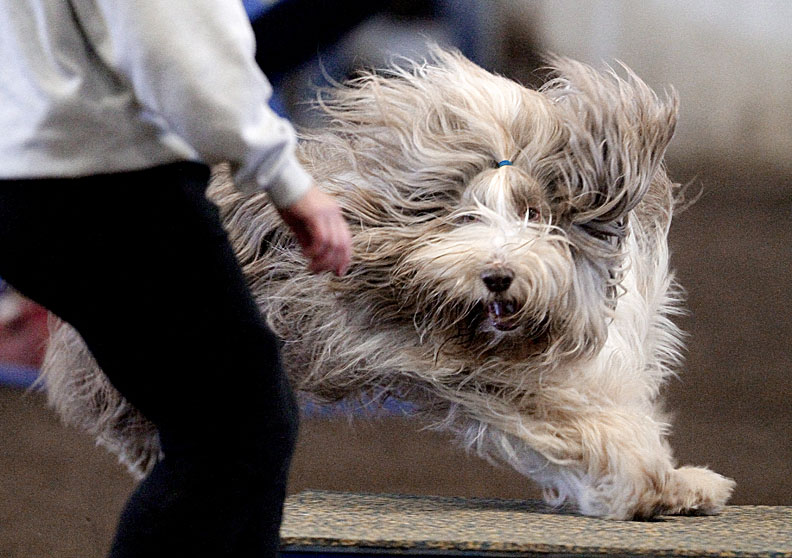 Barbara Stone's Eriskay
CH Fivefields Temporary Insanity
BN RN NA NAJ NF CL1-FHS NW2 LIE VA, medical alert dog
20 October 2008 – 31 October 2015
'As a puppy, I thought Eri would never see the inside of an agility ring! Until he was about three, we would go to the practice barn, I'd try to teach him to do a piece of equipment and he'd lie down, put his chin on his paws and tell me that it looked like a lot of work. We'd throw the ball for twenty minutes and go home. When he finally decided agility was fun he never looked back. It was his favorite activity and once he got hooked, he never did it with less than 100% commitment and enthusiasm. He had a very limited trial career due to a series of broken and sprained toes (earned doing things like herding and running in the hay fields) and spent most of the three years, when he should have been trialing, rehabbing injuries. Extremely fast and with outstanding obstacle focus, he taught me more about handling and training than any of my other beardies. He was an amazing partner in everything we did together. I miss him terribly.'
---
Jana Dozet'sTrip
CH Risa To The Spindrift Spirit PT HIC
9 April 2006 – 21 October 2015
"Jana had to say goodbye to her beautiful boy Tripp yesterday. Tripp was very sweet, lovable and so much fun. I think one of his most endearing qualities was his love for puppies, such as my Robbie. It was so much fun to watch him run in to check them out. He did like to steal their toys though. He will be greatly missed and leaves a big hole in our hearts. Rest in peace sweet boy!" Karen Gutheil
---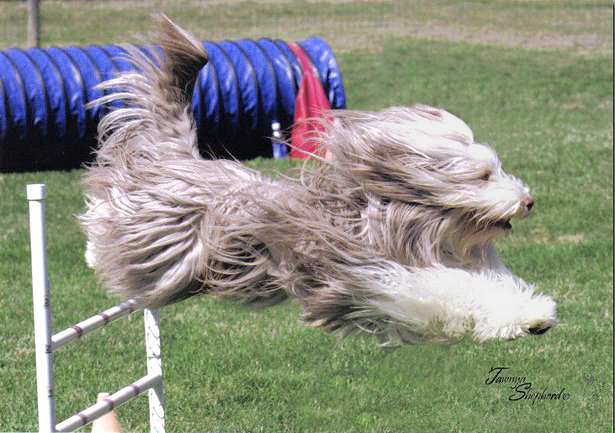 Jan Leverenz's Hops
AmCan CH MACH3 C-ATCH12 CS-ATCH
Wynsum Captivating Rhythm
CDX Can CD-HIT RAE MXC MJS2 MXP MJP MXF
AAD ASA JM SG AS AR
EAC EJC NCC TN-E WV-O TG-N NVA
L5PLT2 THD TDI CGC HIC VX
Versatility Excellent Beardie
3 April 2001 - 30 September 2015
Hops, my fabulous partner of 14 1/2 years left us last night after suffering multiple seizures and in pain. I couldn't have asked for a better Beardie. He starred in two commercials and was so tolerant of the many takes it took at the shoots. He took me to so many firsts in dog competition that I will cherish forever: my first Award of Merit with me as a novice handler at the BCCA Specialty in 2005, my first agility dog and MACHs, 12 C-ATCHs, titles in USDAA and NADAC, my first obedience dog with CD, CDX and HIT at the Canadian Specialty, my first rally RAE and HIT in rally at the BCCA National in 2011. He was an awesome Therapy Dog and was always willing to work no matter what I asked of him. I love all my boys, but Hops was a one in a million Beardie. Our pack lost its leader last night and my heart has a hole that will never heal.
---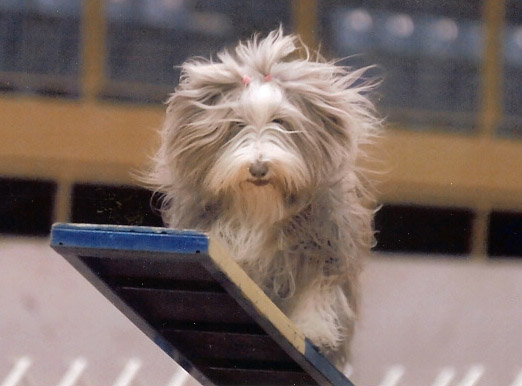 Kim Kruger's Grendel
Spindrift Cookie Monster Risa
CD RN PT AX MXJ NF OAP AJP TDI CGC VX
Versatility Excellent Beardie
25 November 2000 – 3 September 2015
Grendel - Best dog ever, my true love.
"Thank you everyone for your kind words about Grendel. I feel the love everyone had for her. Her last day was wonderful. She played in the sprinklers, danced with me, and went for a long hike. She had a love for life and a sense of adventure that I will never forget. She made everything fun. I got Grendel as I was still a fairly new veterinarian. She loved going to work and greeting the clients, but most of all she loved her family. She loved these boys so much and raised them well. She taught them what unconditional love was about. She also taught them that it is okay to play in the sprinklers and be silly. We had many dance parties in their room with a dancing, singing Grendel. The house is much quieter without her. I will never forget you Grendel. You were my best friend, my constant companion, my hero, but, most of all, the best teacher I ever had. I love you sweet girl."
---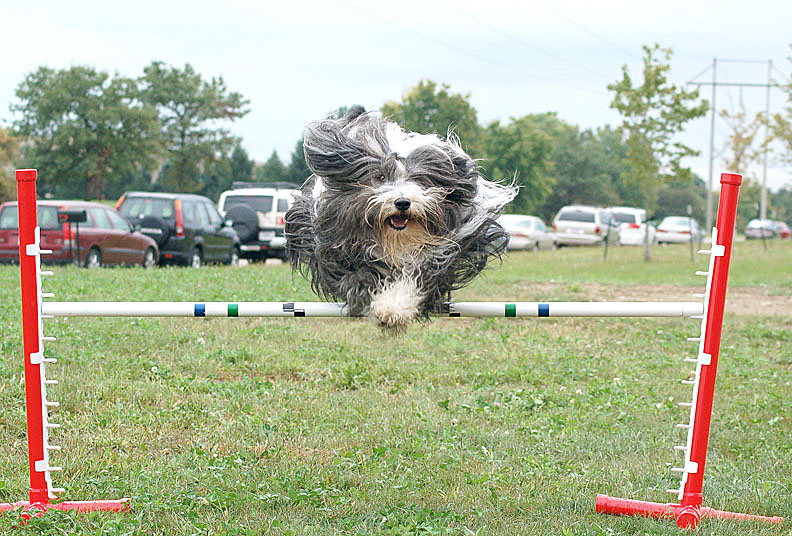 Marilyn Snook's Raven
Marjac's Mystic Raven
RE PT JHD STDs MX MXJ MXP EAC O-EJC OCC TG-O S-WV-O S-TN-O HP-O OVA
CL2 CL3-RF HIC CGC TDI VX
Versatility Excellent Beardie
30 April 2005 - 4 August 2015
There are no words to describe how losing Raven has devastated me. How do you ever get over losing the "perfect dog"? Raven was my once-in-a lifetime dog. She was my constant companion, my heart and my soul. Together we did herding, obedience, therapy visits, nosework, and her favorite - agility. She lived her life every day with such joy and exuberance. She always knew when I needed her, and now when I need her the most, she's no longer here. "No longer by my side, but always in my heart." I will always love and miss you, Raven!! my heart." I will always love and miss you, Raven!!
---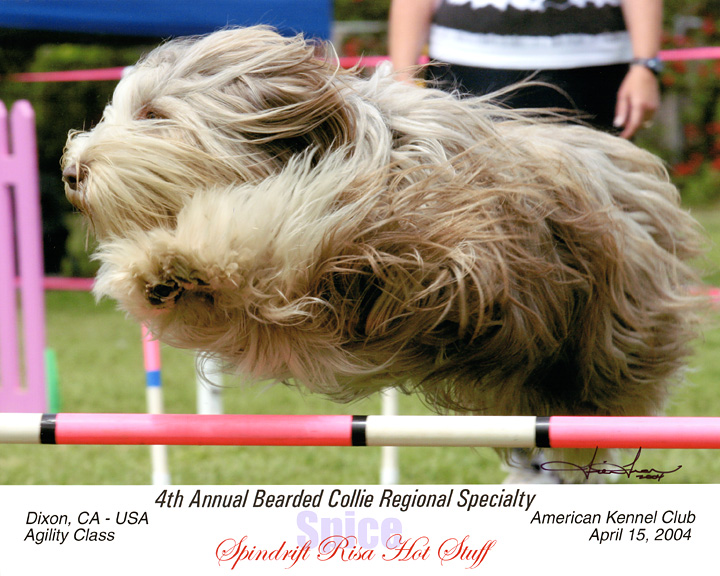 Patti Bott's Spice
MACH PACH Spindrift Risa Hot Stuff VX
CD RA MXB MJS MXPB MJP4 MJPB PAX
NAC EJC NGC WV-O TN-O CL3 CL4-FHS CGC
Versatility Excellent Beardie
25 November 2000 - 2 June 2015
In just a day or two it will be 6 months since Spice crossed the Bridge. It has taken me this long to put together my thoughts and feelings. Spice was the Perfect Dog that came into my life at the Perfect Time. She was brown, sassy, smart, manipulative and a flirt. She loved the game of Agility! Spice was that dog that GOT the game and loved it. The two of us had the best time working as a team and running against the course and the clock. She loved the adoration of people and had a habit of flipping that beautiful head of hair as if to remind everyone that style is also important. My greatest admiration for Spice came when she had her autoimmune crash. The dignity and bravery she showed in fighting that battle left me in awe of an amazing dog that loved her family. I promised her in the dark days that if she would live, I would never make her stay at the start line again, and she never did. Spice, thank you for the gift of so many wonderful memories that you gave me over 14 1/2 years. I'm not sure I'll ever be over the tears.
---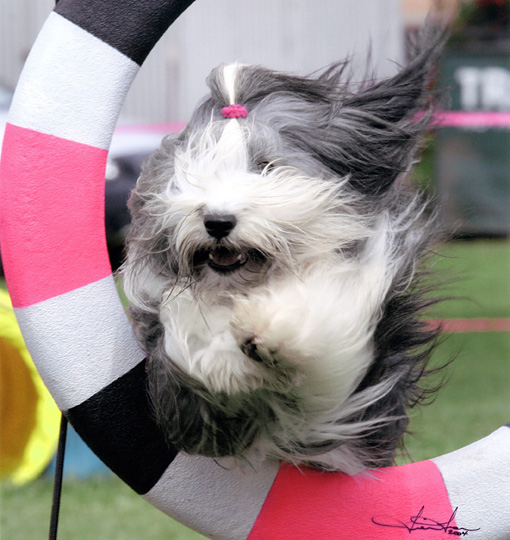 Tien Tran - NCBCF Regionals 2004
Doug and Sarah Halsey's Impy
Malakar Delightfully Wicked MX MXJ MJB OF AD SJ
13 May 2000 - 5 March 2015
"I lost Impy on March 5th. She had been acting somewhat lame for a few days, but that morning was clamping her hind leg to her abdomen and twisting her spine to an extreme degree. Her abdomen felt very tight and she was in obvious pain. The vet saw extensive abdominal tumors on ultrasound, and we decided to put her to sleep. She would have been 15 on May 13." - Doug Halsey
---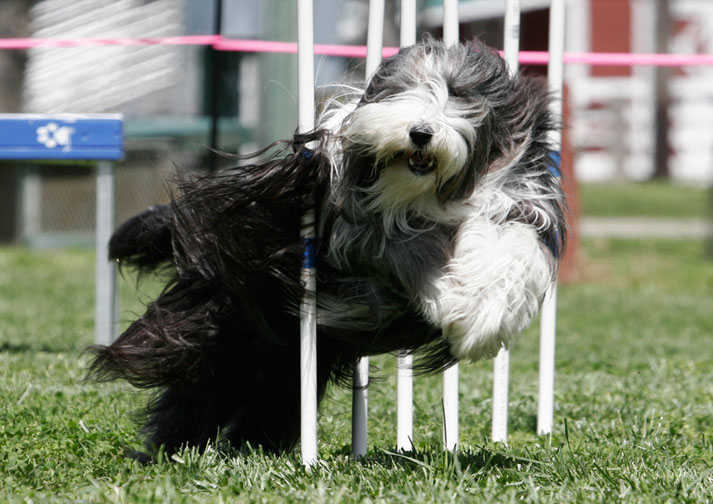 Miranda and John Mulders' Rembrandt
NATCH2
Colard Fly With Me
RE PT AX AXJ MXP2 MXPB MJP2 MJPB XF MFP MFPB TNE-400 O-WV-E TG-E O-HP-E EVA CGC VX
9/01/01- 2/28/15
"It is with great sorrow that I have to let you know that Remmie passed away last Saturday afternoon. He had been sick for a while and I knew the time was coming that we had to let him go and I had to write this dreadful e-mail.
He was our very first dog, our very first Beardie. We were fortunate enough to have him in our lives and we did everything and anything to make his life special, beautiful and exciting. Always very rewarding because this boy wore his heart on his sleeve. Where ever he would go, our handsome man always had a presence and attracted a lot of attention. Thank you for this fascinating journey we've been on, dear sweet boy. Our hearts are hurting and we are missing you terribly." - John & Miranda Mulders
---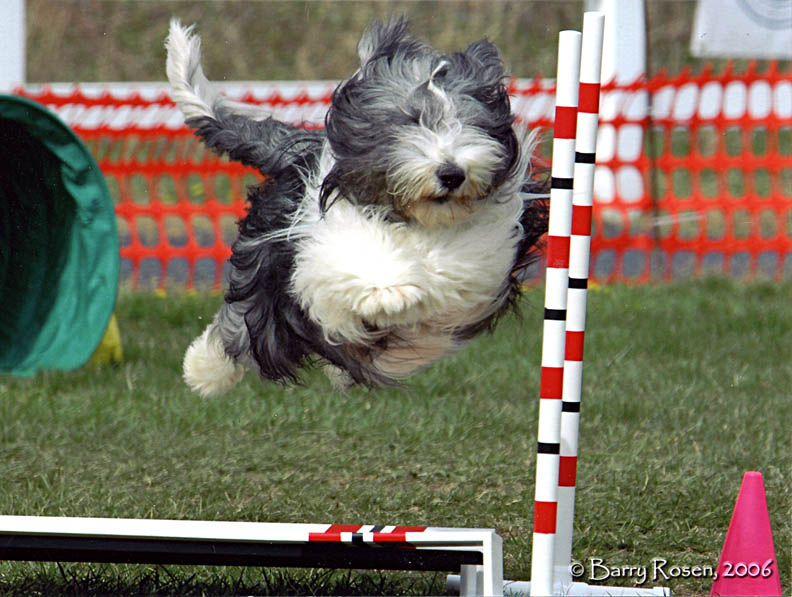 Lucy Campbell Gracie's Christopher
BIS MBISS GCH CH Briarpatch Top That
CD RE PT OA OAJ OF CGC VX
27 November 2003 - 16 January 2015
We have suffered a terrible loss this month. Christopher died on Friday the 16th, after a terrible week, while we battled what ended up being diagnosed as a ruptured abscess on his prostate (which led to septicemia). In spite of the best efforts of Vets and Surgeons, he was not able to fight back from the pervasive infection. We are devastated. There are no words adequate to express our grief.
---
Rainbow Bridge Beardies 2014
---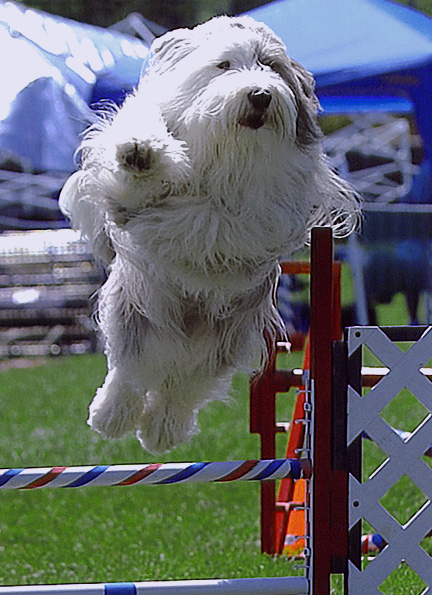 Sue Jamison's Bogie
MACH Nonesuch Ashbreeze Mr. Bogart
RN MXS MJG MXP MJP
8/27//02 - 11/10/14
"Bogie passed away this morning. He was my heart dog.
I will miss him forever. What a wonderful journey we had together."
"Thank you everyone who wrote such nice comments on my post about Bogie. You have no idea how much everyone of them means to me. I have read and reread them all many times. Now we all are trying to adjust with an empty spot in our hearts and home. I am doing my best to remember the vibrant Bogie, I am pretty sure he is having a great time up there pain free. I also think he must have known that this artic blast was coming and just said NO WAY. Smart boy Thanks everyone. I will cherish your thoughts forever."
---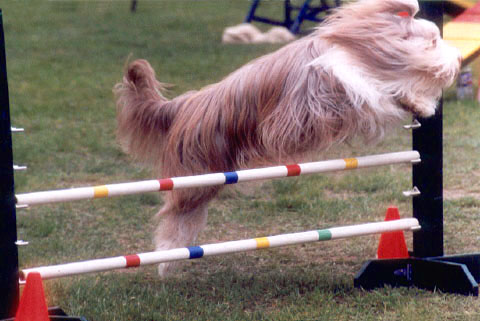 Maryann Szalka's Sunny

Ch Wynsum After Dark NA NAJ NAP OJP CGC ROMA

12 August 1999 - 29 October 2014
---
Carol Hegg's Dusty

April Gold Star Dust AX AXJ SSA SJ NAC NJC NGC CGC THD

27 October 2000 - 3 September 2014
"It is with a broken heart that I am letting you know that my precious Dusty left me yesterday. He was 13, almost 14. Dusty was my first beardie, my first dog. What a wise choice I made. He was everything to me, my best friend, my companion, my confident. We did not get very far in agility, but nevertheless, he and I learned about agility together. Dusty was just too laid back for the competition of agility. But I knew early on that Therapy Dog work would be his "job", and indeed it was. I miss him so terribly, my heart aches, my tears fall."
---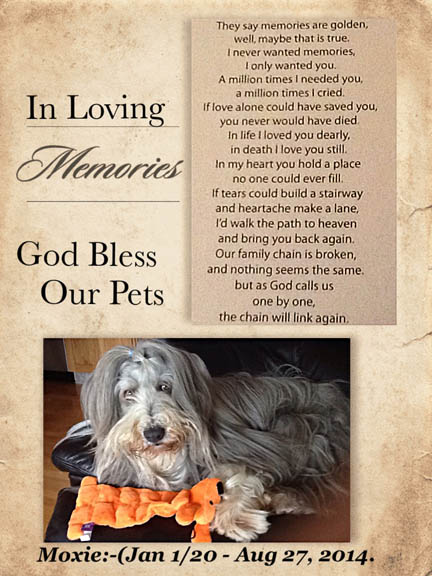 Leslie Dawson-North's Moxie
Canadian Champion
ATCHC Aceilidh's Thrill of the Chase MX AXJ AG.I FDCH
Agility Gold Award
January 1, 2000 - August 27, 2014
"With great sorrow, our Beloved Moxie crossed the Rainbow bridge. Tragically Moxie had to have surgery for an obstruction and didn't recover. She was a physically strong girlie that we expected to have with us for at least another year. I can't tell you how devastated we are and just how much we miss her. This was my last photo I took of her with her favourite squeaky, which she was also cremated with. She is now resting at home."
---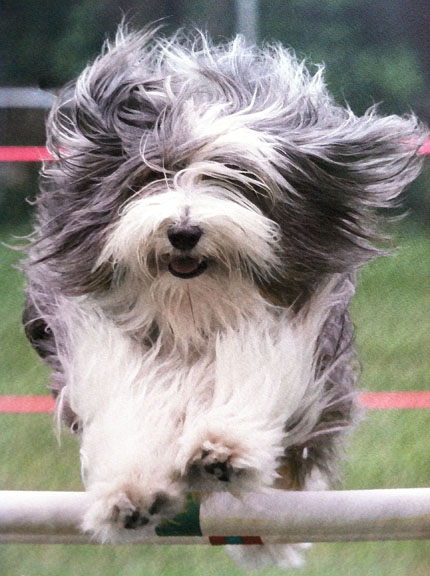 Jeff Wong & Alison Jayne's Maggie
CH Llanddona Coeur De La Mer CD RE PT NA NAP NJP TDI UCD VX
Versatility Excellent Beardie
30 May 1999 - 20 August 2014
"Maggie was much more than my loyal companion and one of the many loves in my life. She was Hawaii's first conformation champion with multiple group placements. Some of our favorite show memories of Maggie-- 2004-Ft. Collins Colorado, her first BCCA Nationals obedience competition she earned 1st place in Novice B and 2nd High in Trial--2006-Traveling by RV heading to our new home in Weston Mass. Stopping at our first really big dog show in Oregon, it rained cats and dogs all through that weekend and she gets soaked on the way to the ring. Judge gives Maggie BOB then turns reprimanding us with she had never put up an ungroomed dog before, so we quickly fixed that situation before heading to Herding group. That same judge upon entering the ring couldn't stop smiling when she saw Maggie's improvements. We got no placement but she thanked us!--2008-Essex Junction Vermont largest Novice B obedience class I had ever been a part of drew over 60 dogs, top competitors from all over the US and Canada. Maggie earned a 198 1/2 for 2nd place and our Sheltie Alex got 3rd place with a 197 1/2. When the Canadian judge complemented me saying that I had such good dogs, I was in shock. Maggie followed it up weeks later with her 1st High in Trial in North Conway, NH. I was worried to see the show schedules read BEWARE of BEARS and MOOSE.
Besides conformation obedience, agility, herding and therapy activities, Maggie was an actress and model. For Japan she did a NISSAN CUBE commercial filmed in Hawaii and a catalog spread for Kitamura Leather Handbags along with George, our first Beardie also from Pam Douglas's Llanddona Kennel in NZ. Here in the US, Maggie did magazine layouts for In The Company of Dogs with our Beardie Gidget, Sheltie Alex and our Toy Fox Terrier Samantha.
Maggie's favorite love in her life was a passion for playing Frisbee through her fifteen amazing years of being here with us. I can't count all those floppy discs that she had gone through. Alison and I and Maggie's brothers and sisters which means our other ten dogs, 5 cats and 2 rabbits all miss her here at home, especially daughter Amanda. Now George and Maggie are joined together again looking down on us from the Rainbow Bridge…"
---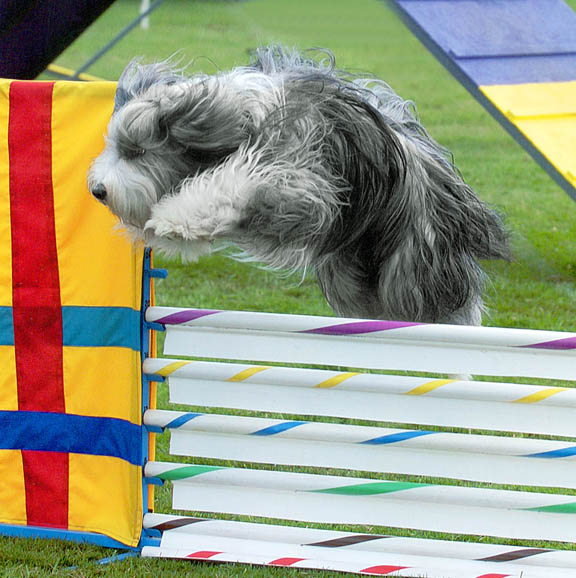 Kathleen Harold and Jackye Dunn's McKenna

AmCan CH Ragtyme Make 'Em Believe

AX AXJ OAP OJP NF NAC HIC ROMAX ROMO ROMI ROMR

Agility Register of Merit Excellent

12 April 1999 - 7 August 2014
"McKenna was the dog that changed the course of our life. She wasn't our first Beardie; she was the third. But she was our first show dog, our first agility dog and our foundation bitch. And she excelled at everything we asked her to do. We will never stop missing our beautiful, brilliant girl and never tire of seeing her look back at us through the eyes of her children, grand and great grandchildren."
---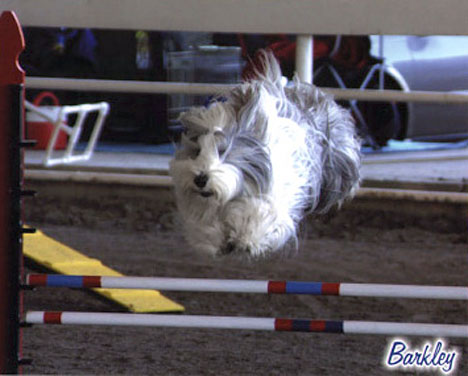 Arcadia-Wildwood Mr. Blue
MX MXJ MJB AD SJ SG SS OAC EJC NGC TN-N CGC
27 June 2000 - 4 August 2014
---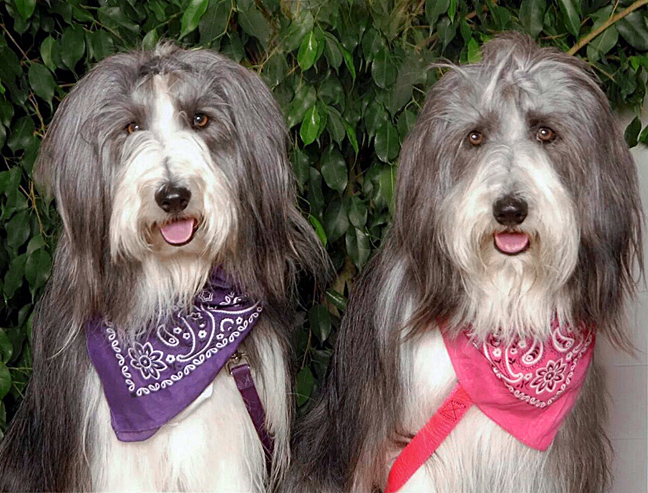 "Maggie and Keira"

Pearl Stokoe's Keira

Brika's Karefree Keira NA NAJ HIC CGC

16 March 2001 - 4 August 2014
"We lost Keira just 1 year and 1 day after losing Maggie. After we lost Maggie, Keira seemed so depressed. She did for several months, then it was like she just gave up, slept more and more and became increasingly fussed about eating. Eating less and less, until she stopped. She went to the Bridge peacefully. I still get very tearful when thinking about my girls."
---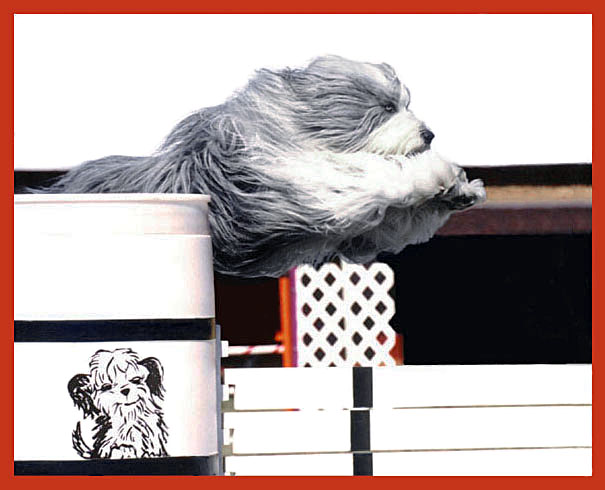 Sharon Prassa's Zoot

DC Britannia Zoots Me Fine

RE HSAd HTD-I HRD-II HTADIII-s OA AXJ OF AD

NAC NJC NGC TN-N CL3-RF HIC CGC TDI MV

15 May 1999 – 6 July 2014
"We said goodbye to Zoot today. It never gets easier. You all knew him and knew that he lived life to the fullest, always on his terms, in life as in work.
He was one talented dog and we are so fortunate to have spent 15 years with him. We will miss him terribly."
Joe and Sharon
---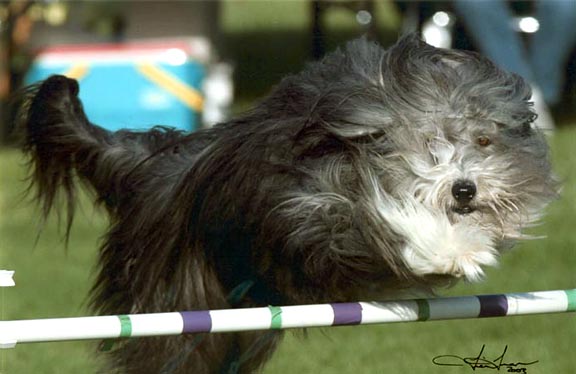 Photo by Tien Tran
Rosanne Hunt's Zoe

Camelot Sweet Zoë Latte

PT AX OAJ HIC CGC

10 April 1999 - 14 May 2014
Ro's Zoey passed away yesterday evening from an enlarged heart...she was only ill for about 2 days and was at the Vets and getting ready to go home when she had a heart attack. I think Ro would appreciate hearing from those who knew Zoey. -- Barbara Claxton
---
Toni Tuck's Ella

CH Britannia Sings the Blues TD NA NAJ NAC

11 February 1999 - 26 May 2014
Ella joined littermate Bond at the Rainbow Bridge within 2 days. Tracking was her game...she was a Versatile Beardie but really preferred to stay home. It isn't the same around here without her. I thank Michele & Chet for letting this gorgeous and delightful blue girl join our family. She is sorely missed.
---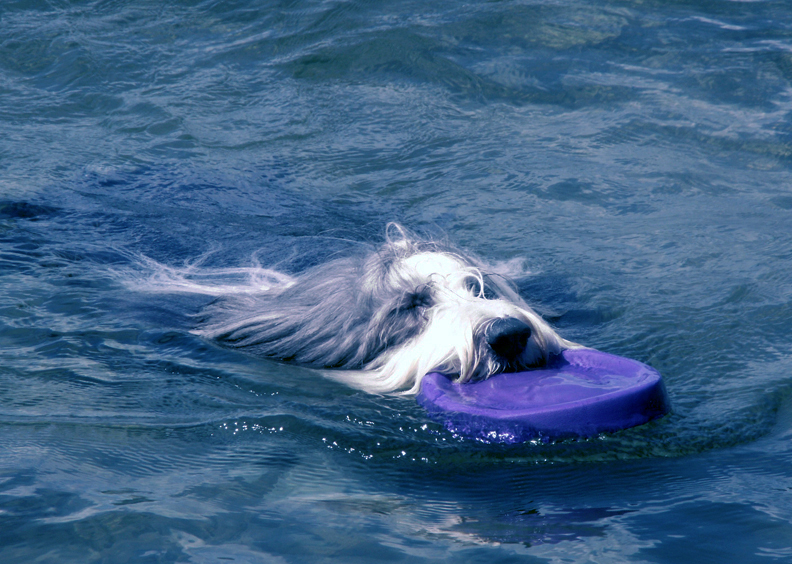 Sandy Weiss' Bond
DC Britannia License to Thrill
CDX ASCA CD RE
HXAsd HIBd HTD-I HRD-I OTDs OTDd
OA OAJ AXP AJP CGC MV
Master Versatility Beardie
11 February 1999 - 24 May 2014
"I lost Bond on May 24. He started having seizures, having one the night before and then a second seizure early that morning. Up until then, he showed no signs of being sick and was playing frisbee earlier in the week. After giving me so much over the years, I knew it was time for me to give him the right to journey to the rainbow bridge. I miss him so much. But I know that, somewhere, under that bridge is a lake where Bond is floating in the water with his frizbee." --Sandy
---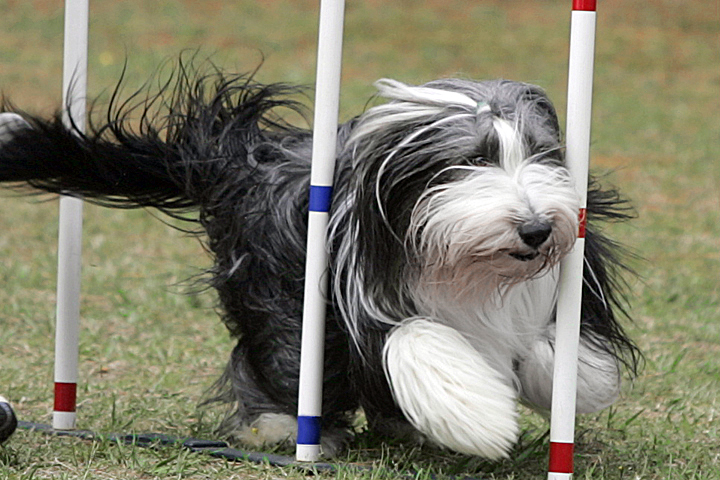 Tim and Casey Minner & Sandy McDonald's Heart
CH Moonstone Back In My Heart
RA HT NA OAJ OJP NF OFP S-TN-N WV-N HIC CGC VX ROM ROMAX
Agility Register of Merit Excellent
Conformation Register of Merit
Versatility Excellent
27 April 2001 - 24 May 2014
"She ran with all her heart, every run, competing in her last agility trial in February 2014. My Novice A dog, I had the pleasure of running with her for 11 years. Not long enough, but more than I could ever have asked."
---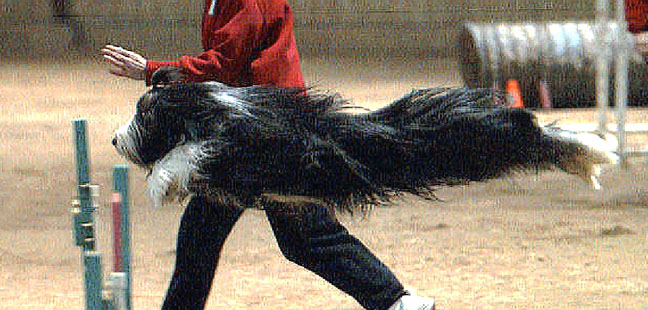 Sterling Photos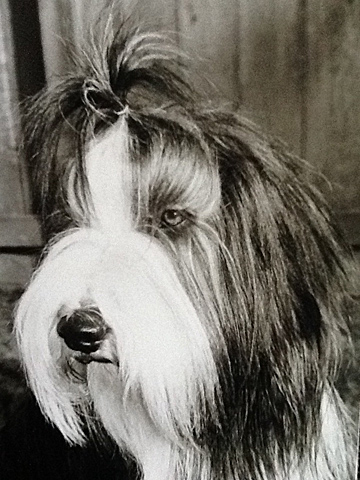 Jill Scarborough's Jack
OTCH MACH O'Duinnin Oh Dat Jack B Nimble
UDX4 OM1 RE MXS MJC MJP3 VX
Versatility Excellent Beardie
Multiple Highs in Trial
June 22, 1999 - Mar 29, 2014
"It is with great sadness that I had to help Jack leave this world today.
It was one hell of a ride we went on together going for the OTCH and MACH. He earned 13 HIT, 13 HC, 58 1s/t places in obedience and 57 in agility. People that saw him work knew he was SPECIAL. He was a great ambassador for the breed and there are those who got their first ever beardie because of Jack.
Jack loved to work. When I would try to take a day off from training him he would just stare at me until I would give in and do something with him. You could say he trained ME pretty well.
Life was better with Jack in it and I am so going to miss him so much."
---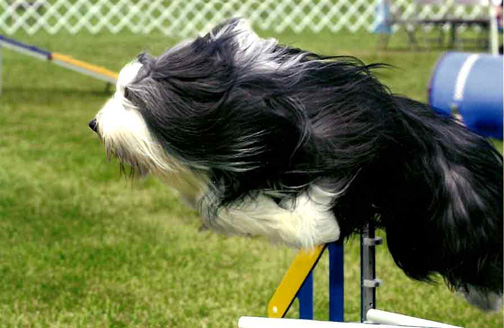 Photo by Temple Imaging Services
Sandy McDonald's Kip
CH MACH Moonstone Totally Unexpected RE PT MXG MJS AXP AJP OF VX
23 July 199 – 14 February 2014
Your life was a blessing,
your memory a treasure.
You are loved beyond words
and missed beyond measure.
---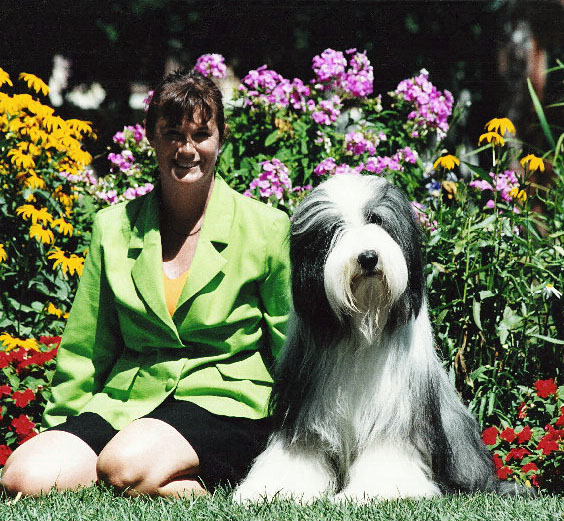 Kelly Canham's Cole
BIS Canadian Grand Champion/American Champion
Cameron's D'Arque Reflection
PCD NAJ CKC-NAJ NJC NGC HIC CGC ROMX ROMI ROMA
Best in Show
Register of Merit Excellent for Conformation
Register of Merit for Herding Instinct and Agility
March 2000 - February 2014
"My once in a lifetime Beardie"
---
---
Rainbow Bridge Beardies 2013
---
---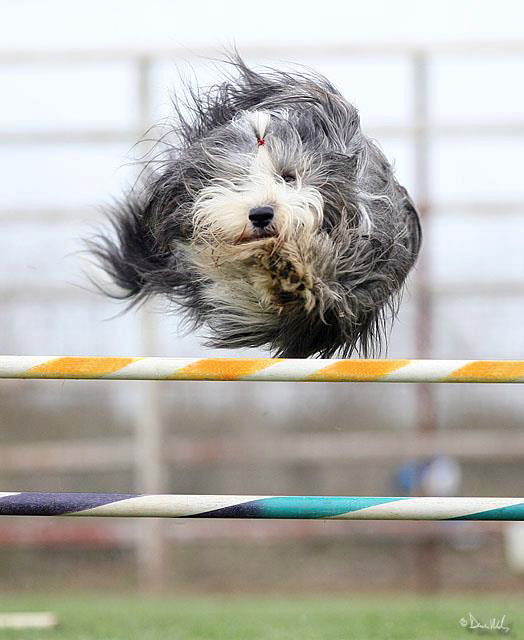 Steve Lausmann's Izzy
CH C-ATE C-ATCH Springhill's Isabelle
OA AXJ AXP OF XFP ExST ExJU ExFH ExWC ExSN ExJP
O-EAC O-EJC O-OCC O-TN-E WV-E TG-E HP-N NVA XGT-N XCC-N XHP-N
10 January 2006 - 30 December 2013
December 24, 2013
I noticed on Friday that Izzy was having a harder time breathing. Since we had her teeth cleaned on Thursday I took her back to Loomis Basin vet clinic Saturday morning to have her looked at. They did a chest xray to check her lungs. When the vet came out to get me she had a look on her face of disbelief. We looked at the pictures together as she explained that Izzy's lungs were taken over by either cancer or fungus. An ultrasound then confirmed she has tumors on both kidneys. The conclusion is renal cancer that has spread to her lungs. She is still with us and is slowing down rapidly. I am having difficulty getting her to eat. The vets said we shouldn't expect her to last much more than a week. I am in shock and wasn't prepared for this. She is my heart dog and we have had quite a journey together. Thank you Lisa Seltmann, Susan Rappillus, Lisa Kretner, and Justine Bradley for helping us cope with this.
December 30, 2013
Izzy left us this morning. We are heartbroken to lose our girl at such a young age. She was so full of life and showed me how to laugh. She will be missed terribly. Thank you for everyone's support over the last week.
January 4, 2014
I attended the CPE trial at WAG today with Bailey. I knew this would be hard but felt it would be better than hanging around the house mourning the loss of Izzy. Izzy enriched my life in many ways in her too short life but the friends she enabled me to make ranks at the top. The outpouring of compassion from all of my friends at the trial was very special and is helping me make sense of this. Thank you for sharing your feelings with me today.
January 12, 2014
Reflecting on the two days Bailey and I spent at the Haute Dawgs NADAC trial. Still hurts like hell when I think of Izzy and the empty hollow feeling that won't go away. On the bright side, being around all of my friends at the trial kept my spirits up. Bailey even put some really nice runs together. Finished with tunnelers which was Izzy's favorite game. Bailey rounded out his day by going to the skilled nursing home to visit my mother with me.
---

Sharon and Jeff Ipser's Jax
CH MACH3 Wigglesworth Out On A Limb
RN MXC MJB2 MXP MJP PS1 CGC ROMAX VX
Winner of the Denia Award for 2002
5/12/98 - 12/16/13
---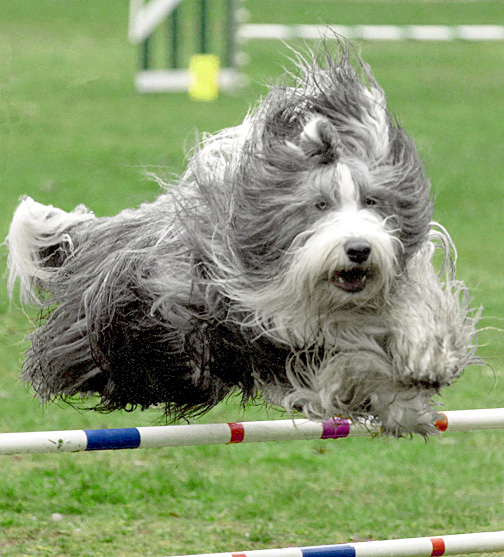 Joanne Williamson's Beau
Britannia Beau Brummel RE PT MXB MJS XF OAP AJP VX
EAC EJC EGC TN-E WV-O TG-O OVA
Versatility Excellent Beardie
10 June 1998 - 23 November 2013
---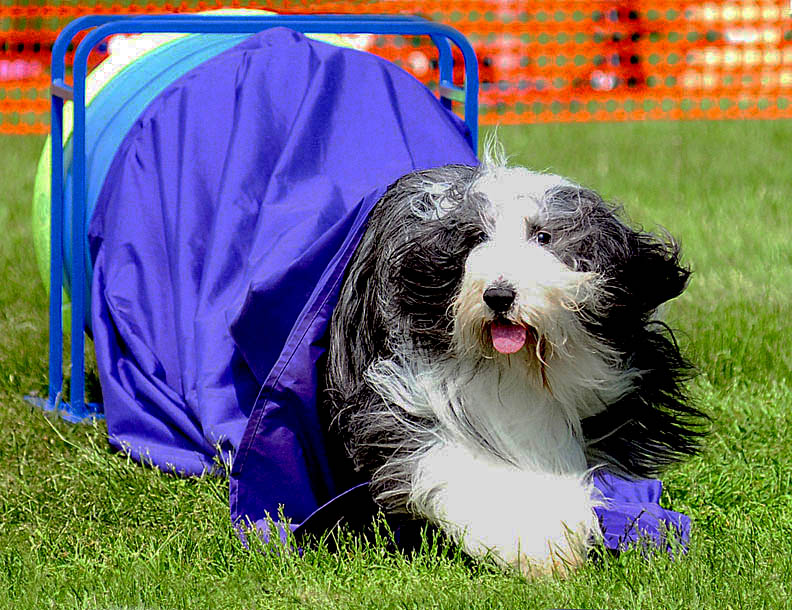 Lucy Campbell-Gracie's Igor
BISS GCH Briarpatch Look At That CD RE HT AX AXJ MXP MJP VX
Best in Specialty Show, Grand Champion, and Versatility Excellent Beardie
4 September 1999 - 2013
Farewell my friend, best dog show traveling buddy, agility superstar [who kept me from knowing what a mediocre handler I am,] enthusiatic herder of sheep, and joyous greeter of each new day. You came through the cancer surgery and gave us two more years together.
Thank you for brightening my days and for sharing your abilities with your offspring. Your loss has left a hole in my heart.
---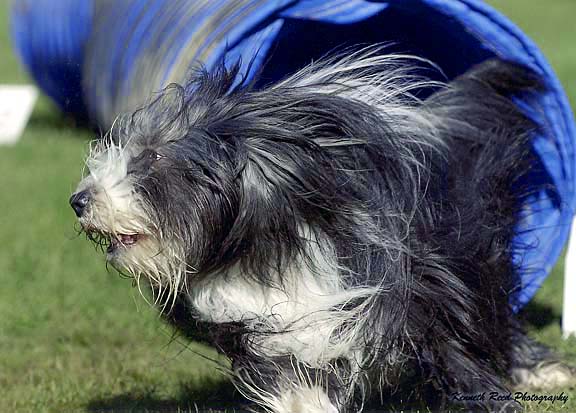 Photo by Kenneth Reed
Ruth and Neil Bryden's Glayva
Versatility Excellent Beardie
C-ATCH Aceilidh's Nua Bliam Coilean
CD RA PT NA NAJ NF CGC VX
PD1 PS1 PK1 PG1 PR1 NAC NCC NJC S-TN-E WV-N TG-N NVA ChSN ChFH
1 January 2000 - November 2013
---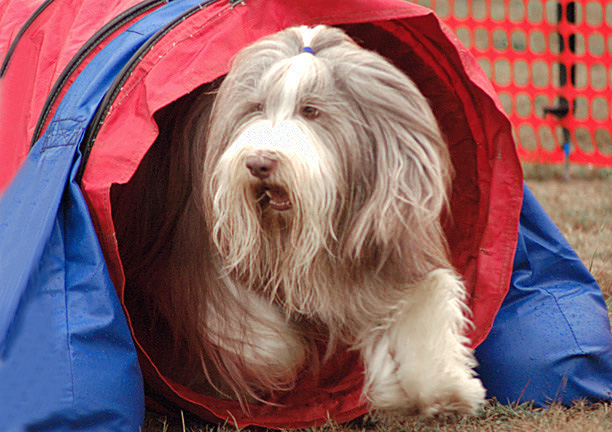 Renee Lovett's Cocoa
Spindrift Dont U Just Lovett OA NAJ NAP NJP NAC CL2-R U-AGI HIC CGC
17 February 1999 - 1 November 2013
---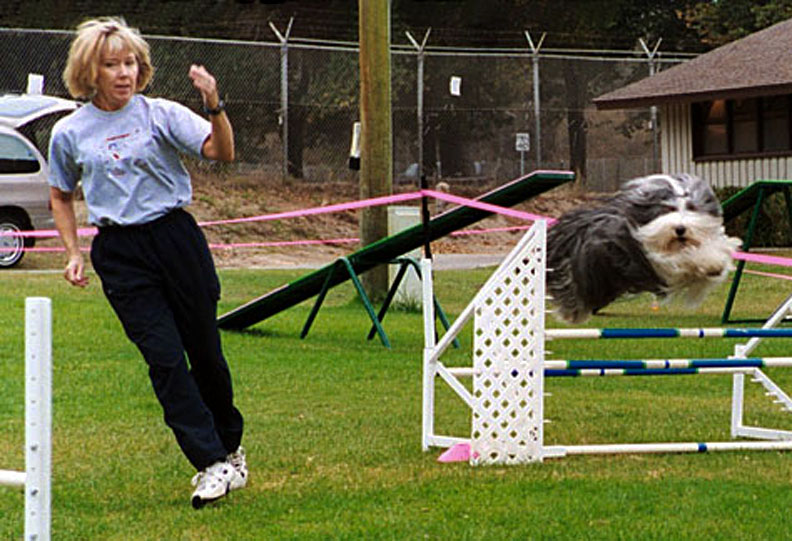 Photo by Craig Chatterton
BJ Walker's Kailey
Ch Shanaspree Kick A Field Goal RA MX MXJ MJB NJP OF OAC OJC NCC TN-O WV-O TG-N NVA VX
13 October 1997 - 21 October 2013
One more lesson she taught me out of so, so many: some decisions just have to be made. And so it was, that on a beautiful, autumn day, we said goodbye to our beloved girl, Kailey. As the sedative took effect, she looked into my eyes and I stroked her aged head and told her what a good, good girl she is and how I loved her so much. I watched as her back legs relaxed and realized how much tension and pain she had been feeling. She quietly slipped away. My first puppy born in our house. My first agility dog. My first champion that I finished in bred-by. My first hospital therapy dog. My student writing assistant in my 3rd grade classroom. But most of all, my heart dog. Thanks so much to the beardie list people as they helped me through her last year or so. And most of all, huge thanks to Laura Tappero, her co-breeder, who was there at her birth and throughout her life.
---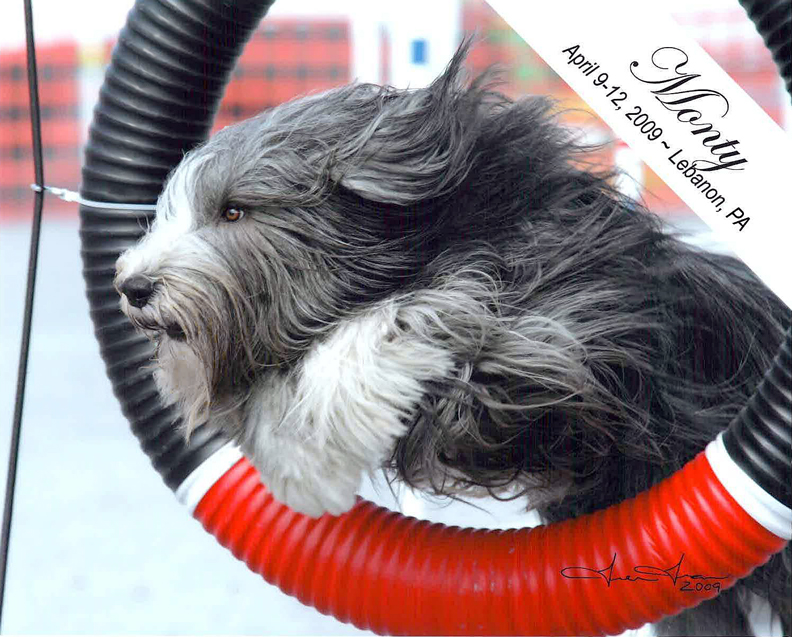 Heather Gahres & Jeremy Haag's Monty
Brampton's Flying Circus RN PT NA NAJ NF NJC TN-N VN
July 20, 2004 - September 4, 2013
Every pup has a lesson to teach us.
Monty's was to live life to its fullest.
Take advantage of every opportunity.
And smile through any adversity that comes your way.
We will miss you forever little man!
---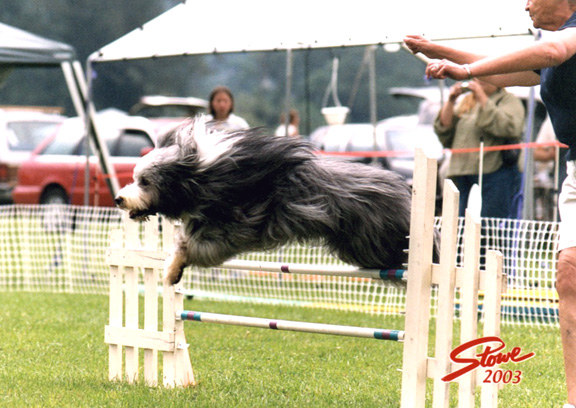 Mary Lou Watson's Digger
Jubo-Lee's Man In Black NAJ
10 June 2001 - 31 August 2013
---

DogHouse Arts
Dawn Kinney's Wick
Dunnachie's Wicked Good RA OA OAJ OF CGC
7 June 2004 - 29 August 2013
---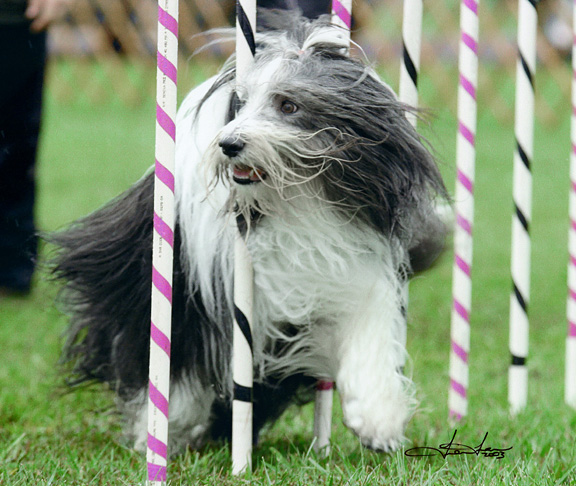 Tien Tran
Angelfire Shooting Star MX MXJ MXP AJP EAC NJC TN-N
27 June 1996 - 29 August 2013
I wanted to let you know that Tom & I helped our sweet boy Miller cross the rainbow bridge last Thursday on 8/29. What a great life we shared. Miller was my second Beardie and he is the reason I fell in love with agility. Agility seems like a distance past to me, as he lived for over 17 years and retired when he was 10. Miller and I always had a great time when we ran agility together. He loved to bark and let everyone know it was "Miller Time" and he was out there running and they weren't. I can still see his beautiful coat flying as he ran around the ring. Back in the day when you had to do a down on the table his elbows would be up off the table but the judge could never seem to see it, but I knew. He was just ready to get off that table.
Miller was always by me whatever I was doing. I called him my assistant chef (always under my feet in the kitchen) & my water melon taster. Boy did he love his water melon. I always said to him that I watched over him and he watched over me. We took care of each other. My heart is aching now but I'm so glad I have all those wonderful memories to get me by. There is a piece of my heart that will always belong to Miller, my very special boy. Love you Miller.
---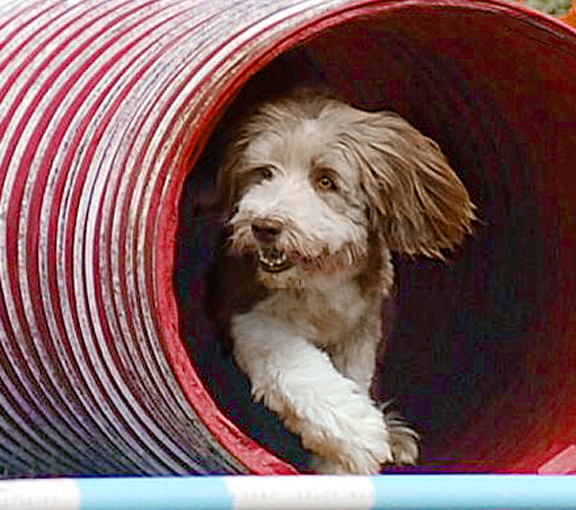 Toni and Perry Barnhart's Prudence
Melita Dusty Miller NAC TN-N
11 May 2000 - 25 August 2013
Our Prudence is gone from us. We are really grieving here. If this good earth seems a bit quieter tonight, it is because Prudence, our wonderful, outspoken, brown Beardie girl has passed away. She had inoperable tumors, diagnosed years ago. Typical Prudence, she beat the odds, thriving for almost 4 years after a diagnosis which placed her longevity in months. She was 13. Pru inspired articles detailing her antics for the "Shaggy Rag", the BCCSC (Bearded Collie Club of So. CA.) monthly newsletter for over 3 years. She was a BAD (Beardie Agility Diehards) member in good standing. And we will always be thankful to her breeders, Jean and Irwin Richland for the privilege of bringing Prudence into our home & hearts. It is entirely thanks to Pru's love of (and need for) agility, that we have become friends with some of the best people we have ever known in our lives: here in Hawai'i, in the Pacific Northwest, and in Southern California. We will always be grateful to Prudence for helping us find such wonderful friends. We hope the life she had with us at least partially repays the debt we owe to her, for all she gave to us. Prudence lived her ENTIRE life going hell bent for leather with her hair on fire! She barked and barked and barked AND BARKED AND BARKED; and played and ran in the yard right up until the last few days of her life. She was a force of nature and had an absolute, unmitigated joy of life! She was our girl, and she took a big piece of both our hearts with her when she left us Friday. Our sorrow at her passing is as overwhelming as Pru's personality. Oh! How we will miss her!
Our Beardie Spalding passed away in 2011, so now, for the first time in 15 years we are without a Beardie in the house. Our young Bossies Oscar & Oliver are wonderful & amazing, and we love them dearly, yet, to be without a Beardie... And so... godspeed, Prudence! We know without a doubt they can hear you coming! Thanks for listening. Aloha, Toni & Perry
---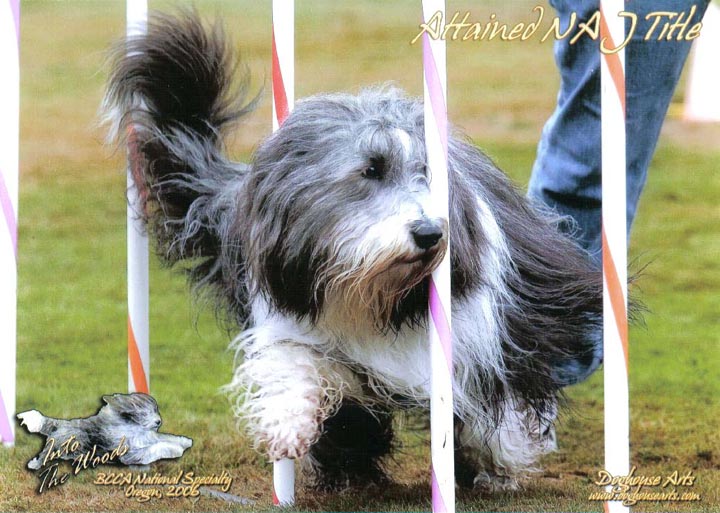 DogHouse Arts
Beth Tilson's Maude
CH Burlesque Debut At Highlander OA OAJ HIC ROMA
4 June 2003 – August 2013
---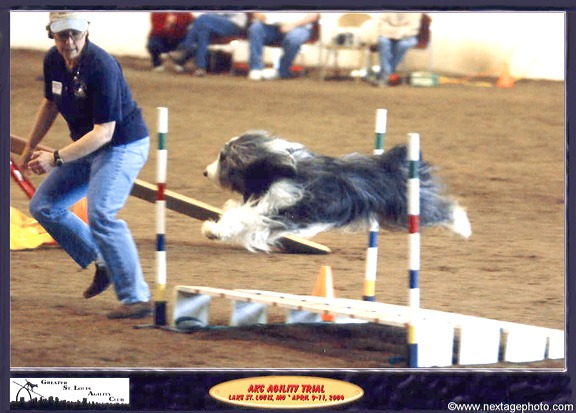 Pearl Stokoe's Maggie
Brika's Millennium Promise OA OAJ AGI HIC CGC
1 January 2000 - 3 August 2013
Well it's been a little over 3 months and I still can't believe Maggie's gone. I was missing her terribly today. Maggie started to have seizures. One here one there. Very sporatic. Never lasting more then 5-10 sec and she would recover in an hour or so. She had had maybe 3 or 4 up till August. Aug 1 she had one and just didn't seem quite right, very fatigued. Then the night of Aug 2 - 3 she had one that lasted almost 20 seconds and never really recovered. She didn't know me and wasn't even aware of anything around her....So we took her to see our wonderful vet to help her to the Bridge. Maggie was totally blind...cataracts, but was able to still keep everyone in line...BARK BARK. She Found the water bowl when she needed and was always ready to eat. There was no quit in that girl. Very amazing since she was diagnosed with Primary Addisons @ 14 months old and Hypothyroid @ 5 years old. Maggie and always had a blast with Agility. She had more clean runs than not and we could run with a minimum of verbal commands...I have been very fortunate to have had 2 heart dogs....Thor, my GSD and now Maggie. But Maggie was even more special...we needed each other, we took care of each other. She was "my little girl". I'm tearing up as I write this...our time is never enough with them.
---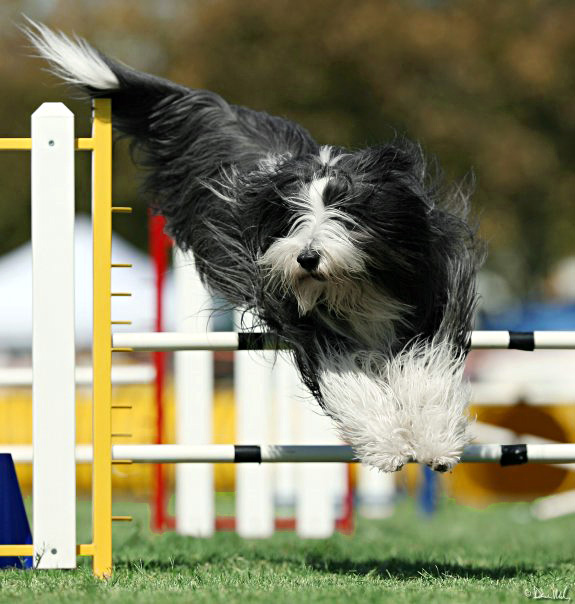 Shannon Smart's Loki
Versatility Excellent Beardie
Spindrift Risa Devil Made Me Do It
RN PT MX MXJ MJB NJP NF HIC CGC VX
6 May 2000 – 28 July 2013
---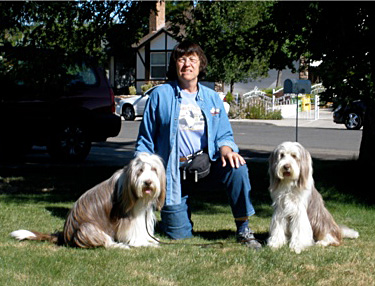 Pat Coreris with Buster and Roger
Pat Coreris' Roger
Versatility Excellent Beardie
C-ATCH Risa Spindrift Over And Out
CD BN RAE2 PT MX MXJ NJP XF
PD1 PS1 AAD ASA AJ AG AS AR HIC CGC TDI VX
12 November 2005 – Summer 2013
---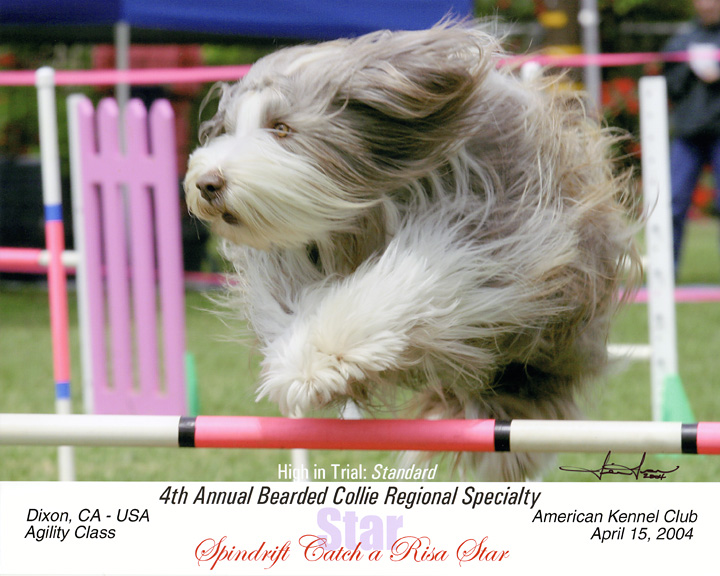 Jana Dozet's Star
Versatility Excellent Beardie
CH Spindrift Catch A Risa Star
RN PT AX MXJ NAP NJP OAC OJC NGC
WV-N CL3-FRSH CGC VX
17 February 1999 – Summer 2013
---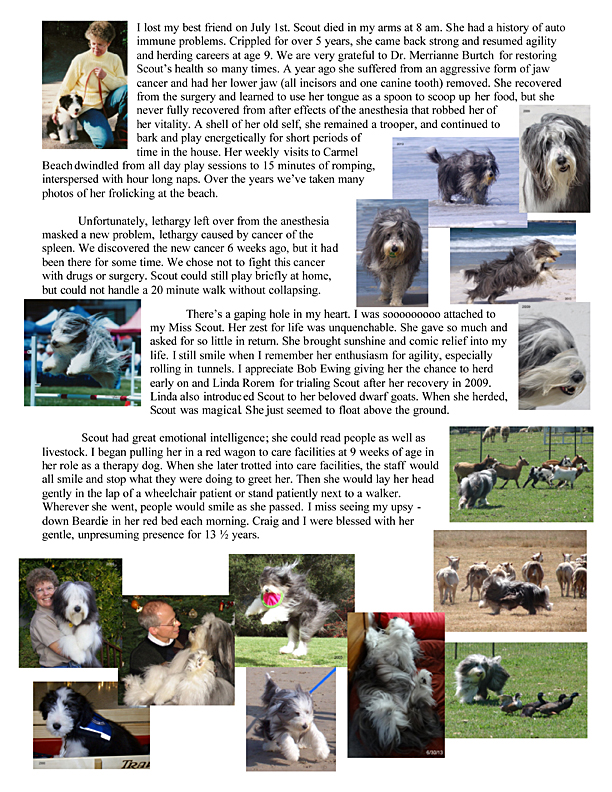 Nancy Layton's Scout
Dogtown Leader of the Pack
HSAds HIAs HTDI-sd HTDII-sd HTADII-sd HTADIII-sd HRDI-ge HRDIII-s,ge,g STD-sd OTD-sd
OA NAJ OAP OJP NFP PD SPS SPJ SPG SPR SPK OAC O-NJC NGC RSN JSO GSN CTL3 CSL4-RHS TDI
Combined High in Trial at 2002 Bearded Collie Nationals: 2 Highs in Trial, one on ducks and one on sheep
Combined High in Trial at 2004 NCBCF Regionals: 2 Highs in Trial, one on ducks and one on sheep
11 February 2000 - 1 July 2013
---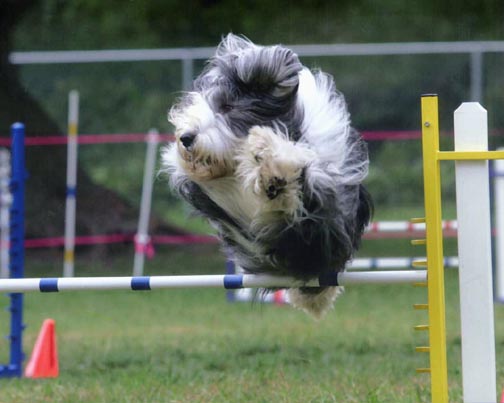 Michele Ritter and Chet Jezierski's Biff
Master Versatility Beardie
BIS MBISS American/Canadian Champion
Britannia Back To The Future
VCD1 RE PT AX MXJ CGC ROMAX MV
11 February 1999 – 15 June 2013
Saturday, June 15th, we said "good-bye" to Biff, the best dog anyone could ever have; and while losing a dog is always heart-breaking, the decision to euthanize him was the most difficult one we've ever made. Affectionately known as the Biffster, Mr. Biff and Ranger Rick (due to his searching out anything edible when left on his own,) he was always up for whatever we wanted to try: agility, obedience, rally, herding and his most recent activity, tracking. He had an enviable record at specialties, winning two BCCA Nationals, as well as multiple independent specialties. He passed on his style and movement and most importantly, "want to" to his many off-spring, many of whom followed in his enthusiasm for all things performance. He loved to go places and visit people, no matter where he went or who he met, he had to insert himself between peoples' legs for a good head or butt rub, or rub against them inviting a cuddle. Biff, who never met a food he didn't like, became very selective with what he would eat mid-May and his breathing changed. X-rays & ultrasounds showed a mass in his spleen and fluid in his pleural (chest) cavity, which was removed. Additional ultrasounds indicated that there was also a mass in his chest that was causing the fluid build-up compressing his lungs, causing the "strange" breathing I had noted. His heart and lungs were in good condition. Aspiration of the mass in his chest indicated that it had metastasized from the spleen, so he was not a candidate for surgery. He was put on meds to help with his appetite, but the fluid build-up continued in his chest. After several more chest taps, we decided that our noble Biff deserved better than this, and that we needed to release him from his body that had failed him.
---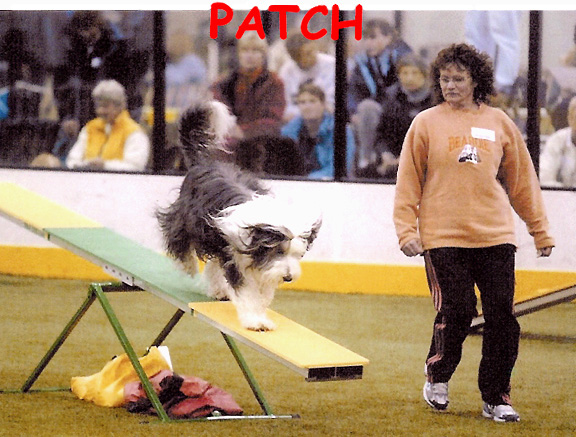 Claire Cifarelli's Patch
Versatility Excellent Beardie
MACH3 Raintree Ha'Penny Hades
CDX RE MXG MJB2 AXP AJP OF PD2 PS2 PJ2 PK2 PG2 PR1
OAC EJC NGC TN-O TG-N WV-N VX
21 May 2000 – 28 May 2013
With tears in my eyes and a heavy heart I write this tribute to my best friend and soul mate Patch. He was my Novice A boy who taught me about companionship and being a team. Patch loved agility. We went from being the zoomie boy who jumped yellow contacts and ring gates to my reliable one who completed MACH3 at 11. We moved down to 16 inch preferred and he reminded me of how much fun he had as a Novice A dog. All I could do was laugh at his zest for life. It didn't matter to him that he had a MACH3 he wasn't hitting no stinking yellow. We earned his CDX and Rally Excellent in obedience just before his 12th birthday. He was so proud of himself when we walked into the ring and he let everyone know. We were excused for excessive barking despite some awesome picture perfect runs. He had great attention and quite the prance when heeling. At home Patch loved to play frisbee in the yard and go for walks around the neighborhood. In the house he would collect all his stuffed toys and set them up all around him. He would lie in the middle of them and have one tucked under his chin and hug one between his front legs. He was still catching his frisbee in the yard the day before he passed over to the Rainbow Bridge. Dear Patch you are always in my heart and thoughts. Have fun at the bridge with Dino. Thank you for the precious times we shared. Until we all meet again at the bridge. I Love You. Mom
---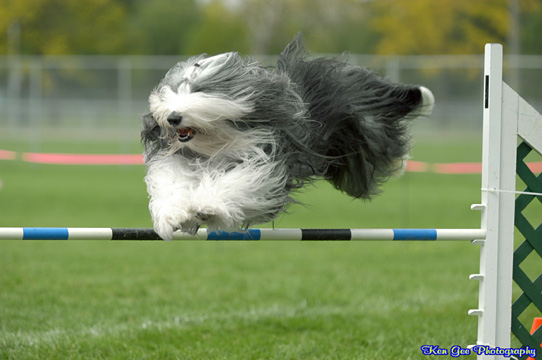 Linda Swain and Pat Hyde's Tyler
Versatility Excellent Beardie
CH Wind Dancer Circle Of Life PT HSCs MX MXB MXJ MJB HIC CGC VX
12 March 2001 - 21 May 2013
Unfortunately another Beardie has gone to join the group at the Rainbow Bridge, Tyler. There will be a large hole in our lives.
---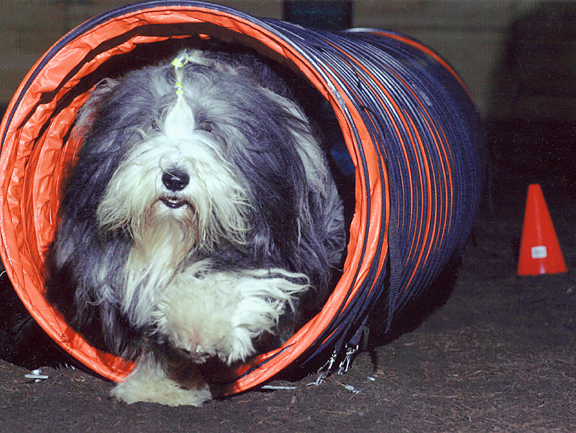 Christiana Taylor's Georgie
Versatility Excellent Beardie
BISS CH Sunriver Stand and Deliver
RE OA OAJ OAC OJC NGC O-TN-E TG-N CL3-RF VX
November 1999 - May 2013
Every Beardie is special, every Beardie has traits, tricks and accomplishments that set him apart in Beardiedom. Then there are those few whose accomplishments are registered in the books that record the best of the best. Georgie is in that book because he was a Specialty winner, an athlete, and an 'all rounder'. At 12 he was Best Veteran at the NWBCC Regional, showing his breathtaking movement in a well-made body, and his stunning face. His beauty, skill and poise were known and appreciated in a wide circle of Bearded Collie admirers. Georgie had a purportedly fatal and rare disease. He was given one year, two at the most, in 2006. Not only did he ignore the predication, he went on to higher levels in agility, almost finished his CD, raced to the RE in Rally, and achieved the Versatility Excellent in 2012, when he was 12. He had great courage and fortitude. He never called out in pain, but he used all his vocal ingenuity to demand he go in the car, go to bed when Billy went, have his meals in his own crate and continue all his normal activities despite losing most of his strength in the last year. But his most enduring accomplishment was his powerful commitment to love and loyalty. Georgie was the Prime Minister of our castle, proud and handsome, elegant and gentle. A nobleman.
---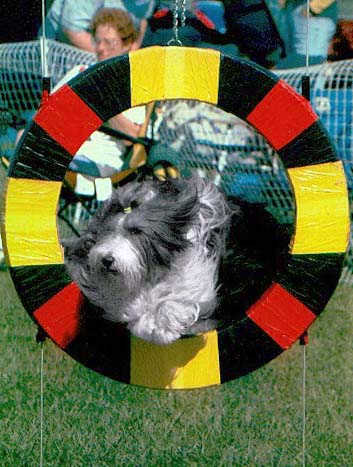 Marilynn Snook's Lakotah!
U-ACH Walkoway's Vixen
CD U-CD RN HSAs HTD1gs HRD1gs STDs OA OAJ OAP OJP NAC CL2-RFS TDI HIC CGC VX
24 December 1997 – 5 April 2013
On April 5th I had to say goodbye to my beloved Lakotah! She was 15 years 3 1/2 months. She didn't have anything medically wrong, but her little body was just totally giving out on her. She was beginning to have more bad days than good ones. It was very hard, and I miss her so much. She was my heart dog, and my heart is breaking now. Lakotah! is the one who got me into all the fun dog things I do today. She always wanted to please me, and she had almost 30 titles in herding, agility, and obedience. She never cared what she was doing though, as long as she was with me. The titles weren't the important thing; the love and companionship we shared is what I will miss. Run free, my sweet Lakotah! You will be forever in my heart . . . until we meet again. I love you! -Marilynn Snook
---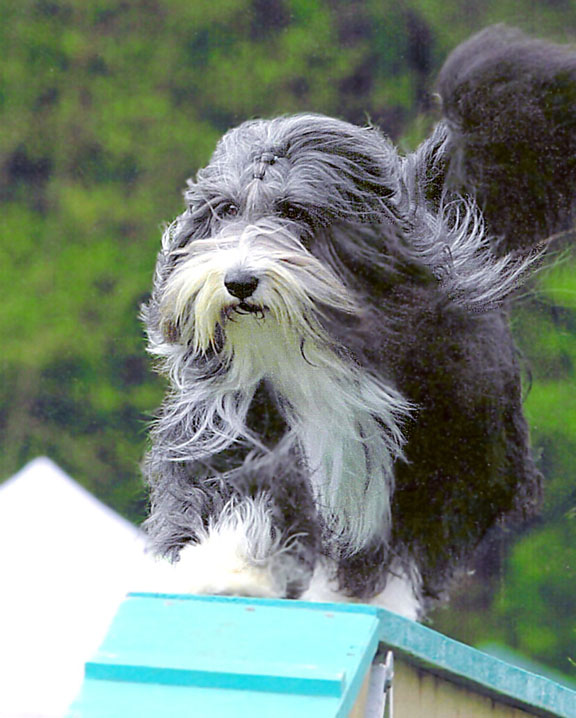 Linda Porter's Bailey
MACH2 CH Oakengates Irish Cream
MXC MJS2 AXP MJP OF AAD ASA AJ AS SR SG O-NAC O-OJC O-NCC TN-E S-WV-N O-TG-N NVA ROMA
10 January 1998 – 22 March 2013
On March 22nd I had to say goodbye to my heart dog BAILEY. It was the hardest thing I have ever done. He didn't have anything medically wrong with him; his body just gave out on him and his eyes told me it was time to say goodbye. So many memories I have of him. I picked Bailey out from pictures that were sent to me from Mary Jo Steger and Terry Johnson when he was about 2 weeks old. I watched him grow as they sent me weekly pictures. At age 8 weeks a number of the puppies came from Tennessee to Virginia where I was to pick him up from Terry's house. When I went to get him I was told I could pick whichever one I wanted; I never changed my mind. Our journey began on that day. Bailey was my second conformation dog; the judges loved him and he got his Championship by the age of 16 months. At about age 3 Bailey became my first agility dog. Well, he and I loved this game. He never had a stay at the start line, his contacts were not always the greatest, and he hated the table. With all these problems he still got his MACH 1 and 2 titles. He went to three AKC Agility Invitationals (making the finals one year) and went on to get a number of Agility Preferred titles before retiring. After he retired from Agility he liked to stand between my legs and supervise as I worked the other dogs in my yard. RIP my wonderful Bailey with your lovable, laid-back character and huge sense of humor. You will always be with me in my heart and memories. – Linda Porter
---
Maryann Groves' Brylie

"It is with a sad heart that I have to announce that my Brylie went to the rainbow bridge yesterday. She had been doing so well and still enjoyed chasing Camille around our fields, but last week she went off her food and her systems just shut down. She was my delicate little flower – so beautiful and sweet. She was a challenge to train and thus taught me so many things. She eventually did pretty well and each accomplishment was so special because I knew how hard it was for her to perform in those scary places. Some of my favorite memories are of early morning walks on the beach with her and Brechin - the happiest of times! I miss her terribly and a chunk of my heart went with her." - Maryann, Craig, and Camille
---
Tamara Duvell and Jason Pelland's Duncan

Duncan Canadian CD RN HT

1 June 2000 - 25 February 2013
---

Joanne Williamson's Belle
CH Britannia Belle of the Ball RN PT OA OAJ NF NJC TN-O VX
22 February 1999 – February 2013
"I lost Belle in February, just before her 14th birthday."
---

Iris Berry's Tag
Spindrift Risa Up and Over
MX MXJ OF OAP NJP NAC NJC CL3-R HIC
17 February 1999 – January 2013
---
2012
---
Bobbie Raguse's Kira
Versatility Excellent Beardie
MACH 2 C-ATCH Shanaspree Rose of Kilravock RN PT MXG MJB2 MXF NJC NGC CGC VX
15 November 2000 – 26 December 2012
Yesterday our beautiful, brown Beardie girl went to the Rainbow Bridge to be with our beloved Sheltie, Scout, who left us in September. It has been a sad loss for us, but we prefer to dwell in the joy that Kira brought to us. Kira was born to work and was a serious girl - stubborn and smart and the best partner I could ever have had. I learned way more from her than she ever learned from me. On an agility course, she was all business. Running her was like being on a very fast train! We struggled together and triumphed together. Kira qualified for 4 AKC Nationals, and for 1 AKC Invitational, where we went to Long Beach and had 4 great runs. She also went High in Trial at her very first BCCA National Specialty, as she earned her AXJ. Running her was always a thrill and she always gave me everything she had. Living and traveling with her was very special. She was easy and loved whatever we were doing, as long as we were doing it together. Kira was a great ambassador for the Beardie breed. She was a gentle lady and a great athlete. She lived to do agility and loved herding. She had no use for conformation, although she retired with 11 points and 1 major. She just found it too boring. Likewise, obedience was way too slow for her, although she managed to earn a Rally novice title. But what I loved most about Kira was our special relationship. As much as she loved agility, she only wanted to run with me. She was a beautiful, loving and joyful dog, our first Beardie, and life will not be the same without her. Fortunately, our friends Walt Ernst and Rosie Schroeder were with us when Kira passed. They were so comforting. It was a real blessing for us. Hug your dogs today and it is true that you never know when your last run will be. So enjoy. That Q means nothing in the long run. Poor Owen Meany, our Havanese, is grieving terribly for her . Thank you, Tammy Begler for sharing this very special girl with us. She was the best brown girl ever. Thanks to all our friends for your love and support during our good times and not so good times. We love you all."-- Bill and Bobbie Raguse
---
Iris Berry's Meg
Risa's Starburst O' Spindrift RN HIC CGC TDI
13 February 2002 - 14 December 2012
"I received a call from Iris this afternoon. She had gone somewhere last Friday and Meg got out and tried to find her. She got hit by a car. She was alive, but gravely injured when Iris found her. Iris opted to let her go!! I've known Iris for 30 years and have never heard her so upset. The new bright light in her life has been her new puppy, Pip, Meg's grandson. Meg as we all know has been Iris's PRINCESS! I personally will miss her very sweet personality and sweet, sweet face." - Pam Harris
---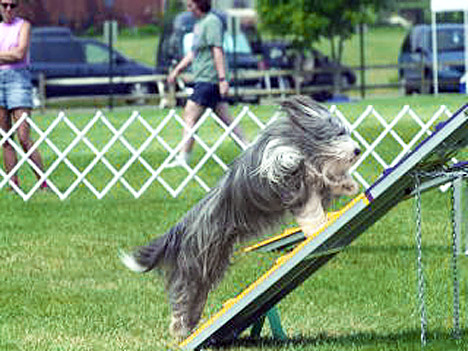 Terry Johnson's Jazz
Oakengates Blue By You HT NAP
10 January 1998 - Fall 2012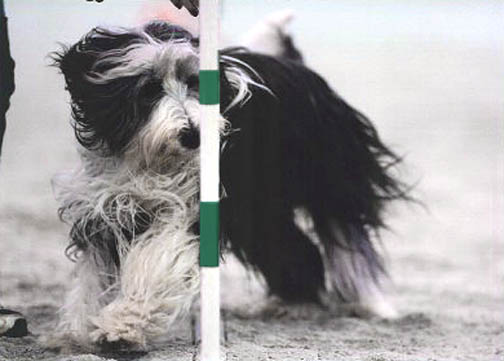 Photo by Steve Surfman
Terry Johnson's Cassie
Oakengates Aren't I Clever AX AXJ NJP
17 July 1997 - Fall 2012
"Unfortunately I had to say goodbye to both my old girls this fall. I lost Jazz on 10/23/12 and Cassie on 11/23/12. Jazz never liked to perform in public but she always wanted to know about everything that was going on anywhere. I miss seeing her lying on the deck and looking up the road to make sure she didn't miss anything. Cassie started her agility trialing later in life but she loved it! She was a great jumper. She was one of the smartest dogs I've ever had and fun to run. I see her everyday in her daughter Streaker. I still miss them both so much."
---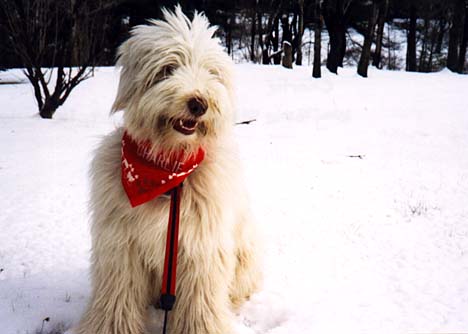 Karen Norteman's Charlie
WayToMe Midsummer Knight HIC
17 May 1997 - September 2012
---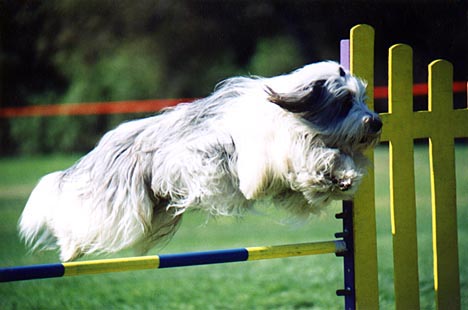 Sharon Williamson's Brio
MACH Springhill's Spirit of Brio
CD MXB MJG AAD JM RM PJ3 AJD OAC EJC NCC TDI CGC
10 May 1998 - 28 September 2012
---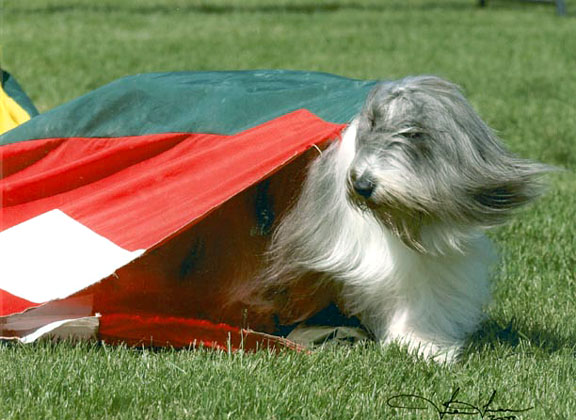 Headlines Rhapsody in Blue OA NAJ HIAs HTD-1-s HIC
14 September 1997 - 21 September 2012
My Teacher, My Friend, Thank You for the Journey!
I lost BlueBerry a week ago at 15 years and 1 week. She stayed perky up through her birthday --- I think because she knew I was wanting to celebrate it with her --- then showed signs of illness and went downhill quickly.
---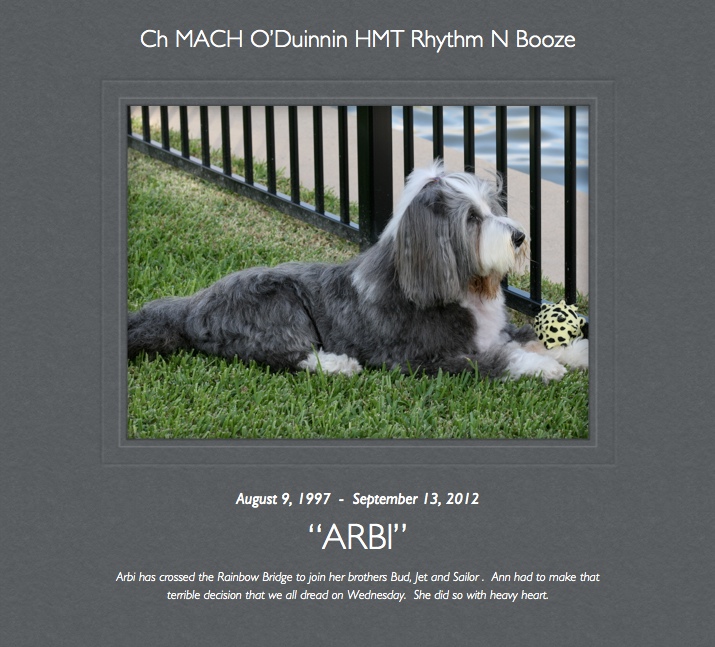 Ann Chandoha's Arbi
CH MACH O'Duinnin HMT Rhythm 'N Booze MXG MJC AXP MJP OAC OJC NGC CGC
August 9, 1997 - September 13, 2012
September 13th, 2013
On this day one year ago, I helped our Arbi cross to THE bridge...Arbi, our "smurf", our "baby cakes", and our "sweetness", we miss you, still....Hope you are chasing your favorite things...butterflies and BOATS!!! WE LOVE YOU! Gretch, thank you for being there FOR, and WITH me!!!!
---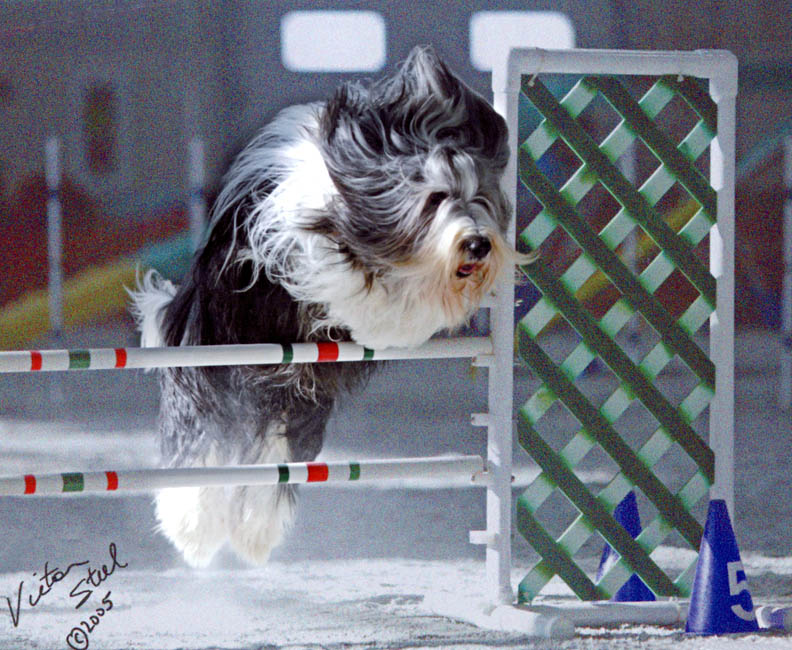 Lucy Campbell Gracie's Max
CH Briarpatch Portraitist CD HT OA OAJ VX ROMX
11 September 1996 – 6 August 2012
---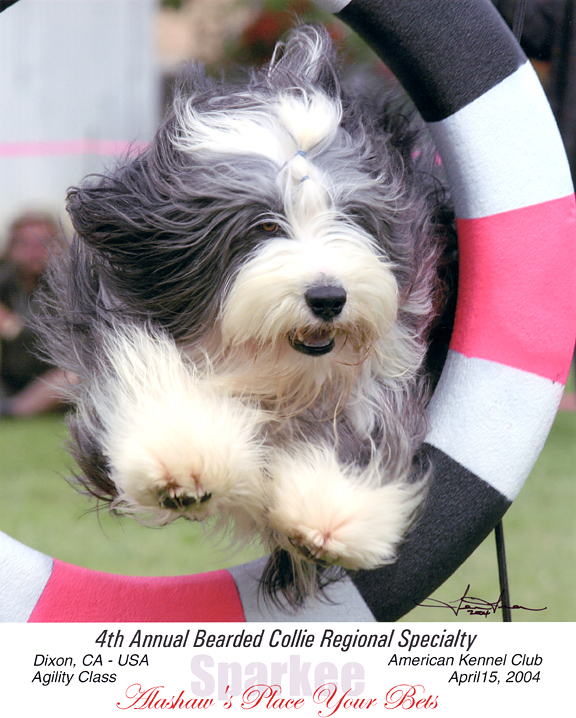 Tammy Domico's Sparkee
Alashaw Place Your Bets AX MXJ OF
21 February 1999 – 28 June 2012
---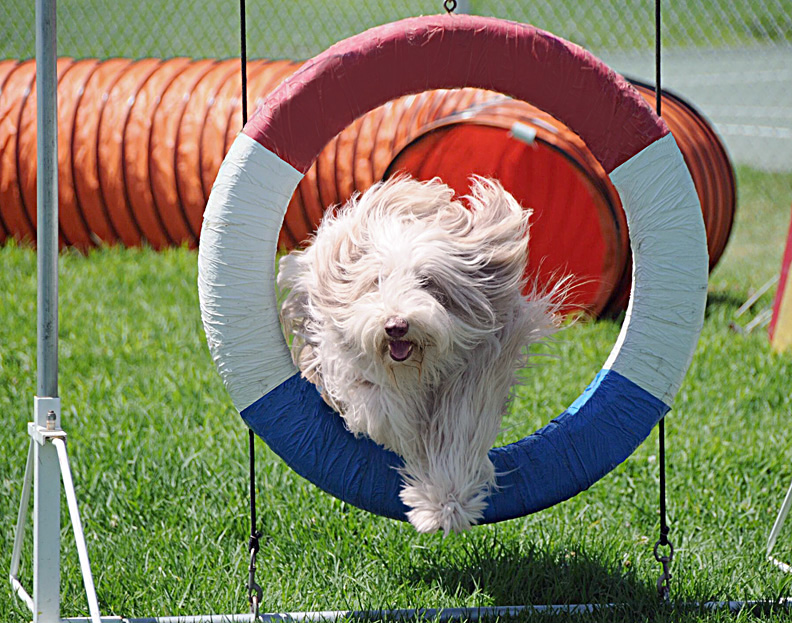 Darlene and Paul Foley's Sienna
Cynamen Artisan Sienna Star RN PT JHD CGC
18 February 2004 – 23 June2012
---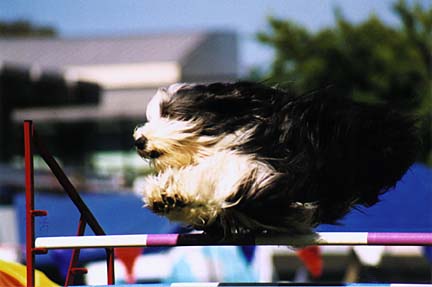 Photo by Steve Southard
Beth White's Mirage
Ch Firstprizebears Las Vegas
AX AXJ NAP NJP NAC NJC NGC PT HCT CGC VX ROMAX
Versatility Excellent Beardie
28 February 1995 - April 2012
We lost Mirage in April :(
She made to 17 and was doing well until the last few days of her life.
She's greatly missed.
---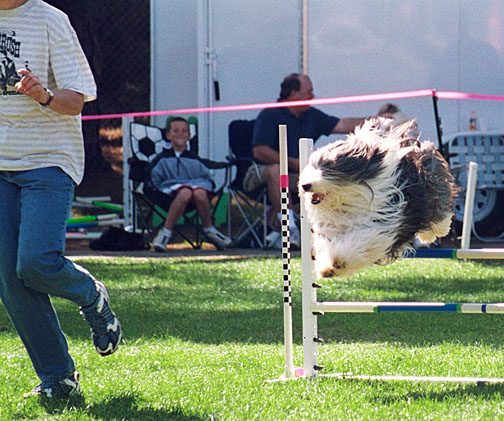 Wanda Packard's Rosie
CH Delgatie's Dreams Come True
CD RE PT AX AXJ AXP AJP VX
13 July 1996 - 30 July 2012
Rosie crossed the Rainbow Bridge today. She was born 7/13/96 so died just a few weeks after her 16th birthday. I was lucky to have her with me and wish she could have stayed longer. Wanda
---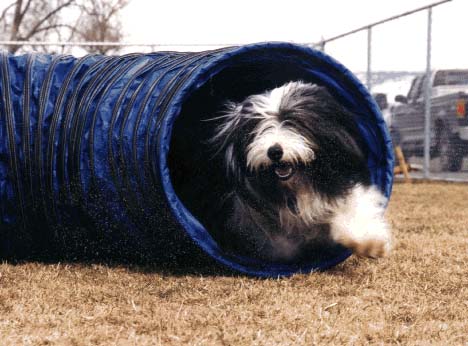 Cindy Nellipowitz's Solo
CH Chantilly's Woofgang Amadeus
CD RN HSAs NA NAJ NAP NJP NAC NJC VX
1 April 1996 - 23 July 23 2012
"This morning Solo passed over the rainbow bridge. I haven't done a post or facebook or anything yet. I'm just not ready."
---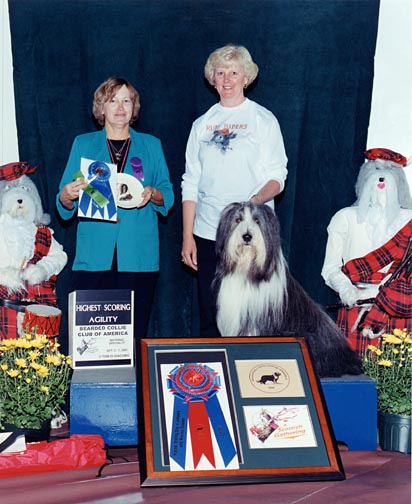 Elaine O'Carroll's Rory
Am/Can CH Colledge Spirit of Sheiling
UD RE PT MXB MJB NAP OJP NAC OJC NTC VX
Can CH CDX HT AG.N VA
6 April 1998 – 18 April 2012
"I finally found the strength to let you know that we had Rory euthanized last week. He was a great dog right until the end and we miss him greatly. As you know, Rory won High in Trial JWW at the 2001 BCCA Specialty and also won an AWARD of Merit at that same Specialty. He won several Best of Breed and Group Placement awards in the US and Canada in his limited conformation career. He also won several Obedience High in Trials in all-breed shows and Specialties in the US and Canada. He was Top Scoring Obedience Beardie for several years in the US and Canada. He was twice invited to the AKC Invitational for Obedience, but we didn't go because it was not feasible for us to travel to California at that time. He accomplished so much, but SLO finally interfered with his ability to compete. He was a very special, fun, vivacious dog and I loved working with him. We taught each other so much. He died in comfort and with dignity. We all have to go through this heartache. It's the unfortunate part of having pets. They bring us so much joy, but leave us with so much sorrow."
---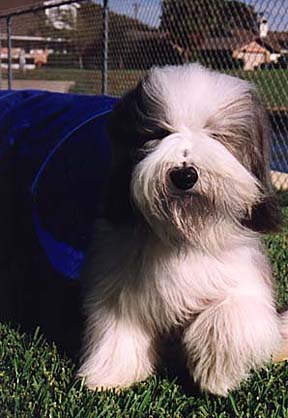 Karen Barratt's Bud
CH MACH2 O'Duinnin HMT A Bud for Boo MXC MJS2 ROMAX
9 August 1997 – 13 March 2012
---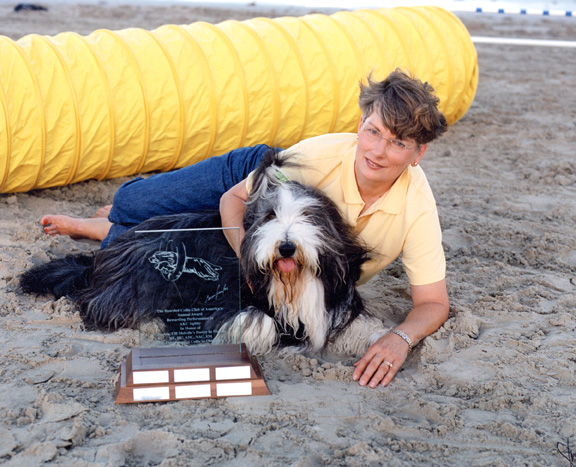 Karen Barratt's Jet
MACH5 O'Duinnin HMT Sonic Boom MXG2 MJC2 AAD EAC EJC OGC
9 August 1997 – 13 March 2012
---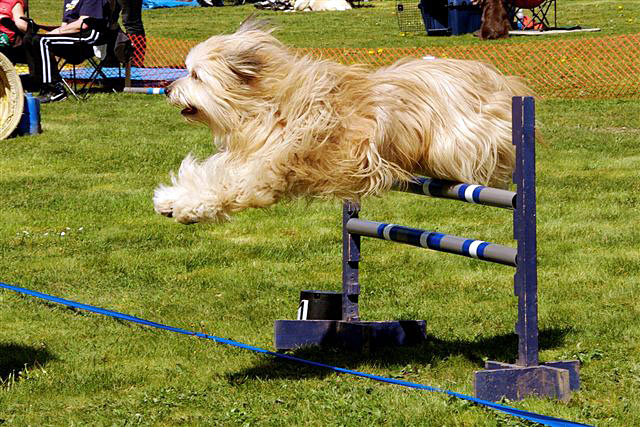 AAC Bronze Award of Merit
October 2000 - March 2012
"I have been enjoying agility for a little over 6 years, initially with my "neardie" Murphy, adopted through BONE and now with my full beardie Maggie. I live in Canada and compete in AAC. Before he died Murphy achieved his ATCH and Bronze Award of Merit in the AAC. For a dog who came with issues, started agility late, and was nicknamed the zoom meister this was an accomplishment! At a guess his DOB was some time in 2000 and I set his birthday in October as I adopted him in October 2002. He died in March of this year."
---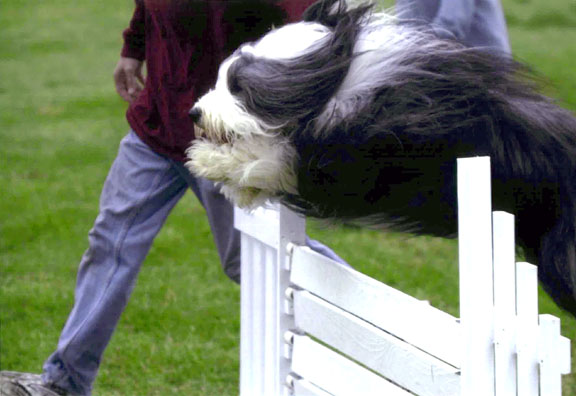 Casey Minner's Jester
CH Moonstone Surely You Jest RA NA NAJ HIC CGC VA ROMA
19 September 1997 – 8 February 2012
---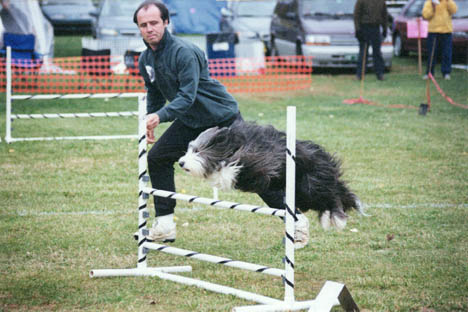 Neil and Ruth Bryden's Jura
Bonnie Bella Scotch Mist
CD NA NAJ NAC EJC EGC S-TN-E O-WV-E CL2-FHS CGC
1 May 1997 - 23 December 2011
"Throughout my life, I have participated in numerous sports and been fortunate enough to have won several tournaments, championships and titles. However, nothing in my life has ever given me the exhilaration and highs that I experienced when running Jura in the agility ring - that constant feeling of being on the "edge". Thank you 'Little Darling,' you will always be in my memories."
---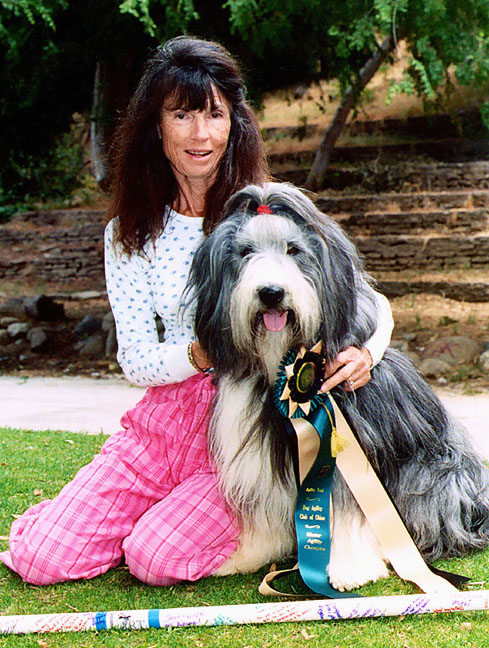 Sarah and Doug Halsey's Wizard
MACH11 ADCH Anasazi Secret of the Wizard MXG4 MJS5 MFB TQX SACH EAC EJC EGC CGC
9 April 1998 - 6 December 2011
"On Tuesday night we lost (from a stomach tumor) the neatest most joyful fun-loving noisiest silliest and sweetest Beardie in the world. Wizzie loved us and every person he ever met. Wizzie was always so happy and always could make me laugh and smile. We loved him so much for his happy silly ways. I could always write a fun and happy story about Wizzie, year after year. I cannot write this one. I cannot believe I won't hear the woof anymore. Wizzie, goodbye. We will always love you and miss you forever."
Wizard was an extraordinary agility Beardie in both AKC and USDAA. He was the third Beardie to earn the ADCH and the third to earn the MACH, but the first to earn BOTH Championship titles. Wizard was also the first Beardie to win all three of the BCCA's top AKC Agility Awards in the same year! At the 2002 National Specialty in Monterey, besides winning HIT for JWW and first place in the Pairs Relay, he received the Denia Award for Standard Agility, the High in Jumpers with Weaves Trophy for JWW, and the Diehard Trophy for being the top Beardie in the Country. He also received the Diehard and Jumpers trophies in 2003, 2004, 2005, and 2006. Wizard was recognized by both the AKC and BCCA as the top agility Beardie six years running: 2001, 2002, 2003, 2004, 2005, and 2006! Wizzie qualified for the AKC Nationals ten times between 2001 and 2010 and three times for the USDAA Nationals between 2001 and 2003. Wizzie was the #1 invitee to the AKC/Eukanuba Invitational in 2006 and participated five times between 2006 and 2010. He was the first Beardie to earn the MACH6, the MACH7, the MACH8, and the MACH9, and won seven Specialty Highs in Trial. He and his indomitable spirit will be greatly missed!
---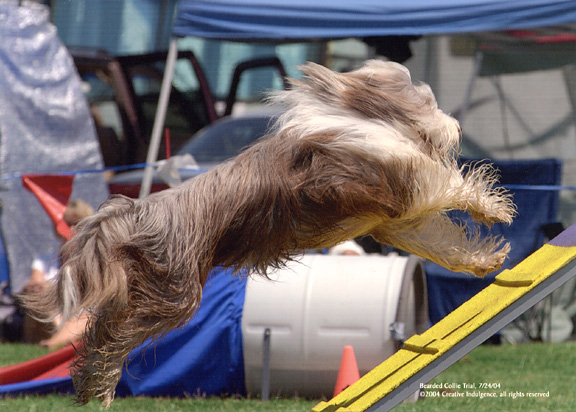 Barbara Stone's Brinian
MBISS Am/Can CH Fivefields Reckless Abandon RA PT JHD AX AXJ NF NAP NJP NFP OAC OJC NGC TG-N TN-N CL2-F NW1 TDI HIC CGC ROM ROMI ROMA VX
28 July 2001 - November 2011
"I have some sad news to share with the BAD folks. Two weeks ago, Brinian left for the RB. He was severely injured in a herding accident three years ago. Between the musculoskeletal and internal injuries, the accident ended his careers in showing, agility and obedience. I was very fortunate to have an amazing team of surgical, rehab and alternative medicine vets for him who were able to keep him on his feet for three and a half years. Ultimately, the kidney damage was more than he could overcome. In the last couple years he still worked with me on new performance areas earning the first nosework (NACSW) title earned by a bearded collie, NW1, and becoming a TDI Therapy Dog. Brinny is survived in my household by his grandson, Eriskay, a pretty awesome guy with Colton's sweetness and Brin's drive."
---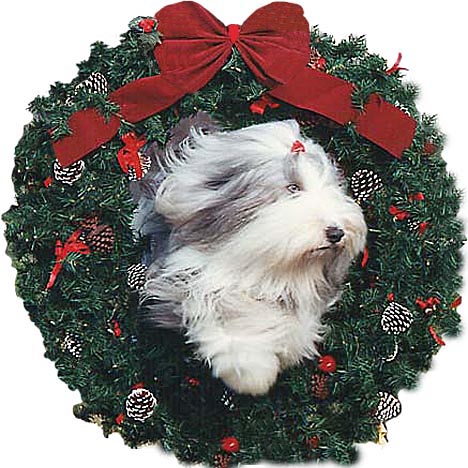 Polley McClure's Ivy
Black Friar Ivy Roon MX MXJ CGC
19 June 1997 - 2 October 2011
"My heart is still full of her...what a sweet, loving and beautiful girl she was...sigh..."
---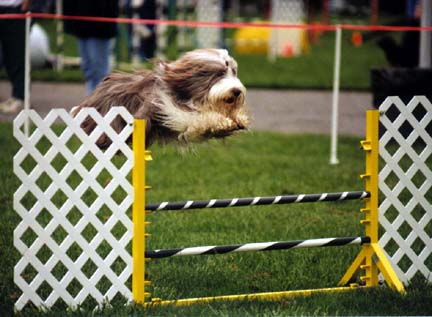 Pam Harris' Picard
Ch Spindrift Jean-Luc Picard AX AXJ NAP AD OAC OJC NGC JHD PT CGC VX
9 November 1994 - 18 September 2011
---
Linda Porter's Molly
Am/Can Ch Classical's Timeless Love CGC
14 December 1995 - 12 September 2011
---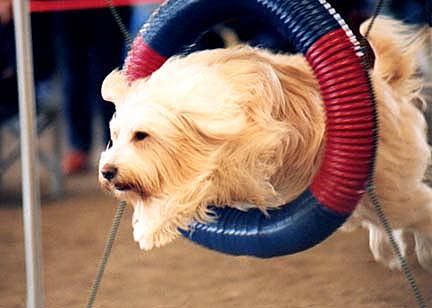 Anne Kajava's Olaf
ADCH Olaf MX, MXJ SACH-Gold/JCH-Silver/SCH-Silver/RCH-Bronze/GCH TM EAC EJC EGC
15 April 1997-7 September 2011
"Olaf died last week. : ( Very tough time for me right now as he was my first dog EVER."
Olaf was the top USDAA Beardie from 2000 through 2003. He was the second Beardie and the first in the United States to earn the highest USDAA title, the ADCH. Olaf participated in the USDAA Nationals in 2000, 2001, 2002, 2003, and 2004. On 9 September 2000, Anne and Olav were among the finalists in Del Mar, CA, where Olav placed 11th out of 110 in three separate competitions: the Grand Prix, Open Jumpers, and "In and Out."
---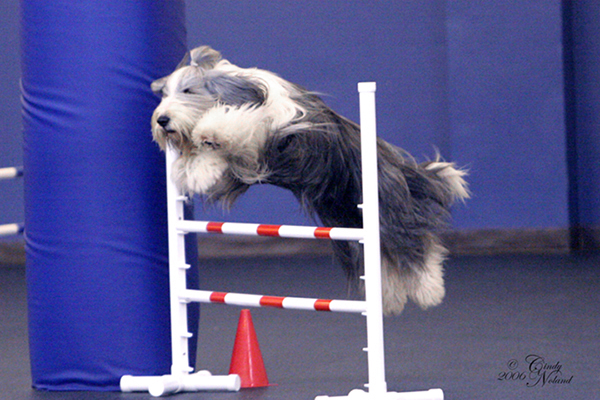 Jeff and Sharon Ipser's Libbee
CH Wigglesworth Make No Mistake AX AXJ NAP
19 December 2001 - 24 August 2011
---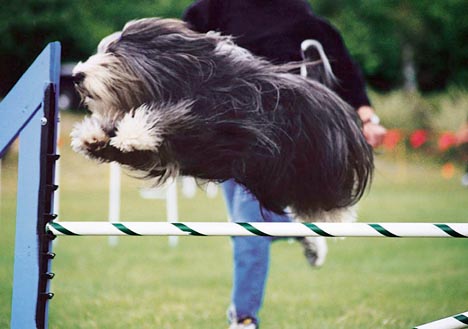 Maryann Groves' Brechin
CH Jubo-Lees Once Ina Lyfethyme RN PT OA AXJ NAC OJC NGC TD HIC CGC ROMA VX
10 April 1995 – 20 July 2011
"It is with a heavy heart that I must say that we helped my beautiful Brechin pass to the Rainbow Bridge yesterday. Up until a few days ago, she was still out running around after her daughters and catching her frisbee - her favorite thing to do at age 16 plus. Her heart was so strong, but her body gave out on her. She collapsed (possibly a stroke) and couldn't get up without much assistance, so I knew it was time. She was just the most amazing dog - the whole package. She introduced me to agility, tracking, herding, breed, obedience, and rally and she excelled in everything she did. Unfortunately, she was saddled with a human partner who was not quite as good as she was, but she loved me anyway and really wouldn't work for anybody else. There is such a huge hole in my heart right now, but I have to remember all the fun times we had together. She was such a blast and the Queen of our house! She always loved being the 'Star' so I hope that she is shining brightly in the sky above me. I miss her terribly already."
---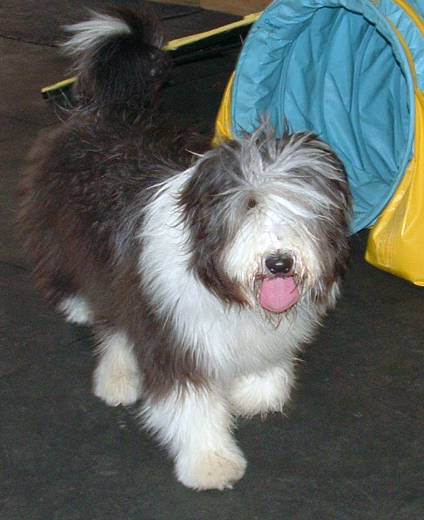 David Williamson's Murray
Wynsum Holdin' On To A Dream AX AXJ NAP NJP NAC NJC
11 December 2003 - 14 May 2011
Our sweet Murray has left us, and we are sitting here this morning in disbelief. We went to bed last night around 11 and put him on the bed between us -- his place where he felt secure. Just a few minutes after 1:00, Dennis woke me up with "Murray's not breathing."
We had been seeing the vet a couple of times over the last 3 weeks because Murrayhad gotten his leg caught under a door I had opened too quickly. Within a week his limp had gone away, but apparently one night he jumped up on a piece of high furniture and was limping again the next morning. Dennis took him to the vet last Monday, and the Rimadyl was restarted. He began panting Thursday, and we thought it was because he was warm. Yesterday (Friday) he continued to pant, and when he didn't eat his supper, we thought we'd better take him in first thing this morning.
Well, we are taking him in but for a different reason. When his remains are returned, he'll join our other good boys when we put the ashes in a big raised bed in the backyard. The flowers that we'll plant will be Murray's way of seeing the sunshine again.
A gentler dog there never was, Murray's dad
---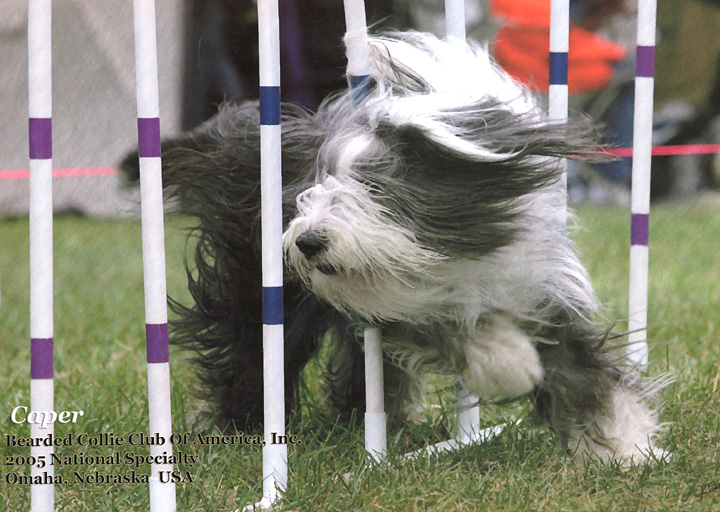 Champion Vers-NATCH C-ATCH2
Skyedance Lord A-Leaping
RAE PT AX MXJ AXP MJP2 OFP HIC HCT CGC VX
PD3 PS3 PJ3 AR AG AS
S-EJC S-TN-E S-WV-E HP-N
ChST ChJU ChJP ChCL ChSN ChWC ChFH
Versatility Excellent
Owners/Breeders: Jack Buhite and Libby Myers-Buhite
25 December 1994 - 27 March 2011
"Caper lived his life with zest. He was unbelievably fast on the agility course, winning eight Highs in Trial at Beardie Specialties: 5 in JWW, 2 in Standard, and 1 in FAST. Amazingly he earned his last five HITs at ages 11 and 12, with QQs both at the 2006 Nationals in Oregon and the 2006 NCBCF Regional Specialty. In 2007 he earned an HIT in FAST at the NCBCF Regional. He was the first and only Beardie to earn a Versatility NATCH and the first to earn a C-ATCH2. Caper, of course, had no idea that he was winning HITs. He just knew that he was having a great time with his Dad. Caper barked his way through Novice Rally until he caught on that there would be only one or two jumps max. Then he settled in and qualified consistently up to his Rally Excellent QQ #9, when he decided that he had had enough of this sport. Jack took time out for six months, then he and Caper went back and earned the final QQ for the title.
Caper also loved herding with both Jack and me. I handled him for his HT and he caught on immediately. By the time Jack took him in for his PT at the Northwest Nationals, he understood that he did not need to "work" the sheep if they were being docile, so he remained calm and self-controlled, working when appropriate.<
Caper maintained a high energy level and a desire to please throughout his life. He was never sick until her reached age 15, when he developed a manageable kidney problem. During his last year he began to slow down. Last week, he slept more soundly than usual, so that we had to shake him gently to wake him. On Sunday afternoon he seemed weak. By 6 pm he could not stand, so we rushed him to the emergency clinic. We discovered that he had developed a fast growing tumor on his spleen which had bled into his abdomen. There was a 95% likelihood that this was a hemangiosarcoma, not an injury. At age 16 and 3 months, it would only cause him pain to try to save his life for a few more months. Amidst tears and hugs, we said goodbye to our loving and beloved Caper.
It is still hard to believe that he is gone. He was such a part of our lives with his indomitable spirit and loving ways. We miss him terribly but know that he lived a full and happy life."
---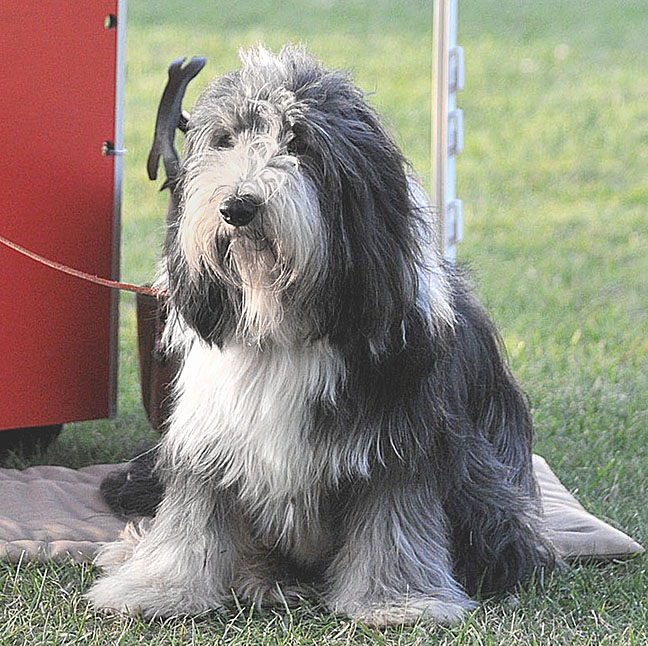 RILEY
Merryvale's Life of Riley
Owners: Natalie Bayless and Joe Root
Breeder: Meredith and Maurice BarDavid
15 February 2011 (4 years old)
"I am sorry to tell you that Riley Gate Dog (a/k/a Merryvale's Life of Riley) died yesterday afternoon. He was just four years old.
Riley was always an escape artist. This time he got out of the living area, opened a bathroom door, counter-surfed, and came down with a bottle of 5HTP (serotonin precursor).
We miss our complex, funny, quirky, loving Beardie boy. The house is suddenly very empty .. and very quiet."
---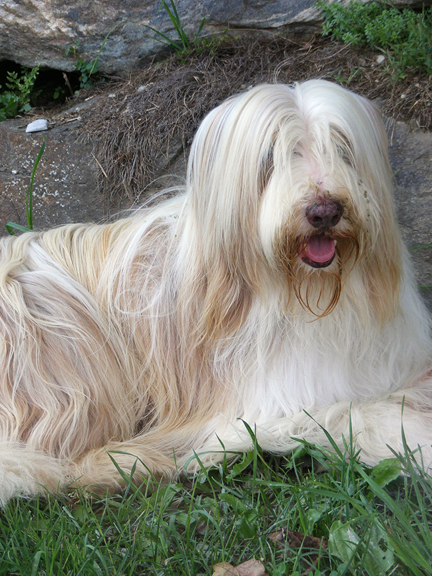 Britannia William Wallace
RN HT AX AXJ NAP CGC VX
PDI PJ2 EAC O-EJC OCC TN-E TG-O CL3 CL4-RFH
Versatility Excellent
Owners: Sonja Blanchard and Michele Ritter
Breeder: Dawn L. Martin and Michele Ritter
16 June 2000 - 4 February 2011
"Hi Libby, It sure has been a rough dog year for me. I lost my beloved Wally a week and a half ago. He was the third dog that has passed away this year. First our rescue Setter, then Snuffy and now him. Too sad and overwhelming. It was so fast, his splean ruptured from a tumor we didn't know was there and he was gone in hours. It was such a shock I have had a really hard time with it being reality. Wally was the love of my life. He has brought me so much happiness with his fun loving bouncing personality. He was also my keeper, he spent all his time watching out for me and being my guardian. He has gotten me thru a lot of changes in life over the last few years and I owe him a lot for his devotion. I miss him so much and his memory will be held close to my heart forever. I got a new pup in December her name is Quincy. She is daughter of Poppet and Marty. I am happy that she at least got to spend a few weeks with Wally to show her the ropes. He was such a special dog and my best friend. I am disappointed to only have had 10 and a half years with him. But I feel so blessed to have had him as long as I did."
---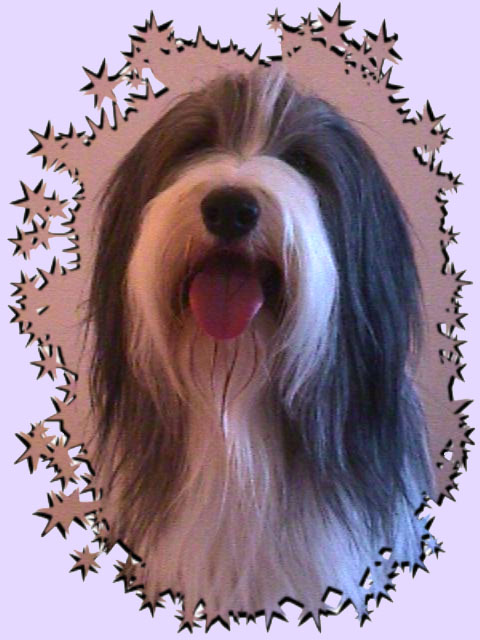 CH Arcadia's Thrills N' Chills
CD OA OAJ NAP NJP CGC
Owner: Lori Weinberg
Breeder: Diann Shannon
4 July 1994 - 6 February 2011
"Last night Jerry and I said good bye to Chilly.
Chilly came in to our lives when he was 2 years and 4 months old. That day he greeted me like I was his best friend. That is how Chilly greeted every single person. He was a very gentle and loving spirit for his entire life.
Over the years Chilly was my constant partner. We did obedience, tracking, and agility. The titles were for me, Chilly did not care about titles. He was the demo dog for countless puppy kindergartens and obedience classes. He did those things because I asked him to do those things. He truly believed in doing things at a nice and easy pace. He did not get why I wanted to do things faster or why I wanted to do anything on wet grass. But again he did all of those things for me.
Chilly was more than happy to hand those jobs over to Rocky when he came along. So at 7 years old Chilly retired from those activities. For the remaining 9 1/2 years of his life, his job was to get lots of head rubs, and get lots of cookies for being cute and to just be with us.
Over the last few years of his illness I am so glad that I limited my traveling to agility competitions and our vacations turned into stay-cations and family visits were cut short so that we could be at home with Chilly. That is the least I could do for Chilly who has done so much for me.
Jerry and I will miss Chilly terribly. At 16 years and 7 months he still had a loving heart, but his body just gave out. We spent the entire day together, that is what he loved. And that evening we were with him as he went to sleep.
I want to thank those of you that often asked and thought about Chilly. He was our love." - Lori, Jerry, Rocky and Blade
---

Wildwood Arcadia's Free Rider CL1 CGC
Antonia Barnhart
1998 - 5 January 2011
"Spalding, our wonderful Blue Beardie boy, has passed away. On Wednesday our vet Shannon came to see the animals. We were discussing Spalding and his continued maintenance for his arthritis etc. when he started to have seizures. They went on and on. Liquid valium managed to calm him down a bit and "reboot" his brain somewhat, but he was in bad shape. This was not epilepsy but most likely due to some type of tumor or something disrupting. Until noon on Wednesday Spalding had never been sick a day in his life. He died at home.
And so our dear old soul is gone from us. Spalding got his CGC and then stopped earning things. He got a novice agility title in CPE and then stopped winning things. He retired from agility the afternoon he entered a tunnel at a fun match lay down and took a nap in it. He was no HIT dog, but he was a real crowd pleaser: on the field, at the park, wherever he went he made friends.
This dog, who never really did anything extraordinary, was our one in a million. He was such a gentleman, such a joyful, happy dog." Toni & Perry
---
Jeff Wong and Alison Jayne's George
Llanddona Lone Venturer NJP
30 December 1996 - 4 December 2010
"George was a wedding gift from my father. Like it was just yesterday, I remember my father asked me what Alison and I wanted as a wedding gift. Of course he should've known I would say a dog. I came to love Bearded Collies after watching Westminster on TV in 1996 seeing "Andrew", Diotima's Bear Necessity. With Hawaii having a strict quarantine, we couldn't ship in a puppy from the mainland. So we arranged to get our first Bearded Collie from New Zealand's breeder Pam Douglas of the Llanddona Kennel. George arrived as a dark mahogany fuzz ball 3 month old puppy. I had competed heavily in obedience, first twenty years unsuccessfully with Basenjis. Then, after switching over to Shetland Sheepdogs, I blossomed, achieving a number of High in Trials, causing a lot of stress to always be on top. With Beardies, I thought my life would be calm and less stressful. Enter George, he took it upon himself to follow in my Shelties' competitive footsteps in obedience. He was the breed's number one Novice Beardie in 2000 and number five Open Beardie in 2001 nationally. That was quite difficult to do with Hawaii's limited trials of 6 per year. George became tired and bored of obedience, so we then turned to Agility. He did his darnedest to please me but because of health issues, from weight and hypothyroidism, was only able to complete the beginning novice title in the sport. I can still picture George's last run at jumpers smashing all the obstacles. I guess it was his way of saying enough is enough. He retired and lived out to almost 14 years old, the most striking dark stay-brown Beardie we'd ever seen. Oh, I mustn't forget after retirement George traveled back and forth cross country with us in our motor home, plus attended two National Bearded Collie Specialties, Mount Hood and beautiful Sonoma Valley, as a spectator and participated in the parade of titleholders. I will always remember my lovable brown teddy bear, Good Ol' George."
---
CH Autumnlane's Welsh Lore CD HIC VA FDCh-S
Owners: Jaimie and Justin St-Maurice
Breeder: Riitta Frantila
4 May 2000 - 18 November 2010
"Sadly, Griffin went to the Rainbow Bridge on November 18th, 2010. He had hemangiosarcoma on his spleen. Our Veterinarian gave him three months in February of 2010 but we had him for nearly 8 more months. He was a fabulous dog and the reason I am playing agility and doing all sorts of other performance sports with my other two. I am so blessed and thankful that he was a part of my life. I have some great pictures of Griffin at home. I will send to you later." - Jaimie St-Maurice
---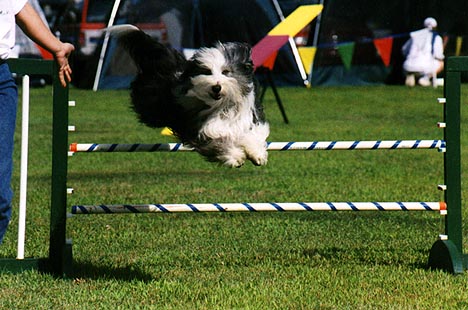 Snuff and Stuff
CD RN AX AXJ NJP HIC CGC
AD JB EAC S-EJC EGC TN-O TG-N CL4
Versatility Excellent
Owner/Handler: Sonja Blanchard
June 1996 - 11 September 2010
"I did want to let you know that Snuffy passed away on the 11th of September. She had celebrated her 14th birthday in June and had a great life. Wally and I are lost without her and will miss her presence every day for quite some time I am sure. Wally has been so good to his sister the last several years being her ears and eyes and looking over her. He has been mourning terrible, it is so hard when they take it as hard as you do. He finally has started to play again the last couple of days and begin to act like him self again."
---
Madeleine Etoile Plus Claire
CD RN NA NAJ OAP OJP
Owner: Karen Reed
14 June 2002 - 7 September 2010
"We have had a sad last few weeks here. My Madeleine was doing great and ran in an agility trial a few weekends ago. Tuesday night she ate her dinner, took her vitmins and thyroid medicine and seemed fine. She lay down at my feet and when I got up to let the dogs out, I could not wake her up. She had died right there at my feet with no apparent illness or problems. She didn't even make a whimper. It has been so tragic and I am still in shock.
My new little boy is now competing in agility. His name is Sterling (aka Brandmar Come Fly With Me). He ran his first show with Madeleine's last and got his Novice JWW title in AKC. He got one leg of his Standard but had some issues with a bouncy teeter. At least I have him to run and he enjoys it.
I won't be going to the Specialty this year. I was planning on doing agility only wtih Madeleine and Sterling, but I just don't think I can do it this year after losing Madeleine. I am still too sad. I hope you have a great trial and we will miss you guys.
We all lose our beloved Beardies and grieve for them. The dynamics have changed around here without our 'go-between' girl. We all miss her so much. My heart goes out to all who have lost their sweet pups. It never gets easier."
Karen J Reed

Allye and Sterling
---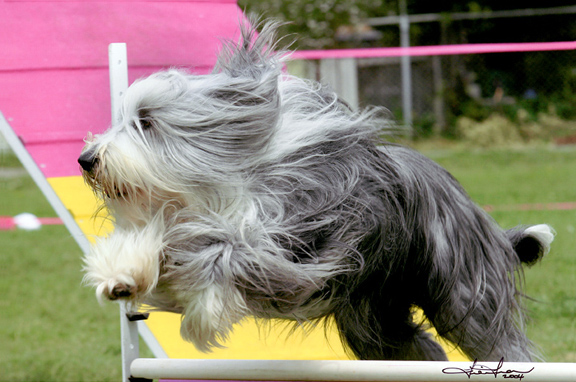 CH Sweet Romance of Lonetree
PT AX OAJ OAP NJP CGC ROM VX
Versatility Excellent Beardie
Breeder/Owner: Mary Edner
26 November 1993 - 3 September 2010
"Yesterday my precious Trouble, aka CH Sweet Romance of Lonetree went to the Rainbow Bridge. She was 16 years and 9 months old. From the time I brought her into the world we were inseparable. She had a long, happy, healthy life. On Tuesday she was full of energy and doing all the things she normally did. But, Wednesday, I think she had a stroke. She became weak and refused food, but drank water. I made an appointment for Friday morning with my Vet, hoping something could be done, but Friday morning she was unable to even stand. She had a strong body but her brain was saying the Time had come. I feel diminished--like part of me has gone with her. Sad news," Mary
---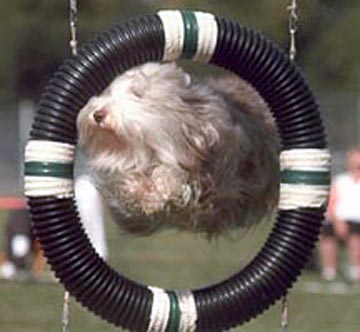 CH Meadow's Unique Sensation
CD RA AX AXJ VX
Versatility Excellent
Owners: Larry A and Kathryn L Haas and Claudia McNulty
Breeder: Claudia McNulty
25 March 2001 – 21 August 2010
"I can't believe 3-1/2 weeks after telling you CQ was at the Bridge, I must report that my sweet Godiva has joined him, much too soon. I'm too numb to say much other than there's a wild time at the bridge and our house is way too quiet!! Hug your furry faces and cherish every minute--they go way too fast!!" - Kathy and Figment (suddenly an only child...what happened!)
---
Am/Can CH Delgatie's Extra Class
CD PT NA NAJ NAP NJP
Breeders/Owners: Larry A. and Kathryn L. Haas
13 July 1996 – 28 July 2010
"Unhappily you can add my CQ. We discovered agility late in life, but both learned a lot. Our house is a little empy today, and our hearts are sad."
---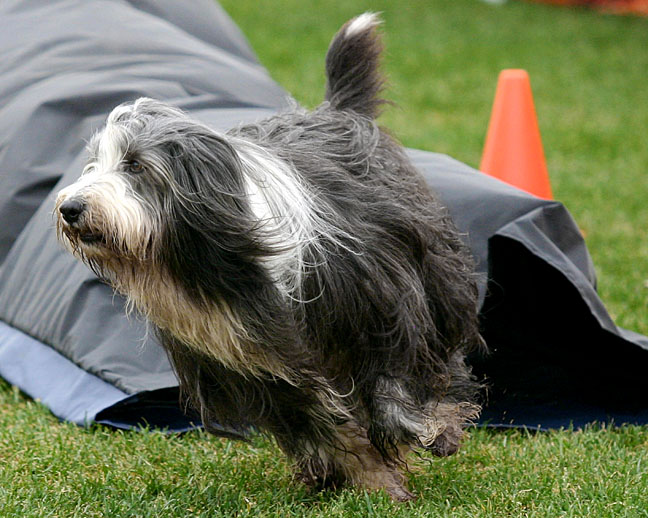 CH/MACH/ATCH/ATCHC
Bedlam's Catch Me If You Can
Can/Am CDX AGMX FDMCH HIT CGC ROMAX
Owner/Handler: Leslie Dawson-North
Breeder: Alice Bixler Clark
9 January 1995 – 17 July 2010
"We are very sad to announce that our beloved CHASE has crossed Rainbow Bridge. She was a mom and grandmother to my crew, but most importantly was my BFF (Best Friend Forever). Chase was the first beardie to place at an AKC Nationals, held in Atlanta 1998, where she finished 4th in the 20"division. She was also the 1st ATCH beardie and was the fourth beardie to obtain her MACH title. Chase excelled in everything she did, from conformation to obedience, agility and flyball. She loved to play and gave it all her heart. At the age of 11.5, Chase battled cancer and endured 5 sessions of chemo, which gave us 4 more wonderful years with her. Even though her heart was strong, her body failed. After several seizures on July 17, it was time to say goodbye. The sun was shining and Chase lay in the cool grass in the shade in her back yard, with Cliff and me by her side. She was gently helped to cross Rainbow Bridge. We miss her so!"
---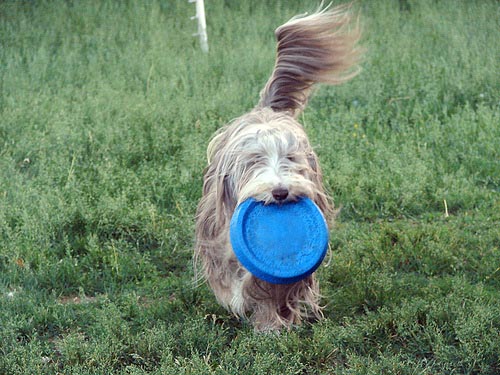 ABBEY
CH Bramptons Abbey of St Mary
Owners: Heather Gahres & Jeremy Haag
Breeder: Pat Sherwood
10 August 1995 – 13 July 2010
"We have been blessed to spend the past 14 1/2 years with our beautiful girl Abbey. In that time she has taught us many lessons:
1. Seniors want to keep learning, working, and being a part of life.

2. Dog language - She made us better in understanding things - better handlers and instructors.

3. Yesterday she taught us the final lesson of letting go - with grace, strength and love.
We are eternally grateful to Pat Sherwood for sharing her with us." - Heather Gahres
---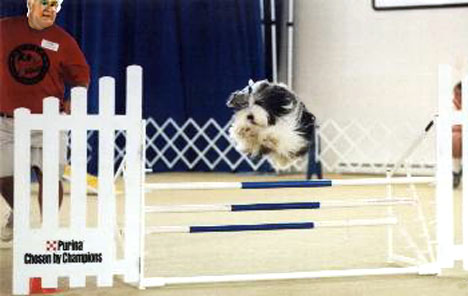 CH O'Duinnin Dazzle 'Em Dallas
MX MXJ MXP MJP
Owners: Nancy Pelton and Eileen Dinneen
Handler: Wade Pelton
Breeder: Eileen Dinneen
16 November 1996 – 7 July 2010
"So many going to the Bridge!!! It has taken a week for me to write this. CH O'Duinnin Dazzle 'Em Dallas - First Beardie MXP MJP and Preferred Beardie of the years 2004 and 2005. Dallas taught me so much about agility and love. I miss her so very much." - Wade Pelton
---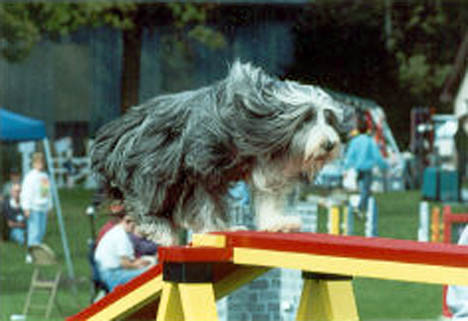 CH Nonesuch Molly Lombardy
MX MXJ CD RA HC VX
Versatility Excellent Beardie
Owners: Gordon Eisendrath and Cheryl Poliak
Breeder: Cheryl Poliak, Merv and Cathy Perry
17 December 1994 – 26 June 2010
"Today was a sad day around here. Today my dear friend Gordy had to say goodbye to his special girl Molly. Molly was one of Sweet Pea's babies out of Timmy, and she was as sweet and loving as her parents. She was 15-1/2 years, and competed in agility till she was 14, but it is never long enough. Gordy did so much with her and loved her so much. She also spent a lot of time with me because Gordy has kids on the east and west coasts that he would visit quite often. Molly was such an easy dog to live with. She would go to the shows with me when she was here, and I often forgot to bring a leash for her because she always stayed with me. Gordy had her so well trained I could walk into the agility ring or obedience ring with her and she would get first place with me handling. It was fun showing the "good girl" because I often had Indy at the same trials and he would do his best to embarrass me. Molly lived a long, healthy, happy life and we loved her very much." – Cheryl Poliak
---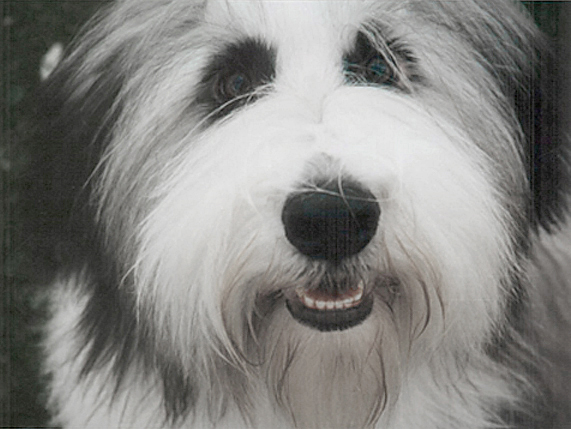 Wildwood Arcadia Firepower U-AG1
Owner: Kathy Kimen
Breeders: Terri Stepankow and Diann Shannon
17 January 1996 - 22 June 2010
"We lost Jake on Tuesday. He'd been suffering for some time now with bad hips. He could no longer pull himself up and was in great pain so we let him go. He didn't have many titles but he was the best dog ever. He was 14 1⁄2. He lived a long and happy life but we miss him terribly." - Kathy
---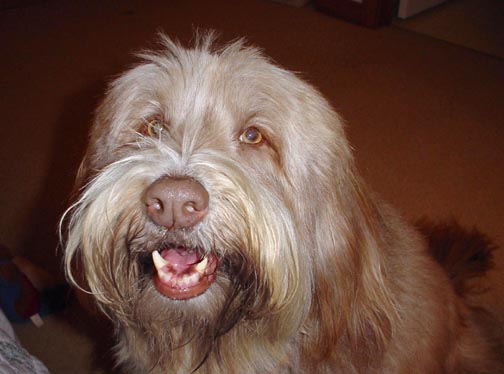 Mary Lou Watson's Bailey
Jubo-Lee's Taste of Honey
9 August 1995 - 18 June 2010
---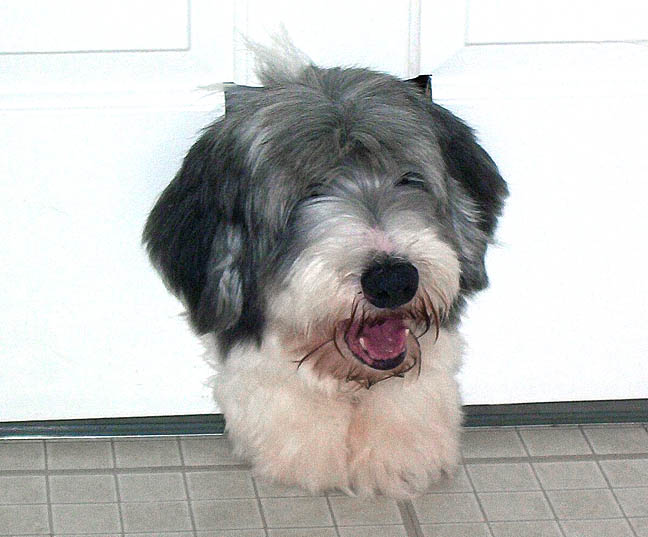 CH Ashberry Portrait of A Lady
CDX HSAs AX OAJ OAP OJP VX
Versatility Excellent Beardie
Owners: Sandy Weiss and Magee Perini
Breeders: Sherry Meininghaus and Michele Ritter
4 November 1996 – 15 June 2010
"Diva has crossed the rainbow bridge. I miss her spunk and full of life attitude and the way her tail was always wagging. But, in the last few months, she had stopped wagging her tail and she could no longer get up by herself or stay upright for long. Her body was failing her and I let her go peacefully to join her dad."
---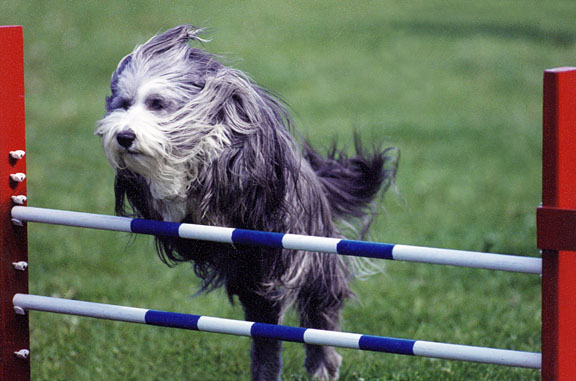 CH Britannia Blue Chip Stock
NA NAJ OAP NJP NFP
Owners: Betty Winfield and Michele Ritter
Breeders: Michele Ritter and Chet Jezierski
1 February 1999 - 10 June 2010
"Keogh too is among those that have crossed the Rainbow Bridge this summer. While I'm sure he is frolicking with friends both old and new, he is still deeply missed here." - Betty
---

Photo by Tien Tran
Wigglesworth Kosmic Leap
CDX RN HT AX AXJ VX
Versatility Excellent Beardie
Owner: Diane Lipman
Junior Handler: Dina Lipman
Breeder: Jeff and Sharon Ipser
4 September 2000 - 8 May 2010
"We lost our beloved Abby on May 8th. She was our first beardie, first agility and obedience dog. She was truly a gentle soul and is deeply missed."
---

Ragtyme Simply Irresistible, NA NAJ NAP NJP
4 March 1994 - March 2010
"We miss him but he had a great run. He was 16 when he passed and he went very suddenly. We are thankful that he didn't suffer and that we had him in our life. He really got us started with all that we are doing today."
---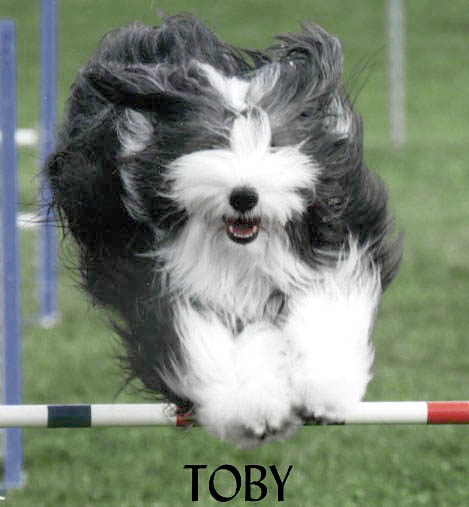 CH Tweeddale's Day Dream Believer
OA NAJ TN-O CGC
Owner/Breeder: Linda Porter
18 December 2000 – 10 March 2010
"Yesterday was a very sad day for us. Toby went to the Rainbow Bridge."
---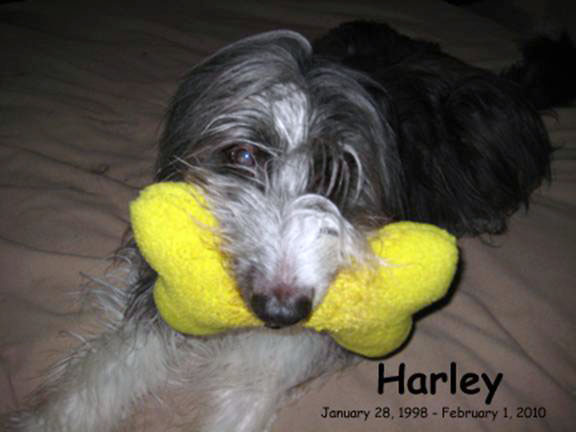 MACH2 PACH Harley of St. John
MXP6 MJP7 EAC EJC
Owner: David Williamson
28 January 1998 - 1 February 2010
"Hi Friends, We let Harley go to the Bridge last Monday and wanted you to know our Best Boy is gone. He was a great dog, and we are lucky to have had him for twelve years. Because he was so reliable in the agility ring, he earned many titles, including two MACHs, the PAX, MXP6, MJP7, and the BCCA's Preferred Veteran Award for three straight years. I never would have guessed when we first started that he would take me on such a ride! But his greatest feat was the place he earned in our hearts. What a wonderful companion! This week, his spirit and energy have been taken from our house, and it has been hard to open the front door after work. Neither Dennis nor I are in a place where we can talk or write about our sweet boy, so instead of a phone call or an email, please say a silent goodbye to him tonight. It was Harley who made it possible for us to get to know all of you."--David
---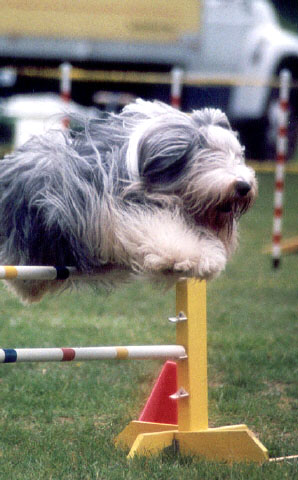 CH Fox Lane's Wynsum Checkmate
RN AX MXJ NAP OJP NFP OJC TDI HIC HCT CGC VX
Versatility Excellent Beardie
Owner: Maryann Szalka
Breeders: Mary C Billman and Carol J Carlsen
21 October 1997 - 9 January 2010
"Libby, Just wanted to let you know that Checkers went to the bridge on 1/09/2010. He was my first conformation dog and an awesome agility partner. He taught me a lot. Not sure if you keep a list or add something to his page, so I thought I'd send you a note. Funny, I have five dogs in the house, but he is still dearly missed."-- Maryann
---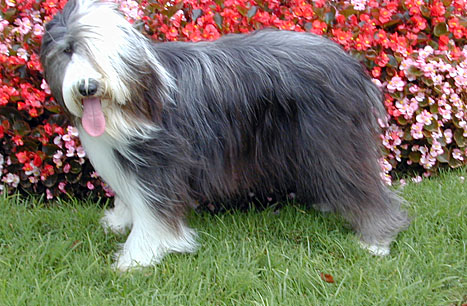 O'Duinnin Oh Darlin' Desirée
MX MXJ AD ROM ROMAX
22 June 1999 - 30 November 2009
Owner/Handler: Carole Mitchell, TX
Breeder: Eileen Dinneen
Today is the day I been dreading since last January. My Darling Desiree is no longer here. She has gone to sleep for ever. I can hardly write this as my eyes fill with tears again as I think of her. She fought the liver disease with great courage and in the summer it looked as if she might have beaten it, but she began to get weaker in October and the disease has finally taken my beautiful girl. She was ready to go and escape the discomfort and I take comfort that she is now at peace even though it hurt so much to look into those big brown eyes for the last time.
I am so grateful that she was part of our lives for the last seven years, I remember vividly going to pick her up from Eileen's house and how quickly she became part of our family. I know that dogs always enhance our lives but she brought so much to mine. Desi introduced me to the sport of agility and she was so patient -well most of the time-with me and eventually we began to work as a team and we had such fun! Desiree also introduced me to lots of new friends and I am so grateful to her for enriching my life with such caring, enthusiastic, supportive and positive people.
Every time a plane goes overhead, I will remember Desi. She loved to chase them and one day she might have caught one! She loved to race up the hillsides in Colorado and enjoy the cool mountain air. Our dear friends who spend the summer in Breckenridge were so kind to invite her many times-including this last July and this is another fond memory of her and just how much she enjoyed her life.
When we came home tonight from the vet, another lasting and wonderful gift from Desi - Guinness- came racing to greet us with the usual wags and kisses. Again thank you, Desi, for being such a good mother to all your special puppies. You brought such joy into our world. We will miss you! May you rest in peace and may your spirit live on with us.
Carole Mitchell
---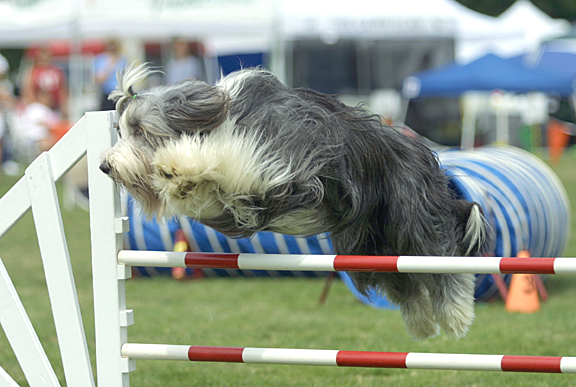 Sharon Ipser's Lizzee
CH Wigglesworth Oh Look at That RN PT MX AXJ AXP AJP CGC VX
29 May 1999 - 27 November 2009
---
CH Dunnottar Stonehaven's Silver
RN AX AXJ AXP AJP VX
Versatility Excellent Beardie
Breeder/Owner: Patsy Sullivan
16 May 1995 - 5 November 2009
"I had to say good-bye to my beloved Carson. He was my best buddy. He never was very fast or motivated in agility but would try anything I asked except a sit-stay 10 feet away. He participated in agility trials until 12 1/2. I still miss him dearly."
---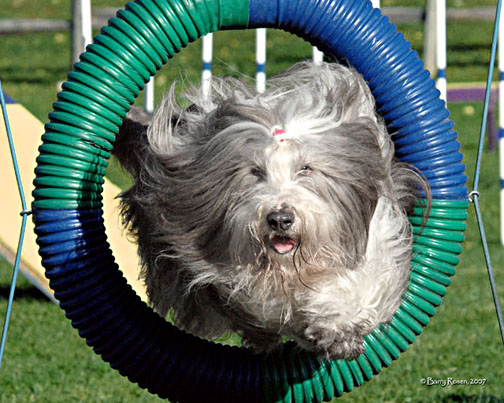 CH Cattail Hollow All Cheers
CDX PD1 PS1 PJ2 PK1 PG1 PR2 TDI CGC
27 November 1997 – 25 October 2009
Breeders/Owners: Megg and Edward Hoffman
Our special blue boy went to RB this morning. He was diagnosed with cancer three weeks ago and things moved very quickly. He had been in pain for the past few days so my vet came here this morning to help him on his way. We are so sad but know that now he is free from pain and joining his mother Patches who went to the Bridge on August 3, 2009!
Cheers was my partner---conformation, obedience and agility. We did our last agility trial only a month ago. He was born in our home and our last Beardie (had beardies since 1981). Cheers was everyone's friend--always a happy boy that had a full mouth smile (yes, uppers and lowers).
Please give your doggies a hug in Cheers' honor.
Megg, Ted and Gylf
---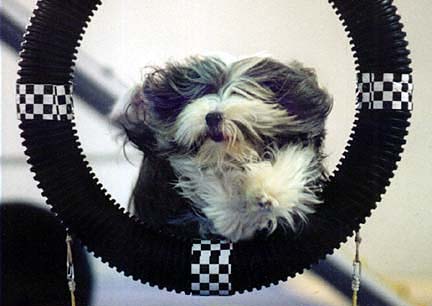 Photo courtesy of Tien Tran Photography
Shanaspree O'Duinnin Intrigue OA NAJ HIC
14 April 1993 - 15 September 2009
Owners: Gretchen and Darron Blackburn of Austin TX
Breeder: Eileen Dinneen and Laura Tapper
9/17/09
We had to put Allie down on Tues evening. She was getting over her pancreatitis and abscesses but she was worn out and had "the look."
We made it very nice for her. Sent Dr Boggs flowers before we got there and had Allie in her wagon with photos all over her of her life. She had a McDonalds hamburger and french fries and cookies and ice cream as her last meal.
Dr. Boggs was so sweet. She took her time and let us light a candle, turn out the lights and have the only light being the candle and one of the x-ray box lights on in the room. She stroked her head and enjoyed our stories. Darron said a prayer and cracked near the end which I thought was sweet. My friend, Ann, read a poem and placed in on top of Allie.
I put my hand under her back leg with my fingers on her pulse because I wanted to feel her last heartbeat. I think I drained my tear ducts over the past 3 weeks. We all were teary but not sobbing. We feel so at peace now knowing that she's in a better place. It was the hardest thing I've ever done.
---
CHEYENNE
Khiantah Cheyenne Bandit RN PT CGC TDI
7 January 1996 - 13 September 2009
Owner: Marilynn Snook of Clinton, IA
---

Spindrift Leap of Faith CDX OA NAJ NAC
April 22, 1993 - July 21, 2009
Owner/Handler: Bobbie Bokelund of San Mateo, CA
Breeders: Pam Harris and Carolee Dewitt
I lost my Beardie Girl Yesterday.
She had a long good life and she died in her sleep. Her little heart stopped.
Bobbie Bokelund
---

CH Ms Morning Star of Alamos NA
November 19, 1993 to July 16, 2009
Breeder/Owner/Handler: Jane Mohr Cooper of Benton City, WA
Emi, Eminator, Beemer, Sweet Girl... The list goes on.
Emi was born with a big white M on the back of her neck. She was our Divine Ms. M from day one. So when we decided to keep her, we had to pick a name that would be logical for a call name of "MSsss." Emi was about 4 weeks old, in a litter of 7, when my Mother came for what was to be her last visit. She had come up for Christmas, and the puppies added joy to the season. Although Mom was failing, she loved to play with the pups. Emi seems to have been the last of that litter. We lost both her Mom, Bretta, and her sister, Dani, and probably her brother, Sagan, to brain cancer, the same kind that has attacked Ted Kennedy. Emi never showed any signs of the seizures.
When Emi was about 18 months old, we baby-sat a litter of 3 Labs for a friend. And the delight in Emi's eyes, as she laid under the elm in the backyard, keeping all 3 pups within the confines of her paws, I hope will stay with me forever.
One of my friends has Rhodesian Ridgebacks. We travel to shows together frequently. And one of my favorite "Emi" stories is Debbie's. She was fast asleep. Em decided it was time to get up. So she got a drink of water, jumped on Debbie's bed, and kissed her awake. *I* awoke to screams and shouts.
And when I left Emi in Portland to be bred, she stayed with the mother of the stud dog's owner. Mom decided that I was a terrible Mom, and she would spoil my dog, and make me regret leaving my sweet girl. At that time, dogs were not allowed on the furniture. By the time Emi left, they were allowed on the bed and on the love seat in the family (TV) room. I heard that "Mom" decided to take a nap with Emi one day, and they laid down on the bed together. Emi kept insisting on attention to the point that after an 1/2 hour, nap time was declared over.
Emi was bred only once. Both her performance career, and her brood bitch career suffered from my medical issues. However, she was awarded her Register of Merit from her only litter, and Jim and I gained some wonderful friends, including Pat Columbo and Joel Robinson with Ryan, and Geoff and Pam Hobert, with Beo.
It was when her puppies were 3 weeks old that I started her agility training. And I realized that Emi was a very serious girl, a perfectionist. And I loved to travel with her. Oh, her puppies--we kept two. One went Winner's Dog out of the 9-12 class at a Regional, and one went Winner's Bitch at a Regional, two years later.
When Jim and I returned home from California last October, after the Santa Rosa National, Emi was doing poorly, barely eating. So I started fixing chicken soup for the dogs for every meal. Her appetite picked up immediately, and I have continued making soup for our crew. When Emi reach 15, we celebrated with ice cream. This
past winter was a cold one, and she had problems being outside. I was concerned then for our girl. But she rallied when spring and summer finally arrived until just recently.
She accompanied me when I went with a friend to the Coeur d'Alene shows over Memorial Day. We camped on the show site, in a tent trailer--a first for both Emi and me. And I was thrilled by the concern voiced by people who didn't know Emi and didn't know me. And friends made the trip very wonderful. Emi was tired when we got home, but her eyes twinkled, and her tail wagged. Several weeks later, she went with me down to Portland, and again was treated royally, and thoroughly enjoyed herself.
But she has gradually slipped this last couple of weeks, becoming weaker. And this week--well, Emi proved to be the toughest decision we have had to make regarding the dogs. Although she had no mobility, she could usually control her bladder, she knew when we were with her, she loved, in fact demanded her meals with non-stop barking, and until last week, seemed to be happy. In fact, last week. she bit my toe!! Well. my jeans were puddled around my foot, and there was biscuits in the jeans, both from training and from work. And well, she wanted the biscuits.
So this morning, she had ice cream with her breakfast. And I gave her treats before going to the vet's. And when I told my friends about helping Emi to the Bridge, one said "We'll lift a glass to Emi this weekend--or maybe an ice cream cone. She would have preferred that". I will celebrate her life--but first, I need to stop tearing up.
Give your kids ice cream for us.
Jane and Jim and the Alamos Animate.
---

Photo by Tien Tran
Briarpatch Double Scotch
RN OA AXJ O-EAC S-EJC O-EGC S-TN-E WV-E CGC
August 15, 1995 - July 1, 2009
Owner: Ruth Bryden
Handlers: Neil and Ruth Bryden of Rivervale, NJ
Breeder: Lucy Campbell-Gracie
It is with great sadness that Neil and I must let all our friends who knew Talisker know, that we lost him on July 1st. Although he had been ill for many months we were grateful that, other than an occasional day, he never knew that he was ill and that was still the case in his final hours. We were lucky to have several unexpected months to spend with Talisker and really enjoy him.

Talisker was the first dog that Neil and I had together and we can still remember going to get him 14 years ago. Of course, he was going to be brown and female but we fell in love with Talisker. Talisker opened up a whole new world of activities to which we may never have been introduced. Along with that came many new friends – most of you who are reading this. He really enjoyed new adventures, meeting people and dogs. There are many things that we would never had done had it not been for T. We would not have taken part in agility or sheep herding. I would not have the job that I do. We would not live in the house that we do and we certainly would not have Jura and Glayva. We may never have discovered vacations in Vermont and most importantly, the Ben & Jerry's ice cream factory. Who knows, we might not still be living in the USA!

Talisker was a happy dog who just liked to be busy all the time – only last week I found him on top of our garden wall and I have no idea how he got there. If there was nothing else to do then he could always BARK! He is a beardie after all. Sadly, our home is quiet now.

Neil, Ruth, Jura & Glayva
---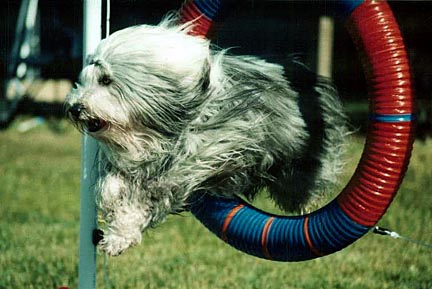 CH Ragtyme Doubly Smashing
CD U-CD RE HSAs JHD
MX MXJ NAP NJP PD1 S-OAC S-OJC NGC HIC CGC VX
Versatility Excellent Beardie
March 4, 1994 - June 23, 2009
Owners: Barbara Stone and Lynn Zagarella
Handler: Barbara Stone of Hillsboro, OR
Breeders: Lynn Zagarella and Nona Albarano
The house seems very empty tonight without Colton. He was such a big part of my life for the last twelve years and I miss him terribly.
Barbara and the brown dustmop dudes, Brinian and Eriskay
---
Ann Krafcheck's Simon
Britannia Simon Says U-AGI TDI HIC
11 February 1999 - 12 June 2009
"We lost Simon during a very sad and chaotic time in our household, as my mother who had been very ill for 2-1/2 years, died on September 21, 2009 of heart disease. Simon's illness during all of this came as a very big shock. He was a very stoic dog who started coughing one day and died a week later. He stopped eating a day before he died. Even upon arrival to the emergency hospital he was a good boy. I never dreamed he would die that same day. So, with caring for my mother 24/7 and the house like a hospital ward with healthcare personnel in and out all day and night, life was stressful and none of us were doing very well with it all. Turns out Simon had lung cancer that had spread rapidly."
---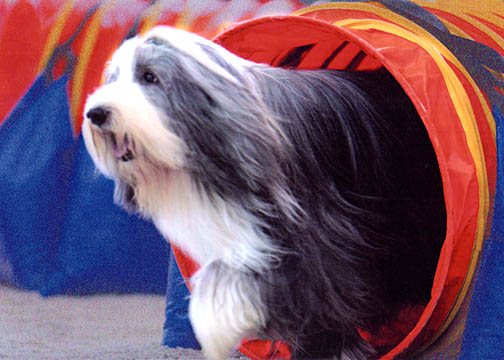 MGrpl MBISS CH Briarpatch Who Was That
CD RA OA AXJ OAP OJP VX ROMX ROMA
Versatility Excellent Beardie
7/31/95 - 5/27/09
Breeder/Owner/Handler: Lucy Campbell-Gracie
---

Photo by Pat Cagney
CH Black Friar's Moonstone
OA OAJ CGC HIC ROM ROMIX ROMAX VA
March 14, 1995 to April 15, 2009
Owner Handler: Sandy McDonald/Gainesville, VA
Breeder: Kathy Wilson
Sadly, I lost my beautiful brown eyed O'Shea on April 15th, 2009. At the time I was just unable to write about her. She has done her fair share of contributing to the BAD membership roll in her children and brought much love and joy to my heart.

Sandy McDonald

---

AKC/UKC CH O'Duinnin Dos Equis OA OAJ NF SS
11 September 2004 – 8 April 2009
Owner/Handler: Robin Fortenberry of Dallas TX
Breeder: Eileen Dinneen
Our hearts go out to Robin Fortenberry who lost both her dogs and her home to a fire on April 8. Her Beardie Dos and her Manchester Gretchen succumbed to smoke inhalation. Robin wrote, "Thank you for your thoughts and prayers. It's really very hard. Not a day goes by that I do not think of both Dos and Gretchen. I did not ever think that I would lose them both this way, that they would not grow old. Even though Gretchen was 15, she had so much energy. She ruled Dos and he loved it. My only comfort is that they both went curled up together. Dos loved Gretchen so much and she loved him. Again thank you."
---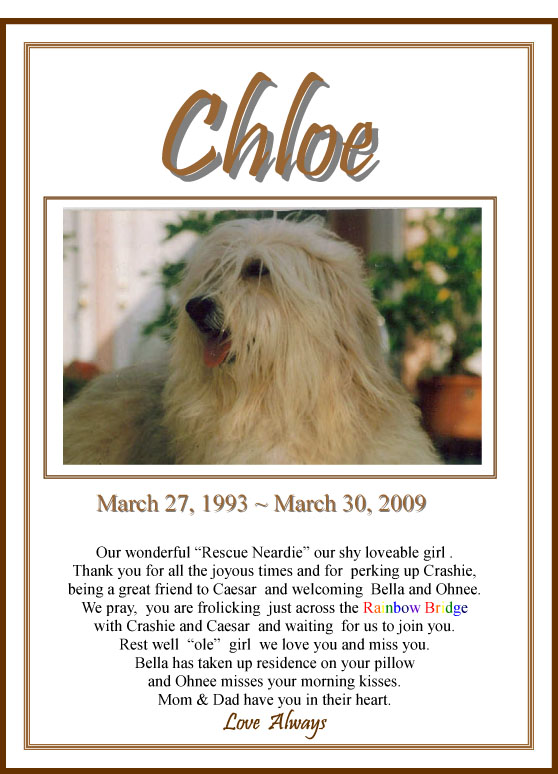 Meaux and Jean Larroux of Indian Rocks Beach, FL
---

Photo by Ann Clayton
StCH / StIntCH Spindrift Best of Both Worlds
PT JHD OA OAJ OAC OJC NGC ROM ROMI ROMAX
9 November 1994 – March 2009
Owners: Jana Dozet and Pam Harris
Breeders: Pamela Harris and Carolee DeWitt
"Shelby was my first beardie and was everything that I was hoping for plus much more. She was bright, willing, athletic, sweet, loyal, funny, talented and a wonderful mom. She truly surpassed all that I could have expected of her. Thanks to Pam and Shelby I know that I will always have beardies in my life."
---

Tobé Saskor Photography

CH Balgrae's Rob Ruadh CD RAE HT MX MXJ VX
AD EAC EJC EGC TG-N TN-N WV-N JHDs
10 May 1994 – 9 February 2009
Owner: Joanne Williamson of Boxboro MA
Breeders: Joanne Williamson and Mrs. R.S. Parker
"My sweet brown boy Rob went to sleep forever Monday afternoon. He was approaching his 15th birthday and had been having a difficult time this winter with the cold and ice. I had the feeling he wouldn't last until the spring. Rob collapsed Sunday night and on Monday I made the difficult decision to let him go. I shall miss him always."
---

2002 NCBCF Regional Specialty
Photo by Craig Chatterton
CH Caledonia Cydney Canuck PT NA NAJ VA
17 September 1992 – 6 February 2009
Owners: Kathrine and Carl Widell, Diane Kerr
Breeder: Kathrine B. Widell
"Our dear, sweet Cydney passed away last week. She was sixteen and a half. We all miss her very much."
---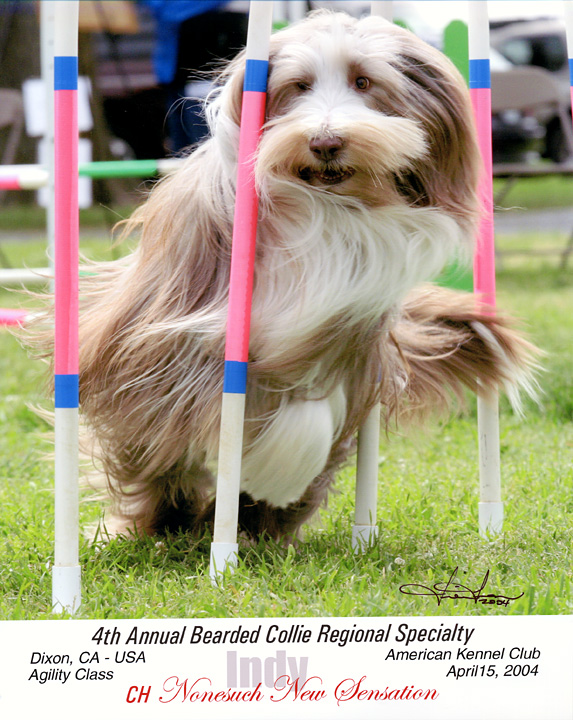 Photo by Tien Tran
Am/Can CH Nonesuch New Sensation ROM ROMAX
RE OA OAJ NAP OJP HIC CGC VX
8 October 1993 – 3 February 2009
Owners: Cheryl Poliak and Steve Klinger of Pickett, WI
Breeders: Cheryl Poliak, Merv and Cathy Perry
"Indy was 15 years last October, and he was strong, healthy and sassy right to the end. He had what was the perfect temperament to me. He was fearless, confident, smart, never needed a leash,and got along with other dogs, people, and kids."
---
=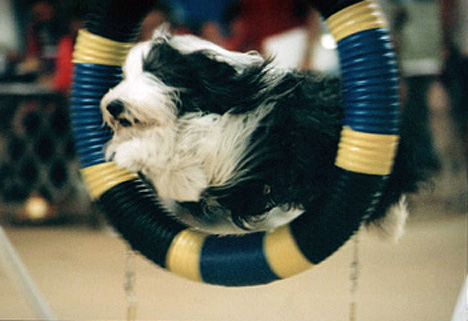 =
Photo by Tien Tran
O'Duinnin Oh Dancin' Darby OA MXJ NF NJC
22 June 1999 - 18 December 2008
Owner/Handler: David Williamson of Pearland TX
Breeder: Eileen and John Dinneen
Our Darby left us and crossed the Bridge this afternoon, and we are sitting in a much quieter and sadder house this evening.  After 4 months of ups and downs with his health, his body had just had enough, and we let him go. We're probably doing as well as anyone who's been through this damn situation, and we surely do appreciate your thoughts and concern.  (Anyway, Dennis says that when I cry it reminds him of a time when he once heard a calf bawling for its mother on the other side of a fence, so you don't want that in your ear, do you?) I'm here to tell you the agility bond that I shared with him has made this ever so much harder to bear. Hug your pups one time for the Darbster. That little guy sure was fast.
---

Britannia Believe It Or Not
O-NJC NGC O-TN-N
12/01/01 - c. 11/04/08
Owners: Dena and Jim Healy and Amy Steltz
Handler: Dena Healy of Independence, OR
Breeders: Kirsten Andreassend, Margie Haarsaager, Michele Ritter
It is with a sad and heavy heart that I let you know that we lost our "little man, Ripley" about 6 weeks ago to a battle with cancer.
---

Artisan Rook's Feather PT
5/27/05-11/04/08
Owner/Handler: Kim Krueger of Sedalia, CO
Breeders: Ann and Harry Witte
Artisan Rook's Feather...Delilah passed away in a freak hit by car accident yesterday. She died almost immediately. I am thankful I was with her and got to hold her. I am just so sad and empty without her. I had a baby boy 2 months ago. Delilah absolutely loved him. She slept in the nursery with him, would gently lick his head and got up with me every night for the night feedings. But most of all, Delilah was my best friend. She was one of the silliest dogs I have ever had. The house seems so empty without her. Grendel just keeps wandering around looking for her. Our golden Sawyer is sitting out by the scrub oak Delilah would lay by....just waiting. Please hug your dogs and give them a special treat in memory of one of the coolest dogs ever....Delilah
---

Ann Clayton Photographic Imaging
Ch Gemstone Pearl of a Girl
RN HT AX MXJ HIC CGC VX
6/14/99-9/15/08
Owner/Handler: Sharon T. Baker of Napa, CA
Breeders: Sharon T. Baker and Ruth Colavecchio
---

Photo by Tien Tran
Springhills Star Dreamer NA NAJ NAP NJP
3/22/95 - 9/12/08
Owner/Handler: Cheri Omnus of O'Fallon MO
Breeder: Pat Palozzola
"It's with a heavy heart I have to tell you, Tom and I had to help Murray cross the rainbow bridge on Friday night. Murray was 14 1/2 and had a great life. His passing was very fast. He only got sick on Thursday and was gone on Friday. He didn't suffer and I was glad Tom was home and we shared his passing together. It's never easy saying goodbye to a dear friend.
Murray lived in 3 states and got to travel through and visit many more. He loved running on the beach in California, in New Jersey he loved the long walks through the beautiful state parks, and here in Missouri he loved to go to the school where he could run, play ball, or just go for a walk.
Murray was very intelligent and had a great sense of humor. How he could make us laugh. He went through life on his terms and his own way. He will be so missed. Please think of him."
Cheri Omnus
---

John Spivey/pawPrints
CH/NATCH/O-V-NATCH Baliwyn's Precious Friend
MX MXJ APD AJD-Bronze VS VJ AKD S-EAC
CDX TD HIC CGC VX
Denia Award 1997-1998
Versatility Excellent Beardie
January 27, 1991 - June 1, 2008
Owners: Lu and Jerry Bergen
Handler: Jerry Bergen of White River Jct VT
Breeder: Alice Buschman-Baliwyn
Breezy's life ended peaceably on a Sunday afternoon. Breezy had let us know that it was time.
Lu and I thank everyone who sent emails in response to my recent post reporting on Breezy's failing health. Your expressions of sympathy and support and the many who shared their experience of losing a Beardie friend gave us the strength to make the decision to end Breezy's downward spiral. Your caring let us know that we wouldn't grieve alone.
Breezy is the dog of our lifetime. Breezy transformed the ordinary lives of 2 ordinary people into a fairy tale-like experience. Because of Breezy Lu and I have wonderful friends that we would not otherwise have including many we have never met like many of you reading this post. Breezy had taken us out of our confined world and took us to places and events beyond our imagination. Our home is filled with trophies, plaques and ribbons because of Breezy. More importantly, she filled our home with love and companionship. She gave our lives purpose, pride and fulfillment. She lived up to her name, Precious Friend. Breezy was extraordinary! We are humbled by her greatness.
Breezy's death has left an extreme emptiness in our lives. Lu and I are grieving deeply. We are comforted by knowing that all of you understand our grief.
Jerry
Breezy's life is celebrated on her website, Breezy's Scrapbook, at:
www.geocities.com/jerber0/breezy.html
---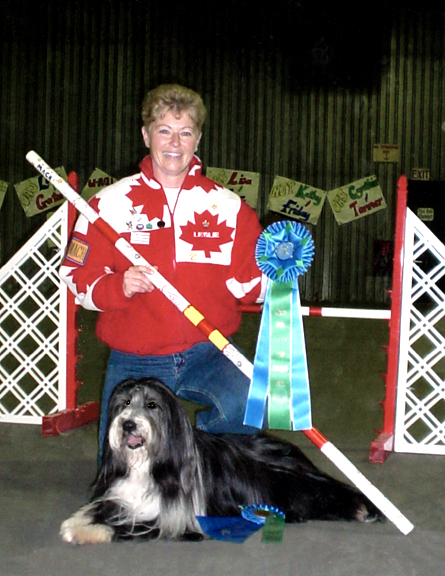 Can CH MACH OTCH Buaidh Mithandril Xerox O'Jen
CD MAD SAM JM RM MADC MSN AG.MX FbDCH HIC CGC
May 9, 1991 - April 25, 2008
Owner/Handler: Leslie Dawson-North of Alberta, Canada
Breeders: Nellie Neil and Susan Taylor
"It is our sad news that at 3:00 today, at home, our Little Miss Kassi crossed over the Rainbow Bridge. With the assistance of Dr. Wolpher, she gently fell fast asleep on her favorite bed with her mom lying by her side. Kassi has been dealing with nasal cancer and our old girl was fading fast. She fell two weeks short of her 17th Birthday and our hearts are filled with sorrow. She has taught me lots, especially about unconditional love, and we miss her dreadfully. We have many fond memories to keep close to our hearts and she will never be forgotten. Kassi will come to rest beside KODDI at home after cremation. With Tears in our Eyes, Leslie and Cliff Dawson-North"
---

Photo by Tien Tran
Edmar My Own Sweet Patsch
AX AXJ AD EAC EJ EGC TN-N
CDX U-CD RN HXa-s HRDs-III HTDs-II HIC CGC VX
Versatility Excellent Beardie
November 24, 1994 - April 25, 2008
Owner/Handler: Mary Lott of Salem OR
Breeder: Marie Moe
"The trip to California was a great thing to do for him (for us) but it was also hard on him and I helped him along to the Rainbow Bridge on April 25, at 13.5 years. He taught me a ton and was one of the first Beards out there playing on the West Coast."
---

Oak Meadows Fawn Calypso
MX MXJ AAD JM SM EAC OGC OJC AADC
5 December 1993 - 24 March 2008
Owners: Elizabeth Winfield McGonigle and William J. McGonigle
Breeder: Jean Mickelson
Handler: Elizabeth (Betty) Winfield of Nine Mile Falls WA
"I wanted to let all of you know that as of Monday, March 24th, Miss C is running pain-free at the Rainbow Bridge.
I'm still too sad to say more."
---

Photo by Tien Tran
Ch MACH Spindrift William Rikker
CDX RE PT JHD MXP MJP2 NFP
AAD RM AS JM EAC OJC NGC CL3 CL4-RFH VX
Versatility Excellent Beardie
9 November 1994 - 7 March 2008
Breeder: Pam Harris
Owners: Patricia Coreris and Pam Harris
Handler: Patricia Coreris of Pacifica, CA
---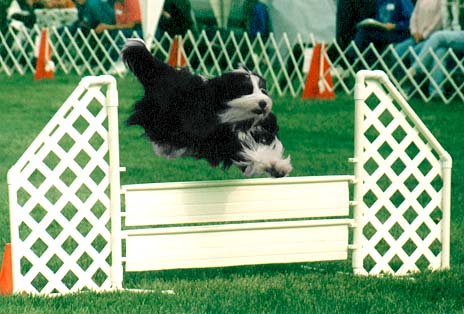 LeVontz's Highlands Bronte UD HSAs NA OAJ CGC VX
Versatility Excellent Beardie
20 November 1993 - 29 December 2007
Owner/Handler: Kim Kruegerof Sedalia, CO
Breeder: Larry Vontz
"She became my running, hiking and biking partner. She brought a tremendous amount of joy to my life. I feel honored that she was able to spend the last 7 years with me. I will miss her more than anything."
---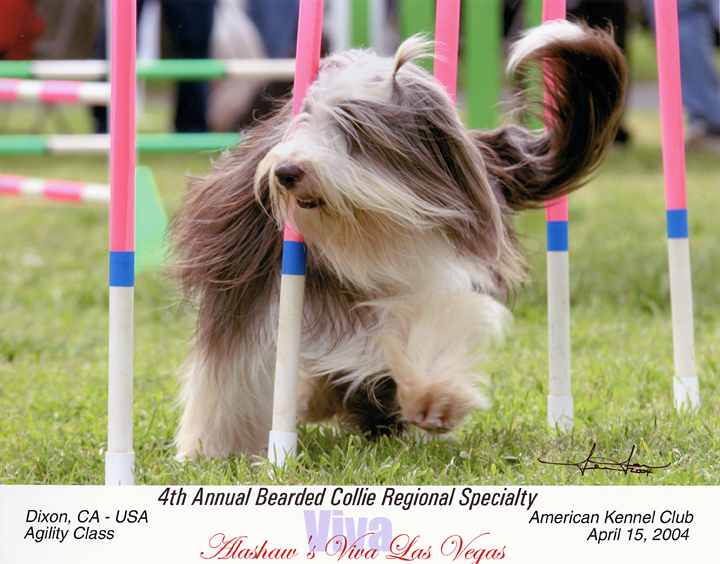 Photo by Tien Tran
Alashaw's Viva Las Vegas MX MXJ NAP NJP
21 February 1999 - 8 December 2007
Owners: Tamra Domico and Beth White
Breeders: Beth and Jim White and Kathy Pavlich
Handlers: Tamra Domico and Beth, Katelyn, and Ashlyn White of Sanger, CA
---

Ch Britannia Peppermint Patty
VCD2 UDT Can CDX HT
MX AXJ OAC-V OJC-V NGC AG.N CGC VX
Versatility Excellent Beardie
2 October 1991 - 20 November 2007
Breeder: Michele Ritter
Owners: Antonia Tuck and Michele Ritter
Handler: Antonia Tuck of Manlius NY
Sad to say that PATTY joined the list of pioneer Beardies at the Rainbow Bridge late last fall. It's still too hard to talk about.
---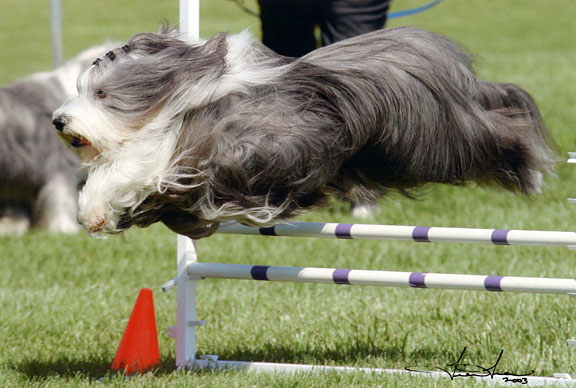 Photo by Tien Tran
Am/Can Ch Caledonia's Cagney Mac Calico
PT NA NAJ AXP AJP NJC-V VX
Versatility Excellent Beardie
17th September 1992 - 1st November 2007
Owners: Kathrine and Carl Widell of Brownsville, OR
Breeder: Kathrine B. Widell
Handlers: Carl Widell and Amy Steltz
"Being in his presence was the purest affirmation of possibility, of joy, of love."
---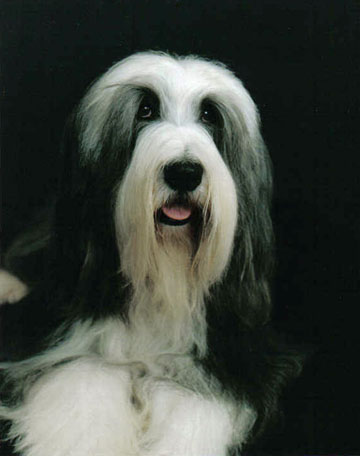 CH & Int'l CH Highlander Wildest Dreams PT JHDs CGC ROM ROMI ROMAX
First ROMAX Sire
15 March 1992 - 2007
Breeder/Owner/Handler: Beth Tilson of Santa Rosa CA
---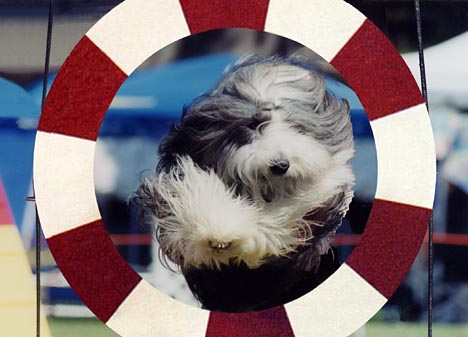 CH & Int'l CH Aellen Tried and True
PT AX AXJ EAC OJC NGC TN-N TG-N HIC HCT CGC VX
Versatility Excellent Beardie
27 January 1995 - 25 September 2007
Owner/Handler: Carol Colavecchio of Fair Oaks, CA
Breeders: Ruth Colavecchio, Scott Mandell, and Linda Weeks
"He was my loyal, faithful partner and friend and I will miss him more than I know right now."
---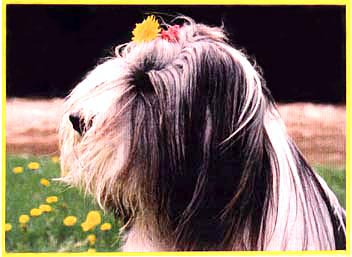 CH O'Duinnin Picabo Streak

MX MXJ AD OAC OJC NGC HIC ROMAX
24 April 1994 - 22 August 2007
Owner/Handler: Karen Barratt of Galveston TX
Breeder: Eileen Dinneen-O'Duinnin
"A Journey Achieved
And What A Ride!
Never To Be Forgotten
Rest In Peace Dear Friend
Till We Meet At The Rainbow Bridge"
---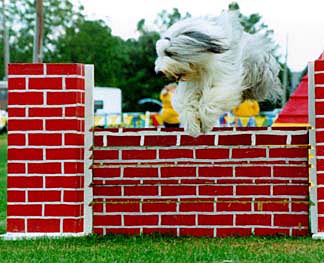 Ch Meadows' Legend of the Dragon
PT NAJ OJC U-AGI HIC HCT CGC TDI
7 April 1996 - 20 April 2007
Breeder/Co-Owner: Claudia McNulty
Owner/Handler: Antoinette Krafcheck of Mishawaka IN
"Drake was so very important to me and such a great friend and helper."
---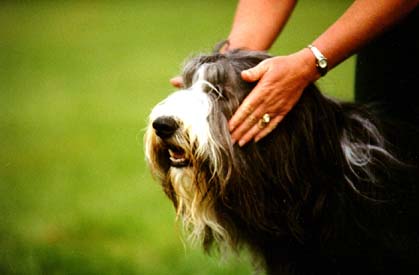 Moonsong's Scottish Bobbie CGC
12/29/92-3/27/07
Owners: Sharon and Joe Prassa of Sacramento CA
Breeder: Debra Barber
"We said Goodbye to Amos this afternoon.
He was one tough kid, with a ton of personality.
Many of you old timers will remember Amos stories...there were plenty of them.
We'll miss him very, very much but it was time to let him go.
He'll be running with the others at the Bridge tonight, something he has not been able to do for a very long time."
Sharon and Joe
---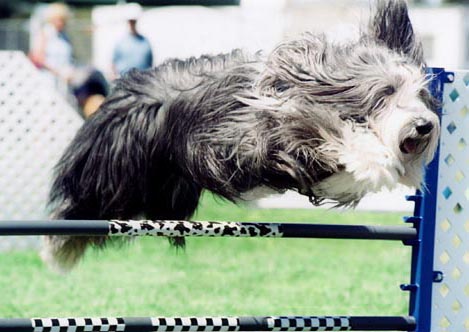 BISS CH IntCH Sunriver Aellen Spectacular
NA NAJ HIC CGC ROMA
18 November 1994 - 19 February 2007
Breeders: William Carter and Ruth Colavecchio
Owner/Handler: Sharon Baker of Napa, CA
---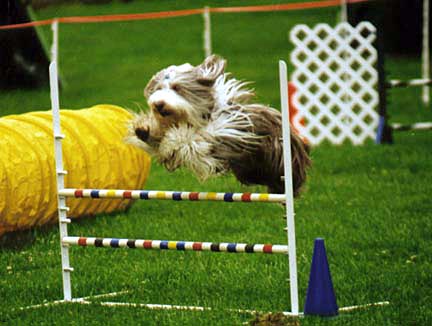 Photo courtesy of Bill Newcomb
Ch Spindrift Pride of Glengarry
CD PT JHD OA OAJ NAC OJC U-AGI
ROM ROMI ROMO ROMAX VX
Versatility Excellent Beardie
First ROMAX Dam
2 August 1990 - 7 February 2007
Owner/Handler: Pam Harris of Sparks NV
Breeders: Pam Harris and C.DeWitt
---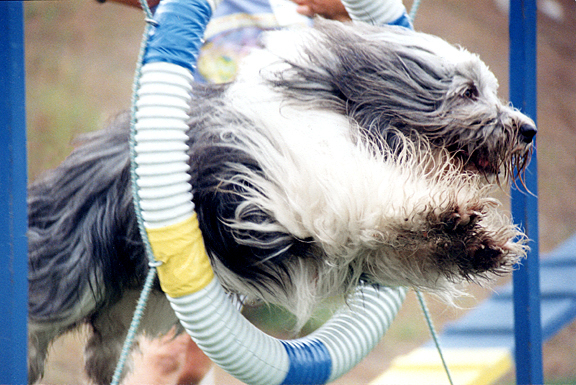 Photo by Tien Tran
CH Chantilly Look Before You Leap
AD AX OAJ EAC OJC NGC
HT JHD-s FDCh TT JS-O GS-N CGC
22 April 1993 - 10 November 2006
Owners: Iris Berry, Pam Harris, and Kathy Pavlich
Breeder: Pam Harris
---
CAPRICE
Melita Winter Caprice HIC CGC
19 January 1992 - 6 October 2006
Owners: Jack and Libby Buhite
Breeder: Jean Richland
---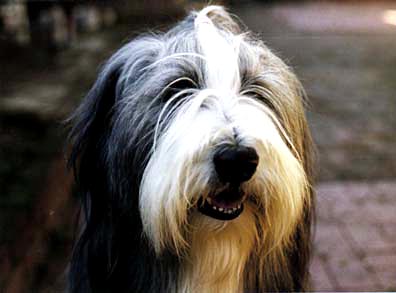 Ch Aellen's Critic's Choice HT NA
5 June 1992 - 18 July 2006
Owner: Meredith Bar David
Breeder: Ruth Colavecchio
---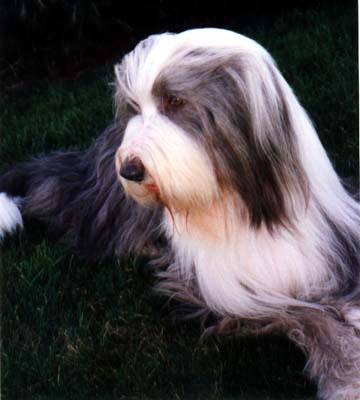 BIS Am/Can Champion Britannia Good Day Sonshine
CD PT STD-s AX MXJ OAP AJP PDI
O-EAC O-EJC S-OGC O-TN-O O-TG-N HIC CGC TDI ROM MV
Master Versatility Beardie
22 June 1993 - July 2006
Owners: Christiana Taylor and Michele Ritter
Breeder: Michele Ritter
---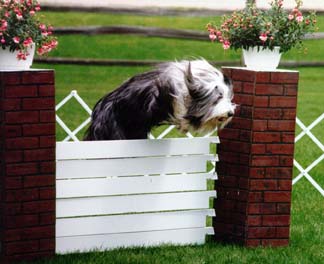 Ch/U-ACHX Meadow's Fantasia
CDX U-CD HT HCT MX AXJ OAC OJC OGC HIC CGC TDI VX
Versatility Excellent Beardie
First Beardie AXJ and first Beardie U-ACH
20 January 1993 - 10 May 2006
Owner: Antoinette Krafcheck of Mishawaka IN
Breeder: Claudia McNulty
---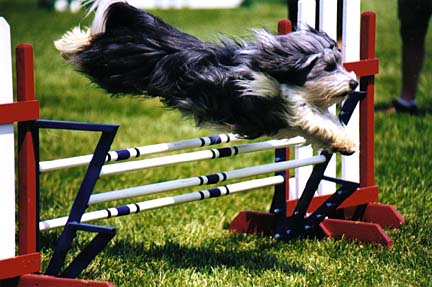 Ch Britannia Sweet Black Angel NA HC HCTs
12 September 1989 - 23 August 2005
Owner: Joanne Williamson of Boxboro MA (Balgrae)
Breeder: Michele Ritter
---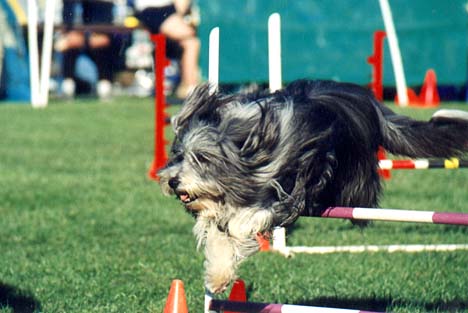 Photo by Tien Tran
Esprit's Summer Sunset
CDX PT JHD OA AXJ NAP OJP NAC-V NJC-V CGC VX
8 July 1991 - 28 July 2005
Owner/Handler: Patricia Coreris of Pacifica, CA
Breeder: Robert and Kathleen Amdor
---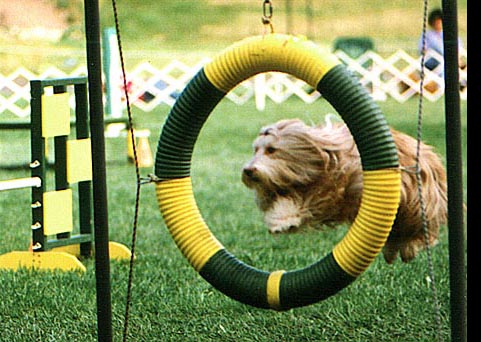 Photo Courtesy of Catherine Haake
Arcadia Wildwood RSVP
CD OA HIC TDI CGC
19 April 1990 - June 2005
Owner/Handler: Lisa Humm of St Charles IL
Breeder: Diann Shannon
---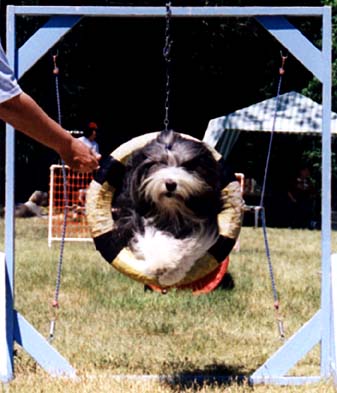 CH Pentangle's Stormy Skye
CD HS NA NAJ NAC CGC
15 September 1992 - 18 May 2005
Owner: Wanda Packard of Milwaukie, OR
Breeder: Debra Thomas and W.F. Smart
---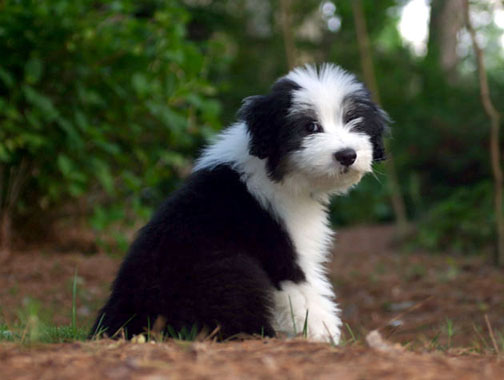 Wigglesworth Must Be Fate
7 February 2004 - 14 March 2005
Owner: Andrea Hobe of Alpharetta, GA
Breeders: Jeff and Sharon Ipser
---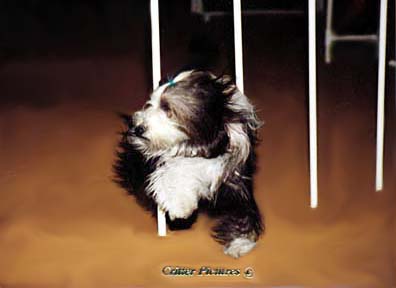 >
CH O'Duinnin Andy Gabel Stolaway
OA OAJ NAC NJC HIC CGC
24 April 1994 - 10 February 2005
Owner: Ann Chandoha of Marble Falls TX
Breeder: Eileen Dinneen
---
CH Glengarry's Twilight Fancy CD PT
11 March 1988 - 19 January 2005
Owner: Pam Harris of Sparks NV
Breeder: Carolee DeWitt and Cathy Cline
---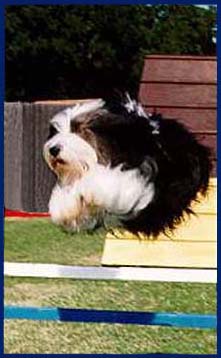 Ch O'Duinnin Oh DeLorean
CD AX AXJ HIC ROM ROMI ROMAX VX
17 April 1991 - 17 January 2005
Breeder/Owner: Eileen Dinneen of Colleyville TX
---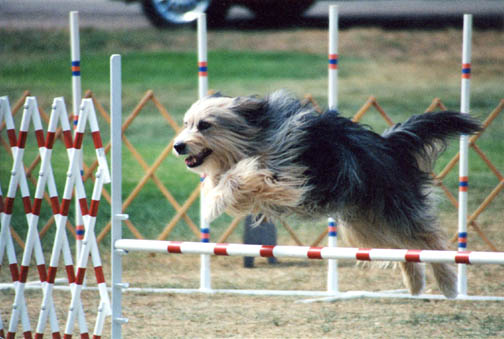 Photo by Russ Burdick Photography
Molly the Muffin
MX MXJ OAP OJP PD2 JB NJC
1992 - 14 December 2004
Owners: Martha Faulk and Raymond L Hogler of Fort Collins, CO
Rescue Beardie
---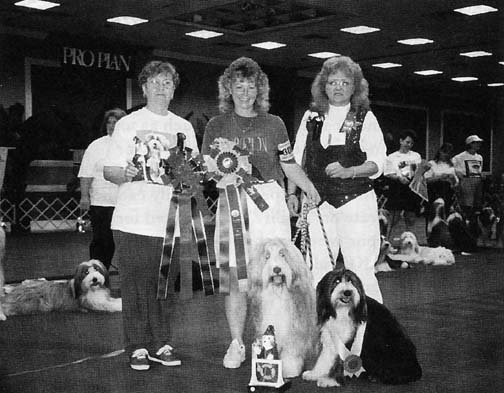 Leslie Dawson North and Judge Beth Canner
with Koddi and Kassi
Reserve High Score and High Score - First National Specialty Agility Trial - 1996
Bedlam's Yumpin' Yiminny
Can CD OA AAD JM AAD HIC FM TT CGC
21 January 1991 - November 2004
Owner: Leslie Dawson-North of Alberta, Canada
Breeder: Alice Bixler Clark and Nellie Neil
---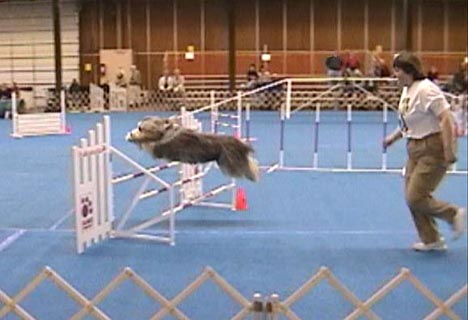 CH Azure Kahoutek of Alamos
CD NA NAJ HIC HCT CGC VA
19 November 1993 - May 2004
Owners: Mark and Linda Glaman of Benton City, WA
Breeder: Jane Cooper
---
2002 Nationals, Monterey CA
Photo by Craig Chatterton
Ragtyme Talkin' Up a Storm
CD HS MX AXJ AD U-AGI VX
7 October 1995 - 17 June 2004
Owner/Handler: Kim Horsley of Littleton, CO
Breeder: Lynn Zagarella
---
Sunshine's Risky Business
UD NA NAJ NAC-V NJC-V
18 July 1989 - 7 May 2004
Owner/Handler: Cindy Nellipowitz of Keno, OR
Breeders: Ron and Merlyn Miller
---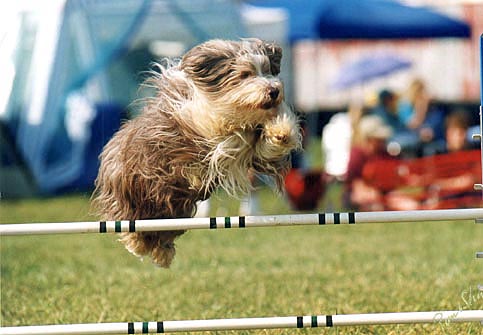 Pet Portraits by Pam and Sherry
Ch MACH Balgrae's Sean Mackay CD HS VX
JHDs STDs NAC NJC
First AKC Champion Beardie (MACH - 6/16/01)
Versatility Excellent Beardie
Denia and Ryan Award Winner for 1998
Diehard Winner for 1999 and 2000
Jumpers Trophy Winner for 1999 and 2000
12/24/89 - 3/15/04
Breeder/Owner/Handler: Joanne Williamson of Boxboro MA (Balgrae)
---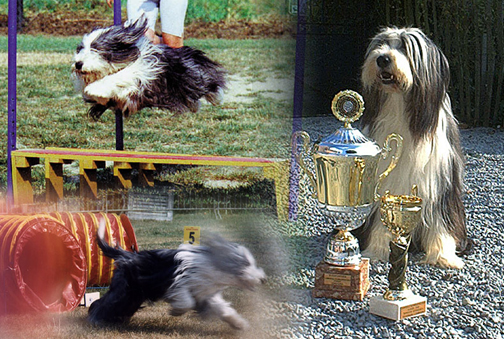 Sunday Mornings Pebble
25 February 1991 - 25 February 2004
Willy and Sabine Stevens-Plessers of Alken, Belgium
Again we lost one of our "oldies"....Pebble,
always with that dedicated look in her eyes,
our agility girl.
We will miss her.
---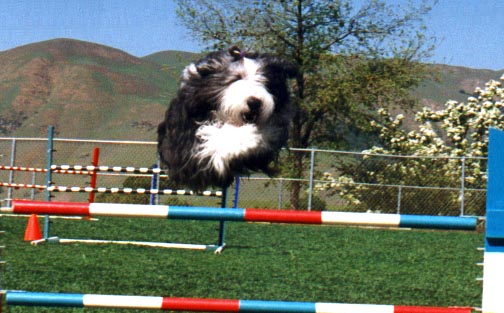 SKYEDANCE AT POWER PAWS
Photo by Libby
CH Melita Skyedance
PT HCT MX MXJ NJP AAD JM RM
EAC EAC-V O-EJC OGC TN-N HIC CGC VX
Versatility Excellent Beardie
First Beardie OJC, EJC, O-EJC
19 April 1991 - 23 November 2003

Owners/Handlers: Libby Myers-Buhite and Jack Buhite of Santa Clara CA
Breeder: Jean Richland
---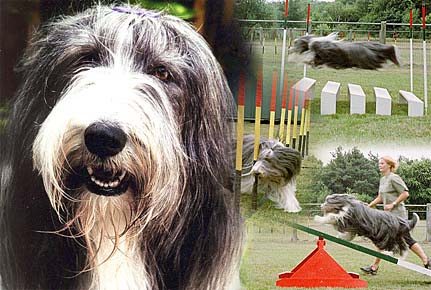 Sunday Mornings Qadicha
22 December 1992 - 4 November 2003
Willy and Sabine Stevens-Plessers of Alken, Belgium
---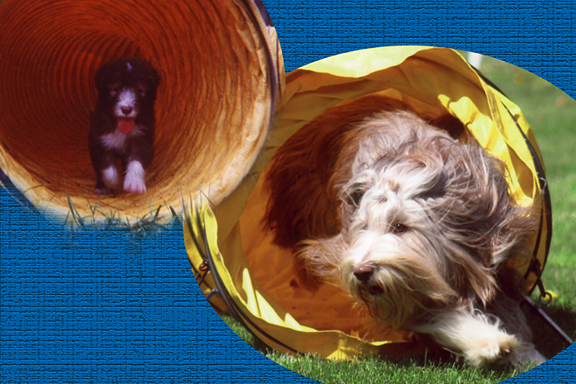 Baybreeze Image of Marshfen
NA OAJ NJC NGC U-AGII CGC
2 June 2000-5 September 2003
Owners: Jan and Glenn Norikane
Handler: Jan Norikane of Crown Point, IN
Breeders: Carol Lamb & Beth Canner & Lucy Campbell-Gracie
---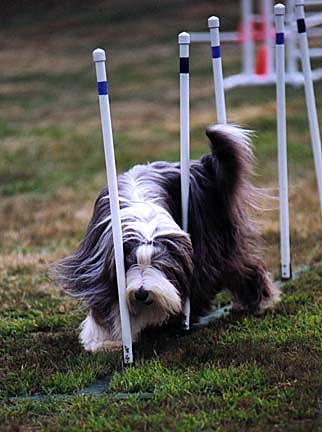 CH/HC/WTCH Britannia Chip Thrills
UDX ASCA-UD HRDIIIs MX MXJ CGC TDI ROM ROMAX MV
The First AKC Beardie Herding Champion
The First BCCA Masters in Versatility
National Specialty High in Trial Herding 1998 and 2001
National Specialty High in Trial Obedience 1997
22 June 1994 - 10 March 2003
Owners: Sandy Weiss and Michele Ritter
Handler: Sandy Weiss of Sellersville, PA
Breeders: Michele Ritter and Kathrine Widell
---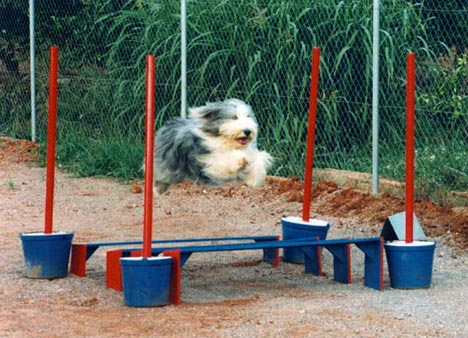 Rasdhoo Samba
22 March 1998 - 20 December 2002
Owners: Mª Teresa Contreras (Teruca) and Jose-Miguel Sáez from Alicante, Spain
Breeders: Estela Armida and Jose-Antonio Hernández
---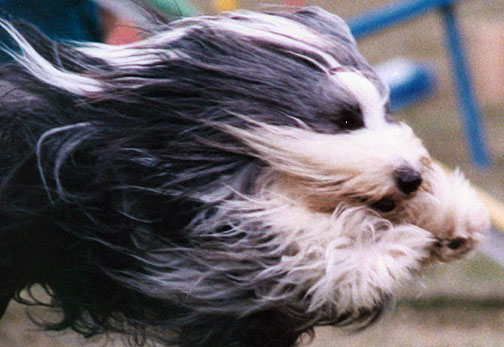 Ch/U-ACHX Holm Mike L. Doglas
PT MX MXJ EAC EGC OJC HIC CGC VX
Versatility Excellent Beardie
First Beardie ACHX
15 May 1993 - 23 August 2002
Owners: Susan and Charles Gibson of Caledonia MI
Handler: Charles Gibson
Breeder: Susan Holm
---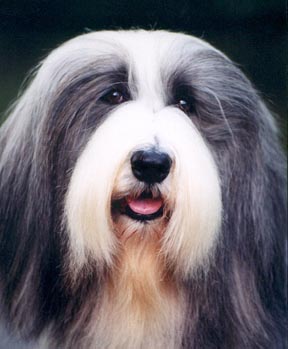 BIS/BISS Am/Can CH Britannia How Sweet It Is
CD PT AX AXJ HIC TDI CGC ROMAX MV
The first Beardie to win two BCCA National Specialties - 1994 and 1996
The Top Beardie All Systems and Top Ten Herding Dog for 1997
All-Breed Best in show and Multiple Herding Group Winner
Winner of two Regional Specialties
The Third BCCA Master in Versatility Beardie and First Bitch to earn this Distinction
2 February 1992 - 1 July 2002
Owners: Michele Ritter and Chet Jezierski
Handler: Michele Ritter of Saylorsburg, PA
Breeders: Michele Ritter and Cheryl Folendorf
"Light of our lives and love of our hearts."
---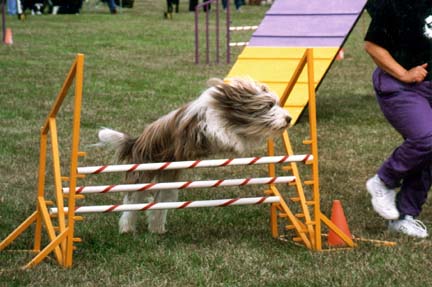 Photo by Judith E. Strom
CH Betelgeuse of Alamos
CD NA NAJ HIC CGC
9 May 1989 - 30 May 2002
Breeder/Owner/Handler: Jane Mohr Cooper of Benton City, WA
Betelgeuse--a giant red variable star in the constellation Orion. "armpit of the giant" Betelgeuse--a brown barking boisterous Beardie boy who through his enthusiasm for life got us both involved in many facets of life we wouldn't have otherwise done. I was indeed fortunate to know your love, loyalty, and devotion. You have marked my life permanently, inside and outside, with the pawprints from your life. Thank you.
---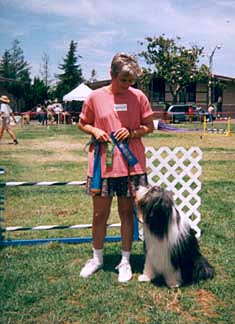 CH Chantilly High Stake
JHD OA NAJ NAC NJC HIC CGC
5 December 1994 - 1 May 2002
Owners: Beth and John Tilson of Santa Rosa, CA and Kathy Pavlich
Breeders: Kathy and Gerald Pavlich
---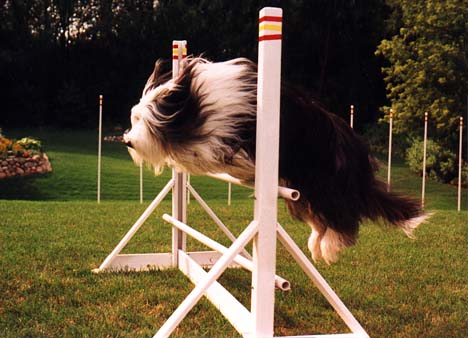 Scotdale's Cortland
U-AGII OA HIC HCT
First Beardie OA - Open Agility Title
8/18/90 - 4/09/02
Owner: Frank L. Konopasek of Darien IL
Breeder: Karen Shaw of Lodi Wisconsin (Scotdale's Beardies)
---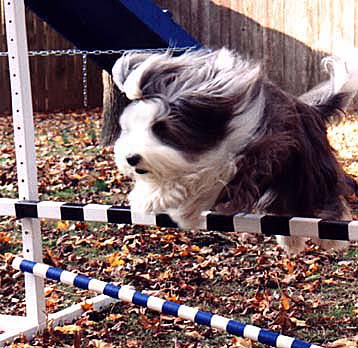 Petticash Raggmopp
OA NAJ NAC-V HIC CGC
3/27/89 - 3/13/02
Owners: Jill and Gene Scarborough of Jonesboro, Arkansas
Breeders: Norma Defoor and Beverly Huttemeyer
---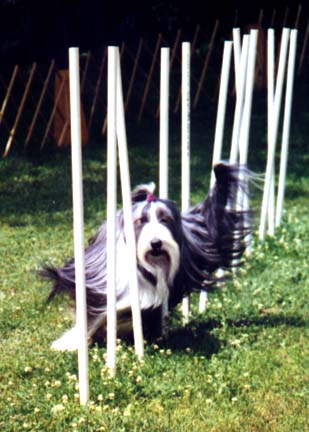 CH OTCH Walkoway's Frosted Flakes
UDX HS STDs OA NAC NJC HIC CGC VX
Versatility Excellent Beardie
7 February 1988 - 11 March 2002
Owners: Linda and Jim Leek of Coatesville, PA
Breeders: Chris and Ed Walkowicz
---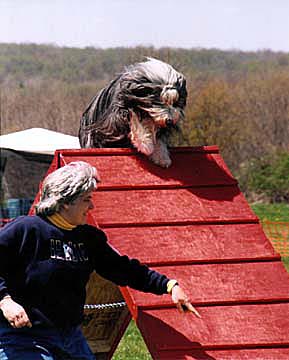 BIS Am/Can/Bda CH Parcana Lord Corwin
CDX OA NAJ HIC ROMA VX
Versatility Excellent Beardie
4 November 1985 - 31 January 2002
Owner/Handler: Joanne Williamson of Cranford NJ (Balgrae)
Breeder: Mrs. Richard S. Parker (Parcana) and Donald G. Thomas
---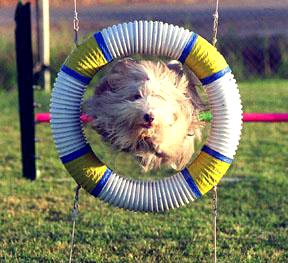 Photo by Dick Gilmore
Moonsong Klassical Legacy
CDX HS HTD-1-s MX MXJ PDII EAC-V EJC-V NGC CGC VX
Versatility Excellent Beardie
28 February 1991 - 25 September 2001
Owners: Sharon and Joe Prassa of Sacramento CA
Breeder: Debra Barber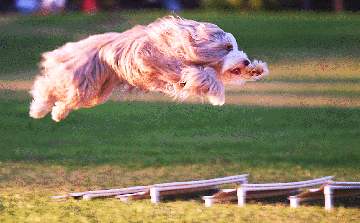 ---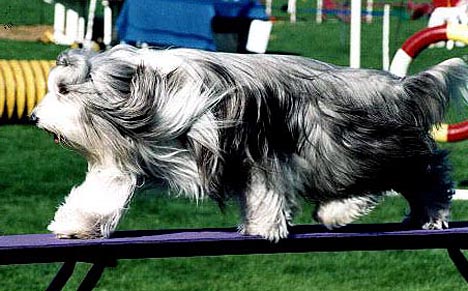 Am/Can CH Caledonia's Cosette
PT NA NAJ
17 September 1992 - 16 December 2000
Owners: Tom and Marilyn Severson of Saugus, CA
Carl and Kay Widell, Alice Goodman and Kathleen Flanagan
Breeder: Kay Widell
---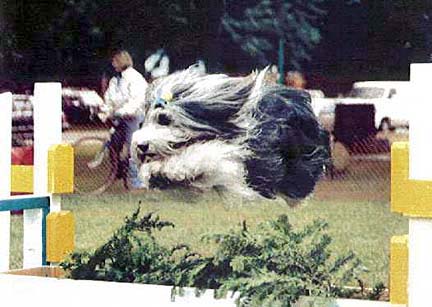 Can/Am CH Melville's Poetry in Motion
OA NAC NJC ADC HIC FMCH CGC TT VA
First Beardie AKC Titlist- 28 August 1994
21 February 1988 - 17 July 2000
Owner/Handler: Emily Venator of Innisfil, Ontario
Breeder: J. Carl Mullin
---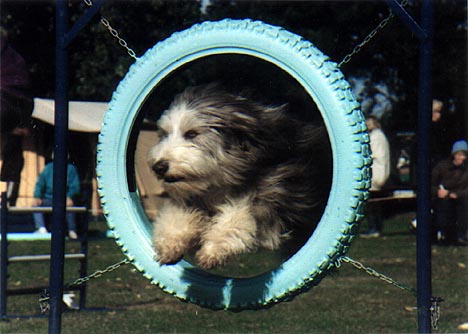 Belgravia Be In Blu Denim
March 1999
Owner/Handler: Karen McDonald of Rangoria, North Canterbury, NewZealand
Breeder: Mouria Hadden
---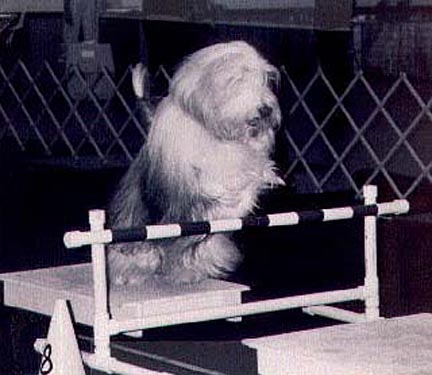 Ch Jande's Hellava Knight
CD AGII HIC PUP
First Beardie Agility Titlist - UKC/AGI - 2/22/92
12 September 1997
Owner/Handler: Beth Canner of Seminole, FL
---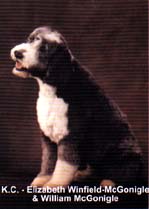 Goldcrest K.C.
CDX AX AAD OAC NJC ADC
First Beardie USDAA Advanced Titlist-AAD-4/22/95
5/27/90-5/1/97
Owners: Elizabeth Winfield McGonigle and William J. McGonigle
Handler: Elizabeth (Betty) Winfield of Nine Mile Falls, WA
Breeders: Helen and Terry Cheshire and Anna Quigley
---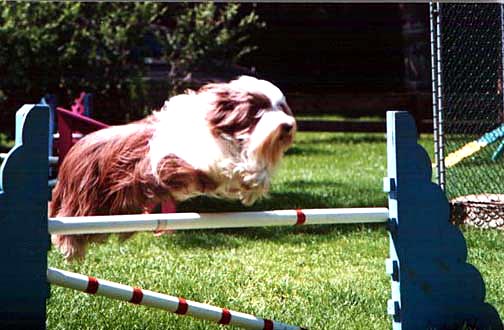 Can CH Pandamonium Hopelessly Devoted
NA FbDCH CDC
12/8/89-2/19/97
Owner/Handler: Emily Venator of Barrie, Ontario
---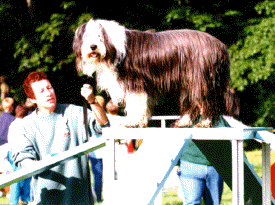 CADENCE
Beau Chien High Cadence
CD PT CGC
Owners: Karen Norteman and Terry and Jody Workman
Breeder: Donna Johnson
---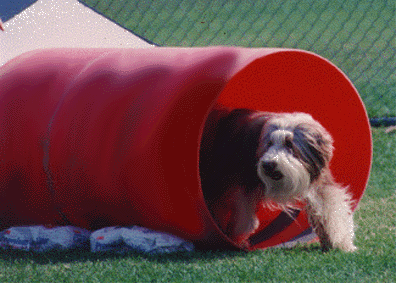 CH Kiku Coffee amd Cream
UD HS HCT NA PCX CGC VX
Versatility Excellent Beardie
10/10/86-4/18/96
Owner: Ann Rambaud
Breeders: Jack and Doris Nakata
---

Off to a BAD Start

[BAD Handlers] | [BAD Dogs] | [BAD Events] | [BAD Links]
[BAD Greetings] | [BAD News] | BAD Beginnings]
[BAD Advice] | [BAD Attitudes] | [BAD Goods]
[BAD Member Breeders]
Email Libby with an update