Willy and Sabine Stevens-Plessers of Alken, Belgium
"Raise a Dust"
| | |
| --- | --- |
| | |
| Sabine with Kim and BAD Beardies at a Contest | Sabine and Beardies - "Big Knot" |
| | |
| Anouche | Pebble |
| | |
| Unowmy, in front, and Qadicha | Qadicha and Unowmy |
| | |
| Unowmy with pups | Zjaunty, dreaming of Agility |
NERO
PEBBLE -Sunday Mornings Pebble
QADICHA -Sunday Mornings Qadicha
ANOUCHE -Xiedah to Raise a Dust
UNOWMY -Sunday Mornings Unowmy
ZJAUNTY -Zjaunty to Raise a Dust
---

    
Zjaunty



On Holiday in Luxemburg


---
3/21/00
Hi Lybie,
Today the T-shirts arrived. I bought me a digital camera, so in future i'll send you pictures of those BAD beardies in Belgium.
I've visited Crufts this year and Sabine ran her first contest this agility season with Pebble. You can read all about it at our site.
Some pictures:
--Some BAD Beardies at a contest, in the background you can see Sabine with our son Kim, now 2 years old. Kim was born in Vietnam, we have adopted himwhen he was 2 months old.
--Sabine with Pebble and a Beardie-knot.
--Anouche, a daughter of Qadicha, a BAD Beardie
--Unowmy, in front, and Qadicha. In a few days Unowmy will be whelping.
--Qadicha and Unowmy
-----
4/25/00
Oh, on Sunday Unowmy gave birth to eight puppies! black 3-3 brown 2-0
Because of the mating, this Agility season will be a short one for Unowmy.
Pebblewill be going to the veterans soon. Last weekend she became third!!
In a few weeks i'm going to try and run a contest with Qadicha, she had some troubles with the weave...!
4/30/00
The puppies are doing fine. They are one week old now, it's such a joy to look at them. I've (we) deceided to keep one... If you're interested you can see their progress on my site (i've uploaded some pictures).
Last time you've asked me what their names mean, well:
Pebble: is English for a very little stone
Qadicha: it's the name of a river in Jemen (North Africa)
Unowmy: You know me
Anouche is a Russian name, she's a daughter from Qadicha but we do not own her.
and our mix Nero, Nero is Italian for black
You can see their full registrated names on my site (Pedigree).
They are for all three: SUNDAY MORNINGS (ex. Sunday Mornings Pebble).
The registered name for Anouch is : Xiedah to Raise a Dust.
all the best
willy en sabine STEVENS-PLESSERS
---
6/2/00 SkyeCaper@aol.com writes:
Willy and Sabine Stevens are two of our BAD Members from Belgium. Months ago Willy sent me some photos of his Beardies, but I was not tecnologically advanced enough to open his posts! He has persevered and I hope to make him a page on the BAD Website later today. Billy and Sabine are also proudly wearing our BAD shirts, which are now being sported in about 7 countries around the world.
Meanwhile, I have visited his outstanding Website. He has tons of pictures of his four Beardies (Nero, Qadicha, Unowmy, and Pebble). I loved his animation of a leaping Beardie. He also has movies on his website, which I would like to view when I have the proper software.
I especially enjoyed his pedigrees and discovering that his Unowmy has the same Grandfather (Shilstone Choirboy) as our Skyedance and several of our California Beardies. Unowmy now has puppies by a Firstprizebear breeding. The closeness of the bloodlines of Beardies around the world make us a small family indeed!
I also had fun with their Agility links. I noted that one is called "Poetry in Motion" which is how I have always described Skye's jumping style. Particularly interesting is a link to "Agility Related Sites All over the World" --http://home.planetinternet.be/~gblancke/links.htm
There is a world of knowledge out there and I really appreciate that Willy and Sabine sent us the links to their outstanding website!
Libby
---
11/11/00
Hi Lybie,
How are you? It's almost winter here in Belgium, so no competitions until next year (jan-feb.).
Last month the Championship of Limburg (it's our province) was held. With Unowmy (maxi 2) Sabine became 8th, and with Pebble 2nd (veterans).
Also I would like to mention that Unowmy became 7th and Pebble 9th this year in a agilty contest organized by the Belgian Border Collie Club (98 % Border Collie-1% Bearded Collie). Ninety percent of all agility dogs here in Belgium are Border Collies. It's the same in the US I suppose.... More results at the agility page on our site.
All the best,
(attached a picture of Zjaunty, dreaming of agility......I hope.....)
--
willy en sabine STEVENS-PLESSERS
---
6 August 2001
Hi Lybie,
How are you?
Some update.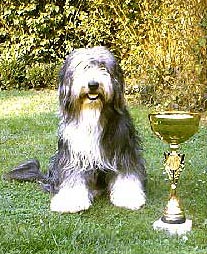 Unowmy became clubchampion agility of the Belgian Bearded Collie Club.
The annual agility weekend at our dog school (LIHOS) was a big succes. Last year Sabine and I donated a special award for "the best Bearded Collie of the day". This year was the second time. There were only three or four Beardies who competed last year. This year there were already eight.
See winners on http://www.toraiseadust.be
all the best
--
willy STEVENS
---

---
5/27/02
Hi Lybie,
How are you?
Some update from those BAD beardies from Belgium. Unowmy became clubchampion Agility 2001 from the Bearded Collie Club Belgium. Sabine was qualified for the Belgian Championship Agility 2002, results and pics on our site http://www.toraiseadust.be/
I hope to get my Agility certificate with Zjaunty end of june...last month I participate in a working test for sheepdogs with her, together with 19 other Beardies. She became the evaluation "excellent". It was a joy to see those Beardies herding the sheep. The instructors (all of them Border Collie people) were suprised to see that the Bearded Collie can be a (good) working dog. It's a pitty that so many Beardie owners underestimate the capability of their Beardie.
-----
6/1/02
Hi Lybie,
I could not wait until the end of june. So I went to get my agility certificat with Zjaunty last friday, and I'm pleased to tell you that Zjaunty passed the test. Now I can begin to run contests with her in the A1 group (Novice).

In Belgium you have to have youre agility certificat in order to run agility contests. The Kennel cub from Belgium (St.Hubertus) regurly organize tests both in obedience and agilty. For agility you have to run a course with 13 to 15 obstacles (this of course includes the weave) in a time set by the judge. Three faults are allowed, and you get two changes, so if the first run wasn't good you get a second change. The first run with Zjaunty wasn't that good, I was a bit to confident with three faults and one "refusal" as result. The second run Zjaunty performed excellent but the last obstacle was the (I think it's called that way in english) "see saw". She did something she never done before, she stopped on the "see saw" and began to sniff and than jumped off missing the contact area, result of the second run, onefault. But I didn't care, she passed the test and I'm very proud of her. A new member of the BAD family.
all the best,
--
willy STEVENS
---
4/26/03
Hi Lybie,
How are you? It's been a while you've heard from those BAD Beardies in Belgium....
The competitions have started in March so each weekend I'm on the road with Zjaunty :) She really is a Beardie girl with her "girly" manners and attitudes (especially when she's been in heat...jézus). I'm running in A1 (novices) with her and I need 6 exc. to go to A2. Last weekend I became second (standard) and 8th at the jumping, bringing the
total at four exc., still needing two exc., who said agility is relaxing :) Unowmy and Pebble will run their first competition next thursday. Unowmy became (again) clubchampion agility (A2) 2002 of the Belgian Bearded Collie Club.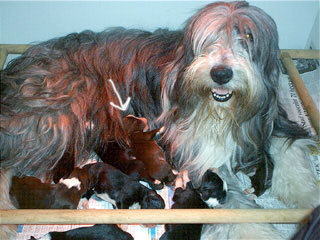 On March 26 she gave birth to nine beautiful puppies, six boys and three girls (black 5-1/ brown 1-2). We used CH. Firstprizebears Lukachukai, like three years ago, because we knew both Luka and Unowmy make brown puppies, and yes, finally our brown Beardie girl has born. Her name is Siyou, and the youngest member of the BAD Beardie gang.
all the best,
willy
-----
5/15/03
Hi Lybie,
How does one become clubchampion agility of the Bearded Collie Club Belgium?
They take a sum of the ten best results one had that season. I hope one day we will have a real championship like we have in Holland. I still need one excellent with Zjaunty (A1-novices) to make my promotion to the A2 group. In order to promote you have to obtain six times an excellent judgement...this means only one fault allowed in a run.
kind regards,
willy
---
6/15/03
<< Hi Lybie,
I've made my "promotion" with Zjaunty to A2 (the more advanced classes) last week i became third at the jumping and fourth at the standard... i'm proud at here, altough she's sometimes a real silly Beardie girl. All our puppies have found new owners....except for these two, meet Siyou (female-brown) and Sibeau (male-black). Yes i know, dog specialists and books say it's not a good idea and of course some of our friends and relatives say we're mad to keep two puppies... male and female... but we've considered it well, everything has been taking care of it. Siyou was ment to stay with us, but Sibeau has such a lovely charachter, is such a beautiful boy....and the fact that Nero, our male, already became fifteen last week, let us decide to keep him (actualy it was a good excuse...).
all the best,
willy >>
---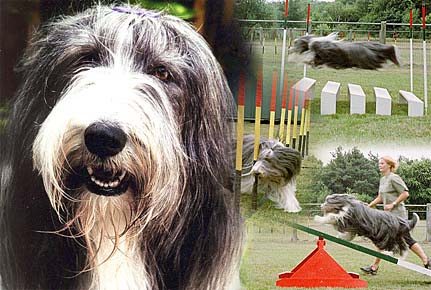 Sunday Mornings Qadicha
22 December 1992 - 4 November 2003
11/7/03
Sad news, it happened all so fast, we didn't see it coming, bloody cancer...we will miss her.
------
11/15/03
Hi Libby,
Yes, you may add Qadicha (11) to the Rainbow Bridge page, we miss her a lot, it all happened so quick.... those old Beardies.., Nero (15 and a half) had his second stroke in a year, one week after we had qadicha to put to sleep. He's better now, but you're beginning to ask to yourself... maybe it's better.... Pebble, (13) wasn't feeling well either, she was diagnosed cancer... it's a mild form of cancer and it can be treated... but still....you're beginning to ask to yourself... maybe it's better.... The vet has given us a booklet written by Robin Downing(DVM) about pets living with cancer. It's given us hope....
Our young Beardies, Unowmy, Zjaunty, Cibeau and Ciyou make us all forget these things...
All the best to you and Skye,
willy
---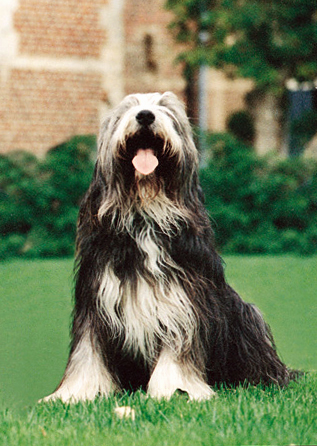 Nero
29 May 1988 - 19 December 2003
12/19/03
Dear Lybie,
Again we lost a member of our bad family, today we had to put Nero to sleep. He was the senior of the gang...
we will miss him...a lot...
You asked me about Nero, we never did agilty with him because in those days, fifteen years ago, agility was something unknown in Belgium. So when agilty was introduced at our club, Nero was already four years old. As you know Nero was a Beardie mix. His father was a Bearded Collie import from England, his mother was the dog next door. He was a typical Beardie male... stubborn but a "heart of gold". When Sabine began to practice agility with Pebble eleven years ago the numbers of people wo went to the contests was small.....but now, each contest has aprox. 150-200 sometimes 300 competitors. In these eleven years agility gained a lot of popularity....
willy
---
1/31/04
Pebble (13), our senior, was diagnosed cancer two months ago. She receives chemo-therapy at the moment and is responding well, acording to the specialist the cancer will be beaten and Peble wil fully heal.... we cross our fingers.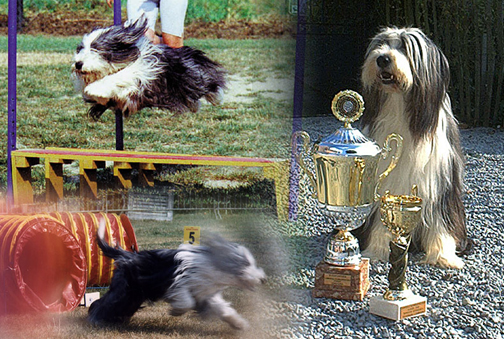 Sunday Mornings Pebble
25 February 1991 - 25 February 2004
2/18/04
Libby,
It isn't getting better, last friday we went to the vet for pebbles last treatment, but the bloodresults were very bad, the 'chemo' therapy isn't working, the cancer is too strong....and the vet told us that we had to make the final decision soon.... without any treatment things look very bad for pebble, so we give her lots of 'quality-time'.
all the best,
willy
2/25/04
Again we lost one of our "oldies". Pebble....., always with that dedicated look in her eyes, our agilitygirl....we will miss her..
Sunday Mornings Pebble
25/02/1991-25/02/2004
---
1/31/04
G'day,
Some update from Luca's offspring, they are 10 months now and doing fine. Last year ended a bit sad with the los of Qadicha(11) and Nero(15).Fortunately the youngsters, Unowmy, Zjaunty, Cibeau and Ciyou make us (sometimes) forget. We've started the agilityraining with the two juniors, Cibeau the black male is a rascal, but lot's off fun.... Ciyou the brown female is calmer (at the training)....
kind regards,
willy
---
9/24/04
Hi Lybie,
It's been a while since you heard from those BAD beardies in Belgium, but they are alive and kicking :)
The agilityseason has ended, last weekend was our last contest, i ended my season with two DK's...damn :) Looking back we, me with Zjaunty and Sabine with Unowmy, both had a good agilty season. Best result with Zjaunty was a second place. Zjaunty is doing well, she gained a lot of confidence. I've regurly ended in the top ten with her, the next two years i'm gone go for it...World Championship (dream on...). Unowmy, already eight, had a little trouble sometimes with the jumps. So i think this was her last season in A2 classes, next year she will be going to the Veterans classes.
A few months ago we participated at the Jutlandiacup in Denmark. A whole week agility, it was fun, we had a great time. Best result with Zjaunty was a 4th and 5th place, Unowmy a 7th and 8th place. You can see all the results and a lot of pics (Zjaunty is among them) at their website: http://www.jutlandiacup.dk/english/index.html
At this very moment Sabine is in Italy, supporting the Belgian team: http://www.agilityitaly2004.com/en/index.php
Next month is the club championship of the Dutch Bearded Collie club, it's indoor (a manege), dark and cold and a lot of noise... things a Beardie likes.... not :)
Cibeau and Ciyou, our youngsters, are almost ready to get there agility certificate. They both are making good progress in agility, will keep you updated.
best regards, willy
10/1/04
Dear Libby,
I've uploaded some pics from the Belgian Championship A2 this year at http://www.pixagogo.com/7191935171 Best Beardie that day was Terryn Ivan with his brown beardie "Dweezel"(Xanthypoek des Echos du Hoyoux).
all the best, willy
10/21/04
Hi Libby,
Last Sunday the Dutch Bearded Collie club held their championship Agility-Obedience. About 30 beardies participated. I didn't start that well, jumping disq. with Zjaunty, Sabine with Unowmy also, at the same obstacle... we had a laugh. Standard Zjaunty did well, 3rd place. We entered Cibeau and Ciyou in the "recreation" class, it's for dogs who are still learning agility, also two courses, jumping and standard. But no weave (thank god) and all jumps at medium height. Nine young and playfull beardies started in this class. Sabine with Ciyou did well, final result 4th place. Me with Cibeau, final result...1st place! They are progressing well, the weave is under control,in a month or so we are going for our agility certificate, will keep you updated. Final result Zjaunty 5th place Final result Unowmy 9th place
all the best, willy
---
12/4/04 12:46:50 PM, willy.stevens@scarlet.be writes:
Libby,
Today we went for the "agility-certificat", i'm happy to tell you that Cibeau and Ciyou past the test. One standard course, with al the obstacles (the weave...) included. They both did very well, Cibeau only one fault at the weave and Ciyou only one
"refusal". If you have more than one fault you get a second run.... if that's not good you have to try next time (next year). Two new BAD Beardies!
best regards,
willy
---
For a family visit with Willy and Sabine as well as a very fun agility site, go to:
http://home.planetinternet.be/~stevens2
http://www.toraiseadust.be
---
.

Off to a BAD Start
[BAD Handlers] | [BAD Dogs] | [BAD Events] | [BAD Links]
[BAD Greetings] | [BAD News] | BAD Beginnings]
[BAD Advice] | [BAD Attitudes] | [BAD Goods]