CH MACH Moonstone Totally Unexpected
RE PT MXG MJS AXP AJP OF CGC HIC VX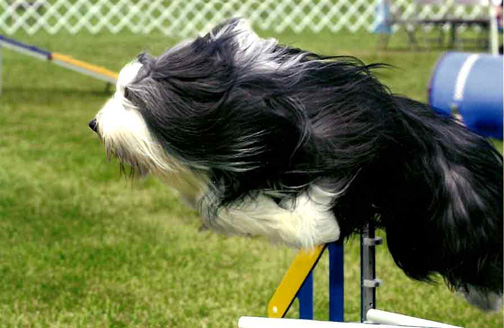 Photo by Temple Imaging Services
Kip
23 July 199 – 14 February 2014
Your life was a blessing,
your memory a treasure.
You are loved beyond words
and missed beyond measure.
---
Breeder: Sandy McDonald (Moonstone)
Ch Britannia Total Eclipse, PT (Nixon) x
Ch Black Friar's Moonstone, CGC, HIC, ROMIX (O'Shea)
Owner/Handler: Sandy McDonald of Gainesville, VA
---
I am so very proud of Kip. He is my once in a lifetime dog. This journey has been one of learning - patience (one of my weakest character traits), humility and letting go. Once I let go of 'goals' and just had fun with the runs, it got so much better. Titles are GREAT, but I really had FUN with my buddy. Yeah, yeah. sometimes I slipped backward and got bummed about something "I" did, but I always enjoyed the RUN with Kip.
Going in to the weekend we needed three whole points. Kip's strong suit is his honesty, not speed, but 3 points? Piece of cake I thought. (Did I say humility????) We dropped bars in both runs Saturday. Got Kip a massage. I slept better in the RV - having kicked Diesel out of the 'bed'! Sunday morning I decided we WOULD get that MACH so I went about it as it CAREFULLY and slowly as I could. Kip had other ideas and threw in a GASP moment when he headed for an off course jump instead of the table. Watch out you guys if you trial under Judith Valloze from Florida - she's got good courses but boy, they're full of off course opportunities! I was SO relieved to cross that panel jump at the finish line!
Kip gets to run for as long as he likes and continues to be sound -- Preferred -- starting this weekend.
My thanks wouldn't be complete without acknowledging his sire and dam, both of whom went to the Rainbow Bridge this year, thank you Nixon (CH Britannia Total Eclipse PT) and thanks you O'Shea (CH Black Friar's Moonstone OA OAJ CGC).
And did you know? Kip was the puppy that was not going to stay!! His name tells it:
MACH CH Moonstone Totally Unexpected RE PT OF CGC VX
Kind regards,
Sandy McDonald
Kip & Shebang
Magic & O'Shea (not forgotten and smiling down on us)
----
I'm glad you got a chance to see the video, Libby, it means as much to me as those last 3 points. I have a very creative and considerate daughter! Casey asked me. what audio I wanted for Kip's MACH Video. I said almost right away, Rocky. Kip has overcome a lot to reach this milestone - most particularly, his handler!
For those of you who want to see Kip's MACH video you can view it on YouTube at http://www.youtube.com/watch?v=CUy-rN7W0ts
---
AKC DL799175/04
Standard Titling

 3/30/02  Novice A 20"-Leg 1       95    1st/10    66.38'/71'
 4/28/02  Novice A 20"-Leg 2      100    1st/8     49.30'/74'
 9/13/02  Novice A 20"-Leg 3       95    1st/9     60.04'/70'        NA

 9/15/02  Open 20"-Leg 1          100    2nd/16    62.95'/75'
11/08/02  Open 20"-Leg 2          100    1st/11    66.25'/74'
11/10/02  Open 20"-Leg 3           95    3rd/11    66.62/'72'        OA

 2/01/03  Excellent A 20"-Leg 1    88    1st/20    69.50'/65'
 9/07/03  Excellent A 20"-Leg 2   100    3rd/18    67.23'/68'
 9/12/03  Excellent A 20"-Leg 3   100    3rd/22    54.24'/65'        AX
Jumpers With Weaves

 5/27/02  Novice A 20"-Leg 1       93    1st/4     39.19'/37'
 9/07/02  Novice A 20"-Leg 2      100    1st/5     33.16'/36'
 9/08/02  Novice A 20"-Leg 3      100    1st/6     35.08'/40'        NAJ

 9/14/02  Open 20"-Leg 1          100    3rd/19    38.37'/38'
 5/04/03  Open 20"-Leg 2          100              31.83'/38'
 5/17/03  Open 20"-Leg 3           89    2nd/9     48.32'/45'        OAJ

 9/07/03  Excellent A 20"-Leg 1    94              44.87'/42'
11/16/03  Excellent A 20"-Leg 2   100    3rd/15    45.15'/46'
 3/06/04  Excellent A 20"-Leg 3   100    4th/14    42.44'/45'        AXJ
FAST

 9/15/07  Novice B 20"-Leg 1       65              22.06'/32'				
 9/16/07  Novice B 20"-Leg 2       65              23.65'/32'	
10/02/07  Novice B 20"-Leg 3       66              27.75'/32'  65.3  NF

 3/02/08  Open 20"-Leg 1           62    1st/10    32.56'/32'
 4/19/08  Open 20"-Leg 2           65    1st/6     27.66'/32'
 5/10/08  Open 20"-Leg 3           61    2nd/5     29.74'/32'  62.7  OF

 9/20/08  Excellent A 20"-Leg 1    70    1st/3     28.48'/32'
Championship Legs
Standard Titling

11/06/03  Excellent B 20"-Leg  1  100              60.63'/63'     
 3/07/04  Excellent B 20"-Leg  2  100              55.62'/61'     
 3/20/04  Excellent B 20"-Leg  3  100              54.73'/61'     
 4/24/04  Excellent B 20"-Leg  4  100              61.41'/66'
 9/04/04  Excellent B 20"-Leg  5  100              59.25'/64'
 9/11/04  Excellent B 20"-Leg  6  100              65.49'/67'
11/07/04  Excellent B 20"-Leg  7  100              58.35'/63'
11/14/04  Excellent B 20"-Leg  8  100              57.13'/62'
12/12/04  Excellent B 20"-Leg  9  100              54.29'/65'  2Q
 4/10/05  Excellent B 20"-Leg 10  100              55.17'/67'  2Q                MX

 4/16/05  Excellent B 20"-Leg 11  100    4th/18    54.17'/63'
 4/17/05  Excellent B 20"-Leg 12  100              62.32'/65'  2Q
 4/23/05  Excellent B 20"-Leg 13  100              61.45'/66'  2Q
 5/22/05  Excellent B 20"-Leg 14  100    4th/14    62.67'/68'
 7/23/05  Excellent B 20"-Leg 15  100              58.08'/66'  2Q
 7/24/05  Excellent B 20"-Leg 16  100              62.88'/68'
 9/10/05  Excellent B 20"-Leg 17  100              59.93'/67'
 9/16/05  Excellent B 20"-Leg 18  100              57.87'/66'  2Q
10/15/05  Excellent B 20"-Leg 19  100              51.92'/59'  2Q
11/19/05  Excellent B 20"-Leg 20  100              55.30'/67'

11/20/05  Excellent B 20"-Leg 21  100              52.78'/62'
 4/02/06  Excellent B 20"-Leg 22  100              57.20'/66'  2Q
 4/08/06  Excellent B 20"-Leg 23  100              52.04'/65'
 4/23/06  Excellent B 20"-Leg 24  100              53.98'/64'
 5/07/06  Excellent B 20"-Leg 25  100    4th/26    56.19'/68'                    MXB
 9/16/06  Excellent B 20"-Leg 26  100              57.66'/64'
10/15/06  Excellent B 20"-Leg 27  100              51.72'/60'  2Q
10/22/06  Excellent B 20"-Leg 28  100              50.06'/63'
11/05/06  Excellent B 20"-Leg 29  100              50.19'/57'  2Q
11/11/06  Excellent B 20"-Leg 30  100              51.00'/63'

12/10/06  Excellent B 20"-Leg 31  100              57.49'/62'  2Q
 2/24/07  Excellent B 20"-Leg 32  100              60.63'/65'  2Q  3.33
 3/04/07  Excellent B 20"-Leg 33  100              59.41'/68'  2Q  3.58
 3/11/07  Excellent B 20"-Leg 34  100              54.57'/63'  2Q  3.63
 3/25/07  Excellent B 20"-Leg 35  100              54.82'/65'      3.71
 4/08/07  Excellent B 20"-Leg 36  100              48.51'/61'      4.00		
 5/20/07  Excellent B 20"-Leg 37  100              54.89'/63'      3.61		
 9/16/07  Excellent B 20"-Leg 38  100              52.80'/64'  2Q  3.83
 9/23/07  Excellent B 20"-Leg 39  100              61.87'/63'      3.18
10/02/07  Excellent B 20"-Leg 40  100              63.29'/68'  2Q  3.33

10/20/07  Excellent B 20"-Leg 41  100              56.93'/64'  2Q  3.54
10/21/07  Excellent B 20"-Leg 42  100              52.59'/61'  2Q  3.64
11/10/07  Excellent B 20"-Leg 43  100              54.09'/62'  2Q  3.63
11/11/07  Excellent B 20"-Leg 44  100              55.29'/64'      3.66
12/07/07  Excellent B 20"-Leg 45  100              50.66'/63'      3.92
12/08/07  Excellent B 20"-Leg 46  100              54.62'/66'      3.83
12/09/07  Excellent B 20"-Leg 47  100              55.42'/62'      3.51
 3/02/08  Excellent B 20"-Leg 48  100              52.46'/57'  2Q  3.39 20th QQ
 3/09/08  Excellent B 20"-Leg 49  100    4th/17    53.43'/62'      3.68
 3/23/08  Excellent B 20"-Leg 50  100              54.99'/60'  2Q  3.42          MXS

 4/12/08  Excellent B 20"-Leg 51  100    3rd/17    52.45'/65'      3.94
 4/20/08  Excellent B 20"-Leg 52  100              58.95'/66'      3.50
 5/11/08  Excellent B 20"-Leg 53  100              59.84'/60'      3.12
 5/17/08  Excellent B 20"-Leg 54  100              52.68'/62'  2Q  3.69
 5/18/08  Excellent B 20"-Leg 55  100              53.93'/61'  2Q  3.56
 9/12/08  Excellent B 20"-Leg 56  100              55.42'/64'  2Q  3.63
 9/14/08  Excellent B 20"-Leg 57  100              59.06'/65'  2Q  3.44
 9/20/08  Excellent B 20"-Leg 58  100              54.54'/66'  2Q  3.84
 9/21/08  Excellent B 20"-Leg 59  100              56.06'/64'  2Q  3.60
11/02/08  Excellent B 20"-Leg 60  100              58.94'/64'      3.37

11/08/08  Excellent B 20"-Leg 61  100              57.45'/67'      3.66
11/09/08  Excellent B 20"-Leg 62  100              52.05'/60'      3.59
11/14/08  Excellent B 20"-Leg 63  100              53.25'/63'      3.75
12/05/08  Excellent B 20"-Leg 64  100              55.54'/60'  2Q  3.36
12/06/08  Excellent-B 20"-Leg 65  100              56.08'/62'      3.48
12/07/08  Excellent-B 20"-Leg 66  100              55.90'/62'  2Q  3.46
 3/01/09  Excellent-B 20"-Leg 67  100              61.12'/63'      3.19
 3/07/09  Excellent-B 20"-Leg 68  100              57.84'/65'  2Q  3.52
 3/22/09  Excellent-B 20"-Leg 69  100              57.32'/65'  2Q  3.56
 5/10/09  Excellent-B 20"-Leg 70  100              56.43'/61'      3.38

 5/24/09  Excellent-B 20"-Leg 71  100              52.39'/60'      3.63
 7/17/09  Excellent-B 20"-Leg 72  100              55.48'/64'  2Q  3.63
 8/01/09  Excellent-B 20"-Leg 73  100              54.52'/64'      3.70
 8/21/09  Excellent-B 20"-Leg 74  100              54.62'/62'      3.57
 8/22/09  Excellent-B 20"-Leg 75  100              51.34'/65'      3.99          MXG
 8/23/09  Excellent-B 20"-Leg 76  100              50.47'/60'      3.76
 9/12/09  Excellent-B 20"-Leg 77  100              54.58'/62'      3.59
 9/13/09  Excellent-B 20"-Leg 78  100              56.92'/68'      3.74
 9/20/09  Excellent-B 20"-Leg 79  100              60.68'/65'      3.32  MACH
Jumpers With Weaves

 3/28/04  Excellent B 20"-Leg  1  100              40.78'/41'     
 4/10/04  Excellent B 20"-Leg  2  100              39.87'/43'
 5/22/04  Excellent B 20"-Leg  3  100              39.60'/39'
12/12/04  Excellent B 20"-Leg  4  100              41.63'/44'  2Q
 3/26/05  Excellent B 20"-Leg  5  100              37.58'/42'
 4/10/05  Excellent B 20"-Leg  6  100              34.19'/42'  2Q
 4/17/05  Excellent B 20"-Leg  7  100              41.93'/41'  2Q
 4/23/05  Excellent B 20"-Leg  8  100              38.95'/38'  2Q
 4/24/05  Excellent B 20"-Leg  9  100              38.28'/42'
 5/07/05  Excellent B 20"-Leg 10  100              39.73'/45'                    MXJ

 5/08/05  Excellent B 20"-Leg 11  100              38.25'/40'
 7/22/05  Excellent B 20"-Leg 12  100              39.32'/41'
 7/23/05  Excellent B 20"-Leg 13  100              42.79'/46'  2Q
 9/11/05  Excellent B 20"-Leg 14  100              36.55'/39'
 9/16/05  Excellent B 20"-Leg 15  100              40.25'/45'  2Q
 9/18/05  Excellent B 20"-Leg 16  100              37.04'/42'
10/15/05  Excellent B 20"-Leg 17  100              38.59'/41'  2Q
11/13/05  Excellent B 20"-Leg 18  100              35.01'/42'
 3/26/06  Excellent B 20"-Leg 19  100              33.82'/38'
 4/02/06  Excellent B 20"-Leg 20  100              32.51'/52'  2Q

 4/09/06  Excellent B 20"-Leg 21  100              33.15'/43'
10/15/06  Excellent B 20"-Leg 22  100              35.69'/43'  2Q
10/21/06  Excellent B 20"-Leg 23  100              36.92'/41'
11/05/06  Excellent B 20"-Leg 24  100              35.43'/37'  2Q
11/12/06  Excellent B 20"-Leg 25  100              33.97'/41'                    MJB
12/10/06  Excellent B 20"-Leg 26  100              36.74'/41'  2Q
 2/23/07  Excellent B 20"-Leg 27  100              35.32'/38'      4.08
 2/24/07  Excellent B 20"-Leg 28  100              37.08'/42'  2Q  4.05						
 3/04/07  Excellent B 20"-Leg 29  100              37.14'/41'  2Q  4.17
 3/11/07  Excellent B 20"-Leg 30  100              37.94'/43'  2Q  3.98

 3/24/07  Excellent B 20"-Leg 31  100              39.51'/44'      4.20
 4/28/07  Excellent B 20"-Leg 32  100              35.65'/41'      4.32		
 9/16/07  Excellent B 20"-Leg 33  100              38.36'/38'  2Q  3.70
10/02/07  Excellent B 20"-Leg 34  100              39.26'/42'  2Q  4.00
10/20/07  Excellent B 20"-Leg 35  100              37.36'/37'  2Q  3.75
10/21/07  Excellent B 20"-Leg 36  100              35.70'/38'  2Q  3.98
11/04/07  Excellent B 20"-Leg 37  100              35.99'/38'      4.00
11/10/07  Excellent B 20"-Leg 38  100              38.99'/44'  2Q  4.21
 3/02/08  Excellent B 20"-Leg 39  100              37.15'/40'  2Q  4.04  20th QQ   
 3/23/08  Excellent B 20"-Leg 40  100              38.65'/42'  2Q  4.09

 5/10/08  Excellent B 20"-Leg 41  100              38.29'/41'      4.05
 5/17/08  Excellent B 20"-Leg 42  100    3rd/32    36.60'/41'  2Q  4.21
 5/18/08  Excellent B 20"-Leg 43  100              36.47'/39'  2Q  4.06
 9/12/08  Excellent B 20"-Leg 44  100              33.57'/39'  2Q  4.35
 9/13/08  Excellent B 20"-Leg 45  100              35.98'/41'      4.22
 9/14/08  Excellent B 20"-Leg 46  100              34.84'/40'  2Q  4.31
 9/20/08  Excellent B 20"-Leg 47  100    4th/19    38.74'/43'  2Q  4.21
 9/21/08  Excellent B 20"-Leg 48  100              39.78'/45'  2Q  4.22
12/05/08  Excellent B 20"-Leg 49  100              39.18'/42'  2Q  4.01
12/07/08  Excellent B 20"-Leg 50  100              36.41'/42'  2Q  4.28          MJS

 3/07/09  Excellent B 20"-Leg 51  100              39.72'/41'  2Q  3.90
 3/22/09  Excellent B 20"-Leg 52  100              35.86'/42'  2Q  4.35						
 5/23/09  Excellent B 20"-Leg 53  100              38.65'/45'      4.35
 7/17/09  Excellent B 20"-Leg 54  100              37.93'/42'  2Q  4.14
Championship Points

11/06/03  CPs-  2     
 3/07/04  CPs-  5
 3/20/04  CPs-  6
 3/28/04  CPs-  0    
 4/10/04  CPs-  3
 4/25/04  CPs-  4
 9/04/04  CPs-  4
 9/11/04  CPs-  1
11/07/04  CPs-  4
11/14/04  CPs-  4
12/12/04  CPs- 12  2Q
 3/26/05  CPs-  4
 4/10/05  CPs- 18  2Q
 4/16/05  CPs-  8
 4/17/05  CPs-  2  2Q
 4/23/05  CPs-  4  2Q
 4/24/05  CPs-  3
 5/07/05  CPs-  5
 5/08/05  CPs-  1
 5/22/05  CPs-  5
 7/22/05  CPs-  1
 7/23/05  CPs- 10  2Q
 7/24/05  CPs-  5
 9/10/05  CPs-  7
 9/11/05  CPs-  2
 9/16/05  CPs- 12  2Q
 9/18/05  CPs-  4
10/15/05  CPs-  9  2Q
11/13/05  CPs-  6
11/19/05  CPs- 11
11/20/05  CPs-  9
 3/26/06  CPs-  4
 4/02/06  CPs- 14  2Q
 4/08/06  CPs- 12
 4/09/06  CPs-  9 
 4/23/06  CPs- 10
 5/07/06  CPs- 11
 9/16/06  CPs-  5
10/15/06  CPs- 15  2Q
10/21/06  CPs-  4
10/22/06  CPs- 12
11/05/06  CPs-  7  2Q
11/11/06  CPs- 12
11/12/06  CPs-  7
12/10/06  CPs-  8  2Q
 2/23/07  CPs-  2
 2/24/07  CPs-  8  2Q
 3/04/07  CPs- 11  2Q
 3/11/07  CPs- 13  2Q 
 3/24/07  CPs-  4   
 3/25/07  CPs- 10
 4/08/07  CPs- 12	
 4/28/07  CPs-  6		
 5/20/07  CPs-  8		
 9/16/07  CPs- 11  2Q 
 9/23/07  CPs-  1
10/02/07  CPs-  6  2Q
10/20/07  CPs-  7  2Q
10/21/07  CPs- 10  2Q
11/04/07  CPs-  2
11/10/07  CPs- 12  QQ
11/11/07  CPs-  8
12/07/07  CPs- 12
12/08/07  CPs- 11
12/09/07  CPs-  6
 3/02/08  CPs-  6  QQ
 3/09/08  CPs-  8
 3/23/08  CPs-  8  QQ
 4/12/08  CPs- 12
 4/20/08  CPs-  7
 5/10/08  CPs-  2
 5/11/08  CPs-  0
 5/17/08  CPs- 13  QQ
 5/18/08  CPs-  9  QQ
 9/12/08  CPs- 13  QQ
 9/13/08  CPs-  5 
 9/14/08  CPs- 10  QQ
 9/20/08  CPs- 15  QQ
 9/21/08  CPs- 12  QQ
11/02/08  CPs-  5
11/08/08  CPs-  9
11/09/08  CPs-  7
11/14/08  CPS-  9
12/05/08  CPs-  6  QQ
12/06/08  CPs-  5
12/07/08  CPs- 11  QQ
 3/01/09  CPs-  1
 3/07/09  CPs-  8  QQ
 3/22/09  CPs- 13  QQ
 5/10/09  CPs-  4
 5/23/09  CPs-  6			
 5/24/09  CPs-  7
 7/17/09  CPs- 12  QQ
 8/01/09  CPs-  9
 8/21/09  CPs-  7
 8/22/09  CPs- 13
 8/23/09  CPs-  9
 9/12/09  CPs-  7
 9/13/09  CPs- 11
 9/20/09  CPs-  4  MACH

   Total  CPs-751  QQs-32

 9/20/09  MACH
---
Standard/Preferred

09/26/09  Novice P 16"-Leg 1      100    1st/1     49.78'/75'  3.28
09/27/09  Novice P 16"-Leg 2      100    1st/1     49.30'/76'  3.36
10/17/09  Novice P 16"-Leg 3       95    1st/4     47.65'/76'  3.47  NAP

10/18/09  Open P 16"-Leg 1        100    1st/1     47.70'/71'  3.79
11/07/09  Open P 16"-Leg 2        100    1st/1     54.27'/73'  3.37
11/08/09  Open P 16"-Leg 3        100    1st/2     53.70'/75'  3.51  OAP

11/21/09  Ex AP 16"-Leg 1         100    1st/3     57.18'/72'  3.68
11/22/09  Ex AP 16"-Leg 2         100    1st/3     47.51'/65'  4.02
 5/30/10  Ex AP 16"-Leg 3         100    2nd       59.38'/71'  189   AXP

 7/23/10  Ex BP 16"-Leg 1         100    2nd       53.39'/67'  176
 7/25/10  Ex BP 16"-Leg 2         100    3rd       58.47'/71'  188
 8/07/10  Ex BP 16"-Leg 3         100    1st       58.99'/70'  185
 8/08/10  Ex BP 16"-Leg 4         100    1st       59.44'/69'  182
 9/17/10  Ex BP 16"-Leg 5         100    2nd       61.22'/71'  190
 9/19/10  Ex BP 16"-Leg 6         100    3rd       56.87'/70'  185
10/23/10  Ex BP 16"-Leg 7         100    3rd       62.26'/67'  178
10/24/10  Ex BP 16"-Leg 8         100    1st       58.70'/70'  186
Jumpers/Preferred

09/26/09  Novice P 16"-Leg 1      100    1st/1     26.21'/45'  4.58
09/27/09  Novice P 16"-Leg 2      100    1st/1     24.41'/43'  4.71
10/17/09  Novice P 16"-Leg 3      100    1st/5     19.58'/38'  5.26  NJP

10/18/09  Open P 16"-Leg 1        100    1st/4     28.30'/38'  4.13
11/07/09  Open P 16"-Leg 2        100    1st/3     32.28'/44'  4.18
11/21/09  Open P 16"-Leg 3        100    1st/2     26.97'/40'  4.60  OJP

12/05/09  Ex AP 16"-Leg 1         100    1st/3     37.32'/50'  4.53
12/06/09  Ex AP 16"-Leg 2         100    1st/3     33.29'/45'  4.51
 5/30/10  Ex AP 16"-Leg 3         100    1st       37.61'/46'  153   AJP

07/23/10  Ex BP 16"-Leg 1         100    1st       34.93'/44'  146
07/24/10  Ex BP 16"-Leg 2         100    1st       38.53'/47'  156
07/25/10  Ex BP 16"-Leg 3         100    1st       36.00'/45'  151
08/07/10  Ex BP 16"-Leg 4         100    1st       47.65'/51'  171
09/17/10  Ex BP 16"-Leg 5         100    1st       38.00'/42'  138
09/19/10  Ex BP 16"-Leg 6         100    1st       37.65'/45'  149
10/24/10  Ex BP 16"-Leg 7         100    3rd       38.93'/43'  143
02/20/11  Ex BP 16"-Leg 8         100    2nd/6     44.61'/45'  151
---
Kip's Links
BAD
BCCA
Organizations
---
BADBEARDs-Bearded Eastern Agile Running Dogs
---

Off to a BAD Start
BAD Handlers] | [BAD Dogs] | [BAD Events] | [BAD Links]
[BAD Greetings] | [BAD News] | BAD Beginnings]
[BAD Advice] | [BAD Attitudes] | [BAD Goods]
Email Libby with an update