BIS/MBISS Am/Can CH
Britannia Back To The Future
VCD1 RE PT AX MXJ CGC ROMAX MV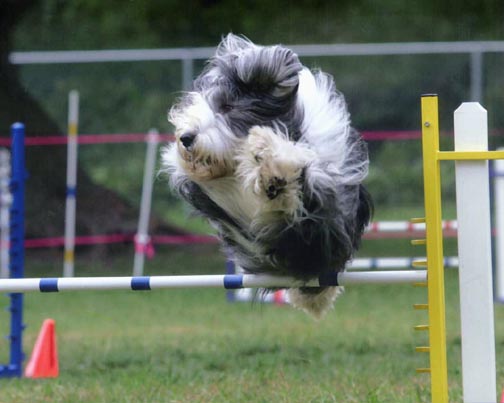 Michele Ritter's Biff
Master Versatility Beardie
11 February 1999 – 15 June 2013
Saturday, June 15th, we said "good-bye" to Biff, the best dog anyone could ever have; and while losing a dog is always heart-breaking, the decision to euthanize him was the most difficult one we've ever made.
Affectionately known as the Biffster, Mr. Biff and Ranger Rick (due to his searching out anything edible when left on his own,) he was always up for whatever we wanted to try: agility, obedience, rally, herding and his most recent activity, tracking. He had an enviable record at specialties, winning two BCCA Nationals, as well as multiple independent specialties. He passed on his style and movement and most importantly, "want to" to his many off-spring, many of whom followed in his enthusiasm for all things performance. He loved to go places and visit people, no matter where he went or who he met, he had to insert himself between peoples' legs for a good head or butt rub, or rub against them inviting a cuddle.
Biff, who never met a food he didn't like, became very selective with what he would eat mid-May and his breathing changed. X-rays & ultrasounds showed a mass in his spleen and fluid in his pleural (chest) cavity, which was removed. Additional ultrasounds indicated that there was also a mass in his chest that was causing the fluid build-up compressing his lungs, causing the "strange" breathing I had noted. His heart and lungs were in good condition. Aspiration of the mass in his chest indicated that it had metastasized from the spleen, so he was not a candidate for surgery. He was put on meds to help with his appetite, but the fluid build-up continued in his chest. After several more chest taps, we decided that our noble Biff deserved better than this, and that we needed to release him from his body that had failed him.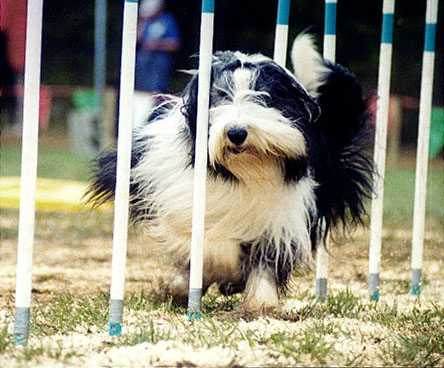 ---
DL777025/02-Dog
Breeders: Michele Ritter and Chet Jezierski (Britannia)
DC WTCH Britannia Chip Thrills UDX HC MX MXJ CGC TDI ROM ROMAX MV (Chip) x
BIS/BISS Am/Can CH Britannia How Sweet It Is CD PT AX AXJ HIC CGC TDI ROMAX MV (Zooey)
Owners: Michele Ritter and Chet Jezierski
Handler: Michele Ritter of Saylorsburg, PA
---

AKC
Standard Agility
10/04/01  Novice B 20"-Leg 1     98            36.14'/65'
11/11/01  Novice B 20"-Leg 2     85            54.74'/76'
 2/02/02  Novice B 20"-Leg 3     90   2nd/6    42.97'/65'       NA

 4/11/02  Open 20"-Leg 1         95   1st/11   48.88'/67'	
 4/13/02  Open 20"-Leg 2        100   1st/13   49.73'/71'	
 4/27/02  Open 20"-Leg 3         90            44.65'/72'       OA

 2/02/03  Excellent A 20"-Leg 1 100   1st/10   54.80'/65'
10/18/03  Excellent A 20"-Leg 2 100   1st/28   51.95'/68'
10/19/03  Excellent A 20"-Leg 3 100   1st/25   44.49'/65'       AX
Jumpers with Weaves
11/10/01  Novice B 20"-Leg 1    100   3rd/24   29.27'/40'
11/11/01  Novice B 20"-Leg 2    100   2nd/20   28.35'/39'
 2/03/02  Novice B 20"-Leg 3    100   1st/10   24.35'/40'       NAJ	

 4/11/02  Open 20"-Leg 1         95   3rd/18   34.37'/48'	
 4/19/02  Open 20"-Leg 2        100   1st/22   30.98'/43'	
 4/27/02  Open 20"-Leg 3        100   1st/30   27.06'/43'       OAJ	

 2/01/03  Excellent A 20"-Leg 1 100   1st/10   30.65'/40'
 3/28/03  Excellent A 20"-Leg 2 100   1st/18   38.38'/47'
10/18/03  Excellent A 20"-Leg 3 100   4th/22   28.98'/40'       AXJ
Championship Legs
Standard Agility
 5/08/04  Excellent B 20"-Leg 1  100   1st/25   44.50'/64' 2Q
Jumpers with Weaves
10/26/03  Excellent B 20"-Leg 1  100   2nd/29   32.79'/44'
11/08/03  Excellent B 20"-Leg 2  100   3rd/47   30.59'/46'
 3/06/04  Excellent B 20"-Leg 3  100            34.40'/45'
 3/27/04  Excellent B 20"-Leg 4  100            33.26'/41'	
 4/10/04  Excellent B 20"-Leg 5  100            36.30'/43'
 4/24/04  Excellent B 20"-Leg 6  100   4th/29   28.62'/40'
 4/25/04  Excellent B 20"-Leg 7  100            34.41'/42'
 5/02/04  Excellent B 20"-Leg 8  100   1st/30   28.51'/42'
 5/08/04  Excellent B 20"-Leg 9  100   1st/25   29.21'/42' 2Q 
 6/05/04  Excellent B 20"-Leg 10 100   3rd/28   30.87'/39'  MXJ
Championship Points
10/26/03  CPs- 16
11/08/03  CPs- 15
 3/06/04  CPs- 10
 3/27/04  CPs-  7
 4/10/04  CPs-  6
 4/24/04  CPs- 11
 4/25/04  CPs-  7 
 5/02/04  CPs- 26
 5/08/04  CPs- 62  2Q
 6/05/04  CPs-  8

 Total    CPs-168  2Qs- 1
---
Biff's Links
Biff's Kids
Littermates
Related Beardies
BAD
BCCA
2005
2004
2003
2002
2001
---

Off to a BAD Start
BAD Handlers] | [BAD Dogs] | [BAD Events] | [BAD Links]
[BAD Greetings] | [BAD News] | BAD Beginnings]
[BAD Advice] | [BAD Attitudes] | [BAD Goods]

Email Libby with an update