CH Estrella's Only Razzmatazz
MX MXB MXJ MJS NF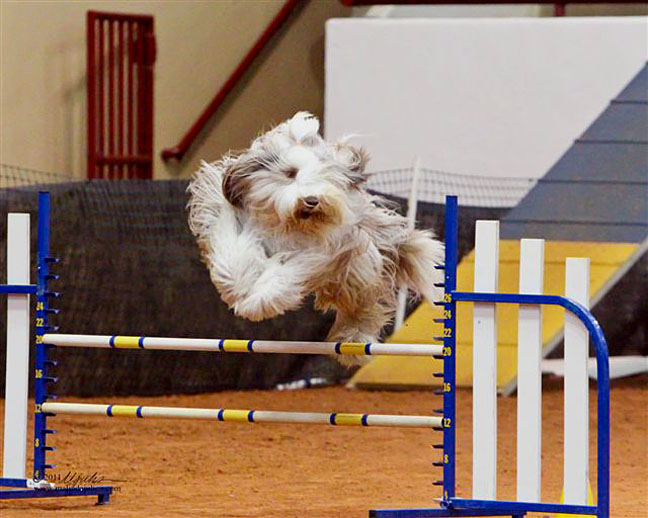 Razz's first Agility show in Fort Worth, August 2011
---
Razz - DN26177204 - Dog - 09/07/09
Breeders: Jenny Scheytt and Jack and Maryann Szalka
CH MACH4 Colquhoun's No Time to Relax RN MXF TQX (Miller) x
CH After Dark Seventh Star RN AX MXJ OF (Zoe)
Owner: Ann Chandoha
---
AKC DN26177204
Standard Agility

 8/05/11  Novice B 20"-Leg 1       100    2nd/12    42.26'/64'  133
 8/07/11  Novice B 20"-Leg 2       100    3rd/14    49.97'/70'  146
10/23/11  Novice B 20"-Leg 3        95    1st/ 7    47.48'/70'  147           NA

10/29/11  Open 20"-Leg 1            90              50.19'/63'  153
10/30/11  Open 20"-Leg 2           100    4th/13    45.28'/66'  161
11/12/11  Open 20"-Leg 3           100    2nd/16    45.63'/62'  150           OA

 1/13/12  Excellent A 20"-Leg 1    100    1st/8     48.39'/60'  171      
 1/14/12  Excellent A 20"-Leg 2    100    2nd/9     51.00'/64'  183
 6/09/12  Excellent A 20"-Leg 3    100    2nd/13    46.89'/62'  178           AX

 6/30/12  Masters 20"-Leg 1        100              48.11'/66'  189  CPs- 17  4.38 yps
 7/21/12  Masters 20"-Leg 2        100              49.82'/63'  181  CPs- 13  4.10
10/19/12  Masters 20"-Leg 3        100              50.87'/61'  174  CPs- 10  3.79
11/24/12  Masters 20"-Leg 4        100              50.75'/66'  189  CPs- 15  4.13
12/16/12  Masters 20"-Leg 5        100              41.82'/65'  185  CPs- 23  5.02
 2/16/13  Masters 20"-Leg 6        100              51.04'/66'  QQ   CPs- 11 
 3/03/13  Masters 20"-Leg 7        100              42.21'/58'       CPs- 15
 5/05/13  Masters 20"-Leg 8        100              46.07'/62'  QQ   CPs- 15 
 6/09/13  Masters 20"-Leg 9        100              47.74'/56'       CPs- 08 
 6/27/13  Masters 20"-Leg 10       100              46.98'/63'       CPs- 16  MX

 6/30/13  Masters 20"-Leg 11       100              49.13'/68'       CPs- 18 
 7/20/13  Masters 20"-Leg 12       100              47.63'/66'  QQ   CPs- 18 
 8/11/13  Masters 20"-Leg 13       100              43.58'/60'  QQ   CPs- 16 
11/02/13  Masters 20"-Leg 14       100              48.01'/66'       CPs- 17
12/07/13  Masters 20"-Leg 15       100              42.32'/62'  QQ   CPs- 19
12/08/13  Masters 20"-Leg 16       100    3rd       41.92'/63'       CPs- 21
 1/18/14  Masters 20"-Leg 17       100              43.00'/61'       CPs- 17
 1/19/14  Masters 20"-Leg 18       100              41.24'/64'       CPs- 22
 2/07/14  Masters 20"-Leg 19       100              45.47'/59'  QQ   CPs- 13
 4/11/14  Masters 20"-Leg 20       100              48.21'/63'       CPs- 14

 4/12/14  Masters 20"-Leg 21       100              43.51'/64'  QQ   CPs- 20
 4/13/14  Masters 20"-Leg 22       100              45.12'/64'  QQ   CPs- 18
 6/06/14  Masters 20"-Leg 23       100    4th       47.99'/65'       CPs- 17
 7/25/14  Masters 20"-Leg 24       100              44.86'/65'  QQ   CPs- 20
 8/03/14  Masters 20"-Leg 25       100              45.31'/65'       CPs- 19  MXB
 9/27/14  Masters 20"-Leg 26       100              49.32'/67'       CPs- 17
10/18/14  Masters 20"-Leg 27       100              48.06'/64'       CPs- 15
11/21/14  Masters 20"-Leg 28       100              46.03'/65'       CPs- 18
11/22/14  Masters 20"-Leg 29       100              47.36'/66'  QQ   CPs- 18
12/13/14  Masters 20"-Leg 30       100              45.43'/66'  QQ   CPs- 20

12/14/14  Masters 20"-Leg 31       100     4th      41.57'/63'  QQ   CPs- 21
 1/10/15  Masters 20"-Leg 32       100     2nd      40.08'/62'  QQ   CPs- 21
 1/11/15  Masters 20"-Leg 33       100     3rd      43.39'/62'  QQ   CPs- 18

 
 

Jumpers With Weaves

 8/06/11  Novice B 20"-Leg 1        90              33.17'/34'  101
 8/07/11  Novice B 20"-Leg 2       100    2rd/15    19.14'/33'   98
10/23/11  Novice B 20"-Leg 3       100    1st/9     20.31'/36'  108           NAJ

10/29/11  Open 20"-Leg 1           100    2nd/11    27.21'/36'  127
10/30/11  Open 20"-Leg 2           100    3rd/10    30.80'/41'  142
11/06/11  Open 20"-Leg 3            93    2nd/8     33.17'/32'  113           OAJ

11/11/11  Excellent A 20"-Leg 1    100    2nd/10    32.63'/39'  147 
 1/13/12  Excellent A 20"-Leg 2    100    2nd/5     32.03'/43'  160      
 3/18/12  Excellent A 20"-Leg 3    100    1st/13    30.28'/40'  149           AXJ

 4/28/12  Masters 20"-Leg 1        100              26.87'/37'  140  CPs- 10  5.21 yps
 5/25/12  Masters 20"-Leg 2        100              34.17'/43'  164  CPs-  8  4.80
 6/10/12  Masters 20"-Leg 3        100              28.96'/39'  145  CPs- 10  5.01
 8/31/12  Masters 20"-Leg 4        100              31.12'/40'  151  CPs-  8  4.85
11/02/12  Masters 20"-Leg 5        100              28.24'/41'  153  CPs- 12  5.42
11/04/12  Masters 20"-Leg 6        100    1st/45    29.54'/38'  141  CPs-  8  4.77
11/18/12  Masters 20"-Leg 7        100              27.89'/37'  137  CPs-  9  4.91    
 1/18/13  Masters 20"-Leg 8        100              31.48'/47'       CPs- 15
 1/19/13  Masters 20"-Leg 9        100    4th/49    30.79'/45'       CPs- 14
 1/25/13  Masters 20"-Leg 10       100              30.88'/45'       CPs- 14  MXJ


 1/27/13  Masters 20"-Leg 11       100              28.82'/41'       CPs- 12 
 2/09/13  Masters 20"-Leg 12       100              29.54'/37'       CPs-  7 
 2/15/13  Masters 20"-Leg 13       100              31.08'/43'       CPs- 11
 2/16/13  Masters 20"-Leg 14       100              32.73'/44'  QQ   CPs- 11
 3/09/13  Masters 20"-Leg 15       100              31.41'/42'       CPs- 10
 3/10/13  Masters 20"-Leg 16       100              24.75'/35'       CPs- 10     
 4/05/13  Masters 20"-Leg 17       100              25.03'/34'       CPs-  8 
 5/03/13  Masters 20"-Leg 18       100              30.07'/39'       CPs-  8 
 5/05/13  Masters 20"-Leg 19       100              27.28'/38'  QQ   CPs- 10
 5/20/13  Masters 20"-Leg 20       100              29.36'/37'       CPs-  7


 5/27/13  Masters 20"-Leg 21       100              29.17'/41'       CPs- 11
 7/19/13  Masters 20"-Leg 22       100              30.60'/41'       CPs- 10
 7/20/13  Masters 20"-Leg 23       100              36.10'/44'  QQ   CPs-  7 
 8/10/13  Masters 20"-Leg 24       100              28.60'/37'       CPs-  8     
 8/11/13  Masters 20"-Leg 25       100              26.33'/37'  QQ   CPs- 10  MJB

  
 9/06/13  Masters 20"-Leg 26       100              33.63'/45'       CPs- 11    5.05 yps
 9/08/13  Masters 20"-Leg 27       100              31.08'/45'       CPs- 13    5.37
 9/30/13  Masters 20"-Leg 28       100              27.23'/40'       CPs- 12    5.51
10/18/13  Masters 20"-Leg 29       100              30.33'/42'       CPs- 12
11/01/13  Masters 20"-Leg 30       100              28.26'/40'       CPs- 11
12/07/13  Masters 20"-Leg 31       100              27.77'/37'  QQ   CPs-  9
12/13/13  Masters 20"-Leg 32       100              28.22'/43'       CPs- 14
12/14/13  Masters 20"-Leg 33       100              28.79'/42'       CPs- 13
12/15/13  Masters 20"-Leg 34       100              29.01'/44'       CPs- 10
 1/15/14  Masters 20"-Leg 35       100    4th       32.04'/42'       CPs-  9


 2/07/14  Masters 20"-Leg 36       100              26.98'/36'  QQ   CPs-  9
 2/08/14  Masters 20"-Leg 37       100              29.53'/40'       CPs- 10
 3/02/14  Masters 20"-Leg 38       100              30.66'/40'       CPs-  9
 4/12/14  Masters 20"-Leg 39       100              30.19'/43'  QQ   CPs- 12
 4/13/14  Masters 20"-Leg 40       100              29.82'/43'  QQ   CPs- 13
 6/07/14  Masters 20"-Leg 41       100              27.93'/43'       CPs- 11
 7/03/14  Masters 20"-Leg 42       100              32.14'/44'       CPs- 11
 7/06/14  Masters 20"-Leg 43       100              27.88'/40'       CPs- 12
 7/18/14  Masters 20"-Leg 44       100              31.10'/42'       CPs- 10
 7/25/14  Masters 20"-Leg 45       100              30.47'/43'  QQ   CPs- 12

 7/26/14  Masters 20"-Leg 46       100              29.27'/40'       CPs- 10
 7/31/14  Masters 20"-Leg 47       100              33.32'/47'       CPs- 13
 8/02/14  Masters 20"-Leg 48       100              28.99'/42'       CPs- 13    5.39yps
 8/08/14  Masters 20"-Leg 49       100              31.74'/39'       CPs-  7    Karen
 9/05/14  Masters 20"-Leg 50       100              32.65'/45'       CPs- 12  MJS
 9/26/14  Masters 20"-Leg 51       100     4th      30.96'/43'       CPs- 12    5.20yps
10/16/14  Masters 20"-Leg 52       100     2nd      28.63'/43'       CPs- 14    5.59yps
11/01/14  Masters 20"-Leg 53       100              34.80'/45'       CPs- 10
11/02/14  Masters 20"-Leg 54       100     4th      28.59'/38'       CPs- 9
11/08/14  Masters 20 -Leg 55       100     3rd      25.43'/36'       CPs- 10    5.27yps

11/22/14  Masters 20"-Leg 56       100              33.30'/45'  QQ   CPs- 11    5.04 yps
12/13/14  Masters 20"-Leg 57       100     2nd      28.89'/41'  QQ   CPs- 12    5.33 yps
12/14/14  Masters 20"-Leg 58       100              28.16'/44'  QQ   CPs- 15    5.82 yps
 1/09/15  Masters 20"-Leg 59       100              26.26'/38'       CPs- 11    5.40
 1/10/15  Masters 20"-Leg 60       100     4th      30.17'/36'  QQ   CPs-  5
 1/11/15  Masters 20"-Leg 61       100     4th      31.26'/42'  QQ   CPs- 10    5.09   

Time 2 Beat

10/19/12  T2B 20"-Leg 1              7              38.28'/31.07'		
11/16/12  T2B 20"-Leg 2              8              32.03'/28.14'		
12/14/12  T2B 20"-Leg 3              6              36.47'/27.43'     
 2/16/13  T2B 20"-Leg 4              4              45.22'/29.41'		
 3/08/13  T2B 20"-Leg 5              9              29.74'/28.56'		
 6/28/13  T2B 20"-Leg 6              2              45.54'/25.53'
 9/30/13  T2B 20"-Leg 7              8              31.12'/27.45'	
 1/03/14  T2B 20"-Leg 8              8              30.96'/26.56'    Total 52
 4/12/14  T2B 20"-Leg 9              8              26.62'/31.11'
11/21/14  T2B 20"-Leg 10             9              29.46'/32.00     Total 69

FAST

 9/30/13  Novice B 20"-Leg 1        77    1st/HIT   33.75'/33'
12/08/13  Novice B 20"-Leg 2        78    2nd       33.74'/33'
 1/03/14  Novice B 20"-Leg 3        54    4th       38.17'/33'                NF

 1/04/14  Open     20"-Leg 1        70    3rd       26.76'/33'
 4/12/14  Open     20" Leg 2        62    2nd       39.25'/33
11/22/14  Open     20" Leg 3        67    4th       35.46'/33'                OF
---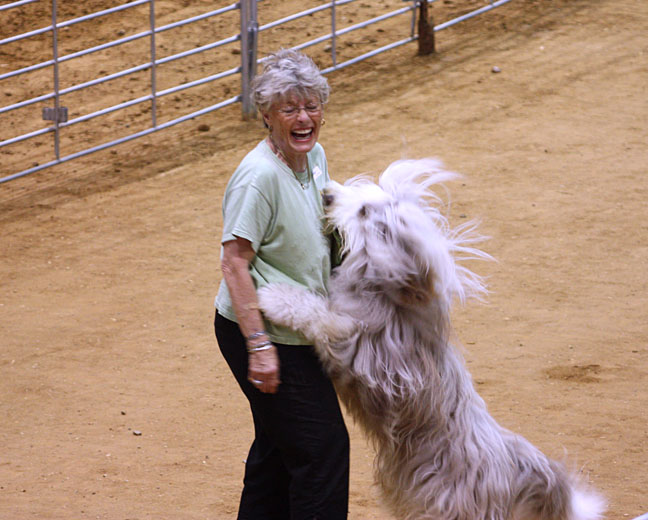 Ann and Razz
Photo by Renee Jarrel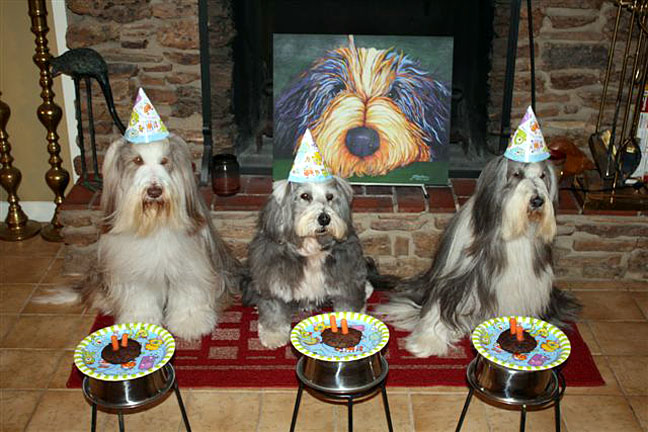 Razz, Arbi, Dru
Celebrating Razz's 2nd and Arbi's 14th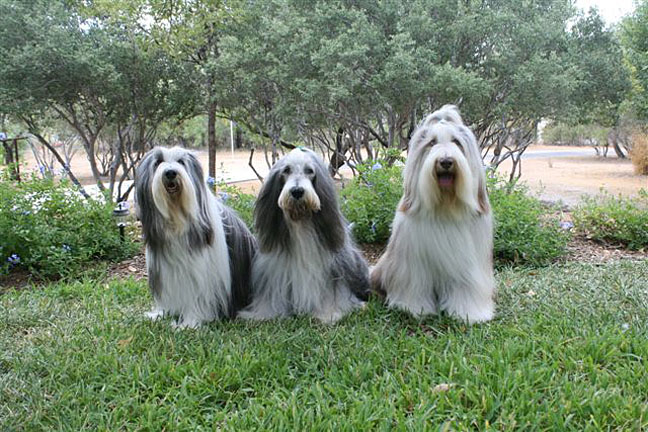 Three generations:
Budweiser (in middle) with daughter Dru (left) and grandson Razz (right)
LOVE THIS PICTURE!!!
---
---

November 14, 2009

Our Razz LOVES greenery!!!!!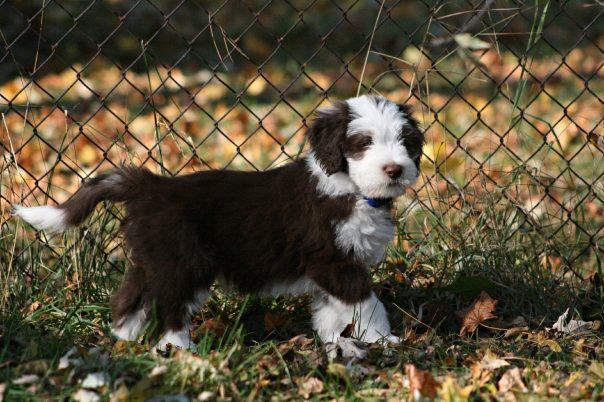 November 9, 2009
We are SO proud to introduce our new boy!!!! "RAZZ"

He is such a wonderful edition to our family, and he is already
SO adored!!! Arbi and Dru are starting to love him too! :-)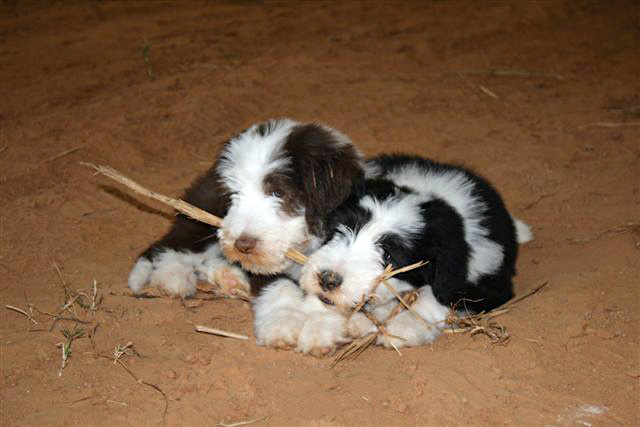 November 27, 2009

Razz and Packer loving it at the LA show...red dirt, and all!!!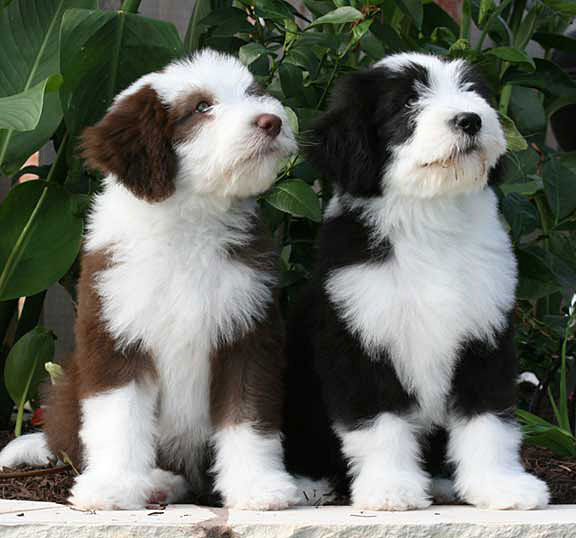 December 1, 2009
Our Brown boy Razz, and his brother, Packer!!!!

12 weeks old!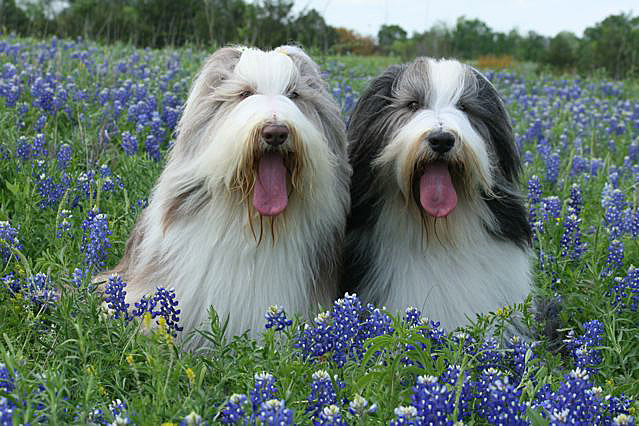 And look at us now!
Spring 2012
---
Razz's Family
---

BAD Southwest and Mountain Beardies
BCCA
2010
---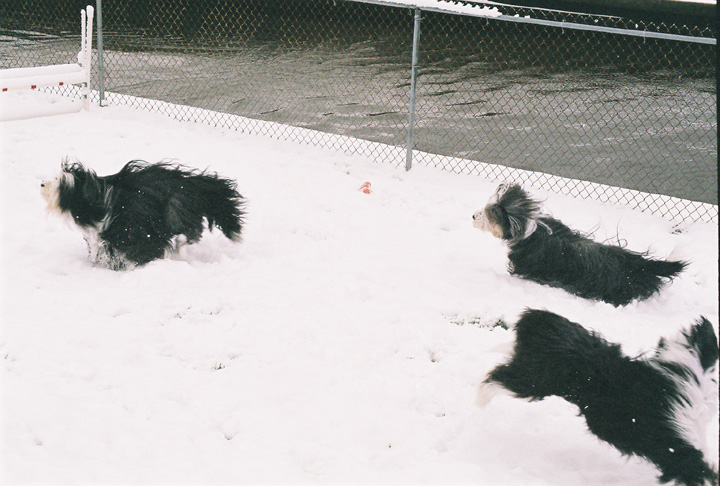 Snow Dogs at Christmas 2004 - Galveston
---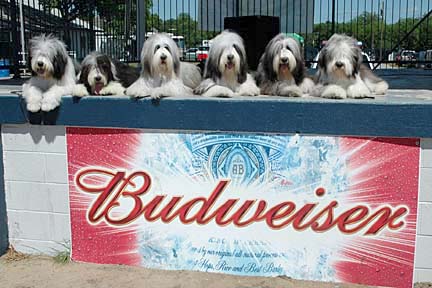 Dos, Shiner, Dru, Miller, Brew, and Michelob
5/15/05
Hi again Libby-
Just got back from the conformation trial in Denton where 6 of the Beardies entered were Bud's kids. I'm attaching a photo of the troup that was taken on the band stand at the show. It was a "perfect" setting as you will see. The pups are in order from left to right: Dos, Shiner, Dru, Miller, Brew, and Michelob. The puppies were all very cute. They tend to look a lot like Budweiser..especially the boys.
Karen
---

Here is a picture of our clan taken 26 June 2007...the day BEFORE the flood...thought it was cute enough to put on our pages.
Left to Right: Dru Budweiser Jet Miller Arbi Boo!

---

Ann and Karen's Snow Beardies

March 2008

Miller, Budweiser, Arbi, Dru, and Jet
---

Off to a BAD Start
[BAD Handlers] | [BAD Dogs] | [BAD Events] | [BAD Links]
[BAD Greetings] | [BAD News] | BAD Beginnings]
[BAD Advice] | [BAD Attitudes] | [BAD Goods]

[BAD Member Breeders]

Email Libby with an update