Estrella's Off The Wall
RN HT NF AD SSA AJ AG AS SR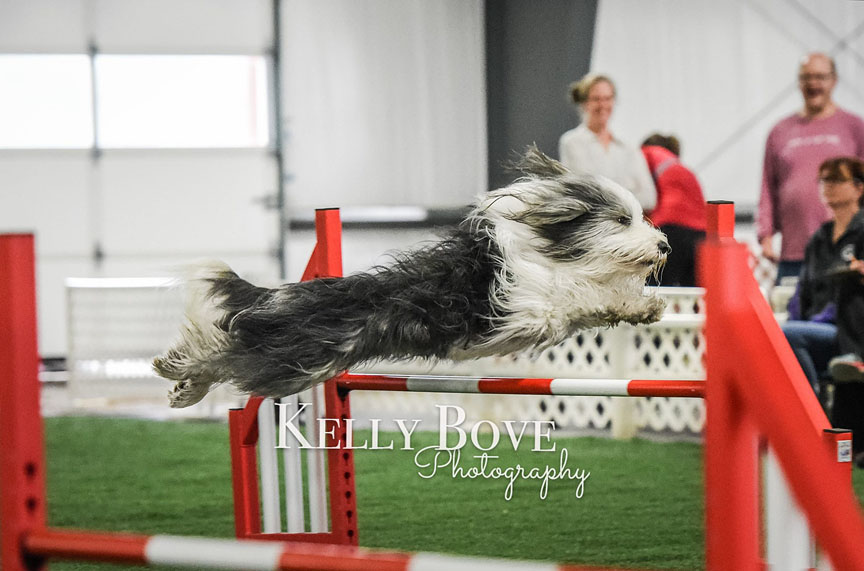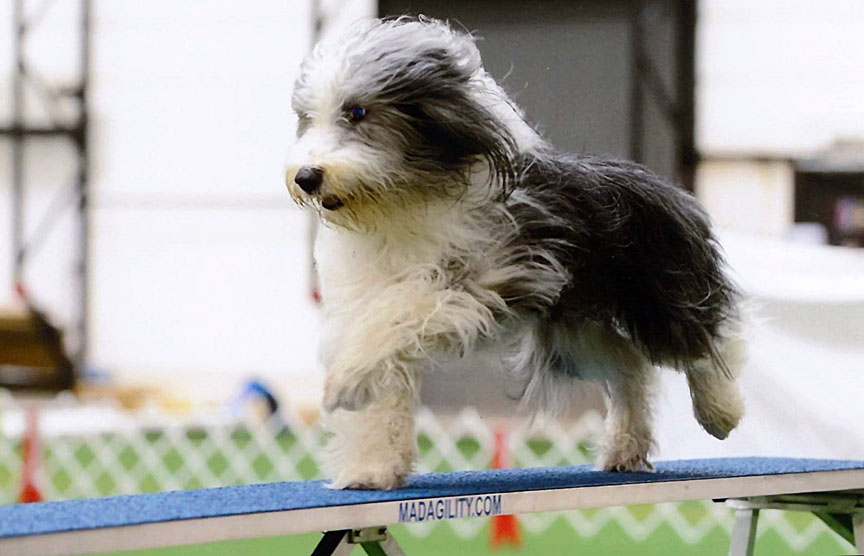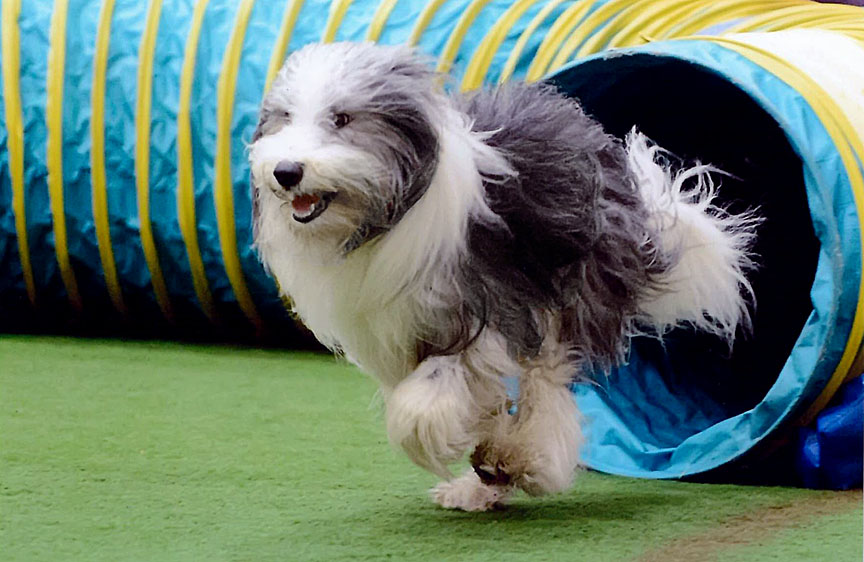 ---
BOUNCE-DN39989203-Dog-6/27/14
Breeder: Jennifer Scheytt (Estrella)
Sire: Chantilly's Tyme Moves On of XTC
Dam: CH Estrella's Solamente Mia BN RN MX MXJ NF CA
Owners: Heather Gahres and Jeremy Haag of Lebanon PA
Handler: Heather Gahres
---
AKC DN39989203
Standard Agility

10/01/16  Novice B 20" - Leg 1        90    1st/ 4    44.70'/71'    148

Jumpers with Weaves

04/16/16  Novice B 20" - Leg 1       100    1st/ 5    21.21'/43'    128    6.03
07/02/16  Novice B 20" - Leg 2        95    1st/ 2    29.48'/39'    118

FAST

04/16/16  Novice B 20" - Leg 1        77    1st/ 6    31.29'/32' 
07/02/16  Novice B 20" - Leg 2        60    2nd/ 5    29.59'/32'
07/03/16  Novice B 20" - Leg 3        65    1st/ 2    28.61'/32'                 NF

10/01/16  Open 20"     - Leg 1        56    2nd/ 5    35.29'/32'

Time2Beat
---
USDAA U149613

05/08/16  Starters Standard 22" - Leg 1      1st/      47.10'/71'
01/01/17  Starters Standard 22" - Leg 2      3rd/      47.21'/62'
03/05/17  Starters Standard 22" - Leg 3      3rd/9     49.27'/65'  SSA AD

04/23/16  Starters Gamblers 22" - Leg 1      4th/9     38 points
04/24/16  Starters Gamblers 22" - Leg 2      2nd/6     47 points
05/07/16  Starters Gamblers 22" - Leg 3      2nd/      40 points   SG

04/23/16  Starters Jumpers 22" -  Leg 1      3rd/4     23.23'/30'
08/07/16  Starters Jumpers 22" -  Leg 2      1st/4     20.87'/39'  
09/03/16  Starters Jumpers 22" -  Leg 3      3rd/8     19.75'/37'  SJ

05/07/16  Starters Relay 22" -    Leg 1      3rd/      70.51'/78' - With Diann and Jib
12/31/16  Starters Relay 22" -    Leg 2                57.74'/74' - With Sarah and Mint
03/05/17  Starters Relay 22" -    Leg 3      1st/5     42.27'/63' - with Trudy and Rugby  SR

06/11/16  Starters Snooker 22" -  Leg 1      1st/      43 points
12/11/16  Starters Snooker 22" -  Leg 2      2nd/10    46 points
12/30/16  Starters Snooker 22" -  Leg 3                44 points   SS

08/07/16  Advanced Gamblers 22" - Leg 1      2nd/5     45 points
12/04/16  Advanced Gamblers 22" - Leg 2      3rd/5     61 points
12/10/16  Advanced Gamblers 22" - Leg 3                38 points   AG

10/08/16  Advanced Jumpers 22" - Leg 1       1st/3     23.03'/39'  
10/09/16  Advanced Jumpers 22" - Leg 2       2nd/6     22.85'/34'  
12/03/16  Advanced Jumpers 22" - Leg 3       2nd/5     26.68'/36'  AJ

03/05/17  Advanced Snooker 22" - Leg 1       2nd/3     47 points
03/11/17  Advanced Snooker 22" - Leg 2       1st/3     46 points
08/12/17  Advanced Snooker 22" - Leg 3                             AS

05/07/16  31st SG
09/03/16  33rd SJ
12/30/16  31st SS
03/05/17  27th SR
03/05/17  34th SSA
03/05/17  65th AD

10/09/16  24th AJ
12/11/16  14th AG
08/12/17  26th AS
---
UKI D9511

01/23/16  Beginner Speedstakes 20" - Leg 1   1st/       6 points
07/17/16  Beginner Speedstakes 22" - Leg 2   2nd/       5 points 


---
CPE
---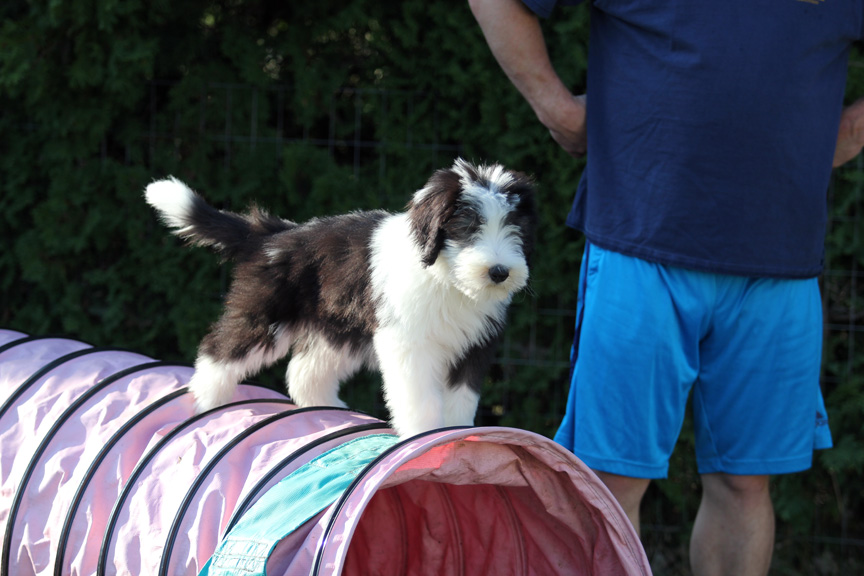 ---
Oct 13, 2014
Introducing.... Estrella's Off the Wall - Bounce
The little man (although he's not that little anymore) is officially registered now :)
He's a whole lot of fun and I'm already enjoying our journey together :)
Here's a photo and a video for you :) https://vimeo.com/108683126
Thanks, Heather
---
May 10, 2016
Bounce earned his first agility title this past weekend. USDAA Starters Gamblers.
He is a really fun boy to run and surprises me at every turn. I'm learning a lot with him and thankfully have a very supportive group of friends and coaches helping us along the way.
Here's a little video of him from last weekend.

Thanks, Heather & Bounce
---
June 20, 2016
We are at KineticDog camp this week and last week. Working with Mary Ellen Barry, Jen Pinder and Rachel Sanders. We have a weekend off after 4th of July so I promise to get the records updated for both kids 😀
Here's Bounce's video form his camp.

Glad you had a fun weekend and really glad you are home safe from your overseas travels.
Heather
---
Feb 22, 2017

Hi Libby - We just got back from Winter Camp with Mary Ellen Barry and Jessica Ajoux.
This was our first big boy camp and we had a lot of fun.
Thought you'd like to add this to Bounce's page when you have spare time.
https://youtu.be/O5AE_a5YXP8
Thanks, Heather & Bounce
---
Bounce's Links
BCCA
BAD
Organizations
---

Off to a BAD Start
BAD Handlers] | [BAD Dogs] | [BAD Events] | [BAD Links]
[BAD Greetings] | [BAD News] | BAD Beginnings]
[BAD Advice] | [BAD Attitudes] | [BAD Goods]
Email Libby with an update