CH O'Duinnin Michelob
RN PT AX AXJ HIC CGC VX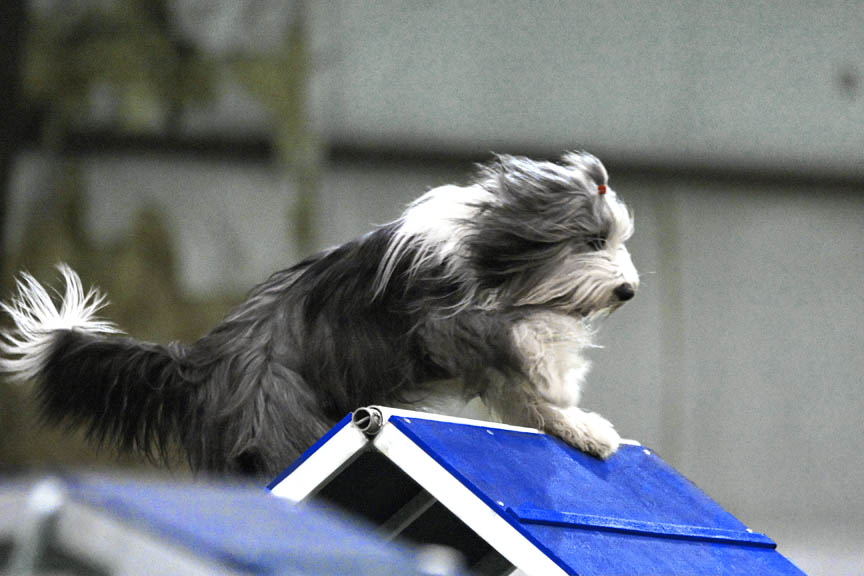 ---
Michelob-DN082870/04-Dog-9/11/04
Breeder: Eileen Dinneen
CH MACH2 O'Duinnin HMT This Bud's For Boo ROMAX Budweiser x
O'Duinnin Oh Darlin' Desiree MX MXJ AD ROMAX Desi
Owner/Handler: Kay Sakowski of Arlington TX
---
AKC DN082870/04
Standard Agility

11/16/07  Novice A 20"-Leg 1     100   1st/4   58:86'/68'  2.64  142 yds  Anne Riba
11/18/07  Novice A 20"-Leg 2      95   2nd/4   56:65'/61'  2.44  126 yds  Anne Riba
 8/23/08  Novice B 20"-Leg 3     100   1st/12  56.02'/72'  2.96  151 yds  Gene Downing     NA

 8/24/08  Open 20"-Leg 1         100   lst/19  56.56'/68'  3.26  168 yds  Gene Downing
10/05/08  Open 20"-Leg 2         100   1st/13  61.21'/63'  2.76  155 yds  Debbie Moore
12/05/08  Open 20"-Leg 3          95   3rd/13  61.91'/65'  2.81  160 yds  Debbie Moore     OA

 2/27/10  Excellent A 20"-Leg 1  100   2nd/13  64.03'/64'        184 yds
 3/12/10  Excellent A 20"-Leg 2   97   1st/16  65.70'/64'        182 yds
11/19/10  Excellent A 20"-Leg 3  100   3rd/12  56.82'/58'        163 yds                   AX
Jumpers with Weaves

11/18/07  Novice A 20"-Leg 1      85   3rd/4   53:13'/38'  2.13  113 yds  Kele McGlohon 
 3/07/08  Novice A 20"-Leg 2     100   1st/2   32:93'/33'  2.98   98 yds  Rhonda Crane
 3/08/08  Novice A 20"-Leg 3     100   2nd/4   33:64'/35'  3.09  104 yds  Keith VanHousen  NAJ

 8/23/08  Open 20"-Leg 1          96   3rd/15  39.92'/37'  3.26  130 yds  Gene Downing
10/05/08  Open 20"-Leg 2          86   2nd/15  46.45'/39'  2.97  138 yds  Terry Brown
12/06/08  Open 20"-Leg 3          89   1st/15  40.30'/37'  3.18  128 yds  Debbie Moore     OAJ

12/07/08  Excellent A 20"-Leg 1  100   2nd/8   38.77'/39'  3.79  147 yds  Laura English
12/06/09  Excellent A 20"-Leg 2  100   2nd/9   46.71'/48'  3.85  180 yds
 8/20/10  Excellent A 20"-Leg 3   91   1st/9   45.68'/42'  3.44  157 yds                   AXJ
---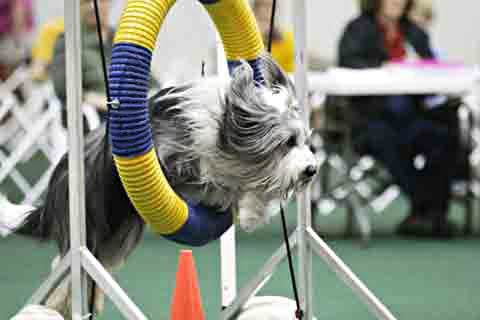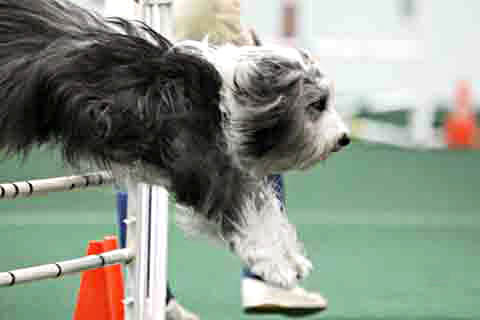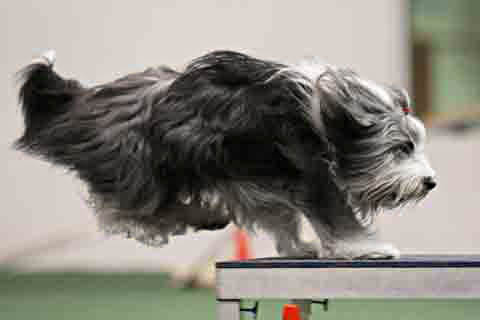 ---
Rally Novice

10/07/09  Bearded Collie Nationals Qualified 92 pts 2nd place
 1/09/10  Glen Rose Qualified
 1/10/10  Glen Rose Qualified Title                                                        RN
Herding

10/31/09  HAHA trial, Hempstead, TX Qualified HT
11/01/09  HAHA trial, Hempstead, TX Qualified HT title                                     HT

 4/03/10  HAHA trial, Hempstead, TX Qualified PT
 4/04/10  HAHA trial, Hempstead, TX Qualified PT Title                                     PT
Versatility Excellent
 4/04/10 With the qualifying for PT at the HAHA herding trial in Hempstead, TX, 
         Mic now qualifies for Versatility Excellent.                                      VX
---
5/15/05
Just got back from the conformation trial in Denton where 6 of the Beardies entered were Bud's kids. I'm attaching a photo of the troup that was taken on the band stand at the show. It was a "perfect" setting as you will see. The puppies were all very cute. They tend to look a lot like Budweiser..especially the boys. They have very nice heads and tend to be slightly smaller than Miller and Dru at their respective ages. Who knows what they will mature into but for now I was pleased. Karen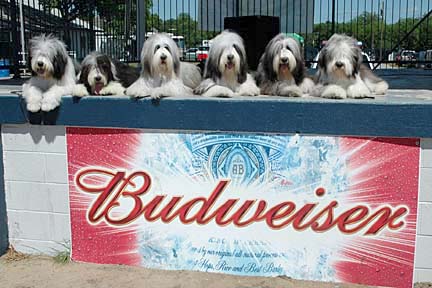 Dos, Shiner, Dru, Miller, Brew, and Michelob
---
In a message dated 11/19/07 9:19:22 PM, kaysak@flash.net writes:
Hi Libby, et al
What a fun time Mic had at his first AKC trial last weekend! On Friday, his first run was Novice A Standard. He really surprised me with a first place blue ribbon and a Q! I'll transmit what is on the back of his ribbons as I don't know what you need for BAD statistics.
11/16/07 Dallas Agility Working Group (DAWG) STD NOV A Ht 20, placement 1, score 100 Time: 58:86 SCT 68 YDS 142 Judge Anne Riba
Of course, when we got to the Jumpers with Weaves, he decided to do his own thing. In the past, he has been a dog that I had to "pull." He decided that I wasn't pulling fast enough, I guess, because he started barking like mad and dancing around, telling me I was not calling the next object fast enough. At least that's what the judge told me! He refused to do the six weave polls - he danced through them, around them, etc. as if he was saying they were not the 12 he was used to, and what was I thinking? I finally gave up and made him finish the course without the weaves.
On Saturday, he was excited to see Mike, Eileen, and Robin as observers. Eileen, however, had to leave and didn't get to see his wild performance. He was really picking daisies!!! And of course, being the inexperienced handler that I am, I got frustrated in trying to get his attention. We did jumpers first and he once again refused the weaves, ran past one jump and came over backwards, etc. We finally finished the course with way too many seconds in time and refusals.
I was practicing the Standard and after the first pass, I realized that when Mic would come out of the chute, he would be facing the audience head on, and if Mike was sitting up there filming the event, Mic would seek him out. I went and told Mike to please move when we got on the course, but he didn't do so. He just kept filming! Mic came out of the chute, his nose went up in the air, and he smelled him sitting up there. He was running back and forth looking up in the stands with his nose in the air. I HAVE IT ON FILM! <G> I finally got his attention and he did the broad jump and double, etc. and I was so flustered that I missed the table. After he did the dog walk and a jump, he went running through the chute again and then looked for Mike! I finally got him back over to where I was at the teeter and he finished the course. I was very discouraged that I had lost control of his attention and a bit mad that Mike did not heed my wishes! Oh well, Sunday would be another day.
On Sunday, Mike agreed to hide from Mic during the trials. He was around but hiding. We did the jumpers first. I was prepared this time to send him on when I couldn't keep up with him. He continued the barking just like Christoper in the next ring who was doing the Standard course at the same time. He refused the weaves at first but finally completed them (using up quite some number of seconds) and finished the course. He came in third place for that run with a pretty yellow ribbon. Not very pretty run but he got his Q.
11/18/07 Dallas Agility Working Group (DAWG) Class JW NOV A Ht 20 Placement 3 Score 85 Time 53:13 SCT 38 YDS 113 Judge Kele McGlohon.
Next for the Standard, I was better prepared for the weaves--for some reason Mic only objected to the weaves on the jumpers course. We have weave poles at home and he performs like a champ on them. He does the same thing in class with no problems. I thought I would try to send him more even though we had not practiced it but a few times in class. Caroll Hegg will think this is funny because Mic has changed from a "pull" dog to a "push" dog in one weekend! We had just had a talk about strategy before she left to go home, so she didn't see this performance! I can't run as fast as he wanted to go, so I really will have to practice the strategy change. He made the run beautifully and we didn't see Mike anywhere. He had climbed up in the announcer's box above the horse ring and was filming at a bird's eye view!!! I guess Mic didn't catch his scent because he kept his attention on the ring and me. It was one of those runs when you come off and you know he did it! He got a refusal for running a little too far forward after a jump but he came back and did the teeter immediately to which the judge made a comment of good boy! I thought that was funny! And his time was 2 seconds faster than Friday. He came in second with a red ribbon.
11/18/07 Dallas Agility Working Group (DAWG) STD NOV A Ht 20 Placement 2 Score 95 Time 56:65 SCT 61 YDS 126 Judge Anne Riba
All in all it was a fun time. I could barely walk this morning and my knee is bothering me, but I'll get over it! I have not entered any more trials because I need to preserve my knees for Christmas!! However, I understand that Karen and Ann will be at the McKinney trial November 30 - December 2. I will try to be there on Friday and maybe we can get Christmas pictures of the group like last year? Or I could come on Saturday but not stay very long as we have a surgery center Christmas party that night.
Libby, if you need any more information, please let me know! I will try to send you a picture for the BAD website when I get a decent one!
I hope all of you have a great Thanksgiving! I'm picking up Chris at the airport on Wednesday afternoon--it will be great to have him home soon, if only for a little while! And both of my boys will be with us for Thanksgiving. What more could I want?
Kay Sakowski
---
Mic's Links
BCCA
BAD
Organizations
---

Off to a BAD Start
[BAD Handlers] | [BAD Dogs] | [BAD Events] | [BAD Links]
[BAD Greetings] | [BAD News] | BAD Beginnings]
[BAD Advice] | [BAD Attitudes] | [BAD Goods]