Ch/Otch Walkoway's Frosted Flakes
OA, NAC, NJC, UDX, HIC, HS, STDs, CGC, VX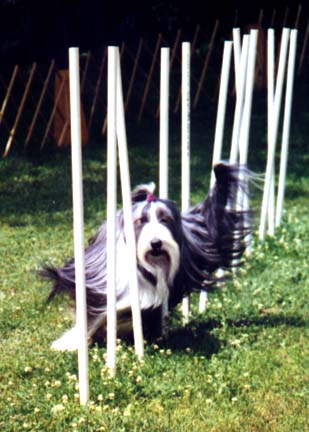 2/7/88 - 3/11/02
---
Frosty-D677582-Bitch-2/7/88 - 3/11/02
Breeders: Chris and Ed Walkowicz
Ch Scotdale's Teak O'Walkoway x Ch Arcadia-Walkoway Carte Blanche
Owners: Linda and Jim Leek of Coatesville, PA
Handler: Linda Leek
---
In a message dated 3/12/02 9:48:16 AM, lleek@att.net writes:
Last night we had to help Frosty (Walkoway's Frosted Flakes) to the Bridge. It was not unexpected, but you're never truly ready, are you? She had turned 14 on 2/7.
She was my first dog.
She was my best friend.
She made me look good, for she was far better than I.
Please indulge my summary of her accomplishments. She was a career girl, so she never had time for puppies.
*CH which included 2 BOB's out of classes and a Group 4.

*OTCH and the first Beardie UDX. This doesn't begin to hint at all we went through to get there.

*In herding she got an HS, STDs and one leg on HTD 1s. This doesn't say how much she really preferred herding goats.<smile>

*In agility, which we didn't even start until she was almost 9, she got an OA, NAC and NAJ. She also had one leg toward her AX and two towards her AXJ.

*CGC.
Our only "failure" was tracking. No one could read her and she would happily follow any scent she wanted to follow.
And that was truly Frosty: independent and willful, but still a teammate all the way.
It was a hell of a ride, Frosty. Thanks for taking me along.
Linda
---



AKC Standard Titling

10/5/96  Novice A 20"-Leg 1       88
2/01/97  Novice A 20"-Leg 2       90   1st/5
2/02/97  Novice A 20"-Leg 3      100   1st/5             NA
 
8/02/97  Open 20"-Leg 1          100   3rd/11
8/03/97  Open 20"-Leg 2          100   3rd/13
9/14/97  Open 20"-Leg 3          100   2nd/9             OA
 
4/03/98  Excellent A 20"-Leg 1    88

AKC Jumps with Weaves

5/09/98  Excellent A 20"-Leg 1   100   1st/3	
5/10/98  Excellent A 20"-Leg 2   100   1st/3   44.78'/48'

NADAC 3B272

11/8/97  Novice Regular 20"-Leg 1-CR   1st
11/8/97  Novice Regular 20"-Leg 2-CR   1st
11/9/97  Novice Regular 20"-Leg 3-CR   1st               NAC
11/9/97  Novice Regular 20"-Leg 4-CR   1st
 
11/8/97  Novice Jumpers 20"-Leg 1
11/9/97  Novice Jumpers 20"-Leg 2                        NJC
 
13th     NAC   11/9/97
14th     NJC   11/9/97



---
Frosty's Links
BAD
BCCA
1998
1997
1996
---

Off to a BAD Start
[BAD Handlers] | [BAD Dogs] | [BAD Events] | [BAD Links]
[BAD Greetings] | [BAD News] | BAD Beginnings]
[BAD Advice] | [BAD Attitudes] | [BAD Goods]
Email Libby with an update