Ch Arcadia's Thrills N' Chills CD OA OAJ NAP NJP CGC

---
CHILLY
4 July 1994 - 6 February 2011
"Last night Jerry and I said good bye to Chilly.
Chilly came in to our lives when he was 2 years and 4 months old. That day he greeted me like I was his best friend. That is how Chilly greeted every single person. He was a very gentle and loving spirit for his entire life.
Over the years Chilly was my constant partner. We did obedience, tracking, and agility. The titles were for me, Chilly did not care about titles. He was the demo dog for countless puppy kindergartens and obedience classes. He did those things because I asked him to do those things. He truly believed in doing things at a nice and easy pace. He did not get why I wanted to do things faster or why I wanted to do anything on wet grass. But again he did all of those things for me.
Chilly was more than happy to hand those jobs over to Rocky when he came along. So at 7 years old Chilly retired from those activities. For the remaining 9 1/2 years of his life, his job was to get lots of head rubs, and get lots of cookies for being cute and to just be with us.
Over the last few years of his illness I am so glad that I limited my traveling to agility competitions and our vacations turned into stay-cations and family visits were cut short so that we could be at home with Chilly. That is the least I could do for Chilly who has done so much for me.
Jerry and I will miss Chilly terribly. At 16 years and 7 months he still had a loving heart, but his body just gave out. We spent the entire day together, that is what he loved. And that evening we were with him as he went to sleep.
I want to thank those of you that often asked and thought about Chilly. He was our love." - Lori, Jerry, Rocky and Blade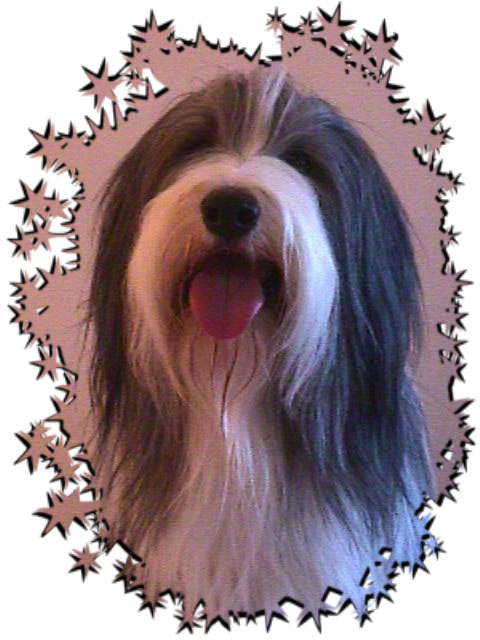 ---
Breeder: Diann Shannon
Ch Arcadias Flavor Of The South x Ch Arcadia Original Sin By George
Owner/Handler: Lori A Weinberg of Edwardsville, IL
---
AKC DL54055202
Standard Agility
 4/15/00	Novice A 20"-Leg 1	100	2nd/14	67.37'/78'
 5/21/00	Novice A 20"-Leg 2	100	2nd/7 	52.81'/68'
 9/16/00	Novice B 20"-Leg 3	100	      	56.91'/74'	NA

 9/17/00	Open 20"-Leg 1		100	1st/10	69.72'/70'
11/11/00	Open 20"-Leg 2		 95	4th/13	74.40'/76'
 3/03/01	Open 20"-Leg 3		100	2nd/12	64.59'/67'	OA	
Jumpers with Weaves
 5/20/00	Novice A 20"-Leg 1	 85	2nd/5 	50.34'/40'
 5/21/00	Novice A 20"-Leg 2	 86	2nd/5 	47.41'/38'
 6/02/00	Novice A 20"-Leg 3	100	1st/1 	37.53'/39'	NAJ

11/10/01	Open 20"-Leg 1		 91	4th/11	43.91'/41'
 3/02/02	Open 20"-Leg 2		 96	1st/7 	36.13'/34'
 3/03/02	Open 20"-Leg 3		100	3rd/4 	37.82'/38'	OAJ	
Standard Agility-Preferred
 9/29/02	Novice P 16"-Leg 1	 90	1st/1 	64.26'/75'
11/30/02	Novice P 16"-Leg 2	100	1st/5 	58.09'/72'
12/01/02	Novice P 16"-Leg 3	100	1st/5 	66.77'/79'	NAP
Jumpers with Weaves-Preferred
 9/29/02	Novice P 16"-Leg 1	100	1st/1 	41.06'/44'
11/30/02	Novice P 16"-Leg 2	100	2nd/4 	30.59'/39'
12/01/02	Novice P 16"-Leg 3	 95	2nd/6 	34.70'/37'	NJP
---
Chilly's Links
BAD
BCCA
2003
2002
2001
2000
---

Off to a BAD Start
[BAD Handlers] | [BAD Dogs] | [BAD Events] | [BAD Links]
[BAD Greetings] | [BAD News] | BAD Beginnings]
[BAD Advice] | [BAD Attitudes] | [BAD Goods]

Email Libby with an update