MACH PACH Spindrift Risa Hot Stuff VX
CD RA MXB MJS MXPB MJP4 MJPB PAX

AAD ASA AJ AS AR

NAC EJC NGC WV-O TN-O CL3 CL4-FHS CGC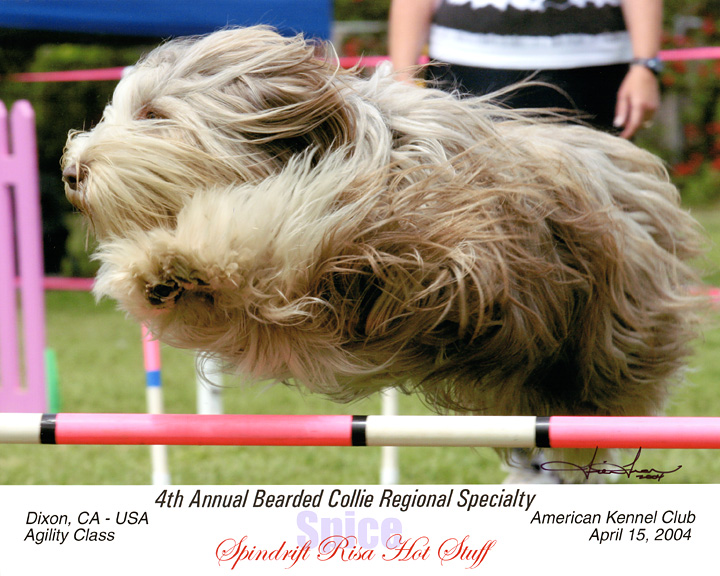 Patti Bott's Spice
25 November 2000 - 2 June 2015
---
Breeders: Jana Dozet and Pamela Harris
Am/Can Ch Nonesuch Irish Trace Morgan, HIC x
StCh, StIntCh Spindrift Best of Both Worlds, OA, OAJ, OAC, OJC, NGC, PT, JHD, ROMI, ROMAX (Shelby)
Owners: Patti Bott, Jana Dozet and Pam Harris
Handler: Patti Bott of Lakeside, CA
---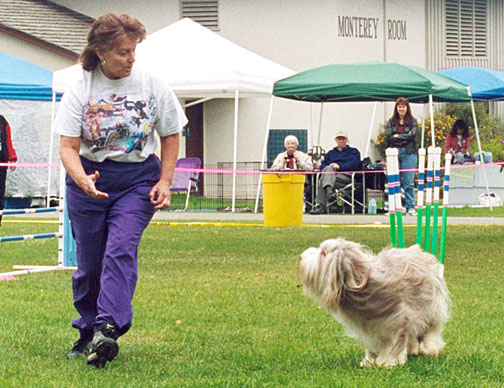 Spice taking a first place in Standard at the 2002 Specialty in Monterey
Photo by Craig Chatterton
---
AKC DL857643/05
Preferred Standard

 3/22/08  Novice P 16"-Leg 1     100    1st/2     37:11'/69'  4.11
 3/29/08  Novice P 16"-Leg 2     100    2nd/2     42:16'/77'  4.06
 3/30/08  Novice P 16"-Leg 3     100    1st/2     38:60'/70'  4.05      NAP

 5/04/08  Open P 16"-Leg 1       100    1st/4     45:35'/67'  3.77
 3/28/09  Open P 16"-Leg 2        95  1st/1   57.95'/71'  3.06
 3/29/09  Open P 16"-Leg 3        95  1st/3   57.25'/73'  3.20      OAP

 5/03/09  Excellent A 16"-Leg 1  100    1st/1  49.11'/68'  4.06
 7/04/09  Excellent A 16"-Leg 2  100  1st/3  47.81'/69  4.25
 7/25/09  Excellent A 16"-Leg 3  100  1st/1   52.67'/69  3.84      AXP

 7/26/09  Excellent B 16"-Leg 1 100  1st/2  49.85'/68 3.99  QQ
 9/26/09  Excellent B 16"-Leg 2 100  1st/2  48.08'/64' 3.90  QQ
 9/27/09  Excellent B 16"-Leg 3 100  2nd/3  50.72'/71'  4.11
11/21/09  Excellent B 16"-Leg 4 100  1st/3   56.71'/73' 3.77  QQ       Avg yps - 3.797
 3/13/10  Excellent B 16"-Leg 5 100  1st/2     51.96'/71'  190   QQ
 4/03/10  Excellent B 16"-Leg 6 100  1st/2     48.64'/67'  177   QQ
 5/15/10  Excellent B 16"-Leg 7 100  1st/2     50.44'/67'  177
 7/11/10  Excellent B 16"-Leg 8 100  1st/1     48.23'/64'  166   QQ
 9/25/10  Excellent B 16"-Leg 9  100    1st       53.26'/68'  180   QQ
10/31/10  Excellent B 16"-Leg 10 100    1st/3     49.86/71'  188   QQ  MXP

11/13/10  Excellent B 16"-Leg 11 100    2nd/2     47.34'/70'  185
11/14/10  Excellent B 16"-Leg 12 100    1st       45.12'/67'  178   QQ
 3/12/11  Excellent B 16"-Leg 13 100    1st/2     43.11/65'  169
 4/02/11  Excellent B 16"-Leg 14 100    1st       50.52'/71'  189   QQ 
 4/03/11  Excellent B 16"-Leg 15 100    1st       48.36'/70'  187
 5/14/11  Excellent B 16"-Leg 16 100    2nd/3     49.89'/68'  180
 6/17/11  Excellent B 16"-Leg 17 100    1st/6     53.94'/71'  189   QQ
 7/04/11  Excellent B 16"-Leg 18 100    1st/4     44.47'/67'  169   QQ
09/24/11  Excellent B 16"-Leg 19 100    1st/2     49.25'/68'  179   QQ
09/25/11  Excellent B 16"-Leg 20 100    1st/2     49.50'/68'  179       MXP2

11/25/11  Excellent B 16"-Leg 21 100    1st/3     50.94'/70'  187   QQ
12/11/11  Excellent B 16"-Leg 22 100    2nd/2     47.51'/69'  184   QQ
 1/22/12  Excellent B 16"-Leg 23 100    2nd/4     49.61'/72'  192
 2/12/12  Excellent B 16"-Leg 24 100    1st/4     49.02'/67'  178   QQ
 4/08/12  Excellent B 16"-Leg 25 100    2nd/2     48:52'/65'  170   QQ  MXPB
 5/12/12  Excellent B 16"-Leg 26 100    1st       51.98'/66'  173   QQ
 5/19/12  Excellent B 16"-Leg 27 100    2nd/3     49.23'/68'  179   QQ
 5/20/12  Excellent B 16"-Leg 28 100    1st/3     47.42'/67'  177   QQ  PACH PAX
Preferred Jumpers with Weaves

 3/22/08  Novice P 16"-Leg 1     100    1st/2     22:89'/52'  6.12
 3/23/08  Novice P 16"-Leg 2     100    1st/2     23:28'/43'  4.94
 3/29/08  Novice P 16"-Leg 3     100    2nd/2     23:57'/42'  4.71      NJP

 5/04/08  Open P 16"-Leg 1       100    1st/1     28:19'/43'  4.72
 5/23/08  Open P 16"-Leg 2       100    1st/2     30.65'/45'  4.57
 5/24/08  Open P 16"-Leg 3       100    1st/3     28.89'/44'  4.78      OJP

 7/04/08  Excellent A 16" Leg 1  100    1st/2     30.79'/46'  5.00
 3/07/09  Excellent A 16" Leg 2  100    1st/1  35.88'/48'  4.54
 3/22/09  Excellent A 16" Leg 3  100    1st/1  32.97'/46' 4.70      AJP

 3/28/09  Excellent B 16" Leg 1  100    1st/4  34.05'/45'  4.41
 3/29/09  Excellent B 16" Leg 2  100    1st/4  33.41'/44'  4.43
 4/04/09  Excellent B 16" Leg 3  100    1st/2  32.68'/46'  4.68
 4/05/09  Excellent B 16" Leg 4  100    1st/2  35.28'/51'  4.93
 7/25/09  Excellent B 16"-Leg 5  100  1st/1  33.53'/46'  4.53
 7/26/09  Excellent B 16"-Leg 6  100  1st/2  34.44'/47'  4.56  QQ
 9/26/09 Excellent B 16"-Leg 7 100  1st/4   30.57'/44' 4.74  QQ
10/24/09 Excellent B 16"-Leg 8 100  1st/5   31.12'/46'  4.88
11/21/09 Excellent B 16"-Leg 9 100  1st/3   35.29'/51' 4.90  QQ
11/22/09 Excellent B 16"-Leg 10 100  1st/2   35.14'/50'  4.84      MJP  Avg yps - 4.679

 3/13/10 Excellent B 16"-Leg 11 100  2nd/3   34.94'/46'  155   QQ
 4/03/10 Excellent B 16"-Leg 12 100  1st/2   32.79'/44'  146   QQ
 4/04/10 Excellent B 16"-Leg 13 100  1st/5   32.40'/50'  167
 4/24/10 Excellent B 16"-Leg 14 100  1st/3   33.03'/48'  161
 5/16/10  Excellent B 16"-Leg 15 100    1st/4   29.50'/44'  146
 7/10/10  Excellent B 16"-Leg 16 100  1st/1   35.30'/44'  147
 7/11/10  Excellent B 16"-Leg 17 100  1st/2   35.47'/46'  155   QQ
 7/31/10  Excellent B 16"-Leg 18 100  1st/3   34.81'/47'  159
 9/25/10  Excellent B 16"-Leg 19 100  1st/2   36.04'/46'  154   QQ
10/05/10  Excellent B 16"-Leg 20 100  1st     35.12'/45'  149       MJP2

10/31/10  Excellent B 16"-Leg 21 100  1st/2   32.32'/44'  148   QQ
11/14/10  Excellent B 16"-Leg 22 100  1st/3   30.69'/43'  142   QQ
 1/22/11  Excellent B 16"-Leg 23 100    1st/2     35.37'/49'  166
 4/02/11  Excellent B 16"-Leg 24 100    1st/3     38.48'/49'  166   QQ
 6/17/11  Excellent B 16"-Leg 25 100    1st/6     34.85'/48'  161   QQ  MJPB
 6/18/11  Excellent B 16"-Leg 26 100    4th/6     36.29'/48'  163
 7/04/11  Excellent B 16"-Leg 27 100    3rd/4     33.82'/43'  142   QQ
 8/20/11  Excellent B 16"-Leg 28 100    2nd/5     36.24'/48'  163
 9/17/11  Excellent B 16"-Leg 29 100    1st       35.32'/49'  166
 9/24/11  Excellent B 16"-Leg 30 100    3rd/5     33.51'/48'  163   QQ  MJP3

11/25/11  Excellent B 16"-Leg 31 100    1st/4     33.06'/45'  150   QQ
11/26/11  Excellent B 16"-Leg 32 100    1st/4     34.40'/46'  154
12/11/11  Excellent B 16"-Leg 33 100    1st/4     34.67'/47'  158   QQ
12/31/11  Excellent B 16"-Leg 34 100    1st/4     34.37'/44'  145
 2/12/12  Excellent B 16"-Leg 35 100    1st/3     37.51'/47'  158   QQ
 2/18/12  Excellent B 16"-Leg 36 100    2nd/3     34.62'/44'  145
 2/19/12  Excellent B 16"-Leg 37 100    2nd       35.36'/44'  148
 4/08/12  Excellent B 16"-Leg 38 100    2nd/2     35.91'/46'  155   QQ
 5/05/12  Excellent B 16"-Leg 39 100    2nd/6     34.06'/42'  137
 5/12/12  Excellent B 16"-Leg 40 100    1st       36.78'/44'  147   QQ  MJP4

 5/19/12  Excellent B 16"-Leg 41 100    1st/3     41.05'/47'  156   QQ
 5/20/12  Excellent B 16"-Leg 42 100    2nd/3     38.23'/44'  147   QQ  PACH PAX
Preferred FAST

10/05/10  Novice P 16"-Leg 1      57    2ND       26.71'/35'

3 QQs and 20 Clean Runs in 2009
6 QQs and 20 Clean Runs in 2010
6 QQs and 22 Clean Runs in 2011
1 FAST leg
---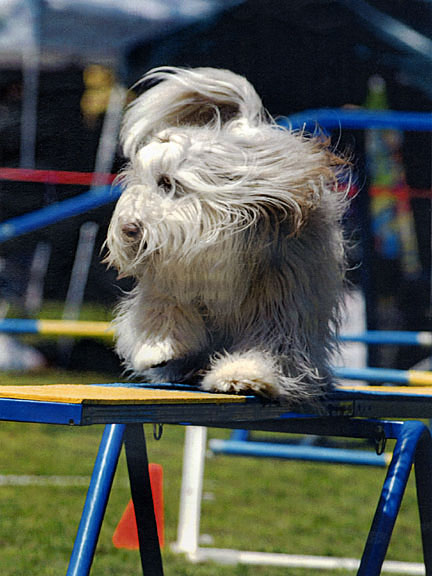 ---
AKC DL857643/05
Standard Titling

 6/28/02  Novice B 20"-Leg 1      95    4th/8     49.29'/66'
 6/29/02  Novice B 20"-Leg 2      95              50.80'/72'
 8/10/02  Novice B 20"-Leg 3      95    3rd/6     47.35'/80'            NA
 9/07/02  Novice B 20"-Leg 4     100    2nd/12    43.54'/74'
 9/30/02  Novice B 20"-Leg 5      90    1st/7     46.08'/69'


10/12/02  Open 20"-Leg 1          90    2nd/15    58.58'/67'
10/13/02  Open 20"-Leg 2          95    1st/13    70.68'/73'
11/23/02  Open 20"-Leg 3          95    2nd/11    55.08'/68'            OA


12/14/02  Excellent A 20"-Leg 1  100    1st/13    51.93'/68'
 5/25/03  Excellent A 20"-Leg 2  100    2nd/27    53.35'/66' 
 7/10/03  Excellent A 20"-Leg 3  100    1st/7     54.04/'64'            AX
 7/13/03  Excellent A 20"-Leg 4  100    2nd/16    52.86'/68'
Jumpers with Weaves

 6/29/02  Novice B 20"-Leg 1     100    1st/14    26.21'/35'
 8/10/02  Novice B 20"-Leg 2     100    2nd/11    23.53'/43'
 9/07/02  Novice B 20"-Leg 3     100    3rd/18    32.72'/42'            NAJ   
 9/08/02  Novice B 20"-Leg 4     100    2nd/16    26.63'/38'
 9/30/02  Novice B 20"-Leg 5     100    1st/7     23.58'/38'

10/26/02  Open 20"-Leg 1         100    1st/14    28.88'/40'
12/14/02  Open 20"-Leg 2         100    4th/14    30.41'/40'
12/15/02  Open 20"-Leg 3          95              32.50'/37'            OAJ

 2/09/03  Excellent A 20"-Leg 1  100    2nd/18    37.38'/45'
 3/02/03  Excellent A 20"-Leg 2  100    2nd/17    36.41'/43'
 3/15/03  Excellent A 20"-Leg 3  100    2nd/12    37.12'/44'            AXJ
FAST Class

 1/06/07 Novice B 20"-Leg 1       63              34.28'/32'
Championship Legs
Standard Titling

 8/10/03  Excellent B 20"-Leg 1  100              44.00'/59' 2Q
 9/07/03  Excellent B 20"-Leg 2  100              57.78'/62'
 9/21/03  Excellent B 20"-Leg 3  100              55.70'/62'
12/27/03  Excellent B 20"-Leg 4  100              50.91'/59' 2Q
12/28/03  Excellent B 20"-Leg 5  100    3rd/43    51.28'/67'
 1/31/04  Excellent B 20"-Leg 6  100              47.16'/57'
 3/06/04  Excellent B 20"-Leg 7  100    2nd/40    48.12'/61' 2Q
 5/08/04  Excellent B 20"-Leg 8  100              48.13'/67' 2Q
 5/09/04  Excellent B 20"-Leg 9  100              52.94'/68' 2Q
 6/26/04  Excellent B 20"-Leg 10 100              50.03'/65' 2Q	     MX

10/10/04  Excellent B 20"-Leg 11 100              48.65'/62'
10/30/04  Excellent B 20"-Leg 12 100              51.48'/67' 2Q
 1/08/05  Excellent B 20"-Leg 13 100              49.63'/61' 2Q
 4/16/05  Excellent B 20"-Leg 14 100              52.72'/61'
 5/15/05  Excellent B 20"-Leg 15 100    2nd/12    43.57'/58' 2Q
 5/27/05  Excellent B 20"-Leg 16 100              53.21'/62' 2Q
 6/04/05  Excellent B 20"-Leg 17 100              44.28'/59' 2Q
 8/01/05  Excellent B 20"-Leg 18 100              57.75'/66' 2Q
10/01/05  Excellent B 20"-Leg 19 100              49.40'/63'
10/28/05  Excellent B 20"-Leg 20 100    2nd/10    47.74'/60' 2Q

10/29/05  Excellent B 20"-Leg 21 100    2nd/8     50.66'/66' 2Q
11/26/05  Excellent B 20"-Leg 22 100    3rd/18    45.44'/62'
11/27/05  Excellent B 20"-Leg 23 100    1st/17    47.33'/64'
12/30/05  Excellent B 20"-Leg 24 100    2nd/20    54.58'/66'	
12/31/05  Excellent B 20"-Leg 25 100              50.83'/66' 2Q         MXB
 1/07/06  Excellent B 20"-Leg 26 100              51.34'/62' 2Q
 7/01/06  Excellent B 20"-Leg 27 100              51.02'/66' 2Q
 7/07/06  Excellent B 20"-Leg 28 100              51.32'/63' 2Q 
 8/13/06  Excellent B 20"-Leg 29 100              54.97'/68' 2Q

10/01/06  Excellent B 20"-Leg 31 100    3rd/19    54.59'/60' 2Q         MACH
10/14/06  Excellent B 20"-Leg 32 100              51.00'/64' 2Q
10/15/06  Excellent B 20"-Leg 33 100              45.78'/59' 2Q  
11/11/06  Excellent B 20"-Leg 34 100    4th/15    49.53'/63' 2Q 
11/12/06  Excellent B 20"-Leg 35 100    4th/15    55.31'/62' 2Q 
11/26/06  Excellent B 20"-Leg 36 100    3rd/16    51.97'/62'
12/31/06  Excellent B 20"-Leg 37 100              51.12'/63' 2Q
 1/01/07  Excellent B 20"-Leg 38 100    4th/23    47.17'/59' 2Q 3.94
 1/07/07  Excellent B 20"-Leg 39 100              49.10'/58' 2Q 3.70
 9/13/08  Excellent B 20"-Leg 40 100              51.43'/63' 2Q 3.90

 9/28/08  Excellent B 20"-Leg 41 100              50.32'/61'    3.84
10/27/08  Excellent B 20"-Leg 42 100    1st/12    54.06'/65' QQ 3.77
Jumpers with Weaves

6/15/03  Excellent B 20"-Leg 1   100    2nd/8     32.34'/43' 
6/29/03  Excellent B 20"-Leg 2   100    7th/48    35.05'/47'
7/19/03  Excellent B 20"-Leg 3   100    4th/51    30.23'/39'
8/10/03  Excellent B 20"-Leg 4   100              31.28'/39' 2Q
9/20/03  Excellent B 20"-Leg 5   100              31.29'/38'
10/11/03 Excellent B 20"-Leg 6   100              32.96'/43'
12/27/03 Excellent B 20"-Leg 7   100              29.46'/38' 2Q
2/08/04  Excellent B 20"-Leg 8   100              31.44'/40'
2/21/04  Excellent B 20"-Leg 9   100              36.69'/43'
2/22/04  Excellent B 20"-Leg 10  100              28.87'/40'            MXJ

3/06/04  Excellent B 20"-Leg 11  100              29.47'/39' 2Q
3/07/04  Excellent B 20"-Leg 12  100              30.33'/41' 
4/15/04  Excellent B 20"-Leg 13  100    2nd/5     33.57'/47'
5/08/04  Excellent B 20"-Leg 14  100              32.34'/42' 2Q
5/09/04  Excellent B 20"-Leg 15  100              32.82'/44' 2Q
6/26/04  Excellent B 20"-Leg 16  100              29.97'/39' 2Q
7/10/04  Excellent B 20"-Leg 17  100              31.79'/41'
7/11/04  Excellent B 20"-Leg 18  100              33.70'/45'
7/30/04  Excellent B 20"-Leg 19  100    4th/24    30.82'/40'
8/01/04  Excellent B 20"-Leg 20  100              32.45'/41'

9/11/04  Excellent B 20"-Leg 21  100    3rd/13    28.41'/37'
9/29/04  Excellent B 20"-Leg 22  100    3rd/20    32.79'/42'
10/16/04 Excellent B 20"-Leg 23  100    2nd/25    30.32'/42'
10/30/04 Excellent B 20"-Leg 24  100              30.05'/38' 2Q
12/30/04 Excellent B 20"-Leg 25  100              33.21'/39'            MJB
1/08/05  Excellent B 20"-Leg 26  100              33.26'/41' 2Q
2/06/05  Excellent B 20"-Leg 27  100              32.14'/41'
2/26/05  Excellent B 20"-Leg 28  100              32.75'/40'
2/27/05  Excellent B 20"-Leg 29  100              30.37'/36'
4/02/05  Excellent B 20"-Leg 30  100              31.36'/35'

4/03/05  Excellent B 20"-Leg 31  100    2nd/22    29.63'/39'
5/15/05  Excellent B 20"-Leg 32  100    3rd/11    32.37'/45' 2Q
5/27/05  Excellent B 20"-Leg 33  100              31.74'/37' 2Q
6/04/05  Excellent B 20"-Leg 34  100              28.18'/37' 2Q
6/05/05  Excellent B 20"-Leg 35  100              31.01'/40'
7/08/05  Excellent B 20"-Leg 36  100              30.66'/38'
7/09/05  Excellent B 20"-Leg 37  100              33.19'/43'
7/10/05  Excellent B 20"-Leg 38  100              28.82'/39'
7/29/05  Excellent B 20"-Leg 39  100    3rd/36    32.21'/39'
8/01/05  Excellent B 20"-Leg 40  100              30.11'/37' 2Q

8/13/05  Excellent B 20"-Leg 41  100              34.80'/45'
8/14/05  Excellent B 20"-Leg 42  100    3rd/30    28.99'/40'
10/02/05 Excellent B 20"-Leg 43  100              31.56'/40'
10/15/05 Excellent B 20"-Leg 44  100              27/00'/35'	
10/28/05 Excellent B 20"-Leg 45  100    2nd/9     29.18,/37' 2Q
10/29/05 Excellent B 20"-Leg 46  100    2nd/9     31.30'/39' 2Q
11/25/05 Excellent B 20"-Leg 47  100    2nd/14    31.43'/41'
12/31/05 Excellent B 20"-Leg 48  100              31.63'/38' 2Q
1/01/06  Excellent B 20"-Leg 49  100    4th/20    32.47'/43'
1/07/06  Excellent B 20"-Leg 50  100              35.87'/38' 2Q         MJS

1/08/06  Excellent B 20"-Leg 51  100              35.25'/44'
7/01/06  Excellent B 20"-Leg 52  100              34.62'/41' 2Q
7/07/06  Excellent B 20"-Leg 53  100              33.61'/37' 2Q
8/12/06  Excellent B 20"-Leg 54  100              39.35'/43'
8/13/06  Excellent B 20"-Leg 55  100              34.01'/38' 2Q
9/30/06  Excellent B 20"-Leg 56  100              34.39'/37'
10/01/06 Excellent B 20"-Leg 57  100    3rd/17    34.08'/36' 2Q         MACH
10/14/06 Excellent B 20"-Leg 57  100              32.88'/41' 2Q
10/15/06 Excellent B 20"-Leg 58  100              33.99'/37' 2Q
11/03/06 Excellent B 20"-Leg 59  100              36.35'/43'
11/11/06 Excellent B 20"-Leg 60  100              30.11'/38' 2Q

11/12/06 Excellent B 20"-Leg 61  100              37.61'/45' 2Q
12/30/06 Excellent B 20"-Leg 62  100              34.58'/38'
12/31/06 Excellent B 20"-Leg 63  100              32.81'/38' 2Q
 1/01/07 Excellent B 20"-Leg 64  100              33.97'/40' 2Q 4.42
 1/06/07 Excellent B 20"-Leg 65  100              33.28'/37'    4.15
 1/07/07 Excellent B 20"-Leg 66  100              33.65'/41' 2Q 4.52
 9/13/08 Excellent B 20"-Leg 67  100              36.32'/40' 2Q 4.16
 9/27/08 Excellent B 20"-Leg 68  100              37.67'/40'    4.01
10/27/08 Excellent B 20"-Leg 69  100              34.53'/40' QQ 4.34
Championship Points

6/15/03  CPs-  15
6/29/03  CPs-  11
7/19/03  CPs-   8
8/10/03  CPs-  22 2Q
9/07/03  CPs-   4
9/20/03  CPs-   6
9/21/03  CPs-   5
10/11/03 CPs-  10
12/27/03 CPs-  16 2Q
12/28/03 CPs-  15
1/31/04  CPs-   9
2/08/04  CPs-   8
2/21/04  CPs-   6
2/22/04  CPs-  11
3/06/04  CPs-  27 2Q
3/07/04  CPs-  10 
4/15/04  CPs-  19
5/08/04  CPs-  27 2Q
5/09/04  CPs-  26 2Q
6/26/04  CPs-  23 2Q
7/10/04  CPs-   9
7/11/04  CPs-  11
7/30/04  CPs-   9
7/31/04  CPs-   8
9/11/04  CPs-   8 
9/29/04  CPs-   9
10/10/04 CPs-  13
10/16/04 CPs-  16
10/30/04 CPs-  22 2Q
12/30/04 CPs-   5
1/08/05  CPs-  18 2Q
2/06/05  CPs-   8
2/26/05  CPs-   7
2/27/05  CPs-   5
4/02/05  CPs-   3
4/03/05  CPs-  13
4/16/05  CPs-   8 
5/15/05  CPs-  33 2Q	
5/27/05  CPs-  13 2Q	
6/04/05  CPs-  22 2Q
6/05/05  CPs-   8 
7/08/05  CPs-   7
7/09/05  CPs-   9
7/10/05  CPs-  10 
7/29/05  CPs-   6
8/01/05  CPs-  14 2Q
8/13/05  CPs-  10
8/14/05  CPs-  11
10/01/05 CPs-  13
10/02/05 CPs-   8
10/15/05 CPs-   8	
10/28/05 CPs-  28 2Q	
10/29/05 CPs-  32 2Q
11/25/05 CPs-  13
11/26/05 CPs-  16
11/27/05 CPs-  32	
12/30/05 CPs-  16
12/31/05 CPs-  23 2Q
1/01/06  CPs-  10
1/07/06  CPs-  12 2Q
1/08/06  CPs-   8
7/01/06  CPs-  20 2Q
7/07/06  CPs-  14 2Q
8/12/06  CPs-   3
8/13/06  CPs-  16 2Q 
9/15/06  CPs-  26 
9/30/06  CPs-   2
10/01/06 CPs-   6 2Q  MACH 
10/14/06 CPs-  21 2Q
10/15/06 CPs-  16 2Q
11/03/06 CPs-   6
11/11/06 CPs-  20 2Q
11/12/06 CPs-  13 2Q
11/26/06 CPs-  10
12/30/06 CPs-   3
12/31/06 CPs-  16 2Q
 1/01/07 CPs-  17 2Q
 1/06/07 CPs-   3
 1/07/07 CPs-  15 2Q
 9/13/08 CPs-  14 2Q
 9/27/08 CPs-   2 
 9/28/08 CPs-  10
10/27/08 CPs-  25 QQ

Total    CPs-1090 2Qs 29

MACH     CPs- 750 2Qs 20   October 1, 2006
MACH2    CPs-1500 2Qs 40
---

MACH Spice
---
10/1/06 - Patti Bott
"Spice and I finished her MACH today at a small local show. I'm glad to have my partner running with me again."
10/1/06 - Libby Myers-Buhite, Jack, Caper, and Ceilidh
"We are thrilled that Spice finished her MACH today and that she is running with you again! Many congratulations to both of you! Hope that you had friends there to celebrate with you!"
10/1/06 - Karen Barratt, Boo, Jet Budweiser, and Miller
"Congratulations to Patti and Spice!!!!!!!!! What a great team you've turned out to be. You've had a great month with your success at the specialty and now this hard to earn title. I wish many more successes for both of you."
10/1/06 - Sharon Williamson and Brio
"Congratulations Patti and Spice!! I wish Brio and I had been there to cheer them on. We were busy not qualifying at another trial in Lakeview Terrace. How sweet it is for Patti to have her teammate back in good health and going strong."
10/2/06 - Pam Harris - Spindrift Beardies
"A great BIG CONGRTULATIONS to MACH Spice and her teammate Patti!!!! It is always a pleasure to see them run to together, they are such a team! I am so proud of you both!"
10/2/06 Kim Horsley and Grendel
"HUGE CONGRATS to Patti and Spice on their MACH. Spice is truly a one of a kind brown girl. She has the personality to die for. I just adore her. Patti and Spice are a great team. They work smoothly together and make it look easy. I am so proud of them!"
10/10/06 - Patti Bott
"I want to thank all the people that sent me such nice notes about Spice's MACH. I was thrilled to hear from all of you and I hope I got back to everyone that sent us a congratulations. I think Jeff is right, I've had a great couple of weeks. I couldn't have asked for a nicer run from Spice than she gave me at the Oregon Nationals. We had nothing on the line since I'd blown our jumpers run and I just went out and ran her as I know she can run. It was one of those times I felt I was in the zone and hadn't a clue that anyone else was anywhere around. I wish I had felt as relaxed on our MACH run, but it's over and I can relax now. Spice was the first dog off the line each day of the weekend. Talk about a little pressure! This is the Chinese "Year of the Dog," my birth year and it has been a very successful year for Spice and me as a team. We haven't done many shows this year, but hope to do more after the first of the year."
Patti
Lexus
Spice
Stix
---

Spice taking a first place in JWW at the 2002 Specialty in Monterey
Photo by Craig Chatterton
---
USDAA U118843
Championship:

1/18/03   Novice Standard 22"-Leg 1       1st/4    47.45'/64'
1/19/03   Novice Standard 22"-Leg 2       2nd/4    55.56'/62'
5/31/03   Novice Standard 22"-Leg 3       1st/6    42.46'/63'	   AD
6/01/03   Novice Standard 22"-Leg 4       1st/7    47.30'/64'

3/21/04   Advanced Standard 22"-Leg 1              56.87'/58'
6/06/04   Advanced Standard 22"-Leg 2     1st/12   43.97'/51'
2/13/05   Advanced Standard 22"-Leg 3              46.72'/57'	   ASA, AAD

8/16/03   Advanced Snooker 22"-Leg 1      3rd/?    45 points
11/22/03  Advanced Snooker 22"-Leg 2      1st/12   50 points
3/20/04   Advanced Snooker 22"-Leg 3      1st/13   46 points	   AS

1/18/04   Advanced Pairs 22"/26"-Leg 1    1st/6    48.05'/62'
6/05/04   Advanced Pairs 22"/26"-Leg 2    2nd/7    ??
12/12/04  Advanced Pairs 22"/22"-Leg 3    2nd/9    55/84'/68'	   AR

6/05/04   Advanced Gamblers 22"-Leg 1     3rd/16   38 points

1/19/04   Advanced Jumpers 22"-Leg 1      1st/9    24.41'/34' 
3/20/04   Advanced Jumpers 22"-Leg 2               32.80'/40'
6/06/04   Advanced Jumpers 22"-Leg 3      2nd/9    29.45'/35'	   AJ

6/11/05   Master Standard 22"-Leg 1                49.83'/59'
6/12/05   Master Standard 22"-Leg 2       4th/28   50.89'/61'

12/12/04  Master Snooker 22"-Leg 1                 40 points
2/12/05   Master Snooker 22"-Leg 2                 48 points
3/20/05   Master Snooker 22"-Leg 3        5th/41   49 points-Q+

2/12/05   Master Jumpers 22"-Leg 1                 32.23'/37'
6/12/05   Master Jumpers 22"-Leg 2                 32.03'/37'
12/03/05  Master Jumpers 22"-Leg 3                 30.46'/37'

3/20/05   Master Pairs 22"-Leg 1          3rd/20   42.67'/54'  Partner Brio
6/12/05   Master Pairs 22"-Leg 2                   55.14'/64'  Partner Chase, Brittany

5/31/03   30th AD
2/13/05   2nd  ASA
2/13/05   16th AAD
3/20/04   1st  AS
6/06/04   1st  AJ
12/12/04  4th  AR
Performance:

6/02/02   PI Standard 16" Leg 1-Q         2nd/8    63.74'/74'

6/11/06   PIII Standard 16"-Leg 1                  51.10'/64'

6/10/06   Performance National Grand Prix 4th/18   45.46'/54'
Games:

1/18/03   Novice/Starters Snooker 22"     2nd/10   45 points

1/19/03   Novice/Starters Relay 22/26     2nd/9

6/01/02   PI Gamblers 16"                 1st/8    31 points
---
NADAC 02-04568

6/15/02   Novice B Regular 20" Leg 1-10    2nd/6   51.46'/57.46'
10/4/03   Novice B Regular 20" Leg 2-10    1st/3   35.62'/46.40'
10/4/03   Novice B Regular 20" Leg 3-10    1st/4   33.68'/46.40'   NAC

11/15/03  Open Regular 20"     Leg 1-10    1st/4   40.06'/47.17

10/5/02   Novice Jumpers 20"   Leg 1       1st/10  26.49'/30.31'
10/4/03   Novice Jumpers 20"   Leg 2       1st/6   26.57'/33.93'   NJC

6/12/04   Open Jumpers 20"     Leg 1       1st/8   21.71'/27.48'
6/13/04   Open Jumpers 20"     Leg 2       1st/6   22.11'/24.89'   OJC

6/19/05   Elite Jumpers 20"-Leg 1          1st/7   30.12'/33.60'   (5.58 yps)
8/02/05   Elite Jumpers Adjustment
10/08/05  Elite Jumpers 20"-Leg 3          3rd/11  25.69'/28.00'   (5.45 yps) EJC 
10/09/05  Elite Jumpers 20"-Leg 4          4th/9   24.90'/26.00'   (5.22 yps)

10/06/02  Novice Gamblers 20"  Leg 1       3rd/7   23+20=43
11/15/03  Novice Gamblers 20"  Leg 2       1st/7   38+20=58        NGC

11/15/03  Novice Weavers 20"   Leg 1       1st/14  29.36'/35.71'
10/03/04  Novice Weavers 20"   Leg 2       1st/15  30.36'/40.25'
11/13/04  Novice Weavers 20"   Leg 3       2nd/22  26.12'/31.00'   WV-N

6/18/05   Open Weavers 20"-Leg 1           2nd/5   25.59'/36.67'
6/19/05   Open Weavers 20"-Leg 2           2nd/5   32.15'/37.78
10/08/05  Open Weavers 20"-Leg 3           1st/2   38.67'/43.40'   WV-O
10/09/05  Open Weavers 20"-Leg 4           1st/2   33.01'/38.00'

10/03/04  Novice Tunnelers 20" Leg 1       2nd/17  39.09'/50.20'
6/18/05   Novice Tunnelers 20"-Leg 2       3rd/13  28.41'/39.00'
6/19/05   Novice Tunnelers 20"-Leg 3       3rd/8   18.73'/27.25'   TN-N

10/09/05  Open Tunnelers 20"-Leg 1         4th/10  23.17'/30.00'
 6/02/07  Open Tunnelers 20"-Leg 2         2nd/3   28.63'/31.18'   (4.90yps)
 6/02/07  Open Tunnelers 20"-Leg 3         1st/3   26.49'/30.81'   (5.23yps)  TN-O

10/4/08   Elite Tunnelers 20"-Leg 1        4th/8   28.75'/30.40'

61st NAC  10/04/03
62nd NJC  10/04/03
42nd NGC  11/15/03
 9th WV-N 11/13/04
30th TN-N  6/19/05

38th OJC   6/13/04
 8th WV-O 10/08/05 
28th TN-O  6/02/07

21st EJC  10/08/05
---
CPE 04921-01
CPE Level 3 (6 Standard and 3 of each Game)
Regular (CL3-R)

 4/23/05  CL3-Regular-Leg 1      -CR    2nd/10    33.25'/55'
 4/23/05  CL3-Regular-Leg 2      -CR    3rd/8     34.01'/52'
 8/20/05  CL3-Regular-Leg 3      - 5              45.44'/65'
 8/21/05  CL3-Regular-Leg 4      -CR    3rd/18    37.01'/56'  CL3-R
 8/21/05  CL3-Regular-Leg 5      -CR    3rd/18    43.71'/59'
Fun Games (CL3-F)

 4/24/05  CL3-FullHouse-Leg 1    -CR    2nd/8     36 points
 8/21/05  CL3-FullHouse-Leg 2    -CR              27 points
 4/24/05  CL3-Jumpers-Leg 1      -CR    4th/8     25.06'/40'
 8/21/05  CL3-Jumpers-Leg 2      -CR    3rd/19    24.42'/?    CL3-F
Handler Games (CL3-H)

 4/23/05  CL3-Colors-leg 1       -CR    3rd/8     17.19'/28'
 6/18/06  CL3-Colors-Leg 2       -CR    1st/9     16.69'/27'
 8/20/05  CL3-Wildcard-leg 1     -CR    3rd/      22.18'/37'
 4/19/08  CL3-Wildcard-Leg 2     -CR    2nd/      23.55'/33'
 6/13/09  CL3-Wildcard-Leg 3     -CR    3rd/12    26.35'/39'  CL3-H
Strategy Games (CL3-S)

 4/23/05  CL3-Jackpot-Leg 1      -CR    4th/9     56 points
 8/20/05  CL3-Jackpot-Leg 2      -CR    3rd/17    58 points
 8/21/05  CL3-Snooker-Leg 1      -CR              32 points
 8/19/06  CL3-Snooker-Leg 2      -CR    3rd/6     43 points   CL3-S
CPE Level 4 (8 Standard and 4 of each Game)
Regular (CL4-R)

 6/18/06  CL4-Regular-Leg 1      - 5    2nd       46.46'/50'
 8/22/10  CL4-Regular-Leg 2      - 5    4th       45.05'
 4/24/11  CL4-Regular-Leg 3      -CR    1st/6     52.58'/53'
11/05/11  CL4-Regular-Leg 4      -CR    1st       44.46'/64'
Fun Games (CL4-F)

 8/19/06  CL4-FullHouse-Leg 1    -CR    1st/3     32 points
 4/20/08  CL4-FullHouse-Leg 2    -CR    1st/      31 points
 8/17/08  CL4-Fullhouse-Leg 3    -CR    1st/2     33 points
 8/15/09  CL4-Fullhouse-Leg 4    -CR    2nd/4     41 points
 8/19/06  CL4-Jumpers-Leg 1      -CR    1st/4     26.81'/33'
 6/14/09  CL4-Jumpers-Leg 2      -CR    1st/2     26.47'/35'
 2/13/10  CL4-Jumpers-Leg 3      -CR    1st/2     25.55'/35'
 1/09/11  CL4-Jumpers-Leg 4      -CR    2nd/3     27.36'/32'  CL4-F
Handler Games (CL4-H)

 8/20/06  CL4-Colors-Leg 1       -CR    2nd/5     17.41'/33'
 4/18/09  CL4-Colors-Leg 2       -CR    3rd/7     18.50'/32'
 8/16/09  CL4-Colors-Leg 3       -CR    1st/3     23.49'/36'
10/11/09  CL4-Colors-Leg 4       -CR    2nd/2     21.50'/32
 8/16/08  CL4-Wildcard-Leg 1     -CR    2nd/2     28.63'/33'
 8/15/09  CL4-Wildcard-Leg 2     -CR    1st/3     27.29'/34'
 8/16/09  CL4-Wildcard-Leg 3     -CR    1st/1     28.06'/40'
10/10/09  CL4-Wildcard-Leg 4     -CR    2nd/3     26.80'/35'  CL4-H
Strategy Games (CL4-S)

 8/19/06  CL4-Jackpot-Leg 1      -CR    4th/6     53 points
 8/16/08  CL4-Jackpot-Leg 2      -CR    3rd/7     52 points
10/11/09  CL4-Jackpot-Leg 3      -CR    2nd/2     45 points
11/06/10  CL4-Jackpot-Leg 4      -CR    4th/7     51 points
 8/16/08  CL4-Snooker-Leg 1      -CR    1st/4     49 points
10/10/09  CL4-Snooker-Leg 2      -CR    2nd/3     42 points
 8/21/10  CL4-Snooker-Leg 3      -CR    1st       45 points
11/06/10  CL4-Snooker-Leg 4      -CR    1st/2     46 points   CL4-S

CPE Level 5 (10 Standard and 5 of each Game for C-ATCH)

10/10/09  CL5-Fullhouse-Leg 1           3rd/4     30 points
 8/22/10  CL5-Fullhouse-Leg 2           2nd       34 points
 4/24/11  CL5-Fullhouse-Leg 3                     36 points

 4/24/11  CL5-Jumpers-Leg 1      -CR    2nd       29.88'/34'
 7/16/11  CL5-Jumpers-Leg 2      -CR    1st       27:04'/38'

 2/13/10  CL5-Colors-Leg 1       -CR    1st/2     19.59'/35'

 7/16/11  CL5-Wildcard-Leg 1     -CR    3rd/4     21:08'/30'

 4/24/11  CL5-Jackpot-Leg 1                       44 points

 8/21/05   4th  CL3-R
 8/21/05   4th  CL3-F
 8/19/06   5th  CL3-S
 6/13/09  16th  CL3-H
 6/13/09  11th  Level 3 title

10/10/09  10th  CL4-H
11/06/10  10th  CL4-S
 1/09/11  14th  CL4-F
---
Spice's Links
BAD
BCCA
Organizations
2006
2004
Northern California Bearded Collie Fanciers
---

Off to a BAD Start
[BAD Handlers] | [BAD Dogs] | [BAD Events] | [BAD Links]
[BAD Greetings] | [BAD News] | BAD Beginnings]
[BAD Advice] | [BAD Attitudes] | [BAD Goods]

Email Libby with an update