Northern California Bearded Collie Fanciers

Celebrating our 25th Anniversary

Third Annual Regional Specialty Agility Trial

Friday, 18 April 2003 at 12:30 pm

Hall Park

Hall Park Drive and East Mayes Street

Dixon, CA

---

AGILITY JUDGE:
Ann B. McQuillen
I just wanted to take a moment to tell you and everyone in the Beardie Club how much fun I had judging the agility trial.
As many of you know I started my Friday by having my 1999 Suburban towed to Davis where it got a complete new rear end (compliments of my extended warranty..whew! $3700+ they paid --- saved my rear end). Everyone in the club was so cheerful and helpful that I could just relax and enjoy the sun and the dogs. It was such a joy to get to know the Beardie people I see at trials but haven't had a chance to chat with as well as make some new friends.
I love courses that flow and especially like to watch dogs and handlers have fun. Hopefully the courses reflected that. I've got the best seat in the house out there as a judge. It was a great day filled with smiling friendly people and happy smiling dogs!
Thanks so much for asking me to judge and for the beautiful gift. I have "my Beardie" on the wall above my desk along with my photos of Ted (Friday's Beardie wannabe) and the Shelties.
Thanks again for a fun time.
Ann McQuillen
---

TRIAL SECRETARY:

Libby Myers-Buhite

TRIAL CHAIR:

Sharon Prassa

CHIEF RING STEWARD:

Jana Dozet

PHOTOGRAPHER:

TienTran

---

Back Row-Standing:

Amy Steltz+Bobby, Pat Coreris+Chipper+Bingo, Jo Gideon+Lucy, Wanda Packard+Rosie, Christiana Taylor+Jake,

Mark Harris+Picard, Jack Buhite+Caper, Charlie Banfield+Lorna, Rosanne Hunt+Zoë

Back Left sitting:

Carl Widell+Cagney, Jana Dozet (Chief Ring Steward)

Back Row-Sitting:

Sharon Prassa (Trial Chair)+Zoot, Mary Edner+Trouble, Iris Berry+Tag, Ann McQuillen (Judge), Barbara Claxton+BlueBerry+Sadie, Cindy Nellipowitz+Sundae+Solo

Middle Row-Sitting:

Rachael Aron, Mary Lott+Harper, Barbara Stone+Colton+Brinian, Hilary Spivey (Iris' Granddaughter), Nancy Layton+Scout,

Carol Colavecchio+Truman, Sharon Baker+Pearl,

Front Row-Sitting:

Jessica Aron, Gayle Dozet, Tammy Domico+Sparkee+Mirage, Sarah Halsey+Wizard+Impy, Pam Harris+Jodie, Libby Myers-Buhite (Trial Secretary)+Skye

Missing:

Meredith Bar David+Ryan+Annabelle, Kitty Hale+Bryan, Carol Scott+Nicky, Amy Steltz+Bobby
---
Northern California Bearded Collie Fanciers
Third Annual Regional Specialty Agility Trial
By Libby Myers-Buhite
The Northern California Bearded Collie Fanciers are very active in agility with more than forty Beardies competing in all-breed agility trials. With so many in competition, it gives us particular delight to hold Beardie only trials. Our Third Annual Regional Specialty Agility Trial, held on Friday, 18 April 2003 at Hall Park in Dixon, CA, was a resounding success with thirty-four Beardies entered from California, Nevada, Oregon, and Washington. We enjoyed a beautiful, sunny Spring Specialty after a week of rain.
We were very pleased to have Ann McQuillen as our judge. Her courses were described as "open and flowing" and "perfect for Beardies." She really showed her mettle, when, despite transport difficulties, she was cheerful and helpful all day.
Congratulations to Sarah Halsey's Wizard who took High in Trial for BOTH Standard AND Jumpers with Weaves! Besides a perfect score of 100 in both, Wizard ran 3.513 yards per second in Standard and 5.077 yards per second in JWW. Sarah's Impy finished her MXJ, as well. Nancy Layton's Scout finished her OA after her signature roll in the tunnel and Nancy was thrilled.
Tien Tran was our Trial photographer and presented us with her usual extraordinary work. She expressed her willingness to be agility trial photographer for any of our Nationals, even across the country, since she loves working with Beardies and Beardie people. Tien was the official photographer for the 2002 AKC Nationals in Katy Texas and was invited again for the AKC Nationals to be held this December in Long Beach, California. Many of her photos grace the BAD Website.
Sarah Halsey's friend, Jennifer Benedict ("Works of Art by Jennifer") made our first place trophies. Jennifer is in universal demand for Specialty Shows and made the 2002 BCCA Nationals trophies, as well. She is the official trophy person for the AKC Nationals this December.
Moe Toys supplied our High in Trial Outward Hound gear bags, sponsored by Sharon Baker and Sarah Halsey. Jesco's Jan Stevens embroidered them with "NCBCF Regional Agility Trial 2003, High In . ."
Everyone was delighted with Cathy Hardman's leash tags embellished with the names of each participating Beardie. Thank you Cathy and thanks to Beth White who sponsored them. The generosity of all of you made our lovely trophies and gifts possible!
So many thanks to our indefatigable helpers. Jana Dozet's organizational skills as Chief Ring Steward kept the trial happy and moving along at a good rate. Special thanks to Carl Widell, Jana and Gayle Dozet, Pam and Mark Harris, Tammy Domico, Jack Buhite and Sharon Prassa, and Dick Nellipowitz for the course measuring on Thursday evening, the course set up on Friday at dawn, the tear down at dinner time, and a LOT more in between. Our hospitality crew -Barbara Claxton, Pam Kerwin, Jo Gideon, and Rosanne Hunt- were fabulous. I loved the Easter Baskets and dyed eggs and the many goodies! Our table workers, Cathy Hardman, Barbara Stone, Christiana Taylor, and Gayle Dozet assured that your legs were sent in accurately to the AKC. Cindy Nellipowitz helped me get all of your ribbons and trophies ready. There are many, many more of you to thank, including your husbands, wives, children, and grandchildren who helped out with the trial! You were all wonderful! -- Libby
Easter Sunday, 2003
---
High in Trial 2003

High in Trial Standard
Excellent B - Score of 100 - 3.513 yds per second

High in Trial JWW
Excellent B - Score of 100 - 5.077 yds per second
From Sarah Halsey:
Wizzie, High in Trial for both Standard and JWW, a double-Q with blue ribbons in both classes, and Impy getting her MXJ with a 2nd place behind Wizzie in JWW! NEVER did I expect such good results, so this was just an ABSOLUTELY most exciting thrill!!! NQs are much easier to get! Honestly, the feeling was exactly the same as when a Novice gets that very first leg or title! VERY PROUD of Wizzie and Impy is a huge understatement! On the long drive home to San Diego, I was sure this all must be unreal! While I was finally REALLY looking at the beautiful trophies, Wizzie came over and nudged me, with a very evil (mischievous) grin on his face. Then it all came back, and I recalled how "Mr. Exuberance" himself had launched himself upward as that trophy was being handed to me, sending it flying (no, it didn't break!). Of course, Wizzie was positive that someone MUST have been reaching out to pat HIM! What could be more REAL than Wizzie always the clown! And always the reminder that agility is such a fun game! I treasure every antic, every run (Q or NQ), and every day that I am so lucky to have with such a happy loving exuberant, and good working, Beardie. That is the reality I want to keep.
The trial itself was wonderful, perfect cool yet sunny weather, a nice park, USDAA trial that weekend literally across the street, and absolutely MARVELOUS courses for Beardies designed by Judge Ann McQuillen! A personal and fitting footnote: Ann was Impy's judge in her very FIRST trial where Impy earned 4 Novice legs. And on Friday, Ann was the judge who gave Impy her last leg for her MXJ! So you know I am thoroughly convinced Ann is one SUPER judge! Ann provided two types of courses. Standard was tighter (though not extreme) with turns, traps, discriminations and call-offs. JWW, in contrast, was TRULY wide open! Though you might think "wide open" is easier, it actually can be difficult for many dogs who compete on a lot of tight AKC courses where there are constant call-offs and changes of direction. They may not know where to go with a wide open space in front of them, resulting in runbys and spins. Ann's two courses, therefore, provided contrasting challenges, so were fun to run and interesting to watch.
For Wizzie and me, consistency is still difficult. Wizzie has grown up to truly be an earnest, hard-driving, trying hard to please, Beardie. And he is fast, so if I don't act, or react, fast enough, the Q is lost. His weakness now is the Table, but though you could say Wizzie is being "bad", I believe it really reflects on me for being a "bad" trainer who hasn't solved his Table problem completely yet. It doesn't always happen, and it isn't a matter of leaving the Table early. For him the problem is being slow to go down. We had been working on it, with improvements I thought, BUT forgetting that we seldom have huge groups of intact Beardies around to proof for. He remained well focused and fast while running in Standard, but stopping at the Table allowed him to take note of a group of nearby Beardies who had been barking as he approached the Table. He froze, then must have ALMOST remembered what to do and dropped down, BUT with elbows still 2-3 inches above the Table! I could hear the clock ticking and could see a beautiful run (and that BEAUTIFUL Q!!!) ticking away. I still do not know what broke that frozen rigidity and let him sink to a full down with full return to working with me. So we did have a clean run, but I thought he had lost so much time that we would be out of the ribbons for sure.
I saw no other runs until later on tape, so did not realize that Mary Lott's Harper was the only other Excellent B Beardie to qualify. Harper moved right along with a very nice smooth run, and with a GORGEOUSLY FAST down on the Table! Mary, you must give me some pointers! Harper almost won that class. He was working really well because I know he also did great at the USDAA trial. Way to go, Mary and Harper!
I looked forward to JWW (no Table!). All that wonderful running room without the usual "jerk-um" screeching turns which can be so worrisome for front ends, was going to be marvelous!!! Impy was the very first to run, and Wizzie the last. After Impy had a clean run (getting her MXJ) I was so proud of her and felt so good that I think I ALMOST was able to ignore the pressure of realizing a double-Q was on the line for Wizzie! I hoped he would like the course as much as I did. And he sure did, talking and growling his pleasure as he flew around fast and clean, too, winning the class, with little Impy getting 2nd! What a day! Luck was with us! Wizzie won two blue ribbons, got a double Q, and both Highs in Trial (Standard and JWW). And Impy earned her MXJ! What an Easter basket full!
I didn't even feel tired as Doug and I, Libby and Jack, and Sharon and Joe were the last remaining late in the show dining room, putting away tables and chairs and cleaning up. A long but fabulous day!
The next day was the USDAA trial. We had only entered morning classes so we could return home by Sunday. Wizzie had one run only, 22" Master Standard. He had a fast clean run (with a FAR BETTER Table than on Friday!), placing 6th out of 36 dogs. The first 3 placers were "plain" BCs (including Nancy Gyes' and Jim Basic's), 4th was a blazing Aussie, 5th another BC, then Wizzie, the "hairy" BC!!! What a good clown! He was really working well and I was very happy with his performances.
And as we headed home, it dawned on me, that after all my talk about Wizzie not being consistent, we had gone North to compete in ONLY 3 runs, and he had qualified in ALL 3, with two 1sts and a 6th (he even received a ribbon for 6th!). Not only a good clown but maybe a good agility dog, too! But he had no thoughts about any of this as he happily and noisily greeted every cow, goat, or sheep that we passed on the long drive south.
Although I unashamedly thank Wizzie (and Doug) most of all, many thankyous also go to those who worked so hard to make this trial fun and successful. Always MANY MANY thanks to Libby who works endlessly on EVERY little detail to be sure everything is just perfect. AND IT WAS!!! Hugs to Libby for ALL she does ALWAYS for us BADsters. Thanks to Jana Dozet who did a great job organizing all the trial workers and jobs. We know, because she organized Doug and me to scribe, jump set,etc!!! And thanks to Cathy Hardman and Beth White who provided the purple (my favorite color..... and GSD!) leash tabs with our dog's name for each participant. They are NEAT! And to Sharon Baker. The blue gear bags are WONDERFUL! They hold everything! Last but not least to dear friend Jennifer Benedict who created the beautiful bronzetone handpainted boxes given as 1st place awards. All Jennifer said she wanted as a thankyou was a big smooch from Wizzie and knowing that he was well and safely back home. And home we are, still feeling the wonderful glow of a dream that turned out to be real!
---
Standard Agility
---
Excellent B 20" - Yards: 172 - SCT: 63' - Number who ran: 9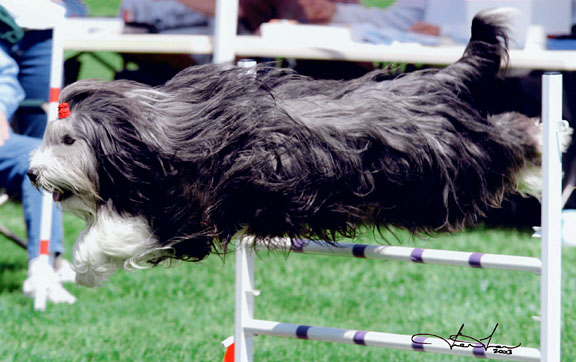 Photo by Tien Tran
First Place - 2001 - Wizard - Handler: Sarah Halsey
MACH Anasazi Secret of the Wizard
100 - 53.96'/63'
HIT-2Q

Bearded Collie. Dog. DL746874/01. 4/9/98.
Breeders: Kathleen Flanagan and Paul Lower
Ch Simi Gone West Desert Magic x
Ch Anasazi Luci Manybeads
Owners: Sarah and Doug Halsey
------------------------
Second Place - 2005 - Harper - Handler: Mary Lott
Pentangle's Crystal Harper, AX, OAJ, HSA-s, CD
100 - 54.25 '/63'
Bearded Collie. Dog. DL712459/10. 11/1/97.
Breeder: Deborah Thomas, DVM
Ch Delgatie's Rattle And Hum x
Ch Pentangle's Skye Teasel
Owner: Mary A. Lott
---
Excellent A 20" - Yards: 172 - SCT: 63' - Number who ran: 5
---
Open 20" - Yards: 150 - SCT: 65' - Number who ran: 4

Photo by Tien Tran
First Place - 2016 - Scout - Handler: Nancy Layton
Dogtown Leader of the Pack, NA, NAJ
100 - 54.98'/65'
OA title
Bearded Collie. Bitch. DL825168/05. 2/11/00.
Breeder: Scott Mandell
Ch Nonesuch Irish Trace Morgan x Ch Sunriver Sylvania Blue
Owners: Nancy Layton and Scott Mandell
---
Open Preferred 16" - Yards: 150 - SCT: 70' - Number who ran: 1
First Place - 1619 - Bingo - Handler: Pat Coreris
Esprit's Summer Sunset, OA, AXJ, NAP, NJP, CDX, PT
100 - 59.81'/70'
Bearded Collie. Dog. DL394430/03. 7/8/91.
Breeders: Robert J. and Kathleen E. Amdor
Ch Willowmead Summer Magic x
Ch Artisan Olympic Bronze, HT
Owner: Patricia Coreris
---
Novice B 20" - Yards: 127 - SCT: 69' - Number who ran: 2
---
Novice A 20" - Yards: 127 - SCT: 69' - Number who ran: 5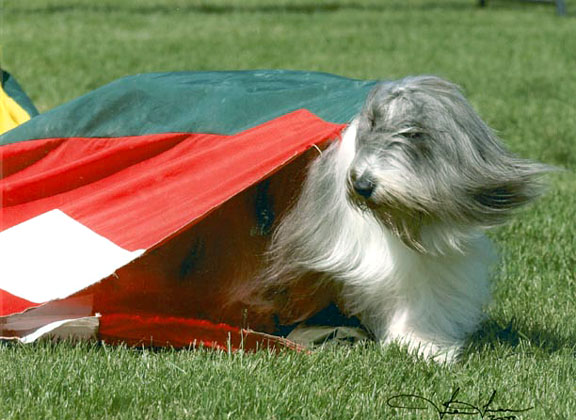 Photo by Tien Tran
First Place - 2026 - BlueBerry - Handler: Barbara Claxton
Headlines Rhapsody in Blue, HS
95 - 54.69'/69'
Bearded Collie. Bitch. DL707725/02. 9/14/97.
Breeders: Arv and Lisa Voss
Ch Bendale Smooth Operator x Ch Aellen's Piper O'Bannockburn
Owner: Barbara Claxton
------------------------
Second Place - 2023 - Bogart - Handler: Pam Kerwin
Aellen Casablanca, HT
86 - 83.11'/69'
Bearded Collie. Dog. DL803266/41. 8/5/99.
Breeders: Ruth Colavecchio and Sandy Remell
Ch Sunriver Shenanigans x Aellen Carry The Torch
Owners: Pamela Kerwin and Stan Gassman
---
Novice Preferrred 16" - Yards: 127 - SCT: 74' - Number who ran: 5

First Place - 1632 - Colton - Handler: Barbara Stone
Ch Ragtyme Doubly Smashing, MX, MXJ, NAP, PT
100 - 50.03'/74'
Bearded Collie. Dog. DL519833/01. 3/4/94.
Breeders: Lynn Zagarella and Nona Albarano
Ch Potterdale Double Image x Ch Windfiddler Simply Smashing
Owners: Barbara Stone and Lynn Zagarella
From Barbara Stone:
Having just finished with conformation - and with what amazing results! - my mind was a bit boggled coming into the agility trial in the afternoon. Fortunately, Jana had me scheduled to do scoring so I could sit down, eat my lunch and catch my breath before starting into the trial routine with the boys.
I really enjoyed the chance to watch all of the excellent and open dogs run on Ann's wonderful courses. It's good to see all the dogs having such a good time out there barking, bouncing, hair flying.
Then it was time to run the boys in Novice. Brin is in Preferred to get some trial practice (whole courses, judge on "his" course, beardie girlzzz around the perimeter...) and Colton is staying in Novice Preferred because he's achieved all my agility goals for him and now it's about having the most fun we can have together.
As usual, I was wearing my "Hug an old dog today!" shirt in honor of Lady who doesn't travel with us any more due to her advanced age (she'll be 18 this summer!) At most trials I wear this shirt one day to make sure she's part of our trial even if she isn't with us.
Colton was his usual perfect self through most of the standard course and came in a blazing 24 sec under SCT. Someday I'll even get rid of that argument I STILL get on the table when it's a down! Brin did a creditable job, given that we haven't really gotten the hang of weave poles in sequences yet. He only missed the weaves and the tire (my fault for not turning him into it properly), but got all his contacts the first time he's run on unfamiliar equipment and with no familiarization!
In jumpers, I was pleasantly surprised NOT to send Colton off course as is my usual wont. (I'd been adding loops into his JWW courses last fall thinking they were too easy, apparently.) This time I remembered not to add any obstacles and he smoked the course, winning the class! Brin was outstanding here as well, missing only the weaves (see above), and one jump that I (again) didn't turn him into properly.
This is only the third day ever in which I've run two dogs. It's really challenging to remember how the second dog runs. With Colton, almost everything is on autopilot - if I point him in the general direction of the correct obstacle and tell him what to do, he does it and we go on. With Brin, I have to be VERY specific about where and what I want next. He also turns a lot wider (that will tighten up with experience) and needs his instructions a lot earlier. In the JWW class, I did walk and run the course two different ways. I was really happy with my ability to keep the different dogs sorted out and handle both fairly effectively.
Thanks for putting on such a great trial. I'd love to see Ann up in our area more as her courses were outstanding. The trial workers did a great job. I can't wait to see the pictures of the boys!
I forgot to mention the awesome trophy boxes! I'd really been hoping to win the JWW class so I could complete the set I had from the national where he won one in standard. It was a huge surprise and thrill to go home with both boxes from the Novice P class.
Thanks again, Barbara

------------------------
Second Place - 1630 - Picard - Handler: Mark Harris
Ch Spindrift Jean-Luc Picard, AX, AXJ, PT
95 - 59.43'/74'
Bearded Collie. Dog. DL552944/06. 11/9/94.
Breeders: Pam Harris and Carolee DeWitt
Ch Highlander Wildest Dreams, PT x Ch Spindrift Pride Of Glengarry, OA, OAJ, CD, PT
Owner: Pam Harris


---
Jumpers with Weaves
---
Excellent B 20" - Yards: 159 - SCT: 42' - Number who ran: 8

First Place - Wizard - Handler: Sarah Halsey
MACH Anasazi Secret of the Wizard
100 - 31.32'/42'
HIT-2Q
Bearded Collie. Dog. DL746874/01. 4/9/98.
Breeders: Kathleen Flanagan and Paul Lower
Ch Simi Gone West Desert Magic x
Ch Anasazi Luci Manybeads
Owners: Sarah and Doug Halsey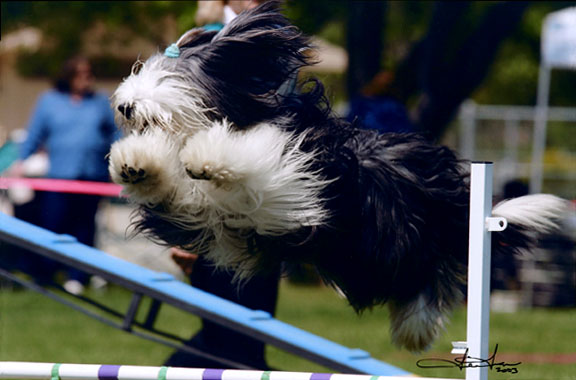 Second Place - 2033 - Impy - Handler: Sarah Halsey
Malakar Delightfully Wicked, AX, AXJ
100 - 37.15'/42'
MXJ title
Bearded Collie. Bitch. DL840266/05. 5/13/00.
Breeders: Elaine Kroposki and Roberta Stuart
Ch Britannia Back To The Future, OA, OAJ x
Ch Malakar Stirling Fire and Lace
Owner: Sarah Halsey
------------------------
Third Place - 2039 - Chipper - Handler: Pat Coreris
Ch Spindrift William Rikker, MX, MXJ, PT, CD
100 - 37.57'/42'
Bearded Collie. Dog. DL552944/04. 11/9/94.
Breeders: Pam Harris and Carolee DeWitt
Ch Highlander Wildest Dreams, PT x
Ch Spindrift Pride Of Glengarry, OA, OAJ, CD, PT
Owners: Patricia Coreris and Pam Harris
------------------------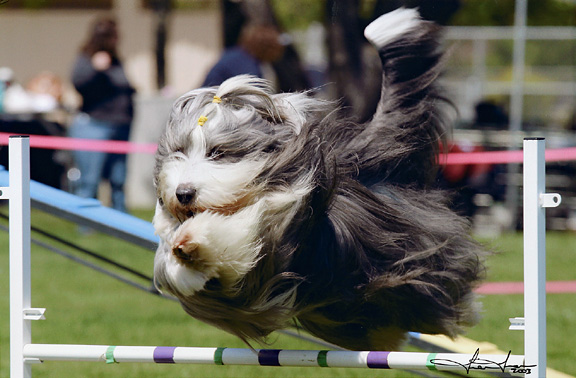 Fourth Place - 2037 - Jake - Handler: Christiana Taylor
Ch Britannia Good Day Sonshine, AX, MXJ, CD, PT
100 - 40.53'/42'
Bearded Collie. Dog. DL488040/03. 6/22/93.
Breeder: Michele Ritter
Ch Britannia Ticket To Ride x
Ch Britannia Sweet Lady, CD
Owners: Christiana Taylor and Michele Ritter
From Christiana Taylor:
We had a wonderful time at the Regional Specialty. As everyone has said, the courses were super and the judge was delightful and full of good humor and good will for Beardies. What a day! The trial was a model of organization and camaraderie, as agility so often is. I am always delighted to meet people in their agility personas after a dog show-they are happier and more delightful. I think in agility the goofs are really ours and it's not a game of chance or influence. It is a sport in which great training and good handling will prevail. Juxtaposing the two is most interesting and even thrilling for the participants win or not. Anyway, thank you so much, Libby, and the wonderful folks who made it happen on the day. We look forward to this event each year and hope to be with our friends to the south for many more agility trials, dog shows, dinners and all sorts of Beardie events.

Love and hugs to all, Christiana
---
Excellent A 20" - Yards: 159 - SCT: 42' - Number who ran: 4
---
Open 20" - Yards: 151 - SCT: 43 - Number who ran: 5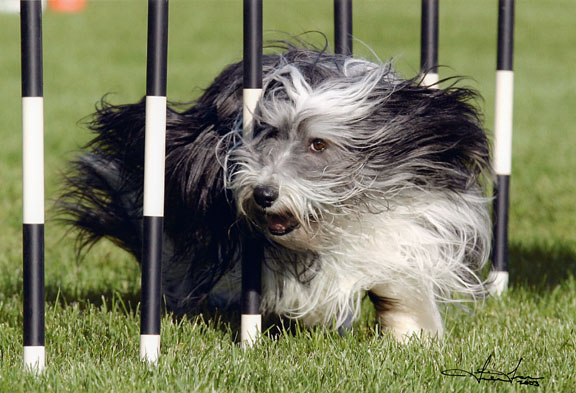 Photo by Tien Tran
First Place - 2050 - Sundae - Handler: Cindy Nellipowitz
Chantilly's Hot Sundae, NA, NAJ
87 - 47.92'/43'
Bearded Collie. Bitch. DL688297/05. 5/15/97.
Breeders: Gerald and Kathleen Pavlich
Ch Firstprizebears Haagen Dazs x
Ch Chantilly's Soprano
Owners: Cynthia Nellipowitz and Kathleen Pavlich
From Cindy Nellipowitz:
Wow, what a great regional as always. We had such great weather for it and wonderful facilities. Hope everyone had as good a time as I did.
I have a brag, too, for those who weren't there. My Sundae girl took first place in 20" open jumpers!!! She ran from the ring one time with Dad and Solo sitting next to the ring. I was really pleased. She's doing better each show!!!
The photo of Sundae was spectacular!!! And thanks for putting it on the web site. It looks great. What a great job. Is that Amy on the phone (in the group photo)? How funny! Great specialty. We had fun!!
Cindy& the hairy ones.
---
Open Preferred 16" - Yards: 151 - SCT: 48' - Number who ran: 2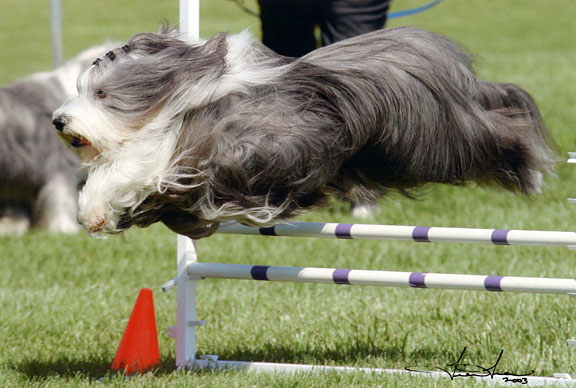 Photo by Tien Tran
First Place - 1653 - Cagney - Handler: Carl Widell
Ch Caledonia's Cagney Mac Calico, NA, NAJ, NJP, PT
95 - 38.03'/43'
Bearded Collie. Dog. DL449454/01. 9/17/92.
Breeder: Kathrine B. Widell
Ch Britannia Ticket To Ride x
Ch Chriscaro's Calico, CD
Owners: Kay and Carl Widell
---
Novice B 20" - Yards: 116 - SCT: 39' - Number who ran: 3
---
Novice A 20" - Yards: 116 - SCT: 39' - Number who ran: 4
---
Novice Preferred 16" - Yards: 116 - SCT: 44' - Number who ran 4

First Place - Colton - Handler: Barbara Stone
Ch Ragtyme Doubly Smashing, MX, MXJ, NAP, PT
100 - 26.80'/44'
Bearded Collie. Dog. DL519833/01. 3/4/94.
Breeders: Lynn Zagarella and Nona Albarano
Ch Potterdale Double Image x Ch Windfiddler Simply Smashing
Owners: Barbara Stone and Lynn Zagarella
---
From Amy Steltz:
Hello Mary, Sharon and Libby,
I just wanted to send a quick note to congratulate you and all the NCBCF members on another wonderful Specialty. Hall Park was a beautiful site, the grass was beautifully maintained and the Beardies looked splendid moving out in that lovely facility. The trophies were absolutely wonderful as well, and although I never did quite get to the potluck lunch, my dad certainly enjoyed it! The agility trial was an absolute blast, as usual, and how nice to have it in the same beautiful location.
We particularly enjoyed hearing Anita Oberbauer's remarks, she's excellent and what a terrific presentation. The BBQ was excellent as well- and boy, were we hungry!
Thank you all again for a wonderful show! I hope we might see some of you in the Northwest in June!
Amy
---
---
Hall Park Dixon

---