Northern California Bearded Collie Fanciers

Fourth Annual Regional Specialty Agility Trial

Thursday, 15 April 2004

Dixon May Fairgrounds

655 S 1 Street, Dixon, CA

---
AGILITY JUDGE: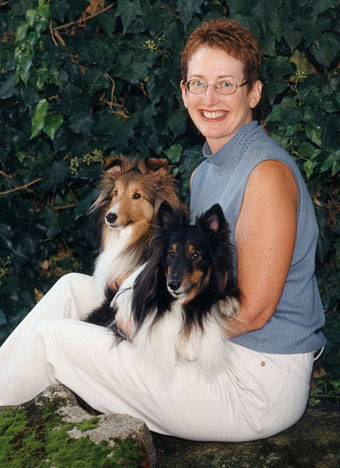 Kera Holm, our judge, pictured here with her Shelties, Hanna and Zeus
Agility is full of E's.
Enjoyment: I have been involved with agility for 6 years with competing, helping to train and judging this wonderful sport. I am currently working on a MACH with my sheltie, Hanna, and facing ALL of the challenges in competing and training with my very high-drive puppy-brained Zeus.
Exuberance: This sport has taught me much patience and the joy of working as a team with your dogs. Judging allows me to see the teamwork and the joy on the team's faces (trainer and dog) as they run with each other. Designing a course and then seeing the team maneuver the challenges with fun and exuberance is what I enjoy the most about judging.
Excellence: Our dogs reflect us when we run with them. We always yearn to be a better teammate for our dog, thereby making us better trainers and coaches.
---
4/15/04
Hi Libby,
I just had to write a note and let you know that the trial was just wonderful! I loved every minute of it - actually wished there were more beardies to play! You did an exquisite job of everything! I really appreciate that as a judge - I could not have asked for any minute thing to be any better. You had absolutely everything organized and under control Thank you again for asking me - I loved it!
P.S. The beardie box is now under display in my house, which is the ONLY other breed which is displayed in my house besides shelties! Plus, the bag is wonderful with the embroidery and will find a place at Power Paws this coming week.
Again, thank you so much for everything - plus for making me feel so welcome and a friend of the beardie folks and you!
-- Kera Holm --
---
TRIAL SECRETARY:

Libby Myers-Buhite

TRIAL CHAIR:

Jack Buhite

CHIEF RING STEWARD:

Jana Dozet

PHOTOGRAPHER:

TienTran

VIDEOGRAPHY - AGILITY IN MOTION:

Silvina and Fernando Bruera

BREAKFAST AND LUNCH - LAZYDOGBBQ:
---
Standing:
Rosanne Hunt with Zoë, Mary Lott with Harper and Brodie, Trial Secretary Libby Myers-Buhite, Judge Kera Holm, Trial Chair Jack Buhite with Caper, Patti Bott with Spice, Barbara Stone with Brinian, Pat Coreris with Chipper
Sitting:
Pam Harris with Jodie, Barbara Claxton with BlueBerry and Sadie, Meagan Withrow with Nellie, Nancy Layton with Scout, Chief Course Builder Tammy Domico with Sparkee and Viva, Sarah Halsey with Wizard (and Impy), Meredith Bar David with Annabelle, Iris Berry with Tag
Right Front:
NCBCF President Sharon Prassa with Zoot, Chief Ring Steward Jana Dozet with Star and Indy
Missing:
Charlie Banfield with Lorna, Mary Edner with Trouble, Pam Kerwin with Bogart, Kathy Pavlich with Gina
---
---
Northern California Bearded Collie Fanciers
Fourth Annual Regional Specialty AKC Agility Trial
By Libby Myers-Buhite

Jack and I just returned home from five very exciting days. This was our Fourth Annual Regional Specialty but the very first in which we used all four of our club licenses for Herding, Agility, Obedience, and Conformation. The most exciting for us was, of course, the Agility Trial. Jack was Chair, I was Secretary, Jana Dozet was Chief Ring Steward, and Tammy and Chris Domico were Chief Course Builders. This made for a smooth and swiftly running trial.
Our Judge was the very delightful and fun Kera Holm! She has definitely adopted Beardies as her favorite breed (after her Shelties). I am looking forward to her comments on the trial. I'll let those who ran describe her courses. All seemed happy and very pleased with the day! 26 entered from Northern and Southern CA, Nevada, Oregon, and Wisconsin. 25 ran the 50 courses. 17/50 qualified, 9 in Standard and 8 in JWW.
Jana Dozet and Star took High in Standard from the Excellent A class and a placement from Excellent B JWW and Jack Buhite and Caper took High in JWW from the Excellent B Class. This was Caper's third High in Trial! I was so proud of Jana and Jack and their outstanding agility Beardies!
We were thrilled that Tien Tran and Chris Wynn agreed to photograph our trial for the second time. They do such a fabulous job and always tell me how much they enjoy Beardies. I can't wait to put their photos up on the BAD website. Chris surprised me. He had been carrying a poster-sized photo of Skye around the country and collecting tributes. I was very touched and grateful to all of you who signed.
Agility In Motion videoed the entire trial. I am eager to watch the Excellent B Jumpers runs in which all six 20" Beardies qualified, one after another. We were holding our breaths, afraid that if we breathed a bar might come down! As soon as the tapes become available I'll let you know!
Works of Art by Jennifer made our lovely first place trophies and Jan Stevens embroidered our High in Trial Outward Hound gear bags. Kera Holm especially loved hers with her name on it! The entry gifts were plush tug toys, several with ropes as legs, since we are seeing lots of Beardie pups these days.
I saw VERY fine handling throughout the trial and we will never ever forget the Excellent B JWW class!
Libby

---
Highs in Trial 2004
---
High in Trial Standard: Jana Dozet and Star
Spindrift Catch A Risa Star, OA, AXJ, PT

Excellent A - Score of 100 - 1st/25 - 4.09 yards/second - 8.364 mph
Bitch-DL780009/05-2/17/99
Breeders/Owners: Jana Dozet and Pam Harris
Ch Nonesuch New Sensation, NA, NAJ x Spindrift Best of Both Worlds, OA, OAJ, PT
---
High in Trial JWW: Jack Buhite and Caper
Ch Skyedance Lord A-Leaping, AX, AXJ, PT

Excellent B - Score of 100 - 1st/25 - 5.654 yards/second - 11.563 mph
Dog-DL560264/03-12/25/94
Breeders/Owners: Jack L. Buhite and Libby Myers-Buhite
Ch Melita Skyedance, MX, MXJ, NJP, PT x Melita Winter Caprice
---
---
Silvina and Fernando videotape most of our Northern CA trials, and many others besides, with analyses of our runs. Silvina also trains her spaniel, dobie (MACH Aira), and border collie at Power Paws in the same classes with Jack and Caper and was THE Argentina World Team for 2002. We were privileged to have her and Fernando videotape the 2004 Northern California Agility Regionals.
What is it ?
It is a service we offer at trials that provides video of your agility runs.
What are the options ?
The video of your runs.
Accurate data of partial times (segments) obtained viadigital video processing.
Handling analysis and comparison using Side by Side video.
Other services applying advance video technology (Jumping Analysis, Stride Analysis)
Why is this useful for you ?
To improve your performance learning from yourself and how you dog reacts at your moves, watching your own run is an invaluable training tool.
To be able to see important details in slow motion that you miss while running your dogs. Even the best trained eyes can miss them.
To quantify your strengths and weaknesses.
To be more effective in training and then in competition.
To be able to decide what to improve on, what to try, what to take advantage of, or where you can push for time.
Side by Side: this video allows you to compare handlers path and movements and dogs path, to analyze how different handling influences the dog success, speed and accuracy.
Anyway, it is not necessary to compare yourself to another team on a course. Whether your are competitive or just having fun with your dog, it is nice to know whether or not your training is effective. By keeping individual statistic of your own runs, you can see where you are improving.
To clearly see and understand how your dog jumps and moves.
And of course, to have a nice memory of your dog and yourself doing what you enjoy the most.
Analyses of your runs and comparison with others in your class - $35 in advance.
Video of the entire trial - $25. Order directly from www.AgilityinMotion.com
Write to Silvina or Fernando at: info@agilityinmotion.com
---
Also, thanks to Silvina and Fernando Bruera and Agility in Motion, who have made available the first volume of their periodical agility video magazine, featuring tips from Famous Bayteamers Nancy Gyes (on teaching the bounce jump), Jim Basic (the out), Rob Michalski (obstacle discrimination), Rachel Sanders (play drive), and Moe Strenfel (clicker training). I would highly recommend this video. All 5 trainers are well recognized in National Agility events.
Nancy Gyes of Power Paws (multiple AKC/USDAA and World Team winner-Judge for first NCBCF Agility Trial) :
Jump Training-"the bounce"
Jim Basic of Power Paws (only Platinum level-USDAA award and Nationals winner) :
Distance handling-"My segment covers just one of the ways I taach the 'out' command"
Robert Michalski of SMART (agility trainer-national placements) :
Tunnel-Contact discrimination
Maureen Strenfel (Behaviourist) : Clicker training
Rachel Sanders (Obedience for Agility-Agility Nationals winner) : Training play
This video is $14.99 and includes tax and shipping.
Go to www.AgilityinMotion.com for more info.
Write to Silvina or Fernando at: info@agilityinmotion.com
---