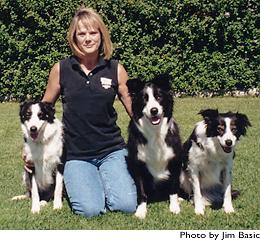 Nancy Gyes, our Judge
Our First Regional Specialty Agility Trial on Friday, March 9, 2001, was everything we could have possibly hoped for. After rain on nearly every weekend this year, we woke up to a clear and cool morning with the full moon still in the sky, promising an absolutely perfect day for agility! When Jack and I arrived at Power Paws at 6:00 am, Gary Fletcher, Scott Mandell, Sharon Prassa, Pam Harris and Jana Dozet were already on hand to help with everything! Nancy Gyes and Jim Basic had the Excellent B Standard Course almost ready for us! Jim had even repainted all of his contact equipment to assure that the contact zones met AKC standards exactly. Laura Dayton, Rosanne Hunt and Cynde Pesce were setting up for hospitality. Soon after, Patti Bott, Amy Steltz, and Christiana Taylor were ready to begin sign-in and measurement. By 7:00 breakfast, sign-in and measurement were well underway. At 7:30 Cathy Hardman had the table set up for the Trial to begin. Nancy Gyes asked for the Scribe and Timer. When I pointed to Tammy Wiebe and Gary Fletcher, she gave a smile and a "never mind" look! At 8:00 the first dog was on the line and the Trial began, right on schedule. Twenty five Beardies were here and eager to run! I had told Nancy that I expected we would finish around noon, which she thought highly unlikely. Due to our fabulous help, we were done by 11:00 am! We were very lucky to have two expert videographers on hand, too, Doug Halsey and Mazie Blanks. John Wilkins took photos and also made us lively Beardie signs to point the way to the Trial.
Our Beardies came from six different states with our farthest travellers from Wisconsin and Colorado:
California:

Colorado:

Nevada:

Oregon:

Washington:

Wisconsin:
I will let those who ran describe the courses. To me they looked both challenging and flowing. Spirits were high and our Beardies gave their all. First on the line was Sharon Prassa and Annie and they had a fabulous run with Annie taking first in Excellent B. Barbara Stone and Colton had a delightful run in Excellent B for a second place. Tammy Wiebe made her Beardie debut with Sparkee in Novice B and did a perfect, fast run for High in Standard. Most of you will remember Tammy from our '97 Specialty when she judged our Agility Trial! Next Amy Steltz qualifed with Bobby in Novice B, his fifth leg on his fifth day out, and Charlie Banfield with Lorna earned their first ever leg in Novice A.
In Jumps with Weaves, Caper was first on line and was a marvel to watch as he soared around the Excellent B Course at 5.12 yds/sec or 10.47 mph, finishing nearly 12 seconds under SCT! I prayed at every jump that the bars would stay up! I am amazed and proud at how well Jack handled our Border Collie Wannabe! Next to qualify in B was Jack and Skyedance, who were nearly six seconds under SCT. Sarah Halsey and Wizard tore up the Excellent A course at 4.69 yds/sec or 9.6 mph, finishing 9 seconds under SCT and earning Wizzie's AXJ. All Excellent Beardies had a score of 100. Two Novice Beardues qualified in Jumps with Weaves as well. Cindy Nellipowitz took a first place with Solo in Novice B and Cheryl Poliak took a first with Indy in Novice A.
Both Charlie Banfield and Cheryl Poliak joined BAD at the Trial and I am assuming that this brought them good luck, since both both Lorna and Indy qualified with first places in Novice A!
Many, many congratulations! All of the first place winners won their blue ribbons and hand painted Beardie Agility Medallions based on Annie Flying over the Broad Jump, Skyedance Weaving, or Arbi (Ann Chandoha's Beardie girl) Jumping through a Tire. Our two Highs in Trial won a gigantic blue-plaid rosette and Reflect-a-mesh screens to protect them and their Beardies from heat at Agility Trials. The mesh allows the air through while keeping the bright sun out. We also presented Nancy Gyes, our Judge, with a 6 by 12 foot reflect-a-mesh screen. She was delighted with all of us and Jim Basic, her significant other, kept teasing us as to how long it would take me to get everything up on our BAD Website. Jack then thanked all those who came to help and presented Sharon Prassa our Show Chair and me as Show Secretary with birthday ribbons for Annie and Skye on their 10th Birthdays and congratulated Nancy Gyes on Scud's 10th Birthday. Scud is Nancy's first Agility Dog and a National Winner in both AKC and USDAA and was 6th in the world in International Competition.
Just before the Trial ended, a bakery truck wended its way up the road to the Trial Hilltop with a 50th Birthday cake for Jack! On it was a huge portrait in frosting of Skye Jumping the Golden Gate, which was also the picture on our Agility and Show Catalogs.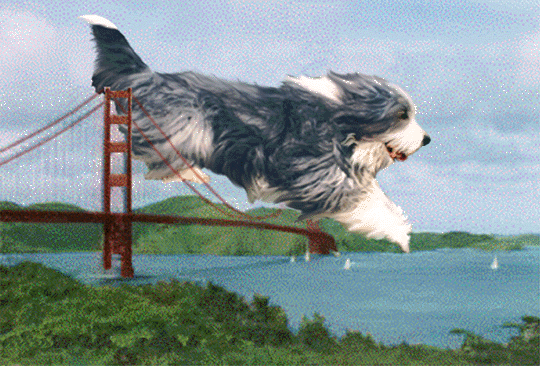 When our Agility Trial ended, I thought that there was absolutely nothing that could have been improved upon. Now I realize that there is one thing I could have wished for, bi-location! I was so busy coordinating the Trial that I actually saw very few runs and I had really looked forward to all of the Novice debuts! Now I am eagerly awaiting Doug Halsey's tapes to watch all of you attentively and to analyze the courses. A special thanks to those of you who came from long distances to participate in our first ever Regional Beardie Trial, especially those who came only to work! All of you were fabulous from the moment you arrived, helping out, looking for what you could do, making all go smoothly, joyously, swiftly! I talked with many of you in passing and wish there had been more time to visit with all of you, especially those of you who did not come to Pleasanton for the weekend.
Well done, all!!
Libby
---
The High in Trial-Standard Award went to Tammy Wiebe and Sparkee: Score of 100 at 3.458 Yds/Second
Novice B Leg 1 100 43.99'/72'
Sparkee - Handler: Tammy Wiebe
Alashaw Place Your Bets
Bearded Collie. Dog. DL778805/06. 2/21/99
Breeders: Beth and Jim White and Kathy Pavlich
Ch Highlander Wildest Dreams, PT x Ch Firstprizebears Las Vegas, OA, AXJ, PT, CGC
Owners: Tammy F. Wiebe and Beth J. White

Photo by Ann Clayton
---
The High in Trial-Jumps with Weaves Award went to Jack Buhite and Caper: Score of 100 at 5.12 Yds/Second
Excellent B Leg 2 100 32.03'/44'
Caper - Handler: Jack Buhite
Ch Skyedance Lord a-Leaping, OA, AXJ, PT, CGC
Bearded Collie. Dog. DL560264/03. 12/25/94
Breeders: Jack Buhite & Elizabeth Myers-Buhite
Ch Melita Skyedance, AX, MXJ, PT, CGC x Melita Winter Caprice CGC
Owners: Jack Buhite & Elizabeth Myers-Buhite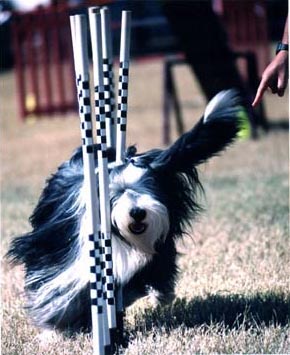 Photo by Tien Tran
---



Standard Agility
---
Excellent B Standard 20"- 185 yds/ 68' - 8 ran - 2 qualified
First Place
Score  Time
100    62.76'/68'
Annie - Handler: Sharon Prassa
Moonsong Klassical Legacy, MX, AXJ, HS, CDX
Bearded Collie. Bitch. DL364627/05. 2/28/91
Breeder: Debra Barber
Ch Edmar This Bud's for You x Oak Meadows Hunny Bear
Owners: Sharon and Joseph Prassa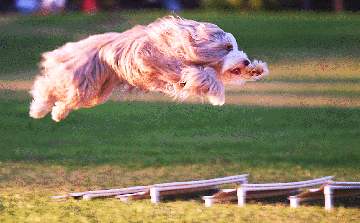 Photo by Dick Gilmore
<< It started on a good note when the parking attendant at Del Valle asked us if we'd like full hookups since we arrived so early Thursday afternoon!! Then, Pam Harris and Jana Dozet got to park right behind us. Since I'm new to conformation and these kinds of shows, little things like that are very comforting!!
At our regional specialty agility trial on Friday, Annie won the Excellent B Class! What a girl. The weather cooperated, again, and we really made nice time around the standard course. We made nice time around the jumpers course but I messed her up on that one so we only came away with one leg but what a win...a beautiful first place!!
The conformation part of the specialty went off nicely on Saturday. We had such tremendous help from many of our club members, which made a huge difference. We could not have put on such a nice specialty without their help. And, attendance was really great...people drove from So. Calif., Washington, and Wisconsin(!!) and flew from even more parts to participate.
But the crowing day for me and conformation was today. Zootie won a 5-point major! Those are his first points. I was very excited to say the least, especially since his breeder got to see the whole thing!! My friend, Susan, did a spectacular job handling him and all I could do was stand on the sidelines and admire the punk. Those who know me know how much I know about conformation but, in my eyes, the Zootman is very special.
Now we're home and he's out in the back yard, knee deep in mud, barking at the chihuahuas who live behind us. Life is back to normal...but what a weekend!!
I'm glad everybody had such a good time and I think everything went off just swell!!>>
Sharon Prassa, Amos, Annie & Zoot
---
Second Place
Score  Time
100    67.27'/68'
Colton - Handler: Barbara Stone
Ch Ragtyme Doubly Smashing, AX, AXJ, PT
Bearded Collie. Dog. DL519833/01. 3/4/94
Breeders: Lynn Zagarella and Nona Albarano
Ch Potterdale Double Image x Ch Windfiddler Simply Smashing
Owners: Barbara Stone and Lynn Zagarella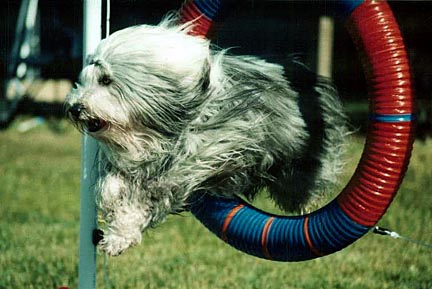 Photo by Tien Tran
<< Whew! What a week of traveling, trialing and showing. It's good to be home, but not with the bronchitis I brought back. I guess I should expect some bad with the good :-)

Last weekend, we packed up Colton and Lady and headed south to the NCBCF specialty. The official results have all been reported, but I thought I'd send along our account of Colton's weekend. He was entered in agility and conformation.
Great agility trial! The biggest problem with beardie specialties and agility is how distracted the beardies get meeting and greeting each other. Colton refused to warm up (he preferred to visit, social
butterfly that he is!) and so I wasn't sure if we'd even get a run out of him. His standard run wasn't pretty, but it was effective...Colton got his first MX leg with a clean run in that came in right at SCT. Heck...a leg is a leg! I had to work REALLY hard to keep him going. For some reason he thinks Dick Nellipowitz is just fascinating...Dick was setting bars in a particular corner of the ring and Colton kept sucking that direction. In JWW he started off to visit in that same corner (different bar setter now!). I got him back...just in time to blow the third jump of the serpentine. I ran straight by it. No way he would have known to go over it, so he didn't. Except for that mom-brain-fade, the JWW run went beautifully. Oh well...keep repeating to self "my dog loves me, my dog loves me, my dog loves me..."
Saturday we showed in Veterans. Colton looked great - even his whites were beautiful! But right as Ian came to go over him, he shifted his back feet and hunched up. I probably should have asked if I could reset him, but I'm never quite sure what I can and can't do in conformation! The good news...he didn't do his usual automatic sit at the end of the go around. I've been trying to explain to him that this isn't obedience and it seems to be working.
The best part of the two days was hanging out with all the wonderful beardie people! Unfortunately there wasn't enough time to talk with everyone. I guess we'll have to go back...>>

Barbara Stone, Colton (THE flyingdustmop) and Lady (the sleeping dustmop)
---
Excellent A Standard 20" - 185 yds/ 68' - 6 ran - 0 qualified
---
Open Standard 20" - 170 yds/ 73' - 1 ran - 0 qualified
---
Novice B Standard 20" - 134 yds/ 72' - 5 ran - 2 qualified
First Place and High in Trial for Standard Agility
Score  Time
100    43.99'/72'
Sparkee - Handler: Tammy Wiebe
Alashaw Place Your Bets
Bearded Collie. Dog. DL778805/06. 2/21/99
Breeders: Beth and Jim White and Kathy Pavlich
Ch Highlander Wildest Dreams, PT x Ch Firstprizebears Las Vegas, OA, AXJ, PT, CGC
Owners: Tammy F. Wiebe and Beth J. White
<< Libby, I'll be there with stop watches, whistles, clip boards and two willing (tired) bodies.
Sparkee is still not focusing on his weave poles but we are going to give it our best shot. I think it's pretty cool that his first show is a Beardie only one. At least everyone will understand if he gets crazy and acts as if he's never seen Agility equipment before. I'm sort of expecting that since he goes NUTS whenever he see's another Beardie. Maybe he'll be SO overwhelmed at all of them that he will pay attention. Who knows.
Take care and we'll see you Friday, >>
Tammy Wiebe
---



Second Place
Score  Time
100    46.39'/72'
Bobby - Handler: Amy Steltz
Ch Britannia Bobby Dazzler, NA, NAJ
Bearded Collie. Dog. DL734511/03. 11/1/97
Breeders: Amy Steltz, William Carter, Michele Ritter
Ch Shilstone Charlie Charcoal x Ch Britannia Bubblicious, PT
Owners: Amy Steltz, William Carter, Michele Ritter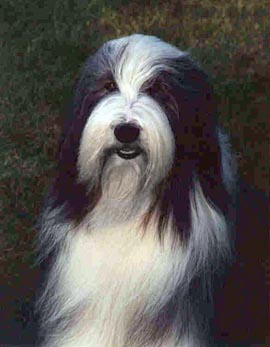 << Hi Libby and Jack, I just wanted to congratulate you both on a job well done this weekend. I thought the trial was a huge success, and I know how hard you both worked to make it so! Congratulations also on your super runs with Skye and Caper. I hope you both get some well deserved rest now!>>
Amy Steltz
---
Novice A Standard 20" - 134 yds/ 72' - 5 ran - 1 qualified
First Place
Score  Time
100    50.51'/72'
Lorna - Handler: Charles Banfield
Donalea's Wild Thyme, CD
Bearded Collie. Bitch. DL657213/01. 10/16/96
Breeders: Means, Zagarella, and Tilson
Ch Windfiddler's Still Cruisin' x Ch Highlander Double Enchanted
Owners: Charles and Doris Banfield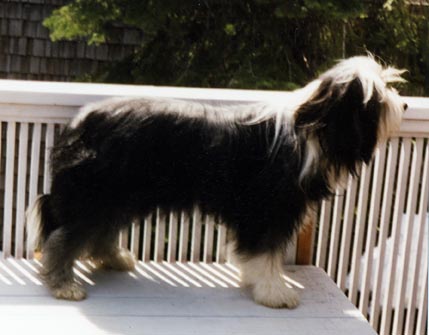 <<We thank you and 'Birthday Boy' for all you did on behalf of the Beardie Fancy. 'Your' trial on Friday set the standard and it was maintained through the weekend. Thanks again for all your hard work...the past weekend and ALL the time."
Charlie and Doris Banfield
---



Jumps with Weaves
---

Excellent B Jumps with Weaves 20" - 164 yds/ 44' - 9 ran - 2 qualified
First Place
Score  Time
100    32.03'/44'
Caper - Handler: Jack Buhite
Ch Skyedance Lord a-Leaping, OA, AXJ, PT, CGC
Bearded Collie. Dog. DL560264/03. 12/25/94
Breeders: Jack Buhite & Elizabeth Myers-Buhite
Ch Melita Skyedance, AX, MXJ, PT, CGC x Melita Winter Caprice CGC
Owners: Jack Buhite & Elizabeth Myers-Buhite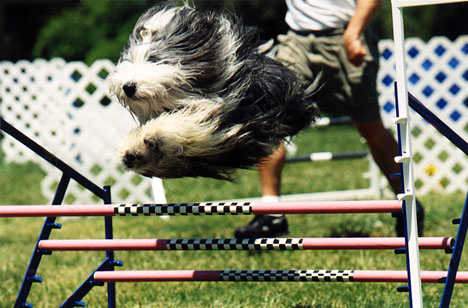 Photo by Bill Newcomb
Second Place
Score  Time
100    38.15'/44'
Skyedance - Handler: Jack Buhite
Ch Melita Skyedance, AX, MXJ, PT, CGC
Bearded Collie. Dog. DL371337/01. 4/19/91
Breeder: Jean Richland and Andrea Spatz.
Ch Melita Apache Tears x Melita Million Dollar Baby
Owners: Elizabeth Myers-Buhite & Jack Buhite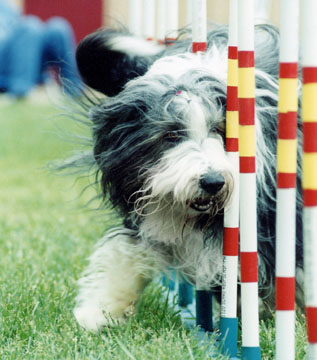 Photo by Tien Tran
<< Congratulations Everyone for a spectacular weekend!
Kudos to Libby and Sharon for organizing and running a very smooth Agility Trial. Everyone went home happy, with or without ribbons.
And special thanks to Charlotte and Mary for a spectacular Regional.The Supported Entry on Sunday was icing on the cake.
And Laura deserves a special thank you for organizing hospitality both days, including providing tables and chairs. In addition, she organized the silent auction.
Congratulations again,>>
Jack Buhite
---
Excellent A Jumps with Weaves 20" - 164 yds/ 44' - 3 ran - 1 qualified
First Place
Score  Time
100    34.93'/44'
Wizard - Handler: Sarah Halsey
Anasazi Secret of the Wizard, AX, OAJ, CGC
Bearded Collie. Dog. DL746874/01. 4/9/98
Breeders: Kathleen Flanagan and Paul Lower
Ch Simi Gone West Desert Magic x Ch Anasazi Luci Many Beads
Owners: Sarah and Doug Halsey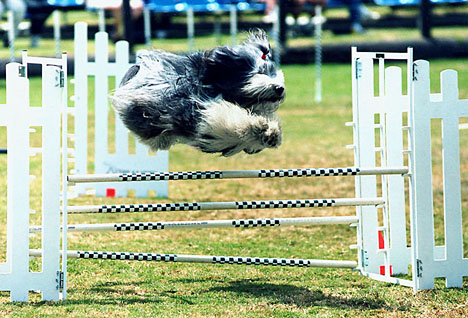 Photo by Tien Tran
---
Open Jumps with Weaves 20" - 139 yds/ 40' - 2 ran - 0 qualified
---
Novice B Jumps with Weaves 20" - 109 yds/ 37' - 5 ran - 1 qualified
First Place
Score  Time
90     33.43'/37'
Solo - Handler: Cindy Nellipowitz
Ch Chantilly's Woofgang Amadeus
Bearded Collie. Dog. DL626451/06. 4/1/96
Breeders: Kathleen and Gerald M. Pavlich
Ch Firstprizebears Haagen Dazs x Ch Chantilly's Soprano
Owners: Cindy Nellipowitz and Kathleen Pavlich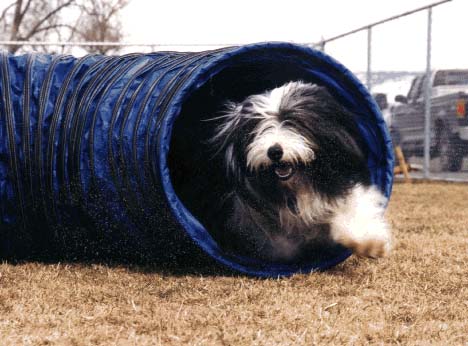 << First of all, I just want to say what a great time we had at Nancy & Jim's Power Paws for the NCBCF agility trial on Mar 9. Solo took a 1st place in JWW Novice B, 20"...well, they were all 20" dogs. Saw old friends, made new ones and the weather cooperated. Got to see Tammy Wiebe run Sparky, who took a high in trial for regular agility and it was Sparky's first run!
I wore my pin at the Elk Grove NADAC shows all weekend. People asked me about it. It was great.
Best of luck to you & Jack & the beards. Hope to see you at another agility event soon.>>
Cindy Nellipowitz
---
Novice A Jumps with Weaves 20" - 109 yds/ 37' - 3 ran - 1 qualified
First Place
Score  Time
85     47.59'/37'
Indy - Handler: Cheryl Poliak
Ch Nonesuch New Sensation
Bearded Collie. Dog. DL501225/01. 10/8/93
Breeders: Cheryl Poliak, Merv and Cathy Perry
Ch Windfiddler's Still Cruisin' x Ch Sheiling's D'Arque Sugar
Owners: Cheryl Poliak and Steve Klinger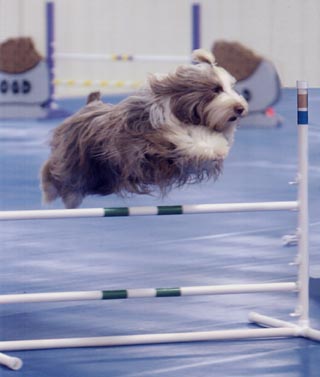 << Hi Libby I just wanted to tell you again -
Your agility trial was wonderful. i was so impressed with everything - you guys were so organized, everyone was so nice & the ribbons & prizes were wonderful. I was thrilled to be able to see your dogs work & to see some of the other dogs I have only heard about.
I still haven't been to any trial where someone was taking pictures. I want a picture of Indy in action!>>
Cheryl Poliak
---
---
More Thank Yous:
Trial Committee:

Sharon Prassa, Trial Chair, Libby Myers-Buhite, Trial Secretary
Jack Buhite, Pam Harris and Jana Dozet

Hospitality:

Laura Dayton, Rosanne Hunt and Cynde Pesce

Traffic Control:

John Wilkins and Scott Mandell

Set-Up:

Sharon Prassa and Pam Harris

Chief Course Builders:

Jim Basic, Jack Buhite, and Gary Fletcher

Assistant Course Builders:

Chris Domico, Jana Dozet, Scott Mandell, Kathy Pavlich, Sharon Prassa, Amy Steltz, Barbara Stone, Christiana Taylor, Tammy Wiebe and Sharon Williamson

Sign In:

Amy Steltz and Patti Bott

Score Table:

Libby Myers-Buhite and Catherine Hardman
Patti Bott, Sarah Halsey, Pam Harris, Sharon Prassa, Amy Steltz, and Barbara Stone

Awards:

Libby Myers-Buhite, Sharon Prassa, and Charlotte Riegelhuth

Chief Ring Stewards:

Tammy Wiebe, Jana Dozet, and Christiana Taylor

Scribes:

Patti Bott, Gary Fletcher, Christiana Taylor

Timers:

Jana Dozet, Gary Fletcher, Tammy Wiebe, Sharon Williamson

Gate Stewards:

Carol Colavecchio, Jana Dozet, and Gary Fletcher

Runners:

Bobbie Bokelund, Pat Coreris, Chris Domico, Martha Faulk, Scott Mandell, Pam McGarvey, and Cindy Nellipowitz

Pole Setters:

Pat Colombo, Judy Fochs, Veronika Fukson, Sarah Halsey, Pam McGarvey, and Dick Nellipowitz

Videographer:

Doug Halsey

---

---
Comments on the Trial from Participants and Helpers:
<< First, let me tell you that the specialty you spent so much time planning was one of the most fun beardie events I have ever attended.....and I have been to a bunch of them. Everything about it was just perfect!!!! Thanks to you, Sharon, and all the others who spent so much time and energy making that event happen!!!!>>
Mazie Blanks
<< Libby, You and Jack did a wonderful job on the agility trial. The weather smiled on us and it was such a pleasure to meet so many Beardie people that really enjoy their dogs. My little brown Beardie puppy, Spice, finally realized that she was not alone and there were other dogs that she looks like. She was convinced living with 3 standard schnauzers that she was the ugly duckling. Now she knows that she is a swan and will grow to be beautiful too.
Congratulation again on a job well done. I know everyone will remember this event with fond memories for years to come. >>
Patti Bott and Spice
<< It was great at both the shows!!!! All the Beardie people are ALMOST as great as their dogs! I'm glad to be able to participate!>>
Laura Dayton
<< Hello Libby and all the BAD folks, We left the trial in a big hurry in order to pick up our daughter and granddaughter at the San Jose airport. Sorry to leave without saying "goodbye" to all the nice folks we met. My husband and I--and Molly, too- had a wonderful time and enjoyed chatting with and meeting so many people and their dogs.
When I think back on the event (and watch my tape) I see a crowd of Beardies all bouncing and barking. I don't think I've ever seen a happier or more enthusiastic group of agility dogs. Congrats to all of the folks with Qualifying scores, too. We saw many fine and perfect rounds. Even the not-quite-perfect rounds were fast and enthusiastic ( I believe we fit into this category).
We hope to compete in another Beardie-only event in the future after the gracious reception we received.
Thanks to all.>>
Martie Faulk and Molly
<< Everything went "smashing"! 27 dogs, all 20". About 50 runs. Were your ears burning? We were talking about you....all good of course!
Caper (Jack B.) cleaned up in Jumpers. Tammy Wiebe has a pup bred by a Kathy (really nice!) in Eureka, who is going to be fabulous in agility! "Kicked butt" in Novice Std. A clean run and something like a 44 sec on a 63 sec course.
Man, did we have the experienced help! Nancy Gyes was judge, Jim Basic course builder, I scribed and Tammy timed most of the time. Just a tad bit of experience!
As you know, I kind of "hung around" you "beardie" guys on Sat. and Sunday as well. I only have one more thing to say:
"Beardie" owners are a CLASS ACT!>>
Gary Fletcher, Papa of: MACH TopnOTCH Titus Tri-Z It All(Titus) EAC EJC OGC AAD JM RM CD(Sheltie)
<< Hi Libby: Just wanted to extend my thanks and congratulations for a GREAT job that all of you did. I know that you and Jack put in a lot of time, effort and no doubt money, to make the agility match and the show a huge success. It was fun, well organized AND a beautiful weekend.
Many kudos and even more thanks!!!>>
Judy Fochs


<< I so enjoyed the trial even though we did our usual crash and burn. The AKC trial I hurried home for was the same story:(
You did a wonderful, first class job on this trial. It ran like clockwork. I've never been a show secretary but I've chaired our club trials, and I know the choreography that goes into making them run smoothly.
I really need to pick Jack's brains about how he handles your boys to get those directions out at the right time/place. I'm beginning to think that when adrenaline hits the Beardie brain, something different happens to them than other breeds. We're planning to hit a show 'n go next weekend, so I'm hoping to get some of that stuff flowing in both of us and deal with it.
Again, congratulations on a great trial! We'll see you at Power Paws.>>
Sharon Williamson
---

---
Congratulations on the Trial from around the country:
<< Hi Libby- It sounds like the regional specialty and agility trial was a big hit. I'm sure you're relieved to have it all over. Congratulations to Jack on his great runs with Skye and Caper. They continue to be terrific jumpers.
As always thanks for all your hard work with BAD.>>
Karen Barratt, TX
<< Hi there, It's fun to hear all the news and see pictures on the various websites. Congratulations to you and Jack and all your beardie buddies.>>
Diane Behling, CA
<< By the sounds of the last few BeardieAgilityGroup posts, all of you partakers in the recent regional beardie specialty deserve a round of applause.....here in the thawing-out northern mid-west, the "outdoor" agility season starts in 5 1/2 weeks :( ....then, in early May, our local club, GRAC, is hosting it's annual AKC trial......and for the 3rd consecutive year, I'm the "anointed" chair of this event...so, I know first hand the vast amount of prep and experienced 'all hands on deck' help required to pull off a huge success. Congrats to all!!>>
Charles Gibson, MI
<< Congratulations, what a fantastic weekend for you! >>
Rhonda Harding, CA
<< Libby! Sounds like the trial was a blast. I am so sorry I missed it. I am glad everyone did well and had so much fun!>>
Kim Horsley and the Great Beard, BECKET, CO
<< Hi Libby: Congradulations on the agility trial!! I have enjoyed reading about it from everyone and it sounds like everyone had a great time and all went well. I only wish I could have been there with Murray and Miller. I will have to check out the web site too. Glad it all went well and the weather was great too.>>
Cheri Omnus, MO
<< Congratulation, Libby. Your trial sounds like great fun!!! I just wish I could get some of that speed on our dogs! Keep up the good work.>>
Rosie Schroeder, OH
<< Hi Libby and Jack, Congratulations to Jack and Caper with their High In Trial award for Jumps with weaves!! HAPPY BELATED BIRTHDAY TO JACK!!!!!!! I'm sorry I had to miss the great weekend!>>
Beth White, CA
<< Congratulations on your weekend workout. You must've been busy to the max! It seems you put together a pretty seamless trial with everything falling right into place. You are probably basking in the glow of a job well done (and don't it feel good!).>>
David Williamson, TX
<< I second Charles' congratulations on a successful first Specialty weekend and "well done" to all of the qualifiers and participants. I too know the amount of work it takes to make sure things go smoothly. An "Atta person" to all involved!
But now Libby is tormenting us out east (not literally of course!) with all this stuff about spring flowers. This has been one of the worst winters we have ever had in the twenty years I have been living in NJ. The poor spring flowers got a couple of days of warmth and started to come up only to have two days of snow and ice dumped on them (fortunately though not the 2 feet that had been forecast-- poor Jerry & Lu got that in NE but we were spared). I blame my lack of exercise this winter (and being 50---watch out Jack!) for my back and knee problems. Personally I'm glad our first two weekends of agility are indoors! Agility in rain and maybe even snow are not my cup of tea!
Hoping to leave for Clean Run Camp on Sunday and looking forward to meeting and learning from Jo Sermon. Are any other BADsters going to be there?>>
Joanne Williamson, NJ
---