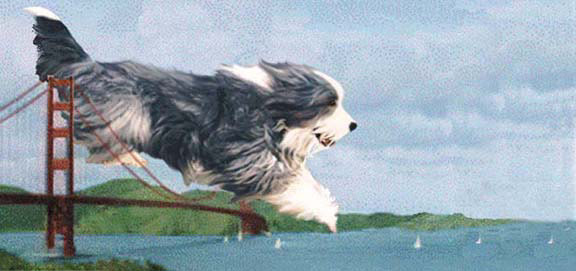 Twelfth Annual Regional Specialty Agility Trial
Saturday, April 21 and Sunday April 22, 2012
10925 Bruceville Road - Elk Grove, CA
---
AGILITY JUDGES: Tammy Domico and Kera Holm
| | |
| --- | --- |
| | |
| "I think this year's trial went very well, relaxed and efficient. Yes, the heat was surprising to us all but for the most part People and Pups held up and had a good time. The Club did a wonderful job filling in to work and helping with course building. Always nice to see the host Club handle their responsibilities with enthusiasm and smiles." | "I wanted to let you know how much I enjoyed the trial this weekend; if the weather had co-operated a bit, it would have been perfect! The Beardie Teams were great, the comradeship always fabulous, and the Beardies did not even seem to know it was hot; all they wanted to do was play! Thank you so much for taking care of us during this trial. We missed Libby's laughter, but as she knows, there were no worries as to how the trial was run! Thank you so much for everything." |
| Tammy Domico | Kera Holm |
---
TRIAL SECRETARY: Lorie Abbott
TRIAL CHAIR: Sharon Prassa
TRIAL COMMITTEE: Dave Anderson, Iris Berry, Dawn Kinney, Steve Lausmann, Nancy Layton, and Shannon Smart
SCORE TABLE: Lorie Abbott and Laura Finco
CHIEF RING STEWARD: Pat White and Julia O'Rourke
CHIEF COURSE BUILDERS: Greg Leal, Beverly Morgan Lewis, Dave Scheuner, and Steve Lausmann
HOSPITALITY: Dawn Kinnery
TROPHIES AND GIFTS: Sharon Prassa and Shannon Smart
---
By Dawn Kinney, NCBCF President and assistant Chief Ring Steward for the Trial
Normally cool and breezy, the April NCBCF all breed agility trial surprised competitors with a 90-degree heat wave, and they responded with frequent trips to the wading pool. With over 1,000 runs over the 2 days, Agility Chair, Sharon Prassa and the 14 other attending Beardie owners pitched in and worked hard to make the trial a success. Although Steve Lausmann's Izzy could not compete because of an injury, he came to set up and tear down. Dick and Cindy Nellipowitz with Nitro and Suzi and Matt Beddoe with Emma made the long drive from Oregon to support the trial and compete. Northern California was well represented from the Sierra Foothills: Dave and Sharon Anderson with MacKenzie, the Central Valley: Iris Berry with Blue, Carol Colavecchio with Pal, Sharon Prassa with Ry and Zoot, and Karen Ryder with Sadie, the San Francisco Bay Area: Sharon Baker with Dani, Dawn Kinney with Buffy and Wick, and Shannon Smart with Beckham, and the Salinas Valley: Nancy Layton with Scout.
Saturday included runs in Standard, JWW, T2B and Fast. To shorten the day, FAST was omitted on Sunday. Judges Kera Holm and Tammy Domico, also an NCBCF member, created fun flowing courses.
Congratulations to Dave Anderson and MacKenzie who earned her Novice FAST title and to our HIT Beardies.
Regional Specialty Highs In Trial
Congratulations to our five Highs in Trial!
Saturday
Standard: Dawn Kinney's Buffy
MACH Dunnachie's Buffy Slays Me RN HT OF CL2-R HIC CGC
JWW: Dawn Kinney's Buffy
MACH Dunnachie's Buffy Slays Me RN HT OF CL2-R HIC CGC
Time 2 Beat: Shannon Smart's Beckham
CH Spindrift Bend It Like Beckham OA AXJ OF CL1-H TDI CGC
FAST: Dave Anderson's MacKenzie
Highlander Let's Dance CD RE NA NAJ HIC CGC VA
Sunday
Standard: Suzi Beddoe and Emma
CH Headlines Upcoming News BN RN NA NAJ CGC VA
Many thanks to Sharon Prassa and Shannon Smart for the beautiful and well-received trophies, engraved "Agility Pioneer Beardie" vases on Saturday and balance disks on Sunday. Thanks, too, to our generous trophy sponsors!

---
---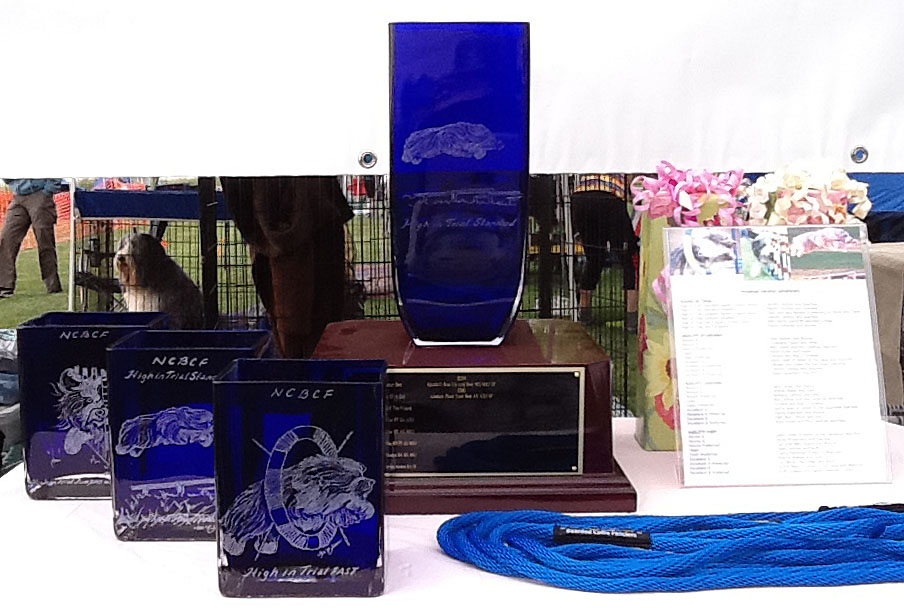 Regional Trophy Sponsorship
SATURDAY HIT Trophies
STANDARD: Shannon Smart and Loki*
Spindrift Risa Devil Made Me Do It RN PT MX MXJ NJP NF HIC CGC VX
JUMPERS WITH WEAVES: Pat Coreris and Roger*
C-ATCH Risa Spindrift Over And Out CD BN RAE2 PT MX MXJ NJP XF PD1 PS1 AAD ASA AJ AG AS AR HIC CGC TDI VX
FAST: Shannon Smart and Beckham*
CH Spindrift Bend It Like Beckham OA AXJ OF CL1-H TDI CGC
TIME 2 BEAT: Steve Lausmann and Izzy
CH C-ATCH Springhill's Isabelle OA AXJ OF EAC EAS O-EJC OCC TN-E WV-E TG-N NVA
*2011 HIT Beardies
Saturday HIT Ribbons
STANDARD: Cindy and Dick Nellipowitz in honor of Sundae
Chantilly's Hot Sundae AX AXJ NF NAC NJC NGC
JUMPERS WITH WEAVES: Cindy and Dick Nellipowitz in honor of Solo
CH Chantilly's Woofgang Amadeus CD RN HSAs NA NAJ NAP NJP NAC NJC CGC VX
FAST: Sara Carver and Piedra
Beau Chien's Rocky Mtn River RN AX OAJ OF CGC TDI
TIME 2 BEAT:Sara Carver and Piedra
Beau Chien's Rocky Mtn River RN AX OAJ OF CGC TDI
SUNDAY HIT Trophies
STANDARD: Iris Berry in memory of Spiff
Ch Chantilly Look Before You Leap HT JHD-s AX OAJ AD JB EAC OJC NGC JS-O GS-N FDCh TT CGC
JUMPERS WITH WEAVES: Libby and Jack Buhite in memory of Caper
CH Vers-NATCH C-ATCH2 Skyedance Lord A-Leap ing RAE PT AX MXJ AXP MJP2 OFP PD3 PS3 PJ3 AR AG AS S-EJC S-TN-E S-WV-E HP-N ChST ChJU ChJP ChCL ChSN ChWC ChFH HCT HIC CGC VX
TIME 2 BEAT: Sarah and Doug Halsey in memory of Wizard
MACH11/ADCH Anasazi Secret of the Wizard MXF TQX SACH EAC EJC EGC CGC
Sunday HIT Ribbons for Standard, JWW, and Time2Beat
Pam Harris and the Spindrift Girls, Mary and Jodie
CH Spindrift Something About Mary RN PT AX MXJ OF AD SSA AJ AG AS SR NAC NJC HIC VX
CH Spindrift Charmed I'm Sure CD RE PT AX AXJ OF OAP AJP NFP AD SSA SS SG SR PD2 PS2 EAC OJC NGC TN-N CL3-RHF CGC TDI ROMA VX

---
---
---
---
---
---
 

 

 

Galleries