Finnish Agility Dogs
- The BAD-FADs -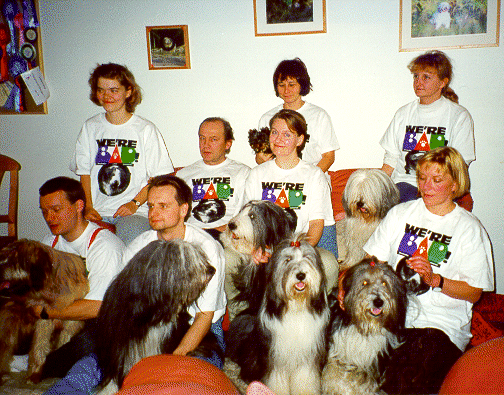 BAD-FADs with our new BAD T-shirts!
---
Greeting from cold Finland !
Well, it seems that the real story about BoneBeardies is once again delayed. We decided to send you these photos from last summer. These photos were taken in AgiRotu' 98 (AgiBreed) which is really a great happening !
AgiRotu is a team competition. Each team consists of 4 dogs (dogs have to be same breed) and their handlers. You can't get DNF in AgiRotu, but each error that would normally cause DNF, adds 10 second to your team's total time. And normal errors add 5 seconds to your team's total time. So basicly, if you have team with fast dogs that do few errors, you can still beat a team full of dogs that did clean runs ! And as you might have guessed, it isn't official competition, but great fun indeed.
In addition to that, every team is supposed to have some sort of funny costumes that should somehow represent the breed the team represents. Well, that is not always the case, for example, this year, our PON-team dressed up like draculas ! BoneBeardie team dressed up like sheeps, naturally.
AgiRotu event seems to get bigger and bigger every year. This year there were 64 standard dog teams and 52 mini dog teams !! Plus beginner classes, 18 standard and 13 mini teams !
Even though BoneBeardies sent 2 teams to AgiRotu, we didn't have any success at all. Our final positions were 44 and 46, which really isn't something to be proud of, but beardies showed how fun it can be :)
---
Meaning of FAD:
Well, FAD could mean 'Finnish Agility Dogs' or 'Finnish Agility Diehards', both are okay, actually we have to decide which one it is...:)
And bone, well, it's a bone, in finnish it is 'Luu'. In the name BoneBeardies (LuuParrat in finnish), it really doesn't mean that much. Some say that it's there because beardies can be such a boneheads from time to time but we recent that ;)
If you don't have anything like AgiRotu, then organize something like that, it is so much fun. And even though it's just for fun, the race itself means a lot to all of us and everybody wants to perform well (that is, everybody wants to win those bordercollie and Belgium sheppard teams, and yes PON team has won some of them, and next year our BAD-team will beat them, for sure).
By the way, this weekend we have a special BoneBeardies party, it's 3 years since we first started our little 'club' !! So it's big party time !!!
Petri
---
In Finland we have three classes and third is the highest class, which leads to a Championship. You move from class to class like this :
- from first class to second class :
- 3 legs, meaning only one error allowed (max 5 points, that is)
- from second to third class :
- 3 legs, clean runs, placing 1-3 (for example, you do a clean run, but there is three dogs faster than you, with clean runs too, you don't get a leg, because you are fourth)
Our jump heights vary a little, but in general, in first class the jump height is usually 55 cm (22 inches), and in the second and third classes the height is 65 cm (25/26 inches).
---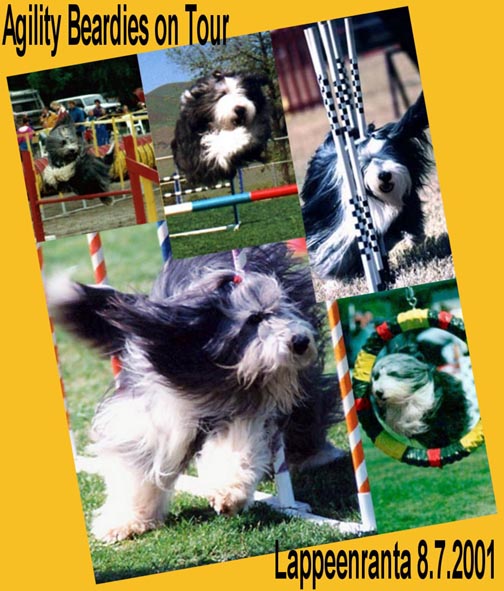 AgiBreed Shirt designed by Tarja Kähkönen
Pictures that are in the layout are (from top left to bottom right) :
---
In a message dated 6/4/01 5:30:37 AM, Petri.Kahkonen@iclinvia.com writes:
<< Hi !
Long time no messages...I've been so busy lately. Jakke and I have competed in a few competions, some very good runs some not so good ones...but we have been having fun, that is important :)
But, now, our annual AgiBreed (AgiRotu 2001) is getting closer and we are planning to print t-shirts for our beardie teams (and there are many teams this year 6 or 7). We've been playing with my photo editor, just for fun, and came up with a nice layout, but....It contains pictures from your webpage (BAD, that is) and since I don't know who has copyrights for those pics, I was hoping for you to help me out :) So, can you give us the permission to use those pics, or could you ask the owners if we can use them, or should I contact them personally ?
Those are such good pics, full of action. It was very difficult to find good pics from weave poles, I mean, pics with action and good colours, Caper's pic is a good one and Wizard's pic is just marvellous.
About the layout, it is actually done by my wife, Tarja, I just threw some of my wacky ideas to her...:)
In a message dated 7/31/01 8:58:09 PM, Petri.Kahkonen@iclinvia.com writes:
<< Hi !
Okay now :) Now have our t-shirts, we all proudly wore them on our AgiBreed competition (no success this year....but we will bounce back next year :) ) and now have some extra shirts that we would love to deliver to you because we got to use pics of your beardies.
Petri Kähkönen
BAD-FAD :)
---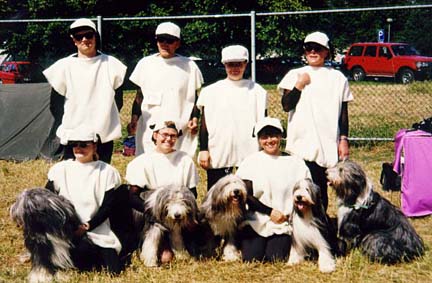 BoneBeardies at AgiRotu '98
part of our team (i don't where the rest of us were...;) )
backrow (from left to right) : Petri (yes, that's me with that stupid grin), Upa, Eija, Päivi
front (from left to right) : Tarja, Maiccu, Tina
beardies ( -- " --) : Jakke, Henkka, Basso, Mitzy, Sulo
---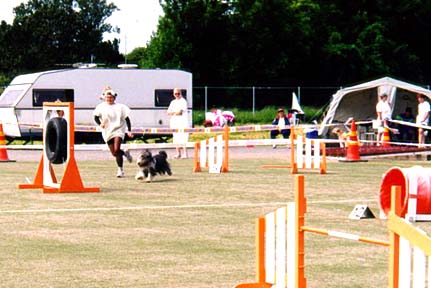 Maiccu and Hertta

Tina and Mitzy
---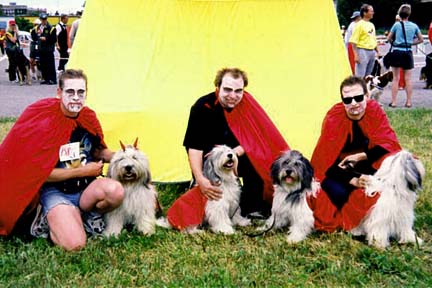 Our PON-team !
But our PON-team did a lot better, final position was 12,
which was a big surprise to many other teams, but of course not to us ::)))
---
Better photos are coming, but don't know when ;)
You can do what you want with the photos, no limitation from our part, but please, don't die laughing at us :)
And believe me, it looked much more ridiculous live !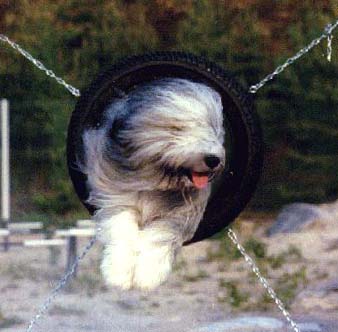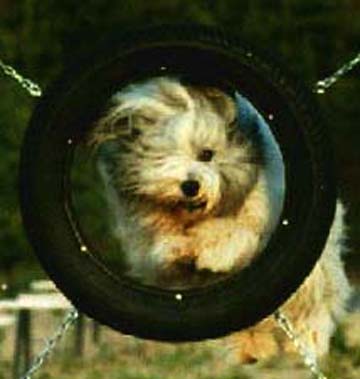 Jakke, the Beardie, and Touho the PON
Petri Kähkönen
BAD-FAD (or bäääääd-FAD)-9/23/98

Touho and Jakke
Christmas 1998
---

AMANDA-Agility Champion Whisk Tail Black Amanda-Bitch-11.5 years
NUPPU-Agility Champion Dupton Double Trouble-Bitch-10.5 years
KUKKA-Pearl of Brussels-Bitch-4 years
Owner: Mikko Lehtinen of Espoo, Finland
---

BADFADs-Finnish Agility Dogs
---

BADBEARDs-Bearded Eastern Agile Running Dogs

BAD-Midwest Beardies

BAD-Southeast Beardies

BAD-Southwest and Mountain Beardies

BADWAGS-Western Agility Gatherings

BAD-Canadians
---
.

Off to a BAD Start
[BAD Handlers] | [BAD Dogs] | [BAD Events] | [BAD Links]
[BAD Greetings] | [BAD News] | BAD Beginnings]
[BAD Advice] | [BAD Attitudes] | [BAD Goods]