Pixnebackens Black Jack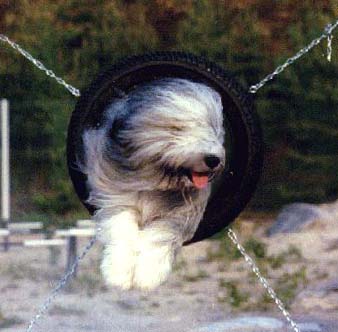 Jakke
---
---

3/7/99  Class 1-KUMA-3	Qualified-CR		28.00'/40'	TITLE I-class

5/8/99  Class 2-KUMA-1	Qualified-CR 1st	32.00'/48'
5/23/99 Class 2-KUMA-2	Qualified-CR 1st	37.00'/46'
6/13/99 Class 2-KUMA-3	Qualified-CR 1st	33.14'/38'	TITLE II-class

Participated in the Finnish Agility Championship competition on Imatra
     5-6 November 1999 finishing 75 out of 140.


---
9 March 1999
And about our weekend, well it couldn't have gone any better ! Jakke had a clean run and won !! It was our first ever clean run and first victory (we've had good runs but this was almost perfect). The course time was 40 sec, Jakke's time was 28, so no problem there either. And best part of this was that it was Jakke's third KUMA (maybe it is same as leg ?!?) and now we are allowed to compete in II-class, which is intermediate class (three classes in Finland, I-class for novice, II-class for intermediate and III-class for expert), so we are on our way up, hopefully :)
And another great thing was, that a lot of people who have seen Jakke and me struggle through so many races, were there to witness our finest hour (to date, that is:) ), so the cheering and yelling was unbelieveble when we finished the course. I, of course, didn't notice anything of that, I was sooooo shocked, it took me some time to get it, actually I think that the moment I finally understood how good our run was, when i saw it on video....
So, great weekend, indeed....i guess finally we were truly B.A.D, not our usual bad :)
Petri
(very happy) BAD-FAD>>
---
10 March 99
(It sounds like your third KUMA is a lot like a third leg, since now you have your first title and can move on to the Intermediate level. Would you like to share with us what your course was like! Sounds like Jakke is quite fast, too. Only 28' to run a 40' course. - Libby)
The course was very easy actually, even though only two pairs made clean runs (out of 25). The course was your basic M-shaped course, only 2 tricky parts, one in the first corner, where it was very easy to miss one jump. Another tricky part was entering the weaves, it was right after the first corner and there were many dogs that went straight into the second pole. Our entrance was good, partly because we accidently run the previous turn a bit too wide, but then again, after that long turn, Jakke was in perfect position to enter the weaves :)
And yes, Jakke is fast, usually that's our biggest problem, but not Saturday. The time was very good, even though we lost little time on some turns and a lot of time on the dog walk. You know that Jakke has very severe contact problem, that is, he usually jumps of the dog walk before the contact area. Well, we have been working on that for a long time and now it worked. I still don't think that it's okay permanently, but maybe getting better. Anyway, I almost stopped him before the dog walk, just to get his attention (if I let him blast at full speed to the dog walk, he justwon't listen to me, at all ...), then send him to the dog walk and then stopped him at end of dog walk and all in all, I would say that we lost 2-4 seconds on that. But it was worth it, this time.
Petri
BAD-FAD
---
9 May 99
Hi !
Yes, we did it ! Jakke and I were competing on two races last Saturday and first one went just great, clean run and first place ::)) The course was relatively easy and Jakke run like a dream, only one close save, but hey, those doesn't count :) Course time was 48 seconds, our time was 32, so no problem there either.
Our second run wasn't so great, but I think that was due to a fact that I was so happy about the previous run, so I was a bit too relaxed on the course.
Jakke has now been on six second class races and our results have in general been okay, from 5 to DNF's, so let's see what happens in the future. Two more clean runs and then we would move to the third class...:)
And yes, I was wearing my BAD t-shirt...it must have helped us...again :)
Petri Kähkönen
BAD-FAD
---
<<Petri, Thanks so much for the update on Jakke (Pixnebackens Black Jack). It is really interesting for all of us to hear about Agility in Finland... I think that you told us all a while back about the different levels of competition.>>-Libby
13 May 99
Hi !
Yes, we have three classes and third is the highest class, which leads to a Championship.
Our jump height vary a little, but in general, in first class the jump height is usually 55 cm (22 inches), and in the second and third classes the height is 65 cm (25/26 inches). So it shouldn't be a problem for a beardie but...I don't know what I have done wrong, but I think that at the moment jumps are our weakest part. Sometimes everything goes just fine and then on the other day we may drop as much as 6 jumps. I don't know if it is the speed or what, well, we just have to work on that.
And yes, Jakke does have a title, well sort of, but there are no special way to express, just that he has the right to compete in the second class :)
In Finland you move from class to class like this :
- from first class to second class :
- 3 legs, meaning only one error allowed (max 5 points, that is)
- from second to third class :
- 3 legs, clean runs, placing 1-3 (for example, you do a clean run, but there is three dogs faster than you, with clean runs too, you don't get a leg, because you are fourth)
<<So delighted to think of you and the BAD FADs wearing the BAD T-shirt! I hear that it brings good luck to the Beardie Team!>>
Indeed, it must bring us good luck, our results have been much better with that t-shirt. On the other hand, my results with Touho have gone really bad with BAD t-shirt, maybe I should run topless with Touho :)
Petri Kähkönen
BAD-FAD
---
In a message dated 6/14/99 Petri Kähkönen of Finland wrote:
<<Hi !
Well, another hard weekend behind us. I had 6 starts with Jakke in two days (and 2 with Touho) and our results were, well, let's just say that I'm very, very happy now !
On Saturday we had three runs, and those were pretty bad, except the last one. On first run, I let Jakke run the wrong course. On the start there was long straight with 3 jumps and then very sharp turn to left to another jump. But of course there was a trap,a tunnel just after the third jump....and as Jakke is pretty fast and I can be pretty slow sometimes I missed the turn and Jakke touched the tunnel, didn't go in, but touched it and that was it. No excuses there, my mistake, I was too late.
Then on the second run, I couldn't get on the right pace at all, either I was rushing or being late all the time, and finally on the end, as I was rushing too fast I let Jakke jump the tire, we were supposed to go the weaves...again, my mistake, and a bad one.
But then I decided that no way we are gonna get three DFN's on one day, and really concentraded for the last run. And it was okay, only one mistake there, Jakke missed the contact area entering the dogwalk. And that was my fault too, I was standing too close to the dogwalk as I tried to slow him down and then he decided to go around me and climbed from left side of the dogwalk, missing the contact area. But otherwise, it was a good run and it left us hungry for Sunday.
On Sunday everything started just great ! On our first run, we made a clean run and won so Jakke earned his third leg and moved to the third class !! Course time was 38 and Jakke's time 33.14 There was nothing to complain about that run, Jakke went like a dream, paid attention to me but went fast. And I didn't make any stupid mistakes either :) And what was great again, second place went to another beardie, Rebecca, with her handler Timo Kukkola, clean run also, time was 34.18, so it was pretty close.
Rest of the day was just cruising...our first run in third class went okay, until me and Jakke hit each other and Jakke run agains the tyre. It looked very bad, but luckily he wasn't hurt. Of course, it was another DNF, but it was okay, I was still flying high from the previous run.
Third run was Grande Finale, it's winner would get 5000,- FIM (about 900-1000 US$). We had a good run, but two mistakes, one refusal, my fault again, I didn't trust him to turn so I pulled him back, and that was it. Then I blew contact on dogwalk again, Jakke stopped beatifully, but I somehow made him jump too early...but otherwise nice run.
So this has been really good year for me and Jakke. From first class to third class in15 races, it's still hard for me to believe that we actually made it. If somebody would have said me last summer that by this time next year Jakke is in third class, I wouldn't have believed him/her, at all. But we did it !!!
And yes, I was wearing my BAD t-shirt, proudly through the weekend :)
Petri Kähkönen
BAD-FAD
---
In a message dated 11/16/99 Petri Kahkonen wrote:
<Hi !
Well, it's been reaaally long time since I last posted, but I've been sort of busy and then again, it's been pretty quiet on the agility side. Of course I've been competing with Jakke on many races, but since we got promoted to 3rd class, it's been all downhill...:(
Okay, not really, we've had some good runs, some bad runs, some excellent runs and then...some disasters... And we still haven't been able to do a clean run on the 3rd class which really bugs me. I mean Jakke is in very good condition and he does just as I tell him to do but...that's the problem, I seem to tell him all the wrong things on the course.
For example, in the 3rd class I've made really bad mistakes entering the weaves and Jakke is usually very good on that, but somehow I always do something that causes him to enter weaves the wrong way. I don't know why I now seem to do a lot more these stupid mistakes than when we were in the 2nd class. Maybe I'm trying too hard, I really don't know.
But on the bright side, we got 3 legs on the 3rd class since June and so we got the privilege to take part to Finnish Agility Championship competition on Imatra 5-6.11.1999 :) It was really great experience, even though we did'nt have any success (we placed 75 out of 140...), but hey, maybe next year.
On the standard course, I did 2 very stupid mistakes. As Jakke was jumping (ie he was just in the middle of the jump), I told him to turn, and he knocked the bar down. I know I shouldn't do that, but I guess I was bit nervous... And then on the jumpers course, I got us 1 refusal (it was ugly...I won't go into details...;) ) and again, two jumps...yeah, I just don't seem to learn, do I.
But still, even though our results have been what they are, I'm still quite optimistic. I mean, I know we have potential, Jakke is in good shape, so everything is really up to me...and maybe a little agility break will do the trick for me...who knows. I just have to get my good (BAD) attitude back...:)
So, that's all for now from snowy Finland...I'll be sending you more info on how our 'career' develops :)
Petri
BAD-FAD
---
22 February 20000
Hi !
I've been following this trophy discussion and I must say, as an international member of BAD, that I have absolutely no objection for BAD sponsoring any kind of trophys in US and/or Canada. After all, it is just like Libby said, we international members don't have to pay any dues to BAD, so we are just cruising along with the rest of you :)
Next chapter is straight for Libbys mail :
'All others are welcomed to join in the community of Beardies doing agility as an organization which offers
them a chance to share with each other and all of us around the world.'
And that is just what I want :) And that is just how it has been so far...:)
I mean, at least for me, it is just fascinating to read your stories about competitions, handling styles, success, failures etc. It's
always nice to notice that the handling problems and general agility discussions seem to be the same all over the world :)
So, if BAD wants to sponsor a trophy, then, please go ahead, I can be proud of it here in (cold) Finland and still wear my BAD t-shirt proudly in every competition I do with Jakke.
Oh, by the way, we had a good weekend, 2 clean runs :) One on standard course and one in jumpers...we are on our way up again... I hope. Three more clean runs and we are ready for qualification competition for Finnish team to Agility World Championships 2000, which are held (as I've mentioned sooo many times before) here in Helsinki, Finland. Any BAD people coming to WC 2000 ?
Date : 30 September - 1 October, 2000
Location : Helsinki, Old Icehall
They will open a website for World Championships but they aren't ready yet. I let you when they are opened.
Petri
BAD-FAD
(trophys or no trophys ...:) )
---
7/10/00
Hi !
Long time and no writing...so here it goes...
As i've mentioned many time before my goal was to make it to the Finnish Championships this year (which at the same time, are qualification competition for Finnish team to the Agility World championships). Well...we didn't make it ...but it was close.
We needed 5 clean runs from this year and we only managed to do 4 but it is okay. Now everything seems to be going okay, but during spring I just tried too hard and made so many stupid mistakes...so I guess that my nerves are just not good enough...:)
But now, after I loosened up my attitude just a little...we are just getting better and better...:) So next year....
And on the bright side...last weekend we had the traditional AgiRotu happening and beardies were excellent. On the maxi dogs competition, our beardie team came second, and there were 106 teams ! We lost it to the border collies (well...who else...:( ), but it was a tight race. And nobody, nobody, expected beardies to do so well.
So now we are taking a little agility break, and continue racing later this summer.
Hope to see lots of B.A.D people in Agility WC in Finland later this year. I noticed that U.S team consisted only from Border Collies...
so no beardies there...
Tired but happy
Petri Kähkönen, BAD-FAD
---
11/10/04
Hi Libby !
And oh my God...it has been 2 years since I last emailed you...!?! I was about to write last xmas but then...well...things just went sort of horribly wrong all of sudden. You remeber our PON, Touho ? Well, he died last December, without any warnings or signs of illness or anything, he just collapsed. It was such a hit to us all, I mean, he was his normal lively monster in the morning when we left for work and...and when we came back from work, he was dead.
In the autopsy (sp) it was found that it was his heart, it just stopped, not a heart attack or anyhing, just stopped. So, in a way, I guess it wasn't the worst way to go, for Touho I mean, but for us, to find him like we did...it was just awful, as you can imagine.
For our son, Teppo, it wasn't as hard as for us, since Touho kept his distance with Teppo all the time but of course Teppo was sad too, but I guess he was the first of us to recover.
And Jakke, well, he was just so totally lost for 2 weeks, but in the end, as always, life goes on and Jakke started to get back to almost normal, but I think that he somehow, I don't know, lost something, he hasn't been as eager and anxious as before. Of course, Jakke isn't young anymore, he will be ten in April so maybe it just his age.
We've been competing with Jakke, maybe a race once a month or so, it's actually pretty fun now, he knows what to do, doesn't fool around anymore, the speed isn't there anymore, naturally, but still we can make decent times :)
And then....after a while we started to think about the future...and now we have a new member in our family, beardie girl called Raisu (Lawnlake What A Monster)...and a monster she is, but that's the way we want her :) She is now, wait a minute 4 months (born 29.6.2004). She is really funny girl, she has an oversized ego and too sharp teeths :) Poor Jakke is having hard time with her, but I suppose he loves company anyway.
I really don't know if Raisu will be BAD, but I've made a promise to myself, I will teach her all the obstacles etc. and then we will see how everything goes...I suppose we will find ourselves spending every weekend at some race, but there are worst ways to spend your family weekends :) At least I hope so :)
So, what else...hmm...nothing comes to mind, so it's back to work, I'll attach few pics of our Raisu and one excellent picture of Jakke doing agility.
- Petri -
Petri,
How very delightful to hear from you! I think of the lovely photo you sent of Touho for the BAD website! How you must miss him! It's not easy to recover! We still miss our beloved Skye, too. Like you, we now have a girl puppy. Her name is Carli from ("Cara"-dear, darling, beloved, or friend and "li"-little). I look forward to hearing all about Raisu. What does her name mean?? I look forward to receiving photos of Jakke and Raisu and wish you all the best with both of them!!
Libby

---

BADFADs-Finnish Agility Dogs
---
.

Off to a BAD Start
[BAD Handlers] | [BAD Dogs] | [BAD Events] | [BAD Links]
[BAD Greetings] | [BAD News] | BAD Beginnings]
[BAD Advice] | [BAD Attitudes] | [BAD Goods]