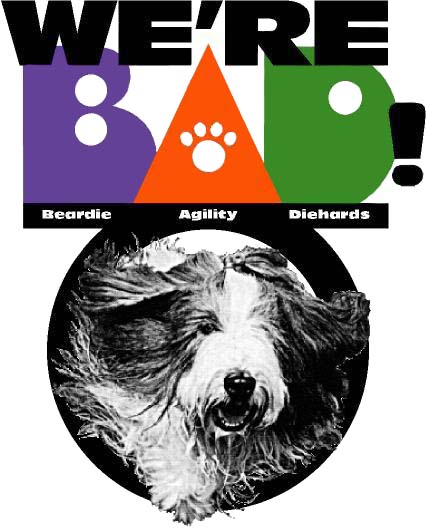 Eighth Annual BAD Awards
---
The Beardie Agility Diehards have been a community since February of 1997. It has been wonderful sharing with all of you for nearly ten years! We first gathered at the 1997 Specialty in Rohnert Park, California, where we revealed our new logo on our BAD t-shirts designed by Gretchen Blackburn. A group of us shared our first BAD dinner with Karen Norteman, who created our well-known, award winning website. I like to joke that Karen gave me my life's work! It was also at the 1997 Specialty that we decided to support the publication of agility articles in the Bulletin. At the 1999 Specialty in Olympia Washington, we held our first BAD Awards dinner. After the agility trial, we joined each other for an informal evening and called out for pizza and beer. Since then our dinners have grown to well over 50 members annually.
---
2006 BAD Member Of The Year Award:
Libby Myers-Buhite
Presented by Sharon Prassa:
"Without Libby and the BAD website, our agility history would not be as well documented as it is.
Libby received many nominations for BAD person of the year. More than one person thought that Libby should have had this award many times over. She is the personal record keeper for many of us (I confess I'm one who does not always write down my stats, even though I mean to!!). Often she has caught discrepancies or noticed that legs were not recorded properly in NADAC, USDAA or AKC, allowing us to notify the organization and rectify the error.
In the words of one nominee: 'I don't have any idea how she can keep up (with all the agility stats), but she does. She knows more about my dogs than I do!!'
Libby, it is with great pleasure that we award you BAD person of the Year!"

---
2006 BAD Attitude Awards:
Joanne Williamson
Joanne, our BCCA Agility Co-Chair, has been working with the Agility Committee since 1997, tracking all of our Beardies' AKC legs and titles. She has been instrumental in working out the point systems for all of our BCCA Agility Awards. When I think of Joanne, dedication is the word that springs to mind. As well as diligently training her agility Beardies, Beau and Flash, Joanne has given of herself tirelessly to all of us.
Betty Winfield
Betty is the Agility Chair for the 2006 Specialty
and prepared a wonderful two days for all Agility Enthusiasts!
Leslie Dawson-North
Leslie is consistently excellent in Agility with all of her Beardies:
Highs In Trial in 1996 at the first Specialty Agility Trial with Kassi and Koddi
4th Place at the AKC Nationals in 1998 with Chase
Highs In Trial in 2000 with both Kassi and Chase

19th in the world - 2004 International Agility Championships with Heather

Leslie, you are an inspiration to all of us!
Jeff Ipser
This August Jeff chaired the BCCA's first All-Breed Agility Trial.
His sire and son Beardies, MACH2 Jax and MACH Zoom,
Have both qualified for the 2006 Agility Invitational!

Way to go, Jeff!
Karen Norteman
Karen Norteman has given Libby her life's work
By designing our Award Winning BAD Website,
A source of fun and information to us,
Introducing our Agility Beardies to the All-Breed Agility World.
Carl and Kay Widell
Thanks to both Carl and Kay for fostering Veteran Agility
by donating the Preferred Veteran Trophy to the BCCA Awards Program.
Carl and Kay's Cagney is the first Beardie
to earn the Preferred Excellent Standard and Preferred Excellent JWW titles.
He is the first winner of the Preferred Veteran Trophy.
Kim Horsley
Thanks to Kim Horsley
For spending her Birthday evening
With us!

Happy Birthday!

---
Seven New Championships between October 1, 2005 and October 1, 2006!
This was another successful agility year for our Beardies! Congratulations to Jack Buhite, Nancy May, Jeff Ipser, Linda Porter, and Patti Bott who all earned championships this year. Leslie Dawson-North was also invited for a third year to be part of the Canadian World Team.
NATCH BEARDIE
Caper (Skyedance Lord A-Leaping) -- Jack Buhite and Libby Myers-Buhite - 19 February 2006
C-ATCH BEARDIE
Farley (Kamelott's Wild Thing Farley) -- Nancy May -- 19 March 2006
MACH2 BEARDIE
C-ATCH BEARDIE
MACH BEARDIE
Bailey (Oakengates Irish Cream) - Linda Porter -- 29 May 2006
MACH BEARDIE
Zoom (Wigglesworth Super Sonic) Jeff Ipser -- 1 July 2006
MACH BEARDIE
Spice (Spindrift Risa Hot Stuff) -- Patti Bott, Jana Dozet, and Pam Harris - 1 October 2006
---
Rainbow Bridge Beardies:
Meredith Bar David's Oliver
Ch Aellen's Critic's Choice, NA, HT

Versatility Beardie
5 June 1992 - 18 July 2006

Christiana Taylor and Michele Ritter's Jake
BIS Am/Can Champion Britannia Good Day Sonshine
AX, MXJ, OAP, AJP, PDI, O-EAC, O-EJC, S-OGC, O-TN-O, O-TG-N , CD, HIC, PT, STD-s, CGC, TDI, ROM, MV
Master Versatility Beardie
22 June 1993 - July 2006

Antoinette Krafcheck's Tasha
Ch/U-ACHX Meadow's Fantasia
MX, AXJ, OAC, OJC, OGC, CDX, U-CD, HIC, HCT, HT, CGC, TDI, VX
Versatility Excellent Beardie, First Beardie AXJ and first Beardie U-ACH
20 January 1993 - 10 May 2006


---


In Recognition of our retired Agility Beardies:

Barbara Claxton's BlueBerry

Headlines Rhapsody in Blue, OA, NAJ, HIA-s, HTD-1-s, HIC

Barbara Claxton's Sadie
Rainbow Sunshine Jump for Joy, NA, NAJ, HSA-s, HTD-1's, HIC

Mary Edner 's Trouble
Ch Sweet Romance of Lonetree, AX, OAJ, OAP, NJP, PT, CGC, VX

Maryann Groves' Brechin
Ch Jubo-Lees Once Ina Lyfethyme, OA, AXJ, NAC, OJC, NGC, TD, PT, HIC, CGC, VX

Terry Johnson's Cassie
Oakengates Aren't I Clever, AX, AXJ

Anne Kajava's Olaf
ADCH/SACH-Gold/JCH-Silver/SCH-Silver/RCH-Bronze/GCH Olaf, MX, MXJ, TM, EAC, EJC, EGC

Wade Pelton's Dallas
Ch O'Duinnin Dazzle 'em Dallas, MX, MXJ, MXP, MJP, Winner of the Preferred Award for 2004 and 2005

Betty Winfield's Miss C
Oak Meadows Fawn Calypso, MX, MXJ, AAD, JM, SM, EAC, OGC, OJC, AADC


---


168 Beardies were in competition between 1 July 2005 and 30 June 2006. Of these, 147 were BAD.

2527.5 legs were earned. Of these, 2461.5 or 97.4%, were earned by BAD Beardies.

Titles are current through October 14, 2006.

To see how BAD calculates agility titles, go to BADHonors
The top 25 BAD Beardies:
1-Jack Buhite and Caper - 163 legs

CH NATCH C-ATCH Skyedance Lord A-Leaping
AX, MXJ, AXP, AJP, PD3, PS3, PJ3, AR, AG, AS, ChJU, S-EJC, S-TN-E, S-WV-E, TG-E, EVA, HIC, HCT, PT, RE, CGC, VX

Top Agility Beardie for 2006 in All Venues Combined: 1st in Standard, Games, and Gamblers, 2nd in Snooker, 5th in Jumpers
Top NADAC Beardie: 1st in Jumpers, Tunnelers, and TouchNGo, 2nd in Standard, Gamblers, and Weavers

Second USDAA Beardie: 1st in Grand Prix and Steeplechase, 2nd in Jumpers
Second CPE Beardie: 1st in Jumpers and Jackpot, 2nd in Standard, Snooker, Wild Card, Colors and Full House
87 Agility Titles

2-Nancy May and Farley - 119.5 legs

C-ATCH Kamelott's Wild Thing Farley
O-OAC, O-OJC, NCC, TN-O, WV-N, PDI, PG1, PS2, PJ2, PK2, ChST, ChJU, ChCL, ChFH, ChSN, CGC


All Venues Combined: First in Snooker, Second in Gamblers and Games, Fifth in Standard
Top CPE Beardie: First in Standard, Jumpers, Snooker, Wild Card, Colors, and Full House, Second in Jackpot
Third USDAA Beardie: First in Standard and Second in Gamblers

43 Agility Titles

3-Linda Porter and Bailey - 97 legs

Ch MACH Oakengates Irish Cream
AD, SR, SJ, SG, NAC, O-OJC, O-NGC, TN-E, S-WV-N, O-TG-N, NVA, ROMA


All Venues Combined: Third in Jumpers, 6th in Standard, and 7th in Games
3rd AKC Beardie: 3rd in Standard and 3rd in Gamblers
Sixth: 2006 AKC Agility Invitational
6th USDAA Beardie: 1st in Dam and 2nd in Jumpers
11th NADAC Beardie: 2nd in TouchNGo and 5th in Weavers
42 Agility Titles

4-Jeff Ipser and Zoom - 88.5 legs

CH MACH Wigglesworth Super Sonic,

NAP, NJP, RN, CGC, VX


All Venues Combined: First in Jumpers and Third in Standard
Second: 2006 AKC Agility Invitational
Fourth AKC Beardie: First in Jumpers and Third in Standard
Second in USDAA Gamblers
22 Agility Titles

5-Sarah Halsey and Wizard - 86 legs

MACH5 ADCH SACH Anasazi Secret of the Wizard

EAC, EJC, EGC, CGC

Top AKC Beardie for 2006: 1st in Standard, 1st in Jumpers, 1st BCCA Awards

First: 2006 AKC Agility Invitational
All Venues Combined: 2nd in Jumpers and 3rd in Standard
98 Agility Titles

6-Pat Coreris and Chipper - 72.5 legs

Ch MACH Spindrift William Rikker
AXP, MJP, AAD, RM, AS, JM, EAC, OJC, NGC, CL3, CL4-FRH, PT, JHD, CDX, RE, VX

All Venues Combined: Fifth in Snooker, Eighth in Jumpers, Ninth in Standard, and Tenth in Games
Seventh AKC Beardie: Seventh in Standard and Seventh in Jumpers
Third CPE Beardie: Third in Standard, Jumpers, Snooker, Wild Card, Colors, and Full House
54 Agility Titles

7-Jeff Ipser and Jax - 69 legs

Ch MACH2 Wigglesworth Out On A Limb
PS1, RN, CGC, ROMAX, VX

Sixth AKC Beardie: Second in Standard and Sixth in Jumpers
Fifth: 2006 AKC Agility Invitational

All Venues Combined: Second in Standard and Seventh in Jumpers
USDAA: First in Standard
33 Agility Titles

8-Sheila Franklin and Bracey - 68.5 legs

Wynsum Embrace The Moment
NA, NAJ, MAD, SAM, AR, AS, AJ, AG, EAC, O-EJC, S-OGC, O-TN-E, WV-E, TG-O, OVA


Top USDAA and second NADAC Beardie
All Venues Combined: 3rd in Snooker and Games, 5th in Gamblers, 11th in Standard, 22nd in Jumpers

56 Agility Titles

9-Karen Barratt and Jet - 68 legs

MACH5 O'Duinnin HMT Sonic Boom
AAD, EAC, EJC, OGC

Fourth AKC Beardie: Fourth in Standard and Fifth in Jumpers
Third 2006 AKC Agility Invitational
All Venues Combined: Seventh in Standard and Sixth in Jumpers
80 Agility Titles

10-Karen Barratt and Bud - 67 legs

CH MACH O'Duinnin HMT A Bud For Boo ROMAX

Fifth AKC Beardie: Sixth in Standard and Fourth in Jumpers

Eighth: 2006 AKC Agility Invitational
All Venues Combined: Eighth in Standard and Fourth in Jumpers

20 Agility Titles

11-Amy Steltz and Bobby - 51.5 legs

BISS Am/Can Ch Britannia Bobby Dazzler
OA, AXJ, O-EAC, S-EJC, O-EGC, S-TN-E, O-TG-E, WV-N, NVA, CL3-F, ROMA

All Venues Combined: Fourth in Games, Eighth in Gamblers, Twenty-fourth in Jumpers, Twenty-seventh in Standard

Third NADAC Beardie: Second in Tunnelers, Third in Jumpers and TouchNGo, Fourth in Standard, Sixth in Gamblers

Fourth CPE Beardie: Fourth in Jumpers and in Snooker

37 Agility Titles

12-Jill Scarborough and Jack - 45 legs

OTCH MACH O'Duinnin Oh Dat Jack B Nimble, UDX3, RE

All Venues Combined: Twelfth in Standard and Ninth in Jumpers

Eighth AKC Beardie: Ninth in Standard and Seventh in Jumpers

Fourth: 2006 AKC Agility Invitational

20 Agility Titles

13-Nikki Ryan and Smitten - 44.5 legs

Can CH Cameron Springs for Wings, Can CDX
OA, NAJ, AG.N., SGDC, SS, SG, EAC, O-EJC, EGC, O-TN-E, TG-E, O-WV-E, EVA

All Venues Combined: Fifth in Gamblers and Games

Fourth in NADAC: Third in TouchNGo, Fourth in Gamblers, Tunnelers, and Weavers, Sixth in Standard and Jumpers

35 Agility Titles

14-David Williamson and Harley - 44 legs

MACH2 Harley of St. John, MXP2, MJP2, EAC, EJC

All Venues Combined : Tenth in Standard and Fourteenth in Jumpers

Ninth AKC Beardie: Seventh in Standard and Thirteenth in Jumpers

48 Agility Titles

15-Carl Widell and Polo - 42.5 legs

Ch Caledonia's O Polo Mio
OA, OAJ, NAP, NJP, NAC, O-NJC, O-TN-N, O-WV-N, TG-N, CL3-RF, HT

All Venues Combined: Sixth in Games, Twenty-second in Standard, Twenty-fourth in Jumpers

Eighth NADAC Beardie: Third in Weavers

CPE: Fourth in Standard and Jumpers

18 Agility Titles

16-Patti Bott and Spice - 42 legs

MACH Spindrift Risa Hot Stuff, RN, CGC
AAD, AS, AJ, AR, NAC, EJC, NGC, WV-O, TN-N, CL3-RFS

All Venues Combined:Seventeenth in Standard and Sixteenth in Jumpers
Sixteenth AKC Beardie: Eighteenth in Standard and Seventeenth in Jumpers

43 Agility Titles

17-Walt Ernst and Mickie - 41 legs

Ch Oakengates Quite Contrary, MX, MXJ

All Venues Combined; Fourteenth in Standard and Tenth in Jumpers

Tenth AKC Beardie; Eleventh in Standard and Ninth in Jumpers

8 Agility Titles

18-Molly McNamara and Max - 39 legs

Ch Highlander Orion From Alamos
AX, MXJ, CL1, RN, CGC, VX

All Venues Combined: Eighteenth in Standard and Fourteenth in Jumpers

Fifteenth AKC Beardie: Twenty-second in Standard and Fourteenth in Jumpers

9 Agility Titles

18-Jan Norikane and Gina - 39 legs

Hyatt's Happy Go Lucky Girl
OA, OAJ, PD1, PG1, EAC, EJC, EGC, TN-O, TG-N, U-AGII

All Venues Combined: Fourth in Gamblers and Eighteenth in Standard
Second in UKC
Fourth in USDAA: First in Gamblers
Sixth in NADAC: Third in TouchNGo, Fifth in Standard, Sixth in Gamblers
21 Agility Titles

18-Claire Cifarelli and Patch - 39 legs

Raintree Ha'Penny Hades
MX, MXJ, NAC, OJC, NGC, TN-O, TG-N, WV-N, CD

All Venues Combined: Fourteenth in Standard and Twelfth in Jumpers
Eleventh AKC Beardie: Eleventh in Standard and Eleventh in Jumpers

16 Agility Titles

21-Ann Chandoha and Arbi - 38.5 legs

CH MACH O'Duinnin HMT Rhythm 'N Booze
AXP, AJP, OAC, OJC, NGC, CGC

All Venues Combined: Sixteenth in Standard and Eleventh in Jumpers
12th AKC Beardie: Thirteenth in Standard and Tenth in Jumpers

31 Agility Titles

22-Lori Weinberg and Rocky - 35 legs

Chaniam Creag, MX, MXJ, HIC, CGC

All Venues Combined: Thirteenth in Standard and Nineteenth in Jumpers
Thirteenth in AKC: Tenth in Standard and Sixteenth in Jumpers

Sixth: 2006 AKC Agility Invitational

8 Agility Titles

22-Bobbie Raguse and Kira - 35 legs

Shanaspree Rose of Kilravock
MX, MXJ, NJC, NGC, PT, RN, CGC, VX

All Venues Combined: Twentieth in Standard and Twelfth in Jumpers

Thirteenth in AKC: Fourteenth in Standard and Eleventh in Jumpers

10 Agility Titles

24-Joanne Williamson and Flash - 30.5 legs

CH Britannia Flashback
AX, AXJ, OAC, OJC, OGC, TN-O, TG-N, WV-N, NVA, PT, RE, VX

All Venues Combined: Thirteenth in Games, Twenty-Fourth in Standard, Thirty-first in Jumpers
NADAC: Sixth in Weavers

17 Agility Titles

24-Carol Hegg and Joli - 30.5 legs

O'Duinnin Joli Goes Platinum
OA, AXJ, SSA, SJ, SR, NAC, NGC, EJC, TN-N, JHD-sg, PT, CD, RN, CGC, VX

All Venues Combined: Twentieth in Jumpers

Fourth in USDAA: First in Jumpers

Tenth in NADAC: Fifth in Jumpers

14 Agility Titles

---

---
BAD Honors:
---
BAD Awards:
---
BCCA
For those of you who are history buffs, you can find accounts of our nine earlier trials along with scores and pictures at:



---
---

Off to a BAD Start
[BAD Handlers] | [BAD Dogs] | [BAD Events] | [BAD Links]
[BAD Greetings] | [BAD News] | BAD Beginnings]
[BAD Advice] | [BAD Attitudes] | [BAD Goods]
Email Libby with an update