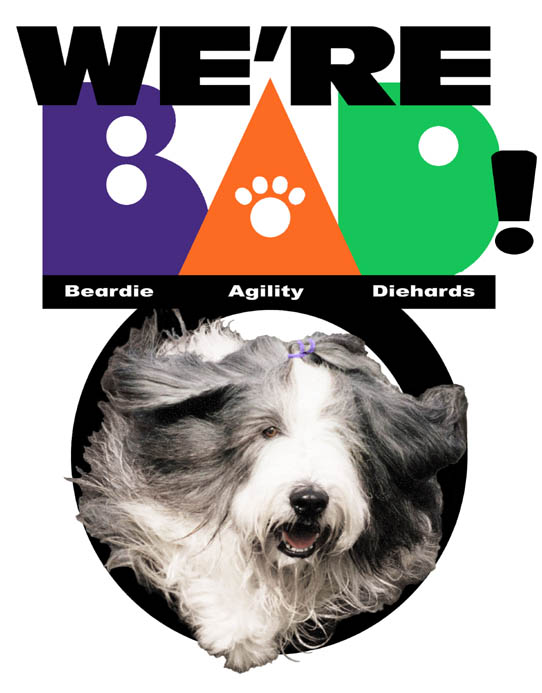 Ninth Annual BAD Awards
---
It has been very rewarding sharing ten years with all of you and seeing so many of you in Maryland! It's seems incredible that we are already celebrating our 10th Anniversary! The Beardie Agility Diehards began on-line in February 1997 and first gathered in September 1997 at the BCCA Specialty in Rohnert Park, California. There our BAD t-shirts, designed by Gretchen Blackburn, revealed our new logo. A group of us shared our first BAD dinner with Karen Norteman, where we discussed creating our famous, award winning website. I like to joke that Karen gave me my life's work! It was also at the 1997 Specialty that we decided to support the publication of agility articles in the Bulletin. To date we have contributed $11,575 to publication. At the 1999 Specialty in Olympia Washington, we held our first BAD Awards dinner, gathering for an informal evening and ordering out for pizza and beer. Since then our dinners have grown to over 60 members annually. This year we enjoyed hosting Judge Rhonda Crane. I am very grateful to Sheila Franklin who made and donated our top Awards and to Joanne Williamson for suggesting and ordering our 10th Anniversary pins!
---
2007 BAD Member Of The Year Award - Jeff Ipser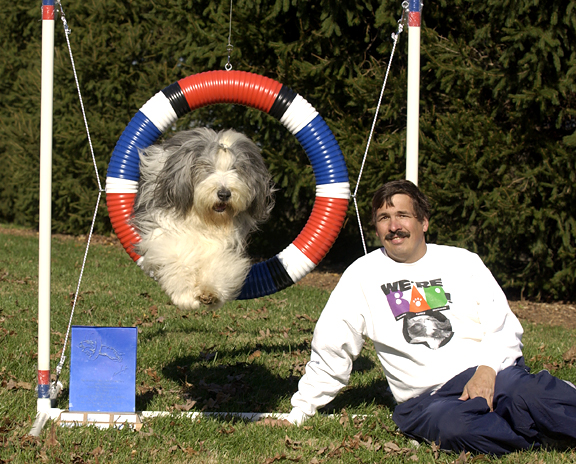 "I would like to nominate Jeff Ipser for BAD Person of the Year for several reasons:
First of all, Jeff is an excellent trainer and has had many accomplishments with his Beardies Jax and Zoom, not the least of which I believe is that Zoom is the youngest Beardie to achieve a MACH and multiple HITs.
Secondly, Jeff took the initiative of starting BCCA sponsored agility trials here in the Midwest, which has been a huge success. This required a lot of time, effort and planning. It has also brought camaraderie to Beardie people in this area.
Third, Jeff has become an AKC agility judge. Getting through the process of becoming a judge is similar, I understand from friends who have been there, to going through boot camp in the Army, only more difficult. Jeff qualified on his first attempt and has gone on to become a full-fledged judge. This is a huge accomplishment.
Fourth, I have been trialing with Jeff for the past several years and have come to know him as a very strong competitor, but also as a good sport. Jeff is always thoughtful with his dogs and is always the same. He loves to win, but when he doesn't he's just as much fun. Jeff can laugh at himself easily and is generous with his good wishes to others. He also works hard at trials and is always willing to volunteer.
Lastly, over the past couple of years, I have come to consider Jeff a friend. He has become a mentor for me, never telling me how to do better, but always there with suggestions if I ask for help. Jeff makes trialing a lot of fun, hanging out at ringside with our happy Beardies. I think Jeff has contributed a great deal to Beardie Agility and will continue to give back to our club and our sport for a long time to come." - Respectfully, Bobbie Raguse
"I have a nominee for you- Jeff Ipser. You know as well as I about his many remarkable agility accomplishments with his Wigglesworth Beardies, and he also organizes a big trial in Ohio that benefits the BCCA. I got a chance to see his lovely dogs run at our National last year and couldn't fail to notice how helpful and good-natured he was throughout our (somewhat soggy!) days of agility in Oregon. This July Jeff returned to the Northwest to judge for the NWBCCPS' small all-breed trial in Washington, and what a superb judge he was. He came in a day early and helped out as much or more than even our club members; he was kind and generous to all exhibitors; he was characteristically good-natured and easy to work with. We received countless compliments from the exhibitors about him. Our club is looking forward to having him out here again to judge for us, and I am delighted that he is giving Beardies everywhere a good name with his good sportsmanship, lovely dogs and superb graciousness. - Amy Steltz
"I would like to nominate Jeff Ipser for BAD member of the year. Jeff flew at his own expense to judge our Bearded Collie trial in Enumclaw, WA this year. A cheerier, nicer, more kindly judge and ring-side personality it would be very hard to find. We are a small club and we were very pressed to staff two rings. It was always Jeff's ring that was short. But there he was in the pouring rain or in the blazing sun, setting his own bars, helping to move stuff, seeing what he could do quietly and easily. Though he often had to wait a bit for us to get all the folks in place, he was unbelievably kind about it. We did apologize over and over, but he said nonsense all was fine. He appreciated everyone, thanked each and all, and was genuinely a shining light. We are still running into handlers who tell us what a great judge we had this year. It is hard to express the wonderful aura of happiness and joy he communicated to everyone. He just radiated a delight to be there with us all and everyone was touched by it." - Christiana Taylor
Jeff Ipser with Zoom, Top AKC Beardie
Jeff's Response: "I was very surprised that I would be awarded the BAD person of the year. This means more than a MACH title to me. Unlike a MACH title, I never saw this one coming. It is awarded based on what your peers think of you and your actions and behavior, not the performance in the ring. When I got back to the hotel that night I got a chance to read what the nominees wrote about me. Their words were very kind and touching. I have personally thanked each of the three nominees. I am proud of BAD and speak highly of us wherever we go, if it's running at a trial or judging a trial. Thank you again, Jeff"
---
2007 BAD Attitude Awards:
Beth Kortze: "Many thanks to Beth Kortze our 2007 Agility Trial Chair and Fun Relay organizer. Beth has made sure that our day was perfect in every way."
Joanne Williamson: "Joanne has been working with the Agility Committee for ten years, tracking all of our Beardies' AKC legs and titles. She has been instrumental in working out the point systems for all of our BCCA Agility Awards. When I think of Joanne, dedication is the word that springs to mind. As well as diligently training her agility Beardies, Beau and Flash, Joanne has given of herself tirelessly to us all."
Karen Norteman: "Karen Norteman, who designed our Award Winning BAD Website deserves special recognition on our 10th Anniversary."
Sheila Franklin: "I'm a novice handler with green dogs and Sheila Franklin has been key to the progress we've made in the past year. She is so supportive. And if all we do is take the 1st jump before visiting the ring crew, she's always there to cheer us on. She's also the one that tells me how proud she is of me that I don't give up and work through the distractions in a fun way. She's a great ambassador for Beardies and the agility community."
-Thanks again, Heather & Jeremy Haag.
"Sheila Franklin stands out in my mind. She is competitive but down to earth and helpful to everyone. She is active in the BAD yahoo group and has been very helpful to me in preparing for the upcoming trial. She is always encouraging and optimistic with a terrific sense of humor." -Beth Kortze
Jana Dozet: "No matter what, Jana helps out at every single agility trial and makes sure things run smoothly. She also keeps a sense of humor about everything!" -Kim Horsley
Sarah Halsey: "Not only have Sarah and Wizzie achieved their MACH7 title but they make a terrific team. Sarah has a great attitude regardless of the outcome of a run. Q or not, as long as Wizzie is having fun she views the run as a success. When they are on a course you can really see the strong bond and love they share for each other. She is a true inspiration." -Annie Rudkin
---
Fourteen New Championships between October 1, 2006 and October 1, 2007!
MACH 7 BEARDIE
Wizard (Anasazi Secret of the Wizard)
Sarah Halsey - 19 August 2007

MACH 6 BEARDIE
Wizard (Anasazi Secret of the Wizard)

Sarah Halsey - 31 December 2006
MACH 3 BEARDIES
Jax (Wigglesworth Out On A Limb)
Jeff Ipser - 28 April 2007
Zoom (Wigglesworth Super Sonic)
Jeff Ipser - 14 July 2007

MACH 2 BEARDIES
Bud (O'Duinnin HMT This Bud's For Boo)
Karen Barratt - 28 October 2006
Zoom (MACH Wigglesworth Super Sonic)
Jeff Ipser - 10 December 2006

MACH BEARDIES
Spice (Spindrift Risa Hot Stuff)
Patti Bott - 1 October 2006
Patch (Raintree Ha'Penny Hades)
Claire Cifarelli - 15 June 2007

First PAX Beardie
Harley - David Williamson - 3 February 2007

ADCH BEARDIE
Bracey (Wynsum Embrace The Moment)

Sheila Franklin - 19 August 2007
Leslie Dawson-North - November 2006
---
Agility Beardies at the Rainbow Bridge
Our heartfelt condolences to those who have lost their beloved agility Beardies!
Sharon Baker's Gem
BISS Ch IntCh Sunriver Aellen Spectacular
NA NAJ HIC CGC ROMA
18 November 1994 - 19 February 2007
Karen Barratt's Boo!
Ch O'Duinnin Picabo Streak
MX, MXJ, AD, OAC, OJC, NGC, HIC, ROMAX
24 April 1994 - 22 August 2007
Iris Berry's Spiff
Ch Chantilly Look Before You Leap
AX, OAJ, AD, JB, EAC, OJC, NGC
HT, JHD-s, FDCh, TT, JS-O, GS-N, CGC
22 April 1993 - 10 November 2006
Carol Colavecchio's Truman
Ch & Int'l Ch Aellen Tried and True
AX, AXJ, EAC, OJC, NGC, TN-N, TG-N
PT, HIC, HCT, CGC, VX
27 January 1995 - 25 September 2007
Pam Harris' Amber
Ch Spindrift Pride of Glengarry
CD, PT, JHD, OA, OAJ, NAC, OJC, U-AGI
ROM, ROMI, ROMO, ROMAX, VX
3 August 1990 - 7 February 2007
Ann Krafcheck's Drake
Ch Meadows' Legend of the Dragon
NAJ, OJC, U-AGI, HIC, HCT, PT, CGC, TDI
7 April 1996 - 20 April 2007
Sharon Prassa's Amos
Moonsong's Scottish Bobbie
29 December 1992 - 27 March 2007
Beth Tilson's Chauncey
Ch & Int'l Ch Highlander Wildest Dreams
PT, JHDs, CGC, ROM, ROMI, ROMAX
15 March 1992 - 2007

---

In Recognition of our Retired Agility Beardies
Who have worked and played with us so well!
Ann Chandoha's Arbi
Ch MACH O'Duinnin HMT Rhythm 'N Booze
AXP, MJP, OAC, OJC, NGC, CGC

Kathryn Haas' CQ
Am/Can Ch Delgatie's Extra Class
CD, PT, NA, NAJ, NAP, NJP

Diane Lipman's Abby
Wigglesworth Kosmic Leap
CDX, RN, HT, AX, AXJ, VX

Mary Lott's Harper
Pentangle's Crystal Harper
CDX, U-CDX, RN, HXas, HSa-d, HTDs-I, HTDd-III, HRD-III, HTADs-1, RLFs-I, OTD-s, OTD-d

AX, AXJ, PDI, EAC, OJC, OGC, TN-N, TG-N, WV-N, HIC, CGC, VX

Cheryl Poliak's Indy
Am/Can Ch Nonesuch New Sensation
RE, OA, OAJ, NAP, OJP, HIC, CGC, ROM, ROMAX, VX

Karen Reed's Allye
Brandmar Puttin On The Ritz

CDX , OJP

Karen Reed's Madeleine
Madeleine Etoile Plus Claire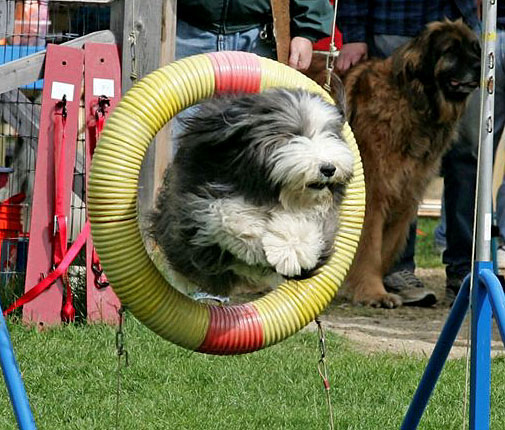 Top BAD Beardie all venues combined
Nancy May's C-ATCH Kamelott's Wild Thing Farley
ExST, ChJU, ChCL, ChFH, ChSN, PD1, PG1, PS2, PJ2, PK2
EAC, S-OJC, OCC, O-TN-O, WV-O, TG-O, OVA, CGC
Between 1 July 2008 and 30 June 2007, 170 Beardies were in agility competition. 155 earned AKC legs, 37 earned NADAC legs, 22 earned USDAA legs and 22 earned CPE legs. In all, Beardies earned 2786 legs in four of the five USA venues. 147 or 86% of the Beardies in competition this year belong to BAD members. They earned 2688.5 legs or 96.5% of all legs earned! Every year at this time, the top BAD Beardies are singled out for their agility accomplishments. Special congratulations to Nancy May's Farley, the top BAD Beardie and the top CPE Beardie, to Jeff Ipser's Zoom the top AKC Beardie and to Sheila Franklin's Bracey, who is top both in USDAA and NADAC.

1-Nancy May and Farley - 166 legs
C-ATCH Kamelott's Wild Thing Farley
EAC, S-OJC, O-OCC, TN-E, WV-O, O-TG-O, OVA, PDI, PG1 PS2, PJ2, PK2, ExST, ChJU, ChCL, ChFH, ChSN, CGC
Top BAD Beardie all venues combined:
1st in Gamblers and Snooker, 3rd in Standard
3rd in Standard, Jumpers, and Gamblers combined
Top Games Beardie
Top CPE Beardie: 1st in Standard, Jumpers, Snooker,
Jackpot, Wild Card, Colors, and Fullhouse
6th USDAA Beardie:
1st in Grand Prix, 4th in Standard and Relay
5th in Snooker and Steeplechase
2nd NADAC Beardie: 1st in Standard,
2nd in Gamblers and Touch N Go, 3rd in Jumpers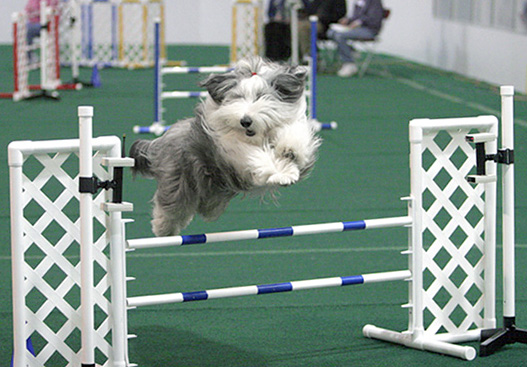 2-Jeff Ipser and Zoom - 135 legs
CH MACH3 Wigglesworth Super Sonic
RN, NAP, NJP, XF, PS1, PD1, PG1, PK1, CGC, VX
2nd BAD Beardie all venues combined:
1st in Standard and Jumpers, 6th in Gamblers
1st in Standard, Jumpers, and Gamblers combined
Top AKC Beardie:
1st in Standard and Jumpers, 3rd in FAST
1st 2007 AKC Agility Invitational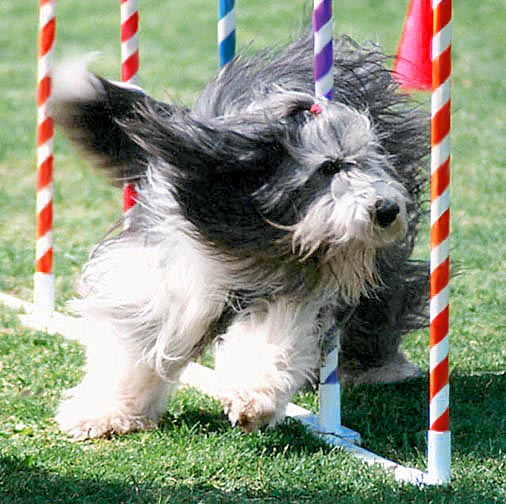 3-Sarah Halsey and Wizard - 117 legs
MACH7/ADCH Anasazi Secret of the Wizard
MXF, SACH, EAC, EJC, EGC, CGC
3rd BAD Beardie all venues combined:
1st in Gamblers, 2nd in Jumpers and Standard
2nd in Standard, Jumpers, and Gamblers combined
2nd AKC Beardie:
1st in FAST, 2nd in Jumpers and Standard
2nd 2007 AKC Agility Invitational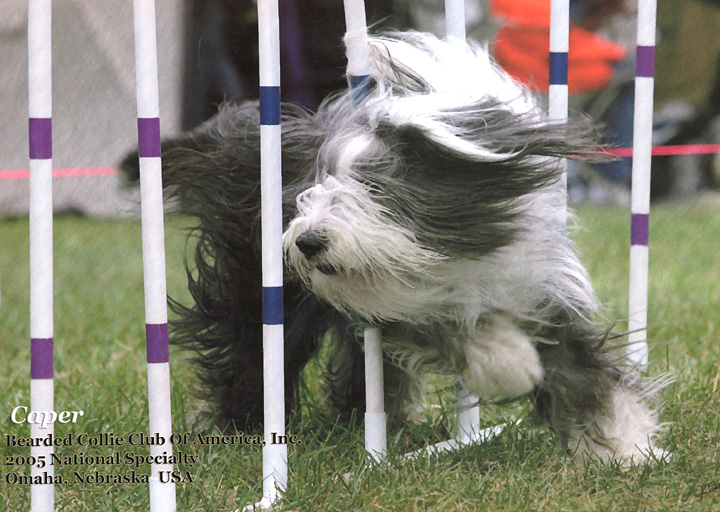 4-Jack Buhite and Caper - 93 legs
Ch VERS-NATCH C-ATCH Skyedance Lord A-Leaping
RAE, PT, AX, MXJ, AXP, MJP2, OFP, HIC, HCT, CGC, VX, PD3 PS3, PJ3, AR, AG, AS, S-EJC, S-TN-E, S-WV-E, HP-N, ChJU
4th BAD Beardie all venues combined:
2nd in Games, 6th in Jumpers and Gamblers
13th AKC Beardie:
3rd in FAST
3rd NADAC Beardie:
1st in TouchNGo and Hoopers
4th in Jumpers, Tunnelers, and Weavers
5th in Standard and Chances
6th USDAA Beardie:
1st in Grand Prix and Steeplechase, 4th in Jumpers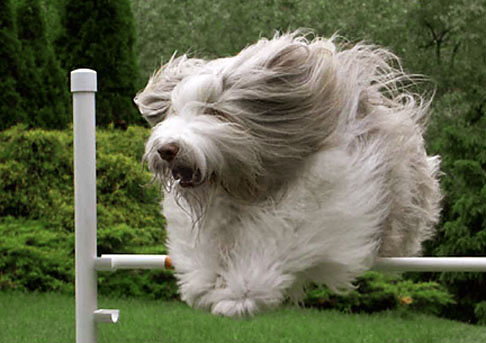 5-Jan Leverenz and Hops - 89 legs
Am/Can Ch C-ATCH Wynsum Captivating Rhythm
AX, MXJ, NF, AD, SSA, SJ, SS, SR, OAC, OJC, NGC, TN-O Am/Can CD, RAE, CGC, HIC, VX
5th BAD Beardie All Venues Combined:
2nd in Games and Snooker, 3rd in Gamblers
2nd CPE Beardie:
2nd in Standard, Jackpot, Snooker, Wildcard,
and Fullhouse, 3rd in Jumpers and Colors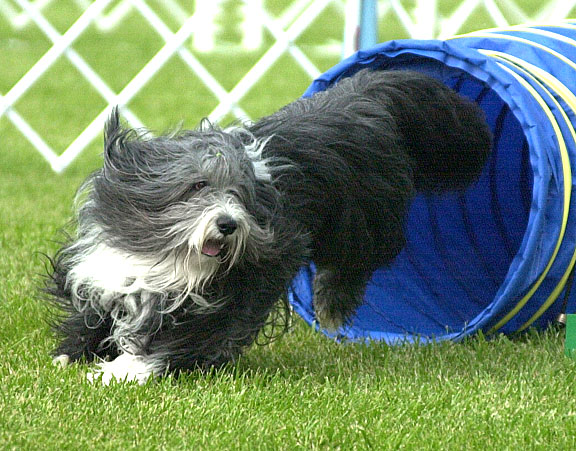 6-Linda Porter and Bailey - 82 legs
Ch MACH Oakengates Irish Cream
NF, AAD, ASA, AJ, AS, SR, SG, NAC, O-OJC, O-NGC, TN-E
S-WV-N, O-TG-N, NVA, ROMA
6th BAD Beardie all venues combined:
4th in Standard, Jumpers, and Gamblers combined
4th in Standard, and 5th in Jumpers
4th AKC Beardie: 4th in Standard and Jumpers,
5th in FAST
4th 2007 AKC Agility Invitational
USDAA - 3rd in Gamblers, 5th in Snooker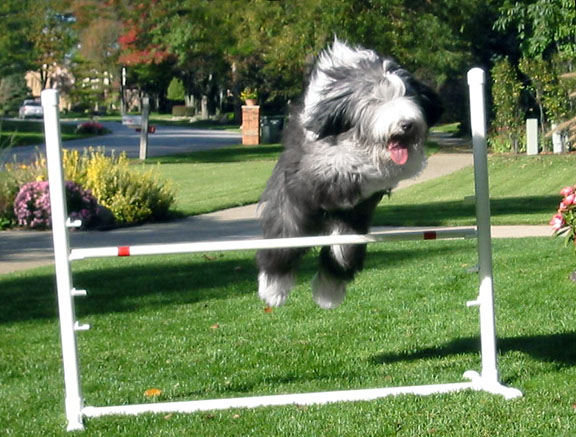 7-Bob Leverenz and Guinness - 79.5 legs
Am/Can Ch Wynsum Hard Habit To Break
OA, AXJ, NF, NAC, NJC, CL4, RN, CGC, HIC, VA
7th BAD Beardie all venues combined:
4th in Games, 4th in Gamblers, and 6th Snooker
3rd CPE Beardie:
2nd in Jumpers, Colors, and Wildcard,
3rd in Standard, Jackpot, and Fullhouse,
5th in Snooker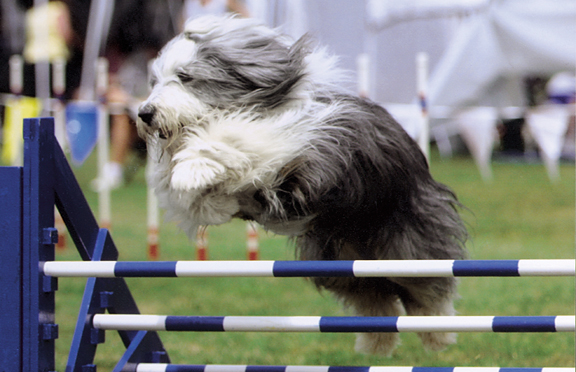 8-Jeff Ipser and Jax - 74.5 legs
CH MACH3 Wigglesworth Out On A Limb
PS1, RN, CGC, ROMAX, VX
8th BAD Beardie all venues combined:
3rd in Jumpers, 5th in Standard
5th in Standard, Jumpers, and Gamblers combined
3rd AKC Beardie: 3rd in Standard and Jumpers
3rd 2007 AKC Agility Invitational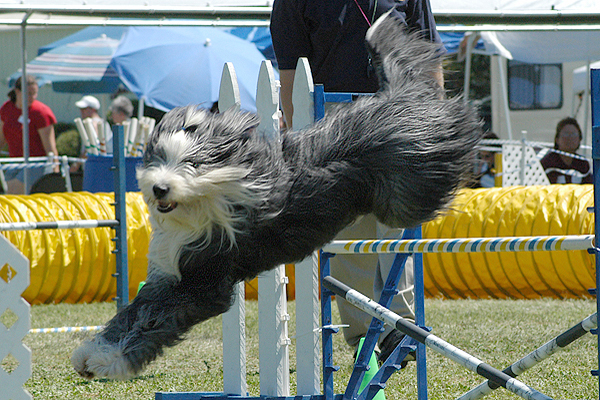 9-Molly McNamara and Max - 73 legs
Ch Highlander Orion From Alamos
MX, MXJ, NF, PD2, PS2, PJ2, PK2, PR1, PG1, CL1, RA, CGC, VX
9th BAD Beardie all venues combined:
4th in Jumpers, 6th in Standard
6th in Standard, Jumpers, and Gamblers combined
6th AKC Beardie: 5th in Jumpers
2nd USDAA Beardie:
1st in Standard, 2nd in Jumpers, Relay, Steeplechase
3rd in Gamblers and Grand Prix, 4th in Snooker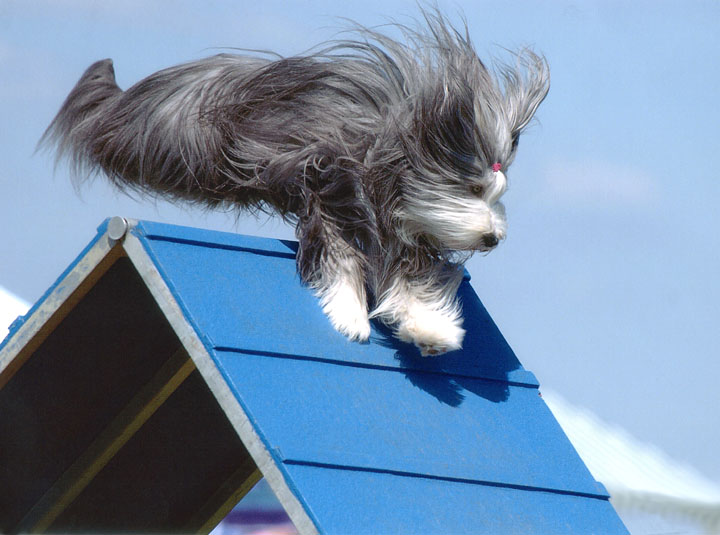 10-Sheila Franklin and Bracey - 72 legs
ADCH Wynsum Embrace The Moment, NA, NAJ, SCH, JCH, SCH, RM, GM, SM, EAC, S-EJC, ECC, O-TN-E, O-WV-E, TG-O, OVA
10th BAD Beardie all venues combined: 5th in Gamblers
Top USDAA Beardie:
1st in Standard, Jumpers, Gamblers, Snooker, Relay
2nd in Steeplechase and 3rd in Grand Prix
Top NADAC Beardie:
1st in Jumpers and Chances
2nd in Standard Weavers
3rd in TouchNGo, 4th in Tunnelers
11-Pat Coreris and Chipper - 67.5 legs
CH MACH Spindrift William Rikker, CDX, RE, PT, MXP, MJP2, VX, AAD, RM, AS, JM, EAC, OJC, NGC, CL3, CL4-FRH, JHD
11th BAD Beardie all venues combined
13th AKC Beardie
6th CPE Beardie: 4th in Standard, Wild Card, and Colors
5th in Full House
12-Sonja Moore and Snuffy - 51.5 legs
Snuff And Stuff, CD, RN, AX, AXJ, NJP, HIC, CGC
AD, JB, EAC, S-EJC, EGC, TN-O, TG-N, CL3, CL4-FHS
12th BAD Beardie all venues combined:
3rd in Snooker and 5th in Games
4th CPE Beardie:
3rd in Snooker
4th in Jumpers, Jackpot, Wild Card, and Full House
6th in Standard and Colors
NADAC: 3rd in Standard and Hoopers
13- Karen Barratt and Miller - 51 legs
CH Colquhoun's No Time To Relax, MX, MXJ, OF, NAC, HIC
13th BAD Beardie all venues combined: 6th in Jumpers
5th AKC Beardie: 5th in Jumpers
5th 2007 AKC Agility Invitational
14-Sonja Moore and Wally - 47 legs
Britannia William Wallace, AX, AXJ, PDI, PJ2, EAC, O-EJC, OCC, TN-E, TG-O, CL3, CL4-RFH, RN, HT, CGC, VX
14th BAD Beardie all venues combined:
4th in Snooker and 5th in Games
5th CPE Beardie:
3rd in Snooker, 5th in Standard, Jackpot and Colors
6th in Jumpers, Wild Card and Full House
NADAC: 5th in TouchNGo
15-Joanne Williamson and Flash - 44 legs
Ch Britannia Flashback, CD, RE, HSAs, MX, MXJ, OF, VX
OAC, OJC, OGC, TN-O, TG-N, WV-N, NVA
15th BAD Beardie all venues combined
7th AKC Beardie: 5th in FAST, 6th in Standard
7th 2007 AKC Agility Invitational
16-Claire Cifarelli and Patch - 42 legs
MACH Raintree Ha'Penny Hades
CD, NAC, OJC, NGC, TN-O, TG-N, WV-N
16th BAD Beardie all venues combined
8th AKC Beardie, 6th 2007 AKC Agility Invitational
16-Carol Hegg and Joli - 42 legs
O'Duinnin Joli Goes Platinum
CD, RN, PT, AX, MXJ, CGC, VX
AD, SSA, AJ, AR, AS, SG, NAC, NGC, EJC, TN-O, WV-N
16th BAD Beardie all venues combined
4th USDAA Beardie:
1st in Snooker, 2nd in Gamblers, 4th Jumpers, Relay
NADAC: 4th in Weavers, 5th in Chances
18-Ann Chandoha and Dru - 40 legs
Ch Colquhoun's First Draw, MX, MXJ, NF, NAC, HIC
18th BAD Beardie all venues combined
10th AKC Beardie: 5th in Standard
9th 2007 AKC Agility Invitational
18-David Williamson and Harley - 40 legs
MACH2 Harley of St. John
PAX, MXP4, MJP4, EAC, EJC
18th BAD Beardie all venues combined
9th AKC Beardie
20-Carl Widell and Polo - 39.5 legs
Ch Caledonia's O Polo Mio
RN, PT, OA, AXJ, NAP, NJP, VX
NAC, O-NJC, S-TN-N, S-WV-N, TG-N, CL3-RS
20th BAD Beardie all venues combined
NADAC: 2nd in Weavers
21-Patti Bott and Spice - 37 legs
MACH Spindrift Risa Hot Stuff, RA, CGC
AAD, AS, AJ, AR, NAC, EJC, NGC, WV-O, TN-O, CL3-RFS
21st BAD Beardie all venues combined
15th AKC Beardie
11th 2007 AKC Agility Invitational
21-Lori Weinberg and Rocky - 37 legs
Chaniam Creag, MX, MXJ, OF, PG1, HIC, CGC
21st BAD Beardie all venues combined
10th 2007 AKC Agility Invitational
23-Walt Ernst and Mickie - 34 legs
Ch Oakengates Quite Contrary, MX, MXJ
23rd BAD Beardie all venues combined
11th AKC Beardie
15th 2007 AKC Agility Invitational
23-Joanne Williamson and Beau - 34 legs
Britannia Beau Brummel, RE, PT, MX, MXJ, OF, VX
EAC, EJC, EGC, TN-E, WV-O, TG-O, OVA
23rd BAD Beardie all venues combined
11th AKC Beardie: 5th in FAST
14th 2007 AKC Agility Invitational
25-Bobbie Raguse and Kira - 32 legs
Shanaspree Rose of Kilravock
RN, PT, MX, MXJ, NJC, NGC, CGC, VX
25th BAD Beardie all venues combined
12th 2007 AKC Agility Invitational
26-Beth Scorzelli and Brew - 30 legs
Ch Colquhoun's Hurricane Brewin'
CD, RAE, PT, AX, MXJ, AD, SSA, AJ, AG, SR, CGC, VX
26th BAD Beardie all venues combined
24th 2007 AKC Agility Invitational
4th USDAA Beardie:
3rd in Jumpers and Grand Prix, 4th in Relay,
5th in Snooker and Steeplechase, and 6th in Standard
26-Cheri Omnus and Mckay - 30 legs
Ch Lakewood's Shining Star
AX, MXJ, NF, PD1, PS2, PK2, PJ1, PG1, NAC, NJC, WV-N, HIC
26th BAD Beardie all venues combined
3rd USDAA Beardie:
3rd in Standard and Snooker, 4th in Jumpers
5th in Steeplechase, 6th in Gamblers and Grand Prix
28-Nancy May and Granite - 28.5 legs
Kamelott's Great Stone Face, O-TN-N, CL2, CL4-F1
28th BAD Beardie all venues combined:
3rd in Snooker
CPE:
3rd in Snooker, 4th in Jumpers
5th in Jackpot, 6th in Fullhouse
29-Amy Steltz and Bobby - 28 legs
BISS Am/Can CH NATCH Britannia Bobby Dazzler
PT, AX, AXJ, ROMA, VX
S-EJC, S-TN-E, O-TG-E, WV-O, OVA, CL3-FHS
29th BAD Beardie all venues combined
NADAC: 3rd in Standard and Chances, 6th in Jumpers
30-Ruth and Neil Bryden and Glayva - 25 legs
Aceilidh's Nua Bliam Coilean
30th BAD Beardie all venues combined
NADAC: 3rd in Tunnelers
---

---
BAD Honors:
---
BAD Awards:
---
BCCA
For those of you who are history buffs, you can find accounts of our nine earlier trials along with scores and pictures at:



---
---

Off to a BAD Start
[BAD Handlers] | [BAD Dogs] | [BAD Events] | [BAD Links]
[BAD Greetings] | [BAD News] | BAD Beginnings]
[BAD Advice] | [BAD Attitudes] | [BAD Goods]
Email Libby with an update