Mon, Aug 5, 2013
new to agility beardie

Hi Libby,

My name is Sharon Domier and my teammate's name is Bliss. More formally: CH Fivefields Miss Bliss BN RE HT CGC We took agility classes last year and entered our first NADAC trial recently. We were too slow to Q in most of our runs but we did get 1 Q in tunnelers when I finally realized we had to run for our lives. I don't expect we will get a long list of titles like most of the beardies in BAD, but can we join anyway? We have a couple of CPE trials coming up as well so hopefully we will be able to add a Q here and there.

Sharon
Tue, Apr 15, 2014
BCCA agility trial in NH
Bliss and I participated in our first AKC agility trial, under the able direction of Joanne Williamson. I also served on the trial committee and helped out at the trial along with Sonja Blanchard, Maryann Groves, Greg Paris, and Nancy May. We didn't have a lot of beardies entered, but we did our best. Nancy May's Farley and Granite and my Bliss were entered in Preferred Novice. Sonja's Quincy ran in Masters as did Joanne's Jack and Flash. Katherine Dupee and Sailor ran in Open. Maryann came without dogs and spent the entire day on Sunday working each class and then cleaning up at the end.
Joanne really knows how to run a trial and to make sure that her volunteer workers are looked after. It was a pleasure to be there and we felt like we had a lot of support whether we earned beautiful qualifying runs or had some trouble along the way.
I felt quite fortunate to be able to watch Joanne's Flash run his final course in AKC agility. It was pretty!
With Bliss, Farley, and Granite in Preferred Novice, we may have had the oldest novice competitors on record. Bliss is 10, Farley is 11, and Granite is 9. How about that!
Sharon Domier
rainy Massachusetts

August 28, 2016
Bliss retired from Agility this weekend. She earned her first leg in NADAC in the summer of 2013 and her last leg in NADAC in the summer of 2016. We started very late, but we had a good time and got up to Level 4 in CPE. We moved back down when she could no longer do contacts, and stopped this summer when she decided that she had accomplished as much as she needed in competition.
---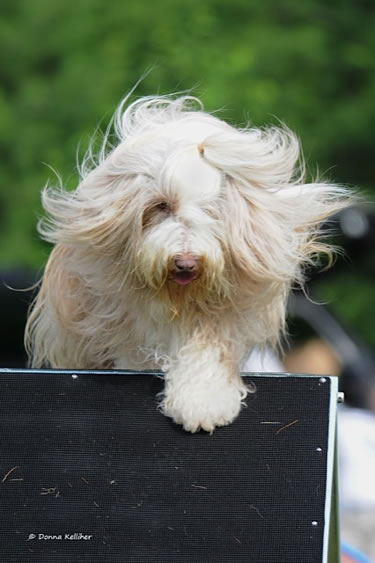 ---
AKC DN06313807
Standard Titling

04/12/2014  Preferred Novice 16" - Leg 1 100 2  55.08/73.00  141 yards
12/27/2014  Preferred Novice 16" - Leg 2 100 1  54.14/70.00  136 yards
12/28/2014  Preferred Novice 16" - Leg 3 100 1  55.22/66.00  127 yards  NAP

Jumpers with Weaves

04/12/2014  Preferred Novice 16" - Leg 1  95 2  38.85/40.00  105 yards
04/13/2014  Preferred Novice 16" - Leg 2 100 2  34.18/40.00  105 yards
04/12/2015  Preferred Novice 16" - Leg 3 100 1  32.52/38.00   99 yards  NJP 

FAST
Time2Beat
Titles

12/28/2014 NAP
04/12/2015 NJP
---
NADAC 13-05018


05/04/2014   Chances    12   Intro    Vet      S   Time/Dist: 40.00/        Q/Place: Q-10/
05/08/2016   Chances     8   Intro    Vet      S   Time/Dist: 40.00/        Q/Place: Q-10/
06/19/2016   Chances     8   Intro    Vet      S   Time/Dist: 40.00/        Q/Place: Q-10/   ICC

05/04/2014   Jumpers    12   Intro    Vet      S   Time/Dist: 18.35/61.00   Q/Place: Q-10/2
06/07/2014   Jumpers    12   Intro    Vet      S   Time/Dist: 19.29/61.00   Q/Place: Q-10/1
05/03/2015   Jumpers    12   Intro    Vet      S   Time/Dist: 17.37/66.00   Q/Place: Q-10/1  IJC

05/04/2014   Regular 1  12   Intro    Vet      S   Time/Dist: 31.77/71.00   Q/Place: Q-05/1
06/08/2014   Regular 1  12   Intro    Vet      S   Time/Dist: 20.63/75.00   Q/Place: Q-10/1
08/09/2014   Regular 1  12   Intro    Vet      S   Time/Dist: 19.29/71.00   Q/Place: Q-10/1
08/09/2014   Regular 2  12   Intro    Vet      S   Time/Dist: 20.41/71.00   Q/Place: Q-10/1  IAC
05/03/2015   Regular 1  12   Intro    Vet      S   Time/Dist: 25.67/83.00   Q/Place: Q-10/1

05/04/2014   Weavers    16   Intro    Std      S   Time/Dist: 27.73/78.00   Q/Place: Q-10/2
06/08/2014   Weavers    16   Intro    Std      S   Time/Dist: 23.07/68.00   Q/Place: Q-10/1
05/03/2015   Weavers    16   Intro    Std      S   Time/Dist: 20.30/60.00   Q/Place: Q-10/1  WV-I

06/30/2013  Tunnelers   16   Nov      Std      S   Time/Dist: 39.19/143.00  Q/Place: Q-10/5
06/08/2014  Tunnelers   16   Nov      Std      S   Time/Dist: 38.58/141.00  Q/Place: Q-10/3
08/09/2014  Tunnelers   16   Nov      Std      S   Time/Dist: 36.09/139.00  Q/Place: Q-10/3  TN-N

08/09/2014  IAC
08/09/2014  TN-N
05/03/2015  IJC
05/03/2015  WV-I 
06/19/2016  ICC 

---
CPE 21579-01
Level 1 Specialist (2 Standard Q's and 1 of each Game) - 9/15/13
Regular (CSL1-R)

08/10/2013 CSL1-Regular   Leg 1    1st/1    27.03'/46'
09/15/2013 CSL1-Regular   Leg 2    1st/1    46.10'/73'    CSL1-R

Fun Games (CSL1-F)

08/09/201  CSL1-Fullhouse-Leg 1    1st/1    21 Points  
09/15/2013 CSL1-Fullhouse-Leg 2    1st/1    22 Points 
08/10/2013 CSL1-Jumpers-  Leg 1    1st/1    36.75'/46'    CSL1-F
09/15/2103 CSL1-Jumpers-  Leg 2    1st/1    23.95'/40'
Handler Games (CSL1-H)

08/10/2013 CSL1-Colors   -Leg 1    1st/1    23.09'/46'    CSL1-H
09/15/2013 CSL1-Colors-   Leg 2    1st/1    31/49'/48'
08/09/2013 CSL1-Wildcard- Leg 1    1st/1    30.70'/53'
Strategy Games (CSL1-S)

08/09/2013 CSL1-Snooker  -Leg 1    1st/1    44 Points 
09/15/2013 CSL1-Jackpot-  Leg 1    1st/1    43 Points     CSL1-S

Level 2 Specialist (4 Standard Q's and 2 of each Game) - 8/30/14
Regular (CSL2-R)

10/12/2013 CSL2-Regular   Leg 1    1st/1    61.95'/63'
01/11/2014 CSL2-Regular   Leg 2    1st/1    51.52'/61'
04/27/2014 CSL2-Regular   Leg 3    1st/1    51.37'/65'
07/06/2014 CSL2-Regular   Leg 4    1st/1    45.70'/68'    CSL2-R
Fun Games (CSL2-F) - 8/30/14

10/12/2013 CSL2-Jumpers  -Leg 1    1st/1    27.57'/39'
11/10/2013 CSL2-Jumpers-  Leg 2    2nd/2    25.69'/39'
12/07/2013 CSL2-Jumpers-  Leg 3    1st/1    31.17'/41'
12/08/2013 CSL2-Jumpers-  Leg 4    1st/1    34.63'/40'

11/10/2013 CSL2-Fullhouse-Leg 1    2nd/2    28 points
12/08/2013 CSL2-Fullhouse-Leg 2    1st/1    22 points     CSL2-F
01/11/2014 CSL2-Fullhouse-Leg 3    1st/1    25 points
Handler Games (CSL2-H)

12/07/2013 CSL2-Colors   -Leg 1    1st/1    29.43'/37'
01/11/2014 CSL2-Colors-   Leg 2    1st/1    24.34'/45'

10/12/2013 CSL2-Wildcard -Leg 1    1st/1    25.68'/51
12/07/2013 CSL2-Wildcard- Leg 2    1st/1    25.51'/40     CSL2-H
01/11/2014 CSL2-Wildcard- Leg 3    1st/1    34.31'/48'
Strategy Games (CSL2-S)

10/12/2013 CSL2-Snooker  -Leg 1    1st/1    38 Points
11/13/2013 CSL2-Snooker-  Leg 2    1st/1    36 Points
12/07/2013 CSL2-Snooker-  Leg 3    1st/1    41 Points
12/08/2013 CSL2-Snooker-  Leg 3    1st/1    45 Points

07/05/2014 CSL2-Jackpot  -Leg 1    1st/1    48 Points
08/30/2014 CSL2-Jackpot-  Leg 2    1st/1    37 points     CSL2-S 
Level 3 Specialist (6 Standard Q's and 3 of each Game)
Regular (CSL3-R)

08/30/2014 SugarBush NY   CSL3-Regular Leg 1    1st/1    50.31'/54'    0 faults
08/31/2014 SugarBush NY   CSL3-Regular Leg 2    1st/1    57.44'/65'    0 faults
09/14/2014 CATS Keene NH  CSL3-Regular Leg 3    1st/1    66.35'/65'    0 faults
04/05/2015 AllDogsGym NH  CSL3-Regular Leg 4    1st/1    48.27'/60'    0 faults
05/17/2015 SoBAD NY       CSL3-Regular Leg 5    1st/1    56.88'/59'    0 faults
10/31/2015 Breeze VT      CSL3-Regular Leg 6    1st/2    60.93'/59'    1 faults    CSL3-R

Handler Games (SCL3-H)(Colors and Wildcard)

03/08/2014 AllDogsGym NH  CSL-3 Colors Leg-1    1st/1    30.54'        0 faults
07/05/2014 SugarBush NY   CSL-3-Colors Leg-2    1st/1    33.61'        0 faults
09/14/2014 CATS Keene NH  CSL-3-Colors Leg-3    1st/1    30.18'        0 faults

07/06/2014 SugarBush NY   CSL-3-Wildcard Leg-1  1st/1    34.56'        0 faults
03/08/2015 AllDogsGym NH  CSL-3-Wildcard Leg-2  1st/1    39.43'        0 faults
04/05/2015 AllDogsGym NH  CSL-3-Wildcard Leg-3  1st/1    32.70'        0 faults    CSL3-H

Strategy Games (CSL3-S)(Snooker and Jackpot)

02/08/2014 AllDogsGym NH  CSL3-Snooker Leg-1    1st/1    56.04'        39 points
04/26/2014 Bo-Gee NH      CSL3-Snooker Leg-2    1st/1    44.61'        45 points
07/05/2014 SugarBush NY   CSL3-Snooker Leg-3    1st/1    57.43'        29 points

03/08/2015 AllDogsGym NH  CSL-3-Jackpot Leg-1   1st/1    53.52'        51 points
05/16/2015 SoBAD NY       CSL-3-Jackpot Leg-2   1st/2    52.69'        38 points

Fun Games (CSL3-F)(FullHouse and Jumpers)

02/08/2014 AllDogsGym NH  CSL3 FullHouse-Leg 1  1st/1    41.66'        23 points
04/27/2014 Bo-Gee NH      CSL3 FullHouse-Leg 2  1st/1    41.19'        25 points
09/14/2014 CATS Keene NH  CSL3 FullHouse-Leg 3  1st/1    41/94'        23 points   CSL3-F
04/05/2015 AllDogsGym NH  CSL3-Fullhouse-Leg 4  1st/1    35.83'        31 points

02/08/2014 AllDogsGym NH  CSL3 Jumpers-Leg 1    1        41.74         0 faults
03/08/2014 AllDogsGym NH  CSL3 Jumpers-Leg 2    1        40.80         0 faults
07/05/2014 SugarBush NY   CSL3 Jumpers-Leg 3    1st/1    47.54'/50'
07/06/2014 SugarBush NY   CSL3 Jumpers-Leg 4    1st/1    40.99'/52'    5 faults
Level 4 Specialist (8 Standard Q's and 4 of each Game)
Strategy Games (CSL4-S)(Snooker and Jackpot)

08/30/2014 SugarBush NY   CSL4 Snooker Leg 1    1st/1    57.30'        32 points
05/17/2015 SoBAD NY       CSL4 Snooker Leg 2    1st/1    58.27'        32 points

Fun Games (CSL4-F)(FullHouse and Jumpers)

03/08/2015 AllDogsGym NH  CSL4 FullHouse Leg 1 1st/1     40.24'        27 points

05/16/2015 SoBAD NY       CSL4 Jumpers Leg 1   1st/1     34.11'        0 faults

Handler Games (SCL4-H)(Colors and Wildcard)
10/31/2015 Breeze VT CSL4 Colors Leg 1 1st/2 36.00 0 faults

05/15/2015 SoBAD NY CSL4 Wildcard Leg 1 1st/1 45.95' 2 faults

05/17/2015 SoBAD NY CSL4 Wildcard Leg 2 1st/1 40.69' 0 faults

10/31/2015 Breeze VT CSL4 Wildcard Leg 3 1st/2 28.55' 0 faults

11/21/2015 AK9 NH CSL4 Wildcard Leg 4 

Specialist Titles

09/15/2013  CSL1-R
08/10/2013  CSL1-F
08/10/2013  CSL1-H
09/15/2013  CSL1-S
09/15/2013  CSL1 full level title

11/10/2013  CSL2-F
12/07/2013  CSL2-H
07/06/2014  CSL2-R
08/30/2104  CSL2-S
08/30/2014  CSL2 full level title

09/14/2014  CSL3-F
04/05/2015  CSL3-H
10/31/2015  CSL3-R