Natalie Kirkwood of Brisbane Australia - Sonic and Spaghetti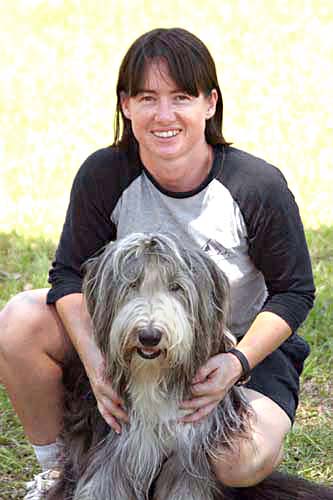 Natalie and Sonic
Oakcrest Black Diamond (ANKC) or Sonic Boom (ADAA), pet name "Sonic"
Birthday : 10/10/03
Breeders: I & G Baldock
Sire and Dam of Beardie:
S - Aust Ch Diotima Crest of a Wave (Imp U.K.)
D - Aust Ch Oakcrest Spring Jewel
Registration Numbers in all Agility organizations in which you are registered:
(ADAA) - AB111 (ANKC) - 2100172694
Titles: ADAA - AAC MAAD3 AATD AAGD AJD SD GD
ANKC - SD(N) GD(N) JDM ADX SPD ADO JDO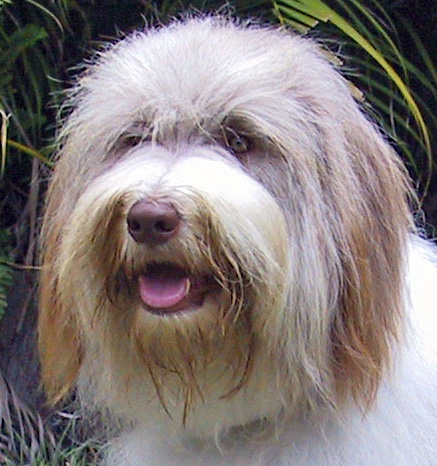 Spaghetti at 14 months
Ch Keiramyst Mi MacKendrick (ANKC) or Spaghetti (ADAA), pet name "Spaghetti"
Birthday : 14/09/07
Breeders: L Brandt

Sire and Dam of Beardie:
S - Ch Alistairs Dashing Design HT (IMP SWE)
D - Ch Jupi Mi Jandis Kilt

Registration Numbers in all Agility organizations in which you are registered:
(ADAA) - AC111 (ANKC) - 2100259219
Titles: Conformation Champion
Spaghetti has only been to one comp and put in a great effort, making no mistakes. Still got heaps to work on, but we are having fun.
I upload their runs to here http://www.youtube.com/user/natkirkwood


Clubs:
Agility Dog Club of Queensland
Sonic and Spaghetti will be participating in both the Agility Dog Association of Australia and Australian National Kennel Council forums.

My web page is
http://www.members.optusnet.com.au/~nitroandsonic/sonic.html
My e-mail is
---
Natalie Kirkwood of Queensland Australia

Sonic is my first Beardie. I am having a great time with all this Beardie fun. I am a member of the Board of Directors for of the Agility Dog Association of Australia. Have been competing in agility since 1991with Border Collies and since 2005 with Beardies.

9/03/05

Hi Libby, Sonic got his AAD last month, he is coming along great, really driving hard and often bouncing 5 meter (16 feet) jumps and has really reliable contacts. Just sometimes turns like a freight train, but we are working on that. He is having a real ball at agility. Have updated the text for his web page below as it was a bit out of date.


Thanks,
Nat

7/28/06

Sonic is progressing well. He still likes the big open courses more than the twisty ones. He is always learning new stuff. Have updated his titles below and attached a photo for the BAD web site. He finished growing at 555mm (21.75"). How much fun can a Beardie be!!!

Regards,
Natalie

10/22/06

Hi All,

I am pleased to say that after turning 3 the week before, Sonic achieved his MAAD title yesterday and won the class as well.

I am so very proud of him, he has earned 6 titles this year and hopefully he can get at least one more.

He is improving with every run and getting faster all the time. On the big open jumping with weaves courses he is running at over 6m/s. We are improving with our ability to turn tightly and as such are improving our rates of travel on the tighter courses all the time. I think most of it is about me trying to have more confidence in his ability to drive the turn instead of trying to over compensate for his relative lack of experience as compared to my older border collies, who are both in over 10.

Anyway, just wanted to share my proud moment.

regards,
Natalie

12/7/06

Hi Libby,

Just thought I would update you on Sonic's fantastic year. We finished of our Agility Championship last weekend by earning both a Snooker and a Gamblers Q. What a thrill. We do the majority of our competing with the ADAA (which is similar to USDAA).

Sonic Boom AAC MAAD AATD AAGD JDX ADX

2006 Title Summary:

Australian National Kennel Council (ANKC)
Earned his Agility Dog title 28th January.
Earned his Jumping Dog Excellent title in June.
Earned his Agility Dog Excellent in September.
His first run in Masters Agility on the weekend and he won the class. He won the Masters jumping by over 2 seconds at the comp previous to this one too. So he is well on the way to earning his Masters titles here too.

Agility Dog Association of Australia (ADAA)
Earned his Senior Australian Agility Dog title on the 26tb March.
Earned his Australian Agility Team Dog in August.
Earned his Master Australian Agility Dog title in October.
Earned an ADAA Bronze Medallion.
Earned his Australian Agility Games Dog and Australian Agility Champion titles in December.

Regards,
Natalie
Brisbane Australia


10/23/09


Hi,

Today saw the announcement of the Australian Team to travel to the World Agility Championships 2010 in London (http://www.wac2010.htt). Through my efforts at selection comps with Sonic we were selected to go. This is a huge honour and one I am very proud that I was able to achieve with my Beardie Boy.

Whilst due to quarantine restrictions and distance we are unable to take our own dogs and will be using dogs supplied by the host nation, it was still a huge feather in the bow of my Sonic to help me achieve selection - I am very proud of him.

This is the first time Australia will send a full team, which makes it a very special opportunity.

One very proud Natalie, Sonic & Spaghetti.
---

Off to a BAD Start
[BAD Handlers] | [BAD Dogs] | [BAD Events] | [BAD Links]
[BAD Greetings] | [BAD News] | BAD Beginnings]
[BAD Advice] | [BAD Attitudes] | [BAD Goods]
Email Libby with an update