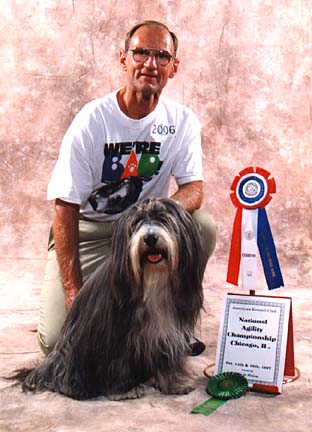 ---
Jerry Bergen tells us about the '98 AKC Nationals
Hi Libby:
Breezy, Lu and I are home at last in Vermont. It has been a busy 12 days - 44 hours driving almost 2,000 miles over 13 States to do 5 days of agility trials with a total of 14 runs. And, after 2 days of rest we're packing up the Explorer again to do 3 more days of agility in Springfield, MA. Are we BAD or what?
It has been an enjoyable 12 days which started with a NADAC trial in Westminster, Maryland. Breezy had 2 qualifying runs - one run earning the Outstanding Elite Standard title. At this trial we had the pleasure of meeting Eleanor Logue and her rescue Beardie, Chelsie, who had a successful weekend, too.
We left Maryland to take a leisurely drive through the autumn colored mountains of western Virgina and North Carolina to attend the AKC National Agility Championship in Atlanta, Georgia. Here, we met Leslie Dawson-North and her husband, Cliff, and their Beardies, Chase and Kassie. We renewed our friendship with Joanne Williamson and her husband, Greg, and their Beardie, Sean. We enjoyed meeting with Liz Cox again who was beardie-less since she was there to steward. I owe Liz a BIG THANK YOU for stopping me in the middle of a walk thru to inform me that I was walking the course in the wrong ring.
The AKC National was a 3 day event.
The 1st day was the State Team Tournament run under international rules and, consequently, not eligible for AKC titling legs. This was Breezy's best day with 2 clean runs under SCT. She was the only one of the 8 members of the New England States Team to have runs with no faults making her the 1st Place finisher on the team. Breezy's final ranking in the international class was 5th out of the 50 20" dogs.
The 2nd and 3rd days had 2 runs each under AKC regulations. Breezy's first run was disasterous with a wrong course and a refusal - both were handler induced. This resulted in an initial ranking of 72nd. Fortunately, we ran clean in the remaining 3 runs though 2 had time faults. Our improved performance raised our final ranking to 36th out of the 91 20" dogs. Overall, we are pleased with our performance. Breezy's AKC stats for the qualifying runs from this trial are:
AKC-Jumps With Weaves
11/14/98 Excellent B 20" Leg 3 100 38:86'/45'

AKC-Regular Titling
11/15/98 MX 21 91 64:70'/61'

International Class -Standard and JWW
11/13/98	Standard	2nd/50	0 Faults
11/13/98	Cumulative	5th/50	0 Faults
We are especially proud of Leslie's and Joanne's great performances. Leslie and Joanne almost made a fact of Bud Houston's prediction on the BAD web site that someday the Beardie will "take it all in national competition". Both of Leslie's Beardies made it into the top 10 for the final (4th) round. The top 10 in each height class were run separately from the rest and run last to increase the excitment and to allow video taping by Animal Planet (to be televised 1/24/99 - I think) . Leslie and Chase had a beautiful, clean run creating loud cheers and applause, and their run resulted in a final 4th Place in the 20" class. Kassi, unfortunately, popped out of the weave poles dropping her to 24th Place. Joanne and Sean with 4 clean runs finished in 8th Place in the 20" class.
After the last run the Animal Planet crew selected Chase to be its "pooch cam". Chase was fitted with a backpack carrying a VCR, and a small camera was strapped to the top of her head. The idea was to have Chase run the course giving the audience the dog's view. It was a great idea, but, unfortunately, the video equipment was too bulky causing it slip out of place whenever Chase attempted to run. Also, Chase didn't seem to care much for the idea.
Now, it's time to pack up and head to Massachusetts.
Jerry (Lu and Breezy, too)
White River Jct., Vermont
11/20/98
---
AKC Nationals-the Beardie placements
AKC Nationals-the top 10% in all classes
AKC Nationals-Jerry Bergen and Breezy
AKC Nationals-Leslie Dawson-North's Chase, the Animal Planet "Camera Pooch"
AKC Nationals-Joanne Williamson and Sean
---

Off to a BAD Start
[BAD Handlers] | [BAD Dogs] | [BAD Events] | [BAD Links]
[BAD Greetings] | [BAD News] | BAD Beginnings]
[BAD Advice] | [BAD Attitudes] | [BAD Goods]

Email Libby with an update