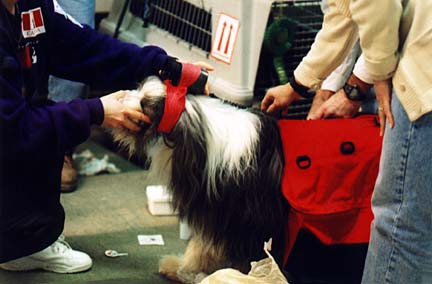 ---
Recently Helix asked the following question about a Beardie being fitted with a video camera at the recent AKC National Agility Championship:
"Animal Planet expected a top competitive dog to wear a battery pack and camera while in top level competition? Was this exhibition and I missed the point?"
Leslie Dawson-North's Beardie, Chase, had already finished competing and was awarded 4th Place in the 20" class when the Animal Planet crew selected her to be the experimental "pooch cam". Chase was selected because of her demonstrated agility ability, and that she was accustomed to having something on her head (barrette) since she is a hairy dog. Once fitted with the camera on her head and a VCR in a back pack, Chase was to run the final course - non-competively - to provide a dog's eye view of the course for the TV audience. This great idea was enthusiastically accepted by Leslie and the Animal Planet crew but not by Chase. She did attempt the tunnel and one jump but it was not Chase's usual fast, flowing style. The equipment proved to be too bulky and restrictive so the experiment was abandoned. The Animal Planet crew were very considerate of Chase. It was a collaborative effort between Leslie and the crew in determining the safest and most comfortable way to attach the equipment to Chase. I video taped the experiment thinking this was a Beardie and dogdom historical event. Well, not this time. But, maybe someday a 'pooch cam' Beardie will be taking us through tunnels and chutes and over jumps, seesaws and A frames while we sit comfortably in our LazyBoys watching TV.
Jerry (Lu and Breezy, too)
White River Jct., VT, USA
11/24/98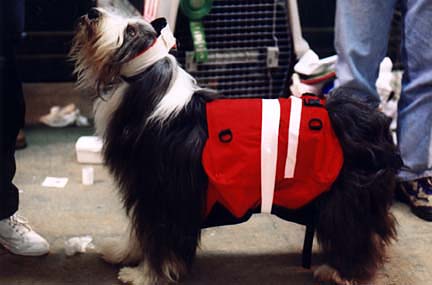 Chase not looking too pleased with the arrangement
---
AKC Nationals-the Beardie placements
AKC Nationals-the top 10% in all classes
AKC Nationals-Jerry Bergen and Breezy
AKC Nationals-Leslie Dawson-North's Chase, the Animal Planet "Camera Pooch"
AKC Nationals-Joanne Williamson and Sean
---

Off to a BAD Start
[BAD Handlers] | [BAD Dogs] | [BAD Events] | [BAD Links]
[BAD Greetings] | [BAD News] | BAD Beginnings]
[BAD Advice] | [BAD Attitudes] | [BAD Goods]

Email Libby with an update