MACH2 PACH Ha'Penny Harwood Ode to Choi
MXC MJC MXP5 MXPS MJP5 MJPS PAX CGC

APS APJ S-ISA S-SSMA S-IJA Silver S-SJMA B-SNACA

2010 and 2011 Regional and National DOCNA Champion
Snow - Bitch - 8/08/07 - DN19444804
Breeders: R. Schneider and V. Null
CH Ha'Penny Hixpac in Focus x CH Ha'Penny Touge Moi Bay B
Owner: Tracy Corey (Gilbert, AZ)
---
AKC DN19444804
Standard Agility

10/31/10  Novice 20" Leg 1         100    4th       45.12'/67'  139
11/12/10  Novice 20" Leg 2          95    2nd       48.86'/65'  136
11/13/10  Novice 20" Leg 3         100    1st       43.12'/67'  140    NA

 1/21/11  Open 20" Leg 1            95              65.81'/69'  169
 1/22/11  Open 20" Leg 2           100              49.43'/67'  159
 1/23/11  Open 20" Leg 3            95    3rd/14    52.64'/61'  148    OA

 3/05/11  Excellent A 20" Leg 1    100              52.02'/60'  171
 3/06/11  Excellent A 20" Leg 2    100    4th/27    57.18'/64'  182
 3/20/11  Excellent A 20" Leg 3    100    1st/7     49.73'/62'  177    AX
Jumpers with Weaves

10/31/10  Novice 20" Leg 1         100              25.94'/35'  104
11/12/10  Novice 20" Leg 2         100    2nd       26.05'/57'  172
11/13/10  Novice 20" Leg 3         100    3rd       21.53'/35'  105    NAJ

 1/21/11  Open 20" Leg 1            93    3rd/13    35.04'/34'  119
 1/22/11  Open 20" Leg 2            95              35.73'/37'  129
 1/30/11  Open 20" Leg 3           100    4th/12    31.81'/41'  145    OAJ

 3/04/11  Excellent A 20" Leg 1    100    2nd/16    37.80'/40'  151
 3/05/11  Excellent A 20" Leg 2    100              36.52'/42'  158
 3/06/11  Excellent A 20" Leg 3    100              39.65'/43'  161    AXJ
Championship Legs
Standard Agility

 4/10/11  Masters 20" Leg 1    100              56.84'/65'  186  QQ
 4/11/11  Masters 20" Leg 2    100              51.52'/64'  183  QQ
 9/10/11  Masters 20" Leg 3    100              53.83'/61'  173
10/23/11  Masters 20" Leg 4    100    4th/13    53.46'/60'  169
10/29/11  Masters 20" Leg 5    100              62.45'/62'  178  QQ
10/30/11  Masters 20" Leg 6    100              54.34'/61'  174
11/11/11  Masters 20" Leg 7    100              59.40'/65'  186
11/12/11  Masters 20" Leg 8    100              65.48'/65'  185
11/13/11  Masters 20" Leg 9    100              59.81'/64'  184  QQ
11/19/11  Masters 20" Leg 10   100              51.02'/59'  167        MX

 1/20/12  Masters 20" Leg 11   100              52.47'/62'
 1/21/12  Masters 20" Leg 12   100              61.47'/66'
 1/22/12  Masters 20" Leg 13   100              54.40'/63'
 2/10/12  Masters 20" Leg 14   100              53.66'/56'       QQ
 3/03/12  Masters 20" Leg 15   100              56.03'/61'
 3/04/12  Masters 20" Leg 16   100              58.74'/61'       QQ
 3/05/12  Masters 20" Leg 17   100              58.34'/65'
 3/10/12  Masters 20" Leg 18   100              53.64'/66'       QQ
 4/07/12  Masters 20" Leg 19   100              49.52'/64'       QQ
 4/08/12  Masters 20" Leg 20   100              54.43'/64'	      MX2

 4/09/12  Masters 20" Leg 21   100              63.66'/65'
 4/27/12  Masters 20" Leg 22   100              57.85'/60'       QQ
 4/28/12  Masters 20" Leg 23   100              57.53'/57'
 6/02/12  Masters 20" Leg 24   100              57.98'/61'
 6/03/12  Masters 20" Leg 25   100              55.28'/60'             MXB

 9/08/12  Masters 20" Leg 26   100              62.23'/67'       QQ
10/08/12  Masters 20" Leg 27   100              54.66'/57'   
10/27/12  Masters 20" Leg 28   100              51.88'/66'       QQ
10/28/12  Masters 20" Leg 29   100              55.95'/63'       QQ
11/10/12  Masters 20" Leg 30   100              59.12'/60'       QQ
11/17/12  Masters 20" Leg 31   100              55.69'/64'       QQ
11/18/12  Masters 20" Leg 32   100              52.04'/61'       QQ
 1/18/12  Masters 20" Leg 33   100              43.33'/60'       QQ
 2/08/13  Masters 20" Leg 34   100              49.28'/60'       QQ
 2/09/13  Masters 20" Leg 35   100              41.34'/60'       QQ
 2/10/13  Masters 20" Leg 36   100              50.81'/59'       QQ
 3/01/13  Masters 20" Leg 37   100              48.62'/62'       QQ
 3/02/13  Masters 20" Leg 38   100              50.14'/62'
 3/03/13  Masters 20" Leg 39   100              53.60'/65'       QQ
 3/10/13  Masters 20" Leg 40   100              51.00'/64'
 3/23/13  Masters 20" Leg 41   100              49.62'/60'
 3/24/13  Masters 20" Leg 42   100    4th       50.57'/59'
 4/01/13  Masters 20" Leg 43   100    1st       50.18'/62'       QQ
 4/05/13  Masters 20" Leg 44   100              48.68'/58'
 4/06/13  Masters 20" Leg 45   100              48.25'/65'
 4/07/13  Masters 20" Leg 46   100              47.01'/63'       QQ
 4/26/13  Masters 20" Leg 47   100              46.17'/65'
 4/27/13  Masters 20" Leg 48   100              45.61'/65'
 5/31/13  Masters 20" Leg 49   100              44.84'/61'       QQ
 8/03/13  Masters 20" Leg 50   100              44.70'/59'             MXS

 8/04/13  Masters 20" Leg 51   100              45.96'/62'
 8/30/13  Masters 20" Leg 52   100              56.47'/58'       QQ
 9/01/13  Masters 20" Leg 53   100              53.59'/62'       QQ
 9/02/13  Masters 20" Leg 54   100              62.76'/64'       QQ
 9/06/13  Masters 20" Leg 55   100              53.43'/63'       QQ
 9/07/13  Masters 20" Leg 56   100              50.64'/63'       QQ
 9/08/13  Masters 20" Leg 57   100              50.42'/60'
 9/30/13  Masters 20" Leg 58   100    3rd       44.54'/66'       QQ
10/26/13  Masters 20" Leg 59   100              47.88'/62'
11/09/13  Masters 20" Leg 60   100              47.53'/60' 
12/08/13  Masters 20" Leg 61   100    4th       53.56'/63'
12/27/13  Masters 20" Leg 62   100              48.04'/64'       QQ    MACH

12/29/13  Masters 20" Leg 63   100              45.25'/57'       QQ
 1/18/14  Masters 20" Leg 64   100              46.66'/30'       QQ
 1/19/14  Masters 20" Leg 65   100              43.33'/60'       QQ
 1/25/14  Masters 20" Leg 66   100              53.21'/67' 
 1/26/14  Masters 20" Leg 67   100              52.06'/66' 
 2/07/14  Masters 20" Leg 68   100              50.50'/61'       QQ
 2/09/14  Masters 20" Leg 69   100              49.28'/61'       QQ
 3/01/14  Masters 20" Leg 70   100              50.78'/65'       QQ
 3/08/14  Masters 20" Leg 71   100              47.35'/66'       QQ
 3/09/14  Masters 20" Leg 72   100              50.56'/64'       QQ
 3/16/14  Masters 20" Leg 73   100              52.61'/67'       QQ
 3/21/14  Masters 20" Leg 74   100              47.75'/60'       QQ
 3/23/14  Masters 20" Leg 75   100              49.01'/60'       QQ  MXG

4/16/14 Masters 20" Leg 76 100 47.84'/63' QQ
4/25/14 Masters 20" Leg 77 100 46.97'/59'
4/27/14 Masters 20" Leg 78 100 55.81'/64' QQ
5/08/14 Masters 20" Leg 79 100 3rd 48.21'/60' QQ
5/09/14 Masters 20" Leg 80 100 2nd 52.45'/61'
7/27/14 Masters 20" Leg 81 100 50.97'/68' QQ
8/29/14 Masters 20" Leg 82 100 55.93'/63' QQ
8/30/14 Masters 20" Leg 83 100 53.31'/64'
8/31/14 Masters 20" Leg 84 100 55.45'/64' QQ
9/01/14 Masters 20" Leg 85 100 54.00'/66' QQ
9/06/14 Masters 20" Leg 86 100 4th 53.03'/68' QQ
9/19/14 Masters 20" Leg 87 100 53.67'/62'
9/20/14 Masters 20" Leg 88 100 57.05'/63' QQ
9/21/14 Masters 20" Leg 89 100 57.83'/65' QQ
10/25/14 Masters 20" Leg 90 100 50.88'/59' QQ
10/26/14 Masters 20" Leg 91 100 60.03'/63'
11/07/14 Masters 20" Leg 92 100 49.20'/63' QQ
11/09/14 Masters 20" Leg 93 100 54.22'/67' QQ
11/22/14 Masters 20" Leg 94 100 54.39'/64'
11/28/14 Masters 20" Leg 95 100 52.53'/65' QQ
11/29/14 Masters 20" Leg 96 100 47.35'/60'
12/19/14 Masters 20" Leg 97 100 52.48'/67'
12/20/14 Masters 20" Leg 98 100 42.83'/63' QQ
12/26/14 Masters 20" Leg 99 100 47.66'/65' QQ
12/27/14 Masters 20" Leg 100 100 45.77'/63' MXC

1/09/15 Masters 20" Leg 101 100 46.11'/65' QQ
1/10/15 Masters 20" Leg 102 100 52.60'/68' QQ
1/11/15 Masters 20" Leg 103 100 47.83'/65' QQ MACH2

1/16/15 Masters 20" Leg 104 100 2nd 46.72'/63' QQ
1/17/15 Masters 20" Leg 105 100 4th 47.57'/63' QQ
1/18/15 Masters 20" Leg 106 100 2nd 50.39'/63' QQ
1/24/15 Masters 20" Leg 107 100 51.29'/68'
1/25/15 Masters 20" Leg 108 100 50.26'/66'
2/08/15 Masters 20" Leg 109 100 45.12'/59'
3/01/15 Masters 20" Leg 110 100 51.54'/66' QQ
3/20/15 Masters 20' Leg 110 100 3rd 44.83'/61'
4/24/15 Masters 20" Leg 112 100 4th 46.56'/64' QQ
4/25/15 Masters 20" Leg 113 100 49.15'/66'
4/26/15 Masters 20" Leg 114 100 2nd 46.15'/63' QQ
5/02/15 Masters 20" Leg 115 100 46.87'/64' QQ
5/07/15 Masters 20" Leg 116 100 46.27'/61'
5/08/15 Masters 20" Leg 117 100 51.23'/64'
5/09/15 Masters 20" Leg 118 100 46.41'/61'
Jumpers with Weaves

 4/09/11  Masters 20" Leg 1    100              31.15'/40'  150
 4/10/11  Masters 20" Leg 2    100              34.51'/42'  157  QQ
 4/11/11  Masters 20" Leg 3    100              34.71'/41'  152  QQ
10/22/11  Masters 20" Leg 4    100    3rd/10    33.46'/39'  145
10/29/11  Masters 20" Leg 5    100              36.50'/42'  159  QQ
11/13/11  Masters 20" Leg 6    100              39.98'/41'  153  QQ
 1/28/12  Masters 20" Leg 7    100              38.53'/38'
 2/10/12  Masters 20" Leg 8    100              31.59'/36'       QQ
 3/04/12  Masters 20" Leg 9    100              39.71'/40'       QQ
 3/10/12  Masters 20" Leg 10   100              37.51'/43'       QQ    MXJ

 3/11/12  Masters 20" Leg 11   100              34.91'/43'
 4/07/12  Masters 20" Leg 12   100              39.13'/44'       QQ
 4/27/12  Masters 20" Leg 13   100              38.38'/30'       QQ
 9/08/12  Masters 20" Leg 14   100              40.61'/43'       QQ
10/27/12  Masters 20" Leg 15   100              32.37'/41'       QQ
10/28/12  Masters 20" Leg 16   100              43.77'/43'       QQ
11/09/12  Masters 20" Leg 17   100              40.22'/40'
11/10/12  Masters 20" Leg 18   100              40.37'/43'       QQ
11/11/12  Masters 20" Leg 19   100              42.54'/43'
11/17/12  Masters 20" Leg 20   100              35.82'/42'       QQ
11/18/12  Masters 20" Leg 21   100              39.45'/42'       QQ
 1/18/13  Masters 20" Leg 22   100              36.61'/40'       QQ
 2/08/13  Masters 20" Leg 23   100              33.88'/40'       QQ
 2/09/13  Masters 20" Leg 24   100              33.31'/38'       QQ
 2/10/13  Masters 20" Leg 25   100              33.02'/39'       QQ    MJB

 3/01/13  Masters 20" Leg 26   100              39.49'/45'       QQ
 3/03/13  Masters 20" Leg 27   100              36.54'/45'       QQ      
 4/01/13  Masters 20" Leg 28   100    3rd       32.45'/36'       QQ
 4/02/13  Masters 20" Leg 29   100    4th       32.71'/41'
 4/07/13  Masters 20" Leg 30   100              34.89'/39'       QQ
 4/28/13  Masters 20" Leg 31   100              31.67'/43'
 5/31/13  Masters 20" Leg 32   100              36.53'/41'       QQ
 8/30/13  Masters 20" Leg 33   100              37.28'/43'       QQ
 9/01/13  Masters 20" Leg 34   100              36.82'/41'       QQ
 9/02/13  Masters 20" Leg 35   100              43.76'/44'       QQ
 9/06/13  Masters 20" Leg 36   100              32.59'/39'       QQ
 9/07/13  Masters 20" Leg 37   100              34.26'/41'       QQ
 9/30/13  Masters 20" Leg 38   100              27.37'/40'       QQ
11/08/13  Masters 20" Leg 39   100              33.60'/42'
11/10/13  Masters 20" Leg 40   100              32.25'/40'
12/06/13  Masters 20" Leg 41   100     2nd      32.58'/40'
12/07/13  Masters 20" Leg 42   100     1st      31.42'/41'
12/27/13  Masters 20" Leg 43   100              32.63'/39'       QQ    MACH


12/28/13  Masters 20" Leg 44   100              29.11'/37'
12/29/13  Masters 20" Leg 45   100              32.13'/38'       QQ
 1/17/14  Masters 20" Leg 46   100              32.36'/37'
 1/18/14  Masters 20" Leg 47   100              30.12'/38'       QQ
 1/19/14  Masters 20" Leg 48   100              37.38'/42'       QQ
 2/07/14  Masters 20" Leg 49   100              35.24'/40'       QQ
 2/08/14  Masters 20" Leg 50   100              31.37'/40'            MJS

 2/09/14  Masters 20" Leg 51   100              34.90'/41'       QQ
 3/01/14  Masters 20" Leg 52   100              32.37'/42'       QQ
 3/08/14  Masters 20" Leg 53   100              35.97'/42'       QQ
 3/09/14  Masters 20" Leg 54   100              35.50'/40'       QQ
 3/15/14  Masters 20" Leg 55   100              37.38'/45'
 3/16/14  Masters 20" Leg 56   100              35.14'/39'       QQ
 3/21/14  Masters 20" Leg 57   100              30.37'/37'       QQ
 3/22/14  Masters 20" Leg 58   100              27.02'/33'
 3/23/14  Masters 20" Leg 59   100              30.14'/35'       QQ
 4/04/14  Masters 20" Leg 60   100              27.00'/36'
 4/05/14  Masters 20" Leg 61   100              33.24'/42'       
 4/06/14  Masters 20" Leg 62   100              29.21'/38'       QQ
 4/27/14  Masters 20" Leg 63   100              35.75'/41'       QQ
 5/08/14  Masters 20" Leg 64   100   2nd        33.62'/40'       QQ
 6/28/14  Masters 20" Leg 65   100              33.22'/39'
 7/26/14  Masters 20" Leg 66   100              34.71'/39'
 7/27/14  Masters 20" Leg 67   100   4th        33.52'/38'       QQ
 8/09/14  Masters 20" Leg 68   100              38.38'/39'
 8/29/14  Masters 20" Leg 69   100              39.81'/43'	 QQ
 8/31/14  Masters 20" Leg 70   100	        34.56'/42'       QQ
 9/01/14  Masters 20" Leg 71   100              31.50'/40'       QQ
 9/06/14  Masters 20" Leg 72   100              35.09'/42'       QQ
 9/07/14  Masters 20" Leg 73   100   3rd        37.27'/42'
 9/20/14  Masters 20" Leg 74   100              40.71'/41'       QQ
 9/21/14  Masters 20" Leg 75   100              39.31'/44'	 QQ  MJG

10/25/14  Masters 20" Leg 76   100              32.32'/39'       QQ
11/07/14  Masters 20" Leg 77   100              30.86'/40'       QQ
11/08/14  Masters 20" Leg 78   100              39.20'/43'
11/09/14  Masters 20" Leg 79   100              34.90'/39'       QQ
11/21/14  Masters 20" Leg 80   100              41.72'/43'
11/23/14  Masters 20" Leg 81   100              40.42'/44'
11/28/14  Masters 20" Leg 82   100              30.42'/35'       QQ
12/20/14  Masters 20" Leg 83   100              39.23'/47'       QQ
12/26/14  Masters 20" Leg 84   100              37.65'/48'       QQ
12/28/14  Masters 20" Leg 85   100              35.47'/46'
 1/09/15  Masters 20" Leg 86   100              35.56'/43'       QQ
 1/10/15  Masters 20" Leg 87   100              32.52'/43'       QQ
 1/11/15  Masters 20" Leg 88   100              35.03'/38'       QQ MACH2

 1/16/15  Masters 20" Leg 89   100              32.94'/40'       QQ
 1/17/15  Masters 20" Leg 90   100              32.00'/41'       QQ
 1/18/15  Masters 20" Leg 91   100              30.95'/37'       QQ
 2/06/15  Masters 20" Leg 92   100              33.12'/43'
 2/07/15  Masters 20" Leg 93   100              35.53'/45'
 2/27/15  Masters 20" Leg 94   100              32.71'/41'
 2/28/15  Masters 20" Leg 95   100              36.18'/39'
 3/01/15  Masters 20" Leg 96   100              39.04'/44'       QQ
 4/04/15  Masters 20" Leg 97   100              36.48'/45'
 4/05/15  Masters 20" Leg 98   100              28.31'/36'
 4/24/15  Masters 20" Leg 99   100              34.47'/45'       QQ
 4/26/15  Masters 20" Leg 100  100      4th     32.54'/41'       QQ MJC

 5/02/15  Masters 20" Leg 101  100      4th     31.45'/38'       QQ  

Championship Points

 4/09/11  CPs-    8
 4/10/11  CPs-   15  QQ
 4/11/11  CPs-   18  QQ
 9/10/11  CPs-    7
10/22/11  CPs-    5
10/23/11  CPs-    6
10/29/11  CPs-    5  QQ
10/30/11  CPs-    6
11/11/11  CPs-    5
11/12/11  CPs-    0
11/13/11  CPs-    5  QQ
11/19/11  CPs-    7      MX
 1/20/12  CPs-    9
 1/21/12  CPs-    4
 1/22/12  CPs-    8
 1/28/12  CPs-    0
 2/10/12  CPs-    6  QQ
 3/03/12  CPs-    4
 3/04/12  CPs-    2  QQ
 3/05/12  CPs-    6
 3/10/12  CPs-   17  QQ  MXJ
 3/11/12  CPs-    8
 4/07/12  CPs-   18  QQ
 4/08/12  CPs-    9
 4/09/12  CPs-    1
 4/27/12  CPs-    2  QQ
 4/28/12  CPs-    0
 6/02/12  CPs-    3
 6/03/12  CPs-    4 MXB
 9/08/12  CPs-    6  QQ
10/08/12  CPs-    2
10/27/12  CPs-   22  QQ
10/28/12  CPs-    7  QQ
11/09/12  CPs-    0
11/10/12  CPs-    7  QQ
11/11/12  CPs-    0
11/17/12  CPs-   14 QQ
11/18/12  CPs-   10 QQ
 1/18/13  CPs-   19 QQ
 2/08/13  CPs-   16 QQ
 2/09/13  CPs-   22 QQ
 2/10/13  CPs-   13 QQ  MJB
 3/01/13  CPs-   18 QQ
 3/02/13  CPs-   11
 3/03/13  CPs-   19 QQ
 3/10/13  CPs-   13
 3/23/13  CPs-   10
 3/24/13  CPs-    8
 4/01/13  CPs-   14 QQ
 4/02/13  CPs-    8
 4/05/13  CPs-    9
 4/06/13  CPs-   16
 4/07/13  CPs-   19 QQ
 4/26/13  CPs-   18
 4/27/13  CPs-   19
 4/28/13  CPS-   11
 5/31/13  CPS-   20 QQ
 8/03/13  CPS-   14    MXS
 8/04/13  CPS-   16
 8/30/13  CPS-    6 QQ
 9/01/13  CPS-   12 QQ
 9/02/13  CPS-    1 QQ
 9/06/13  CPS-   15 QQ
 9/07/13  CPS-   18 QQ
 9/08/13  CPS-    9
 9/30/13  CPS-   33 QQ
10/26/13  CPS-   14
11/08/13  CPS-    8
11/09/13  CPS-   12
11/10/13  CPS-    7
12/06/13  CPS-    7
12/07/13  CPS-    9
12/08/13  CPS-    9
12/27/13  CPS-   21 QQ  MACH
12/28/13  CPS-    7
12/29/13  CPS-   16 QQ 
 1/17/14  CPS-    4
 1/18/14  CPS-   20 QQ
 1/19/14  CPS-   17 QQ
 1/25/14  CPS-   13
 1/26/14  CPS-   13
 2/07/14  CPS-   14 QQ
 2/08/14  CPS-    8
 2/09/14  CPS-   17 QQ
 3/01/14  CPS-   23 QQ
 3/08/14  CPS-   25 QQ
 3/09/14  CPS-   17 QQ
 3/15/14  CPS-    7
 3/16/14  CPS-   17 QQ
 3/21/14  CPS-   18 QQ
 3/22/14  CPS-    5
 3/23/14  CPS-   14 QQ  MXG
 4/04/14  CPS-    9
 4/05/14  CPS-    8
 4/06/14  CPS-   23 QQ
 4/25/14  CPS-   12
 4/24/14  CPS-   13 QQ
 5/08/14  CPS-   17 QQ
 5/09/14  CPS-    8
 6/28/14  CPS-    5
 7/26/14  CPS-    4
 7/27/14  CPS-   21 QQ  2nd place(Silver) Rocky Mountain State Games
 8/09/14  CPS-    0
 8/29/14  CPS-   10 QQ
 8/30/14  CPS-   10
 8/31/14  CPS-   15 QQ
 9/01/14  CPS-   20 QQ
 9/06/14  CPS-   20 QQ
 9/07/14  CPS-    4
 9/19/14  CPS-    8
 9/20/14  CPS-    5 QQ
 9/21/14  CPS-   11 QQ  MJG
10/25/14  CPS-   14
10/26/14  CPS-    2
11/07/14  CPS-   22 QQ
11/08/14  CPS-    3
11/09/14  CPS-   16 QQ
11/21/14  CPS-    1
11/22/14  CPS-    9
11/23/14  CPS-    3
11/28/14  CPS-   16 QQ
11/29/14  CPS-   12
12/19/14  CPS-   14
12/20/14  CPS-   27 QQ
12/26/14  CPS-   27 QQ
12/27/14  CPS-   17     MXC
12/28/14  CPS-   10
 1/09/15  CPS-   25 QQ
 1/10/15  CPS-   25 QQ
 1/11/15  CPS-   19 QQ  MACH2
 1/16/15  CPS-   23 QQ
 1/17/15  CPS-   24 QQ
 1/18/15  CPS-   18 QQ
 1/24/15  CPS-   16
 1/25/15  CPS-   15
 2/06/15  CPS-    9
 2/07/15  CPS-    9
 2/08/15  CPS-   13
 2/27/15  CPS-    8
 2/28/15  CPS-    2
 3/01/15  CPS-   18 QQ
 3/20/15  CPS-   16
 4/04/15  CPS-    8
 4/05/15  CPS-    7
 4/24/15  CPS-   27 QQ
 4/25/15  CPS-   16
 4/26/15  CPS-   24 QQ MJC
 5/02/15  CPS-   23 QQ
 5/07/15  CPS-   14
 5/08/15  CPS-   12
 5/09/15  CPS-   14

 Total    CPS-  1816  QQs- 68

12/27/13 CPS- 750 QQs- 20 MACH
 1/11/15 CPS- 750 QQs- 20 MACH2
---
AKC DN19444804 - Preferred Classes
Standard Agility

 3/05/10  Novice P 16" Leg 1       100    2nd       51.53'/72'  139
 3/06/10  Novice P 16" Leg 2       100    1st       47.93'/73'  141
 3/20/10  Novice P 16" Leg 3       100    3rd       51.10'/69'  133    NAP

 4/09/10  Open P 16" Leg 1          95    1st       64.02'/70'  159
 4/10/10  Open P 16" Leg 2          95    1st       58.48'/75'  173
 4/11/10  Open P 16" Leg 3         100    2nd       60.99'/68'  153    OAP

 6/07/15  Masters P 20" Leg 1      100              52.84'/67'
 6/28/15  Masters P 20" Leg 2      100              43.46'/58'      QQ
 9/05/15  Masters P 20" Leg 3      100              55.64'/69'      QQ
 9/06/15  Masters P 20" Leg 4      100              53.93'/71'      QQ
 9/07/15  Masters P 20" Leg 5      100    4th       51.83'/68'      QQ
 9/18/15  Masters P 20" Leg 6      100    4th       44.68'/63'
 9/19/15  Masters P 20" Leg 7      100              47.92'/65'
 9/20/15  Masters P 20" Leg 8      100    3rd       48.69'/67'      QQ
10/25/15  Masters P 20" Leg 9      100              53.95'/67'      QQ

Jumpers with Weaves

 3/05/10  Novice P 16" Leg 1       100    2nd       32.00'/35'  105
 3/09/10  Novice P 16" Leg 2       100    2nd       30.74'/44'  118
 3/10/10  Novice P 16" Leg 3       100    2nd       29.50'/41'  107    NJP

 3/21/10  Open P 16" Leg 1         100    1st       28.98'/40'  124
 4/09/10  Open P 16" Leg 2          95    1st       44.02'/48'  152
 4/10/10  Open P 16" Leg 3          95    2nd       39.52'/48'  151    OJP

10/05/11  Excellent AP 16" Leg 1   100    1st       37.14'/45'  149 

 6/06/15  Masters P 20" Leg 1     100     3rd       33.70'/44'
 6/26/15  Masters P 20" Leg 2     100               35.78'/50'
 6/28/15  Masters P 20" Leg 3     100               36.11'/50'       QQ
 7/24/15  Masters P 20" Leg 4     100     3rd       33.59'/46'
 7/25/15  Masters P 20" Leg 5     100     4th       31.19'/45'
 9/04/15  Masters P 20" Leg 6     100     4th       32.88'/45'
 9/05/15  Masters P 20" Leg 7     100               37.61'/52'       QQ
 9/06/15  Masters P 20" Leg 8     100               34.75'/44'       QQ
 9/07/15  Masters P 20" Leg 9     100               36.60'/52'       QQ
 9/20/15  Masters P 20" Leg 10    100               33.63'/47'       QQ MJP

10/24/15  Masters P 20" Leg 11    100               34.41'/48'
10/25/15  Masters P 20" Leg 12    100     3rd       32.80'/47'       QQ 

Championship Points
6/06/15 CPS- 10
6/07/15 CPS- 14
6/26/15 CPS- 14
6/28/15 CPS- 27 QQ
7/24/15 CPS- 12
7/25/15 CPS- 13
9/04/15 CPS- 12
9/05/15 CPS- 27 QQ
9/06/15 CPS- 26 QQ
9/07/15 CPS- 31 QQ
9/18/15 CPS- 18
9/19/15 CPS- 17
9/20/15 CPS- 31 QQ MJP
10/24/15 CPS- 13
10/25/15 CPS- 27 QQ

TOTAL CPS- 292 QQs- 6
---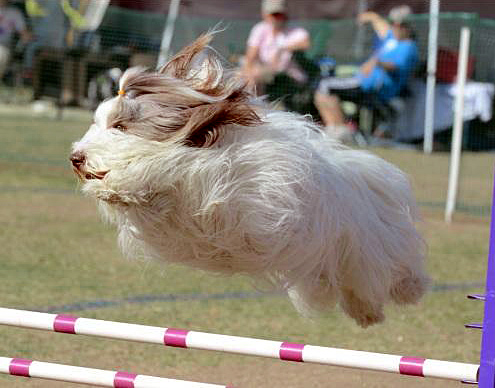 ---
USDAA U512595

10/31/09  P1  Standard 16"-Leg 1          2nd       69.51'/75'
12/05/09  P1  Standard 16"-Leg 2          2nd       64.21'/71'
12/06/09  P1  Standard 16"-Leg 3          3rd       63.03'/68'  SPS

12/06/09  P1  Jumpers 16"-Leg 1                     31.69'/38'
 1/02/10  P1  Jumpers 16"-Leg 2                     26.23'/36'
 1/03/10  P1  Jumpers 16"-Leg 3           1st       26.80'/36'  SPJ

 2/27/10  PII Standard 16"-Leg 1          2nd       62.84'/64'
 2/26/11  PII Standard 16"-Leg 2          2nd       57.32'/60'
 1/08/12  PII Standard 16"-leg 3          2nd       62.38'/71'  APS

 2/07/10  PII Jumpers 16"-Leg 1           1st       35.27'/39'
 2/26/11  PII Jumpers 16"-Leg 2           3rd       33.82'/45'
 1/08/12  PII Jumpers 16"-leg 3           3rd       38.91'/46'  APJ

 8/11/12  PIII Standard 16"-Leg 1         1st       50.63'/56'

12/06/09  15th SPS
 1/03/10  17th SPJ
 1/08/12   6th APS
 1/08/12  11th APJ
---
DOCNA

DOCNA  (update of ALL Snow's DOCNA titles)
S-BSA  = Select Beginner Standard Agility Title
S-ISA  = Select Intern Standard Agility Title
S-SSA  = Select Specialist Standard Agility Title
S-SSMA = Select Specialist Standard Merit Agility Title (15 Specialist Standard Qs)
S-BJA  = Select Beginner Jumpers Agility Title
S-IJA  = Select Intern Jumpers Agility Title
S-SJA  = Select Specialist Jumpers Agility Title
S-SJMA = Select Specialist Jumpers Merit Agility Title (10 Specialist Jumper Qs)
Bronze S-SJMA = Bronze Select Specialists Jumpers Merit Agility Title (15 Specialist Jumper Qs)
Silver S-SJMA = Silver Select Specialist Jumpers Merit Award Title (20 Specialist Jumpers Qs)

B-SNACA= Bronze Select Specialist North America Merit Award (5 North America Challenge Qs)

2010 Regional DOCNA Chamption 
2013 Regional and National DOCNA Champion
---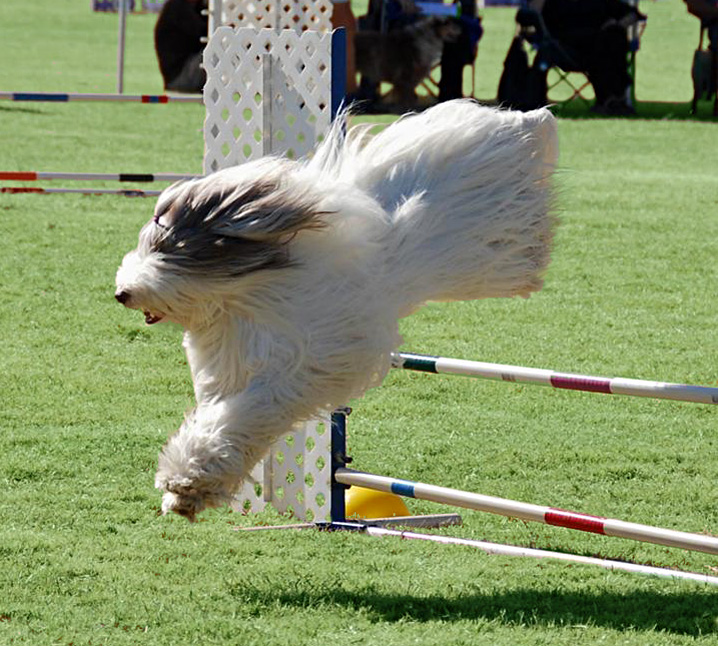 Snow - First Show
---
1/5/09
Snow is in beginner agility classes, Kinsey will be starting puppy agility classes in a few months
Neither are registered with an organization at this time
 
Snow and Kinsey are my 2nd and 3rd Beardies; unfortunately, I did not do agility with my first Beardie (who went to the Rainbow Bridge this past August) but I have had long term desire to learn agility and vowed to do it with my next set of girls.  Snow is currently in GDA beginners class and we feel we have good chance to graduate to the advance beginners.  Kinsey is only 7 mos so we will be starting the puppy agility class later in a few months. 
 
I am having a fantastic time working with Snow and very eager to start Kinsey....I had the most wonderful relationship with my first Beardie but the relationship I am developing with Snow because of agility is an experience I treasure.
 
Since there are very few Beardies in AZ, I am looking forward to the opportunity to connect with other Beardie owners/handlers regarding Beardies and Beardie agility.
 
We belong to Good Dog Agility, Arizona
11/9/09
 
Greetings again!  I know that you do not track DOCNA results; however, with them headquartered here in Phoenix we have a lot of opportunities to participate in their trials.   I need to take a moment to brag on behalf of my baby girl because she did so good this weekend and I am very proud of her!!  Snow ran in her second trial this weekend with DOCNA - 3 standards, 2 jumpers and Q'd in all 5 events!  Which means she earned her BSA title for Beginner Standard Agility.   She did a fantastic job and I am slowly beginning to get my act together (sort of).  It did help that the weather is finally beginning to cool down.
 
Thanks,
Tracy
takarabeardies@yahoo.com
Snow & Kinsey
The Bouncing Beardies
Wicket (our first beardie, who stole our hearts) who is waiting at the Rainbow Bridge with Choi Choi (sharpei) and Baren (min. schnauzer)
4/29/10

Hi Libby
 
Snow and I just completed our first year of competition and we had the best time, lots of learning and so much fun!!!!   Below are the remaining results for her runs for this season.
DOCNA Titles
S-IJA (Select - Intern Jumpers Agility)
S-ISA (Select - Intern Standard Agility)
9/23/10
Well, we made it safely to CO...it was along drive (thank goodness for books on CD). Today were the warm up runs (they do not count toward the National Championship but we could earn Qs toward titles).
Snow did GREAT....we got 2Qs and her Standard Q earned her Specialist Standard Title!!!! Hopefully this is a sign for the remainder of the weekend!!
Tomorrow starts the actual National Championship...Lookin' forward to a weekend of running hard and most importantly having fun!!!
Sep 24, 2010

Hi Libby Absolutely, I can put something together to provide more info on DOCNA and Nationals!
Snow did great today. She placed 1st in Jumpers and 3rd in Standard. We have an actual chance of making to the finals on Sunday with Jumpers because of her placement today.

Thanks, Tracy
Wags & Slobbers, Snow - OAP, OJP, PS1, PJ1, S-SSA, S-SJA
Kinsey - got her first Q!!!!!
Wicket (our first beardie, who stole our hearts) who is waiting at the Rainbow Bridge with Choi Choi (sharpei) and Baren (min. schnauzer)
The Bouncing Beardies Forever in our Hearts and Home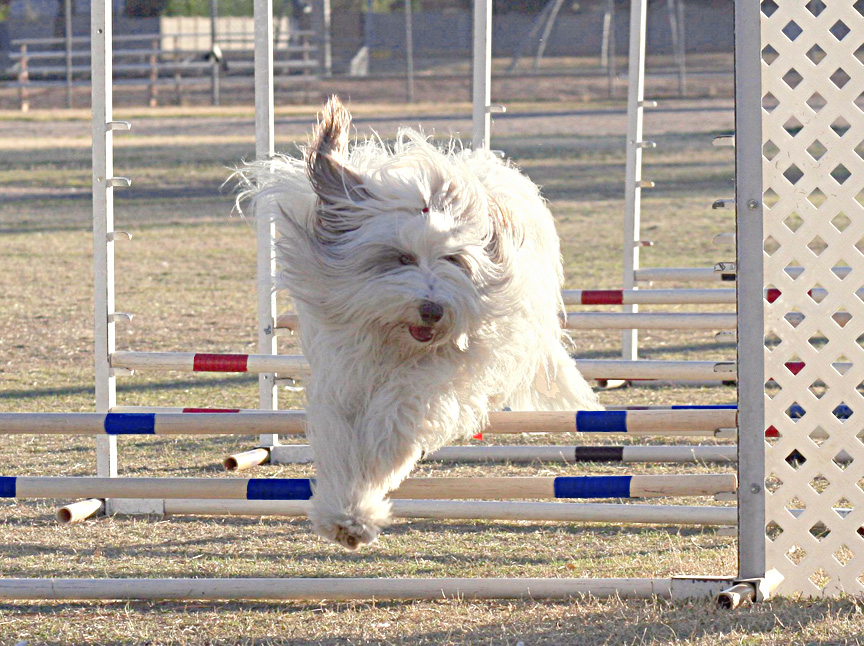 ---
BADWAGS-Who Are We?

BAD

BCCA

Organizations
---

Off to a BAD Start
[BAD Handlers] | [BAD Dogs] | [BAD Events] | [BAD Links]
[BAD Greetings] | [BAD News] | BAD Beginnings]
[BAD Advice] | [BAD Attitudes] | [BAD Goods]