GCH CH Scotdale's Blue Light Special RN MX MXJ VX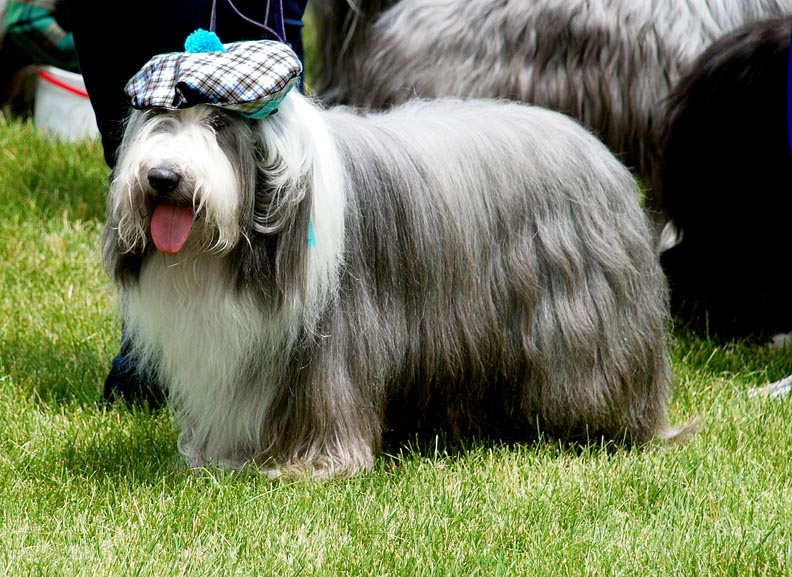 Mac at the Highland Games
2014
---
Mac-DN26372803-Dog-November 30, 2009
Breeder: Karen Shaw of Scotdale's Bearded Collies
CH Scotdale's Smooth Operator x CH Scotdale's Diamond in the Sky
Owners: Wendy McBrayer and Karen Shaw
Handler: Wendy McBrayer Kregor of Lake Bluff, IL
Member Chicagoland Bearded Collie Club
---
July 1, 2014 - We just started agility trials this year. In fact we are only 3 or 4 shows into open standard and JWW. Mac seems to like JWW best, maybe because he doesn't have time to worry about that strange person walking around the course with him. It would be helpful to connect with other agility beardie people to discuss how they train for issues like that. AND, I enjoy the photos of beardies flying around courses.
August 16, 2014 - I have been training agility for 2 years but just started competing this spring. Mac, Scotdale's Blue Light Special, has just moved up to agility excellent and has 2 legs of excellent jumpers. Mac and I train with an outstanding trainer and agility judge, Anne Riba.
June 10, 2015 - It took us 8 months to get the first qualifying score in Excellent Standard. On May 30th he got his third! The next day. May 31, Mac got his MXJ. A nice weekend especially since we got to watch other beardies, doesn't happen often here in the Chicago area.
---
AKC DN26372803
Standard Agility

04/26/14   Novice A  20" Leg 1     91    1/1     74.81/70    147
04/27/14   Novice A  20" Leg 2    100    1/1     62.84/73    154
05/11/14   Novice A  20" Leg 3     88    1/1     70.80/68    141             NA

07/25/14   Open      20" Leg 1    100    1/5     66.50/66    162
08/09/14   Open      20" Leg 2     90    2/3     64.82/65    159
08/10/14   Open      20" Leg 3    100    1/3     60.08/62    150             OA

04/03/15   Excellent 20" Leg 1     88            72.67/68    194
05/17/15   Excellent 20" Leg 2     85            67.92/62    176
05/30/15   Excellent 20" Leg 3    100            62.76/63    179             AX

09/20/15   Masters   20" Leg 1    100    Q/26    62.58/63    181    0 pts
Jumpers with Weaves

03/22/14   Novice A  20" Leg 1    100    2/2     26.72/42    127
04/27/14   Novice A  20" Leg 2     95    1/1     32.90/39    117
05/11/14   Novice A  20" Leg 3    100    1/1     29.22/36    108             NAJ

06/20/14   Open      20" Leg 1    100    1/2     37.75/39    136
07/11/14   Open      20" Leg 2     95    3/16    34.43/39    136
07/12/14   Open      20" Leg 3    100    2/14    29.91/37    129             OAJ
07/13/14   Open      20" Leg 4    100    1/13    36.34/38    134

07/25/14   Excellent 20" Leg 1    100    1/6     38.25/41    153
08/09/14   Excellent 20" Leg 2     97    1/4     41.51/40    149
11/08/14   Excellent 20" Leg 3    100            41.88/46    172             AXJ

11/09/14   Masters   20" Leg 1    100            38.72/41    153    2 pts
11/21/14   Masters   20" Leg 2    100            38.35/43    161    4 pts
12/27/14   Masters   20" Leg 3    100            35.57/39    146    2 pts
12/28/14   Masters   20" Leg 4    100            35.04/41    152    5 pts
01/03/15   Masters   20" Leg 5    100            43.07/47    175    3 pts
01/04/15   Masters   20" Leg 6    100            39.72/44    165    4 pts
03/22/15   Masters   20" Leg 7    100            37.96/40    149    2 pts
04/18/15   Masters   20" Leg 8    100            39.90/44    164    4 pts
05/16/15   Masters   20" Leg 9    100            36.17/41    153    4 pts
05/31/15   Masters   20" Leg 10   100            41.97/42    157    0 pts    MXJ
      
06/28/15   Masters   20" Leg 11   100    Q/27    39.61	39    146    0 pts
07/10/15   Masters   20" Leg 12   100    Q/48    40.68	43    161    2 pts
09/20/15   Masters   20" Leg 13   100    Q/29    42.82	42    159    0 pts
11/13/15   Masters   20" Leg 14   100    Q/46    40.43	46    171    5 pts
---
Mac's Links
BCCA
BAD
Organizations
---

BAD-Midwest Beardies
---

Off to a BAD Start
[BAD Handlers] | [BAD Dogs] | [BAD Events] | [BAD Links]
[BAD Greetings] | [BAD News] | BAD Beginnings]
[BAD Advice] | [BAD Attitudes] | [BAD Goods]

Email Libby with an update