Gusto-Rescue-Dog-4/01/02
Owner/Handler: Tracy Hill of Columbia, MD
---
I am a BAD list subscriber. Sheila Franklin encouraged me to become a member.
Gusto was born on April 1, 2002 (estimated by vet). I rescued from a Washington DC shelter at approximately 4 months old. His breeder is unknown. I am a member of Pawzazz (which is a NADAC agility club)
Gusto entered his first trial on Oct 23 & 24th and has 1 jumpers Q and 1 Gamblers Q. Gusto's web page is http://space.umd.edu/people/hill/Gusto/. Unfortunately, I haven't updated it since he was a puppy. I can e-mail a picture with Gusto with Sheila's Bracey (they spent Thanksgiving together). He is small/short for a boy. At his first trial, he measured under 18" in order to jump 16". He is very close. Gusto has been training for approximately 1 year.
Thanks,
Tracy and Gusto
---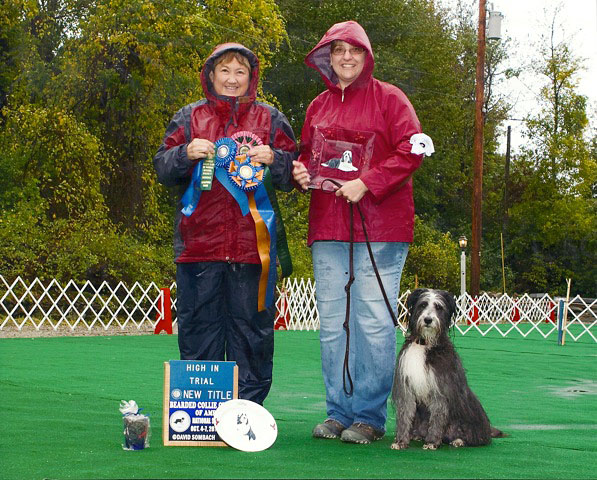 Gusto winning High in Trial in Obedience as well as highest scoring vet at the 2011 Nationals in Main
It was crazy raining that day!
---
AKC ILP 105431
Standard Titling

10/02/07 Novice A 16" Leg 1      95     1st/1   51.76'/76'  3.25
01/29/10 Novice A 16" Leg 2      95     2nd     54.44'/68'  135
05/29/10 Novice B 16" Leg 3      90     1st     48.21'/72'  145   NA
Jumpers with Weaves

10/02/07 Novice A 16" Leg 1     100     1st/1   29.43'/38'  3.57
01/30/10 Novice A 16" Leg 2     100     1st     31.30'/40'  109
01/31/10 Novice A 16" Leg 3      95     1st     37.25'/39'  107   NAJ
FAST

10/02/07 Novice A 16" Leg 1      60     1st/1   23.00'/35'
01/29/10 Novice A 16" Leg 2      61     1st     12.03'/35'	
01/31/10 Novice A 16" Leg 3      67     1st     17.03'/35'  62.7  NF
AKC Preferred - ILP 105431
Standard Titling

09/11/10 Novice P 12" Leg 1      90     1st     46.69'/74'  137
09/12/10 Novice P 12" Leg 2      95     1st     48.21'/76'  141
05/30/11 Novice P 12" Leg 3     100     1st     40.37'/77'  145   NAP
Jumpers with Weaves

09/12/10 Novice P 12" Leg 1     100     1st     28.95'/48'  117
05/29/11 Novice P 12" Leg 2     100     2nd     28.48'/48'  118
05/30/11 Novice P 12" Leg 3     100     2nd     30.26'/48'  118   NJP
FAST

09/11/10 Novice P 12" Leg 1      76     1st     31.61'/38'	
09/12/10 Novice P 12" Leg 2      74     1st     36.30'/38'
NADAC 04-09287

 3/26/05 Novice A Regular 16" - 10        1st/2    36.41'/52.53'
 5/15/05 Novice B Regular 16" - 10        5th/10   51.59'/60.40'
 5/29/05 Novice B Regular 16" -  5        2nd/6    44.70'/59.32'
10/30/05 Novice B Regular 16" - 10        1st/5    46.43'/60.40'             NAC
10/22/06 Novice P Regular 16" - 10        1st/4    37.99'/57.60'
 1/28/07 Novice S Regular 16" - 10        1st/3    40.04'/56.80'
 1/28/07 Novice S Regular 16" - 10        1st/3    35.69'/56.80'
 7/28/07 Novice S Regular 16" - 10        1st/5    23.56'/45.20'
10/21/07 Novice S Regular 16" -  5        1st/4    29.54'/54.80'
11/03/07 Novice S Regular 16" - 10        2nd/6    34.01'/60.00'
11/03/07 Novice S Regular 16" - 10        2nd/6    32.70'/60.00'           O-NAC

11/04/07 Novice S Regular 16" - 110       2nd/6    33.41'/49.20'
 1/26/08 Novice S Regular 16" - 120       2nd/3    30.61'/55.20'
 1/26/08 Novice S Regular 16" - 130       1st/3    25.98'/55.20'
 6/15/08 Novice S Regular 16" - 140
 6/15/08 Novice S Regular 16" - 150
 7/26/08 Novice S Regular 16" - 160
 7/26/08 Novice S Regular 16" - 170
10/19/08 Novice S Regular 16" - 180
11/01/08 Novice S Regular 16" - 185
11/01/08 Novice S Regular 16" - 195
11/02/08 Novice S Regular 16" - 205                                        S-NAC

 7/30/10 Open   V Regular       10

10/24/04 Novice  Jumpers 16" Leg 1        3rd/7    24.23'/28.46'
 3/26/05 Novice  Jumpers 16" Leg 2        3rd/5    27.30'/31.06'             NJC
 4/23/05 Novice  Jumpers 16" Leg 3        2nd/7    26.90'/29.33'
 4/24/05 Novice  Jumpers 16" Leg 4        5th/8    22.70'/23.73'
 5/14/05 Novice  Jumpers 16" Leg 5        2nd/10   22.78'/29.87'           O-NJC
 5/28/05 Novice  Jumpers 16" Leg 6        2nd/7    19.13'/23.77'
 5/29/05 Novice  Jumpers 16" Leg 7        2nd/3    28.56'/34.69'
 6/12/05 Novice  Jumpers 16" Leg 8        1st/3    19.55'/30.40'
 7/03/05 Novice  Jumpers 16" Leg 9        1st/3    25.02'/33.96'
 7/30/05 Novice  Jumpers 16" Leg 10       1st/5    18.46'/28.53'           S-NJC

 8/02/05 Novice  Jumpers 16" Leg 11               Adjustment
 1/29/06 Novice  Jumpers 16" Leg 12       1st/?    24.88'/30.93'

 5/28/06 Open P Jumpers 16" Leg 1         1st/2    32.02'/34.59'
 7/28/06 Open P Jumpers 16" Leg 2         1st/2    22.19'/28.00'
 7/29/06 Open P Jumpers 16" Leg 3         1st/4    27.71'/27.76'             OJC
10/01/06 Open P Jumpers 16" Leg 4         1st/4    24.34'/29.41'
 1/27/07 Open S Jumpers 16" Leg 5         1st/2    30.26'/37.65'
 5/26/07 Open S Jumpers 16" Leg 6         1st/5    29.76'/32.71'           O-OJC
 7/28/07 Open S Jumpers 16" Leg 7         1st/2    28.44'/32.24'
10/20/07 Open S Jumpers 16" Leg 8         2nd/     22.37'/28.71'
10/21/07 Open S Jumpers 16" Leg 9         2nd/     26.81'/27.53'
11/03/07 Open S Jumpers 16" Leg 10        1st/3    28.51'/32.94'           S-OJC

11/04/07 Elite S Jumpers 16" Leg 1        1st/1    25.80'/25.89' 79.46
 1/26/08 Elite S Jumpers 16" Leg 2        2nd/4    32.87'/35.89' 77.40
11/02/08 Elite S Jumpers 16" Leg 3                               73.82       EJS

 4/17/10 Elite V Jumpers 16" Leg 1                               66.90

10/23/04 Novice  Gamblers 16" Leg 1       1st/7    29 + 20 = 49
 8/02/05 Novice  Gamblers 16" Leg 2                Adjustment
10/21/07 Novice S Chances 16" Leg 3                                          NCC
11/03/07 Novice S Chances 16" Leg 4
11/04/07 Novice S Chances 16" Leg 5
 1/26/08 Novice S Chances 16" Leg 6                                        O-NCC
 6/15/08 Novice S Chances 16" Leg 7
10/18/08 Novice S Chances 16" Leg 8

 2/05/05 Novice Tunnelers 16" Leg 1       2nd/9    24.74'/37.62'
 2/06/05 Novice Tunnelers 16" Leg 2       4th/9    36.59'/41.76'
 2/06/05 Novice Tunnelers 16" Leg 3       1st/8    32.69'/40.69'            TN-N
 2/19/05 Novice Tunnelers 16" Leg 4       2nd/2    21.16'/33.77'
 2/20/05 Novice Tunnelers 16" Leg 5       1st/3    23.12'/33.35'
 2/20/05 Novice Tunnelers 16" Leg 6       1st/2    26.44'/40.44'          O-TN-N
 3/05/05 Novice Tunnelers 16" Leg 7       3rd/6    26.77'/37.33'
 3/06/05 Novice Tunnelers 16" Leg 8       3rd/5    17.39'/24.80'
 5/29/05 Novice Tunnelers 16" Leg 9       3rd/5    27.19'/36.80'
 6/12/05 Novice Tunnelers 16" Leg 10      1st/4    24.64'/33.60'          S-TN-N

 7/02/05 Open   Tunnelers 16" Leg 1       1st/2    35.32'/37.88'
 7/03/05 Open   Tunnelers 16" Leg 2       2nd/2    24.94'/32.00'
10/30/05 Open   Tunnelers 16" Leg 3       1st/4    28.08'/37.65'            TN-O
11/20/05 Open   Tunnelers 16" Leg 4       3rd/5    26.33'/27.53'
 5/28/06 Open P Tunnelers 16" Leg 5       1st/2    25.93'/29.88'
 7/29/06 Open P Tunnelers 16" Leg 6       3rd/4    23.54'/32.71'          O-TN-O
10/22/06 Open P Tunnelers 16" Leg 7       2nd/4    30.81'/38.59'
11/26/06 Open S Tunnelers 16" Leg 8       1st/?    28.31'/29.80'
11/26/06 Open S Tunnelers 16" Leg 9       1st/?    33.62'/38.67'
 1/27/07 Open S Tunnelers 16" Leg 10      1st/3    24.79'/32.24'          S-TN-O
 1/27/07 Open S Tunnelers 16" Leg 11      1st/1    21.02'/29.41'

 2/04/07 Elite S Tunnelers 16" Leg 1      1st/2    25.93'/29.47' 77.13
 3/03/07 Elite S Tunnelers 16" Leg 2      1st/1    24.49'/31.16' 88.87
11/03/07 Elite S Tunnelers 16" Leg 3      2nd/2    26.45'/33.68' 96.79     TNS-E
 1/05/08 Elite S Tunnelers 16" Leg 4      1st/5    31.84'/37.18' 84.92
 2/02/08 Elite S Tunnelers 16" Leg 5      1st/4    28.93'/33.66' 81.36
 2/03/08 Elite S Tunnelers 16" Leg 6      3rd/3    27.81'/28.82' 72.47
 2/03/08 Elite S Tunnelers 16" Leg 7      2nd/3    28.77'/30.14' 73.26
 3/01/08 Elite S Tunnelers 16" Leg 8      1st/4    29.22'/35.42' 76.21
 3/01/08 Elite S Tunnelers 16" Leg 9      1st/4    29.27'/32.78' 84.77
 3/02/08 Elite S Tunnelers 16" Leg 10     2nd/3    29.92'/32.78' 74.56   O-TNS-E

 3/02/08 Elite S Tunnelers 16" Leg 11     1st/3    26.61'/32.78' 83.83
 7/25/08 Elite S Tunnelers 16" Leg 12                            76.36
 7/26/08 Elite S Tunnelers 16" Leg 13                            79.05 MEDAL Skilled Tunnelers
10/19/08 Elite S Tunnelers 16" Leg 14                            75.54
11/01/08 Elite S Tunnelers 16" Leg 15                            89.61

11/21/09 Elite P Tunnelers 16"     10     1st/1    28.17'/32.78' 83.96
11/22/09 Elite P Tunnelers 16"     20     1st/1    20.99'/27.50' 88.06
11/22/09 Elite P Tunnelers 16"     30     1st/1    29.02'/35.42' 94.53      TN-E
 3/07/10 Elite P Tunnelers 16"     40                            79.64
 3/07/10 Elite P Tunnelers 16"     50                            82.35
 7/31/10 Elite P Tunnelers 16"     60                            77.28
10/24/10 Elite P Tunnelers 16"     70                            73.51

 2/06/05 Novice   Touch N Go 16" Leg 1    1st/7    39.12'/41.53'
 2/19/05 Novice   Touch N Go 16" Leg 2    2nd/4    49.99'/55.16'
 2/19/05 Novice   Touch N Go 16" Leg 3    1st/3    52.96'/55.16'            TG-N
 2/20/05 Novice   Touch N Go 16" Leg 4    2nd/3    46.09'/54.88'
 3/26/05 Novice   Touch N Go 16" Leg 5    2nd/7    41.12'/43.69'
 5/14/05 Novice   Touch N Go 16" Leg 6    5th/11   42.35'/51.22'          O-TG-N
 7/28/06 Novice P Touch N Go 16" Leg 7    2nd/2    37.38'/48.15'
11/26/06 Novice S Touch N Go 16" Leg 8    1st/?    36.34'/56.31'
 3/04/07 Novice S Touch N Go 16" Leg 9    1st/4    34.77'/46.63'
 5/26/07 Novice S Touch N Go 16" Leg 10   1st/8    34.20'/59.20'          S-TG-N

 7/28/07 Open S Touch N Go 16" Leg 1      1st/1    35.77'/49.74'
 1/05/08 Open S Touch N Go 16" Leg 2      1st/5    43.40'/53.98'
 2/02/08 Open S Touch N Go 16" Leg 3      1st/5    32.98'/40.78'            TG-O
 2/03/08 Open S Touch N Go 16" Leg 4      2nd/5    34.37'/48.98'
 3/01/08 Open S Touch N Go 16" Leg 5      2nd/4    31.06'/48.98' 5.38yps
 3/02/08 Open S Touch N Go 16" Leg 6      1st/4    34.29'/46.06' 4.58yps  O-TG-O
 6/15/08 Open S Touch N Go 16" Leg 7
 7/25/08 Open S Touch N Go 16" Leg 8
11/02/08 Open S Touch N Go 16" Leg 9
11/21/09 Open P Touch N Go 16" Leg 10     1st/2    31.33'/40.48' 4.40yps  S-TG-O   
11/21/09 Open P Touch N Go 16" Leg 11     2nd/2    31.68'/44.00' 4.73yps  

11/22/09 Elite P Touch N Go 16"    10     1st      28.65'/36.50' 86.34       
11/22/09 Elite P Touch N Go 16"    20     1st      26.45'/36.50' 93.52   

 2/04/07 Novice S Weavers 16" Leg 1       1st/6    27.86'/39.87'
 1/05/08 Novice S Weavers 16" Leg 2       1st/5    32.58'/52.06'
 1/05/08 Novice S Weavers 16" Leg 3       1st/4    31.12'/49.14'            WV-N
 1/26/08 Novice S Weavers 16" Leg 4       1st/6    34.64'/51.70'
 2/02/08 Novice S Weavers 16" Leg 5       2nd/4    43.47'/63.06'
 2/02/08 Novice S Weavers 16" Leg 6       2nd/4    37.39'/57.56'          O-WV-N
 2/03/08 Novice S Weavers 16" Leg 7       1st/6    36.20'/55.74'
 2/03/08 Novice S Weavers 16" Leg 8       1st/6    33.06'/52.06'
 3/01/08 Novice S Weavers 16" Leg 9       1st/8    29.63'/53.16' 4.89yps
 3/02/08 Novice S Weavers 16" Leg 10      1st/5    38.77'/53.16' 3.73yps  S-WV-N
 3/02/08 Novice S Weavers 16" Leg 11      1st/5    31.56'/57.56' 4.97yps

10/18/08 Novice   Hoopers 16" Leg 1
 4/18/10 Novice   Hoopers 16" Leg 2
10/23/10 Novice   Hoopers 16" Leg 3                                         HP-N

10/30/05 NAC     84th
 3/26/05 NJC     77th
10/21/07 NCC     70th
 2/05/05 TN-N    23rd  
 2/19/05 TG-N    11th
 1/05/08 WV-N    26th Novice Versatility Award
10/23/10 HP-N     5th

11/03/07 O-NAC    3rd
 5/14/05 O-NJC    3rd
 1/26/08 O-NCC    3rd
 2/20/05 O-TN-N   1st
 5/14/05 O-TG-N   1st
 2/02/08 O-WV-N   4th Outstanding Novice Versatility Award-2nd

11/02/08 S-NAC    2nd
 7/30/05 S-NJC    2nd
 6/12/05 S-TN-N   1st 
 5/26/07 S-TG-N   2nd
 3/02/08 S-WV-N   4th

 7/29/06 OJC     57th
10/30/05 TN-O    19th 
 2/02/08 TG-O    12th

 7/29/06 O-TN-O   3rd
 5/26/07 O-OJC    7th
 3/02/08 O-TG-O   3rd

11/03/07 S-OJC    6th
 1/27/07 S-TN-O   2nd
11/21/09 S-TG-O   2nd

11/02/08 EJS      1st
11/03/07 TNS-E    2nd

11/22/09 TN-E    19th

 3/02/08 O-TNS-E  2nd

 7/26/08 MEDAL Skilled Tunnelers
         1000 Point Award
         1245 points as of 11/22/09