5th Annual BCCA Fun Relay
At the end of the AKC trial, after awards were presented, we had our relay race!!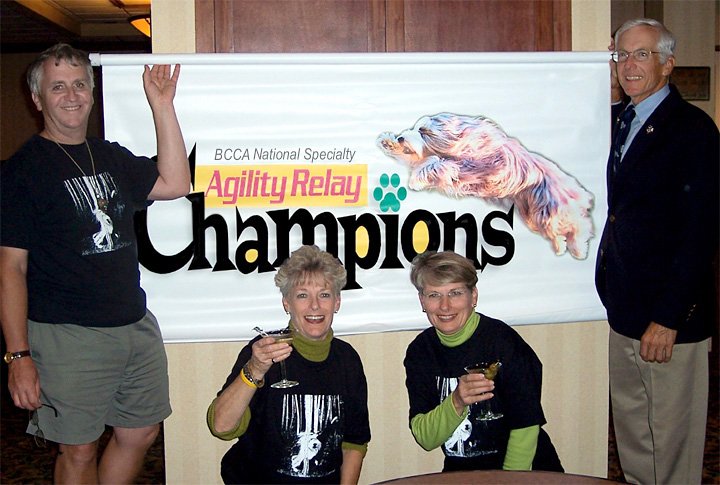 The Unleashed Team with the Flying Annie Banner designed by Gretchen Blackburn
Jack Buhite, Ann Chandoha, and Karen Barratt celebrate with Judge Greg Beck
---
Agility Chair: Sharon Prassa
Agility Secretary: Libby Myers-Buhite
Chief Ring Steward: Maryann Szalka
Timer/2nd Judge: Doug Halsey
Flying Annie Banner commissioned by Beth Canner and designed by Gretchen Blackburn.
Winners' leather and rope tug toys donated by the Beardie Agility Diehards.
---
Judge Gregory Beck
4508 Stuart Avenue, Richmond, VA 23221
908-230-4955/ fauxpaws2000@yahoo.com

Videographer of the Trial and the Relay
John Thornton of K9TV
P.O. Box 621442, Littleton, CO 80162
303-972-6433

Photographer of the Trial and the Relay
Kathleen Schaffer of Pup Art
PO Box 664, Downers Grove, IL 60515
katho@aol.com
---




---
Judge Greg Beck designed a weave pole knockout

16 Teams, 48 Beardies, had a fast and furious race!
At the end of our Specialty Agility Day, the winds and rain from the tail end of Rita dissipated, the sun came out, and spirits were high! The agility folk donned their colorful team shirts and planned strategies for the weave pole knockout designed by Judge Greg Beck. Sixteen Teams, or forty-eight Beardies, had a fast and furious race through the two parallel courses, run simultaneously by two teams of three Beardies. Each course had two 16" jumps, a set of six poles, and a horseshoe tunnel, which sent the teams back through the weaves and over the jumps to the next teammate. What I especially enjoyed about this relay was the satisfaction of knowing the winners of each race instantaneously. Having the two teams run head to head added immensely to the excitement. We didn't need our timer until the very end, so Doug Halsey, our designated timer, assisted Greg Beck in judging the weave poles. We ran all sixteen teams, the eight winners, the four winners, the two winners, and then we had a dilemma. Karen Barratt and Ann Chandoha were both on the last two winning teams. At this point, Karen had already run NINE times with Jet, Bud, and Miller and Ann had run SIX times with Arbi and Dru. How were they to compete against themselves? Debate ensued. To my mind there was only one solution, the stop watch. The "MACHarenas" (MACH5 Jet, MACH Arbi, and the super-fast MACH OTCH Jack) ran first with a formidable time. Then Karen lined up for her 11th relay run with Miller, her 17 month old debutant, and Ann lined up with Dru, Miller's littermate, both out of MACH Budweiser. Karen had run so many times that we kept asking her, "Are you REALLY ready?" and Karen was more than game! This "Unleashed Team" of untried youngsters was then joined by their seasoned teammate, 10 3/4 year old Caper, who is still in great athletic form. This teenager/veteran team beat the MACH Beardies by two seconds and won the "Flying Annie" banner (a second time for Karen and Ann)! Each winning Beardie was then presented with a sturdy leather and rope tug toy donated by the Beardie Agility Diehards. Before that day, Karen kept asking us if we had a sense of humor and hoped we wouldn't mind losing the relay, because who knew what would happen when Miller and Dru had to run with the distraction of another team. These two youngsters proved themselves, however, and I expect great things of them as they follow in the pawprints of dad, MACH Budweiser, uncle MACH5 Jet, aunt MACH Arbi and cousin MACH OTCH Jack. We all celebrated later in the day and took some fun snapshots in the hotel bar with Judge Greg Beck.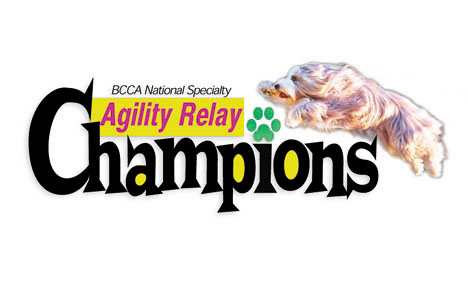 The "Flying Annie" Relay Banner
1st - Unleashed:
Karen Barratt and Miller, Jack Buhite and Caper, Ann Chandoha and Dru
2nd - The MACHarenas:
Karen Barratt and Jet,Ann Chandoha and Arbi, Jill Scarborough and Jack
3rd/4th - Free Agents:
Karen Barratt and Bud, Michele Ritter and Biff, Jeff Wong and Maggie
3rd/4th - The Lights Are On:
Cheri Omnus and Mckay, Bobbie Raguse and Kira, Lori Weinberg and Rocky
Round 1
Round 2
Round 3
Round 4
Round 5
Winners
Maryann Szalka-Cowboy
John Szalka-Checkers
The Barking Lot
Maryann Szalka-Sunny
The Beardie Express
Nikki Ryan-Doodles
Tamara Duvell-Duncan
The Beardie Express
Pearl Stokoe-Maggie
**********************
******************************
**********************
Unleashed
Eileen Dinneen-Carbon
Carol Hegg-Joli
Tails Of Texas
Wade Pelton-Dallas
Unleashed
Karen Barratt-Miller
Jack Buhite-Caper
Unleashed
Ann Chandoha-Dru
**********************
******************************
**********************
**********************
Unleashed
BJ Walker-Brodie
Tammy Begler-Reesee
The Crazy Coloradans
Laura Tappero-Kailey
Team #6
Terry Manganiello-Darby
Karen Allen-Jetta
Team #6
Cheryl Poliak-Indy
**********************
******************************
**********************
The Lights Are On
Cheri Omnus-McKay
Bobbie Raguse-Kira
The Lights Are On
Lori Weinberg-Rocky
The Lights Are On
Sue Jamison-Bogie
Judi Morris-Echo
Prairie Dogs Kick'n Prairie Grass
Maggie Riechman-Quinn
**********************
******************************
**********************
**********************
**********************

Unleashed

Caper, Miller, and Dru

Karen Barratt-Bud
Michele Ritter-Biff
Free Agents
Jeff Wong-Maggie
Free Agents
Carol Hegg-Dusty
Marilynn Snook-Lakotah!
Waggin' Tails
Sarah Halsey-Wizard
**********************
******************************
**********************
Free Agents
Carol Carlsen-Ivy Sue
Jan Leverenz-Hops
Wynsum Wild Wons
Carol Carlsen-Lexus
Beardie JAZ
Jeff Ipser-Zoom
Sharon Ipser-Jax
Beardie JAZ
Dina Lipman-Abby
**********************
******************************
**********************
**********************
The "MACH"arenas
Kelly Canham-Cole
Jason Pelland-Willow
The Flaming Beardies
Nikki Ryan-Smitten
The Flaming Beardies
Linda Swain-Christopher
BJ Walker-Mindy
Rowdy Roundup
Gail Wall-Wyatt
**********************
******************************
**********************
The "MACH"arenas
Cheri Omnus-Miller
Linda Porter-Bailey
The Merry Masters
Joanne Williamson-Beau
The "MACH"arenas
Karen Barratt-Jet
Ann Chandoha-Arbi
The "MACH"arenas
Jill Scarborough-Jack

Relaxing in the Hotel Lounge after the Relay

Photo taken by Judge Greg Beck


From Left to right: Debby Pisarski, Jack Buhite, Ann Chandoha, Eileen Dinneen, Libby Myers-Buhite, Robin Fortenberry, Karen Barratt, Jill Scarborough, Beth Scorzelli


---

---
BCCA
For those of you who are history buffs, you can find accounts of our nine earlier trials along with scores and pictures at:



---
---
---
BAD Honors:
---
BAD Awards:

Off to a BAD Start
[BAD Handlers] | [BAD Dogs] | [BAD Events] | [BAD Links]
[BAD Greetings] | [BAD News] | BAD Beginnings]
[BAD Advice] | [BAD Attitudes] | [BAD Goods]
Email Libby with an update