USDAA and NADAC
The Search for the Beardies
---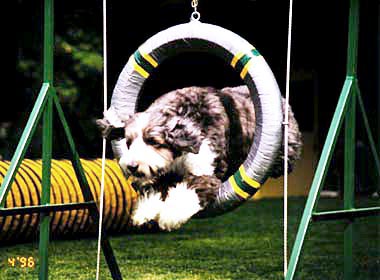 KC
First AAD
---
Article in the Beardie Bulletin, May 1997
Agility as a sport is growing by leaps and bounds among our Beardies. Five years ago only one person competed in USDAA. NADAC and AKC had not yet been founded. Today there are 11 Beardie titlists in USDAA and 9 in NADAC.
Since Beth Canner, the BCCA Agility Chair, has been doing such a great job reporting AKC statistics, I called her in February to ask if USDAA and NADAC legs and titles could also be published. She asked if I'd do it. "Sure!" I replied.
I called both organizations, published a request in the BCCA Newsletter, searched the Beardie Bulletin and 25th Anniversary Yearbook for Agility Beardies, and put out a call for legs and titles on BDL. This brought immediate results. A deluge of letters and e-mail swamped me. A short two months later my records are complete, ready now for next weekend's wins.
The most exciting part about gathering these statistics, aside from our Beardies, is the people I have gotten to know and the tremendous amount of help I have received. Jerry Bergen was the first to contact me with the name and address of everyone in the Northeast competing in NADAC and AKC and continues to send weekly updates on Breezy and lots of humorous quips my way. Next Glenn Hamilton and Emily Venator contacted me with a wealth of information about the entire US and Canada. When, at the end of February, Betty Winfield contacted me, my whole database came together. She went back to 1992 in the USDAA publications and found every leg and titlist, except for the very first one.
There still remained the elusive first USDAA titlist. Glenn Hamilton remembered seeing a Flash Paws tape and thought the first titlist might be a Texan. When he found her name, I put out a request on BDL and still turned up nothing. Who was this unknown Beardie owner? Finally, I asked my husband's help and together we put out a search on AOL for Margaret Hill Pichon of Texas. In a moment there flashed an address and phone number on the screen! When I called her, she was truly amazed. She had gotten her Beardie in Norway from Tove A. Olsen during an eight year sojourn in Europe. While in France she became acquainted with agility but was told she should put a rubber band around her barky Beardie's nose! (Do any of us know barky Beardies?) Upon her return to the US she heard of an agility organization in Texas called the USDAA and, with no special preparation, thought she and Lucy should give it a try. So, pregnant with her third child, Margaret ran the courses with Lucy and together on their first weekend out they earned the first USDAA Beardie AD! Lucy at age 11, is now a happy family pet, the beloved Beardie of four young children. I let Margaret know that there are several splendid Texans doing agility with their Beardies, such as Karen Barratt with Boo, Anne Chandoha with Stoli, and Gretchen Blackburn with Allie. All three Agility Enthusiasts have their Beardies from Eileen Dinneen and her agility Beardie, DeLorean. They tell me that they are planning a multi-generation win next weekend! I had to laugh when Karen Barratt told me she discovered Boo's interest in agility when "She barked like a Banshee!" as a puppy spectator in the Houston Astrodome.
While collecting this information I could not help noticing that every Agility Beardie in NADAC and most in USDAA are also Versatility Beardies! Jerry Bergen's Breezy has five areas of accomplishment, including tracking, and is in pursuit of that last AX leg. Penny Leigh's veteran, Tribbles, has four areas of accomplishment and has earned the coveted MX, ten Excellent legs beyond the AX, as well as a UD and ROM. Ruth Ivers veteran, Sprite, also has four areas of accomplishment besides agility, which she really enjoys. Charles Gibson's three year old Mikie has titles in two areas besides agility, in which he already has an AX in AKC, an AGI in UKC, and three titles in NADAC. Iris Berry's Spiff, Sharon Prassa's Annie, and Jack Buhite's Skyedance are the impressive "California Versatility Beardies" who are looking forward to their versatility certificates at this year's National Specialty. Betty Winfield's K.C. has a CDX as well as many agility firsts and high level titles, such as the AX, AAD, and OAC. Her Miss C, at age three, has agility titles in four organizations, including an Open in AKC. Karen Barratt's Boo, who has just turned three, has titles in three of the agility organizations, as well as her championship and HC. Mary Lott's Patsch, who turned two on Thanksgiving, already has titles in three areas, including agility, where he is going strong in NADAC with seven legs! Most of these agility Beardies have HCs, some HCTs and a few are quite accomplished, such as Sharon Prassa's Annie and Iris Berry's Spiff.
The Canadians also have incredible versatility dogs. Besides competing in as many as four agility organizations, some have earned Canadian/American Championships in Conformation, such as Lisa Danchuk's Chester and Emily Venator's Denia. Others have their Canadian/American CDXs, such as Lisa's Chester and Carla Mortensen's Quinn.
When I asked Leslie Dawson-North, who performed stunningly with her 3 Beardies in Atlanta, how long she had been working with dogs, she told me that Beardies were the first dogs she had ever trained and that she started about five or six years ago. In 1994 Leslie and Kassi earned one Novice Obedience High in Trial and the Highest Scoring Obedience Beardie in Canada, 196 1/2. The following year she earned two Obedience High in Trials and another Highest Scoring Obedience Beardie in Canada, a 194 1/2, with Koddi. Laura Thomson also only began training dogs with her first Beardie, Rugby. In '96 she and Rugby were invited to participate in the Canadian Nationals.
Among agility Beardies, Team Sports are also a great favorite. Carla Mortensen filled me in on the many intricacies of Flyball, with its eight levels from Flyball Dog to Grand Master. Iris Berry's Spiff, Leslie Dawson-North's Kassi and Koddi, Emily Venator's Denia and Carla's Quinn are working their way up the ladder, with Denia having attained the Flyball Master Excellent (10,000 points) and Quinn the Flyball Master Championship (astronomical)! Quinn is also a Scent Hurdling Champion, a member of a team called "Scentrifugal Force," which runs relays retrieving owner-scented wooden dumbbells. Denia's Flyball Team is "Some Ruff Competition" and Spiff's is the "Fresno Furraris." Penny Leigh's Tribbles was invited to participate on a Master's level USDAA Agility Team called "Herd Enough?"
Karen Barratt may hold the record for the distance travelled each week to her agility class with Jane Simmons-Moakes, 80 miles each way. Jerry Bergen drives from Vermont to New Hampshire for his class, even through the winter snows. But the Canadians probably hold the record for distance travelled to trials, thinking nothing of competing one weekend in Chicago and the next in Maryland!
Having found each other through the Internet and in honor of our sport, we now have a Bearded Collie Agility Line called BAD, since we are indeed Beardie Agility Diehards! You may see us sporting Gretchen Blackburn's T-shirts at the National Specialty in September. Look for us at the Agility Event!
Libby Myers-Buhite
BCCA Agility Committee
National Specialty Agility Committee
---

| | | | | |
| --- | --- | --- | --- | --- |
| | | Galleries | | |
| | | | | |
| | | | | |