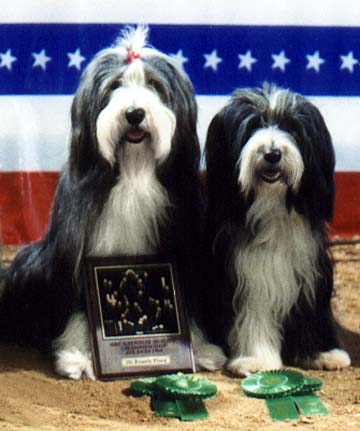 Chase and Kassi
First USDAA MAD titlists
Chase first ADCH
(Shown here at AKC Nationals)
---
"Dog agility is a competitive sport in which a handler directs his dog over a timed obstacle course. Dogs race against the clock as they jump hurdles, scale ramps, burst through tunnels, traverse a see-saw and weave through a line of poles. With scoring based on faults similar to equestrian show jumping, dog agility has become an exciting spectator event."
Tammy Wiebe, National Specialty Judge, 1997
---
USDAA--The Organization
USDAA (The U.S. Dog Agility Association) was organized in 1986 by Ken Tatsch of Dallas, Texas. The agility format is based on international standards. USDAA is the largest agility organization and is considered by most competitors to be the pinnacle of agility competition in the United States.
Beardies have been competing in USDAA since April of 1992. We now have 156 Beardies registered with USDAA. 85 have earned legs and 57 have earned titles.
The USDAA's Bearded Collie Stats are regularly updated:
http://www.USDAA.com/awards_breedStat.cfm?breed_no=16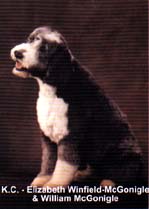 K.C.
Handled by Betty Winfield
1st USDAA Advanced Dog (AAD)
USDAA Firsts
USDAA Versatility Titling

First AD- Agility Dog-Margaret Hill Pichon with Lucy- 4/11/92

First AAD-Advanced Agility Dog-Betty Winfield with K.C.- 4/22/95

First MAD-Masters Agility Dog-Leslie Dawson-North with Kassi and Chase-7/26/98

First ADCH-Agility Dog Champion-Leslie Dawson-North withChase- 6/2/00

USDAA Standard Titling

First SSA-Starters Standard Agility (equals AD before January1, 2004)-Barkley 2/21/04

First ASA-Advanced Standard Agility (equals AAD before January1, 2004)-Bracey 9/12/04

First SAM-Standard Agility Master-Anne Kajava with Olav- 2/27/00

First SACH (USDAA Standard Agility

Champion)-Anne Kajava with Olav - 5/06/00

First SACH-Bronze-Anne Kajavawith Olav - 10/15/02

First SACH-Silver-Anne Kajavawith Olav - 4/21/02

First SACH-Gold-Anne Kajavawith Olav - 5/03/03

USDAA Starters Games Titling - New Rules

First SR-Starters Relay -Shiela Franklin and Bracey- 5/15/04

First SS-Starters Snooker -Shiela Franklin and Bracey- 5/16/04

First SJ-Starters Jumpers -Shiela Franklin and Bracey- 6/20/04

First SG-Starters Gamblers -Shiela Franklin and Bracey- 7/03/04

USDAA Open Games Titling - Old Rules

First AJ-Advanced Jumpers-Betty Winfield and MissC- 6/01/97

First AR-Advanced Relay-Leslie Dawson-North and Kassi-7/26/97

First AS-Advanced Snooker-Betty Winfield and MissC- 8/03/97

First AG-Advanced Gamblers-Leslie Dawson-North and Chase-10/4/98

USDAA Open Games Titling - New Rules

First AJ-Advanced Jumpers-Sharon Williamson and Brio-11/26/00

First AR-Advanced Relay-Pat Coreris and Chipper-2/07/04

First AS-Advanced Snooker-Patti Bott and Spice-3/20/04

First AG-Advanced Gamblers-Sheila Franklin and Bracey-10/30/04

USDAA Masters Games Titling

First JM-Jumpers Master-Leslie Dawson-North with Kassi-5/31/98

First SM-Snooker Master-Betty Winfield with MissC- 6/6/99

First RM-Relay Master-Leslie Dawson-North with Chase-8/1/99

First GM-Gamblers Master-Leslie Dawson-North with Chase-10/10/99

USDAA Championship Games Titling

First JCH-Jumpers Championship-AnneKajava with Olav - - 8/20/00

First JCH-Bronze--Anne Kajavawith Olav - - 11/18/00

First JCH -Silver--Anne Kajavawith Olav - - 6/03/02

First SCH-Snooker Championship-AnneKajava with Olav - - 9/30/00

First SCH-Bronze--Anne Kajavawith Olav - - 12/10/00

First SCH-Silver--Anne Kajavawith Olav - - 10/12/02

First RCH-Relay Championship-AnneKajava with Olav - - 12/09/00

First RCH-Bronze--Anne Kajavawith Olav - - 1/03/03

First GCH-Gamblers Championship-AnneKajava with Olav - - 10/12/02

USDAA Tournament Masters Titling

First TM--Anne Kajava with Olav - - 18/23/03

USDAA Veteran/Performance Titling

USDAA Veteran/Performance Standard Titling

First VAD-Veteran Agility Dog-Jerry Bergen with Breezy- 5/24/98

First VAAD-Veteran Advanced Agility Dog-Jerry Bergen with Breezy - 9/19/98

First PDIII-Performance Dog III-Jerry Bergen with Breezy- 9/18/99

First APD-Accomplished Performance Dog- Jerry Bergen with Breezy - 6/16/01

PS3-Veteran/Performance III Titling

First VS-Veteran Snooker Performance- Jerry Bergen with Breezy - 5/1/99

First VJ-Veteran Jumper Performance- Jerry Bergenwith Breezy - 5/2/99

First PJ-Performance III Jumpers- Jerry Bergen with Breezy- 10/2/99

First PS-Performance III Snooker- Jerry Bergen with Breezy- 8/5/00

First PG-Performance III Gamblers- Jerry Bergen with Breezy - 6/16/01

PS1

First PS1-Performance Dog I Standard -Nancy May with Farley-9/19/04

First PJ1-Performance I Jumpers-Nancy May with Farley-9/12/04

First PK1-Performance I Snooker-Nancy May with Farley-10/24/04

First PG1-Performance I Gamblers-Jan Norikane with Gina-8/14/05
---