DENIA AWARD
2002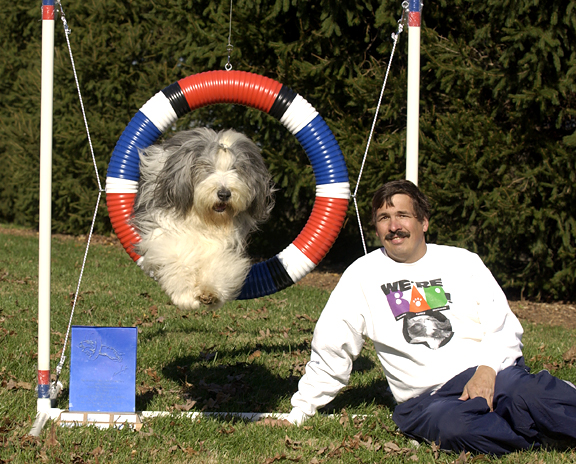 Ch Wigglesworth Out On A Limb, MX, MXJ, CGC
Handled by Jeff Ipser of Auburn, OH
Winning the Denia award was the furthest thing from my mind entering 2002. I had just earned my Open title in December 2001. If I was to receive the Denia award all legs would have to come in the Excellent level. Compounding the difficulty was the fact that Jax and I are new to agility. We'd also be competing against several other experienced handlers.
What I learned during 2001 was that I had a poor foundation of agility skills to be successful in the advanced courses. I spent most of the year relearning basics and how to best handle Jax. Lucky for me, my instructor, Debbie Sacerich, saw our potential and took the time to teach me agility handling and training. Jax made the job easier by wanting to do agility enthusiastically whenever we went to train.
The year started off slow for Qs for two reasons: we were restarting our training and there are very few trials in northern Ohio through March. We used this time to concentrate on training.
We got our third AX leg in April. When the summer trial season finally arrived, we had limited success with Qs, with many near misses. Because of the numerous near Qs, I could see our potential. We started to click as a team in August. We bore the fruits of our hard work in the second half of the year. Jax finished in first place and HIT (fastest YPS) in September. That placement, and finish over some very well handled dogs, gave me confidence for the last quarter of the year.
Instead of putting the equipment away in October, like I've done the previous year, I found a vacant industrial building and rented it throughout the winter. This allowed us to continue to refine my handling and work on skills that Jax still needed to perfect.
2002 concluded with 11 Qs, all in Excellent Standard agility and the Denia award. Luckily for us, it was just good enough to edge out some other talented teams.



---
---
---
BAD Honors:
---
BAD Awards:

Off to a BAD Start
[BAD Handlers] | [BAD Dogs] | [BAD Events] | [BAD Links]
[BAD Greetings] | [BAD News] | BAD Beginnings]
[BAD Advice] | [BAD Attitudes] | [BAD Goods]
Email Libby with an update