DENIA AWARD
2000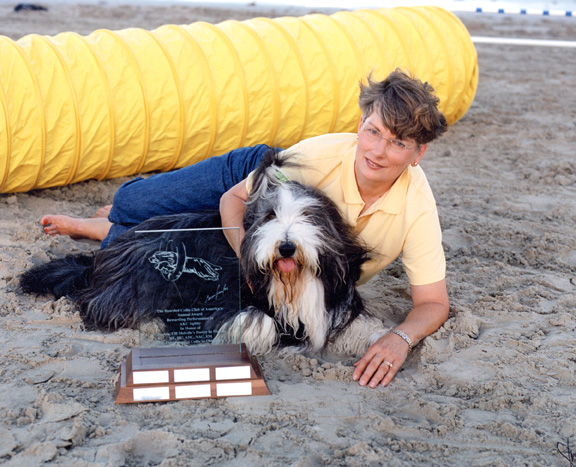 O'Duinnin HMT Sonic Boom, MX, MXJ, AD, OAC, OJC, OGC
Handled by Karen Barratt
---
Karen Barratt 5/30/01 :
When asked by Libby to write a short article about my experiences in agility I thought long and hard on a topic. I've had the benefit of great training through the years and considered that. But, most of this is covered in Jane Simmons-Moake's writings and tapes or Clean Run articles. I decided instead to write about the uniqueness of training a Beardie in the earlier years of the sport.
I was introduced to agility at the Houston Astrohall Dog Show in the summer of '95 and began a novice agility class with my young Beardie, Boo, the following January. After several weeks of training my instructor made the comment that "Boo was the only intelligent Beardie she had ever seen." While I was flattered that she liked my girl, I was dismayed at her mischaracterization of this wonderful breed. After all I had lived with a Beardie since the early 70's and could write a book on the subject of clever things they did in and about my house. Beardies were VERY smart.....I knew that. And, I recognized that agility was a great forum to prove this fact to all those like my instructors who might doubt it.
Boo moved quickly through the levels of training to an advanced class. There we found ourselves surrounded by obedience buffs with their perfect OTCH dogs. RED ALERT! The Beardie bounce that I thought was so cute did not play well in this theater. It wasn't long before I began to feel like Rodney Dangerfield. We got "no" respect. This wasn't part of my plan. Boo's natural exuberance for life and the sport we were endeavoring to learn needed to be channeled. I could recognize that. But, I also knew it would eventually be the very thing that turned heads in our direction. During those early years we worked very hard as a team traveling 140 miles round trip weekly to train. My non-dog friends thought I had gone mad. There were no other Beardies doing agility in the area at this time so I had no support system. I made lots of mistakes. Like most first time handlers I was the anchor around my dogs neck but we could NQ with great aplomb. It was fun and the spectators loved seeing the "hairy" dog perform.
I bred Boo in '97 and by then had attracted a number of prospective owners who had seen us both in the conformation ring and in the agility ring. The instructor who thought Beardies were basically not trainable before meeting Boo was at the top of my list for an agility boy. Eureka! I had made a difference. Jet was the pick agility puppy and I adored everything about him but he was promised to this instructor. After seeing the heavy coat he would have she decided it was more than she would be able to take care of with her busy schedule and opted out of our agreement. Yea! To my delight I got to keep him after all.
Where Boo and I had trod, Jet and I would soar. I started training him almost as he left the whelping box. He was so willing to please and learn the sport. I was definitely an improved handler and knew what I wanted to accomplish at each point in our training. Alas! Jet, a Beardie, and I were finally competitive with most of the better dog/handler teams in my class. By this time there were other Beardies doing agility in the area. Trials became a meeting place for great Beardie friends to share ideas and a few laughs. Jet's litter mate, Arbi, was training for the sport. Stoli, Allie, DeLorean & Dallas were competing successfully. Beardies in Texas had come a long way toward proving their worth in agility.
I'm still somewhat awestruck by the number of people who comment on the wonderful temperament and happy attitude of my dogs after a run. Comments at trials like "they look like they're smiling when they take the obstacles," "my dog runs but yours looks like he's having so much more fun," "they look so pretty jumping," or even "they're really clowns aren't they?" make the long hours commuting to class and trips to God knows where worthwhile. This is the singular reason why I continue to enjoy agility. Boo and Jet have earned numerous titles and awards along the way including this year's Denia award which goes to Jet. And, while these titles serve to mark the progress we've made I'm humbled by a poem I recently read about their significance. I don't know its origin but remember these last lines.
And when that dear, short life is over,
the title remains as a memorial of the finest kind,
the best you can give to a deserving friend,
volumes of praise in one small set of initials after the name.
A title is nothing less than
love and respect given and received and permanently recorded.
Last updated 11 December 2002



---
---
---
BAD Honors:
---
BAD Awards:

Off to a BAD Start
[BAD Handlers] | [BAD Dogs] | [BAD Events] | [BAD Links]
[BAD Greetings] | [BAD News] | BAD Beginnings]
[BAD Advice] | [BAD Attitudes] | [BAD Goods]
Email Libby with an update