DENIA AWARD
2005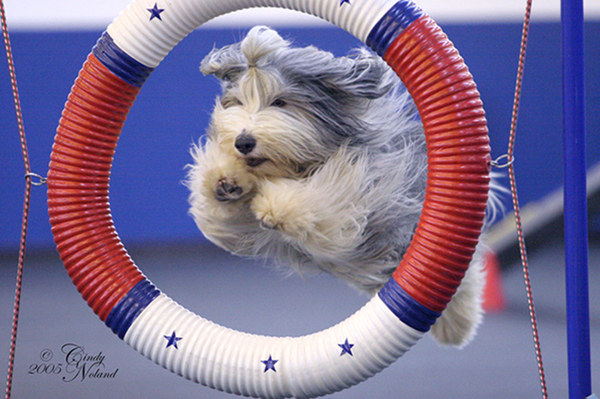 Wigglesworth Super Sonic, MX, MXJ
Handled by Jeff Ipser of Auburn, OH
Zoom is the first beardie to win the Denia award with the maximum points possible. He accomplished that feat by finishing his Novice, Open, Excellent A and Excellent B titles all with clean runs. Those four titles, consisting of 19 legs, were also earned during a seven month period and before he was two years old.
In order to earn those titles over a short period of time, Zoom's training started early in his life. I had an offer from Debbie Sacerich, who helped me retrain Jax. She said "I'll show you how to raise your next puppy FOR agility." Debbie said call me when the last littermate leaves for its home. I called her at 10AM on a Sunday to inform her that he last puppy just left. Her reply was "Your first lesson is at 2PM today." She gave me a list of exercises to train for the following week's lesson. The next week she told you did a good job of training; now perfect it by next week. Every week I was given new drills and exercises to teach. I had weekly lessons to prove or perfect the previous week's drills and start training a new skill.
Zoom was born in February 2004. During that summer I trained in my backyard. I woke up early every day and trained before going to work. I trained Zoom every night before he was allowed dinner. He was performing all obstacles except for jumps. Zoom was never allowed any treats, food or play toys unless he worked for it. All of our other beardies regularly received those perks just for being around us. My mother, who lived with us, thought we were torturing Zoom. She always felt sorry for him.
As winter approached, his growth plates closed and I enrolled in an excellent level class under Debbie. By February, his performance was on a level with the MACH dogs in his class.
Originally I thought I would hold him out of trialing until 2006. However two events changed my plans. I knew that Andrea Hobe was training Parker, Zoom's littermate. I knew that she would start trialing him in 2005 and didn't want to compete with her for the Denia award. Unfortunately, Parker died of spinal meningitis in March. Then one day in March, while discussing Zoom's training, my mother asked if she could see him run. She hadn't seen him run all winter since the training wasn't occurring in our backyard. So I entered Zoom for only one day at our club's trial on May 1. I entered him in Preferred since I wasn't sure how he would do in a trail with all of the distractions. He was entered at 20" so that he would jump the same height that he would if in regular classes.
Two weeks before the trial my mother passed away unexpectedly. Everybody in our club knew Zoom was entered only at my mother's request. As I took the start line for his first run, it became very quiet. The stands were lined with club members. His first course was the jumpers with weaves course. As I walked out for a two jump lead out, Zoom stood solid waiting for my release. The second jump was the double with a 90 degree turn into an off side weave entrance. Many of the previous novice dogs had trouble with the opening. Zoom performed the entire course flawlessly and fast. He completed the 39 second course in 23.16 seconds. The place erupted with cheers as he cleared the last jump. The picture of him clearing the last jump on this course is on his BAD web page. It was a very emotional moment because I knew my mother was watching.
He continued to run fast and clean in Preferred during May. Beginning in June, I decided we would move into regular classes and set a goal of getting our Master titles by the end of the year. I thought he could be the first beardie to be a double Master before two years old. Through the balance of the year, we kept training, perfecting our skills and pursuing a dream. Zoom finished his MXJ title in November and MX title in December. During a large 4 day trail in December, he finished in second place twice out of entry of 60 dogs in Jumpers. He also beat a world team dog twice that weekend. Zoom finished 2005 with 351 MACH points, 11 double Qs and 292 Front & Finish Jumpers points. His success resulted in being the Denia Award winner for 2005.


Tribbles -1995-1996
Breezy -1997
Sean -1998
Lucy -1999
Jet - 2000
Wizard - 2001
Jax - 2002
Moxie - 2003
Bailey - 2004
Star - 2004

---
---
---
BAD Honors:
---
BAD Awards:
---
Agility Organizations:
---

Off to a BAD Start
[BAD Handlers] | [BAD Dogs] | [BAD Events] | [BAD Links]
[BAD Greetings] | [BAD News] | BAD Beginnings]
[BAD Advice] | [BAD Attitudes] | [BAD Goods]
[BAD Member Breeder's Page]
Email Libby with an update