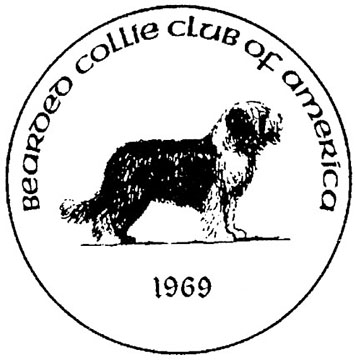 ---
Annual Agility Report - BCCA Agility Committee - 1 November 2010
Committee Co-Chairs:
Libby Myers-Buhite of Santa Clara CA, Agility Co-Chair
David Williamson of Pearland, TX, Agility Co-Chair
Agility Committee Members:
Karen Barratt of Galveston TX, former Co-Chair
Patti Bott of Lakeside CA
Jack Buhite of Santa Clara CA
Carol Carlsen of Oxford MI
Ann Chandoha of Marble Falls TX
Sarah Halsey of Fallbrook CA
Jeff Ipser of Auburn OH, AKC Agility Judge
Linda Porter of Hagerstown, MD
Sharon Prassa of Sacramento CA
Michele Ritter of Saylorsburg PA
Board Liaison: David Williamson
Goals for 2010-2011:
We will vote on a scoring method for the "Fastest Beardie" and the AKC FAST class and its place within the BCCA Agility Awards and Register of Merit programs. These proposals will both be presented to the BCCA Board this coming year. A FAST trophy has been proposed by Sarah Halsey for the top FAST Beardie.
Activities and Major Accomplishments:
A: BCCA Awards:
We have voted on the scoring systems for the existing BCCA Awards: the Diehard Trophy, the Denia Award, the High in Jumpers with Weaves Award, the Preferred Veteran Award, and the Sunshine Award, as well as the Certificates for Standard and Jumpers with Weaves. We are ready to make a proposal to the Board on these topics.
B. Trials:
The Bearded Collie Club of America holds an annual National Specialty agility trial.
Jeff Ipser chairs annual BCCA all breed agility trials as BCCA fund-raisers.
Joanne Williamson chairs annual BCCA all breed agility trials as BCCA fund-raisers.
The Northern California Bearded Collie Fanciers, chaired by Libby Myers-Buhite, held its 10th annual Beardie-only Regional Specialty agility trial.
The National Capitol Bearded Collie Club, the Northwest Bearded Collie Club of Puget Sound, and the Northern California Bearded Collie Fanciers hold between two and four all-breed agility trials annually.
C. Publication:
The Agility Committee fosters the sport of dog agility through publication in the Bagpipes and the Beardie Bulletin. Milestones, explanations of new classes and rule changes, agility events, and tributes are published in the Bagpipes, as well as the annual report. All AKC Titles and BCCA Awards are published in the Bulletin, as well National Events and articles on the sport. The Beardie Agility Diehards (BAD) pay for all agility pages above the yearly allotment and for the publication of USDAA, NADAC, CPE, and UKC titles as well. Over the last twelve years the Diehards have sponsored 170 pages in the Bulletin and contributed $14,685 toward publication.
D. Internet:
The BCCA website's Agility Section contains agility articles and a link to the Beardie Agility Diehard website (www.beardieagilitydiehards.org). The BAD website, created by Karen Norteman and started on New Year's Day 1998, has a large section devoted to BCCA Agility, listing the current BCCA Agility Committee, the complete list of BCCA Agility Award winners since 1996, the Register of Merit for Agility, the National Specialty results starting with the first trial in 1996, and the annual agility reports. Regional Clubs' Agility Trials are featured as well. Currently there are 593 Agility Beardies on the BAD Website, including 542 at home and 51 abroad. Of these, 479 have earned legs and titles in the five United States dog agility organizations and 427 are BAD. The Beardie Agility Line, started in January of 2000, brings together the Agility Community from the USA and around the world to help those new to the sport, to discuss techniques, and to share agility successes and questions. Currently we have 270 members. Joanne Williamson publishes the BCCA's year-end AKC Awards to the line so that they can be confirmed before being printed in the Bulletin. Libby Myers-Buhite publishes the USDAA, NADAC, CPE and UKC titles and standings.
E. AKC Correspondence:
Libby Myers-Buhite contacted the American Kennel Club about holding our annual National Specialty Relay this year.
Statistical Information
168 Beardies competed in agility last year. 158 did AKC agility, 34 did USDAA, 23 did CPE, and 16 did NADAC. Between July 1, 2009 and June 30, 2010, Beardies earned more than 3,400 legs in these four venues combined.
American Kennel Club-AKC:
457 Beardies have earned AKC legs since 1994. Thirty Beardies have earned championships (MACHs), ten have earned MACH2s, four have earned MACH3s, three have earned MACH 4 and 5, two have earned MACH 6, 7, 8, 9,10, 11, and one has earned the MACH12. During 2009, 154 Beardies earned a total of 2,007 legs in the Regular, Preferred and FAST classes with 997 placements in all breed and Specialty competition. 113 of these teams accounted for 222 total titles (92 Novice, 59 Open, 31 Excellent, 26 Masters, and 14 Championships). The level of participation in the Regular classes was down 11% from 2008, but more titles were earned (214 in 2008 vs 222 in 2009) by the same number of teams. The number of Beardies competing in the Preferred classes only increased from 19 in 2008 to 27 in 2009. Three teams competed at the 4th AKC Agility Invitational in Long Beach, CA. Linda Porter and Mika (Fox Lane's Mika At Tweeddale) again made the finals as they did in 2008. Six teams qualified for 2010 AKC National Championships to be held in Tulsa, OK in March, 2009; one team qualified for the new Preferred Nationals competition. Sarah Halsey and Wizard (Anasazi Secret Of The Wizard) continued their record of Beardie agility "Firsts" by earning their MACH10 in November. Jeff Ipser and Zoom (Wigglesworth Super Sonic) earned the first Beardie TQX.
United States Dog Agility Association-USDAA:
125 Beardies have earned legs since 1992. Eleven are new since last year. There is 1 triple champion (ADCH-Bronze), 4 champions (ADCH), and one Accomplished Performance Dog.
North American Dog Agility Council -NADAC:
164 Beardies have earned legs since 1996. There is 1 Versatility Champion (Vers-NATCH), one triple champion (NATCH3), and 4 champions (NATCH).
Canine Performance Events-CPE:
50 Beardies have earned legs since 2003. Nine are new since last year. There is 1 Triple Champion Extraordinaire (C-ATE3) and 5 champions (C-ATCH), including a C-ATCH7, a C-ATCH6, and a C-ATCH2.
Commendations:
The BCCA Agility Committee congratulates thirteen Beardies who have earned eighteen Agility Championships since last year. We now have forty-two Agility Champion Beardies who have earned one hundred one Championships in six venues.
American Kennel Club:
MACH12 Zoom (CH Wigglesworth Super Sonic) - Jeff Ipser - 2 October 2010
MACH11 Zoom (CH Wigglesworth Super Sonic) - Jeff Ipser - 30 May 2010
MACH11 Wizard (Anasazi Secret of the Wizard) - Sarah Halsey - 26 September 2010
MACH10 Wizard (Anasazi Secret of the Wizard) - Sarah Halsey - 22 November 2009
MACH10 Zoom (CH Wigglesworth Super Sonic) - Jeff Ipser - 6 December 2009
MACH2 Miller (CH Colquhoun's No Time To Relax) - Karen Barratt - 9 April 2010
MACH2 Mika (Fox Lane's Mika At Tweeddale) - Linda Porter - 2 May 2010
MACH Roxie - Claire Cifarelli - 28 February 2010
MACH Buffy (Dunnachie's Buffy Slays Me) - Dawn Kinney - 30 May 2010
MACH Paige (CH Wigglesworth Walk This Way) - Diane Lipman - 14 August 2010
MACH Conor (CH Sheiling Awesome Angel) - Elaine O'Carroll - 23 October 2010
United States Dog Agility Association:
ADCH-Bronze Bracey (Wynsum Embrace The Moment) - Sheila Franklin - 21 March 2010
Canine Performance Events
C-ATE3 Farley (Kamelott's Wild Thing Farley) - Nancy May - 5 September 2010
C-ATCH7 Hops (CH Wynsum Captivating Rhythm) - Jan Leverenz - 11 April 2010
C-ATCH6 Guinness (CH Wynsum Hard Habit To Break) - Bob Leverenz - 22 May 2010
C-ATCH6 Hops (CH Wynsum Captivating Rhythm) - Jan Leverenz - 27 December 2009
C-ATCH5 Guinness (CH Wynsum Hard Habit To Break) - Bob Leverenz - 27 December 2009
C-ATCH Izzy (CH Springhill's Isabelle) - Steve Lausmann - 6 September 2010
Thank you:
The Agility Committee thanks Joanne Williamson for doing the AKC and BCCA statistics and for her service on the Committee since 1997, Beth Canner for her past support of the Sunshine and the Ryan Awards, the Beardie Agility Community for the Diehard Trophy, Emily Venator and Glenn Hamilton for the Denia Award, Beth White for the JWW Trophy in Honor of Mirage, Carl and Kay Widell for the Veteran Preferred Trophy, Beth Canner and Gail Romine for the Relay Banner designed by Gretchen Blackburn, Karen Barrett for the Specialty MACH ribbons, Cindy Alspaugh for making the Agility Certificates again this year, and Karen Norteman for designing the BAD website. We thank Judi Morris and Sue Jamison for all of their work chairing the 2009 National Specialty Agility Trial. We thank Helen O'Connor for chairing this year's National Specialty Agility Trial, BJ Walker for organizing the Fun Relay, and Jill Floberg for her help with the Agility Dinner. We also thank Lillian Esposito and David Williamson for doing such a fine job with agility publication in the Bulletin and Bagpipes. It has been a pleasure working with all of you!
---
---
Last updated 31 October 2011
---
---
BAD Honors:
---
BAD Awards:
---
BCCA
For those of you who are history buffs, you can find accounts of our fourteen trials along with scores and pictures at:
---
---
---
---

Off to a BAD Start
[BAD Handlers] | [BAD Dogs] | [BAD Events] | [BAD Links]
[BAD Greetings] | [BAD News] | BAD Beginnings]
[BAD Advice] | [BAD Attitudes] | [BAD Goods]
Email Libby with an update