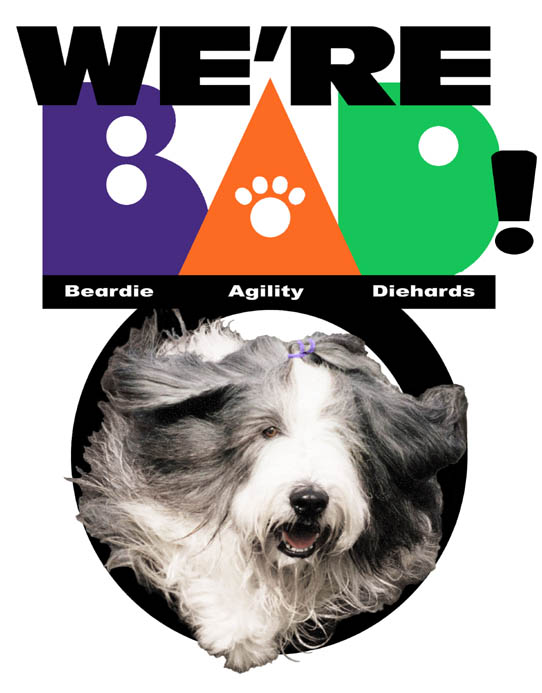 Tenth Annual BAD Awards
---
It has been very rewarding sharing eleven years with all of you and seeing so many Diehards at the 2008 BCCA National Specialty in Rohnert Park, CA, the same place where we first gathered in September of 1997 and sported our new BAD t-shirts, designed by Gretchen Blackburn. There a group of us shared our first BAD dinner with Karen Norteman and we discussed creating our famous, award winning website. I like to joke that Karen gave me my life's work! It was also at the 1997 Specialty that we decided to support the publication of agility articles in the Bulletin. To date we have contributed $12,935 to BCCA publication. At the 1999 Specialty in Olympia Washington, we held our first BAD Awards dinner, gathering for an informal evening and ordering out for pizza and beer. Since then as many as 61 members have gathered to enjoy our annual dinners. I am very grateful to Sheila Franklin who made and donated our top Awards, both this year and last, and to Joanne Williamson for ordering our 10th Anniversary pins! Margie Trebino hand-made all of the beautiful tugtoys, which were this year's party favors.
On 6 October of this year, our BAD Logo, embroidered by Andy's Tees for our 10th Anniversary, won 3rd place in Landscape Embroidery at the 2008 Impressions Awards, judged at the Fort Worth Imprinted Sportswear Show (ISS). The winners were chosen from nearly 200 submissions entered in 15 categories for specific screen printing, embroidery and digital decorating processes. All winners will be presented in the January 2009 issue of Impressions and will be on display at all 2009 ISS shows throughout the country. It is thrilling to think that our Logo will be displayed across the country! I received an excited call from Andy's tees letting me know about our win. Because of this, I am planning a reorder of our embroidered logo shirts and will offer hoodies and jackets as well.
Congratulations to this year's National Specialty placers and qualifiers but especially to Leslie Dawson-North for all three of the High in Trial wins! Her Dash won Standard and Moxie won both JWW and FAST. I received a newsflash from Leslie: "Moxie, ATCH Aceilidh's Thrill of the Chase MX AXJ AG.I FDCH, finished in 2nd place in 16 inch vets at the AAC National championships held in New Brunswick, just north of Maine. She is one of only 11 dogs at the entire competition to finish with over 600 points and Moxie came in 5th overall in points."
---
2008 BAD Member Of The Year Award - Tammy Domico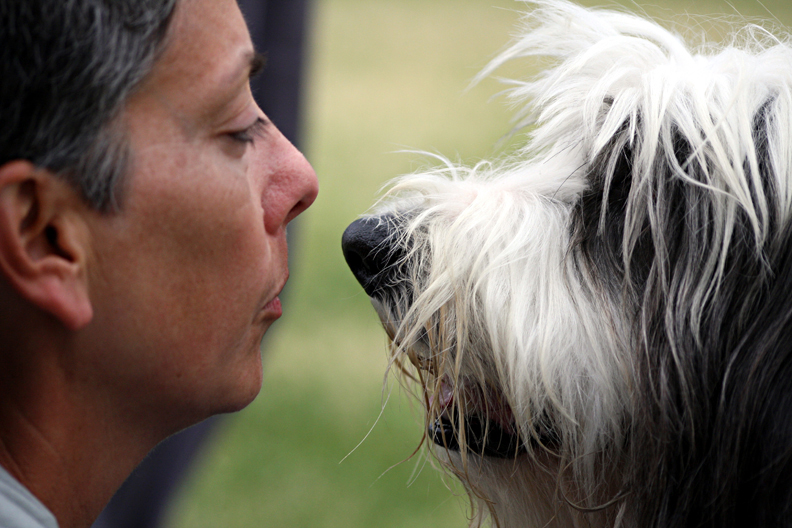 A tête à tête with Sparkee
I am delighted to name Tammy Domico as BAD Person of the year! Besides competing with Sparkee (and for a time with Viva), Tammy judged two BCCA Nationals (1997 and 2006), as well as the final round in the AKC National Agility Championships in 2002. It was great fun watching her judge on Animal Planet! She has held at least three West Coast workshops for three of our Beardie Clubs, the Northern California Bearded Collie Fanciers, the Bearded Collie Club of the Golden West, and the Northwest Bearded Collie Club of Puget Sound. Tammy is well known throughout the country for her dedication and enthusiasm for the sport and is always happy to take time to offer her insights about Beardie handling. She is generous with her equipment and is a wonderful person to work with! When not judging, Tammy can be seen course building from dawn to the end of every trial.
"At a Dixon, California AKC trial a short time ago I approached Tammy to see what her technique for contacts was. She took the time to describe it in detail during a course rebuild we were both working on. She was so enthusiastic about the subject that we both were still standing out in the ring when the judge wanted to start again. I was impressed with her desire to help a novice handler like myself." - Steve Lausmann
"Tammy was a judge in a couple of our local Texas shows and at one show she made time to come over to our crating area to meet our puppy Kizzy when we just got her. She was very busy and didn't have to do that, but she sat down for a chat and a cuddle from Kizzy." – Miranda Mulders
"To a wonderful, talented, deserving, super BAD person of the YEAR!!!!" - Beth Tilson & Beardies
---
2008 BAD Attitude Awards:

Joanne Williamson: Joanne, the BCCA Agility Co-Chair, has been working with the Agility Committee for eleven years, tracking all of our Beardies' AKC legs and titles. She has been instrumental in working out the point systems for all of our BCCA Agility Awards. When I think of Joanne, dedication is the word that springs to mind. As well as diligently training her agility Beardies, Beau, Belle, and Flash, Joanne has given of herself tirelessly to us all.

Sarah Halsey: Congratulations to Sarah and Wizard, who not only earned the first ever Beardie MACH8, but tied for 18th place in FAST in the 2007 FRONT and FINISH list among the top-scoring 25 dogs of all breeds, sizes, and jump heights across the country.

Jan Norikane: Many thanks to Jan Norikane who confirms NADAC legs and titles for our BAD Beardies.

Karen Ryder - BCCA Nationals' Trial Chair: Our thanks to Karen for taking on such a huge task and doing a wonderful job preparing for this year's agility trial.

Molly McNamara - BCCA Nationals' Trial Secretary: Molly is the first volunteer to handle the Trial Secretary's job electronically. We thank her for being Secretary for two Specialties this year, the BCCA and the NCBCF.

Jana Dozet - BCCA Chief Nationals' Ring Steward: "No matter what, Jana helps out at every single agility trial and makes sure things run smoothly. She also keeps a sense of humor about everything!" -Kim Horsley
---
Sixteen Beardie Championships
BAD recognizes and congratulates TWELVE champion BEARDIES who have earned SEVENTEEN championships since last year's specialty. There are now THIRTY-ONE Agility Champion Beardies, all of whom are BAD, who have earned SIXTY-FIVE Championships in six venues.
American Kennel Club:
MACH8 Wizard (ADCH Anasazi Secret of the Wizard)
Sarah Halsey -- 26 July 2008
MACH7 Zoom (CH Wigglesworth Super Sonic)
Jeff Ipser -- 25 October 2008
MACH6 Zoom (CH Wigglesworth Super Sonic)
Jeff Ipser -- 28 June 2008
MACH5 Zoom (CH Wigglesworth Super Sonic)
Jeff Ipser -- 16 March 2008
MACH4 Zoom (CH Wigglesworth Super Sonic)
Jeff Ipser -- 20 October 2007

MACH 2 Bailey (Oakengates Irish Cream)
Linda Porter -- 7 December 2007

MACH Max (CH Highlander Orion From Alamos)
Molly McNamara -- 3 March 2008

MACH Mickie (CH Oakengates Quite Contrary)
Walt Ernst -- 7 June 2008

MACH Kira (Shanaspree Rose Of Kilravock)
Bobbie Raguse -- 22 June 2008

MACH Miller (CH Colquhoun's No Time To Relax)
Karen Barratt -- 24 August 2008

North American Dog Agility Council:
NATCH Bracey(ADCH Wynsum Embrace The Moment)
Sheila Franklin -- 25 May 2008

Canine Performance Events:
C-ATE Farley (Kamelott's Wild Thing Farley)
Nancy May -- 8 March 2008

C-ATCH3 Hops (CH Wynsum Captivating Rhythm)
Jan Leverenz -- 19 July 2008

C-ATCH2 Caper (CH Skyedance Lord A-Leaping)
Jack Buhite -- 6 January 2008

C-ATCH2 Hops (CH Wynsum Captivating Rhythm)
Jan Leverenz -- 20 January 2008

C-ATCH2 Guinness (CH Wynsum Hard Habit To Break)
Bob Leverenz -- 21 March 2008

C-ATCH Guinness (CH Wynsum Hard Habit To Break)
Bob Leverenz -- 27 October 2007

---
Agility Beardies at the Rainbow Bridge
Our heartfelt condolences to those who have lost their beloved agility Beardies!
Jerry and Lu Bergen's Breezy
CH NATCH O-V-NATCH Baliwyn's Precious Friend
CDX TD MX MXJ HIC CGC VX
APD AJD-Bronze VS VJ AKD S-EAC
27 January 1991 – 1 June 2008
Pat Coreris' Chipper
CH MACH Spindrift William Rikker
CDX RE PT JHD MXP MJP2 NFP VX
AAD RM AS JM EAC OJC NGC CL3 CL4-RFH
9 November 1994 - 7 March 2008
Leslie Dawson-North's Kassi
Can CH MACH OTCH Buaidh Mithandril Xerox O'Jen
CD MAD SAM JM RM MADC MSN AG.MX FbDCH HIC CGC
9 May 1991 - 25 April 2008
Tammy Domico's Viva
Alashaw's Viva Las Vegas
MX MXJ NAP NJP
21 February 1999 - 8 December 2007
Kim Krueger's Bronte
LeVontz's Highlands Bronte
UD HSAs NA OAJ CGC VX
20 November 1993 - 29 December 2007
Mary Lott's Patsch
Edmar My Own Sweet Patsch
CDX U-CD RN HXa-s HRDs-III HTDs-II
AX AXJ AD EAC EJC EGC TN-N HIC CGC VX
24 November 1994 – 25 April 25 2008
Toni Tuck's Patty
CH Britannia Peppermint Patty
VCD2 UDT Can CDX HT
MX AXJ CGC VX
OAC-V OJC-V NGC AG.N
2 October 1991 - 20 November 2007
Kathrine and Carl Widell's Cagney
Am/Can CH Caledonia's Cagney Mac Calico
NA NAJ AXP AJP NJC-V PT VX
17 September 1992 - 1 November 2007
Betty Winfield's Miss C
Oak Meadows Fawn Calypso
MX MXJ AAD JM SM EAC OGC OJC AADC
5 December 1993 - 24 March 2008

---

In Recognition of our Retired Agility Beardies
Who have worked and played with us so well!
Bobbie Bokelund's Shawna - Spindrift Leap of Faith
CDX OA OAJ

Ruth and Neil Bryden's Talisker - Briarpatch Double Scotch
RN OA AXJ O-EAC S-EJC O-EGC S-TN-E WV-E CGC

Jack Buhite and Libby Myers-Buhite's Caper - CH Vers-NATCH C-ATCH2 Skyedance Lord A-Leaping
RAE PT AX MXJ AXP MJP2 OFP HCT HIC CGC VX
PD3 PS3 PJ3 AR AG AS S-EJC S-TN-E S-WV-E HP-N
ChST ChJU ChJP ChCL ChSN ChWC ChFH

Patsy Sullivan's Carson-Ch Dunnottar Stonehaven's Silver
RN AX AXJ AXP AJP VX


---


Annual BAD Awards - The Top 20%

173 Beardies competed in agility during this award year, 1 July 2007 - 30 June 2008. 163 earned AKC legs, 38 earned NADAC legs, 28 earned USDAA legs, and 18 earned CPE legs. In all, Beardies earned 3095 legs in 4 of the 5 USA venues. 153 or 88% of the Beardies in competition belong to BAD and these Beardies earned 3011 legs or 97.29% of all the agility legs earned. Every year at this time, the top BAD Beardies are singled out for their accomplishments. Special congratulations go to Nancy May's Farley, the top BAD Beardie, the top Games Beardie, and the top CPE Beardie, to Jeff Ipser's Zoom the top "Standard/ Jumpers/ Gamblers" Beardie and the top AKC Beardie, to Tracy Hill's Gusto, the top NADAC Beardie, and to Jan Leverenz' Hops, the top USDAA Beardie.

Nancy May's Farley – Top CPE Beardie
Top Combined Beardie
C-ATE CATCH Kamelott's Wild Thing Farley

Top CPE Beardie out of 18
earned 143 out of 584 legs
Top Combined Beardie out of 173
earned 201 out of 3095 legs
Top Games* Beardie out of 54
earned 104 out of 597 legs
Top Gambler (AKC/USDAA/NADAC/CPE) out of 103
earned 23 out of 420 legs
Top Snooker Beardie (USDAA/CPE) out of 31
earned 25 out of 131 legs
Top Full House Beardie out of 18
earned 16 out of 75 legs
Top Wildcard Beardie out of 15
earned 17 out of 75 legs
Top Colors Beardie out of 13
earned 17 out of 72 legs
Top Hoopers Beardie out of 6
earned 2 out of 7 legs

*USDAA Snooker/Relay
NADAC TouchNGo/Weavers/Tunnelers/Hoopers
and CPE Wildcard/Colors/Full House combined


Jeff Ipser's Zoom – Top AKC Beardie
CH MACH6 Wigglesworth Super Sonic MXF

Top AKC Beardie out of 163
Earned 158 out of 1901 legs
Top Standard/Jumpers/Gamblers Beardie out of 172
Earned 158 out of 2391 legs
Top Standard Beardie out of 129
Earned 72 out of 864 legs
Top Jumper out of 147
Earned 74 out of 1179 legs

Tracy Hill's Gusto – Top NADAC Beardie
O-NAC O-NCC S-OJC O-TNS-E O-TG-O S-WV-N O-NVA

Top NADAC Beardie out of 38
Earned 44 out of 334 legs
Top Weaving Beardie out of 18
Earned 10 out of 53 legs
Top TouchNGo Beardie out of 15
Earned 7 out of 35 legs


Jan Leverenz' Hops – Top USDAA Beardie
CH C-ATCH2 Wynsum Captivating Rhythm
AAD ASA AJ AS AR SG

Top USDAA Beardie out of 28. Earned 27 out of 253 legs.

Sarah Halsey's Wizard – Top FAST Beardie
ADCH MACH 7 Anasazi Secret Of The Wizard MXF

Top AKC FAST Beardie out of 93. Earned 17 of 293 legs.

Carol Hegg's Joli – Top Relay Beardie
O'Duinnin Joli Goes Platinum MX MXJ AAD JCH RM

Top Relay Beardie out of 22. Earned 6 out of 50 legs.


BAD Rankings

1-Nancy May and Farley – 201 legs
C-ATE C-ATCH Kamelott's Wild Thing Farley
PD PS2 PJ3 PK2 PG2 EAC EJC S-OCC O-TN-E S-WV-O S-TG-O HP-N O-OVA ExST ExJU ExSN ExFH ExWC ExCL ExJP ChST ChJU ChSN ChFH ChCL CGC
Top BAD Beardie in all venues combined
Top Games Beardie: 1st in Snooker and Hoopers
1st in Gamblers, 2nd in Standard, 11th in Jumpers
1st CPE Beardie in every category
2nd NADAC Beardie
4th USDAA Beardie

2-Jan Leverenz and Hops – 162 legs

AmCan CH C-ATCH3 Wynsum Captivating Rhythm
CDX Can CD-HIT RAE MX MXJ XF AAD ASA AJ AS AR SG ChST ChJU ChJP ChWC ChCL ChFH ChSN OAC O-OJC NGC TN-O WV-N CGC HIC VX
2nd BAD Beardie all venues combined:
3rd in Standard, 3rd in Gamblers, 4th in Jumpers
3rd in Games: 2nd in Snooker
Top USDAA Beardie: 1st in Standard and Snooker
3rd CPE Beardie: 2nd in Standard and Jumpers
3rd in Jackpot, Snooker, Wildcard, Colors and Fullhouse
3rd NADAC Beardie: 1st in Standard and Gamblers
2nd in Jumpers and Weavers
10th AKC Beardie: 9th in JWW, 14th 2008 Agility Invitational

3-Jeff Ipser and Zoom – 158 legs
CH MACH6 Wigglesworth Super Sonic
RN NAP NJP MXF PS1 PD1 PG1 PK1 PJ1 CGC VX
3rd BAD Beardie all venues combined:
Top in Combined Standard, Jumpers, and Gamblers
Top AKC Beardie: Top in both Standard and Jumpers
1st 2008 Agility Invitational

4-Bob Leverenz and Guinness – 126 legs
AmCan CH C-ATCH2 Wynsum Hard Habit To Break
RA AX MXJ OF ChST ChJU ChCL ChSN NAC NJC CGC HIC VX
4th BAD Beardie all venues combined:
7th in Standard, 8th in Jumpers, and 9th in Gamblers
2nd in Games: 3rd in Snooker
2nd CPE Beardie:
2nd in Jackpot, Snooker, Wildcard, Colors and Fullhouse
3rd in Standard and Jumpers

5-Sarah Halsey and Wizard - 114 legs
MACH8/ADCH Anasazi Secret of the Wizard
MXF SACH EAC EJC EGC CGC
5th BAD Beardie all venues combined:
4th in Standard, 2nd in Jumpers, and 4th in Gamblers
2nd AKC Beardie:
1st in FAST, 2nd in both Standard and Jumpers
2nd 2008 AKC Agility Invitational

6-Linda Porter and Bailey - 85.5 legs
CH MACH2 Oakengates Irish Cream
NAP NJP OF
AAD ASA AJ AS AR SG NAC O-OJC O-NCC TN-E
S-WV-N O-TG-N NVA ROMA
6th BAD Beardie all venues combined:
3rd in Jumpers 5th in Standard
3rd AKC Beardie: 3rd in both Standard and Jumpers
6th 2008 AKC Agility Invitational

7-Joanne Williamson and Flash - 67 legs
CH Britannia Flashback
CD RE HSAds MX MXJ XF OAC OJC OGC TN-O TG-N WV-N NVA
HIT VX
7th BAD Beardie all venues combined
5th in Gamblers, 7th in Jumpers, and 8th in Standard
4th AKC Beardie:
2nd in FAST, 5th in Standard, and 6th in JWW
7th 2008 AKC Agility Invitational

8-Karen Barratt and Miller – 66 legs
CH Colquhoun's No Time To Relax
MX MXJ XF NAC HIC
8th BAD Beardie all venues combined:
6th in Jumpers, 8th in Gamblers, and 11th in Standard
5th AKC Beardie: 8th in Standard, 5th in JWW, 4th in FAST
3rd 2008 AKC Agility Invitational

9-Sheila Franklin and Bracey – 62 legs
ADCH NATCH Wynsum Embrace The Moment
HT NA OAJ JCH GCH SCH RCH TM S-EJC O-TN-E O-WV-E
O-TG-O O-OVA
9th BAD Beardie all venues combined:
2nd in Gamblers, 19th in Standard, and 22nd in Jumpers
10th in Games
2nd USDAA Beardie: 1st in Gamblers, 2nd in Jumpers and Relay
5th in Snooker
3rd NADAC Beardie: 1st in Standard and Gamblers
2nd in Jumpers and Weavers

10-Bobbie Raguse and Kira – 57 legs
MACH Shanaspree Rose Of Kilravock
RN PT OF NJC NGC CGC VX
10th BAD Beardie all venues combined:
8th in Standard and 9th in Jumpers
6th AKC Beardie: 5th in Standard, 7th in JWW, 13th in FAST
5th 2008 Agility Invitational

11-Linda Porter and Mika – 56 legs
Fox Lane's Mika At Twe Edd Ale
MX MXJ OF AAD ASA SJ AG AR NAC
11th BAD Beardie all venues combined:
6th in Standard, 16th in Jumpers, and 25th in Gamblers
6th USDAA Beardie: 1st in Standard and 6th in Relay
9th AKC Beardie: 4th in Standard, 13th in JWW, 24th in FAST
4th 2008 Agility Invitational

12,13-Walt Ernst and Mickie – 55 legs
CH MACH Oakengates Quite Contrary
12th BAD Beardie all venues combined:
5th in Jumpers and 12th in Standard
7th AKC Beardie: 9th in Standard and 4th in JWW
8th 2008 Agility Invitational

12,13- Carol Hegg and Joli – 55 legs
O'Duinnin Joli Goes Platinum
CD RE PT JHD-sg MX MXJ NF AAD ASA JCH RM AS AG

NAC NGC EJC TN-O WV-N CGC VX
13th BAD Beardie all venues combined:
9th in Snooker, 12th in Standard
14th in Jumpers, and Gamblers
2nd USDAA Beardie: 1st in Jumpers and Relay, 2nd in Gamblers
3rd in Standard and Snooker
17th AKC Beardie: 14th in Standard, 17th in JWW, 24th in FAST
15th 2008 Agility Invitational

14-Molly McNamara and Max - 53 legs
CH MACH Highlander Orion From Alamos
RA OF PD2 PS2 PJ3 PK2 PR1 PG1* CL1 CGC VX
14th BAD Beardie all venues combined:
10th in Jumpers, 15th in Standard, and 19th in Gamblers
8th AKC Beardie:
13th in Standard, 8th in JWW, and 13th in FAST
10th 2008 Agility Invitational
10th USDAA Beardie

15- Tracy Hill and Gusto - 46.5 legs
Gusto O-NAC O-NCC S-OJC O-TNS-E O-TG-O S-WV-N O-NVA
15th BAD Beardie all venues combined:
5th in Games
1st in NADAC: 1st in TouchnGo and Weavers, 2nd in Standard
2nd in Gamblers, 3rd in Jumpers and 5th in Tunnelers

16-Beth Scorzelli and Brew - 44 legs
CH Colquhoun's Hurricane Brewin'
CDX RAE PT MX MXJ OF AD SSA JM AG AS SR CGC VX
16th BAD Beardie all venues combined:
12th in Jumpers, 13th in Gamblers, and 19th in Standard
6th USDAA Beardie: 2nd in Jumpers, 5th in Standard and Snooker
14th AKC Beardie: 24th in Standard, 15th in JWW, 9th in FAST
13th 2008 Agility Invitational

17 Ruth and Neil Bryden and Glayva – 42 legs
Aceilidh's Nua Bliam Coilean
CD RN PT NA NAC NGC NJC WV-N S-TN-E TG-N NVA
CL2 CL3-R CGC VA
17th BAD Beardie all venues combined:
4th in Games: 4th in Snooker
6th NADAC Beardie: 4th in Tunnelers, 5th in Jumpers
11th CPE Beardie: 6th in Snooker

18-Jack Buhite and Caper – 39.5 legs
CH Vers-NATCH C-ATCH2 Skyedance Lord A-Leaping RAE PT HCT AX MXJ AXP MJP2 OFP PD3 PS3 PJ3 AR AG AS
ChST ChJU ChJP ChCL ChSN ChWC ChFH
S-EJC S-TN-E S-WV-E HP-N HIC CGC VX
18th BAD Beardie all venues combined:
22nd in Gamblers
9th in Games
7th CPE Beardie: 5th in Jackpot and Colors

12th USDAA Beardie: 6th in Standard

19-Sonja Moore and Wally – 38.5 legs
Britannia William Wallace
RN HT AX AXJ NAP PDI PJ2 EAC O-EJC OCC TN-E TG-O
CL3 CL4-RFH CGC VX
19th BAD Beardie all venues combined:
6th in Games: 7th in Snooker
18th in Standard
4th CPE Beardie: 4th in Standard, Wildcard, and Colors
5th in Snooker and Fullhouse
2nd in NADAC Hoopers

20-Sonja Moore and Snuffy - 35.5 legs
Snuff and Stuff
CD RN AX AXJ NJP AD JB EAC S-EJC EGC TN-O TG-N CL4
HIC CGC
20th BAD Beardie all venues combined:
8th in Games: 6th in Snooker
5th CPE Beardie: 4th in Snooker
5th in Standard, Jumpers, Colors, and Fullhouse
2nd in NADAC Hoopers

21,22-Sandy McDonald and Kip – 35 legs
CH Moonstone Totally Unexpected
RE PT MX MXJ OF CGC HIC VX
21st BAD Beardie all venues combined:
10th in Standard and 20th in Gamblers
11th AKC Beardie: 7th in Standard, 24th in JWW, 9th in FAST
16th 2008 Agility Invitational

21,22- Claire Cifarelli and Patch – 35 legs
MACH Raintree Ha'Penny Hades
CD OAC EJC NGC TN-O TG-N WV-N
21st BAD Beardie all venues combined:
15th in Jumpers and 17th in Standard
12th AKC Beardie: 12th in Standard and 10th in JWW
11th 2008 Agility Invitational

23-Nancy May and Granite – 33.5 legs
Kamelott's Great Stone Face
O-NJC O-TN-O CL2 CL3-S CL4-F
23rd BAD Beardie all venues combined:
7th in Games: 5th in Snooker
8th NADAC Beardie: 1st in Tunnelers
8th CPE Beardie: 4th in Jumpers, Snooker, Jackpot, and Fullhouse

24,25-Miranda Mulders and Rembrandt – 32.5 legs
Colard Fly With Me
HT AX AXJ OF EAC OCC EJC O-TN-E WV-O TG-N HP-N NVA
24th BAD Beardie all venues combined:
10th in Gamblers
9th in Games
5th NADAC Beardie:
4th in Standard, Jumpers, and Gamblers
6th in Weavers and Tunnelers
33rd AKC Beardie: 36th in Standard and 8th in FAST

24,25-Nancy Reich and Rune – 32.5 legs
Cynamen Artisan Winter Light
RN HT JHD CL2 CL3-RH HIC CGC
24th BAD Beardie all venues combined:
11th in Games
6th CPE Beardie: 4th in Wildcard, 5th in Jackpot and Colors, and
6th in Standard

26,29-Carl Widell and Polo – 32 legs
CH Caledonia's O Polo Mio
RN PT AX MXJ NAP NJP OF PG1 NAC O-NJC TN-O S-WV-N TG-N CL3-RS VX
26th BAD Beardie all venues combined:
6th in Gamblers
22nd AKC Beardie: 22nd in Standard and 4th in FAST

26,29-Lori Weinberg and Rocky – 32 legs
Chaniam Creag
MX MXJ XF PG1 PJ1 PR1 HIC CGC
26th BAD Beardie all venues combined:
11th in Gamblers, 22nd in Standard, 25th in Jumpers
15th AKC Beardie: 18th in Standard, 22nd in JWW, 6th in FAST
9th 2008 Agility Invitational

26,29–David Williamson and Harley – 32 legs
MACH2 Harley Of St.John
PAX MXP5 MJP5 EAC EJC
26th BAD Beardie all venues combined:
12th in Standard and 18th in Jumpers
13th AKC Beardie: 9th in Standard and 13th in JWW

26,29-Cheri Omnus and McKay – 32 legs
CH Lakewood Shining Star
MX MXJ NF PD1 PS2 PK2 PJ2 PG1 NAC NJC WV-N HIC
26th BAD Beardie all venues combined:
13th in Jumpers
20th AKC Beardie: 25th in Standard and 10th in JWW
17th 2008 Agility Invitational

30,31-Ann Chandoha and Dru – 29 legs
CH Colquhoun's First Draw
MX MXJ XF NAC HIC
30th BAD Beardie all venues combined:
12th in Gamblers, 22nd in Standard and 30th in Jumpers
16th AKC Beardie: 17th in Standard, 24th in JWW, and 6th in FAST
18th 2008 Agility Invitational

30,31-Linda Swain and Pat Hyde and Tyler – 29 legs
CH Wind Dancer Circle Of Life
PT MX MXJ VX
30th BAD Beardie all venues combined:
15th in Standard and 21st in Jumpers
16th AKC Beardie: 11th in Standard and 17th in JWW

20th 2008 Agility Invitational
---

---
BAD Honors:
---
BAD Awards:
---
BCCA
For those of you who are history buffs, you can find accounts of our twelve earlier trials along with scores and pictures at:



---
---
---

Off to a BAD Start
[BAD Handlers] | [BAD Dogs] | [BAD Events] | [BAD Links]
[BAD Greetings] | [BAD News] | BAD Beginnings]
[BAD Advice] | [BAD Attitudes] | [BAD Goods]
Email Libby with an update