BEARDED COLLIE CLUB OF AMERICA
BCCA 2011 National Specialty
"Shine the Light On Maine"
1 October 1 - 7 October
The Colony Hotel
Kennebunkport, Maine
16th Annual BCCA Agility Trial
3 October 2011
Wassamki Springs Campground
Scarborough, ME
Event Chair: Joanne Williamson
Trial Secretary: Noreen Bennett, Paw Print Trials

---
---
Chair: Joanne Williamson
Although it poured during set up on Sunday, the rain held off on Monday and we were even able to enjoy a brief period of sun and blue sky in the afternoon. Our judge, Kathy Rupprecht, had lovely, flowing courses to challenge the skills of our teams. Linda Porter and Mika had a fabulous day, going three for three, HIT in both Standard and JWW AND became the first team to finish a MACH title at our Nationals!
We ended the day on a fun note with the annual team relay. The 3 member teams each ran a portion of a jumps and tunnels course scored by time + faults. The winning team was AARF (Trudy Wisner and Billy, Sheila Franklin and Bracey, Claire Cifarelli and Patch). This year, the teams were challenged to get donations to support Beardie health research. The seven teams entered responded magnifiently by raising over $2700 to be donated to either the BCCA Charitable Trust or the AKC Canine Health Foundation - BCCA donor advised fund, with "Hands Across the Border" (Lori Wolbach and Annie, Marguerite Gosen and Sparky, and Joanne Williamson and Flash) raising the highest total.
Many thanks are due to everyone who pitched in and helped to keep the classes running smoothly. Special thanks to my hardworking committee members: Jeff Ipser, who also served as chief course builder, Ruth Briden who was the ringmaster and organized the volunteers, Libby Myers-Buhite, Trudy Wisner, and Claire Cifarelli. Maureen McLatchy of the Tartan Gordon Setter Club, hauled my agility equipment up to Maine on Sunday, helped al day Monday, and then returned the trailer home to Maine so that I could stay in Maine for the rest of the week. Thanks doesn't even come close to expressing the depth of my gratitude to all of these individuals.
---
---
Judge: Kathleen Rupprecht
Kathy Rupprecht discovered agility by accident. She and her Lhasa Apsos, Muffit and Molly, had completed the pet training classes at St. Hubert's Dog Training School in Madison, NJ, and she was looking for some activity that they could do that would keep Muffit around other dogs and that might be fun. They started agility classes at St. Hubert's Animal Welfare Center in 1995 with no intentions of competing in the sport. She and Molly, her Novice A dog, began AKC competition in the Spring of 1997 and Muffit joined a few months later.
Kathy became an AKC agility judge following the AKC judging tests in Denver, Colorado, in September, 2002. She and her Lhasa Apso, Mikey, have competed at the 2006, 2007, 2008, 2009 and 2010 AKC Agility Invitational in Long Beach, CA. In addition to Mikey, she has just begun showing her Tibetan Terrier, Merlin, in agility. Minnie, the younger TT, is still in training.
Kathy and her dogs live in Cranford, NJ.
---
---
Linda Porter and Mika had a fabulous day going 3 for 3, winning HIT in Standard and JWW and becoming the first team to complete a MACH at our National Specialty.
Thanks to everyone who worked hard to help the trial go so smoothly.
Congratulations to all! Joanne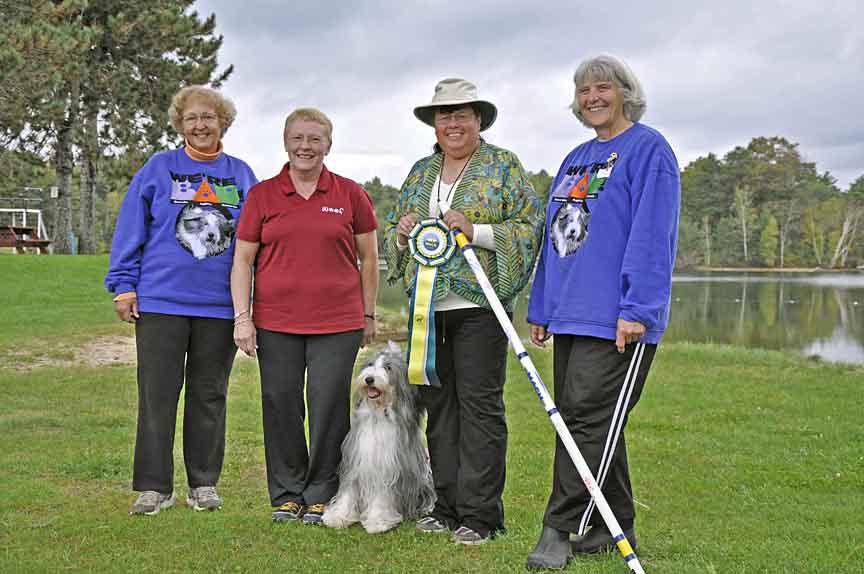 Libby Myers-Buhite, Linda Porter with MACH4 ADCH Mika, Judge Kathleen Rupprecht, Joanne Williamson
Congratulations to the National Specialty Highs in Trial:
- Standard: Linda Porter and Mika - 5.169 yps
- JWW: Linda Porter and Mika - 5.447 yps
- T2B: Regular Classes: Linda Porter and Mika - 28.96'
- T2B: Preferred Classes: Claire Cifarelli and Patch - 36.25'
---
Beardie Entries: 50
Run Entries: 96/ Actual Beardie Runs: 88
Qualifiers: 33 /88 = 37.5%
Standard: 11 /34 = 32.4%
JWW: 15 /36 = 41.7%
T2B: 7 /18 = 38.8%
---
---
High in Trial Standard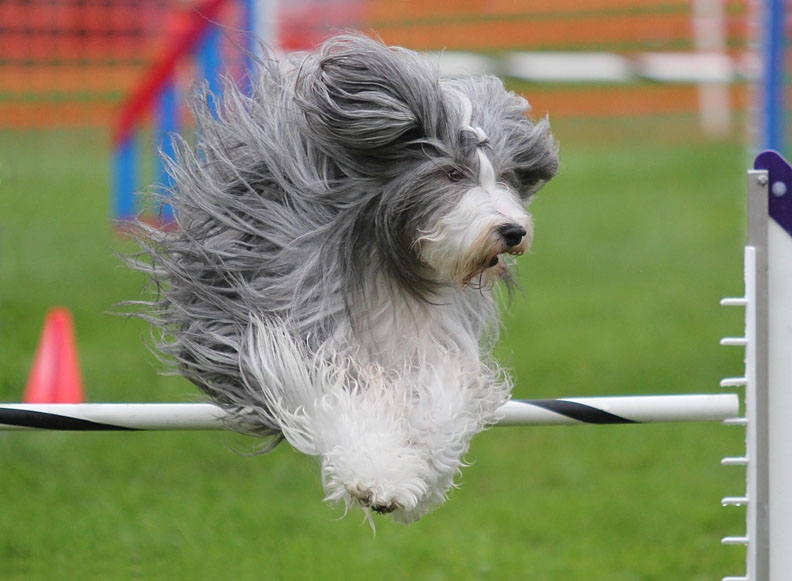 Linda Porter and Mika
Score 100 - Time 41.37'/66' - Yards 188 - YPS 5.169
MACH3 Foxlane's Mika At Tweeddale MXF TQX
---
High in Trial JWW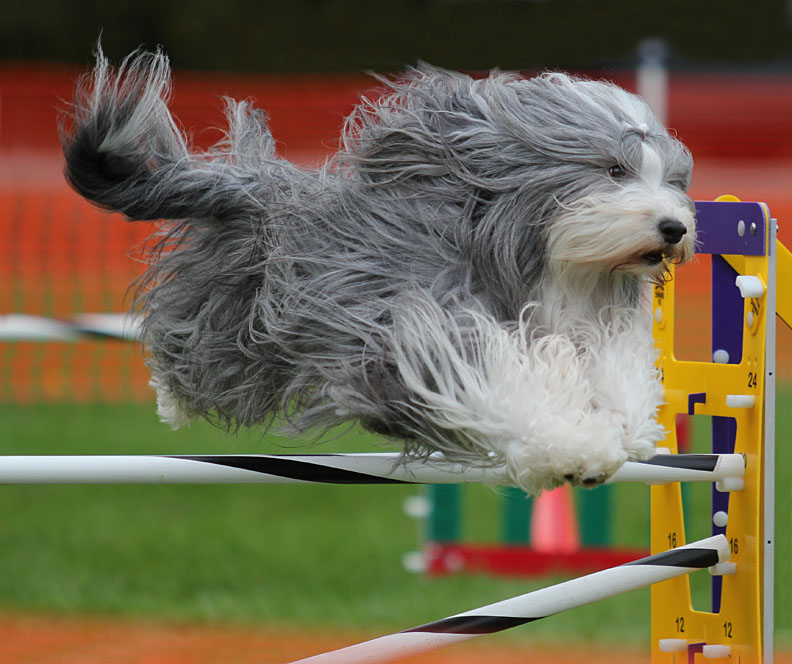 Linda Porter and Mika
Score 100 - Time 27.72'/40' - Yards 151 - 5.447 YPS
MACH3 Foxlane's Mika At Tweeddale MXF TQX
---
Highs in T2B

Linda Porter and Mika
20" Regular-28.96'
MACH3 Foxlane's Mika At Tweeddale MXF TQX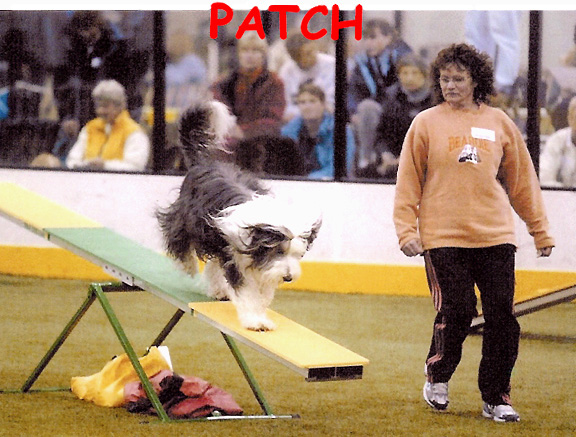 Claire Cifarelli and Patch
16" Preferred-36.25'
MACH3 Raintree Ha'Penny Hades CD RA NAP OJP OF
---
---
Standard Classes
---
---
Standard Novice A (20 INCHES), 70 Seconds, 147 Yards
1 entered; 1 qualifier
1st_Score 100/ Time 49.30'/70'
Highland's He's So Fine CD RA
Owned by Beatrice Bockowski of Staten Island, NY
Standard Novice B (16 INCHES), 70 Seconds, 147 Yards
1 entered; 0 qualifiers
Standard Novice B (20 INCHES), 70 Seconds, 147 Yards
8 entered; 3 qualifiers

1st _ Score 100/Time 40.81'/70'
Caol Ila-Lil'Clove Caol Ila PT
Owned by Ruth Bryden of Rivervale, NJ

2nd_ Score 95/Time 59.00'/70'
B-Buster-Lil'Clove Poppets First Moppet PT
Owned by Claire Cifarelli of Staten Island, NY

3rd_Score 95/Time 61.28'/70'
Brae-Ch Bramley's Green Mountain Boy
Owned by Gerald & Luella Bergen Of White River Jct, VT
Standard Novice Preferred (16 INCHES), 75 Seconds, 147 Yards
4 entered; 1 qualifier
1st_ Score 100/Time 44.05'/75'
Farley-Kamelott's Wild Thing Farley
Owned by Nancy May of Deerfield, NH
---
Standard Open (20 INCHES), 67 Seconds, 165 Yards
5 entered; 1 absent; 1 qualifier

1st_Score 95/ Time 60.69'/67'
Camille-Barnhollow's Worth The Wait PT NA NAJ
Owned by Maryann Groves of Alfred, ME
Standard Open Preferred(12 INCHES)
1 entered; no qualifier
Standard Open Preferred (16 INCHES), 72 Seconds, 165 Yards
2 entered; 1 qualifier

1st_ Score 100/ Time 46.72'/72'
Patch-MACH3 Raintree Ha'Penny Hades CD RA NAP OJP OF
Owned by Claire Cifarelli of Staten Island, NY
---
Standard Excellent A (20 INCHES)
3 entered; 2 absent; no qualifier
Standard Excellent B (20 INCHES), 66 Seconds, 188 Yards
10 entered; 4 qualifiers

1st_ Score 100/ Time 41.37'/66'
Mika-MACH3 Foxlane's Mika At Tweeddale MXF TQX
Owned by Linda Porter of Hagerstown, MD

2nd_Score 100/ Time 46.83'/66'
Zoom-Ch MACH13 Wigglesworth Super Sonic CD RN NAP NJP MXF TQX
Owned by Sharon & Jeff Ipser of Auburn , OH

3rd_Score 100/ Time 47.16'/66'
Kailey-Ch Wigglesworth No Way Out MX MXJ XF
Owned by Diane Lipman & Sharon Ipser of East Amherst, NY

4th_Score 100/ Time 50.40'/66'
Mayzee-Ch Wigglesworth Full Throttle MX MXJ
Owned by Sharon & Jeff Ipser of Auburn, OH
Standard Excellent B (24 INCHES)
1 entered; no qualifier
Standard Excellent B Pref (16 INCHES)
1 entered; no qualifier

---
---
Jumpers with Weaves
---
---
JWW Novice B (16 INCHES), K M Rupprecht (1t)
1 entered; no qualifier
JWW Novice B (20 INCHES), 36 Seconds, 108 Yards
7 entered; 4 qualifiers
1st_Score 95/ Time 32.91'/36'
Caol Ila-Lil' Clove Caol Ila PT
Owned by Ruth Bryden of Rivervale, NJ

2nd_Score 95/ Time 33.99'/36'
Brae-Ch Bramley's Green Mountain Boy
Owned by Gerald & Luella Bergen of White River Jct, VT

3rd_Score 95/ Time 36.14'/36'
Spicewood Cynamen Early Light RN PT
Owned by Nancy Reich of Albany, NY

4th_Score 95/ Time 41.10'/36'
B-Buster-Lil' Clove Poppets First Moppet PT
Owned by Claire Cifarelli of Staten Island, NY
JWW Novice Preferred (16 INCHES), 41 Seconds, 108 Yards
5 entered; 3 qualifiers
1st_Score 100/ Time 30.09'/41'
(Farley-Kamelott's Wild Thing Farley
Owned by Nancy May of Deerfield, NH

2nd_Score 100/ Time 31.92'/41'
Sparky-XTC's Stirling Silver Robert
Owned by Marguerite Gosen of Waterloo, Ontario, Canada

3rd_ Score 90/ Time 33.67'/41'
Granite-Kamelott's Great Stone Face
Owned by Nancy May of Deerfield, NH
JWW Novice Preferred (20 INCHES)
1 entered; no qualifier
---
JWW Open (20 INCHES), 37 Seconds, 128 Yards
5 entered; 2 absent; 1 qualifier
1st_Score 89/ Time 40.90'/37'
Camille-Barnhollow's Worth The Wait PT NA NAJ
Owned by Maryann Groves of Alfred, ME
JWW Open Preferred (12 INCHES)
1 entered; no qualifier
JWW Open Preferred (16 INCHES)
2 entered; no qualifier
---
JWW Excellent A (20 INCHES)
4 entered; 3 competed; no qualifiers
JWW Excellent A Preferred (16 INCHES), 45 Seconds, 151 Yards
1 entered; 1 qualifier

1st_Score 100/ Time 32.83'/45'
Patch-MACH3 Raintree Ha'Penny Hades CD RA NAP OJP OF
Owned by Claire Cifarelli of Staten Island, NY
JWW Excellent B (20 INCHES), 40 Seconds, 151 Yards
10 entered; 4 qualifiers
1st_Score 100/ Time 27.72'/40'
Mika-MACH3 Foxlane's Mika At Tweeddale MXF TQX
Owned by Linda Porter of Hagerstown, MD

2nd_Score 100/ Time 30.30'/40'
Zoom-Ch MACH13 Wigglesworth Super Sonic CD RN NAP NJP MXF TQX
Owned by Sharon & Jeff Ipser of Auburn, OH

3rd_Score 100/ Time 31.31'/40'
Poppet-Ch Lil'Clove Hello Poppet RE HSAs MX MXJ NF
Owned by Trudy Wisner of Staten Island, NY

4th_Score 100/ Time 32.18'/40'
Brew-Ch MACH Colquhoun's Hurricane Brewin' CDX RAE2 HSAs MXF
Owned by Beth Scorzelli of Shreveport, LA
JWW Excellent B (24 INCHES), 43 Seconds, 151 Yards
1 entered; 1 qualifier
1st_Score 100/ Time 38.77'/43'
Guinness-Ch Wynsum Hard Habit To Break RE MX MXJ OF THD
Owned by Robert & Jan Leverenz of Shelby, MI and Carol Carlsen
JWW Excellent B Preferred (16 INCHES), 45 Seconds, 151 Yards
1 entered; 1 qualifier
1st_Score 100/ Time 29.58'/45'
Flash-Ch MACH Britannia Flashback CD RAE HSAsd HIAsd HXAsd AXP MJP MXF MFP
Owned by Joanne Williamson of Boxborough, MA and Michele Ritter
---
---
Time 2 Beat
---
---
Time 2 Beat (16 INCHES)
1 entered; no qualifiers
Time 2 Beat (20 INCHES), 28.96 Seconds, 0 Yards
12 entered; 1 absent; 5 qualifiers
1st_10 points Time: 28.96'/28.96'
Mika-MACH3 Foxlane's Mika At Tweeddale MXF TQX
Owned by Linda Porter of Hagerstown, MD

2nd_8 points Time: 33.18'/28.96'
Brew-Ch MACH Colquhoun's Hurricane Brewin' CDX RAE2 HSAs MXF
Owned by Beth Scorzelli of Shreveport, LA

3rd_7 points Time: 34.16'/28.96'
Poppet-Ch Lil' Clove Hello Poppet RE HSAs MX MXJ NF
Owned by Trudy Wisner of Staten Island, NY

4th_7 points Time: 35.06'/28.96'
Rune-Cynamen Artisan Winter Light RA HT OA OAJ NF
Owned by Nancy Reich & Cindy Mendonca of Albany, NY

3 points Time: 47.13'/28.96'
Spicewood Cynamen Early Light RN PT
Owned by Nancy Reich of Albany, NY
---
Time 2 Beat Pref (12 INCHES)
1 entered; no qualifiers
Time 2 Beat Pref (16 INCHES), 36.25 Seconds, 0 Yards
5 entered; 2 qualifiers
1st_10 points Time: 36.25'/36.25'
Patch-MACH3 Raintree Ha'Penny Hades CD RA NAP OJP OF
Owned by Claire Cifarelli of Staten Island, NY

2nd_9 points Time: 36.66'/36.25'
Farley-Kamelott's Wild Thing Farley
Owned by Nancy May of Deerfield, NH
Time 2 Beat Pref (20 INCHES)
1 entered; 1 absent
---
2011 Specialty Fun Relay Results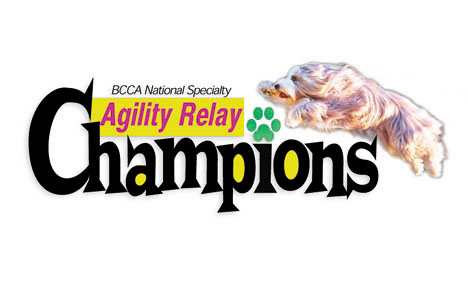 AARF
Trudy Wisner and Billy
Claire Cifarelli and Patch
Sheila Franklin and Bracey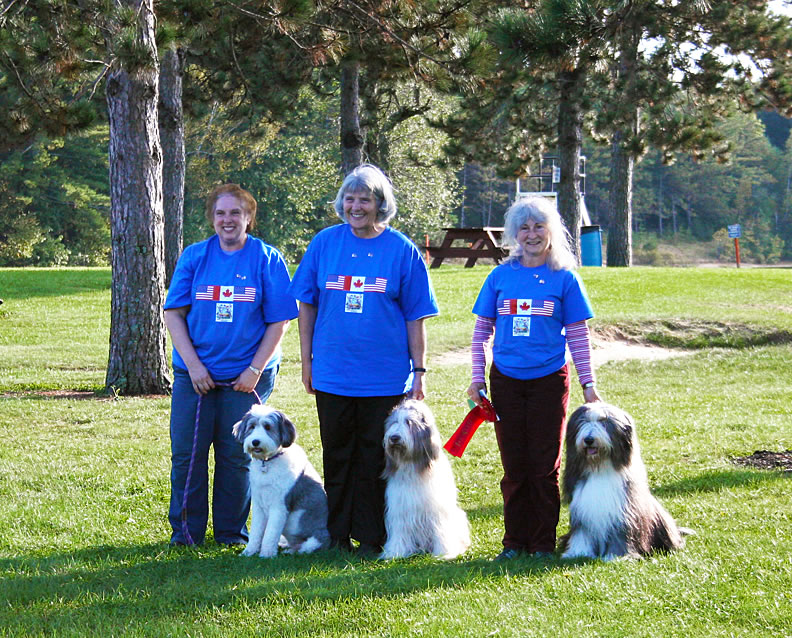 Hands Across the Border - Fourth Place Relay Team
Lori Wolbach and Annie
Joanne Williamson and Flash
Marguerite Gosen and Sparky
---
---
BCCA
For those of you who are history buffs, you can find accounts of our fourteen trials along with scores and pictures at:
---
---
---
---
BAD Honors:
---
BAD Awards:
---
[BAD Handlers] | [BAD Dogs] | [BAD Events] | [BAD Links]
[BAD Greetings] | [BAD News] | BAD Beginnings]
[BAD Advice] | [BAD Attitudes] | [BAD Goods]
Email Libby with an update