Front & Finish Point Standings for Beardies
AKC Standard Agility
1 January - 31 December 2001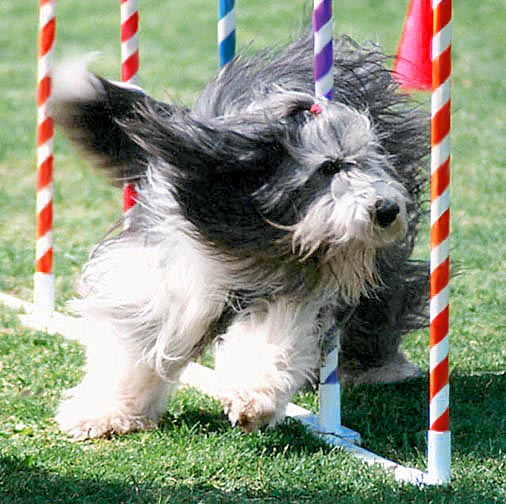 MACH/ADCH Anasazi Secret of the Wizard
EAC, EJC, EGC, CGC
Handled by Sarah Halsey of Fallbrook, CA
---

To earn Front & Finish points you must place in your class.
1st = total in class
2nd = total in class - 1
3rd = total in class - 2
4th = total in class - 3
The AKC counts all points at a given level, no matter how many legs you earn.
The BCCA counts only the first three legs toward the NA, OA, AX and all Excellent B legs.

---
AKC - American Kennel Club Report for 2001
Summary Statistics for 2001: Participation in AKC agility events continued to grow in 2001 
with 120 teams earning at least one leg in either Standard or Jumpers with Weaves (JWW), 
an increase of 16% over 2000.  Beardies competed with great success all over the country 
and racked up an impressive total of 765 qualifying legs with 473 class placements.  
Seventy teams accounted for 119 titles.  31 of these earned multiple titles.
One Beardie Completed the Master Agility Championship.
Two Beardies completed the double qualifier requirement for the MACH title.  
Finally, five Beardies competed in the AKC National Agility Championships 
held in Denver in November.
---
sponsored by the Bearded Collie Club of America
Excellent Agility with 279 Excellent Front and Finish Points
Wizard -

Anasazi Secret of the Wizard, MX, MXJ
Sarah and Doug Halsey

Open Agility with 68 Open Front and Finish Points
Brylie -
Barnhollow Brylie, NA, NAJ
Maryann Groves

Novice Agility with 59 Novice Front and Finish Points
Belle -

Britannia Belle of the Ball, NA
Joanne Williamson
---
Total Standard Front and Finish Points for 2001 - 100 Beardies earned Standard legs and 86 earned Front and Finish Points
   Dog's Name                              Handler                F&F Pts/Legs/MACH Pts

1  Wizard-Anasazi Secret Of The Wizard     Sarah Halsey           279     21     357
2  Sean-Balgrae's Sean Mackay              Joanne Williamson      150     18     110
3  Jet-O'Duinnin HMT Sonic Boom            Karen Barratt          135     22     267
4  Chloe-Blackfriar A Scot On The Rocks    Jan and Tony Vallone   101(28t)13      13
5  Chase-Bedlam's Catch Me If You Can      Leslie Dawson-North     93     12     182
6  Lucy-Oakengates Havin' A Ball           Liz Cox                 89     12      88
7  Kassi-Buaidh Mithandril Xerox O' Jen    Leslie Dawson-North     87     12     140
8  Brylie-Barnhollow Brylie                Maryann Groves          85(26t) 6
9  Skyedance-Melita Skyedance              Jack Buhite             68      4      49
10 Chipper-Spindrift William Rikker        Pat Coreris             61      7      25
11 Belle-Britannia Belle O' The Ball       Joanne Williamson       59      3
12 Impy-Malakar Delightfully Wicked        Sarah Halsey            55      7      NE
13 Tommy-Briarpatch Who Was That           Lucy Campbell-Gracie    53(28t) 7
13 Bruiser-Ha'Penny De'luxe Edition        Pat Bishop              53      3
15 Bobby-Britannia Bobby Dazzler           Amy Steltz              49(35t) 6
16 Brio-Springhills Spirit of Brio         Sharon Williamson       47      9      67
16 Rocky-Rocky The Wonder Dog              Matt Walsh              47      3      NE
18 Lizzie-Oakengate's Keeper of Dreams     Rosemary Schroeder      43(34t) 5
19 Arbi-O'Duinnin HMT Rhythm N Booze       Ann Chandoha            42      5      53
19 Ivy Sue-Fox Lane's Zany Treasure        Carol Carlsen           42      3      NE
21 Jax-Wigglesworth Out On A Limb          Sharon Ipser            41      3
22 Harley-Harley of St John                David Williamson        40      4      NE
23 Patsch-Edmar My Own Sweet Patsch        Mary Lott               37      5      11
23 Rory-Colledge Spirit Of Sheiling        Elaine O'Carroll        37      3      NE
25 Jack-O'Duinnin Oh Dat Jack B Nimble     Jill Scarborough        36      5      NE
26 Zooey-Britannia How Sweet It Is         Michele Ritter          34      3      NE
27 Harper-Pentangle's Crystal Harper       Mary Lott               29      4      NE
28 Ivy-Black Friar Ivy Roon                Polley Ann McClure      28      6       0
28 Dallas-O'Duinnin Dazzle 'Em Dallas      Wade Pelton             28      2      NE
30 Colton-Ragtyme Doubly Smashing          Barbara Stone           26      8       5
30 Miller-Angelfire Shooting Star          Cheri Omnus             26      5      11
31 Snuffy-Snuff and Stuff                  Sonja Moore             25      2
33 Desi-O'Duinnin Oh Darlin' Desiree       Eileen Dinneen          24      3      NE
34 Moxie-Aceilidh's Thrill Of The Chase    Leslie Dawson-North     21(25t) 4
35 Lakotah!-Walkoway's Vixen               Marilynn Snook          20(26t) 4
36 Dodger-Conley's Little Dodger           Noli Caswell            20      3      8
36 Ella-Britannia Sings The Blues          Toni Tuck               20      2
37 Gina-Chantilly's Virginia Woof          Kathy Pavlich           19      3
37 Kailey-Shanaspree Kick A Field Goal     Betty Jo Walker         19      3
37 Caper-Skyedance Lord A-Leaping          Jack and Libby Buhite   19      1      NE
40 Molly-Molly The Muffin                  Martha Faulk            18      4      16
40 Jolie-Angelfire Such Sweet Kisses       Susan Mikitka           18      3	
40 Rob-Balgrae's Rob Ruadh                 Joanne Williamson       18      3      40
40 Jake-Britannia Good Day Sonshine        Christiana Taylor       18      2      13
40 Mikie-Holm Mike L. Douglas              Charles Gibson          18      2       4
45 Chelsie                                 Eleanor Logue           17     10      13
45 Becket-Ragtyme Talkin' Up A Storm       Kim Horsley             17      6       4
45 Daisy-Brigadoon's Night And Day         Debbie Barner           17      2	
45 Bruiser-Ha'Penny De'luxe Edition        Pat Bishop              17      2      NE
49 Darby-O'Duinnin Oh Dancin'              David Williamson        16      2
49 Shiloh-Foxlane's Victory In Blue        Carol Carlsen           16      1      NE
51 Zoot-Britannia Zoots Me Fine            Sharon Prassa           15(36t) 5
51 Rebel-Ha'Penny Rebelz 'Da Shaggy D      Mary Maddox             15      2
51 Cooler-Winnoby's Cool Your Jets         Carolyn House           15      1	
51 Lacey-Wynsum Alluring Dreamweaver       Carol Carlsen           15      1
55 Simon-Britannia Simon Says              Ann Krafcheck           14      2
56 Dugan-Fox Lane's Wynsum Wiley Won       Carol Carlsen           13      1
56 Lizzee-Wigglesworth Oh Look At That     Sharon & Jeff Ipser     13      1
58 Blaze-Shadowfax's Five Alarm Fire       Karen Drummond          12      2
59 Chilly-Arcadia's Thrills N' Chills      Lori Weinberg           11      1
60 Lincoln-Ragtyme Simply Irresistible	   Jackye Dunn             10(17t) 4
60 Sparkee-Alashaw's Place Your Bets       Tammy Domico            10      2
60 Maya-Bandera Gael Wind                  Annette Greathouse      10      2
60 Willow-Baybreeze Image Of Marshfen      Beth Canner             10      1
60 Talisker-Briarpatch Double Scotch       Ruth & Neil Bryden      10      1
60 Olav-Olav                               Anne Ellefsen           10      1      NE	
67 Tag-Spindrift Risa Up And Over          Iris Berry               9      3
67 Cydney-Caledonia's Cydney Canuck	   Kathrine and Carl Widell 9      1
69 Tascia-Holm I Believe In Miracles       Marta Witt               8      2	
69 Annie-Moonsong Klassical Legacy         Sharon Prassa            8      1      10
71 Zachary-Made An Impression At Diotima   Linda Swain & Pat Hyde   7      3
71 Picard-Spindrift Jean-Luc Picard        Pam Harris               7      2       0
71 Mirage-Firstprizebears Las Vegas        Beth White               7      1      NE
71 Brechin-Jubo-Lees Once Ina Lyfethyme    Maryann Groves           7      1      NE
71 Bronte-Levontz's Highland Bronte        Kim Horsley              7      1	
76 Indy-Nonesuch New Sensation             Cheryl Poliak            6(11t) 3
77 Chester-Caledonia's Hot Chocolate       Ann Rambaud              5      1	
77 Solo-Chantilly's Woofgang Amadeus	   Cindy Nellipowitz        5      1
77 Lorna-Donalea's  Wild Thyme             Charles & Doris Banfield 5      1	
77 Mordey-Dr Mordecai's Mad Merlot         Jon and Stacey Lazarow   5      1
81 Hattie-Britannia Hat Trick              Diane Reid               4      2
81 Spriggen-Jubo-Lees Faeryglen Spriggen   Ruth Ivers               4      1	
81 Lucky-Memorylane Lady Luck              Joanne Albano Vaughn     4      1
84 Cowboy-Fox Lane's Your Cowboy Song      Maryann Szalka           3      1	
85 Monty-Beauchien's Montana On My Mind    Joyce and Hank Price     2      1
86 Tess-Autumnlane's Tribute To Roo        Sue O'Donnell            1      1
87 Carson-Dunnator Stonehaven's Silver     Patsy Sullivan           0      3	
87 Fallon-Firstprizebears Hellowell        Kathleen Pavlich         0      3       2
87 Biff-Britannia Back To The Future       M Ritter & CJezierski    0      2
87 Boo!-O'Duinnin Picabo Streak            Karen Barratt            0      2       0	
87 Sara-Sheiling's Chivas Regal            Tony Vallone             0      2	
87 Gem-Sunriver-Aellen Spectacular         Sharon Baker             0      2
87 Truman-Aellen Tried And True            Carol Colavecchio        0      1      NE
87 Charlie-Baliwyn Downtown Charlie Brown  Alice Buschman           0      1      NE
87 Haley-Briarpatch Comet Over Paladia     Teri Fleming             0      1
87 Checkers-Fox Lane's Wynsum Checkmate    Maryann Szalka           0      1	
87 McKenna-Ragtyme Make 'Em Believe-       K Harold & J Dunn        0      1
87 Trouble-Sweet Romance Of Lonetree       Mary Edner               0      1      NE
87 Samson-Samson of Swiftfoot              Lois Vennnewitz          0      1       6
87 Sonny-Tivoli's First Son Of Lucas       Kim & Lucindia Markle    0      1
---
Excellent Standard Front and Finish Points
46 Beardies earned Excellent Standard Legs in 2001
   Dog's Name                              Handler                F&F Pts/Legs/MACH Pts

1  Wizard-Anasazi Secret Of The Wizard     Sarah Halsey           279     21     357
2  Sean-Balgrae's Sean Mackay              Joanne Williamson      150     18     110
3  Jet-O'Duinnin HMT Sonic Boom            Karen Barratt          135     22     267
4  Chase-Bedlam's Catch Me If You Can      Leslie Dawson-North     93     12     182
5  Lucy-Oakengates Havin' A Ball           Liz Cox                 89     12      88
6  Kassi-Buaidh Mithandril Xerox O' Jen    Leslie Dawson-North     87     12     140
7  Skyedance-Melita Skyedance              Jack Buhite             68      4      49
8  Chipper-Spindrift William Rikker        Pat Coreris             61      7      25
9  Brio-Springhills Spirit of Brio         Sharon Williamson       47      9      67
9  Rocky-Rocky The Wonder Dog              Matt Walsh              47      3      NE
11 Chloe-Blackfriar A Scot On The Rocks    Jan and Tony Vallone    43      6      13
12 Arbi-O'Duinnin HMT Rhythm N Booze       Ann Chandoha            42      5      53
12 Ivy Sue-Fox Lane's Zany Treasure        Carol Carlsen           42      3      NE
14 Patsch-Edmar My Own Sweet Patsch        Mary Lott               37      5      11
15 Zooey-Britannia How Sweet It Is         Michele Ritter          34      3      NE
16 Ivy-Black Friar Ivy Roon                Polley Ann McClure      28      5       0
16 Dallas-O'Duinnin Dazzle 'Em Dallas      Wade Pelton             28      2      NE
18 Colton-Ragtyme Doubly Smashing          Barbara Stone           26      8       5
18 Miller-Angelfire Shooting Star          Cheri Omnus             26      5      11
20 Harley-Harley of St John                David Williamson        21      2      NE
20 Impy-Malakar Delightfully Wicked        Sarah Halsey            21      1      NE
22 Dodger-Conley's Little Dodger           Noli Caswell            20      3      8
23 Desi-O'Duinnin Oh Darlin' Desiree       Eileen Dinneen          19      1      NE
23 Caper-Skyedance Lord A-Leaping          Jack and Libby Buhite   19      1      NE
25 Molly-Molly The Muffin                  Martha Faulk            18      4      16
25 Rob-Balgrae's Rob Ruadh                 Joanne Williamson       18      3      40
25 Jake-Britannia Good Day Sonshine        Christiana Taylor       18      2      13
25 Mikie-Holm Mike L. Douglas              Charles Gibson          18      2       4
29 Chelsie                                 Eleanor Logue           17     10      13
29 Becket-Ragtyme Talkin' Up A Storm       Kim Horsley             17      6       4
29 Bruiser-Ha'Penny De'luxe Edition        Pat Bishop              17      2      NE
32 Shiloh-Foxlane's Victory In Blue        Carol Carlsen           16      1      NE
33 Jack-O'Duinnin Oh Dat Jack B Nimble     Jill Scarborough        15      3      NE
33 Harper-Pentangle's Crystal Harper       Mary Lott               15      2      NE
35 Olav-Olav                               Anne Ellefsen           10      1      NE
36 Annie-Moonsong Klassical Legacy         Sharon Prassa            8      1      10
37 Picard-Spindrift Jean-Luc Picard        Pam Harris               7      2       0
37 Mirage-Firstprizebears Las Vegas        Beth White               7      1      NE
37 Brechin-Jubo-Lees Once Ina Lyfethyme    Maryann Groves           7      1      NE
40 Rory-Colledge Spirit Of Sheiling        Elaine O'Carroll         5      1      NE
41 Fallon-Firstprizebears Hellowell        Kathleen Pavlich         0      3       2
41 Boo!-O'Duinnin Picabo Streak            Karen Barratt            0      2       0
41 Truman-Aellen Tried And True            Carol Colavecchio        0      1      NE
41 Charlie-Baliwyn Downtown Charlie Brown  Alice Buschman           0      1      NE
41 Trouble-Sweet Romance Of Lonetree       Mary Edner               0      1      NE
41 Samson-Samson of Swiftfoot              Lois Vennnewitz          0      1       6


---
Open Standard Front and Finish Points
24 Beardies earned Open Standard Legs in 2001
   Dog's Name                              Handler                F&F Pts/Legs

1  Brylie-Barnhollow Brylie                Maryann Groves          68      2
2  Bruiser-Ha'Penny De'luxe Edition        Pat Bishop              53      3	
3  Jax-Wigglesworth Out On A Limb          Sharon Ipser            36      2	
4  Chloe-Blackfriar A Scot On The Rocks    Jan and Tony Vallone    35      3	
4  Bobby-Britannia Bobby Dazzler           Amy Steltz              35      3	
6  Lizzie-Oakengate's Keeper of Dreams     Rosemary Schroeder      34(34t) 4	
7  Rory-Colledge Spirit Of Sheiling        Elaine O'Carroll        32      2	
8  Tommy-Briarpatch Who Was That           Lucy Campbell-Gracie    25      3	
9  Snuffy-Snuff and Stuff                  Sonja Moore             25      2	
10 Impy-Malakar Delightfully Wicked        Sarah Halsey            22      3	
11 Jack-O'Duinnin Oh Dat Jack B Nimble     Jill Scarborough        21      2	
12 Harley-Harley of St John                David Williamson        19      2	
13 Kailey-Shanaspree Kick A Field Goal     Betty Jo Walker         17      2	
14 Cooler-Winnoby's Cool Your Jets         Carolyn House           15      1	
15 Harper-Pentangle's Crystal Harper       Mary Lott               14      2	
16 Dugan-Fox Lane's Wynsum Wiley Won       Carol Carlsen           13      1	
17 Chilly-Arcadia's Thrills N' Chills      Lori Weinberg           11      1	
18 Talisker-Briarpatch Double Scotch       Ruth & Neil Bryden      10      1	
19 Tascia-Holm I Believe In Miracles       Marta Witt               8      2	
20 Bronte-Levontz's Highland Bronte        Kim Horsley              7      1	
21 Desi-O'Duinnin Oh Darlin' Desiree       Eileen Dinneen           5      2	
22 Hattie-Britannia Hat Trick              Diane Reid               4      2	
23 Carson-Dunnator Stonehaven's Silver     Patsy Sullivan           0      3	
23 Ivy-Black Friar Ivy Roon                Polley Ann McClure       0      1



---
Novice Standard Front and Finish Points
46 Beardies earned Novice Standard Legs in 2001
   Dog's Name                              Handler                F&F Pts/Legs

1  Belle-Britannia Belle O' The Ball       Joanne Williamson       59      3
2  Tommy-Briarpatch Who Was That           Lucy Campbell-Gracie    28(28t) 4	
3  Chloe-Blackfriar A Scot On The Rocks    Jan and Tony Vallone    23(28t) 4	
4  Moxie-Aceilidh's Thrill Of The Chase    Leslie Dawson-North     21(25t) 4	
5  Ella-Britannia Sings The Blues          Toni Tuck               20      2	
5  Lakotah!-Walkoway's Vixen               Marilynn Snook          20(26t) 4	
7  Gina-Chantilly's Virginia Woof          Kathy Pavlich           19      3	
8  Jolie-Angelfire Such Sweet Kisses       Susan Mikitka           18      3	
9  Brylie-Barnhollow Brylie                Maryann Groves          17(26t) 4	
9  Daisy-Brigadoon's Night And Day         Debbie Barner           17      2	
11 Darby-O'Duinnin Oh Dancin'              David Williamson        16      2	
12 Zoot-Britannia Zoots Me Fine            Sharon Prassa           15(36t) 5	
12 Rebel-Ha'Penny Rebelz 'Da Shaggy D      Mary Maddox             15      2	
12 Lacey-Wynsum Alluring Dreamweaver       Carol Carlsen           15      1	
15 Bobby-Britannia Bobby Dazzler           Amy Steltz              14(35t) 3	
15 Simon-Britannia Simon Says              Ann Krafcheck           14      2	
17 Lizzee-Wigglesworth Oh Look At That     Sharon & Jeff Ipser     13      1	
18 Impy-Malakar Delightfully Wicked        Sarah Halsey            12      3	
19 Blaze-Shadowfax's Five Alarm Fire       Karen Drummond          12      2	
20 Lincoln-Ragtyme Simply Irresistible	   Jackye Dunn             10(17t) 4	
20 Sparkee-Alashaw's Place Your Bets       Tammy Domico            10      2	
20 Maya-Bandera Gael Wind                  Annette Greathouse      10      2	
20 Willow-Baybreeze Image Of Marshfen      Beth Canner             10      1	
24 Tag-Spindrift Risa Up And Over          Iris Berry               9      3	
24 Cydney-Caledonia's Cydney Canuck	   Kathrine and Carl Widell 9      1	
24 Lizzie-Oakengate's Keeper of Dreams     Rosemary Schroeder       9      1	
27 Zachary-Made An Impression At Diotima   Linda Swain & Pat Hyde   7      3	
28 Indy-Nonesuch New Sensation             Cheryl Poliak            6(11t) 3	
29 Chester-Caledonia's Hot Chocolate       Ann Rambaud              5      1	
29 Solo-Chantilly's Woofgang Amadeus	   Cindy Nellipowitz        5      1	
29 Lorna-Donalea's  Wild Thyme             Charles & Doris Banfield 5      1	
29 Mordey-Dr Mordecai's Mad Merlot         Jon and Stacey Lazarow   5      1	
29 Jax-Wigglesworth Out On A Limb          Sharon Ipser             5      1	
34 Spriggen-Jubo-Lees Faeryglen Spriggen   Ruth Ivers               4      1	
34 Lucky-Memorylane Lady Luck              Joanne Albano Vaughn     4      1	
36 Cowboy-Fox Lane's Your Cowboy Song      Maryann Szalka           3      1	
37 Monty-Beauchien's Montana On My Mind    Joyce and Hank Price     2      1	
37 Kailey-Shanaspree Kick A Field Goal     Betty Jo Walker          2      1	
37 Tess-Autumnlane's Tribute To Roo        Sue O'Donnell            1      1	
40 Biff-Britannia Back To The Future       M Ritter & CJezierski    0      2	
40 Sara-Sheiling's Chivas Regal            Tony Vallone             0      2	
40 Gem-Sunriver-Aellen Spectacular         Sharon Baker             0      2	
40 Haley-Briarpatch Comet Over Paladia     Teri Fleming             0      1	
40 Checkers-Fox Lane's Wynsum Checkmate    Maryann Szalka           0      1	
40 McKenna-Ragtyme Make 'Em Believe-       K Harold & J Dunn        0      1	
40 Sonny-Tivoli's First Son Of Lucas       Kim & Lucindia Markle    0      1


---


Many thanks to Joanne Williamson who has the AKC AWARDS results summarized 
in an Excel table.  She helped me by tabulating and double checking these stats. 

Joanne Williamson
balgrae@ix.netcom.com
Last updated 8 June 2004



---
---
---
BAD Honors:
---
BAD Awards:

Off to a BAD Start
[BAD Handlers] | [BAD Dogs] | [BAD Events] | [BAD Links]
[BAD Greetings] | [BAD News] | BAD Beginnings]
[BAD Advice] | [BAD Attitudes] | [BAD Goods]
Email Libby with an update