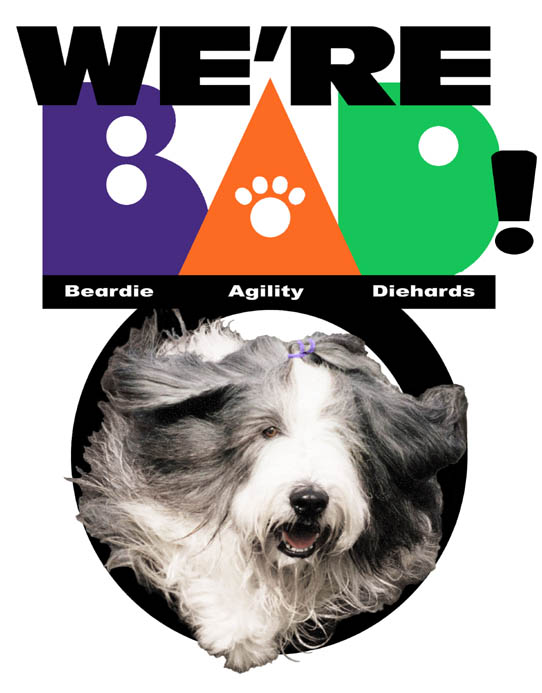 Welcome to the BAD Home Page!
(Beardie Agility Diehards)
Logo by Gretchen Blackburn
From a photo by Bill Newcomb
---
This home page is designed for BAD dogs and their equally BAD people. Whether you're just starting out in agility or you've been trialing for a while, we hope you'll find something here that you can use. Either way, this is YOUR page. If there's something you'd like to see here or you have a brag or question you want to share, just send some BAD feedback. We want you to be as BAD as you wanna be!!

Danielle McMillion Photography

MACH Foxlane's Mika At Tweeddale XF
MAD SAM JM RM AG NAC

Linda Porter and Mika were immensely successful
at the 2008 AKC Agility Invitational

High In Breed
3rd place 20" Finalist
4th place in the Herding Group

BCCA Denia Award 2007

Cartoon by Maclean and Co

Aceilidhs Chase N Some Thrills
OA OAJ AG.X ADC SGDC FDX

Leslie Dawson-North and Heather

were chosen to represent Canada

at the 2004 International Agility Championships in Italy

and placed 19th in the world!

Leslie and Heather qualified again in 2005 and 2006

and competed in Spain and Switzerland.

Bud

CH MACH2 O'Duinnin HMT This Bud's for Boo ROMAX

Karen Barratt of Galveston, TX

Photo by Tien Tran

Wizard

MACH10/ADCH Anasazi Secret of the Wizard MXF

SACH EAC EJC EGC CGC

Sarah Halsey of Fallbrook, CA

Pet Portraits by Pam and Sherry

Sean

Ch MACH Balgrae's Sean Mackay

Photo by Kathleen Schaffer of Pup Art

Zoom

Ch MACH10 Wigglesworth Super Sonic TQX
RN NAP NJP MXF
PS1 PD1 PG1 PK1 PJ1 CGC VX


Photo by Tien Tran

Spice

MACH Spindrift Risa Hot Stuff
CD RA AXP MJP CGC VX
AAD ASA AJ AS AR
NAC EJC NGC WV-O TN-O
CL3-RFS CL4-H

Patti Bott of Lakeside, CA
Jana Dozet and Pam Harris

Pet Portraits by Pam and Sherry

Chase and Kassi

Can CH MACH/ADCH/VATCH
Bedlam's Catch Me If You Can
MADC AG.X Can/Am CDX HIC FM CGC ROMAX

Fourth Place Trophy in the 20" Division
AKC Nationals 1998

MACH Chaniam Creag XF PG1 PJ1 PR1 HIC CGC

HIT for Jumpers with Weaves - BCCA Nationals 2005

Lori Weinberg of Edwardsville, IL

Photo by Doug Klein

AKC Nationals 2000

Jan Norikane and Maggie

Joanne Williamson and Sean

Leslie Dawson-North with Chase and Kassi

Jerry Bergen and Breezy

Liz Cox and Lucy

BAD at AKC-Beardie MACH Points Earned

Preferred Excellent Beardies

BAD at the 2005 AKC Nationals - Florida

BAD at the 2004 AKC Nationals - Florida

BAD at the 2003 AKC Nationals - California

BAD at the 2002 AKC Nationals - Texas

BAD at the 2001 AKC Nationals - Colorado

BAD at the 2000 AKC Nationals - Massachusetts

BAD at the1998 AKC Nationals - Georgia

BAD at the 1997 AKC Nationals - Chicago

CH Britannia Belle O' The Ball RN PT OA OAJ NF NJC TN-N VX

HIT for Standard Agility - BCCA Nationals 2001

Joanne Williamson of Cranford, NJ

---

Am/Can CH Colledge Spirit of Sheiling

UD RE PT Can CD and HT MX MXJ OJP NAC OJC AG.N VX

HIT for Jumpers with Weaves - BCCA Nationals 2001

Elaine O'Carroll of Riva, MD

Photo by Ann Chandoha

BCCA Nationals 2000

Standing: Beth Canner, Libby Myers-Buhite,

Judge Jean Munger, Lisa Humm

with

Excellent B Qualifiers:

Standing: Jan Norikane-Maggie, Charles Gibson-Mikie

Kneeling: Ann Krafcheck-Tasha, Karen Barratt-Jet (and Boo!)

Leslie Dawson-North-Chase and Kassi

Liz Cox-Lucy, Sandy Weiss-Chip

NCBCF Second Regional Specialty

NCBCF Third Regional Specialty

NCBCF Fourth Regional Specialty

Photo by Tien Tran

SACH-Gold JCH-Silver SCH-Silver RCH-Bronze GCH TM

CH MACH3 Wigglesworth Out On A Limb
RN MXP MJP PS1 CGC ROMAX VX

HIT for Standard Agility - BCCA Nationals 2004

Jeff Ipser of Auburn, OH

O'Duinnin Joli Goes Platinum,
CD RE PT MX MXJ OF
AAD ASA JCH RM AS AG
NAC NGC EJC TN-O WV-N
JHD-sg CGC VX

HIT for Jumpers with Weaves - BCCA Nationals 2004

"Joie de Vivre"

(Award Winning Art Entry at the 1997 Specialty)

Libby Myers-Buhite
---

BAD received it's first Star Site Award, 1 January 1998, after only 12 hours on the Web, from Dogpatch, one of the earliest Dog Agility sites.


"I love it! What a great site, you should be very proud! Right now I have it marked with a "New" icon so people will know it's a new page, but it will get a Star once the New icon comes off. Which also qualifies you to display the Dogpatch Star Site award, which is attached to this message. Congrats on your first site award, you deserve it!" Mary Jo Sminkey of the Dog Agility Page.
"I've found the coolest agility website in cyberspace. You MUST go check it out!" Bud Houston of Just For Fun
"You have a great web site. I hope more performance dog sites approach their web presence with such creativity and humor. . . . I've known for a long time that Beardies are quite special. I had an agility student about ten year ago with a Beardie that weaved so very fast, and learned to do so in only about two weeks. In those days we didn't realize how fast weave poles could be done. But these days when I train my dog I train for the performance of that Beardie so many years ago. I'm waiting for one of this breed to take it all in national competition." Bud Houston of Just For Fun

Our BAD Website won first place at the 1999 BCCA Nationals both from the Specialty Website Judge, Scott Gormley, and in Peoples' Choice. Many thanks to Karen Norteman who designed the prototype and Gretchen Blackburn for our outstanding Logo! Scott Gormley, Art Director of Internet World, a weekly publication devoted to news of the Internet computer community, judged the site from New York City. Before he assumed the Art Director's position in 1997, Scott worked as a Special Editor/Graphic Designer for Gannett Suburban Newspapers, and was Acting Assistant Art Director for USA Weekend.
* * * "BAD was founded by Libby Myers-Buhite, out of a desire to network Beardie people who were active in agility. While geared toward Beardie owners and enthusiasts, the site provides a nice model for other clubs and organizations who may want to develop user friendly and informative websites. 3 Stars." Sandi Dremel of the Dog Infomat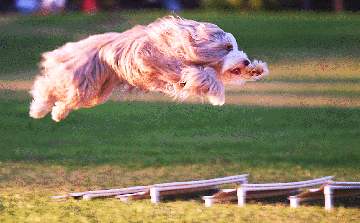 Photo by Dick Gilmore
---
Web page created by Karen Norteman and maintained by Libby Myers-Buhite.
BAD logo created by Gretchen Blackburn
MacLean & Co cartoons- John Wilkins.
For more BAD information, email Libby Myers-Buhite.
Copyrights for all articles and information belong to the original authors.