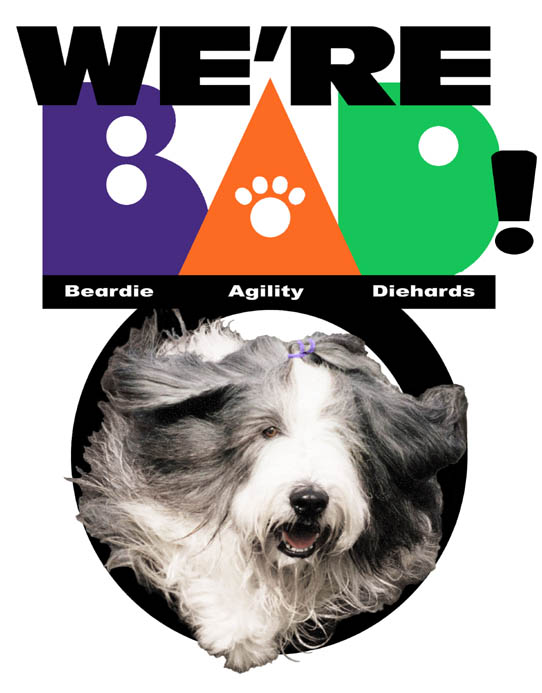 BAD Member of the Year Awards
BAD Attitude Awards
1997 Gretchen Blackburn of Austin, TX for designing our Logo
1998 Karen Norteman of Alfred, ME for designing our Website First BAD Dinner
1999 Northwest's National Specialty Agility Day
20 BAD Member of the Year Awards
2000 Karen Barratt of Galveston, TX
2001 Charles Gibson of New Caledonia MI
2002 Judge Beth Canner of Seminole FL (Baybreeze)
2003 Jerry, Lu, and Breezy Bergen of White River Jct VT
2004 Judge Leslie Dawson-North of Langdon, Alberta
2005 Judge Joanne Williamson of Boxboro MA (Balgrae)
2006 Libby Myers-Buhite of Santa Clara, CA (Skyedance)
2007 Judge Jeff Ipser of Auburn OH (Wigglesworth)
2008 Judge Tammy Domico of Clovis, CA (AKC / USDAA )
2009 Ann Chandoha of Marble Falls, TX
2010 Pam Harris of Sparks, NV (Spindrift)
2011 David Williamson of Pearland TX
2012 Pat Coreris (18 March 1947 – 2 October 2013)
2012 Sarah Halsey (23 October 1936 – 13 December 2013)
2013 Jack Buhite of Santa Clara CA (Skyedance)
2013 Andrea Hobe of Alpharetta GA (AllAround)
2013 Lori Weinberg of Edwardsville IL
2014 Trudy Wisner of Staten Island NY (Lil'Clove)
2015 Karen Norteman of Alfred Me (Starisles)
2016 Claire Cifarelli of Staten Island NY
---
---

1997
Gretchen Blackburn of Austin, TX
Gretchen at the 1997 Nationals Gretchen was the first to receive the "BAD Attitude Award" for designing our BAD Logo and BAD t-shirts in time for the 1997 Nationals in Rohnert Park, California. She so enjoyed herself at the grape stomp that she is now known as Gretchen "the Grape" Blackburn.
---

1998
Karen Norteman of Alfred, ME
with Dinah
Karen earned the "BAD Attitude Award" for creating the Award Winning Beardie Agility Diehard Website, which made its debut on New Year's Day of 1998. She flew out to California to teach Libby how to manage the site, thus giving Libby her life's work.
CADENCE-Beau Chien High Cadence CD PT CGC-went to the Bridge in 1997
CHARLIE-WayToMe Midsummer Knight HIC
SEAMUS-Sheiling Angelic Ties RN HIC
DINAH-Breaksea November Storm
CH Burlesque Doing It Her Way
---
1999
Northwest's National Specialty Agility Day and first BAD Dinner
The Northwest Agility Day was a group effort. Betty Winfield, Trial Secretary, ran the trial efficiently with Jane Cooper and Mark and Linda Glaman, Trial Chairs. Robin Hood ordered splendid wind-catcher Trophies, Christiana Taylor and Amy Steltz, presented each participant with a lovely gift bag. That evening 50 of us gathered for the first BAD Awards dinner. Christiana Taylor reserved a banquet room at the hotel for us, where the "Agility Diehards" dined on pizza and beer. Eileen Dinneen, Patsy Sullivan, and Jack Buhite helped set up the dinner. Libby Myers-Buhite gave "Weaving through the Aspens" T-shirts as thank yous to those who make BAD possible. Several received beautiful certificates made by Gretchen Blackburn. Helix Fairweather gave handcrafted agility magnets and Pat Hanson brought coffee from Alaska. All enjoyed the inflatable bones, appropriately scripted,"BAD to the Bone!"
---

2000
Karen Barratt of Galveston, TX
with MACH5 Jet
Karen accepted the position of BCCA Agility Co-Chair with Libby, bringing her agility expertise to the entire Beardie Agility Community. Karen has trained six Agility Beardies beginning with Boo!. She earned several MACHs with her first two boys, Budweiser and Jet. Bud sired Miller, her fourth agility Beardie, who had quite the year in 2011 as AKC and BCCA Top MACH Beardie, Winner of the Diehard Trophy and Overall Jumpers with Weaves Trophies, as well as Winner of the 20" Class of 109 dogs at the AKC Eukanuba Invitational. Karen is now competing with her two youngsters: Packer and Hawk.
BOO!-Ch O'Duinnin Picabo Streak MX MXJ AD OAC OJC NGC HIC ROMAX

BUDWEISER-Ch/MACH2 O'Duinnin HMT A Bud for Boo MXC MJS2 ROMAX

JET-MACH5 O'Duinnin HMT Sonic Boom MXG2 MJC2 AAD EAC EJC OGC

MILLER-CH MACH10 PACH Colquhoun's No Time To Relax
RN MXG3 MJB4 MXP4 MXPB MJP4 MJPB PAX MXF MFB TQX T2B NAC HIC CGC Versatility Excellent ROMAX

BCCA High in Trial FAST - 2010
AKC's Top MACH Beardie - 2011 - finshed 3 MACHs
BCCA's Top Beardie and Winner of the Diehard Trophy and Overall Jumpers with Weaves Trophies - 2011
Winner of the Excellent B Standard Award and the Ryan Excellent B JWW Award - 2011
Winner of the 20" Class of 109 dogs at the AKC/Eukanuba Invitational - 18 December 2011
Winner of the Excellent B Standard Award - 2012
Winner of the Diehard Trophy and Excellent B Standard Award - 2013

PACKER-After Dark Estrella Six Pack MX MXJ MJC MXF CGC CL1

HAWK-Alistair's Eye Of A Hawk At Big Lake OA AXJ XF
---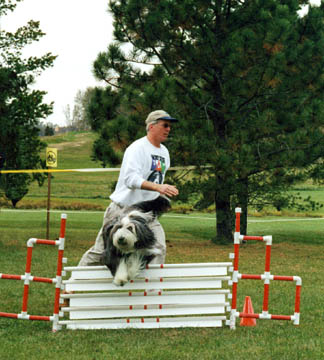 2001

Charles Gibson of New Caledonia MI
with Mikie - 2Q at the 2000 National Specialty


CH U-ACHX Holm Mike L. Doglas PT MX MXB MXJ EAC EGC OJC HIC CGC VX
Charles Gibson is known for his persistently BAD attitude, inspiring songs, and his agility top ten list! "The BCCA 2000 National Specialty marked a 6 year anniversary of my agility career shared with Mikie. In looking back, I wondered, 'What draws me, and what keeps me in agility?' The entire experience of being able to grow in an activity that both Mikie and I thoroughly enjoy is the answer. The following "top 10 list" allows a deeper look into the recesses of this experience."
The essence of a personal best: I am very competitive! Yet, I avoid competing against my fellow competitors. In my earliest agility experience, I made a commitment to a personal decision: This competitiveness would be channeled by focusing on competing with myself. Aiming to improve my handling each and every time we stepped into the ring became priority No.1. Such improvement was often elusive and met with either frustrating, hilarious, or mediocre results. But, whether or not we beat so-in-so, or placed, was always second to doing my best. Personally, that's aplenty on my plate.
Discovering the essence of true teamwork: Agility is, after all, a team effort. Here's my favorite analogy: The handler is the captain of his ship (dog) and, as such, he carries the full responsibility to see his ship make a successful voyage; his ship will run aground if his commands are unclear; the ship will be aimlessly adrift if the captain doesn't study the the maps; the voyage will be in peril if the captain doesn't know how to navigate (handle) his ship. The most exciting journey awaits the captain who sets sail confidently prepared, not, mind you, three sheets to the wind.
Time stands still: For just a brief fleeting moment that we're out running a course, I am secured in the freedom of escaping troubles and worries, and I've aplenty of those.
A sublime bonding: Agility is, for me, the unequaled opportunity to be emotionally and spiritually connected to a Beardie who is my picture of eagerness, joy, and grace.
The challenge of change: Each course presents a new crop of possibilities and variations. As such, they require new perspectives and adaptability, all to help keep the brain rust at bay.
The commonality of community: As a group of likeminded people, we participate in a shared time and space experience unique to any other.
A rollercoaster of emotional diversity: Countless variations on the theme of anxiety, frustration, joy, excitement, disappointment, panic, hopefulness, confusion, all are telling adjectives of the agility experience.
Learning the essence of forgiveness: When a penalty is incurred whilst running a course, the real fault usually lies with the two-legged team member. Yet, I cannot begin to count the times, after I have made a unclear signal or just plain mishandled, that my dog wagged his tail at me.
A defining moment of our limitations: While it's important to know one's strengths, the agility experience helps me to acknowledge and accept my limitations.
Agility helps sharpen my perspective of why I do agility in the first place: See Nos 1 thru 9!
---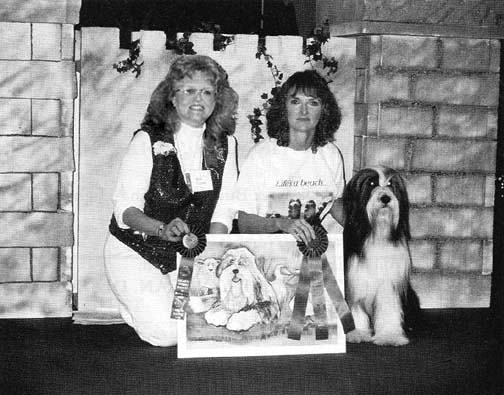 2002
Judge Beth Canner of Seminole FL (Baybreeze)
with Eileen Dineen and Delorean at the 1996 Nationals
Beth was our first BCCA Agility Chair and our first Nationals Agility Judge. She was there at the very beginning of agility and her Ryan earned the first Beardie agility title. Did you know that the very first AKC specialty agility trial was our BCCA Florida trial, which Beth organized in 1996? When I mention her name, the AKC says "yes" to our annual Fun Runs started by Beth. We are so grateful for all she has done, including establishing our first BCCA Awards: the Denia with Emily Venator, the Sunshine with the Florida Club, the Standard Certificates, and the Ryan Awards for Jumpers with Weaves. Beth focuses on encouraging the Novice handler.
Ryan-CH Jande's Hellava Knight CD UAGI HIC PUP
Mandy-Bardmoor's Beach Breeze NA UAGI
---

Photo by Sonja Moore 8-27-07
Jerry, Lu, and NATCH 3 Breezy Bergen of White River Jct VT
Jerry, Lu, and Breezy were one of my main inspirations for founding BAD back in 1996, when we were seeking out the agility Beardies across the USA and Canada. Since then, Jerry and Lu have contributed greatly to BAD and the East Coast "BEARDs." We all followed Jerry and Breezy's progress and incredible successes in AKC, USDAA, and NADAC. Lu gave generously by being our NADAC "expert" and by verifying NADAC titles for us. Jerry served on the BCCA Agility Committee for several years and is a great historian of what is going on in the North East.
Breezy-CH NATCH O-V-NATCH Baliwyn's Precious Friend CDX TD MX MXB MXJ APD AJD-Bronze AKD VS VJ S-EAC HIC CGC VX

First VAD- Veteran Agility Dog - 5/24/98
First VAAD- Veteran Advanced Agility Dog - 9/19/98
First MPD/PD3- Master Performance Dog - 9/18/99
First PDCH/APD- Performance Dog Champion - 6/16/01
First PSM/PS3- Performance Standard Master - 5/05/01
First PJM/VJ- Performance Jumpers Master - 10/02/99
First PJCH/VJ- Performance Jumpers Champion - 10/07/00
First PJCH-Bronze/AJD-Bronze- Performance Jumpers Champion-Bronze - 6/24/01
First PKM/PK3- Performance Snooker Master - 8/05/00
First PKCH/AKD- Performance Snooker Champion - 6/23/01
First PGM/PG3- Performance Gamblers Master - 6/16/01

First NATCH-NADAC Agility Champion - 9/17/00
First NATCH2 - 7/05/02 - or V-NATCH-Veteran NADAC Agility Champion - 8/18/02
First NATCH3 - 5/31/03 or O-V-NATCH-Veteran NADAC Agility Champion - 8/16/03
First Triple Superior Elite - 6/02/02
First 1000 Point Award
First 2000 Point Award
First EAC-Elite Agility Certificate - 10/25/97
First O-EAC-Outstanding Elite Agility Certificate - 11/7/98
First S-EAC-Superior Elite Agility Certificate - 4/29/00
First S-EJC-Superior Elite Jumpers Certificates - 10/13/01
First O-EGC-Outstanding Elite Gamblers Certificate - 8/20/00
First O-EGC-Superior Elite Gamblers Certificate - 6/02/02

Brae-Bronze GCH Bramley's Green Mountain Boy CGC
---

2004
Judge Leslie Dawson-North of Langdon, Alberta
Leslie Dawson-North with MACH ADCH Chase - 4th place at the AKC National Agility Championships in 1998
Leslie was a member of the BCCA Agility Committee and is a CKC Agility Judge. She has shown consistent excellence in Agility, competing in four venues: AKC, USDAA, CKC, and AAC. Kassi won the first ever BCCA High in Trial in 1996 and got High in Standard in 2000. Chase won a fourth place at the 1998 AKC Nationals in the 20" division and earned the first USDAA Beardie Championship in June of 2000. Moxie won the Denia Award for 2003 and Heather represented Canada at the International Agility Championships in Montichiari, Italy in September 2004, placing 19th in the world!
Chase-Can CH MACH ADCH VATCH Bedlam's Catch Me If You Can, Am/Can CDX MXS MJS MADC AG.X FM HIC CGC ROMAX

Excellent A Ryan Award - 1998
Fourth place at the AKC National Agility Championships in 1998
First BCCA High in Trial JWW - 2000

First MAD- Masters Agility Dog - 7/26/98
First RM- Relay Master- 8/01/99
First GM- Gamblers Master- 10/10/99
First USDAA Championship- ADCH 6/02/00

Kassi-Can CH MACH OTCH Buaidh Mithandril Xerox O'Jen CD MXS MJS MAD SAM JM RM MADC MSN AG.MX FbDCH HIC CGC

BCCA High in Trial - 1996
BCCA High in Trial for Standard - 2000

Koddi-Bedlam's Yumpin' Yiminny, Can CD OA AAD JM AADC FM TT HIC CGC

Moxie- Can CH ATCHC Aceilidh Thrill of the Chase MX AXJ AG.I FDCH

Open Standard and Open Ryan Awards - 2002
Denia Award - 2003

Heather-Aceilidhs Chase N Some Thrills OA OAJ ADC SGDC AG.X FDX

Chosen to represent Canada at the International Agility Championships in Italy 24, 25, 26 September 2004 and placed 19th in the world!

Sprint-Can CH Aceilidhs World Class Sprinter

Brisk-Aceilidhs World Class Velocity

Dash-Can CH Aceilidhs World Class Dasher
---

2005
Judge Joanne Williamson of Boxboro MA (Balgrae)
Joanne with MACH Sean in 1998 Denia Award, first MACH, first Diehard Trophy winner
Joanne, our BCCA Versatility Chair, has been working with the Agility Committee since 1997, tracking our Beardies' AKC legs and titles and working out the point systems for our BCCA Agility Awards. Joanne was Agility Co-Chair with Libby from 2004-2010, took a year off to be BCCA President, then rejoined the Committee in 2011. When I think of Joanne, dedication is the word that springs to mind. Since 2009 Joanne has chaired BCCA agility fundraisers in Amhurst NH, bringing in many thousands for the Specialty Fund! Seven of Joanne's Beardies have earned the VX: and both Flash and Jack have earned Master Versatility titles. Sean was the first Beardie to earn a MACH. He also won the Denia Award for 1998 and, as top AKC Beardie, won both the Diehard and the Jumpers Trophies for 1999 and 2000. Flash has earned his MACH as well. Jack holds the "Double Championship" for conformation and herding. Sean, Rob, and Belle have taken Highs in Trial at our BCCA Nationals. Joanne is currently trialing with Jack's pup, Dazzle, and training Rob's pup, Ripple.
Corey-BIS Am Can Bda CH Parcana Lord Corwin CDX OA NAJ HIC ROMA Versatility Excellent
Sean-CH MACH Balgrae's Sean Mackay CD HS JHDs STDs MXG MJG NAC NJC Versatility Excellent
BCCA Novice Award - 1997
BCCA High in Trial - 1998
8th/91 at the 1998 AKC Nationals
Denia, Excellent B Standard and Excellent B Ryan Awards for 1998
First Diehard Trophy Winner - 1999 and 2000
Jumpers With Weaves Trophy - 1999 and 2000
Excellent B Standard and Excellent B Ryan Awards - 1999
Excellent B Standard and Excellent B Ryan Awards - 2000
Top BAD Beardie for 2001
First Beardie MACH - 16 June 2001
Lily-CH Britannia Sweet Black Angel NA HIC HCTs
Rob-CH Balgrae's Rob Ruadh CD RAE HT JHDs MX MXJ ADmEAC EJC EGC TN-N TG-N WV-N NVA Versatility Excellent
Belle-CH Britannia Belle of the Ball RN PT OA OAJ NF NJC TN-O Versatility Excellent
BCCA High in Trial for Standard - 2001
Beau-Britannia Beau Brummel RE PT MX MXB MXJ MJS OAP AJP XF EAC EJC EGC TN-E WV-O TG-O OVA Versatility Excellent
Flash-CH MACH PACH2 Britannia Flashback CD RAE HSAds HSBd HIAds HXAs HXAdM MXS MJG MXP6 MXPS MJP8 MJPG PAX2 MXF MFP5 MFPS TQXP T2BP Master Versatility
Novice B Standard and Novice B Ryan Awards - 2006

Excellent A Ryan Award ≠≠- 2006

Preferred Veteran Trophy - 2012
Preferred Veteran Trophy - 2013
Jack-DC Pentangle's Captain Jack BN RAE HSAds HSBd HIAds HIBd HXAdM HXBdM MX MXJ MXF T2B Master Versatility
Novice B Standard and Novice B JWW Awards- 2011
Open Standard and Open JWW Awards- 2012
Dazzle-CH Balderdash Bedazzled At Balgrae CD PCD BN RE PT AXP AJP OFP Versatility Excellent
Ripple-Britannia Ripple In Time
---

2006
Libby Myers-Buhite of Santa Clara, CA (Skyedance)
Libby in 1995 with Caper from her first Skyedance Litter
Libby joined the BCCA Agility Committee in 1997, founded the Beardie Agility Diehards in February 1997, and was BCCA Agility Co-Chair from 2000 through 2014. "I have been in contact with most of you and have enjoyed hearing your stories and publishing your statistics. After conversations with many of you, I was inspired to found BAD. With Karen Norteman's help we started a website, which is home to 732 Agility Beardies, and nitiated a Beardie Agility List so that we can communicate with one another. Sharon Prassa presented Libby with the award: "Without Libby and the BAD website, our agility history would not be as well documented as it is. She is the personal record keeper for many of us. In the words of one nominee: 'I don't have any idea how she can keep up, but she does. She knows more about my dogs than I do!!'"
---
2007
Judge Jeff Ipser of Auburn OH (Wigglesworth)
with ReZoom
Bobbie Raguse wrote: "First, Jeff is an excellent trainer and has had many accomplishments with Jax and Zoom. Second, Jeff took the initiative of starting BCCA sponsored agility trials here in the Midwest. They have been a huge success and brought camaraderie to Beardie people in this area. Third, Jeff has become an AKC agility judge. Getting through the process of becoming a judge is similar, I understand, to going through boot camp in the Army, only more difficult. Jeff qualified on his first attempt. Fourth, I have been trialing with Jeff for the past several years and have come to know him both as a very strong competitor and also as a good sport. He loves to win, but when he doesn't he's just as much fun. Jeff can laugh at himself and is generous with his good wishes to others. He works hard at trials and is always willing to volunteer. Lastly, Jeff has become a friend and a mentor for me, always there with suggestions if I ask for help. I think Jeff has contributed a great deal to Beardie Agility and will continue to give back to our sport for a long time to come."
JAX-CH MACH3 Wigglesworth Out On A Limb RN MXC MJB2 MXP MJP PS1 CGC Versatility Excellent ROMAX
ZOOM-CH MACH14 Wigglesworth Super Sonic CD RN MXC4 MJS5 NAP NJP MXF MFS TQX PS1 PD1 PG1 PK1 PJ1 CGC Versatility Excellent ROMAX
Two Highs in Trial at the Northwest Specialty - 2006

Denia Award Winner - 2005
AKC's Top MACH Beardie - 2006, 2007, 2008, 2009, 2010
BCCA's Top Beardie and Winner of the Diehard Trophy - 2006, 2007, 2008, 2009, 2010
Winner of the Excellent B Standard Award - 2006, 2007, 2008, 2009, 2010
Overall Jumpers with Weaves - 2007, 2008, 2009, 2010
REZOOM-CH MACH7 Wigglesworth Super Smooth Operator MXC2 MJC2 AXP AJP MXF TQX T2B
High in Trial for Fast at the Northwest Specialty - 2014

Denia Award Winner and Overall Jumpers with Weaves - 2013
Diehard and Overall Jumpers with Weaves - Masters Standard Award and Masters JWW Award - 2014
---

2008
AKC / USDAA Judge Tammy Domico of Clovis, CA
Tammy with Sparkee
Besides competing with Sparkee and Viva, Tammy judged two BCCA Nationals in 1997 and 2006 and the final round in the AKC National Agility Championships in 2002. It was great fun watching her judge on Animal Planet! She has held at least three West Coast workshops for our Beardie Clubs: the Northern California Bearded Collie Fanciers, the Bearded Collie Club of the Golden West, and the Northwest Bearded Collie Club of Puget Sound. Tammy is well known throughout the country for her dedication and enthusiasm for the sport and is always happy to take time to offer her insights about Beardie handling. She is generous with her equipment and is a wonderful person to work with! When not judging, Tammy can be seen course building from dawn till dusk.
Sparkee-Alashaw Place Your Bets AX MXJ OF

Viva-Alashaw Viva Las Vegas MX MXJ NAP NJP

Chance-Highlander All You Need Is Love
---

2009
Ann Chandoha of Marble Falls, TX
Ann with MACH5 DRU, RAERAE, and MACH2 RAZZ
I first became acquainted with Ann in the summer of 1997 when her Stoli wrote me a delightful letter letting me know how much he loved agility and how much he and his mom Ann would like to be BAD. Since then Ann and I have become good friends and I always look forward to seeing her. Ann is a delight, full of good humor, a great storyteller, and caring and helpful towards others. I love that she is so in touch with her feelings, which lie very close to the surface. Ann is devoted to her Beardies, trains them lovingly, and cares about everyone else's Beardies as well. Ann has put MACHs on Arbi, Dru, and Razz and is currently trialing with her youngest, RaeRae. MACH5 Dru also won the Denia Award for 2006. Ann truly deserved to be BAD person of the year because she PERSONIFIES the "BAD Attitude."
STOLI-CH O'Duinnin Andy Gabel Stolaway OA OAJ NAC NJC HIC CGC

ARBI-CH MACH O'Duinnin HMT Rhythm 'N Booze MXG MJC AXP MJP OAC OJC NGC CGC

DRU-CH MACH5 Colquhoun's First Draw MXG2 MJG2 MXF NAC HIC CGC

RAZZ-CH MACH2 Estrella's Only Razzmatazz MXG MJC XF T2B

RAERAE-Alistair's Rae Of Sunshine At Big Lake MX MXB MXJ MJB NF CL1-RFH
---

2010
Pam Harris of Sparks, NV (Spindrift)
Pam Harris with Mary
Long before most breeders were thinking about the "Versatile Beardie," Pam was active in conformation, obedience, herding, and agility. Her Amber earned the Register of Merit in four areas, as well as the first ROMAX title. She has owner handled four VX Beardies. Besides being active herself, Pam encourages her "puppy people," who count on her knowledge, honesty, and kindness. Pam has such a generous spirit that she is more than willing to help out her "competition" with grooming, handling and all kinds of good advice. She has a gift for friendship and is fun to be with! As a frequent trial chair, I am grateful to Pam because she always pitches in and helps, truly exemplifying the "BAD attitude!"
TESSA-CH Glengarry's Twilight Fancy CD PT

AMBER-CH Spindrift Pride of Glengarry CD PT JHD OA OAJ NAC OJC U-AGI ROM ROMI ROMO ROMAX Versatility Excellent

PICARD-CH Spindrift Jean-Luc Picard PT JHD AX AXJ NAP AD OAC OJC NGC CGC Versatility Excellent

MACGREGOR-CH Spindrift James B MacGregor ROMAX

JODIE-CH Spindrift Charmed I'm Sure CD RE PT AX AXJ OF OAP AJP NFP AD SSA SS SG SR PD2 PS2 EAC OJC NGC TN-N CL3-RHF CGC TDI ROMAX Versatility Excellent

HIT for JWW at the 2009 NCBCF Agility Regional
HIT for FAST at the 2010 NCBCF Agility Regional

MARY-CH Spindrift Something About Mary CD BN RE PT MX MXB MXJ MJB XF T2B2 AAD ASA AJ AGAS AR NAC NJC CL3 HIC ROM ROMAX Versatility Excellent

HIT for Standard at the 2012 BCCA Nationals
HIT for Standard at the 2013 BCCA Nationals
HIT for Time2Beat at the 2015 BCCA Nationals

HIT for JWW at the 2010 NCBCF Agility Regional
HIT for Standard at the 2013 NCBCF Agility Regional
HIT for T2B at the 2015 NCBCF Agility Regional

KONA-CH Spindrift Love Comes Softly RN PT OA AXJ NF Versatility Excellent

HIT for Standard and FAST at the 2015 NCBCF Agility Regional
---

2011
David Williamson of Pearland TX
David Williamson reading to McGuffey
Despite his many teaching and Board duties, David courageously said, "Yes!" when Joanne and I asked him to be BCCA Agility Co-Chair. David then worked tirelessly with the BCCA Board to revise the agility awards. David has run five Beardies in agility. His Harley earned a MACH2 and a PACH. He is currently competing with his youngest, Muldoon, in Novice. Besides having a passion for agility and beardies, David is warm, friendly, outgoing, and generous whenever the need arises. He edited the "Bagpipes" for two years and was Trial Secretary for the 2013 National Specialty, though unable to attend because of school duties. David is well known for his droll sense of humor, his stories, and for being a "cool guy" overall.
Harley-MACH2 PACH Harley of St. John MXS MJG MXPS MXP6 MJPS MJP7 PAX EAC EJC

Preferred Veteran Trophy - 2006
Preferred Veteran Trophy - 2007
Preferred Veteran Trophy - 2008

Darby-Oh Duinnin Oh Dancin' Darby OA MXJ NF NJP NJC

Murray-Wynsum Holdin' On To A Dream AX AXJ NAP NJP NAC NJC

McGuffey-Wynsum Right Stuff! NA NAJ OF NJC TN-N

Muldoon-Wynsum Warmhearted Treasure
---

2012
Pat Coreris
18 March 1947 – 2 October 2013
Pat Coreris with MACH Chipper at the 2002 Monterey Nationals
Pat Coreris' battle with cancer is over now. We will miss her smile, her laugh and her glorious, infectious attitude. Pat's outlook towards agility training and competition was inspirational; there is not a one of us that could not have learned a thing or two from her. She worked hard, and excelling was important to her, but she never, ever let her goals for her dogs get the better of her. She trained and competed with a light heart, always looking at the bright side of every run she had. She showed her pride in her dogs, bragged about them without boasting, and always took responsibility when something wasn't perfect. She was an extraordinary dog mom, a treasure to the agility community, and very loved by her Beardie and Ace Dog Sports family. She will never be forgotten.
Bingo-Esprit's Summer Sunset CDX PT OA AXJ NAP OJP NAC-V NJC-V JHD CGC VX

Chipper-CH MACH Spindrift William Rikker CDX RE PT MXG MJC MXP MJP2 NFP AAD RM AS JM EAC OJC NGC CL3 CL4-FRH JHD VX

Roger-C-ATCH Risa Spindrift Over And Out CD BN RAE2 PT MX MXJ NJP XF PD1 PS1 AAD ASA AJ AG AS AR HIC CGC TDI VX

Buster-CH Spindrift It's All About Me BN RN PT HIC CGC
---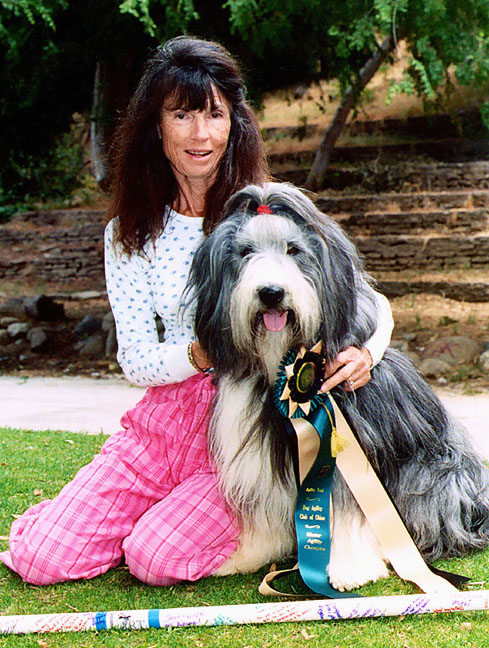 2012

Sarah Halsey

23 October 1936 – 13 December 2013

Sarah Halsey with MACH11 Wizard in 2005
Most of us knew Sarah, her husband Doug, her GSD Purple, and her beloved Beardies, Wizard, Impy, Hooligan and Perky, from their years of success in agility. Anyone who had the joy of seeing Sarah and her MACH11 Beardie, Wizzie, in the ring had to laugh at the sheer pandemonium: Wizzie flying through the air, barking away and Sarah running and somehow directing him over the jumps. Wizzie was the first Beardie to hold both the MACH and the ADCH titles, the first Beardie to earn the MACH6 through MACH10! Team Sarah and Wizzie were awarded the BCCA Diehard Trophy five times, since Wizzie was the #1 AKC Agility Bearded Collie from 2001 through 2005. Despite her many achievements, she was always humble, friendly, and especially helpful to newcomers in her sport. She touched the lives of everyone who had the pleasure to meet her.
WIZARD-MACH11/ADCH Anasazi Secret of the Wizard MXG4 NJS5 MXF MFB TQX SACH EAC EJC EGC CG

IMPY-Malakar Delightfully Wicked MX MXJ MJB OF AD

HOOLIGAN-CH Melita Miro Hooligan Hoopla OA MXJ OF NFP CL3-H

PERCUSSION-Skyedance I've Got No Strings On Me NA NAJ NAP NJP CL2-R TBAD HIC CGC
---

2013
Jack Buhite of Santa Clara CA (Skyedance)
Jack with C-ATCH Ceilidh
Together Jack and I have trained four VX Beardies. We are now concentrating on Frolic. Caper won three HITs at the Nationals and five at the NCBCF Regionals. He earned several Masters titles in AKC and USDAA, including the Master Performance Dog, as well as NADAC and CPE Championships, including the first Vers-NATCH, and the first C-ATCH2. Ceilidh has earned her C-ATCH and USDAA Championships in Snooker and Jumpers, as well as three HITs at our Regionals. When Jack was President of the NCBCF, he was instrumental in gaining our AKC licensing for Conformation, Obedience, Rally, Herding, and Agility. We earned our license for Agility in 1997, the first Beardie Club to do so. Several have noted that without Jack we would never have been able to hold our 15 Beardie Regionals and 25 all-breed trials. Jack chaired, set up, and tore down every one. The words that best describe Jack are: kindness, generosity, helpfulness to fellow participants, and a steady good humor.
SKYEDANCE-CH Melita Skyedance PT MX MXJ MJB NJP AAD JM RM EAC EAC-V O-EJC OGC TN-N HCT HIC CGC Versatility Excellent ROMAX

CAPRICE-Melita Winter Caprice HIC CGC

CAPER-CH Vers-NATCH C-ATCH2 Skyedance Lord A-Leaping RAE PT AX MXJ AXP MJP2 OFP PD3 PS3 PJ3 AR AG AS S-EJC S-TN-E S-WV-E HP-N ChST ChJU ChJP ChCL ChSN ChWC ChFH HCT HIC CGC Versatility Excellent

CEILIDH-UCI Int BaCH C-ATCH O'Duinnin Celebration Ale RE PT AX MXJ MJB MJP3 MJPB XF T2B2 T2BP3 AAD ASA AG RM JM SCH-Bronze PJCH-Bronze PKCH PRCH ChSN ChJU ChFH ChWC ChCL TN-N HCT HIC CGC TDI Versatility Excellent

NCBCF Highs in Trial for JWW and T2B- 2013
NCBCF High in Trial for JWW - 2014

SKYELARK-UCI Int JuCH Skyedance A Lark Ascending BN RE HT MX MXJ MJB NAP NJP OF NFP AD SSA AJ AS AR AG CL3 CL4-FHS HIC CGC TD Versatility Excellent ROMA

NCBCF High in Trial for JWW - 2015

FROLIC-CH IntCH Skyedance Happy As A Lark RA PT OAJ OF SG SS SJ SR CL1-H CL2-FS HIC CGC Versatility Excellent
---

2013 Andrea Hobe of Alpharetta GA (AllAround)
Andrea Hobe with MACH2 Brie
Andrea Hobe has been living with and loving Beardies since she was first exposed to the breed as a young pet sitter. That is when the "Beardie Bug" first bit her and it has been a love affair ever since. While she exudes a passion and love for the sport of agility, those who know her cannot help but be impressed with her devotion to all things "Beardie." She works tirelessly and selflessly to aid Beardies in need of rescue. She helps connect responsible would-be Beardie owners with breeders. She generously shares her insights and knowledge of the breed and agility with anyone who asks. She has recently started breeding Bearded Collies with an emphasis on Beardies who can excel in many different venues. Andrea firmly believes the breed is versatile enough to excel in the show ring as well as the agility ring and other performance arenas.
Barkley-Arcadia-Wildwood Mr. Blue MX MXJ MJB AD AS SJ SG SR OAC EJC NGC TN-N CGC
Parker-Wigglesworth Must Be Fate
Colby-MACH4 O'Duinnin Blacker N Coal RA PT MXC MJS2 NF AD ASA SJ SS SG TN-N CGCA TDI THDA DJ HIC Master Versatility

Brie-CH MACH3 Estrella There's A Breeze AllAround HT MXC MJC NF HIC Versatility Excellent
Fergus-CH AllAround First Edition RN OA OAJ CGCA HIC Versatility

Brooke-CH AllAround Swift Running Brooke DJ
---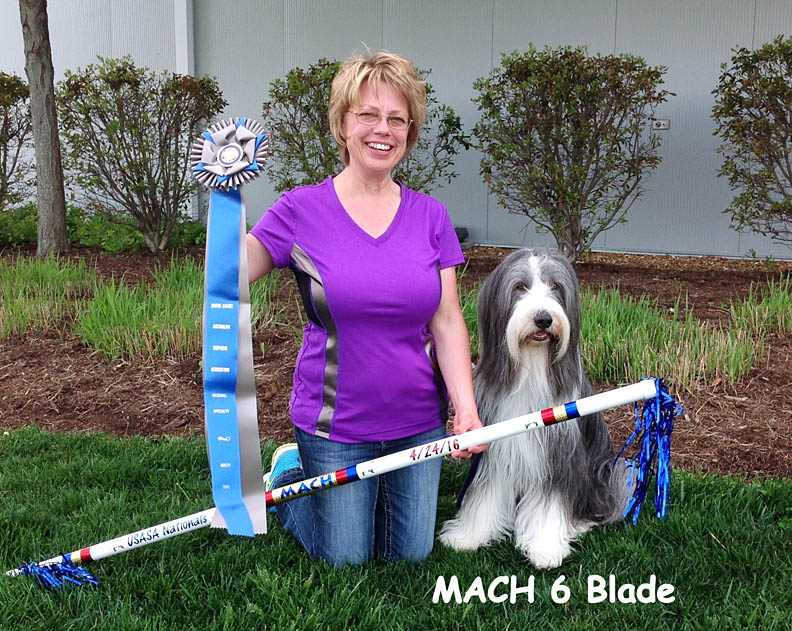 2013 Lori Weinberg of Edwardsville IL
Lori with MACH6 Blade
Lori has been running lightening fast Beardies for many years. Both Rocky and Blade are in the top echelons not only of speed but in qualifying rates. Blade was the top Beardie in the country in 2012. Lori is now consulting with the Agility Committee on an Award for the "Fastest Beardie" and deciding with the help of Joanne's statistics on the best, fairest scoring system. Bobbie Raguse wrote: "Lori is a fierce competitor, but always supports and cheers on her fellow competitors. She has been a right hand for Cheri at this upcoming Specialty." Cheri Omnus wrote: "Lori and I have been friends for a very long time, starting out with Murray, Miller and her Chilly. Her attitude while training and running her Beardies is always positive. Rocky and Blade have been great ambassadors for the breed and have done the Beardie community proud."
Chilly-CH Arcadia's Thrills N' Chills CD OA OAJ NAP NJP CGC

Rocky-MACH PACH Chaniam Creag MXS MJG MXP3 MXPB MJP7 MJPS PAX XF PG1 PJ1 PR1 HIC CGC

BCCA High iin Trial for JWW - 2005

Veteran Preferred Trophy- 2010
Veteran Preferred Trophy- 2011

Blade-MACH7 Cameron's On The Cutting Edge MXG2 MJG3 OF T2B2

Excellent A Standard and Excellent A JWW Awards- 2010
Winner of the Diehard Trophy, the Overall Jumpers with Weaves Trophy, and the Excellent B JWW Award- 2012
Winner of the Diehard Trophy, the Overall Jumpers with Weaves Trophy, and the Masters JWW Award- 2016
First Winner of the Lightning Award- 2015
Winner of the Lightning Award- 2016

Bolt-MACH Cameron Lightnin Strikes Twice MXS MJS
---

2014 Trudy Wisner of Staten Island NY (Lil'Clove)
Sheila Franklin presenting Trudy Wisner with some of her 2014 BAD Person of the Year Awards
Trudy is a dedicated Beardie breeder, trainer, competitor, and volunteer. She has bred five litters. She is the Training Director of the Staten Island Agility Club. She competed with her beardies Billy and Poppet at the 2014 inaugural Westminster Agility trial, qualifying in 3 of the 4 runs, but the real highlight was Poppet's making the finals! Before the competition, Trudy and her Beardies were invited to a variety of media events from agility demos, to interviews, to the ultimate glory: ringing the closing bell on the NASDAQ! Trudy was a member of the 2014 Specialty Agility Committee, in addition to chairing the Herding Committee. She designed a couple of t-shirts and produced and sold them, donating 100% of the profits to the events. Trudy is indeed a "Diehard," but not just in agility. She proves that a trained Beardie can do anything and that Teamwork is everything!
BILLY-CH U-CH U-CDX ARCHEX MACH Merewoods NY State Of Mind CDX RE HSAs JHD CDX RE HSAs MXB MJB MJP N AAD ASA AJ SG AS SR TN-N TT RL1X,2X,3X CGCA Versatility Excellent ROMAX

OREO-CH U-CH Malakar Oreo Speedwagon RE RL2 CGC ROMR ROMAX
POPPET-CH/U-CH MACH Lil'Clove Hello Poppet CD RE HSAs MXS MJS MXP2 MJP2 MJPB NF AD SSA AS SJ CGCA Versatility Excellent ROMAX

Excellent A Ryan Award- 2009
BCCA Highs in Trial for Standard, JWW, and Time2Beat - 2016

JACK-U-CH Lil'Clove Cap'n Jack Sparrow RN HT OA AXJ NF HCT CGC

DOTTIE-CH Lil'Clove A League Of Her Own RN PT MX MXJ MJB NF Versatility Excellent ROMA
DUGAN-Lil'Clove A League Of His Own PT NA AXJ
RUGBY-Lil'Cloves Ruff n' Tumble CD BN RA PT OA OAJ XF CGCA Versatility Excellent
DIXIE-Dixie TT CGC
---

2015 – Karen Norteman of Alfred Me (Starisles)
At this year's Nationals Karen Norteman was presented with her long overdue recognition and gifts for creating our Award Winning Beardie Agility Diehard Website, which made its debut on New Year's Day of 1998. Before launching the site, Karen flew out to California to teach me how to manage it, thus giving me "my life's work." Since then, Karen has been on hand to offer good advice. Her Specialty gifts reflect her great love of Beardies and coffee! Says Karen, "I am honored with all of the gifts and kind words bestowed on me at the Specialty agility trial. Thanks to everyone who came and shared cake!" Karen with Dinah Karen at the Nationals On 1 January 2001, Charles Gibson, our BAD poet par excellence, wrote a poem which expressed our communal joy and gratitude to Karen for our three year old website.
CADENCE-Beau Chien High Cadence CD PT CGC-went to the Bridge in 1997
CHARLIE-WayToMe Midsummer Knight HIC
SEAMUS-Sheiling Angelic Ties RN HIC
DINAH-Breaksea November Storm
CH Burlesque Doing It Her Way
A Poem to Karen Norteman on the Third Anniversary of our website:
The magic of your inspiration worked just right,

for founder Libby created a prime website.

Too serious the nay sayers that scoffed the name,

disguised the envy of enthusiasm untamed.

Now success has heralded from far and wide,

for no better web would one find:

to view bounding Beardies with their growing stats,

stories of trialing, training, advice, and all that.

Hear so clear the greatful lassies and lads,

exalt their cheer ringing ever glad:

"Sometimes we NQ and we're sad,

Or a call is wrong and we're mad!

But when we get online and look at our pages,

We're so damn happy to be BAD!!
---

2016 – Claire Cifarelli of Staten Island NY
with B-Buster
Congratulations to Claire Cifarelli who was awarded BAD Person of the Year for her accomplishments and contributions to the Beardie agility world. "Claire has such a love of the breed and passion for agility. She has earned eight MACHs on three of her Beardies, as well as obedience, rally, barn hunt and herding titles. Claire is currently training Beardies five, six and seven. She has the same happy go lucky attitude as the Beardies, which makes them such great teammates." – Trudy Wisner
Patch-MACH3 Raintree Ha'Penny Hades CDX RE AXP AJP OF PD2 PS2 PJ2 PK2 PG2 PR1 OAC EJC NGC TN-O TG-N WV-NVersatility Excellent

Uno-CH Ragtyme Still The One AX AXJ Roxie-MACH3

Roxie MACH3 Roxie MXC MJC OF AD SSA SJ SG SS SR TN-O TG-N

B-Buster-MACH2 Lil'Clove Poppet's First Moppet BN RA HSAs MXG MJC OF Versatility Excellent

Dobby-Lil'Clove Loyal & Devoted Dobby PT NA NAJ NF

Tonks-Lil'Clove Nymphadora Tonks PT NA NAJ NF
---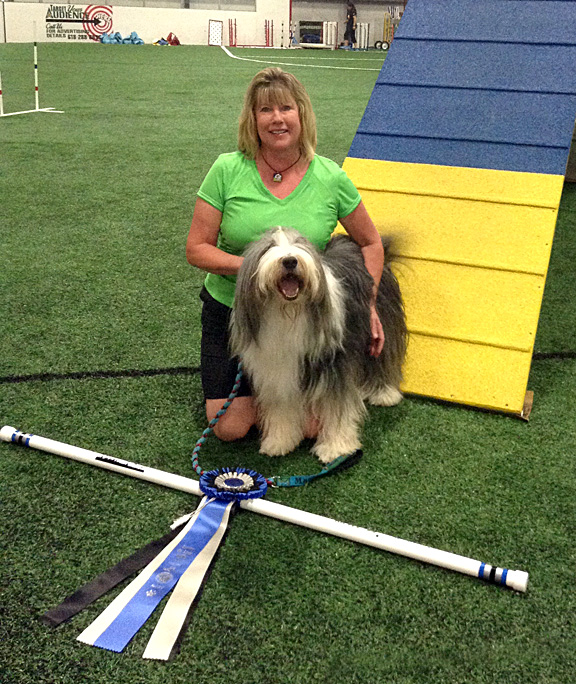 2017– Cheri Omnus of O'Fallon MO
with MACH2 Marco
"I'd like to nominate Cheri Omnus of O'Fallon, Missouri, for the 2017 BAD Person of the Year.  I've worked with Cheri on three committees where she has served as chair, and I'm safe in saying that at no time did she ever produce anything that was less than excellent.  Cheri led the 2013 Specialty agility committee with a steady hand, displaying her calm, positive outlook at every turn.  She also spearheaded the drive to include two days of agility for the first time at a BCCA specialty, serving again as the chair of the agility committee for this year's specialty.  As chair of the BCCA Agility Committee, Cheri also has written encouraging, wonderful articles for the Bagpipes as well as having penned many reports to the BCCA Board of Directors.  She is truly BAD -- an exemplary asset to our BeardieAgilityDiehards group at every turn!" - David Williamson
MILLER-Angelfire Shooting Star MX MXJ MXP AJP EAC NJC TN-N
MURRAY-Springhills Star Dreamer NA NAJ NAP NJP
MCKAY-CH MACH Lakewood's Shining Star RN MXB MJC NF PD2 PS2 PK3 PJ2 PG1 NAC NJC WV-N HIC CGC Versatility Excellent

MARCO-CH MACH2 Lakewood Born To Be A Star RN MXG MJG AD SSA SJ CAT CA HIC CGC Versatility Excellent
---
---
BCCA
---
---
---
---
BAD Honors:
---
BAD Awards:
---
[BAD Handlers] | [BAD Dogs] | [BAD Events] | [BAD Links]
[BAD Greetings] | [BAD News] | BAD Beginnings]
[BAD Advice] | [BAD Attitudes] | [BAD Goods]
Email Libby with an update